Milk Chocolate Mousse Easter Eggs
This post may contain affiliate links to products I recommend. I receive a small commission at no cost to you if you make a purchase using my link.
These easy milk chocolate mousse Easter eggs might just be my favourite Easter dessert. Like ever. Super simple 3 ingredient milk chocolate mousse, encased in a milk chocolate Easter egg. What could be more festive than that?!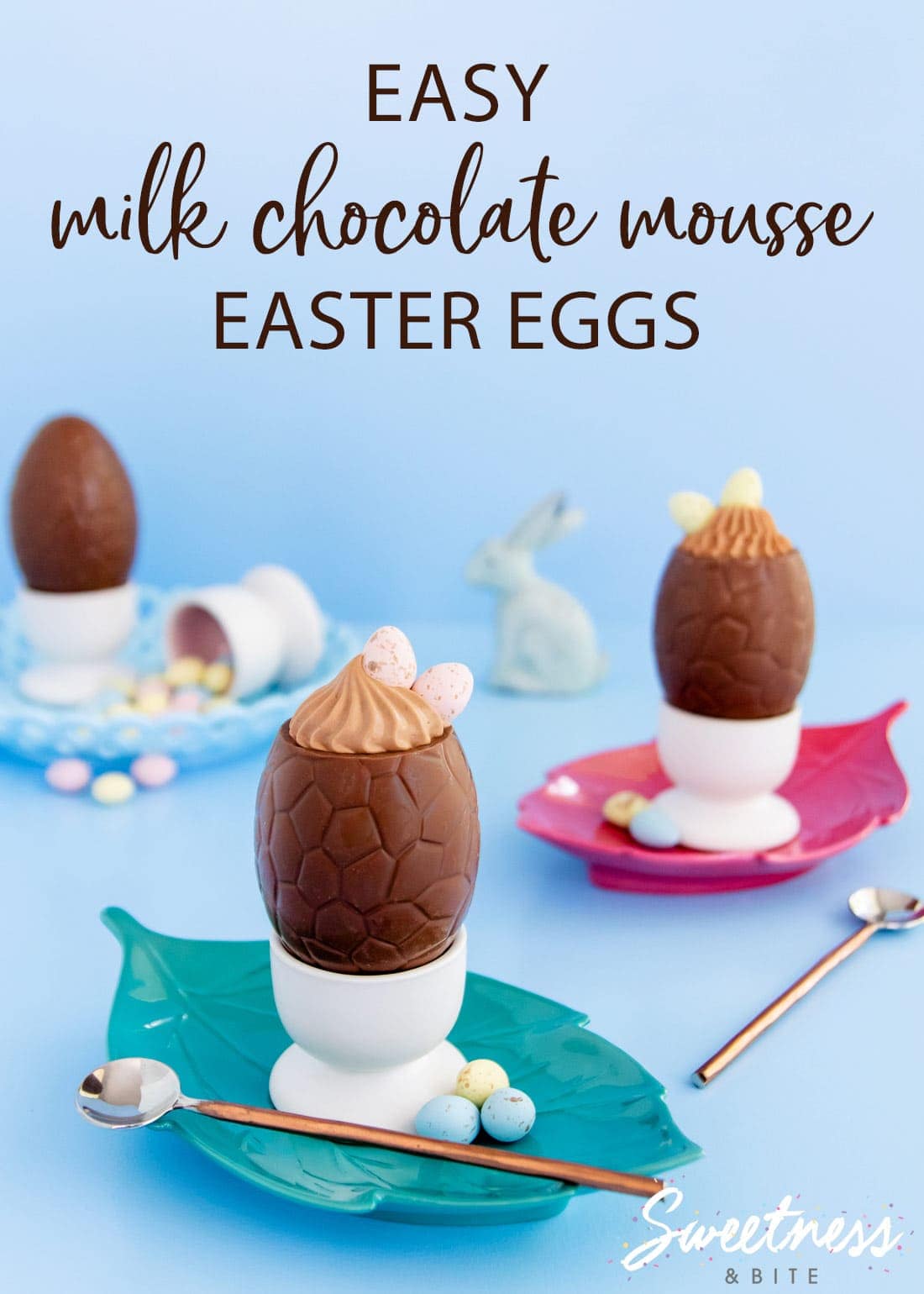 I'm a big fan of Easter, but I have to admit it's mostly just because of the chocolate. Not that I ever need an extra excuse to want to eat chocolate.
Feeling sad? Chocolate.
Feeling happy? Chocolate.
A day ending in 'y'? Chocolate.
And if you've spent much time on this blog, or on my Facebook page, you'll also know what an unashamed fan I am of my chocolate mousse recipe. It's the most viewed recipe on Sweetness and Bite, and it's easy to see why – it uses only three ingredients, requires no eggs, and is super easy to put together.
I've done a white chocolate version, and a Caramilk chocolate version but up until now, I hadn't got around to trying it with milk chocolate. Easter seems the perfect time to do that though, right?
And what could make it more suited to Easter festivities than serving the mousse inside a hollow chocolate egg?!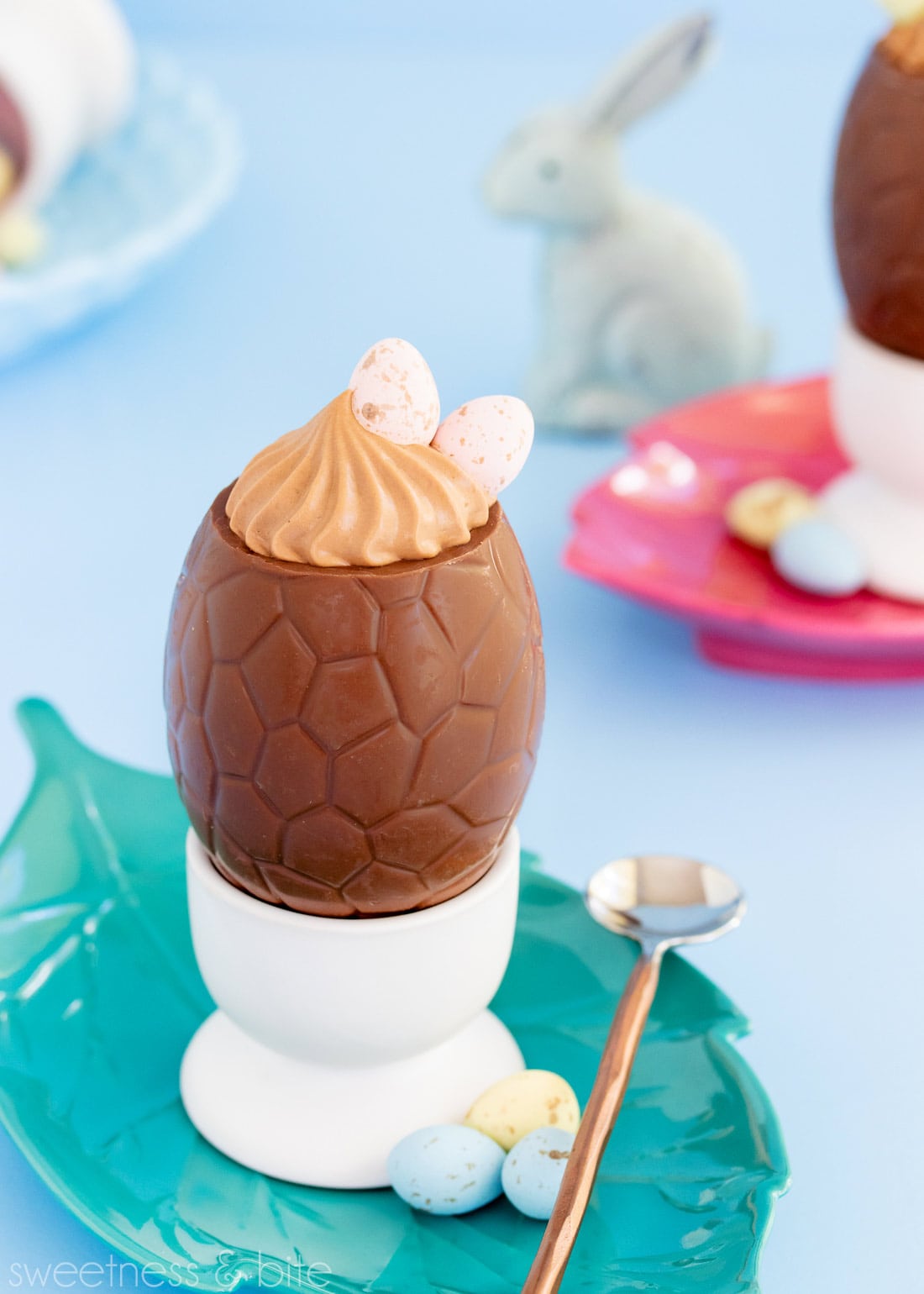 This milk chocolate mousse is slightly sweeter than the dark chocolate version, and as with all my other mousse recipes, I recommend using good quality chocolate to make it.
We're not adding a ton of extra flavours which means the chocolate is the star of the show, and it's well worth making sure your star is Lady Gaga or Beyonce rather than some D-list reality TV star.
I used my favourite Whittaker's milk chocolate, but as long as you choose a bar of chocolate that you love to eat, your mousse should taste amazing.
The number of servings you get from this chocolate mousse recipe will depend on the size of your chocolate eggs. These ones that I used were 50g hollow eggs and I filled six of them, with just a little dollop of mousse left over, which I may or may not have piped directly into my mouth #ididit #sorrynotsorry.
You could also buy smaller eggs and get more servings!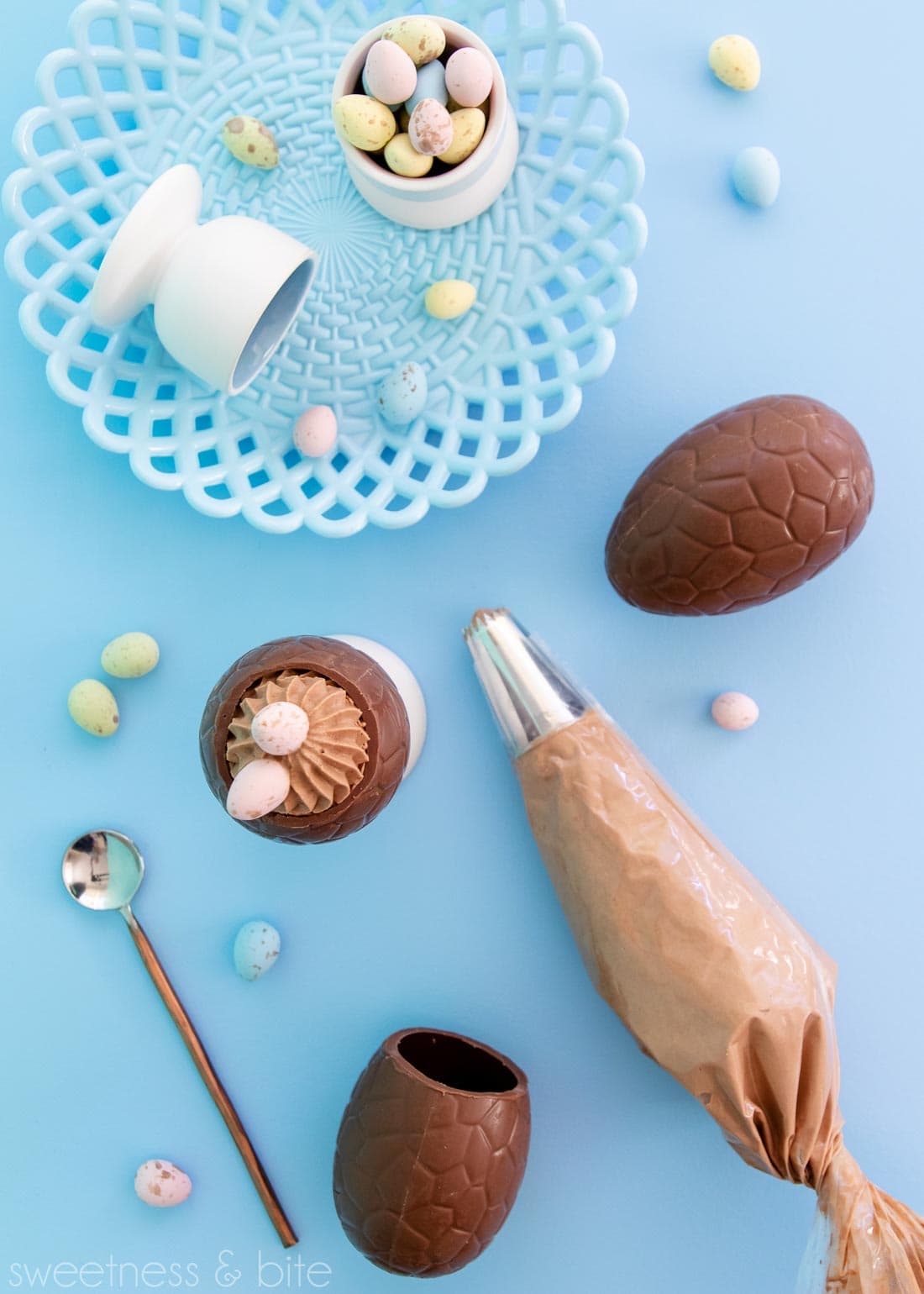 How To Make Milk Chocolate Mousse Easter Eggs
While the mousse is crazy easy to make (if you want to see a video of the mousse-making process, check out my original chocolate mousse recipe post), probably the only tricky part about making this dessert is cutting the tops off the chocolate Easter eggs. And really it's not super tricky, it just takes a bit of patience to cut slowly and avoid cracking the egg.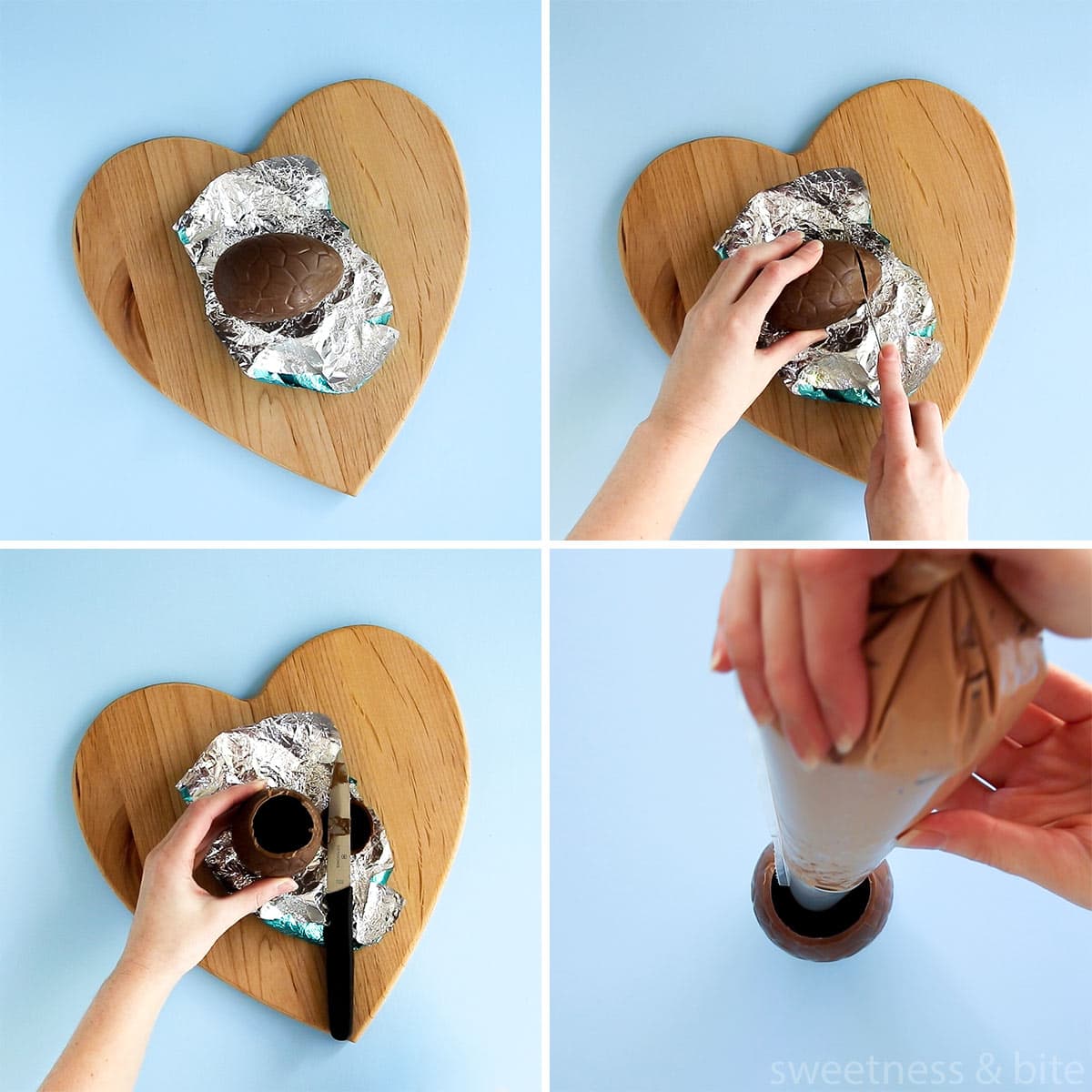 Warming up your knife will help the knife cut more easily through the chocolate. So run the knife under hot tap water, then dry it well before using it to cut the egg.
The best method for cutting is to gently glide the knife back and forth through the chocolate, don't try and slice through in one go.
Once you've cut the top off, you can use the knife to gently shave off any rough bits.
Super important tip – make sure you cut a hole big enough to fit a spoon in. (Unless you plan to shove a whole mousse filled egg into your mouth, in which case, by all means, be my guest.)
Then all you need to do is pop your whipped-up mousse into a piping bag (or a releasable plastic bag with the corner snipped off) and pipe the mousse into the eggs. Gently tap the eggs to settle the mousse down, and top it up if necessary.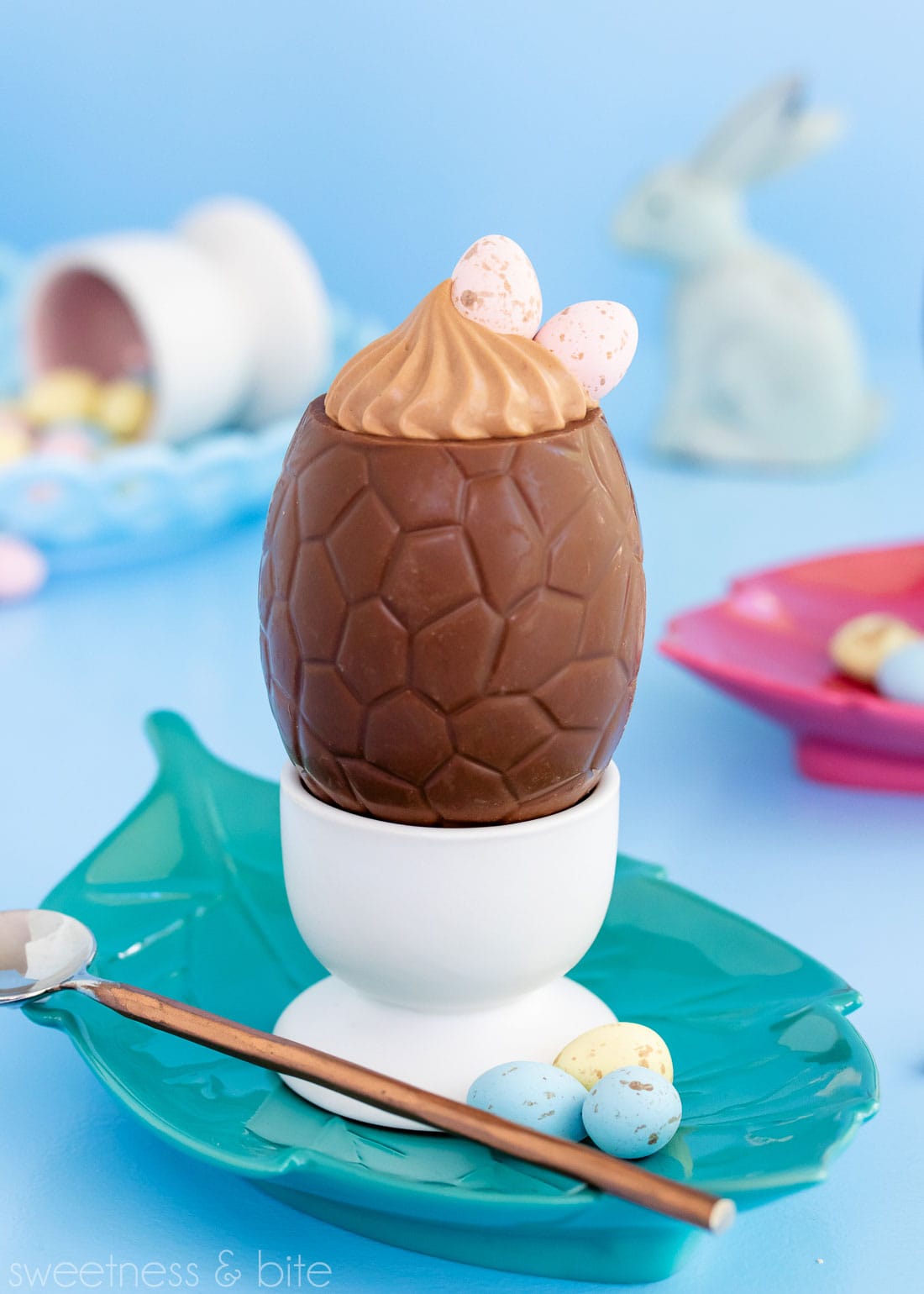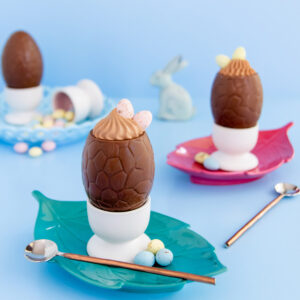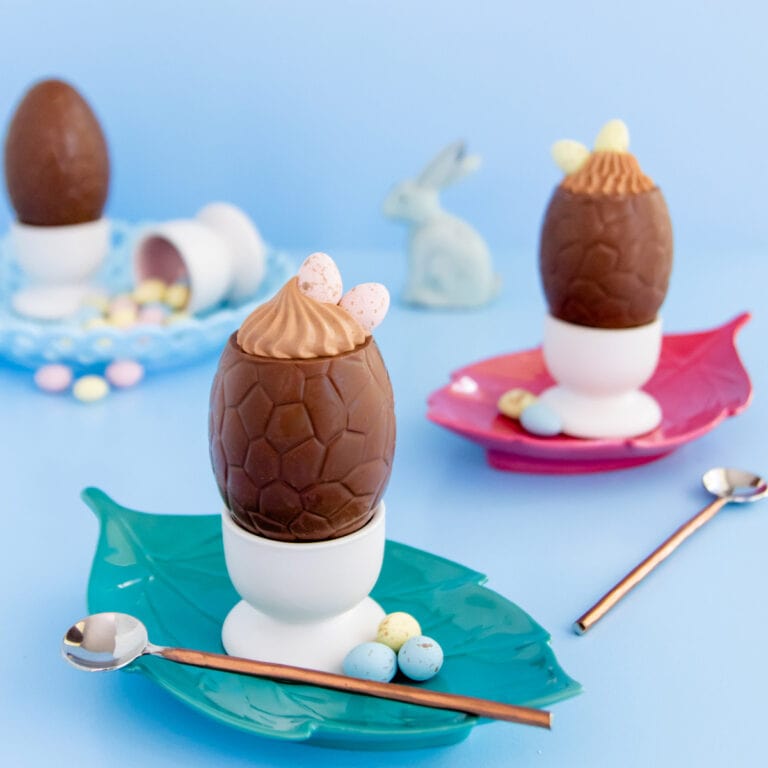 Easy Milk Chocolate Mousse Easter Eggs
So simple to make, these Easy Milk Chocolate Mousse Easter Eggs are the perfect Easter dessert! Only 3 ingredients and no eggs – except the chocolate ones!
Print Recipe
Pin Recipe
Save
Saved!
Ingredients
500

g

whipping cream

see notes

300

g

milk chocolate

chopped

1

teaspoon

vanilla extract

6

x 50g hollow chocolate easter eggs

see notes

mini speckled eggs

to decorate
Instructions
Heat half (250g) of the cream in a medium saucepan, over medium-high heat until bubbles begin to form around the edges.

Remove from the heat and add in the chocolate and vanilla. Leave for a few minutes for the chocolate to start to melt, then whisk until the chocolate is completely melted and the mixture is smooth.

Whisk in the remaining 250g of cream.

Pour into a large heatproof bowl or jug, and leave to cool to room temperature (you can speed this up by placing the bowl into a water bath – simply 1/4 fill the sink with cold water, add some ice and place the bowl of chocolate cream into the sink. Stir the mix regularly to speed cooling).

Refrigerate until very well chilled – at least several hours or ideally overnight. If you're in a hurry you can place the bowl in the freezer for an hour to speed the cooling process. Just make sure you check and stir it regularly to make sure it doesn't actually freeze!

While the mixture chills, run a small sharp knife under the hot tap to warm the blade, then dry the knife and use it to carefully cut the tops off the easter eggs. It helps to work slowly, glide the knife back and forth and let the heat of the knife do the work. Run the knife under the tap and dry again as needed. Make sure that the holes are big enough to fit a spoon through!

Place the eggs into egg cups or serving dishes to hold them upright.

Once the mousse mix is fully chilled, whip it with an electric hand mixer just until stiff peaks begin to form. If it seems like it's still a little too soft to pipe, you can refrigerate the bowl of mousse again for 10 minutes or so until it firms up some more.

Transfer the mixture to a piping bag fitted with a large star or round piping tip.

Pipe the mousse mixture into the eggs.

Serve the mousse eggs immediately for softer mousse, or refrigerate for 1-2 hours for a firmer, fluffier mousse.

The mousse will keep for several days in the fridge, but keep in mind that moisture may form on the outside of the eggs when you bring them out of the fridge.
Notes
Cream – The cream you need for this known by different names in different countries. In NZ it's called standard cream or whipping cream, in other countries, it may also be known as heavy whipping cream, heavy cream, or full cream. Long story short: you need a pourable, un-whipped cream that is around 35% fat. It will usually say on the bottle/carton that it is suitable for whipping. Chocolate – For best results, use a block of good-quality milk chocolate. Only use chocolate chips if they say on the packet that they are suitable for melting. Servings – The number of servings you get will depend on the size of your chocolate eggs. I used six 50g hollow eggs, but you could use smaller mini hollow eggs to get more servings.
Nutritional Disclaimer: Any nutritional info provided is a computer generated estimate and is intended as a guide only.
Happy Easter!
~Natalie
You may also like…