Easy Mocha Mousse with Whipped Coffee Topping
This post may contain affiliate links to products I recommend. I receive a small commission at no cost to you if you make a purchase using my link.
This light and fluffy easy mocha mousse is so simple to make with just a few ingredients. It features rich chocolate flavour with a smooth coffee hit. You won't have to choose between coffee or dessert!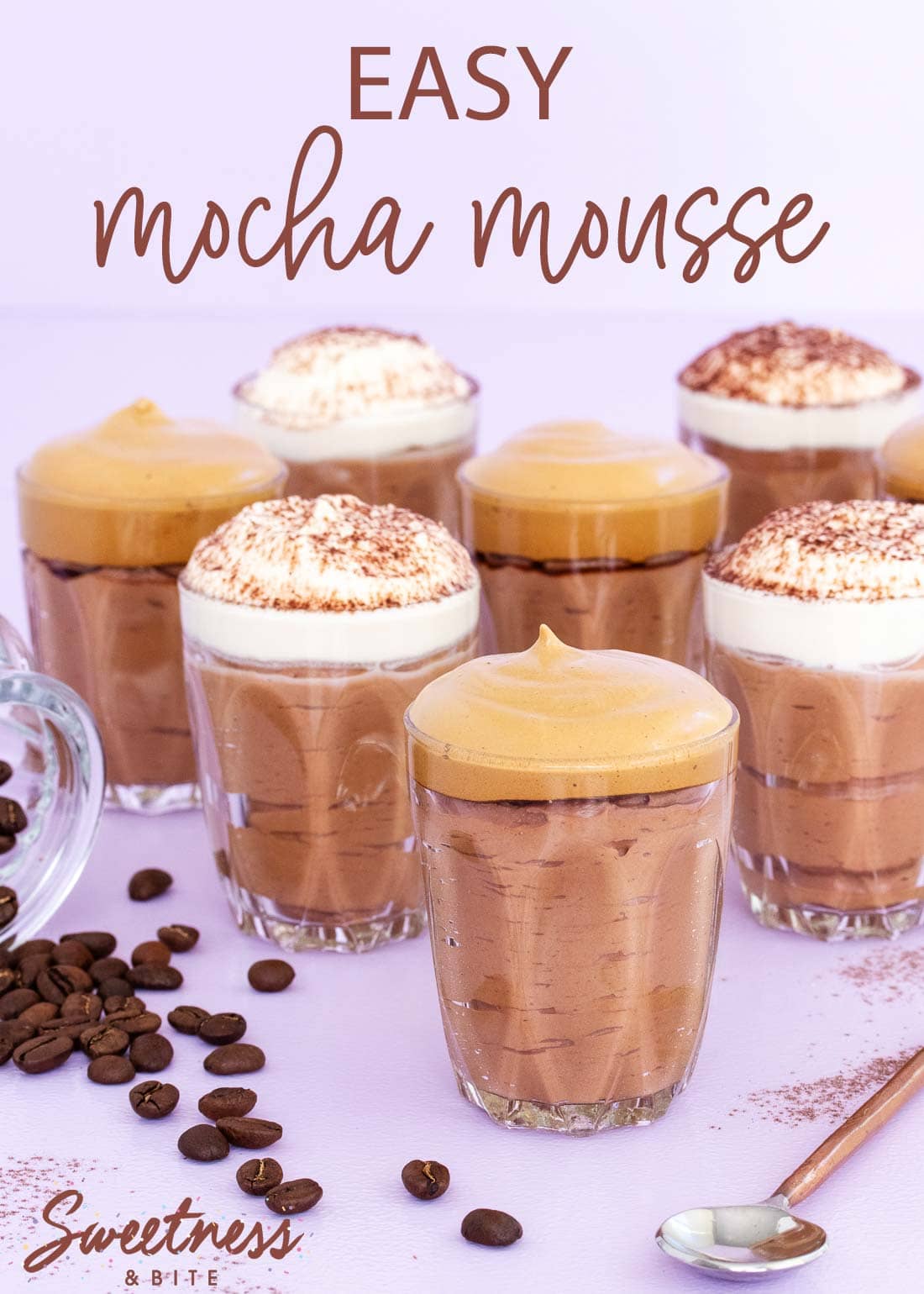 Calling all mocha lovers, this one is for you!
I've been working on a few new variations on my original 3 ingredient chocolate mousse recipe, and I'm excited to share this one with you today.
If you've been anywhere near Facebook or Pinterest lately, you may have seen posts about Dalgona coffee or whipped coffee – the coffee trend that has gone viral, and that's what actually inspired this recipe. (If you have no idea what I'm talking about, check out this post by Sugar and Soul for more info).
I looked at all the pictures of this fluffy, foamy coffee and thought it would be one hell of a topping for a dessert!
Because I'm all about the easy recipes, I decided to use it as a topping for an easy mocha mousse, and I'm sure glad I did. It adds a little something special to the mousse and will be a favourite for many coffee lovers, I'm sure.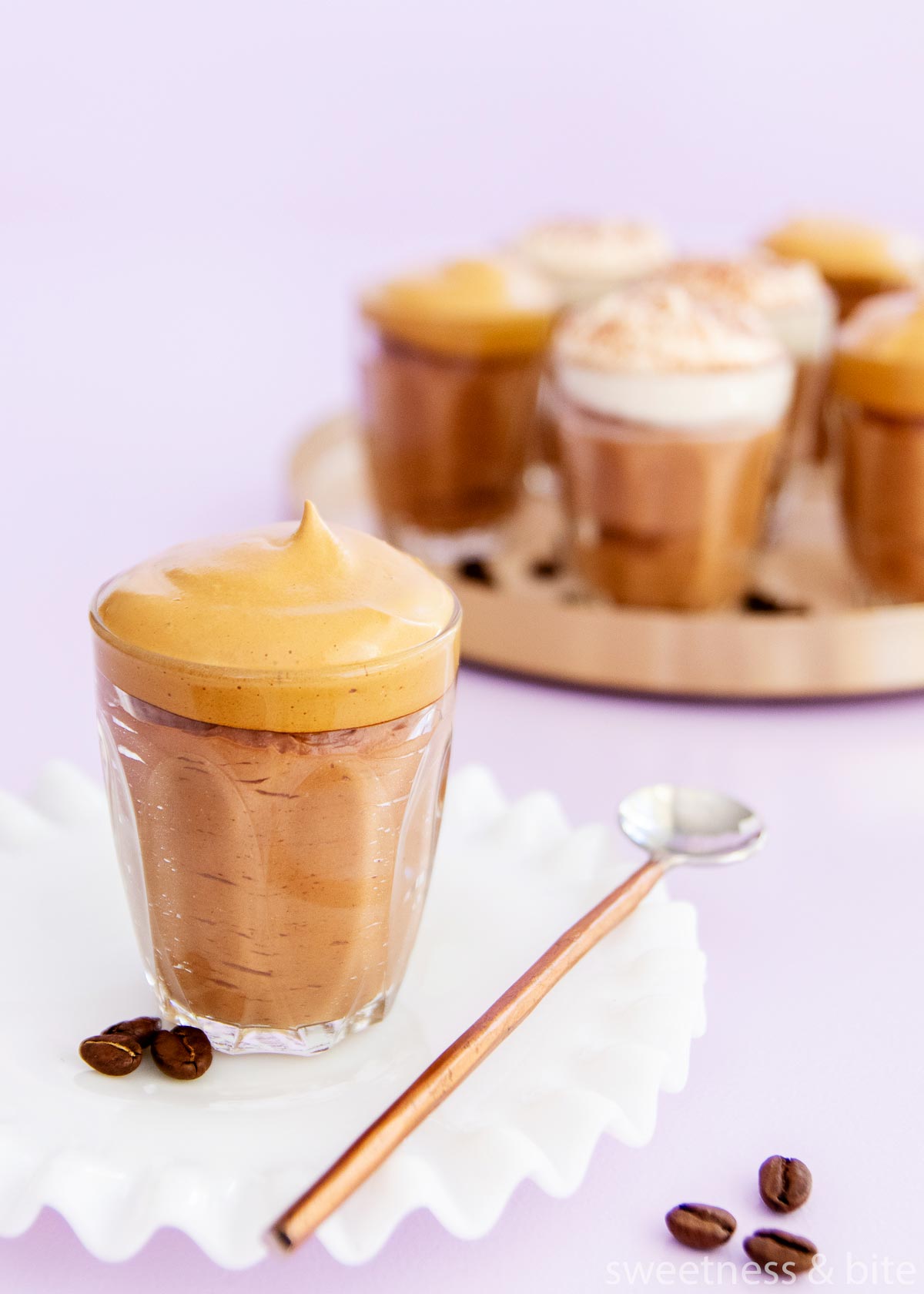 Since I know there are also people out there who like a bit of mocha but aren't as fussed on super strong coffee flavours, I also did a lightly sweetened whipped cream topping (aka Chantilly cream) for half of these mousses, which is equally as delicious.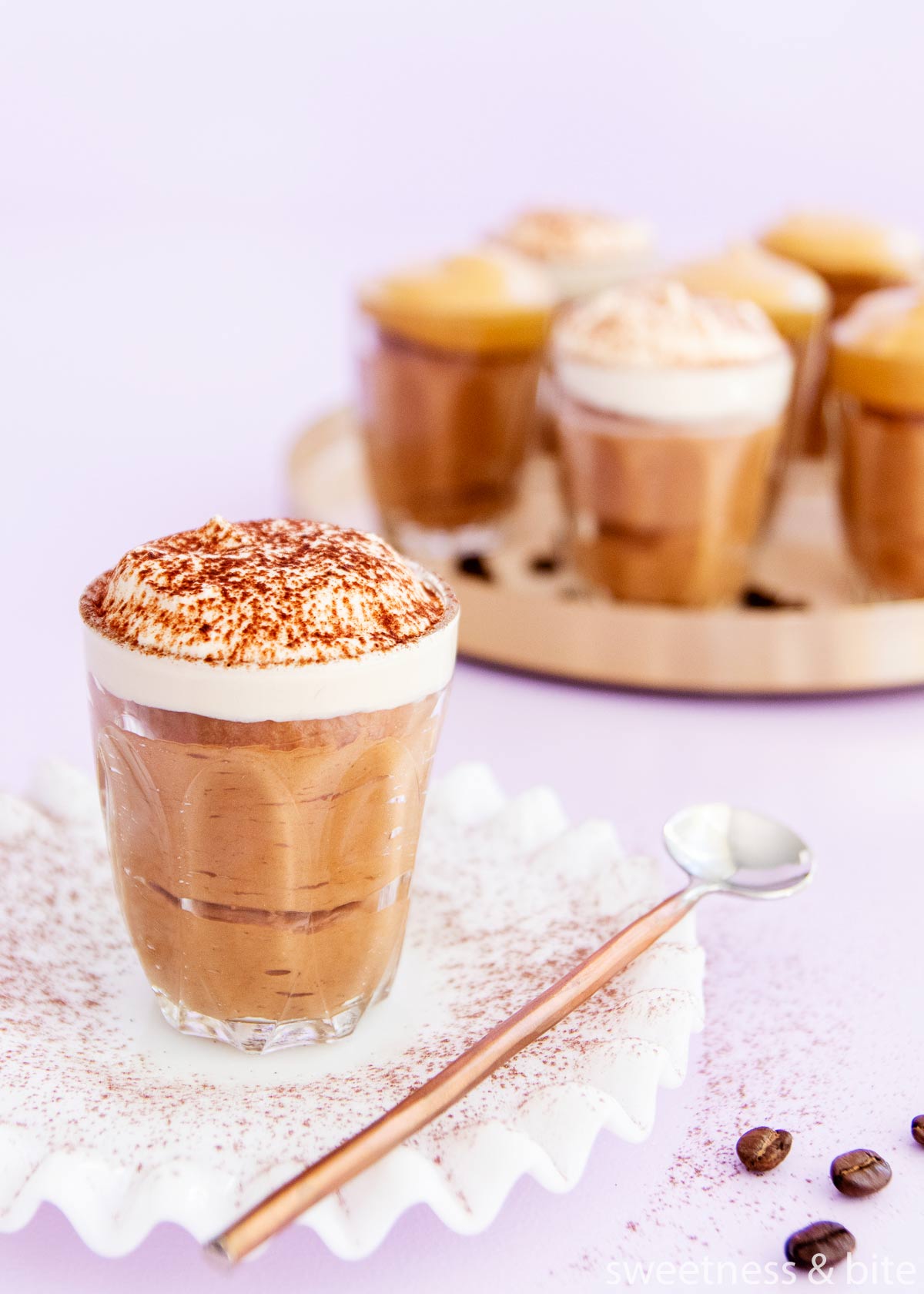 So that's enough explanation, let's talk about how to get this deliciousness into your face.
How to Make Easy Mocha Mousse
As with my other easy mousses, this one is a 3 ingredient mousse recipe and is a snap to make.
The mousse itself has only 3 ingredients – whipping cream, milk chocolate and instant coffee.
To make it, you'll start by bringing the cream to the boil, then pouring it over your chopped chocolate and coffee in a heatproof bowl. Let it sit for a couple of minutes to melt the chocolate and dissolve the coffee, then whisk to combine.
Then it just needs to chill out in the fridge for a few hours. The longer the better, but you can check out my note in the recipe if you need to speed it up because you just need mousse in your life ASAP.
Once it's all chilled, it just needs a quick whip with an electric mixer, then you can pipe or spoon it into your serving glasses.
Whipped Coffee Topping
If you haven't seen the videos on social media showing how to make Dalgona coffee, you're probably not going to believe that this works – you're going to pop some instant coffee into a bowl, add some caster sugar and boiling water, and then whip it up with a whisk or an electric mixer.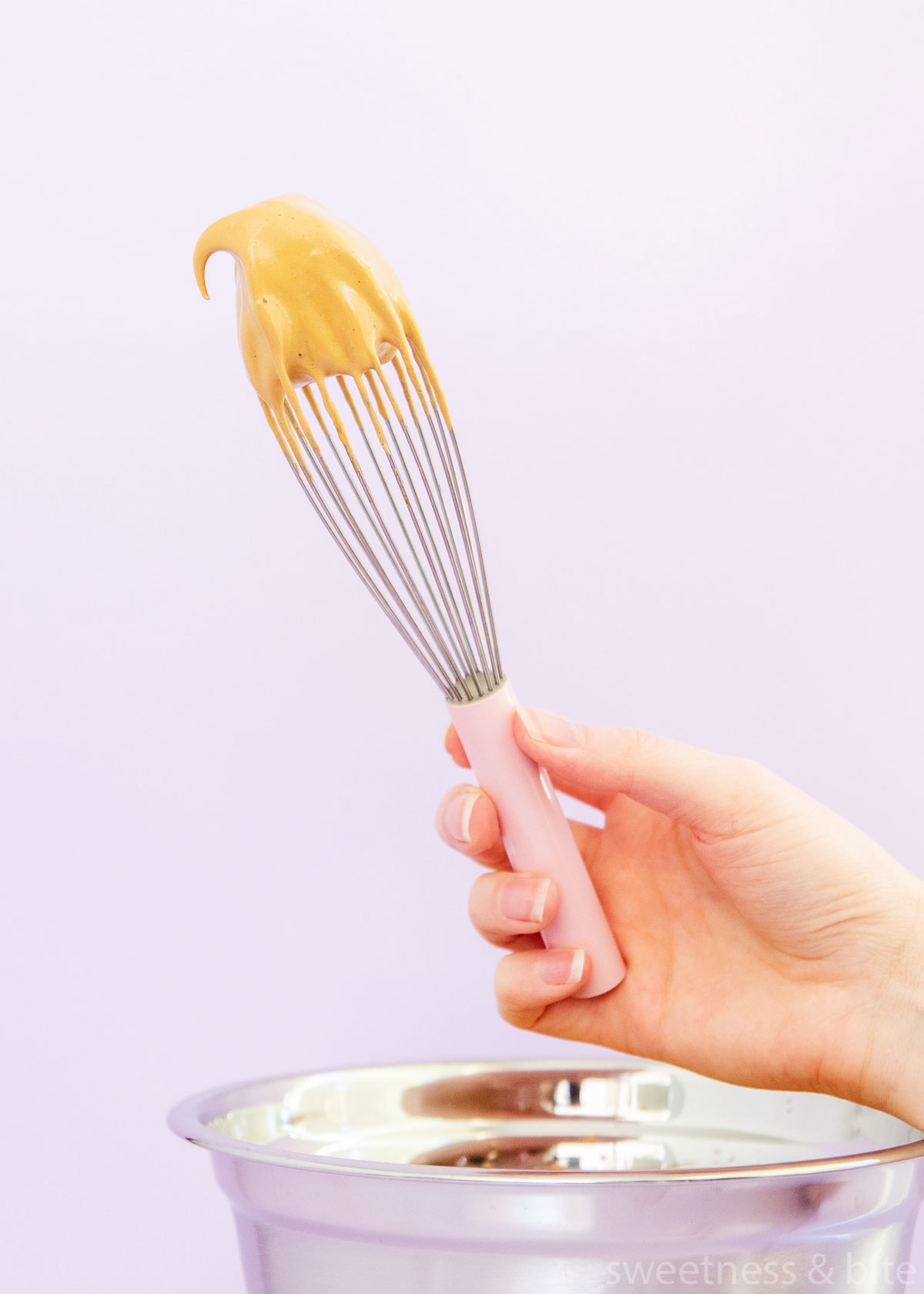 In just a couple of minutes (more if whipping by hand), the mixture becomes super light and foamy. Check out the video to see the magic happen.
WHIPPED CREAM TOPPING
This good ol' whipped cream topping (otherwise known as Chantilly Cream or Crème Chantilly) is just as easy to make.
Cream, caster sugar and a splash of vanilla extract get whipped together until light and fluffy. I like to keep the cream on the lightly-whipped side, rather than risking over-whipping it (which makes it turn to butter, and no one wants a spoonful of butter on their mousse, right?)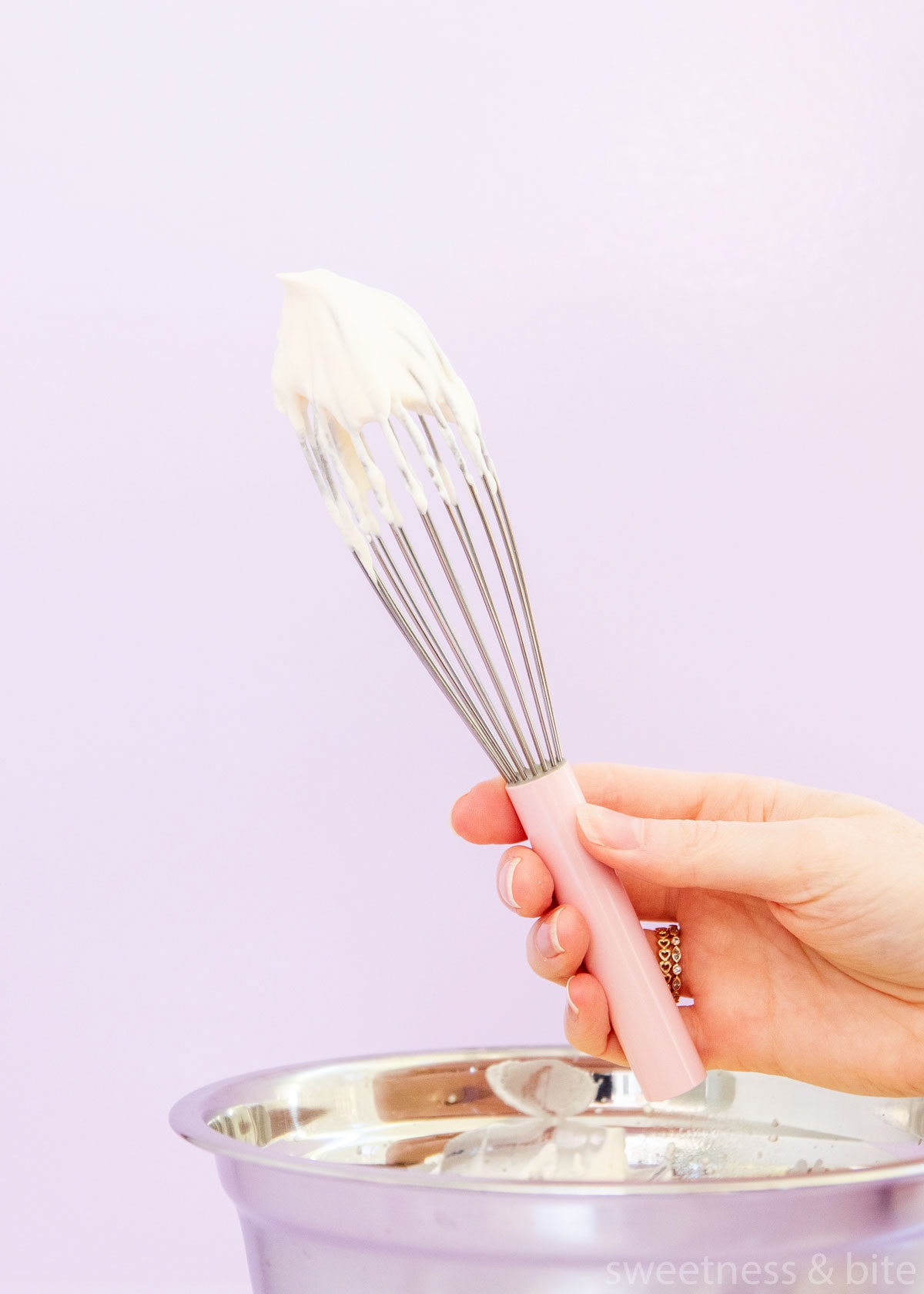 What Kind of Coffee Makes the Best Mocha Mousse?
I'm sure a true coffee connoisseur would have some kind of fancy answer for you, but in true Natalie style, my answer is "use whatever you like drinking".
You can use either powdered instant coffee or freeze-dried coffee granules. I used the granules, which can take a bit longer to dissolve in the mousse but that's not really an issue. By the time the chocolate has melted, the coffee should be mostly dissolved.
I actually used decaffeinated coffee because too much caffeine drives my heart rate crazy, so that's an option if you're like me and can't have the "real" stuff. The one we happened to have in the pantry is the Moccona Classic Instant Decaf.
Although most of the Dalgona coffee recipes I looked at called for powdered coffee, I found no issues using the coffee granules in my whipped coffee topping. Between the boiling water and the whipping, it dissolved just fine.
Could I Use Espresso Coffee in My Mousse?
I haven't actually tested the recipe using espresso, but it should work. I would suggest using a small amount of very strong espresso (1-2 tablespoons) so that you don't affect the mousse texture too much. Adding too much extra liquid will stop it from whipping up as nicely.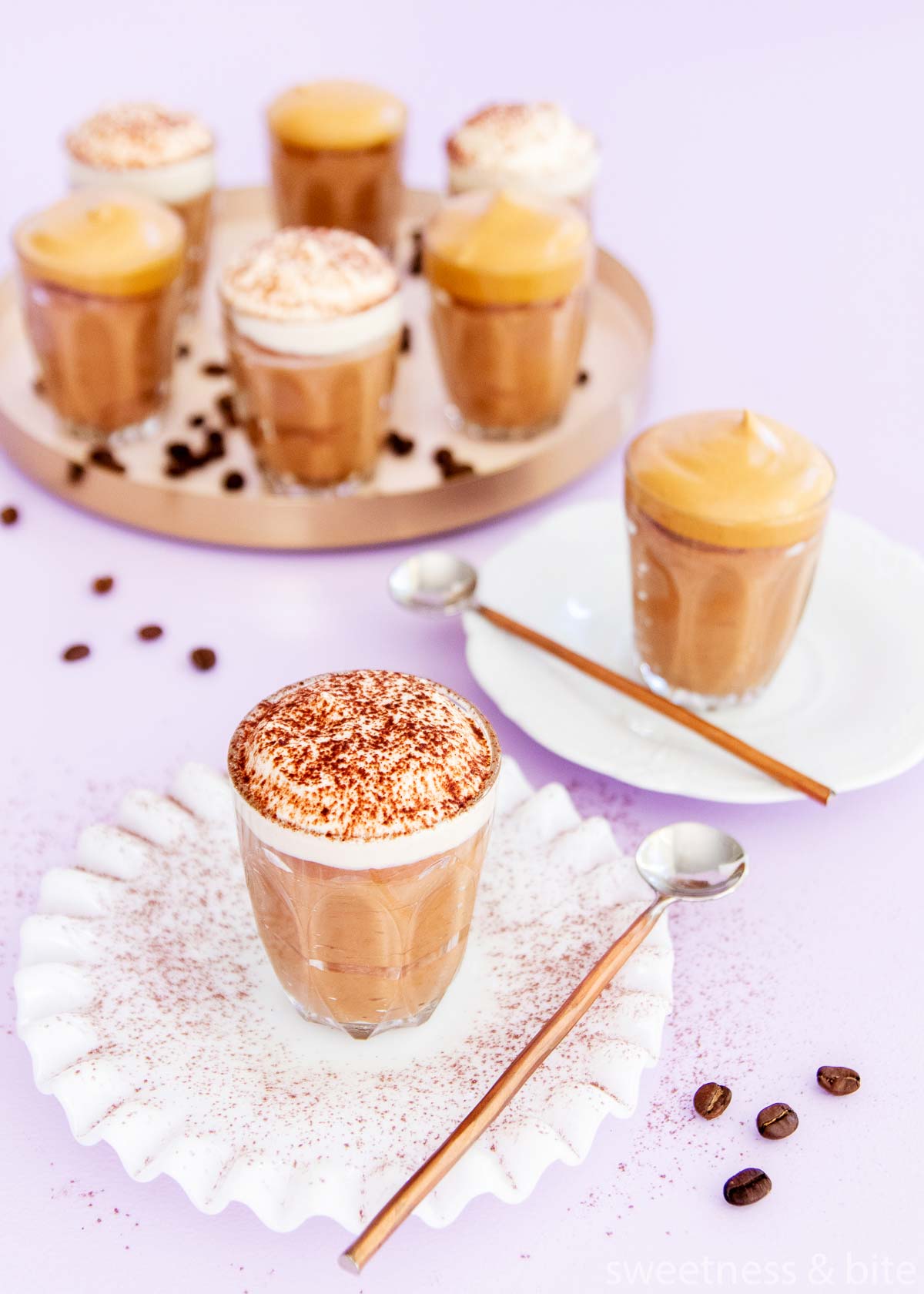 Can I Make Mocha Mousse with Dark Chocolate or White Chocolate?
You sure can! If you're a dark chocolate fan or a white chocolate fan, you can swap these for the milk chocolate.
If using white chocolate you can use the same amount, if using dark chocolate then you may wish to reduce the chocolate to 250g as dark chocolate will set more firmly, so you don't need as much.
Make sure you give the chocolate-coffee-cream mixture a taste and check that it's sweet enough for your liking, as the coffee adds some bitterness, and dark chocolate doesn't contain as much sugar. If it isn't sweet enough, then you can whisk in a little bit of caster sugar or icing sugar.
The milk chocolate I used in this recipe is my favourite milk chocolate – Whittaker's 33% Creamy Milk Chocolate.
Is It Really Mousse Without Eggs?
I've been asked this quite a few times about my original mousse recipe so I thought I'd mention it quickly here – yes, mousse can be made without eggs. The definition of mousse is a whipped dessert made with cream, eggs or both.
I know if you haven't tried these recipes it probably seems unlikely that something this easy and with so few ingredients can possibly taste like more than just "chocolate whipped cream", but I urge you to give it a try, you may be surprised! I know I sure was when I first had the idea and decided to try it out.
Can I Make The Mousse In Advance?
This is a great recipe for dinner parties because you can make it in advance. The mousse mixture needs to be made at least 4 hours before you whip it, but it can be made up to a couple of days beforehand and kept, covered tightly, in the fridge.
When it comes to the toppings, the whipped cream topping lasts really well for at least a day or so before it starts to lose some of its fluffiness, but the whipped coffee topping starts to deflate after a few hours so that one is at its best when added closer to serving. After a few hours in the fridge, the liquid can start to separate out of the coffee, and while it doesn't look as pretty it does still taste good.
Can I Freeze The Mousse?
Ohmygosh yes. And I say that because as I type this, I'm currently eating some frozen mocha mousse that I popped in the freezer a couple of days ago, and it's damn good. Just put it into an airtight container after whipping and then freeze it.
You'll need to let it soften slightly before you can scoop it out. You can serve it either still slightly frozen, or let it soften up in the fridge to go back to its normal consistency.
Chilled or frozen, either way this is the perfect dessert to end your meal.
Enjoy!
Easy Mocha Mousse
Yield:
10 half-cup servings
Total Time:
4 hours
23 minutes
This light and fluffy mocha mousse is easy to make with just a few ingredients and features rich chocolate flavour with a smooth coffee hit. You won't have to choose between coffee or dessert!
Ingredients
500g whipping cream*
300g milk chocolate, chopped
3 teaspoons instant coffee**
For the whipped coffee topping
2 Tablespoons instant coffee
2 Tablespoons caster sugar (or more, to taste)
2 Tablespoons boiling water
For the whipped cream topping
125ml (1/2 cup) whipping cream
1 teaspoon caster sugar (or icing sugar)
1 teaspoon vanilla extract
1 teaspoon cocoa + 2 teaspoons icing sugar (for dusting, optional)
Instructions
Mousse
Heat half of the cream in a medium saucepan, over medium-high heat until bubbles begin to form around the edges.
Place the chocolate and coffee into a large heatproof bowl. When the cream comes to the boil, pour it over the chocolate. Leave for a few minutes for the chocolate to start to melt, then whisk until the chocolate is completely melted and the mixture is smooth, then stir in the remaining half of the cream. (Adding this cold cream helps cool the mixture down faster).
Refrigerate until very well chilled - at least several hours or ideally overnight. If you're in a hurry you can place the bowl in the freezer to speed the cooling process. Just make sure you check and stir it regularly to make sure it doesn't actually freeze!
Once the mousse mix is fully chilled, whip it with an electric hand mixer until stiff peaks form. If it seems like it's still a little too soft to pipe, you can refrigerate the bowl of mousse again for 10 minutes or so until it firms up some more.
Transfer the mixture to a piping bag fitted with a large star or round piping tip and pipe into serving glasses. You can also just spoon the mousse into the glasses if you prefer.
Whipped Coffee Topping
Put the instant coffee, caster sugar and boiling water into a bowl. Whip with an electric mixer (or use a hand whisk and a strong arm) until thick and foamy, and much lighter in colour.
Whipped Cream Topping
Put the cream, sugar and vanilla into a bowl and whip with an electric mixer until thickened, and soft peaks form when you lift up the mixer.
Put it all Together
Spoon the toppings onto each of the mousses. I found it handy to use an ice cream scoop, but a spoon will do the job just fine too.

Serve the mousse immediately, or store, covered or in an airtight container, in the fridge. The mousse will keep well for several days, but the whipped coffee looks its best for up to a day, then it will start to slowly deflate. It still tastes the same, it just doesn't look so pretty.
Notes
You can make both toppings, as I did, or just choose your favourite. Both the topping recipes should make enough to top all of the mousses if you choose to just make one, but I don't recommend halving them if using both, as they whip up best using the amounts mentioned.
*The cream you need for this is known by different names in different countries. In NZ it's usually called standard cream or whipping cream, in other countries, it may also be known as heavy cream, single cream or full cream. Long story short: you need a pourable, un-whipped cream that is around 35% fat. It should say on the bottle/carton that it is suitable for whipping.
** Use your favourite brand of instant coffee. I used Moccona, which is a freeze-dried granulated coffee. It takes a little longer to dissolve during both stages of the recipe, but it works just fine. You can use a powdered instant coffee if you prefer. Decaffeinated coffee can also be used.
Nutrition Information:
Yield:

10
Serving Size:

1/2 cup
Amount Per Serving:
Calories:

340
Total Fat:

27g
Saturated Fat:

17g
Trans Fat:

1g
Unsaturated Fat:

8g
Cholesterol:

63mg
Sodium:

38mg
Carbohydrates:

22g
Fiber:

1g
Sugar:

19g
Protein:

4g
The nutritional information above is computer-generated and is only an estimate. Please do your own research with the particular products you're using if you have specific health needs or are following a special diet.
You May Also Like These other Easy Dessert Recipes …