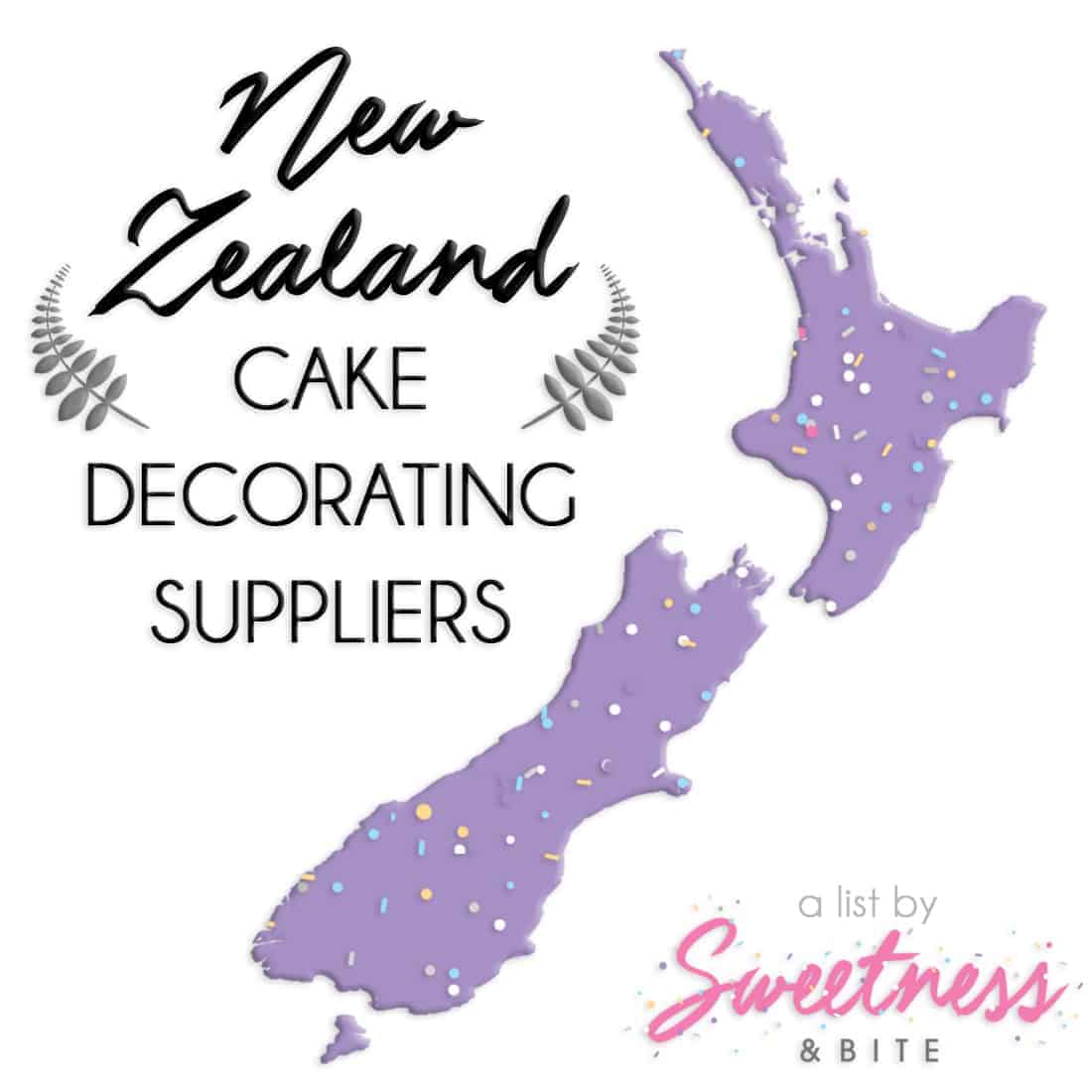 If you've ever wondered where to buy cake decorating supplies in New Zealand, then this list is for you! I originally compiled it for the NZ Cake Decorators page on Facebook which I used to help manage, but I thought I'd publish it here too so it's easy to bookmark it for future reference.
Suppliers with physical stores are listed by region, starting at the top of the North Island and movin' on down. Online only stores are near the bottom, edible image printers and folks that laser cut custom cake toppers are right down the bottom. Or if you're in a hurry, use the links below to jump right to where you want to go. There's also a little Google map of locations, in case you prefer your information in picture form.
If you're a cake decorating supplier and you'd like to be added to or removed from this list, or if you notice your details are incorrect and you'd like me to update them, then please contact me with your details and I'll amend the list.
I'll do my best to check through the list regularly for broken links but if you notice something is no longer working or you know of a shop that has closed, I'd appreciate you letting me know!
New Zealand Cake Decorating Suppliers
North Island
Kiwicakes
www.kiwicakes.co.nz
1c Grant St Kamo, WHANGAREI
Ph: 09 4357313
Spotlight
19 – 25 Lower Tarewa Road, WHANGAREI
The Cake Shop
www.thecakeshop.co.nz
5a Glasgow Road Pukekohe, AUCKLAND
Phone: 0800 222 454
Milly's Kitchen
www.millyskitchen.co.nz
273 Ponsonby Road, Ponsonby, AUCKLAND
Phone: 09 376 1550
Milly's Parnell Store
Level 1, 165 The Strand, Parnell, AUCKLAND
Look Sharp Discount Stores
Look Sharp Albany
140 Don Mckinnon Drive, Albany Mega Centre, AUCKLAND
Ph: (09) 414 4425
Look Sharp St Lukes
5 Wagener Place, St Lukes, AUCKLAND
Ph: (09) 815 2095
Look Sharp Westgate (Massey) Westgate Shopping Centre, Fernhill Drive, AUCKLAND
Ph: (09) 832 2095
Look Sharp Glenfield
2 Porana Road, Wairau Valley, AUCKLAND
Phone: (09) 282 3038
Look Sharp Manukau
21 Cavendish Drive, Manukau Supa Centa, Manukau, AUCKLAND
Phone:(09) 262 2098
Look Sharp Onehunga
140 Onehunga Mall, Onehunga, AUCKLAND
Phone: (09) 634 2070
Look Sharp Mt Wellington
72 Lunn Ave, Mt Wellington, AUCKLAND
Phone:(09) 527 6373
Look Sharp City
10A Victoria St East, CBD, AUCKLAND
Phone: (09) 302 0109
Look Sharp Newmarket
123 Broadway, Newmarket, AUCKLAND
Phone: (09) 520 2098
The Homestore
www.thehomestore.co.nz
The Rialto Centre, 163 Broadway, Newmarket, AUCKLAND
Ph: (09) 529 9491
Shop 069, Sylvia Park Shopping Centre, 286 Mt Wellington Highway, Mt Wellington, AUCKLAND
Ph: (09) 573 0012
Taste The Kitchen Shop
www.tastethekitchenshop.co.nz
16 Mill Lane Warkworth, AUCKLAND
Ph: (09) 4250302
Party Balloons Direct
www.partyballoonsdirect.co.nz
449 Great North Rd Henderson, AUCKLAND
Ph: 09 8375189
Toys and Parties Galore (The Cake Mixer)
www.thecakemixer.co.nz
56a Broadway Papakura, AUCKLAND
Ph: 09 2985170
Miss Bon Bon
www.missbonbon.co.nz
9 Sheridan Drive, New Lynn, AUCKLAND
Ph: 827 3110
Doreen's Cake Decorating Supplies
9 McClintock Rd, Massey, AUCKLAND
Ph: 833 4555
Chocolate Earth
www.chocolate-earth.co.nz
46 Clyde Road, Browns Bay, AUCKLAND
Ph: 476 9996
Indulge Fine Foods
www.indulgecakesupplies.co.nz
7/94 Clyde Road, Browns Bay, AUCKLAND
Ph: 09-4781587
Applewood – The Kitchen Shop
www.kitchenshop.co.nz
Queens Arcade 34-40 Queen Street AUCKLAND
Ph: 09 357 0088
Sugarcrafts
www.sugarcrafts.co.nz
99 Queens Rd, Panmure, AUCKLAND
Ph: 09 527 6060
Celebration Cakes
www.celebrationcakes.co.nz
597 Great South Rd, Manukau, AUCKLAND
Ph: 09 279 3350
Coast Cakes
www.coastcakes.co.nz
621a Whangaparaoa Road, Stanmore Bay, AUCKLAND
Ph: (09) 424 0403
Spotlight
Spotlight Albany
6 Mercari Way, Albany, AUCKLAND
Spotlight Mt Wellington
315 – 375 Mount Wellington Highway, Mt Wellington, AUCKLAND
Spotlight Henderson
111 Lincoln Road, Henderson, AUCKLAND
Spotlight Albany
6 Mercari Way, Albany, AUCKLAND
Spotlight Manukau
67 Cavendish drive, Manukau City, AUCKLAND
Bake Boss
www.bakeboss.co.nz
113 Newton St, Mount Maunganui, TAURANGA
Ph: 07 5753145
Cake My Day
www.cakemyday.co.nz
975 Cameron Road, Gate Pa, TAURANGA
Ph: 07 579 9795
Spotlight
Gate Pa Shopping Centre, 1000 Cameron Road, TAURANGA
Gourmet Trader
Gate Pa Shopping Centre, 1000 Cameron Road, TAURANGA
www.gourmettrader.co.nz
Ph: 07 578 2023
Silky Oak Chocolates
Piccadilly Arcade, 43 Devonport Road, TAURANGA
www.silkyoakchocs.co.nz
Dee Sees Creations
www.deeseescreations.co.nz
Showroom40 Pukete Road, HAMILTON
Ph: 07 849 1314
The Girl On The Swing
www.thegirlontheswing.co.nz
23 Lynden Court, Chartwell, HAMILTON
Ph: 07 855 4107
Cake and Kitchen
www.cakeandkitchen.co.nz
6B Princes Street, HAMILTON
Ph: 07 854 8929 or 021 689 428
Spotlight
Te Rapa Road, Corner Garnett Avenue, HAMILTON
Spotlight
1301 Ranolf Street, ROTORUA
Chef's Compliments
www.chefscomplements.co.nz
8 Gascoigne Street, TAUPO
Ph: 07 377 4455
Kitchen Domain
www.kitchendomain.co.nz
326 Devon Street East, NEW PLYMOUTH
Spotlight
Westpoint Complex, 139 Gill Street, NEW PLYMOUTH
Thistle Sweet Shop
www.thistlesweetshop.co.nz
136 Victoria Avenue, WANGANUI
Ph: 06 345 0143
Total Food Equipment
www.tfe.co.nz
29 Bower Street, NAPIER
Ph: 06 834 4004
Cakestuff
www.cakestuff.co.nz
113 Heretaunga Street East, HASTINGS
Ph: 06 8703172
Spotlight
200 Avenue Road West, HASTINGS
and
199 Main Street, PALMERSTON NORTH
Rosebowl Bakery
www.rosebowl.co.nz
107 Fergusson Street, FEILDING
Kiss and Bake Up
www.kissandbakeup.co.nz
(Go Bake premium reseller)
11 Mahara Place, WAIKANAE
Ph: 04 2933 577
and
174 Main Highway, OTAKI
Ph: 06 364 8650
Kapiti Cakes and Bakery
www.kapiticakes.co.nz
Coastlands Parade, PARAPARAUMU
Ph: 04 296 1244
Kuripuni Bookshop
442 Queen St, MASTERTON
Ph: 063774774
Spotlight
North City Mega Centre, PORIRUA
Pete's Emporium
2 Parumoana Street PORIRUA
and
541 High St, LOWER HUTT
Cupcake Sweeties
www.cupcakesweeties.co.nz
221 Waiwhetu Road, Fairfield, LOWER HUTT
Build a Birthday
www.buildabirthday.co.nz
252 Jackson St Petone, LOWER HUTT
Silky Oak Chocolates
Lower Hutt Centre City Plaza, 152 High Street, LOWER HUTT
Ph: 04 589 8811
www.silkyoakchocs.co.nz
The Homestore
www.thehomestore.co.nz
256 Lambton Quay, WELLINGTON
Ph: 04 499 4469
Spotlight
120 Old Hutt Road, Kaiwharawhara, WELLINGTON
South Island
Spotlight
2 – 4 Hastings Street, NELSON
Coast Cake Supplies
www.coastcakesupplies.co.nz
21 Karoro Place Karoro, GREYMOUTH
Divine Cakes & Desserts
www.divine.co.nz
160 Blenheim Road, CHRISTCHURCH
Ph: 03 9646540
The Homestore
www.thehomestore.co.nz
Shop 37 Merivale Mall, 189 Papanui Road Merivale, CHRISTCHURCH
Ph: 03 356 1469
Spotlight
The Colombo, 363 Colombo Street, Sydenham, CHRISTCHURCH
BakeaShape
(Cake Pan Hire, courier nationwide), CHRISTCHURCH
www.bakeashape.co.nz
Ph: 03 383 2242 or 027 513 4707
Total Food Equipment
www.tfe.co.nz
218 Moorhouse Ave, CHRISTCHURCH
Ph: 03 3666 912
and
140 Cumberland Street, DUNEDIN
Ph: 03 474 0568
Spotlight
143 Vogel Street, DUNEDIN
Ph: (03) 477 1478
Cake and Sugar Art
(formerly Sugarcraft Hawkes Bay)
www.cakeandsugarart.co.nz
146 Clyde Street, INVERGARGILL
Ph: 0800 2888377
Ph: (03) 2140048
South City Party Nibbles
150 Clyde Street, Appleby, INVERCARGILL
Ph: 03 218 6613
Spotlight
33 Leven Street, INVERCARGILL
GoBake
www.gobake.co.nz (Click "Where to Buy" for stockists of Gobake products)
Online Only
Delicious Decorations
www.deliciousdecorations.co.nz
Ph: 0274777879
Little Cookies
Kitchen Domain
Edible Image Printing Services
{Business area is listed where applicable, however most will post NZ wide}
Kiwicakes
{Whangarei}
www.kiwicakes.co.nz
Celebration Cakes
{Auckland}
www.celebrationcakes.co.nz
Indulge Fine Foods
{Auckland}
www.indulgecakesupplies.co.nz
Coast Cakes
{Auckland}
www.coastcakes.co.nz
Cakestuff
{Hastings}
www.cakestuff.co.nz
Kiss and Bake Up
{Kapiti Coast}
www.kissandbakeup.co.nz
Cupcake Sweeties
{Lower Hutt}
www.cupcakesweeties.co.nz
Logos on Cakes
{Rolleston}
www.facebook.com/Logos-On-Cakes
60 Renoir Drive
Ph: 021-861-681 or 03 3773686
Icing4U
{Dunedin}
www.icing4u.com
Sugarcrafts
{Auckland}
www.sugarcrafts.co.nz
Cake Images
Custom Laser Cut Cake Toppers
Ashwood Lane
www.ashwoodlane.co.nz
Email: ashwoodlane@outlook.com
The Carpenter & Co
www.facebook.com/Thecarpenterandco
Red Pepper Designz
www.redpepper.co.nz
Phone: Mandy 022 102 3767
Shop 2, Harbour Village Dr, Gulf Harbour, Auckland
Love From Seventeen
Imagine If
www.imagineif.co.nz
Phone: Jo 027 499 1485 or Shop 07 889 7838
Email: imagineif@xtra.co.nz
dreamaDesign
Custom Cut Stencils
Ibicci
www.ibicci.co.nz
Email: cookies@ibicci.co.nz
Ph: 027 466 6495
Acrylic Ganache Boards & Scrapers
Design At 409
www.designat409.com
Email: hello@designat409.com
Ph: 022 166 3970
(Design @ 409 make the fabulous acrylic boards I recommend in my Ganache and Buttercream tutorials)