This post may contain affiliate links to products I recommend. I receive a small commission at no cost to you if you make a purchase using my link.
With a creamy texture and rich coffee flavour, these delicious coffee milkshakes are the perfect morning coffee for some get-up-and-go, or an afternoon pick-me-up, and are made with just three simple ingredients!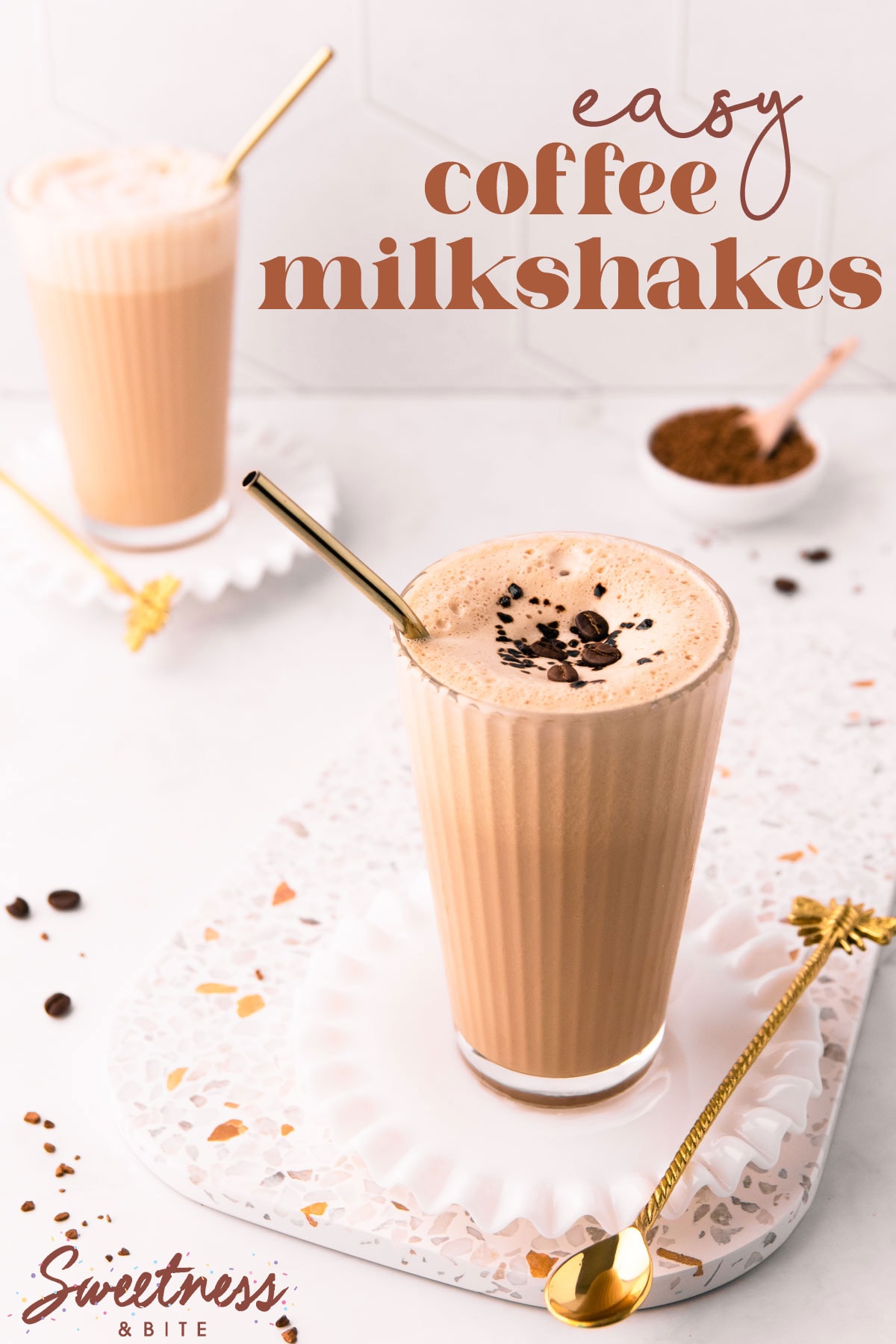 There are approximately 28748746276 different ways to drink coffee, and this classic coffee milkshake has to be one of my favourites.
Perhaps because one of my favourite desserts is an affogato, and this milkshake tastes like an affogato in drink form – with the combination of sweet, creamy vanilla ice cream and bold coffee flavour.
It's the perfect cool refreshing coffee drink for summer – no one wants to sweat over a cup of hot coffee on a hot summer day!
I always cringe when I find myself calling recipes "The Best" since that's always so subjective, but I feel like this is the best coffee milkshake recipe because you get to choose the ingredients, which adjusts the recipe to your liking.
Use the type and strength of coffee that you like and the type of dairy or non dairy milk and ice cream that you need or prefer. This allows you to adjust the strength of the coffee flavour, the sweetness and works with any dietary needs that you have.
And if you can't have lots of caffeine (like me!) you can make it with decaf coffee 🎉
What you'll love about this Coffee Milkshake Recipe:
Scroll down to the recipe card for the full ingredients list and printable recipe, or keep reading for ingredient tips and process photos.
Ingredients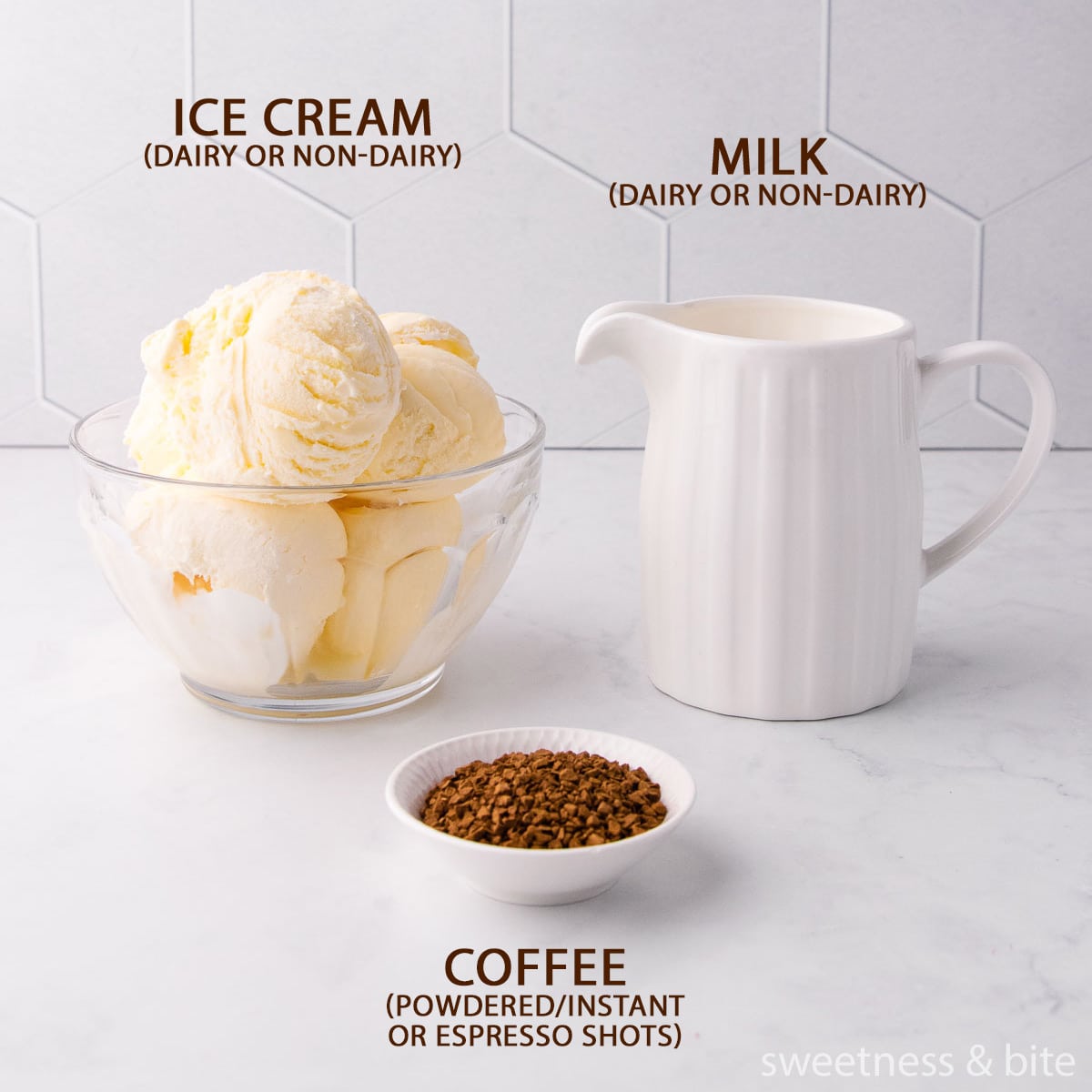 Coffee – This coffee shake recipe works with pretty much any kind of coffee that you like. I used freeze-dried instant coffee granules, but you can use instant coffee powder, espresso powder, or shots of espresso.
You could also use brewed coffee such as filter or cold brew coffee. If you use brewed coffee, you will use that to replace some of the milk in the milkshake, and you will end up with a slightly thinner milkshake. If using hot brewed coffee, will need to make it in advance and chill it before making the milkshake.
Adjust the strength of the coffee flavour by adjusting the amount of coffee powder, or the strength of your brewed coffee. Use decaf coffee if you can't have caffeine.
Ice Cream – I have used vanilla ice cream, but you can use any complementary flavoured ice cream that you like. Coffee ice cream would be perfect, of course. For a non-dairy coffee milkshake, use non-dairy or vegan ice cream. The sweetness of your ice cream will determine the sweetness of your drink. If you choose one that isn't sweet enough for your liking, you can add a little bit of white or brown sugar to the shake.
Milk – Use any milk you like in this recipe. I used whole milk (full-fat milk here in NZ), but you can use skim milk or a non-dairy milk. Almond milk or oat milk would be great, as will coconut milk, although coconut milk does tend to have a stronger flavour (which is fine if you like coconut and coffee together).
Optional – I topped these coffee milkshakes with whipped cream and a dusting of chocolate powder (drinking chocolate or hot chocolate mix), but you can leave them plain or scroll down for some more serving ideas.
Dairy free or Vegan Coffee Milkshake
Use your favourite non-dairy milk, and use dairy-free/ vegan ice cream.
Equipment
To make a super smooth, creamy milkshake you'll need a blender, but the type of blender doesn't really matter. You can use a regular blender, an immersion blender (aka stick blender or hand blender) or a personal (bullet) blender. If you use a blender with a smaller capacity, you may need to adjust the amount of ingredients, or split the ingredients in half and make each milkshake separately (this recipe makes two large milkshakes.)
How to Make a Coffee Milkshake
This really couldn't be any easier unless someone just makes it for you.
First, prep your coffee. If you're making espresso, make the shots however you usually do, then leave it to cool.
If, like me, you're using instant coffee powder or granules, dissolve it in a tablespoon of boiling water first, then leave it to cool.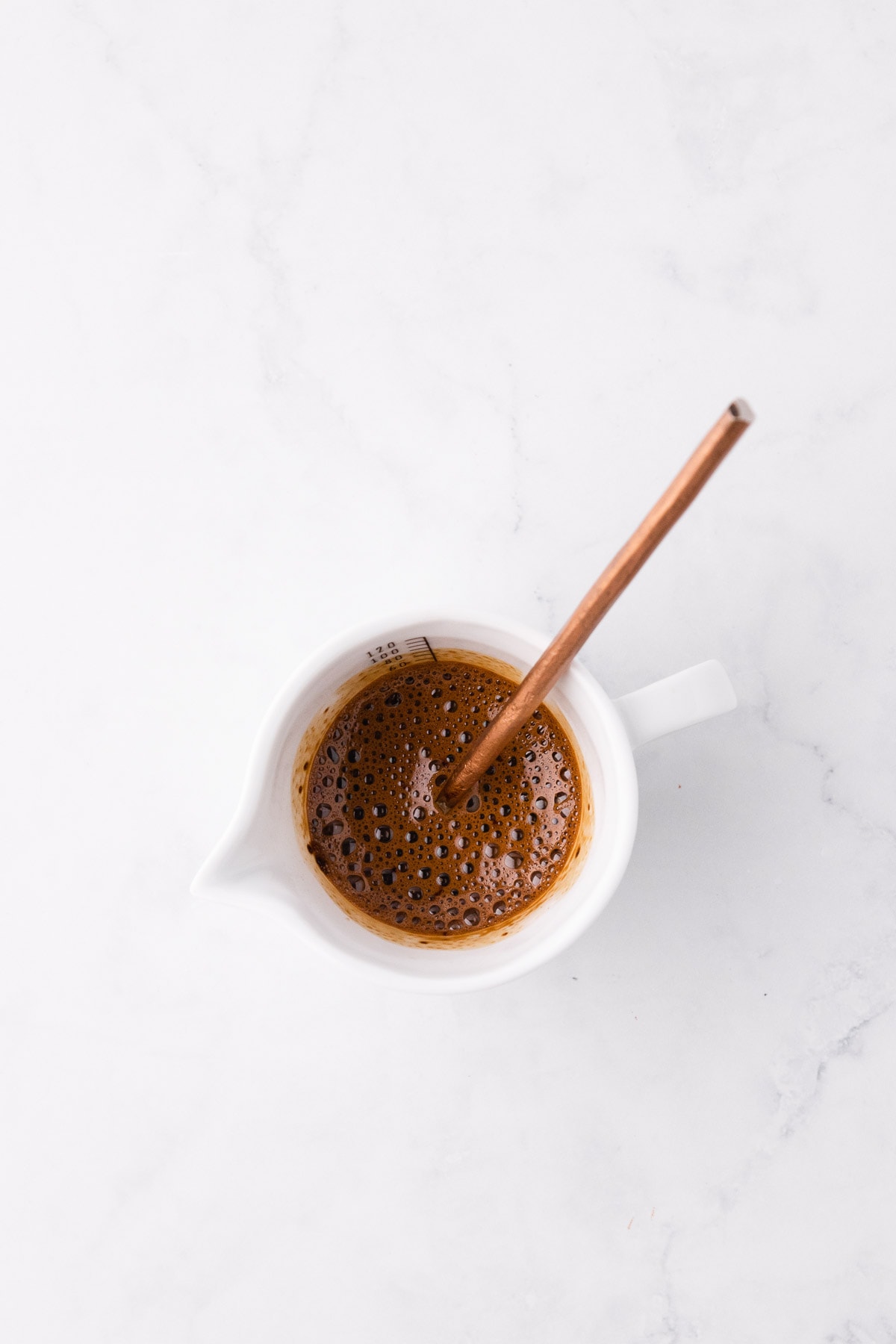 Add your ice cream, coffee and milk to a blender… and blend it until smooth. If the milkshake is too thick to blend properly, you can add another splash of milk.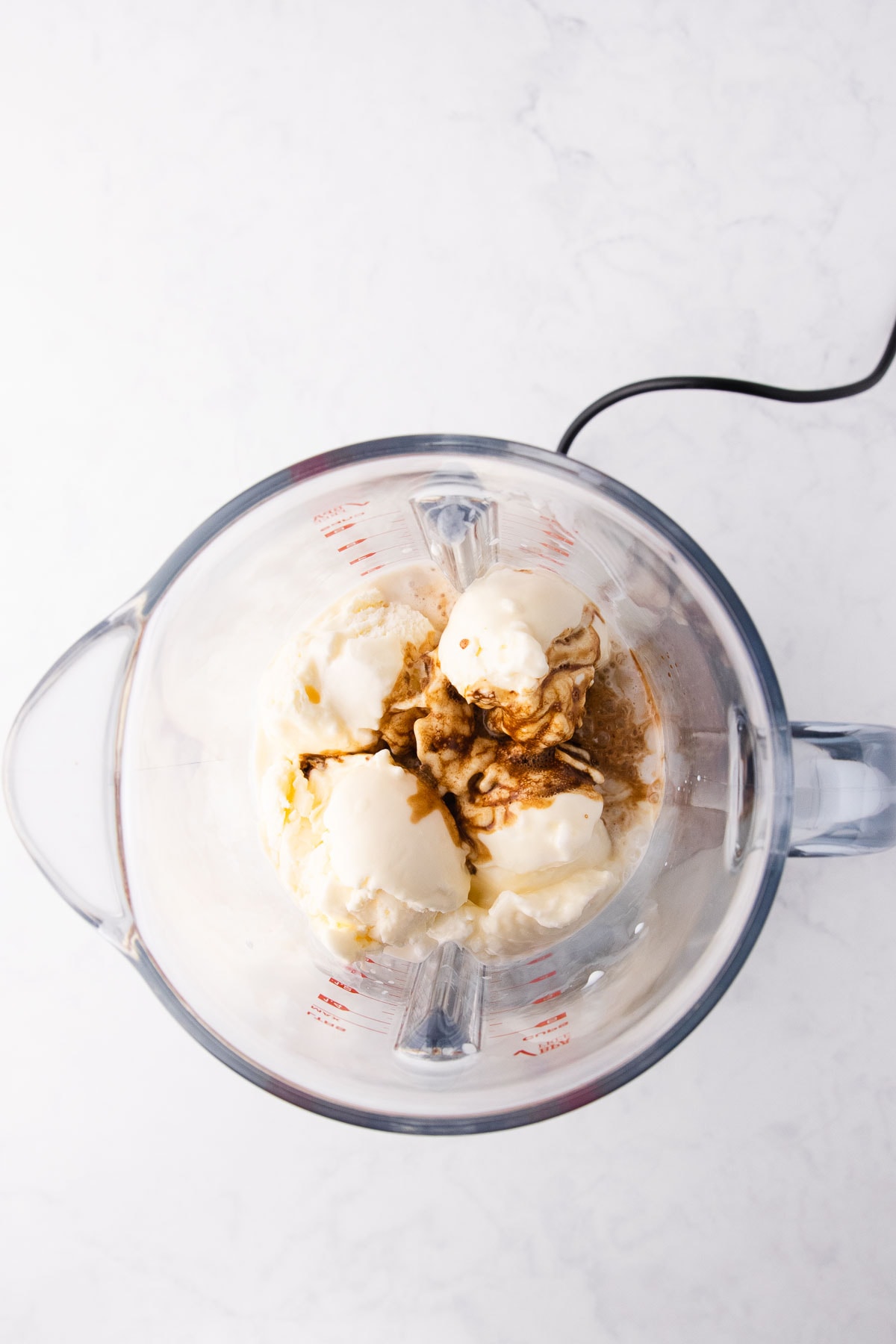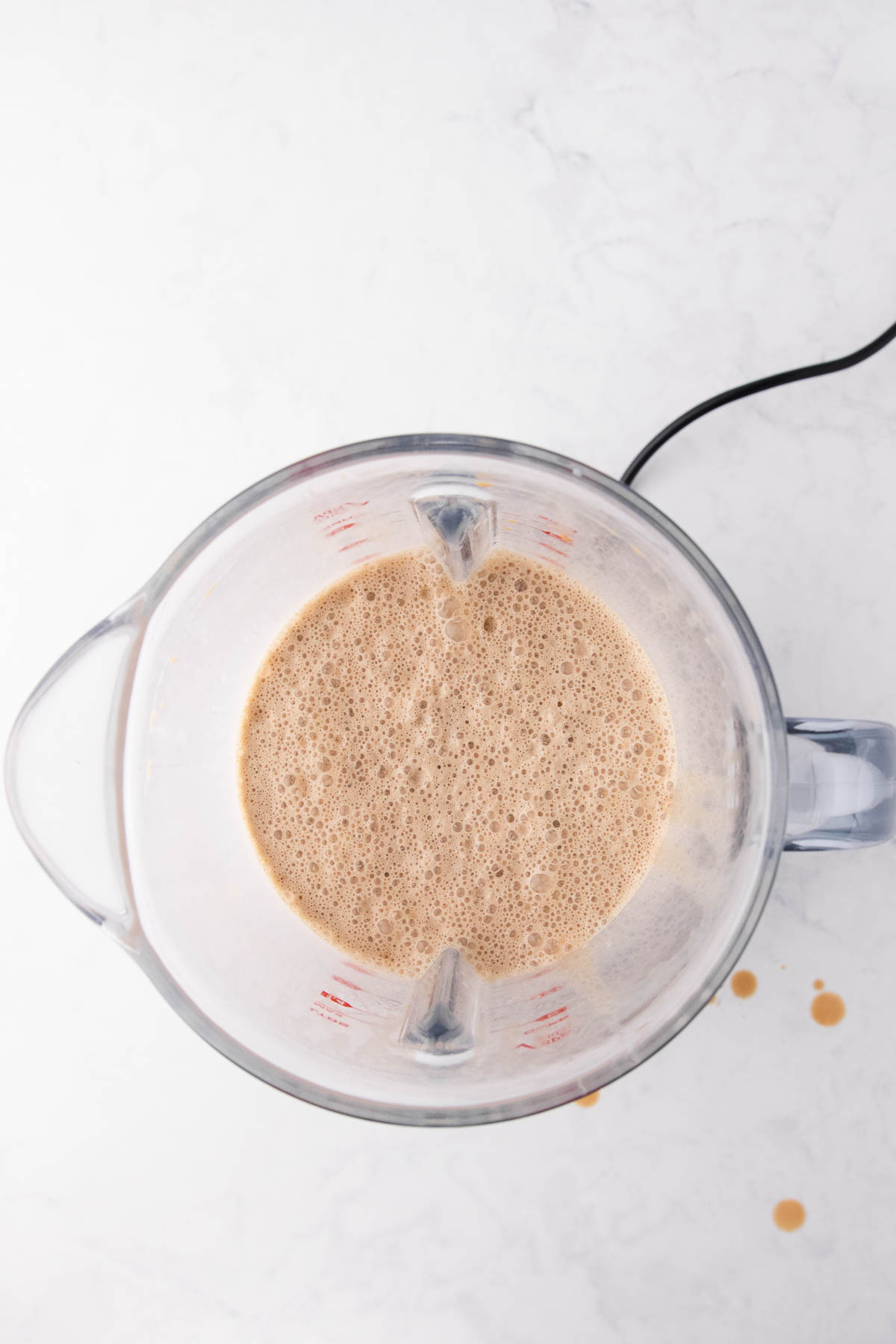 Pour the creamy coffee milkshake into two tall glasses (or more smaller ones, if that's your vibe). The amount of froth on the top of your milkshake will vary depending on your blender and how long you blend it.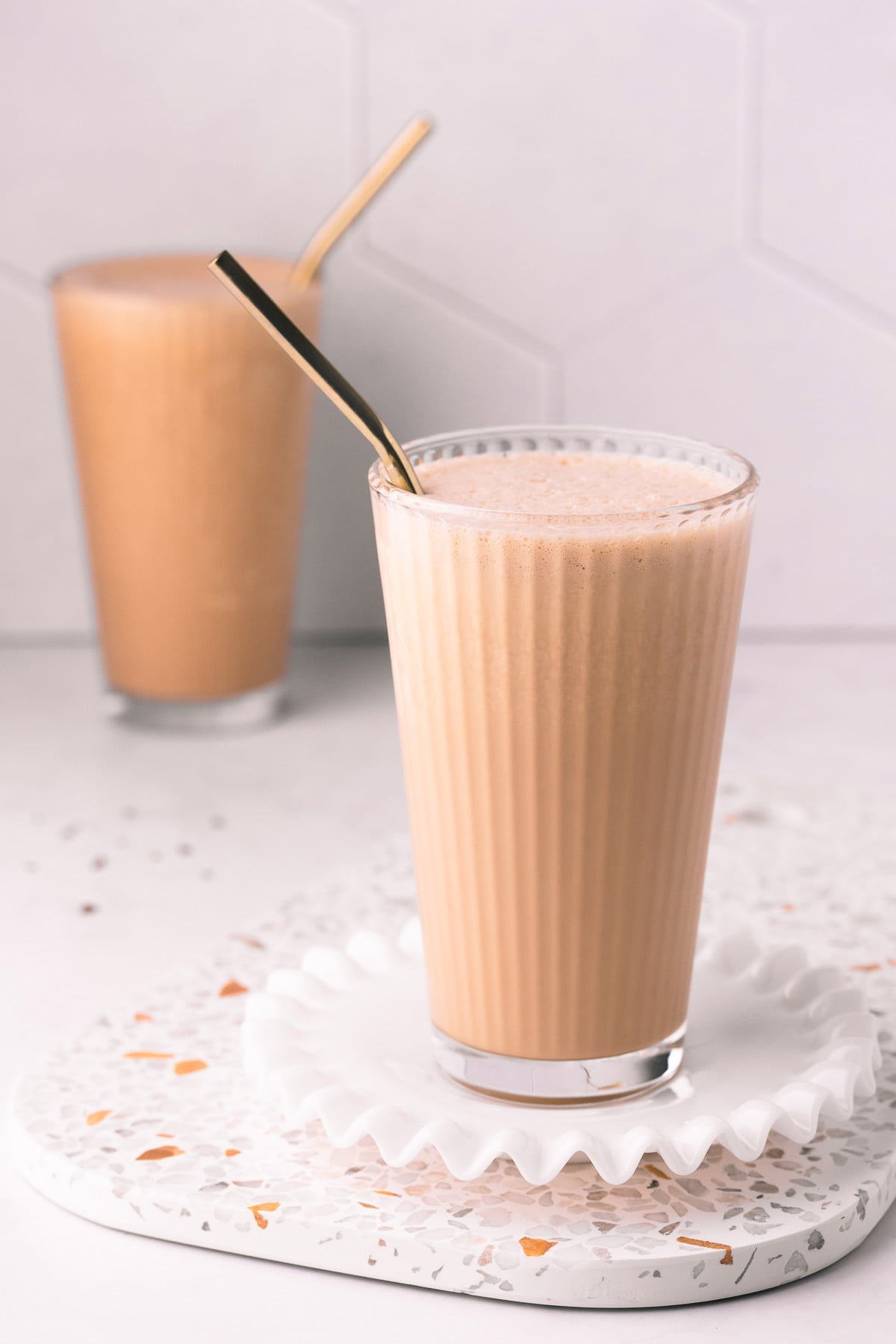 And that's it. Really. Homemade milkshakes are just so easy. The hardest bit is motivating yourself to clean the blender. Or is that just me?
Other Coffee Milkshake Flavours
There are SO many different ways you can add even more flavour to this coffee milkshake recipe! Here are some ideas.
Mocha Milkshake – add a tablespoon of cocoa powder, chocolate syrup or chocolate sauce, or use chocolate ice cream.
Vanilla Coffee Milkshake – add 1 teaspoon of vanilla extract or vanilla syrup.
Caramel Coffee Milkshake – add some caramel sauce to the milkshake, then drizzle some more on the top. You could do the same with chocolate caramel sauce, or even some cheeky rum caramel sauce 😉.
Cappucino Milkshake – Top the milkshake with whipped cream and dust with chocolate powder or cinnamon.
Boozy coffee milkshakes – add a shot of coffee liqueur. Baileys Irish cream, Frangelico or Amaretto would also be delightful additions.
Add any of your favourite coffee flavouring syrups.
Top with whipped cream and/or dust with chocolate powder.
Sprinkle with coffee granules and coffee beans, as I did here.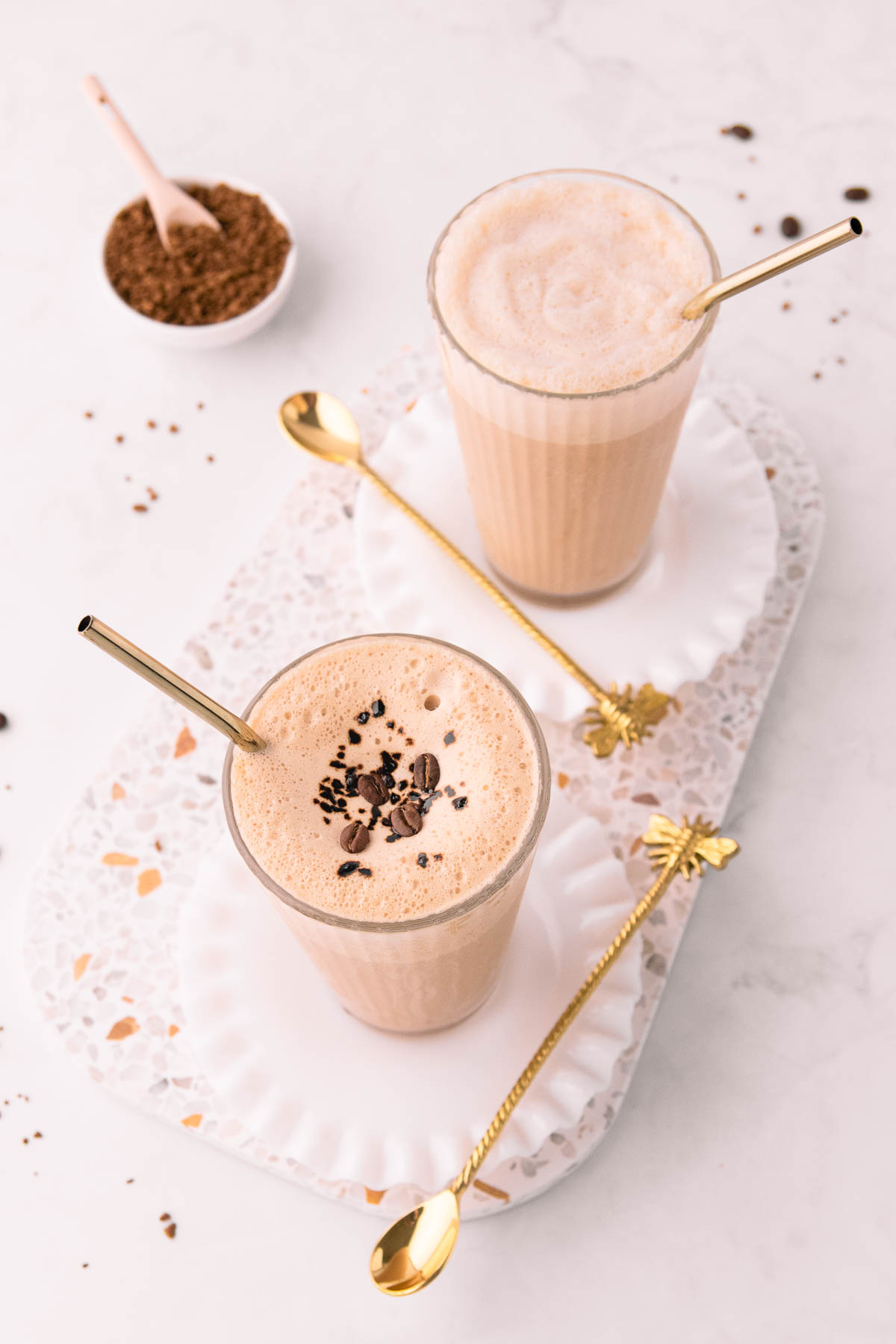 Q&A
Did you know that there is a national coffee milkshake day? I mean, of course, there is a day for everything. But you don't need to wait til July 26th, any day is a good day to make and enjoy a homemade coffee milkshake.
More Recipes You May Like…
If you're in the mood for a refreshing drink, you should definitely try my Pink Panther recipe – it's a raspberry lemonade float that is just so delicious.
Big coffee lover? Why not make some Gluten Free Tiramisu for the ultimate pick-me-up? (There are swaps in the recipe if you don't need it to be gluten free).
And if you also enjoy your coffee in mousse form, you'll definitely love this easy Mocha Mousse.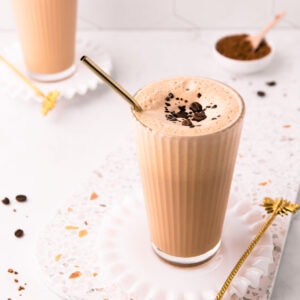 Easy Coffee Milkshakes
With its creamy texture and rich coffee flavour, this delicious coffee milkshake is the perfect morning coffee for get-up-and-go, or an afternoon pick-me-up, and is made with just three simple ingredients!
Print Recipe
Pin Recipe
Save
Saved!
Ingredients
5

large scoops

ice cream

see notes

1 ½

cups

milk

or non-dairy milk

2-3

Tablespoons

powdered or granulated instant coffee
OR
2-3

shots

espresso coffee

cooled
Instructions
Prepare your coffee
If you're using shot/s of espresso or using hot brewed coffee, make it, let it cool and then refrigerate until cold.

If using instant coffee, granulated coffee or espresso powder, dissolve it in a tablespoon of boiling water, then leave it to cool.
Make the milkshake
Place the ice cream, milk and coffee into a blender and blend until smooth and creamy.

Pour into two tall glasses and serve immediately.
Notes
Coffee – You can use brewed coffee such as filter coffee or cold brew in this recipe instead of instant coffee or espresso shots. Make the coffee in advance, cool and chill it. Reduce the milk by the same amount of coffee that you choose to add. Ice Cream – Any kind of ice cream works in this recipe, dairy or non-dairy. I used vanilla, but you can use any complementary flavoured ice cream that you like. Adjust the consistency – For a thicker milkshake, use more ice cream or reduce the milk. The nutrition info below is for 1 large milkshake made with whole milk and dairy-based vanilla ice cream.
Nutrition
Serving:
500
ml
|
Calories:
460
kcal
|
Carbohydrates:
49
g
|
Protein:
12
g
|
Fat:
24
g
|
Saturated Fat:
15
g
|
Polyunsaturated Fat:
1
g
|
Monounsaturated Fat:
6
g
|
Cholesterol:
95
mg
|
Sugar:
44
g
|
Calcium:
442
mg
Nutritional Disclaimer: Any nutritional information provided is a computer generated estimate and is intended as a guide only.