Choc Caramel Cheat'scakes ~ Simple Chocolate Caramel Cheesecakes
This post may contain affiliate links to products I recommend. I receive a small commission at no cost to you if you make a purchase using my link.
Once upon a time, there was a girl who wanted to make some Lemon Cheat'scakes – the easiest lemon cheesecakes the world had ever seen. So she went to her kitchen and prepared to make them. But alas, she had no lemons.
Nor, as it turns out, did she have any plain biscuits… or white chocolate…
An so it seemed she was not destined to have Lemon Cheat'scakes.
But wait!
There in her pantry she had chocolate biscuits! And caramel sauce! And dark chocolate!
And thus, Chocolate Caramel Cheat'scakes were born.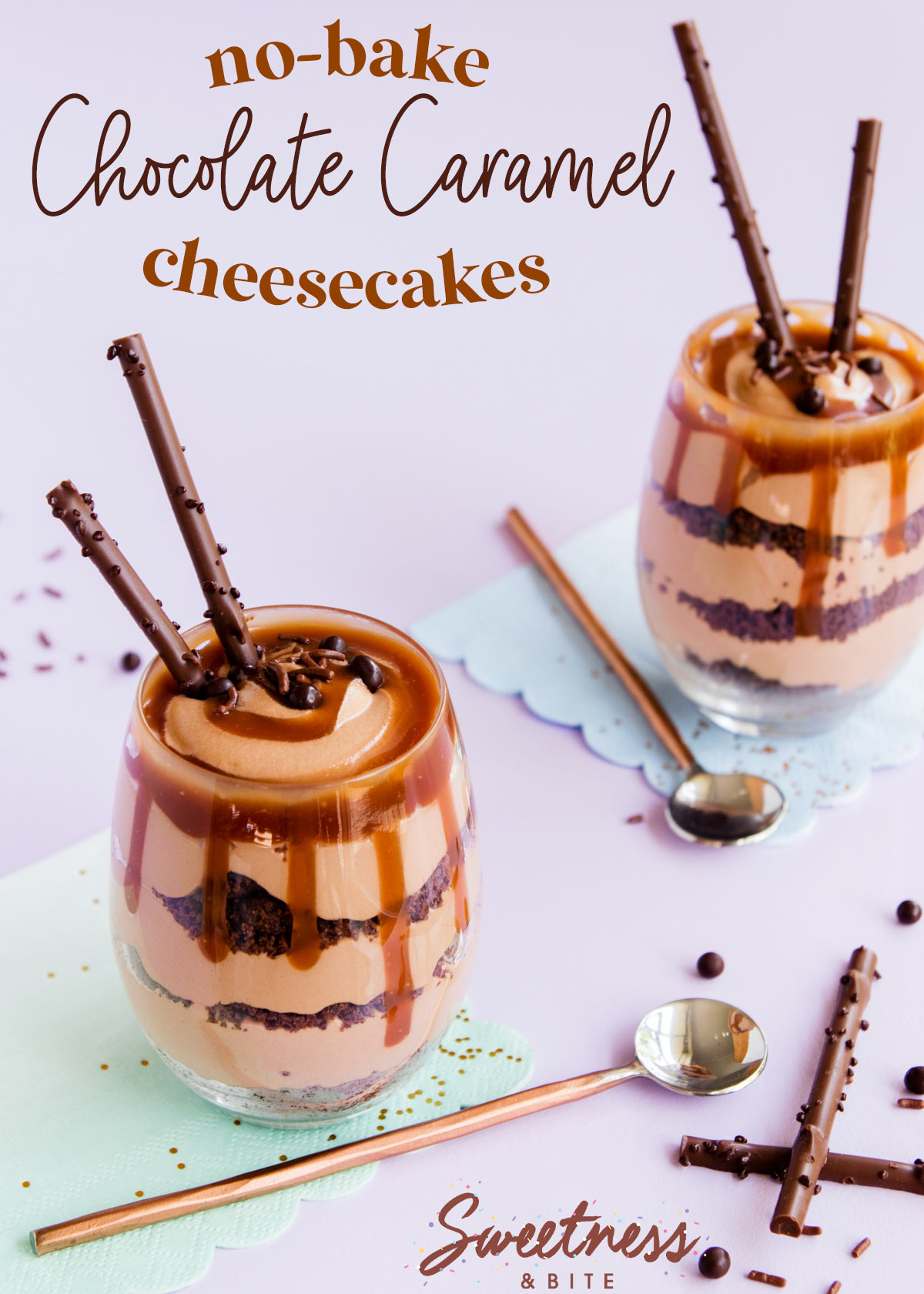 Believe it or not, that person with the sadly lacking pantry I'm referring to isn't me, it's my friend Loralee. She is the queen of time-saving baking and cake decorating and prefers simple recipes and techniques. Kinda the complete opposite of me and my love for time consuming stuff, but she has four kids and she doesn't have time for that, so I know if she's willing to use this recipe then it definitely passes the quick and easy "Mum Test".
So all the credit for the creation of this particular Cheat'scake variation goes to Loralee, I just made them with my own lightly salted caramel sauce (so I could give you guys the recipe) and photographed them all nicely for you too.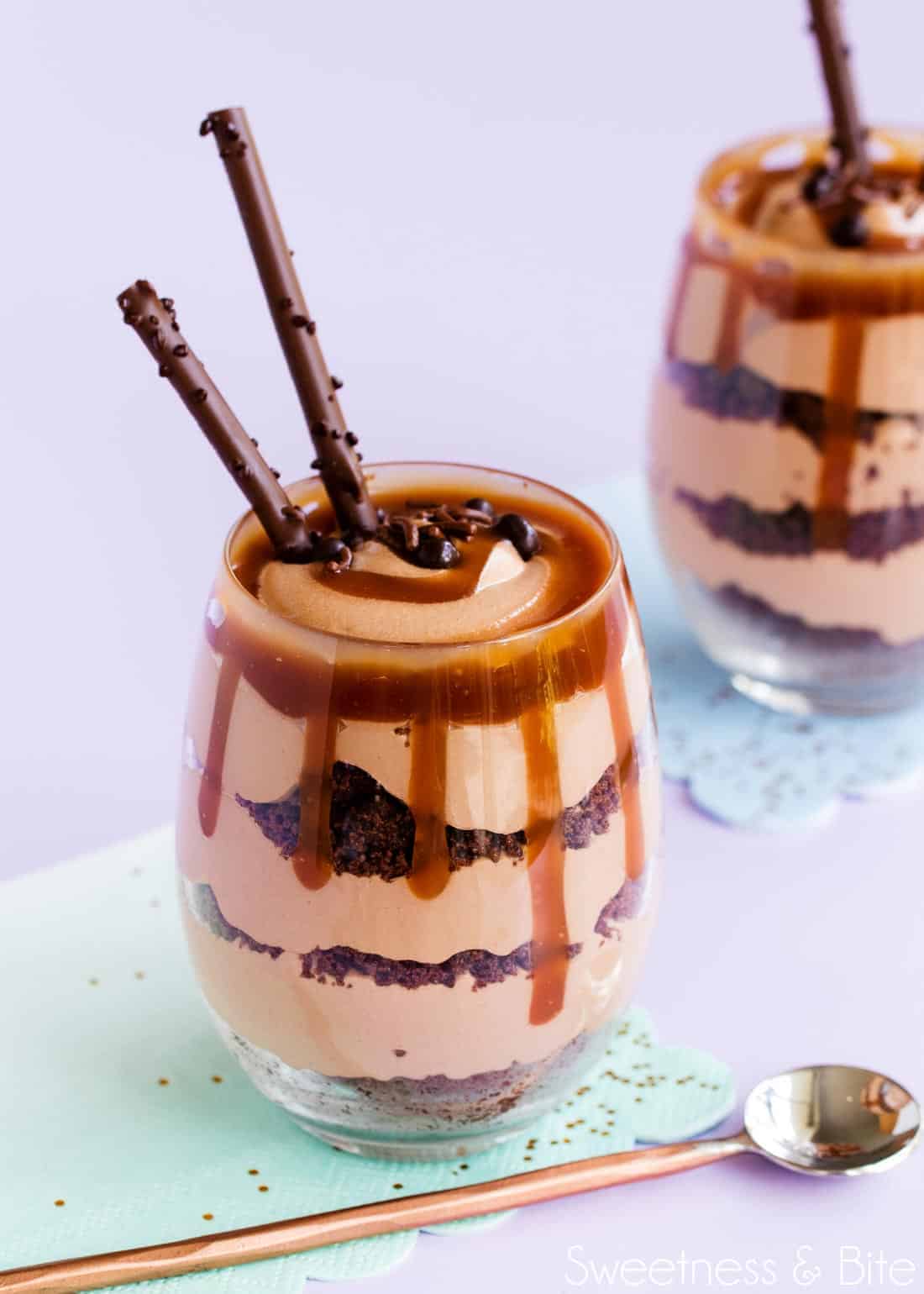 You know I'm partial to a lemon cheesecake, but I have to say that while the lemon version is light and summery, these simple chocolate caramel cheesecakes are rich and decadent, a sure-fire winner for chocolate lovers and caramel lovers alike. And like the original cheat'scake recipe, they require minimal chilling time, so you can have these dreamy cheesecakes in very little time at all.
Like the lemon cheat'scakes, these are perfect for parties and dessert displays – you can scale the recipe up or down, and pipe the mixture into shot glasses, little jars or even ready-made pastry tart cases, pop them all in an airtight container in the fridge, and just take them out when you're ready to set up.
As I mentioned above, I made these with my own homemade caramel sauce, but to make this an even easier dessert to whip up, you can use ready-made caramel sauce. Or you could go full choc-overload (is there such a thing?!) and use chocolate sauce or ganache.
For the best flavour, you need to use good quality chocolate. I used my favourite Kiwi chocolate – Whittaker's, and I used both dark and milk chocolate – dark for the rich flavour, and milk for added sweetness, as we're not using any sugar other than what is in the chocolate and the caramel sauce.
You can use whatever biscuits ('cookies' for y'all who call scones 'biscuits' and biscuits 'cookies') you desire for the cheesecake base. I went with gluten free plain chocolate biscuits, but go crazy. As long as they don't have any filling, whatever you've got will work.
I went all fancy with these and did a caramel drip on the rims of my serving glasses. On the inside, because sometimes I'm smart like that and want to avoid mess and sticky fingers (or rather, I'd already got messy and sticky while mixing up the cheesecake filling, and there are only so many times you can wash your hands before you start losing skin, amiright?)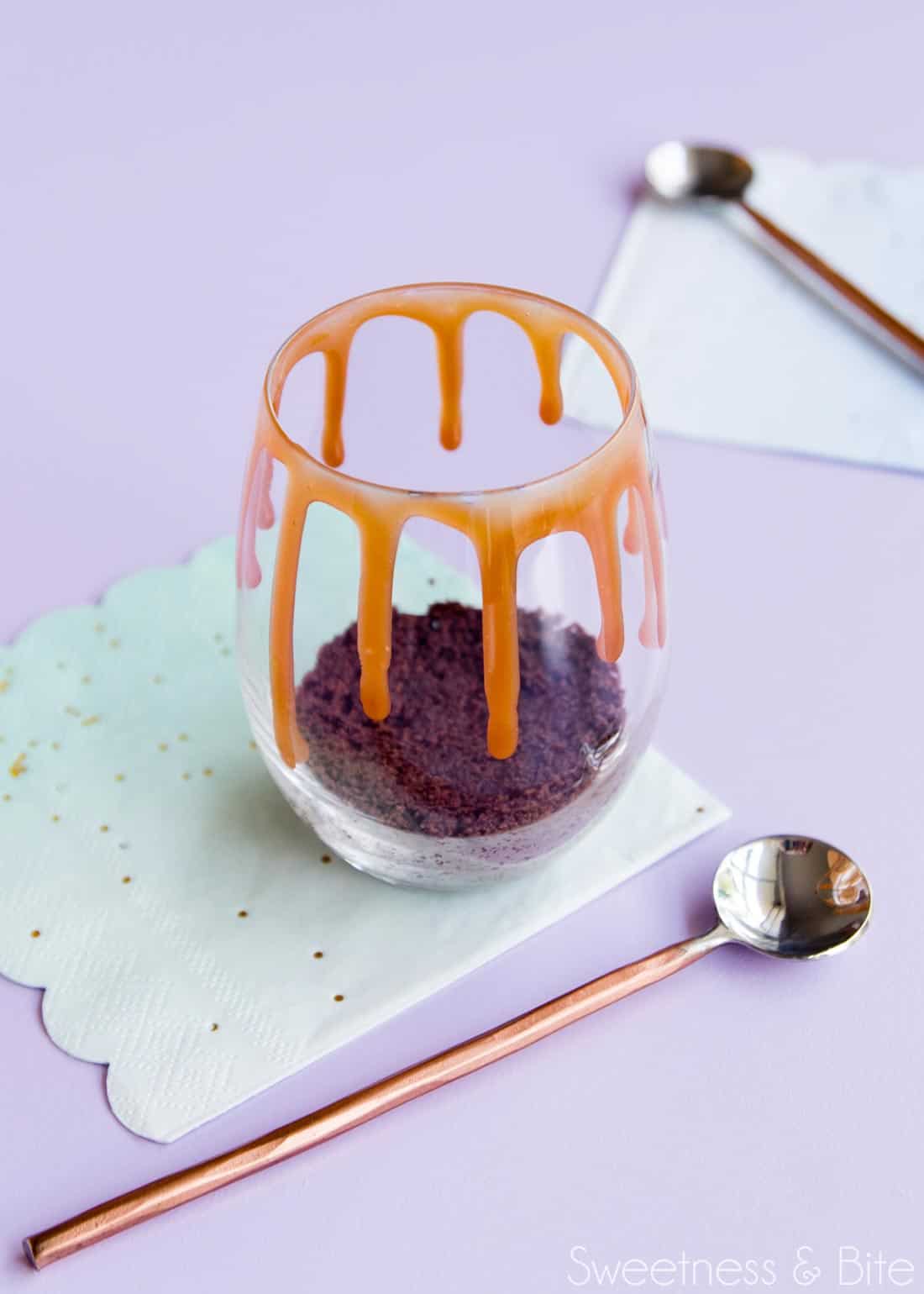 That bit definitely would not pass Loralee's "Mum Test", but it does look pretty, right? I'll give instructions in the recipe for how to do the drip (it's done pretty much how I did this ganache drip on my mini cake) but if you don't have time for that, then simply drizzling the caramel inside would look suitably enticing too.
I decorated the tops with more caramel sauce, some chocolate sprinkles, Valrhona chocolate pearls and these chocolate twig/stick things that I stocked up on at Christmas time and then just slowly ate through all *cough* six *cough* boxes before I actually got round to using them to decorate something.
If you just want to dive headfirst into this, be my guest. I'll even hold your towel and your sunscreen.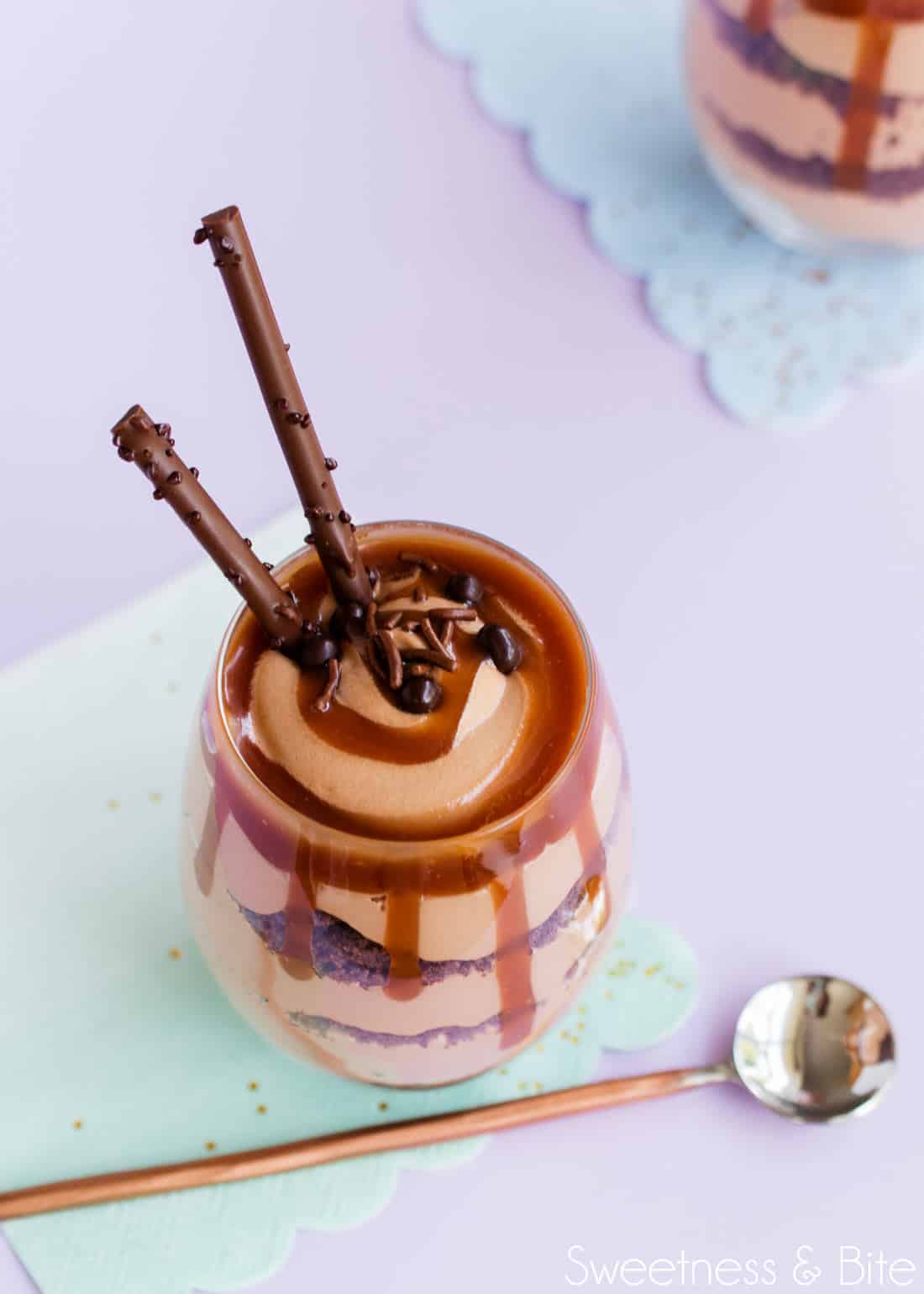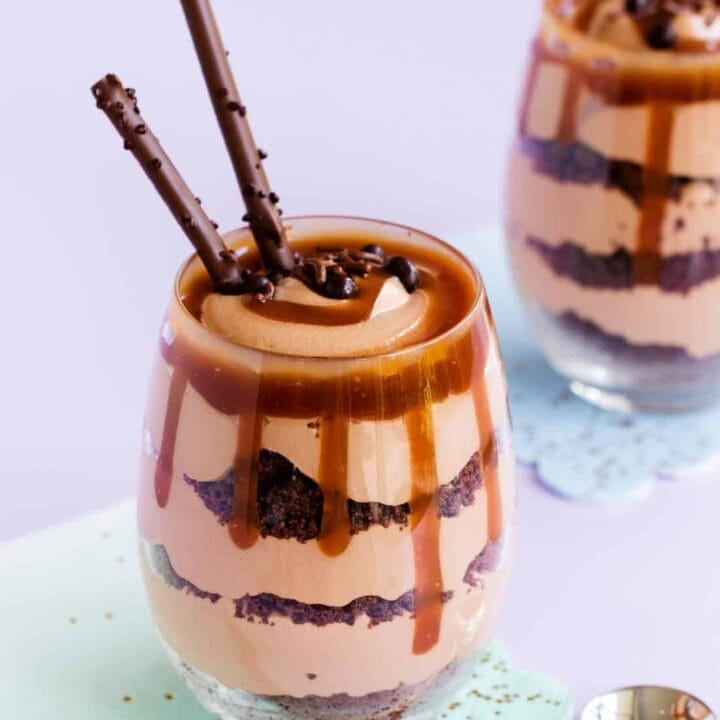 Choc Caramel Cheat'scakes ~ Simple Chocolate Caramel Cheesecakes
Yield:
Six 260ml (9oz) glasses
Chilling Time:
30 minutes
No bake, no gelatine, and ready to eat in under an hour. The easiest, quickest cheesecakes you'll ever make!
Ingredients
250g chocolate biscuits/cookies
35g butter, melted
100g dark chocolate (at least 50% cocoa solids), chopped
100g milk chocolate, chopped
500g full-fat cream cheese, softened at room temp for 30 mins
300ml whipping cream
Instructions
Crush the biscuits into crumbs using a food processor (or place them in a resealable plastic bag and crush them with a rolling pin). Combine them in a bowl with the melted butter, and stir well. Spoon some of the crumb mixture into the bottom of each of your serving glasses/jars. The amount will depend on how thick you like your cheesecake base, but 1-2 tablespoons is a good starting point. Press the crumbs down using the back of a spoon, or if you have one, the tamper from a coffee machine works really well for this. Place the glasses in the fridge while you prepare the 'filling' and set the remaining crumbs aside.
If you want to do the caramel drip around the top edge of the glass, warm some of the caramel sauce until it's pourable but not runny. Pour it into a squeezy bottle fitted with a round nozzle (I used a Wilton #6). Place the tip against the inside top edge of the glass, and squeeze a little of the sauce until it begins to drip down the glass. Repeat around the glass for as many drips as you'd like, then you can go back as squeeze a little of the sauce along the edge to join up the drips. Pop the glasses back into the fridge so the sauce can set.
Place the chopped dark and milk chocolate in a heatproof bowl and microwave on medium power in 30 second bursts until melted, stirring between each burst. Set aside to cool slightly.
Beat the cream cheese in a large bowl with an electric mixer until smooth. Beat in the melted chocolate and 1/4 cup of the caramel sauce.
In a small bowl, whip the cream until stiff peaks are just beginning to form. You can use the same mixer blades you used for the cream cheese, no need to wash. Be careful not to over whip the cream. Stir 1/3 of the whipped cream into the cream cheese mixture to lighten it, then gently fold in the remaining whipped cream. (At this point you can spoon the mixture into your serving glasses (or straight into your mouth, I won't judge), or if you want to pipe it, then you can put the whole bowl of cheesecake filling into the fridge for 10-20 minutes to firm it up slightly and make it easier to pipe.)
Spoon or pipe a layer of filling into each glass. Spoon or pipe some more of the caramel sauce on top (I put mine in a small squeezy bottle with a round nozzle), and sprinkle some of the remaining biscuit crumbs around the edge. Continue the layers as many times as your serving glasses allow. Top with more caramel sauce, and decorate with chocolate sprinkles, or any other decorations you desire.
Chill for 20-30 minutes to firm up (or eat immediately if you just can't wait.) Cheesecakes will keep for several days in the refrigerator. Cover individual glasses with plastic wrap, or place them all in a plastic container with an airtight lid. The cheesecakes can also be frozen, ideally in individual lidded plastic containers. Just thaw them for an hour or so before eating.
Notes
I used six 260ml stemless wine glasses to serve my cheesecakes, but you can use any size and shape glasses/jars etc. that you like, just scale the recipe up or down if necessary.
The cream you need for this recipe is regular pourable cream that can be whipped. In NZ it's just known as cream or whipping cream, in other countries it could be labelled as heavy cream, heavy whipping cream or single cream (double cream could also be used, just be careful not to over-whip it.)
I used both dark and milk chocolate in this recipe - dark chocolate for rich flavour and milk chocolate for both flavour and sweetness. If preferred you can use all dark chocolate and add a little icing sugar to the mixture if it isn't sweet enough.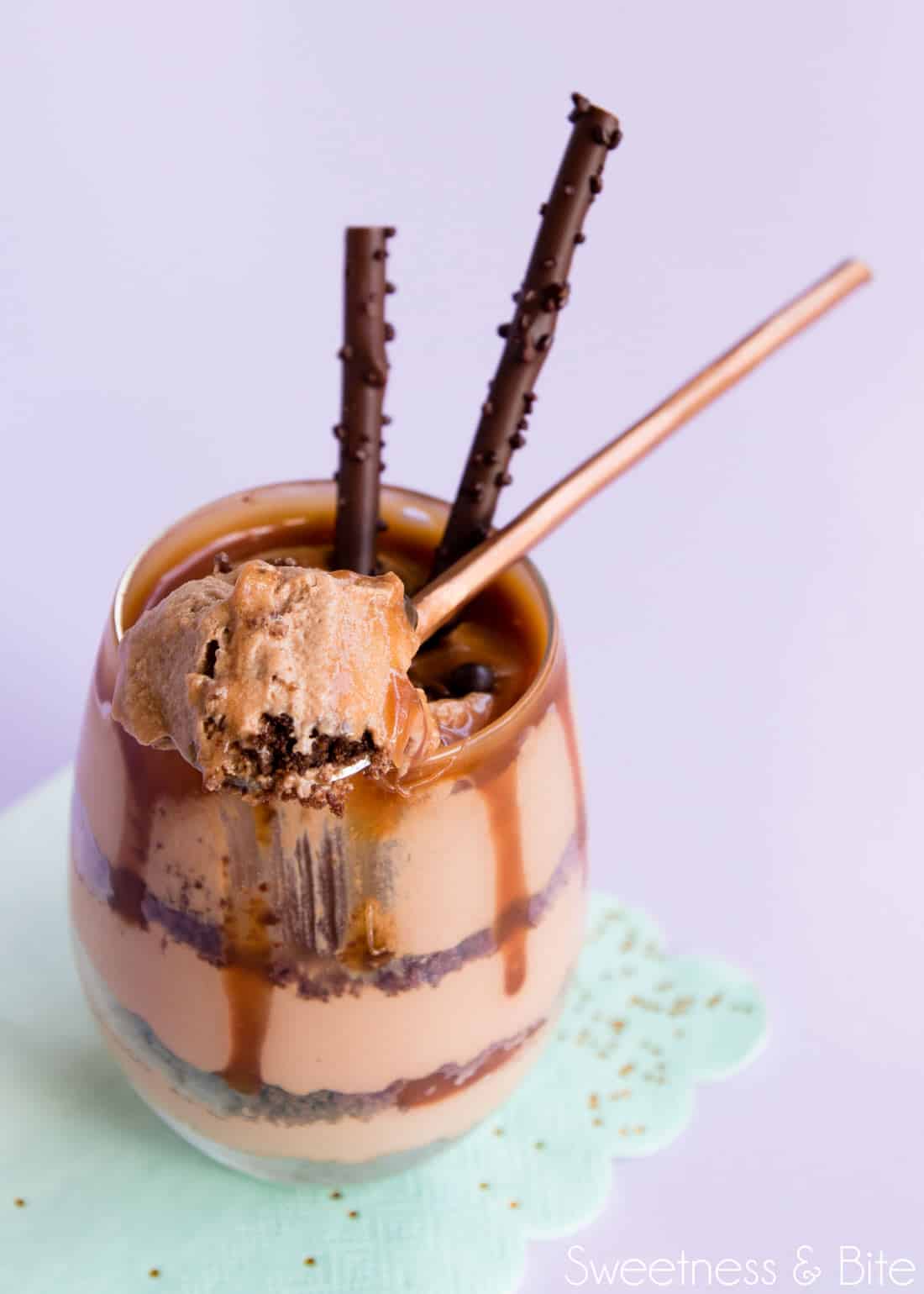 Enjoy!
~Natalie
xx