DIY Stand Mixer Attachment Organiser
This post may contain affiliate links to products I recommend. I receive a small commission at no cost to you if you make a purchase using my link.
This post contains affiliate links.
We're still in organisation mode around here after having a whole brand-spanking new kitchen put in, and I've been trying to find new and wonderful ways to store my cake stuff.
One of my biggest peeves when baking has been scrabbling around trying to find the right attachment for my mixer. We actually have two mixers in the kitchen, my Kitchen Aid, and my Mum's Breville scraper mixer, which each came with a paddle, a dough hook and a whisk. The KA also came with a splash-guard, and I purchased a scraper paddle for it too.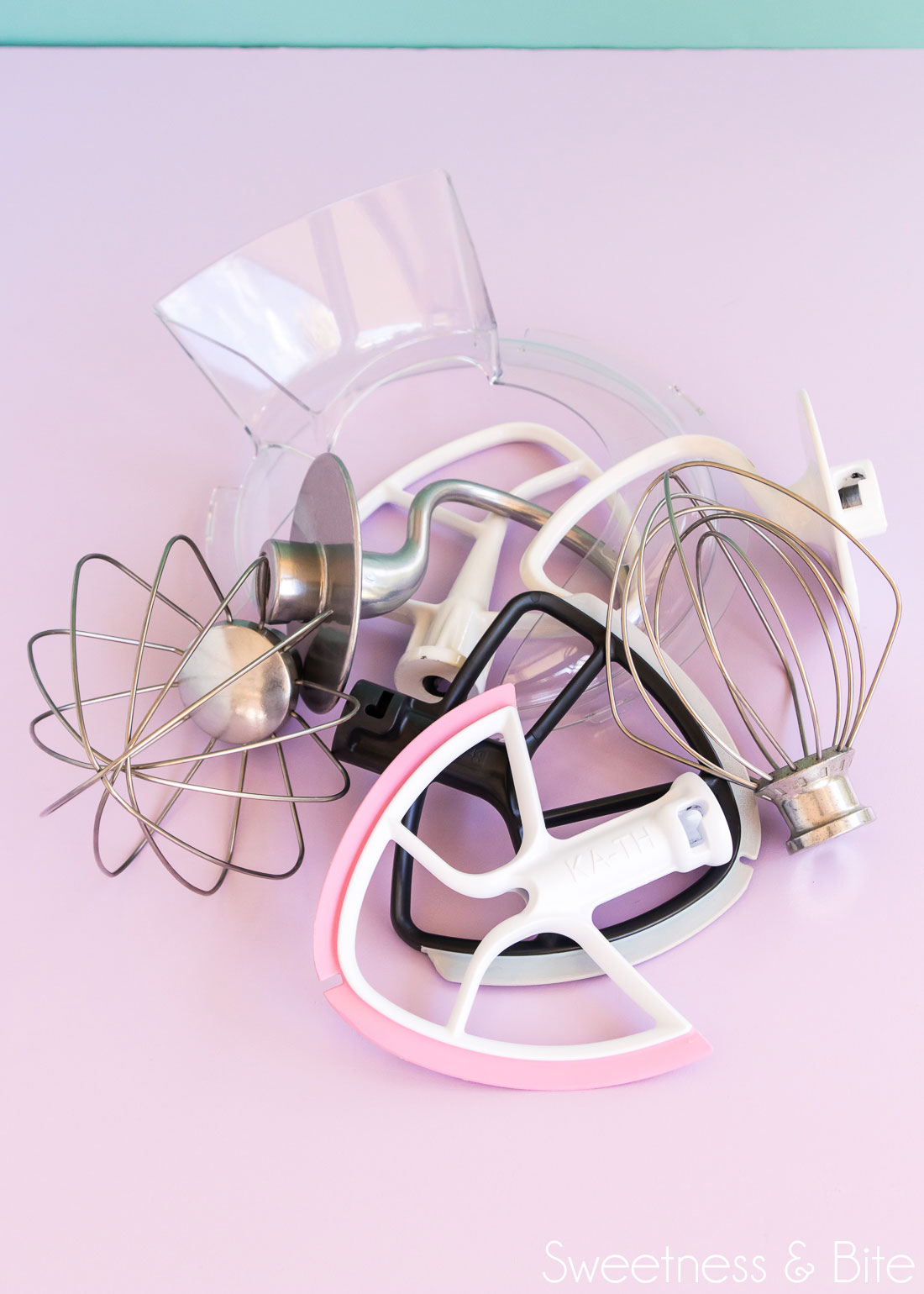 Until now we'd had them all stored in a bread bin, which had sat on my cake-bench in our old kitchen in Wellington. When I wanted to grab one out, I had to rummage around to find the right one. I know, I know, not a big deal in the scheme of things, but I'm all about using less energy to get stuff done so I wanted to come up with a better way to store them.
For quite a few years my Mum has used a wooden plate rack like this to store pot lids in the cupboard…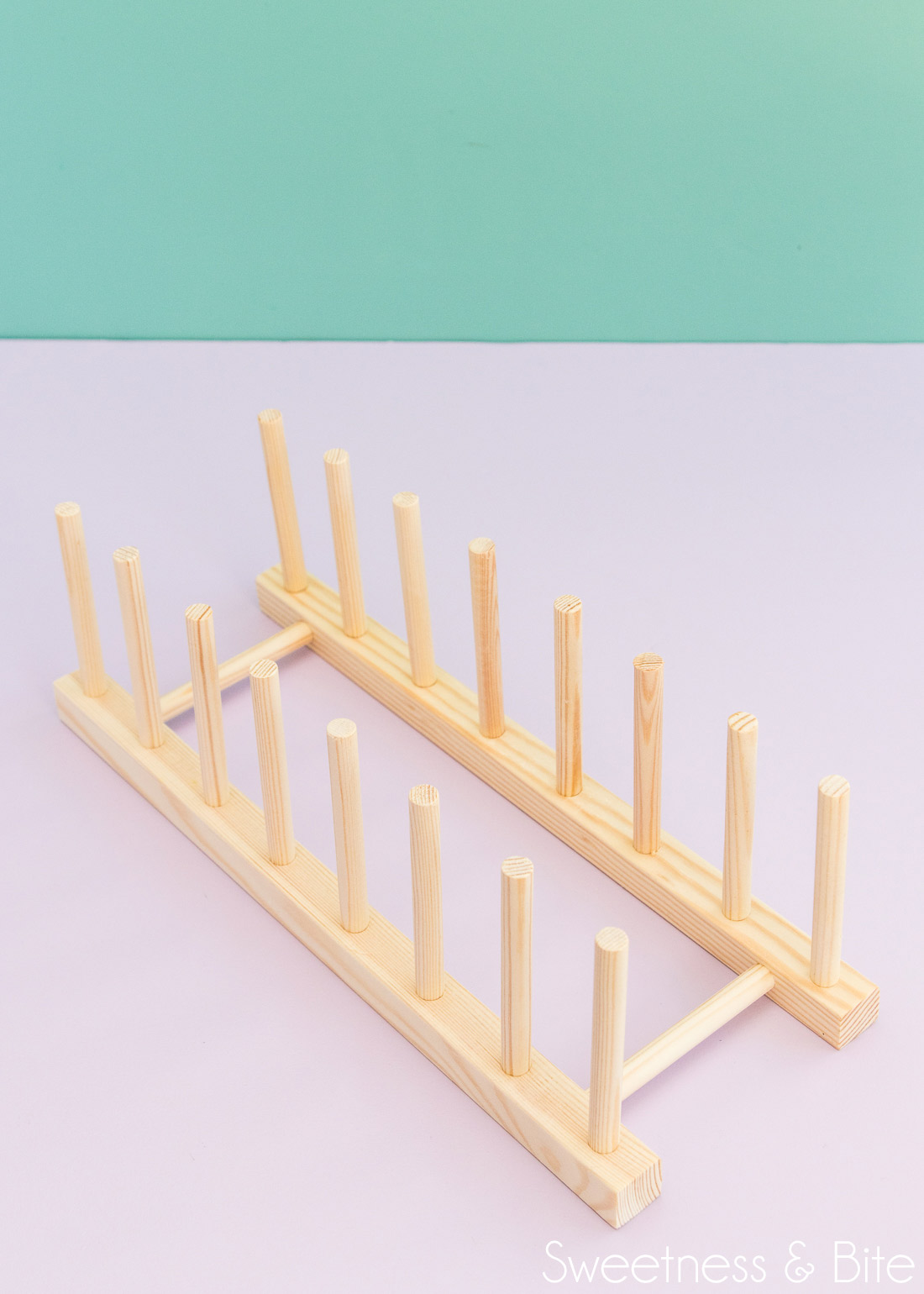 …and when we were putting it back in the new kitchen, an idea for this mixer attachment holder soon formed in my head…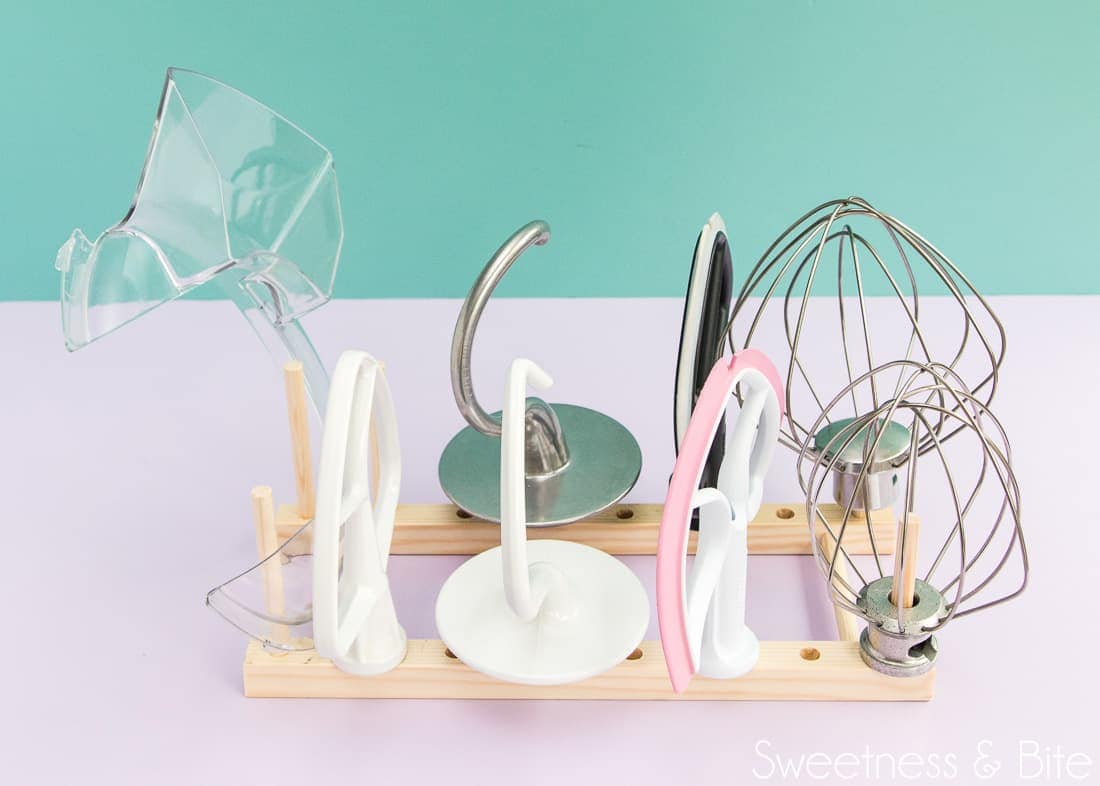 Finding a new rack proved to be a little trickier than coming up with the idea, despite being convinced I'd seen them somewhere recently I couldn't find one in any of our local shops. After a couple of days looking, I eventually managed to find some online. If you're in NZ and want to get your hands on one, I ordered mine here. If you're searching for one online it can be difficult to know what they're called on various websites, so try searching for terms like "wooden plate rack", "wooden dish rack", "wooden plate holder" or "wooden dish drainer".
Mine arrived in a couple of days, and I soon had one dismantled, chopped up and with a bit of rearranging, it was functioning as the perfect holder for all our attachments.
I popped some pictures up on Instagram and on my Facebook page, and the response was so positive that I thought I would put together a little tutorial here so everyone can see just how easy it is to make! It actually seems a little ridiculous to give instructions for this as it really is easy.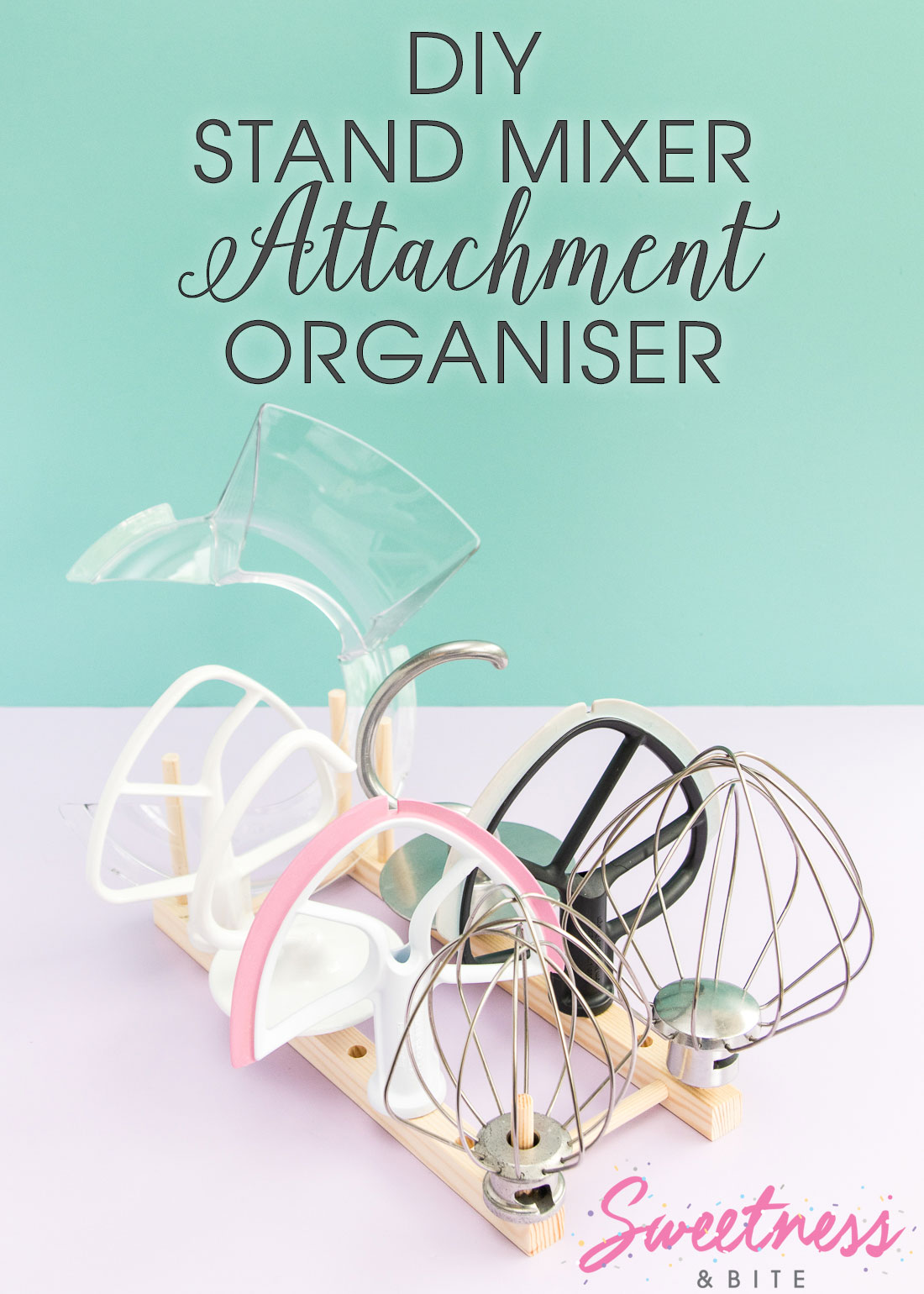 If you're handy with the tools and DIY you could easily make one of these from wood and some dowels. But for those of us who are only semi-handy, this rack-hack is easy and quick to make!
How to make your very own DIY stand mixer attachment organiser…
Here's what I used:
The plate rack (obviously), a pair of secateurs (I use these ones to cut my support dowels for tiered cakes, they've never been in the garden) some little grippy feet (optional, but useful) and a hammer (also optional, but some of the dowels may need a little bit of whacking encouragement to go back in the holes. I used my itty bitty craft hammer).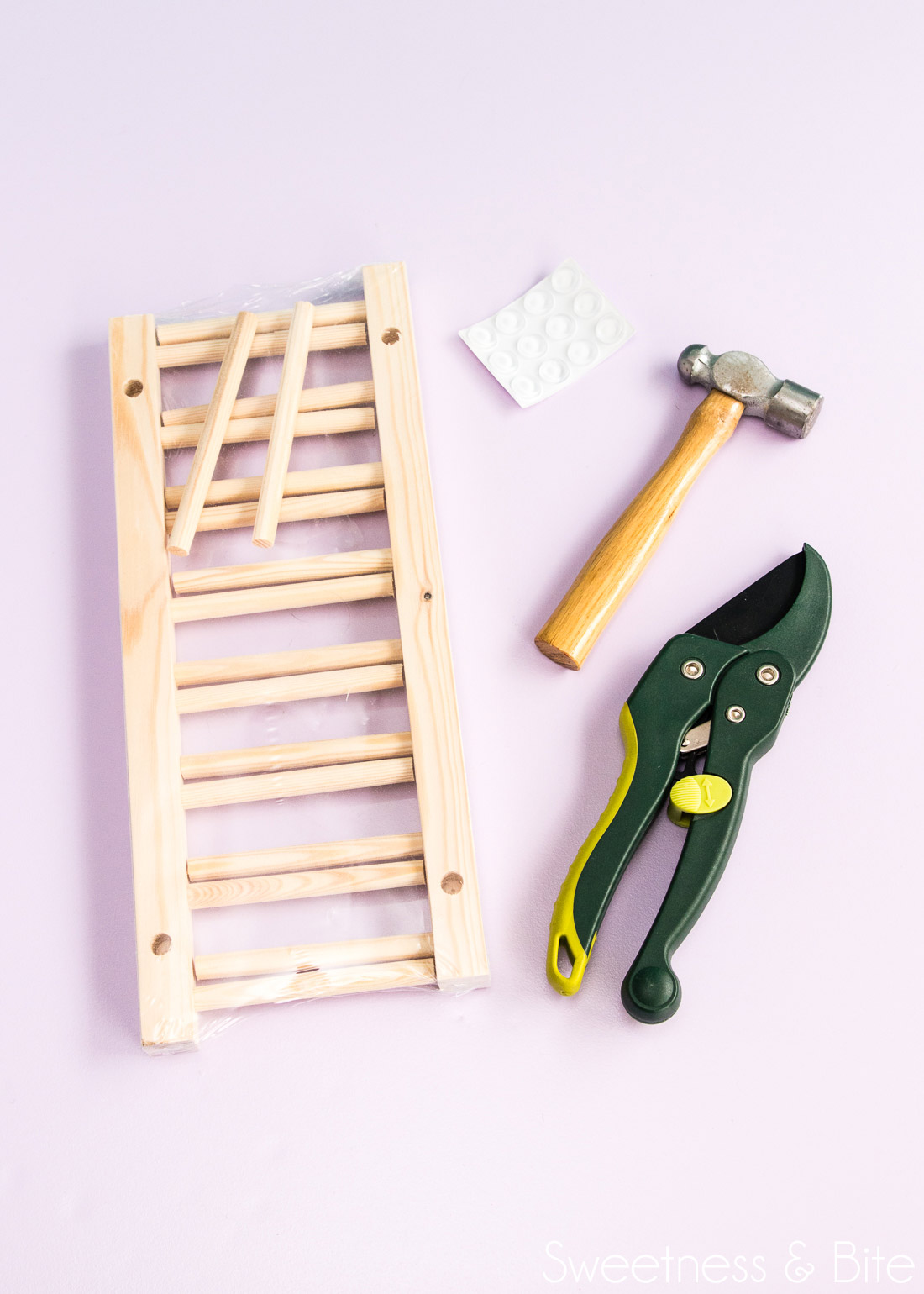 As you can see above, the stand I purchased came in two main pieces (one for each side, with the upright dowels already inserted) and two more dowels that you insert to join the pieces together.
I removed all of the upright dowels (they weren't glued in), and trimmed some of the dowels to fit the attachments. Some of the mixer attachments only have short holes, so those needed shorter dowels. Ones like my scraper attachment for my KA are quite long, so I left the dowel long to stop the scraper wobbling around.
You can cut the dowels however you like, just make sure whatever you're using (secateurs, or a saw, or a laser beam, or whatever) is clean and sharp. Actually, laser beams are probably always clean and sharp, but you get what I'm sayin'.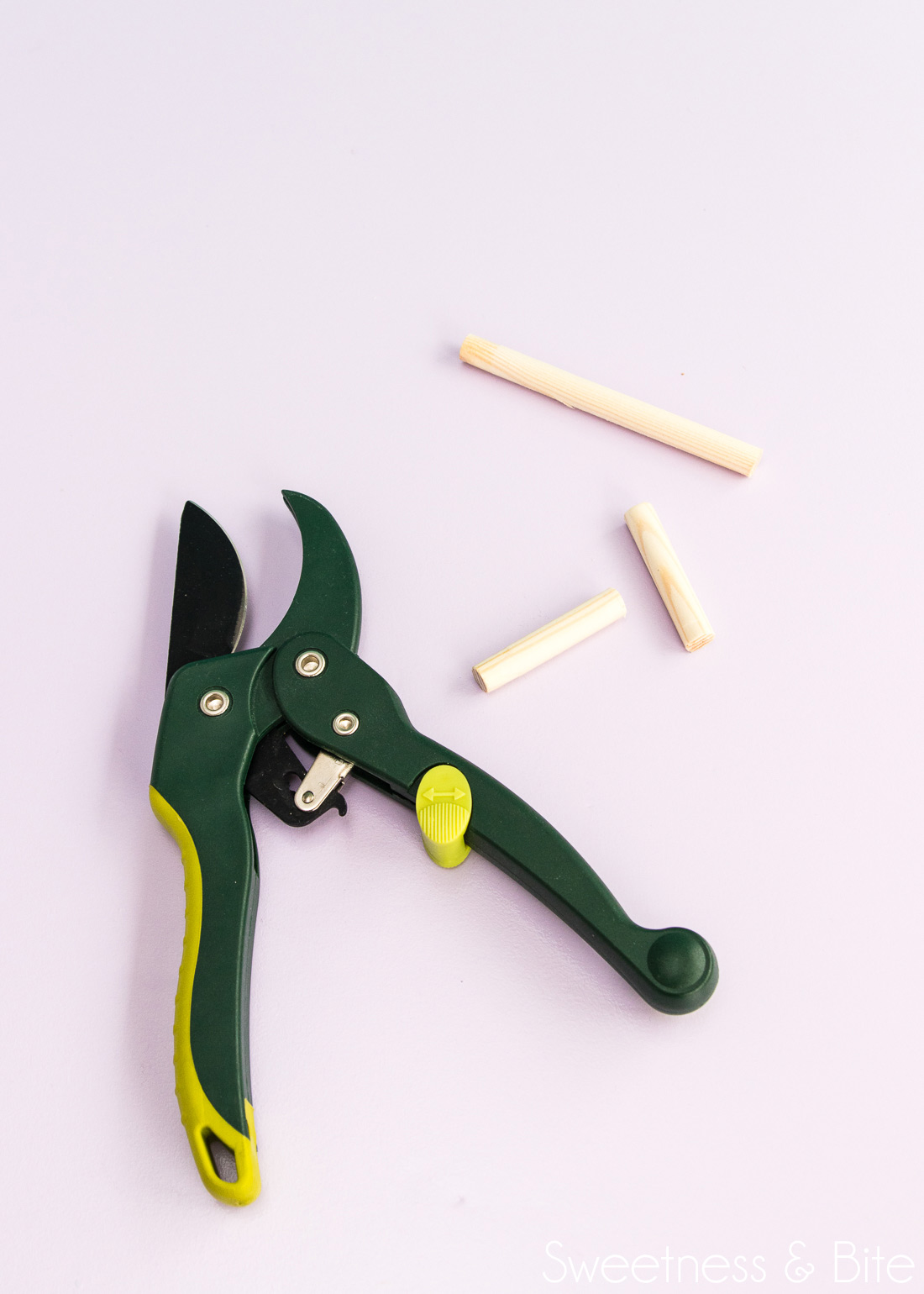 Then just arrange your dowels and attachments so that they all fit. You may need to give the dowels a whack with a hammer to make sure they're pushed all the way back into the holes. If you wanted to you could glue them in, but these fit tightly so I didn't need to glue them.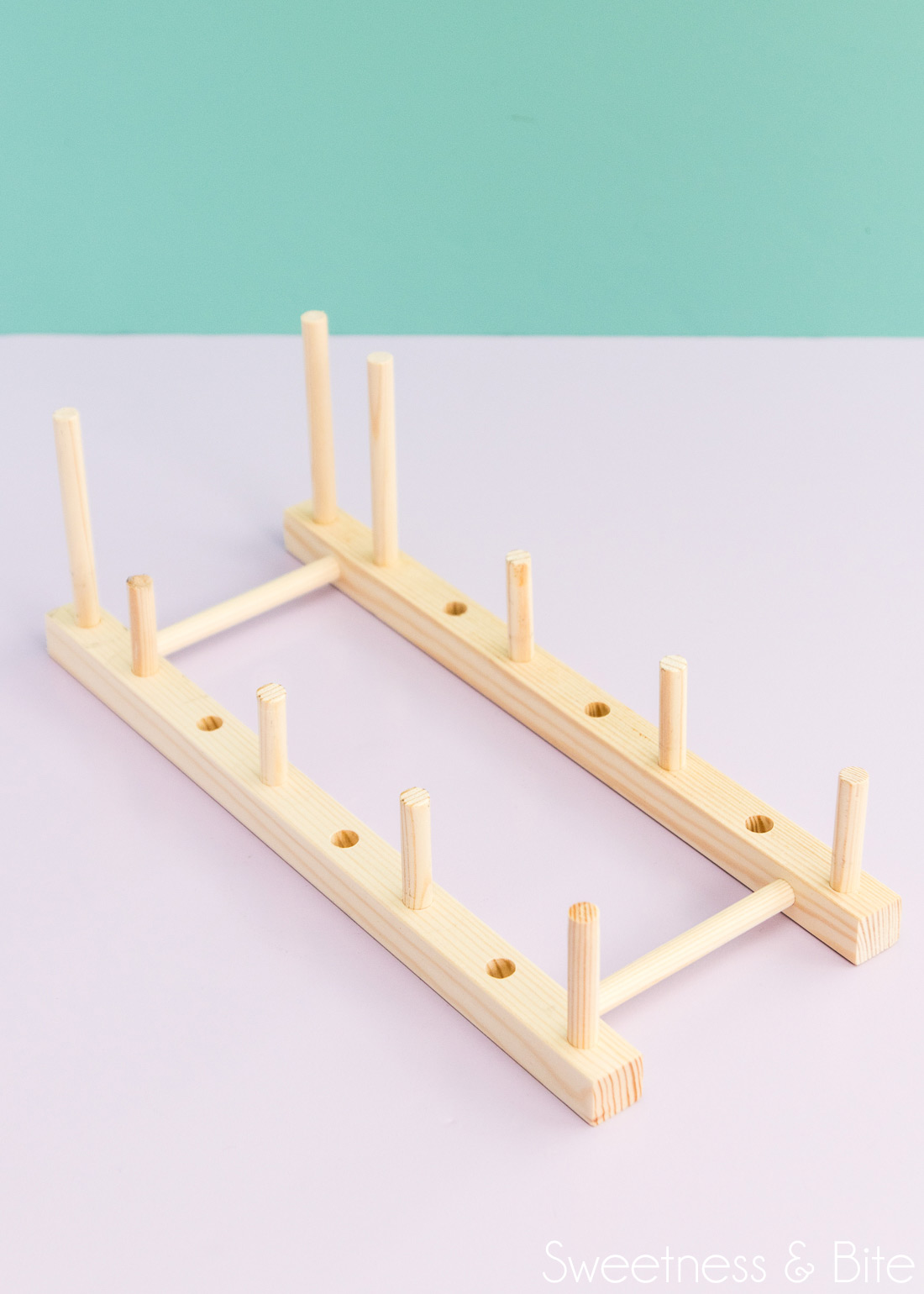 Then I flipped it upside down and attached the little grippy feet to the bottom, to stop the rack from moving around in the cupboard. It also makes the stand easier to pick up if you need to move it around. Much like adding feet to a cake board does.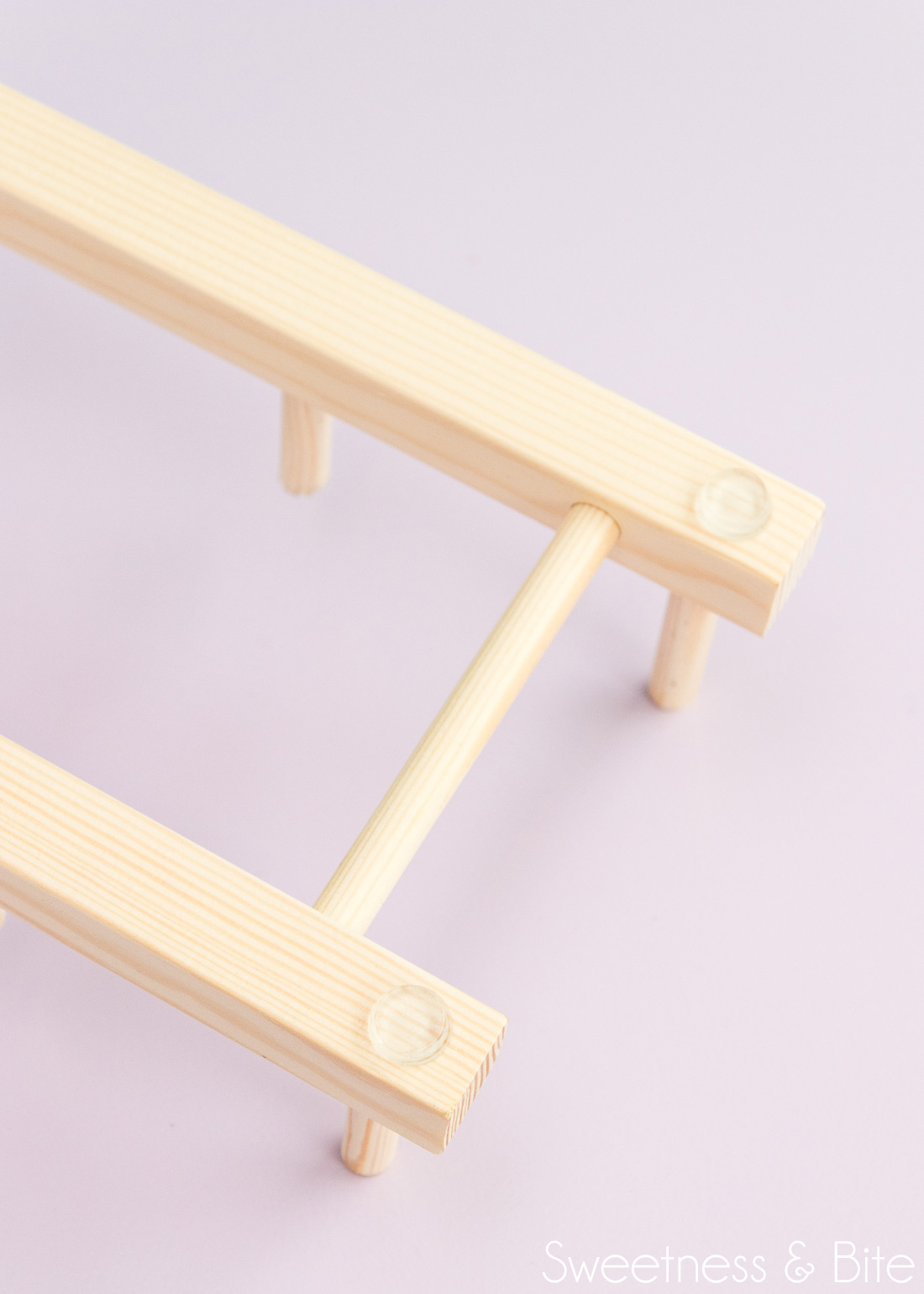 Aaaaaand, that's basically it! I'm still deciding whether I want to fill the remaining dowel holes with putty and give mine a paint or not, but for now, I'm leaving it as-is.
So there you have it – one super fancy easy DIY Stand Mixer Attachment Organiser!
If you have any cool kitchen storage ideas, I'd love to hear about them! Let me know in the comments below.
~Natalie
xx