Sugar Syrup for Cakes – The Ultimate Guide
This post may contain affiliate links to products I recommend. I receive a small commission at no cost to you if you make a purchase using my link.
Everything you ever wanted to know about simple sugar syrup for cakes and cupcakes, including how to make and flavour the syrup, why and when you should use it on your cakes and how to use it.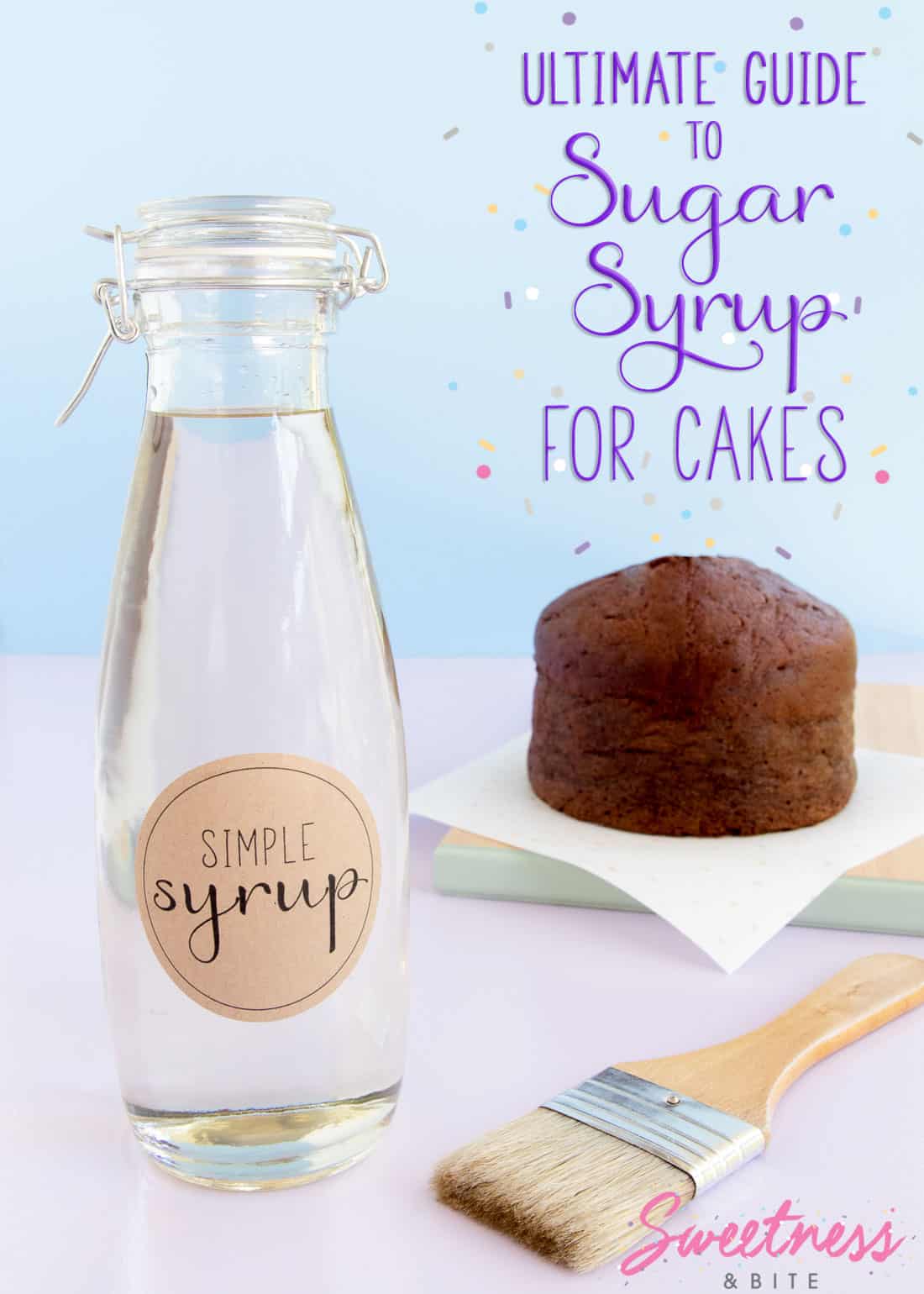 If you're a regular reader you may recall that a while back I wrote a short post with 5 tips to help keep your cakes moist. It was never really intended to be an important post on the blog, it was more of a quick filler post between a couple of bigger tutorial posts I was working on. But it turned out to be really popular – people clearly want to know how to avoid a dry cake. And who can blame them? Despite my dislike of the "m" word, I too enjoy a nice moist cake.
After all, I like my humour dry and my cakes moist.
One of the tips I gave in that post was to use a simple syrup on your cake layers, and quite a few people asked me to elaborate on that. And as they say, "go big or go home". So here is what I'm not-so-humbly calling "The Ultimate Guide to Sugar Syrup for Cakes".
Syrups of all kinds are used a lot on cakes in bakeries and patisseries, but many home bakers have never heard of them – or have heard of them but still don't know how you actually go about making them or using them on a cake.
Using sugar syrup on cakes is far from a new or novel idea, pastry chefs have been doing it for years. Probably for as long as there have been pastry chefs. They do it both to help keep the cake moist, and to add extra flavour. And those are all great reasons why cake syrup is also an excellent addition to any home baker's repertoire.
They're also very useful in cake decorating, both for keeping the cake moist while spending time decorating it (also super useful for keeping naked cakes from drying out!) but you can also use the syrup to adhere some cake decorations or to make fondant stick to ganache.
I'm going to try and cover everything that you need to know about simple syrup for cakes in this post, but if there's one thing in particular that you're looking for, then here's a handy table of contents for you so you can skip to where you need to go.
Let's rip into it with a quick FAQ so you have all the info you need before we talk about the sugar syrup recipe and flavours.
Sugar Syrup FAQ
HOW DO I MAKE SIMPLE SYRUP FOR CAKES?

I've got the recipe card for you with all the details below, but making the syrup is really as simple as the name: equal parts water and sugar are boiled together to dissolve the sugar, and once it's cooled to room temperature you can brush it on each layer of your cake as you're filling it. It is so easy and foolproof (as long as you don't burn yourself) to make that – *gasp!*, I'm even giving you cup measurements in the recipe.

Yes, She Who Refuses To Write Her Recipes in Volume Measurements has thrown her scales out the window on this one. Because, unlike in baking, a little variation in the syrup ingredient amounts is really not going to matter much here.
WHY DO I NEED TO USE SUGAR SYRUP FOR CAKES?

Need is a strong word, but there are several reasons why you may want to add syrup to your cakes. You may have slightly over-baked your cake and had it end up a bit dry. In this case, the syrup will replace the lost moisture.

Or you might be decorating a naked or semi-naked style cake, in which case the cake won't be fully covered in icing and there is the potential for moisture loss as the cake sits. For those kinds of cakes, it's a good idea to put a bit of extra syrup around the edges, which is where they will dry out first.

If you're decorating a cake a little bit further in advance than usual, then adding some syrup can help improve the keeping qualities of the cake. It won't dry out, and the extra sugar can help inhibit bacteria growth.

I don't personally use syrup on every cake that I do, but it's always handy to have it up my sleeve if I need it.
HOW MUCH SIMPLE SYRUP DO I USE ON A CAKE?

This really depends on the size of your cake layers, but let's say between one to three tablespoons per layer. You're really just trying to moisten the top of the cake layer, and the syrup will soak in, moistening the whole layer as the cake sits.

It can also depend on the kind of cake you're working with. Lighter cakes like sponges and butter cakes (or devil's food cake) will soak up more syrup than a denser cake, like a chocolate mud cake.

If you find that your icing is sliding around on the syrup when you're trying to spread it, then you probably need to either use a little less syrup or give it a few moments to soak in before adding your layer of icing. I find this happens a bit more often with denser cake recipes, as the syrup doesn't soak in quite as quickly.

You can also try thinning your syrup down a bit with some water to help it soak in more easily.
WILL ADDING SUGAR SYRUP MAKE MY CAKE TOO SWEET?

I won't say that it doesn't add any sweetness to the cake, it's made from sugar, after all. But no, it won't make your cake sickly. It's a thin layer of syrup, and the actual amount of sugar that will be added to each layer is pretty small.
DOES SYRUP MAKE CAKE SOGGY?
Only if you add too much. If you're concerned about this happening, then make sure you're only adding a thin layer of syrup, and check your first cake layer to make sure the syrup is soaking in fully before you add your icing and continue to layer up your cake.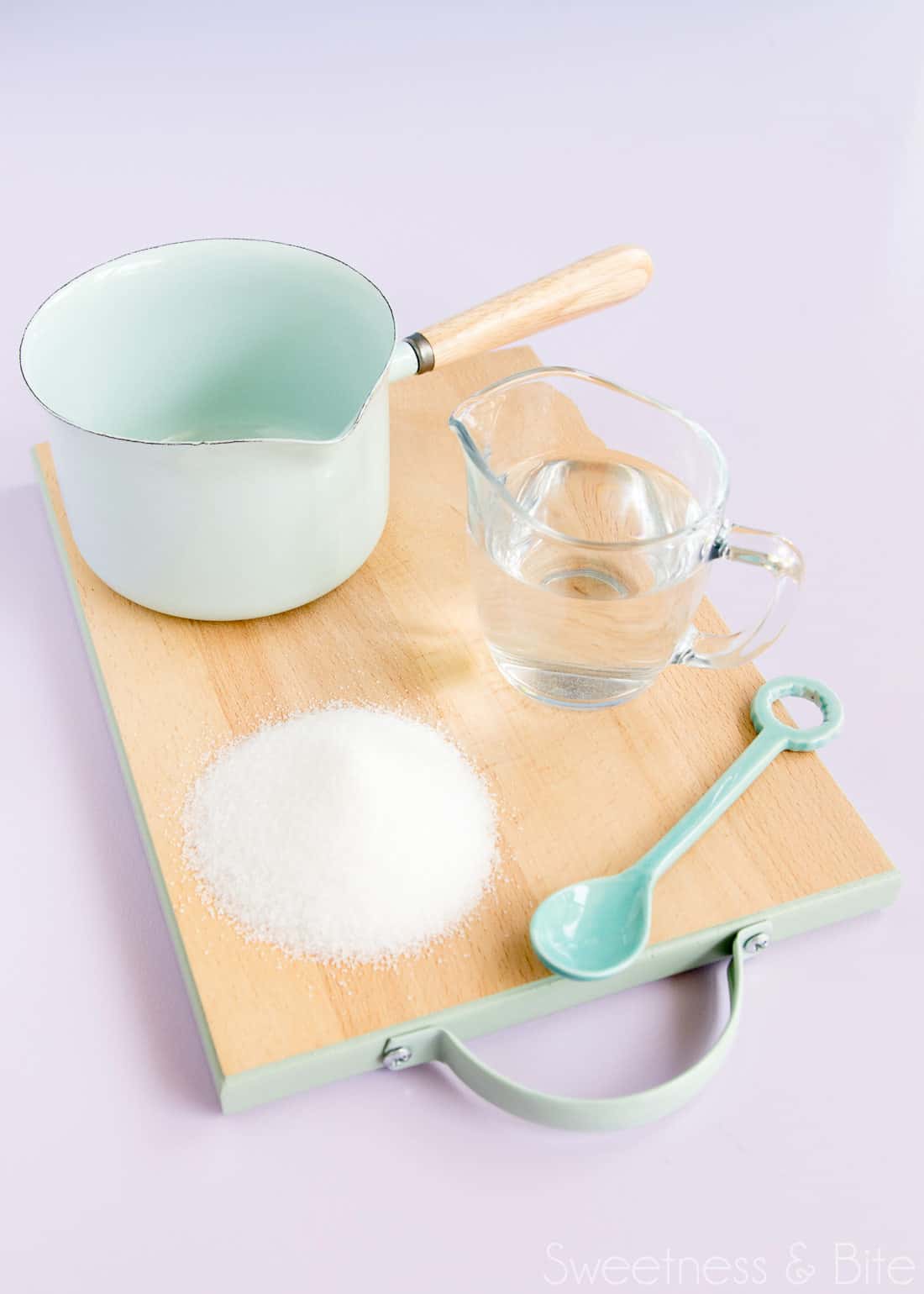 How Do I Put the Syrup on the Cake?
You've got a few options here, and you can do whichever you find easiest. I generally just use a pastry brush to brush the syrup onto each layer as I'm filling the cake. You could also use a spray bottle, and spray each layer. I show you both of those options in the video. Some people also like to put their syrup into a squeeze-y bottle like the kind used in cookie decorating. Whichever you choose, the rest of the process is the same.
Step One: Split your cake/s into layers. Most of the cakes I make have four layers of cake and three layers of filling, but you can do however many layers you like.
Step Two: Use your pastry brush, spray or squeeze bottle to apply your syrup. If the cake is already moist, then a thin layer of syrup should be sufficient – you don't want your cake drowning in moisture. If your cake is on the drier side, then add a bit more. You're really just aiming for the syrup to comfortably soak into the cake, don't add so much that it pools on the surface and can't soak in.
Step Three: Add a layer of your cake filling. Repeat until your cake is all layered up.
Check out the video to see how to apply the syrup with a brush or spray bottle, and it will also give you an idea of how much syrup to put on each layer.
Now that those questions are covered, let's have a look at the recipe.
How to Make Sugar Syrup
This is the base cake syrup recipe. Scroll down for ways to flavour the basic simple syrup.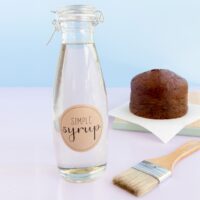 Sugar Syrup Recipe for Cakes
A basic sugar syrup recipe for moistening cakes and cupcakes. See the rest of the blog post below for over a dozen different ideas to flavour your syrup!
Print Recipe
Pin Recipe
Save
Saved!
Ingredients
2

cups

sugar

2

cups

hot water
Instructions
Make the simple syrup:
Combine sugar and water in a medium-sized saucepan. Place over medium-high heat, and stir until most of the sugar has dissolved.

Bring to the boil, and allow to boil for 2-3 minutes, until all of the sugar has dissolved. If there are a lot of sugar crystals on the side of the pan, brush them off with a pastry brush dipped in water.

Allow the syrup to cool before using.
How to use on a cake or cupcakes:
Use a clean pastry brush or small spray bottle to apply the syrup to each of your cake layers as you fill your cake. Use just enough to lightly moisten the surface. It should easily absorb into the cake.

When applying your syrup with a pastry brush, it's a good idea to pour a small amount of syrup into another container or cup and dip your brush into that to apply it – this way you won't get crumbs in the rest of your syrup.
Storing the syrup:
Basic simple syrup can be stored for several months in an airtight container, jar or bottle in the refrigerator.

Syrups that have fresh ingredients like fruit added to them won't keep as long, usually only a week or two.
Notes
Sugar – I like to use caster sugar to make syrup as it dissolves faster, but regular granulated sugar will also work just fine. Golden or unrefined sugars are also great for syrup as they add a slight caramel flavour.
Recommended Equipment & Ingredients
Nutritional Disclaimer: Any nutritional information provided is a computer generated estimate and is intended as a guide only.
Ways to Flavour Sugar Syrup for Cakes:
This is the bit where it starts to really get fun and creative. You can flavour the syrup in so many ways to compliment your cake. The options are endless, but I thought I'd put together a bit of a list to give you some ideas. Most of the options start with the basic syrup recipe, but a few have extra tweaks.
Vanilla Syrup
Vanilla really is the ultimate flavour base for any dessert, and syrup for cakes is no exception. It will complement almost any cake flavour.
You've got several options for getting vanilla flavour into your syrup. One option is to add vanilla extract to your cooled simple syrup. Another is to add vanilla paste. A teaspoon of either will do the trick. If you happen to have vanilla pods on hand you could use them instead, just split open one pod and add it to the syrup once the sugar has dissolved. Let it boil for a minute, then remove the pot from the heat and leave the syrup to cool with the pod in it.
You can even store leftover syrup with the vanilla bean still in it, just pour the whole lot into a bottle or jar with a lid. The flavour will continue to infuse.
Simple syrup + 1 tsp vanilla extract – add to the cooled syrup
Or
Simple syrup + 1 tsp vanilla bean paste – add to the cooled syrup
Or
Simple syrup + 1 vanilla pod – split the pod in half and add to syrup once the sugar is dissolved. Leave to infuse as the syrup cools. You can either leave the pod in the syrup when you store it or remove it. You can also strain out the seeds if desired.
Citrus Syrup
Ahh, citrus. Fresh and (maybe… hopefully…) tart, there is nothing like a lovely lemon cake, or a bit of lime to add a little zing to your day. You've got a couple of options here, you can add the grated zest to the syrup, or replace some of the water with freshly squeezed juice.
Simple syrup + add 1 teaspoon (or more!) finely grated lemon, lime or orange zest to the syrup before boiling
Or
Simple syrup, but replace some, (or all, if you like it mouth-puckeringly tart) of the water with your choice of citrus juice
Coffee Syrup
If you need a bit of pep in your step… or your cake… coffee syrup could be just the thing.
Simple syrup + dissolve 1 teaspoon (or more, to taste) of instant coffee powder
Or
Simple syrup, but replace some of the water with espresso. The amount will depend on how strong you want the flavour.
Peppermint Syrup
It's hard to go past the fresh flavour of peppermint with the rich smooth flavour of chocolate. You can make a simple peppermint flavoured syrup to use on your next chocolate cake by adding a few drops of peppermint flavouring oil or extract to your simple syrup. You'll have to taste it and check it is minty enough as peppermint oils and extract tend to vary in strength. You want it minty, not toothpaste-y.
Simple syrup, let cool then add peppermint extract or oil, to taste.
Liqueur or Spirits
To give your cakes a kick, try spiking your syrup with a little alcohol. I'm a huge fan of Amaretto liqueur with chocolate cake and Frangelico (hazelnut liqueur) is fab with chocolate as well. Or try Cointreau syrup with a citrus flavoured cake, or Kahlua syrup with a coffee cake.
Simple syrup + 2 – 3 tablespoons of your spirit or liqueur of choice (add more if you're feeling wild.) If you add it to the syrup before you boil it, some of the alcohol will evaporate as the syrup boils, if you want to keep the alcohol, then add it to the syrup once it has cooled.
Honey Syrup
Fancy some honey in your syrup, sweetie?
Make the basic simple syrup, but reduce both water and sugar to 1.5 cups each and add 1 cup of honey.
Chocolate Syrup
This one is handy if you've baked a chocolate cake that hasn't turned out quite as chocolate-y as you would have liked. This chocolate syrup, coupled with a nice rich ganache or chocolate buttercream, and you'll have the chocolate overload cake of your dreams.
Simple syrup + 1 – 2 teaspoons of good quality cocoa powder. Make the syrup and allow it to cool slightly, then stir a few teaspoons of the syrup into the sifted cocoa to make a smooth paste. Add the paste to the rest of the syrup, and stir. Add a dash of vanilla if you like.
Ginger Syrup
Ginger can be an acquired taste, but this ginger syrup will go fabulously with any spice-flavoured cake or even a rich, dark chocolate cake for all those dark choc + ginger lovers out there.
Simple syrup + 1 teaspoon of finely grated fresh ginger. Add the ginger to the syrup before boiling. Leave to infuse as it cools, then you can strain out the ginger if desired (leave it in for an extra ginger kick)
Or
Simple syrup + 1/2 teaspoon of ground ginger. Make the syrup, then remove from the heat and stir a spoonful or two of the syrup into the ground ginger to make a smooth paste, then stir the paste back into the rest of the syrup. You may need to adjust the amount of ground ginger, as they can vary in potency (some'll knock your socks off!)
Caramel Syrup
If I had my way, my body weight would be about 85% caramel. If you feel the same, try this caramel syrup on your next cake. It adds a nice rich flavour to almost any cake flavour.
Place the sugar (2 cups) into a heavy-based saucepan. Add 1/4 cup of water. Bring to the boil, stirring to make sure the sugar has dissolved. Brush down the sides of the pan with a pastry brush dipped in water. Boil without stirring, until it turns a rich amber colour (check out my caramel sauce recipe for more info on the stages to look for when making caramel). Once it is ready, remove it from the heat and add 1 cup of warm water. Be careful as it will probably spit and splatter. If the sugar crystalises a little bit then return the pan to the heat and stir until it dissolves. Thin the syrup with more water if necessary. Leave to cool before using.
Butterscotch Syrup
Caramel's extra buttery cousin. You know, that cousin you've always liked more than the other cousins. Because butter.
Simple syrup, replace half of the regular sugar with brown sugar. Boil until the sugar is completely dissolved then remove from the heat and add 1-2 tablespoons (15-30 grams) of butter, 1 teaspoon of vanilla extract and 1-2 tablespoons of whipping cream. Whisk until the butter melts everything is well combined.
Fruit Flavoured Syrups
Yeah this is a pretty broad one because there are a million* different fruits in the world but you can adjust and adapt this in any way that you like, these are just some ideas for fruit-flavoured cake syrups
Simple syrup, replace some or all of the water with fresh (or good quality bottled) fruit juice.
Or
Simple syrup, replace some or all of the water with prepared fruit-flavoured tea/ herbal tea
Or
Simple syrup, add a handful of fresh or frozen berries to the syrup after the sugar has dissolved. Simmer for five minutes. Allow to cool, then blend in a blender or with a stick mixer until smooth. Strain through a fine sieve.
Keep in mind that syrups with fresh or frozen fruit added to them generally don't keep for as long, I would say a week or two in the fridge, max.
*possibly a slight exaggeration for effect, I have not actually counted the number of fruits in the world.
Chai Syrup
There are few flavours as warming as a little chai spice on a cold day. Or a hot day, because chai is delicious anytime. You can make it with or without actual tea in it, depending on what you're using it for. Remember you can adjust the types and amounts of spices to suit your own tastes.
Simple syrup, once the sugar has dissolved add:
1 cinnamon stick, broken in half
4 whole cardamom pods, lightly crushed
5 whole dried cloves
1/4 teaspoon freshly grated nutmeg
2cm piece fresh ginger, peeled and sliced
1 star anise
1 whole vanilla bean, split lengthwise, or 1 teaspoon vanilla extract, or one teaspoon vanilla bean paste
2 black tea bags
Simmer the syrup gently for five minutes then remove from heat. Leave for 15 minutes, then remove the tea bags and leave the syrup (with all the spices) until cool. Strain.
If the thought of chai syrup on a cake has you craving a cup of chai, my friend Elien has a homemade chai latte syrup recipe that'll be sure to keep your heart warm.
Extracts
Another broad subject, but one worth discussing as there are so many different flavoured extracts available these days. Everything from fruit flavours to bubblegum and cotton candy, you can pretty much find an extract or oil to match any cake. I personally like the LorAnn range of flavourings but there are many different brands available.
Simple syrup, leave to cool and then add extract to taste.
Since flavouring extracts and oils vary in strength, you'll need to add them to taste. The LorAnn flavours are super concentrated, so add them a drop or two at a time.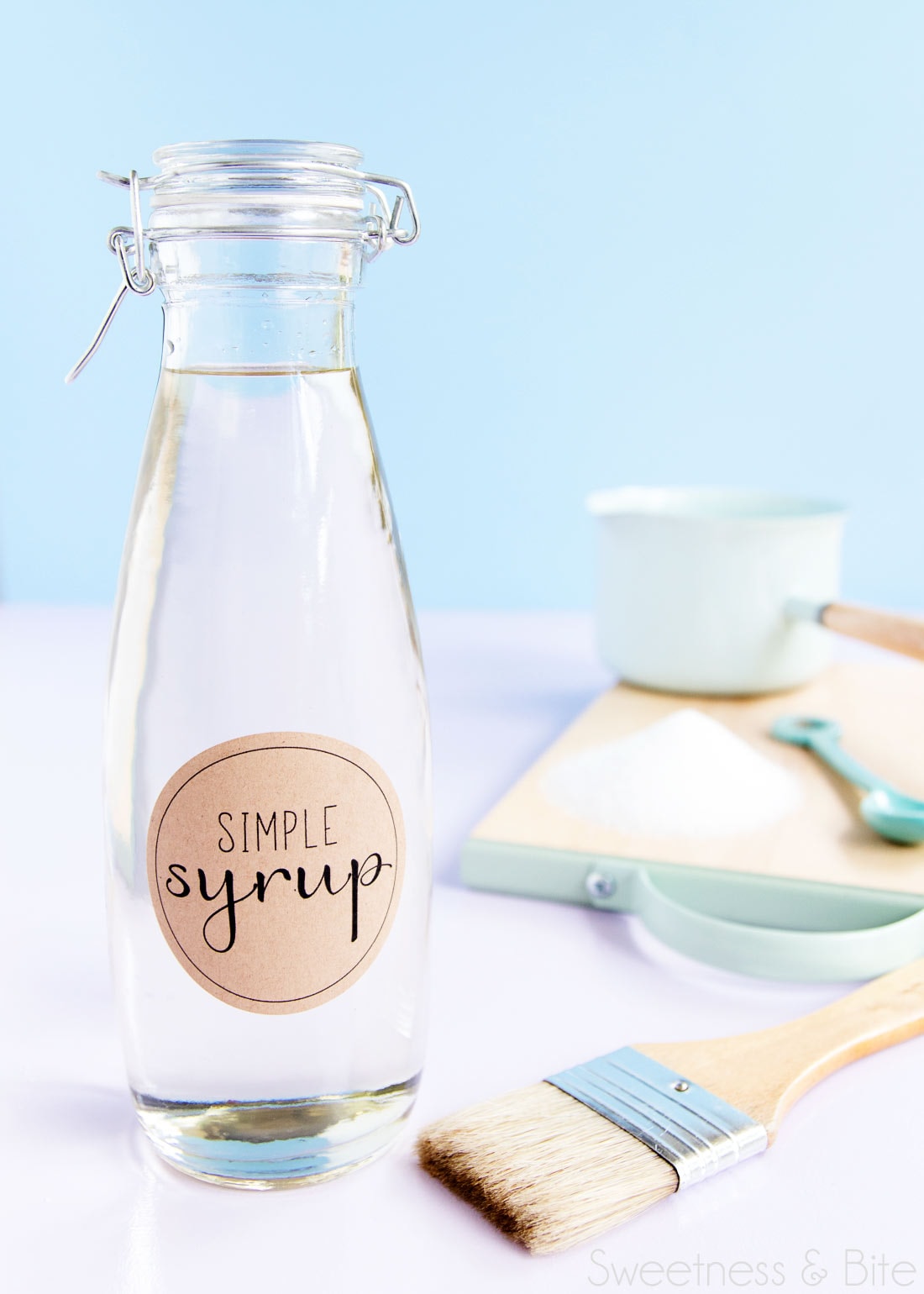 So there you have it, (hopefully) everything you ever wanted to know about sugar syrup for cakes (and maybe even some stuff you didn't know you wanted to know).
xx Natalie
You May Also Like…