This post may contain affiliate links to products I recommend. I receive a small commission at no cost to you if you make a purchase using my link.
This Easy Caramilk Mousse is pure Cadbury Caramilk flavour in light, fluffy mousse form. Made with just two ingredients, it's the perfect dessert for Caramilk lovers!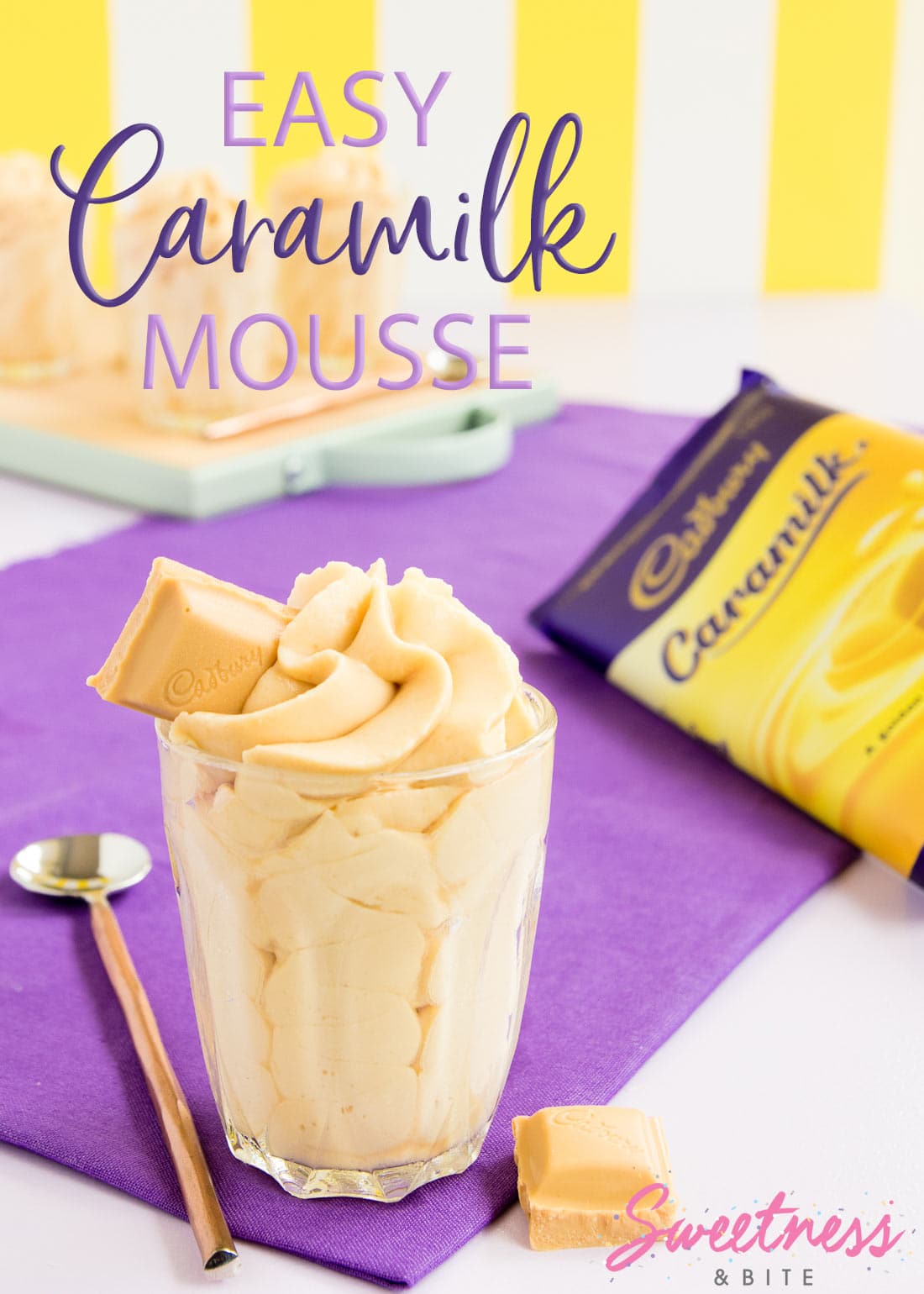 You know how sometimes you remember foods from your childhood and when you eat them again as an adult you wonder why you ever liked them? Well for me, Caramilk chocolate doesn't fall into that disappointing category of childhood nostalgia. It's still as good now as it ever was.
I remember trying to describe this chocolate to my mother a few years ago, I knew it was made by Cadbury, and I knew it had "Cara" in the name, but I couldn't remember exactly what it was called. All I really remembered was that it was a caramel-ly flavoured white chocolate and I had enjoyed it but that they hadn't made it for years. Mum didn't remember it at all (frankly I think she thought I was imagining it).
Then a while later it somehow came up in conversation with my best friend, she remembered it too, so clearly I hadn't gone mad (well, more mad than usual).
Fast forward to 2017 when Cadbury decided to bring Caramilk ("that's what it was called!") back. I'm not going to lie, I wasn't expecting to like it. My taste in chocolate has changed considerably as I've gotten older. I'm not always so fussed on the super sweet chocolates I loved as a kid.
But Caramilk was still good.
NZ went crazy about it (pretty sure Australia did, too). Shops were selling out. They had to put limits on how much people could buy. Folk were selling blocks on TradeMe for exorbitant prices. Then it was all gone.
Well lookie lookie, they've gone and brought it back again (edit: and as of October 2019, it's here to stay!)
There are a million recipes going around that use Caramilk, but since we all know I'm mousse-crazy I figured, "why not make Caramilk mousse?"
Clearly, I could not think of any reason why that wouldn't be a good idea, because…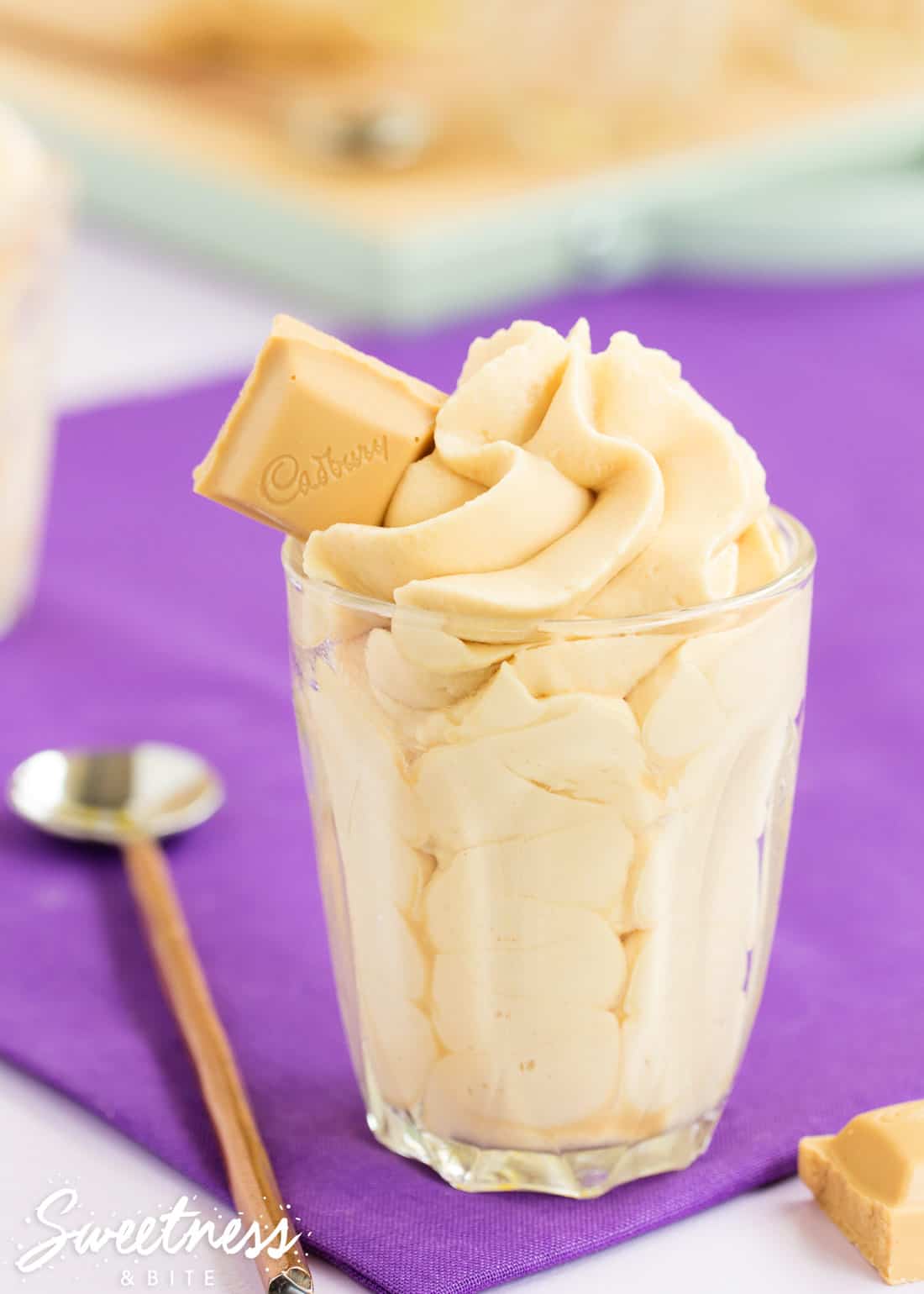 This mousse has one less ingredient than my original 3 ingredient chocolate mousse and 3 ingredient white chocolate mousse recipes – I skipped the vanilla extract because Caramilk already has plenty of flavour and adding vanilla, however complimentary it is to almost everything, just seems unnecessary.
As with the white chocolate mousse, I've added salt as an optional extra, in case you find the mixture too sweet.
Although if you're a Caramilk fan, you're probably ok with sweet, right?
The mousse is true-to-flavour, which means if you're not a fan of Caramilk, you may or may not like this. My mother isn't a Caramilk fan, but she does enjoy this mousse (well she told me she did, and she's usually brutally honest with me about my recipes).
If you're not fussed about Caramilk (and there seem to be some very passionately anti-Caramilk folk out there!) then you might want to skip this one and try one of my other mousses instead.
If, however, you're alllll about the Caramilk, I guarantee* you will love this.
*not an actual guarantee, I won't give you your money back. This isn't an as-seen-on-TV product.
If you're new to my easy mousse recipes, then yes, chocolate + cream is a lot like a ganache, but with more cream than chocolate, it makes a light and fluffy mousse when whipped and looks (and tastes!) far fancier than it really is. Trust me.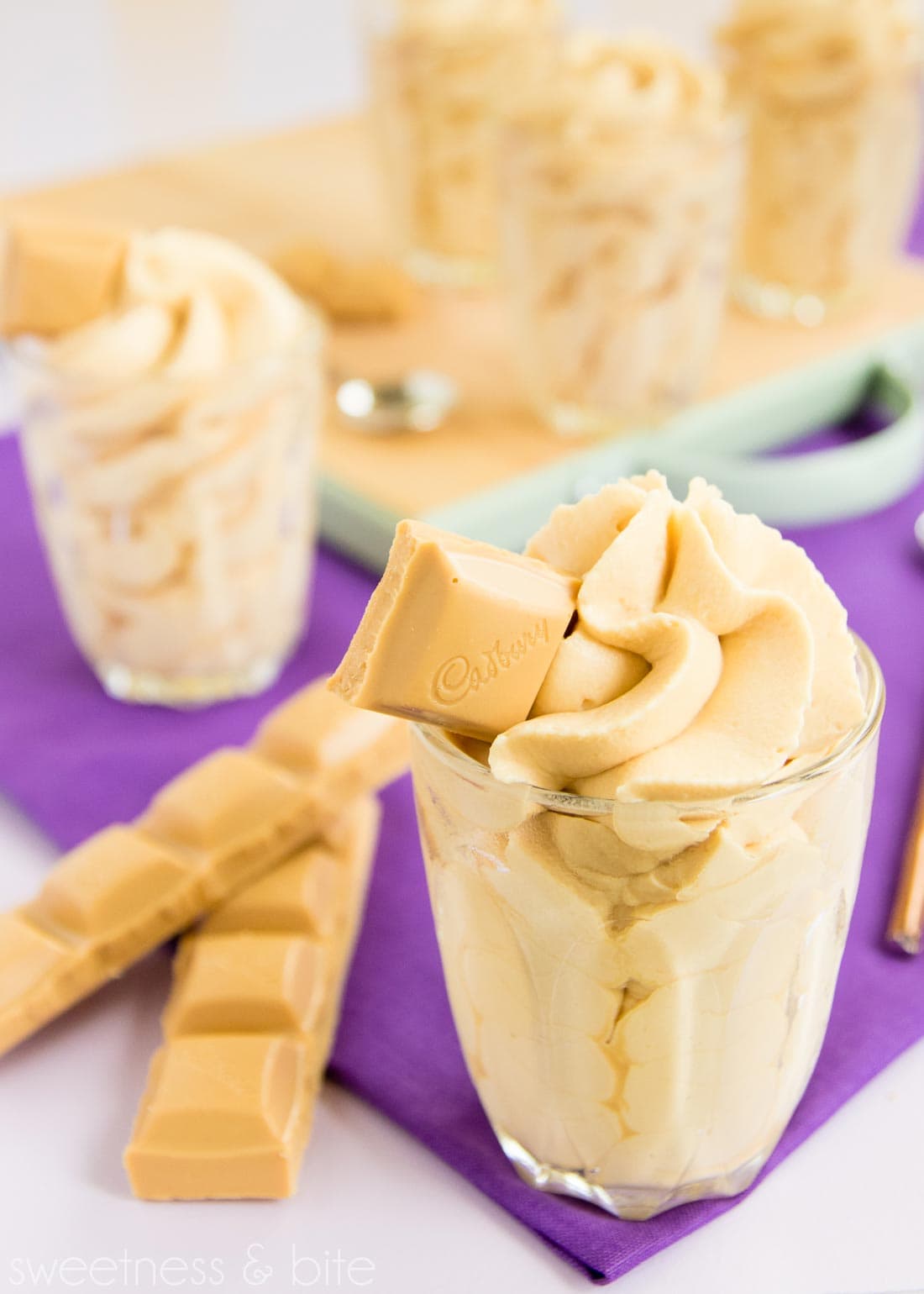 Tips for Caramilk Mousse Success
There are two keys to making this mousse successfully.
The first is to make sure the mixture is very well chilled before whipping it (see the recipe below for tips to speed that up if you need to). The mixture is more prone to splitting if it isn't completely cold, so making sure it's well chilled will have you on the right track to perfect mousse.
The second key is being careful not to overwhip the mixture. This stuff can go from nearly-whipped to over-whipped really quickly, so just keep an eye on it. You want it to be *just* starting to form stiff peaks.
I scaled the recipe down slightly from my original mousse recipe, so that it can be made with just one block of Caramilk, rather than needing a part block. But if you want to garnish your Caramilk mousse with squares of Caramilk, as I did here, then you'll need to grab yourself an extra block.
If you're a crazy Caramilk fan and you've got a pantry full of this golden goodness, then by all means, double (or triple) the recipe so you can eat Caramilk mousse for breakfast, lunch and dinner.
As I say frequently on this blog, no judgement here…
Easy Caramilk Mousse
Super, ridiculously easy Caramilk Mousse. If you love Caramilk, you will love this!
Ingredients
190g (one block) Cadbury Caramilk chocolate, chopped
300g cream
pinch of salt (optional)
Instructions
Heat the cream in a medium saucepan, over medium-high heat until bubbles begin to form around the edges. Add the Caramilk, and stir with a wire whisk until all of the chocolate is melted and the mixture is smooth and well combined.
Taste the mixture, and if the mixture is too sweet, whisk in a pinch of salt to counter the sweetness, if you wish.
Pour into a large heatproof bowl or jug, and leave to cool to room temperature (you can speed this up by placing the bowl into a water bath – simply 1/4 fill the sink with cold water, add some ice and place the bowl of chocolate cream into the sink. Stir the mix regularly to speed cooling). Refrigerate until very well chilled (at least several hours or overnight). If you're in a hurry you can pop the bowl in the freezer to speed the cooling process. Just make sure you check and stir it regularly to make sure it doesn't actually freeze.
Whip the Caramilk cream with an electric hand mixer just until stiff peaks start to form. It won't take very long, so keep a close eye on it. Pipe or spoon into glasses or small bowls. If it's a little too soft to pipe, you can refrigerate the bowl of mousse again until it firms up some more, and then transfer it to a piping bag to pipe. Top the mousse with extra squares of Caramilk, if desired.
Serve the mousse immediately or cover and store in the fridge for several days.
Notes
*The cream you need for this known by different names in different countries. In NZ it's called standard cream or whipping cream, in other countries, it may also be known as heavy cream, single cream or full cream. Long story short: you need a pourable, unwhipped cream that is around 35% fat. It will usually say on the bottle that it is suitable for whipping.
Enjoy!
~Natalie
You may also like…