This post may contain affiliate links to products I recommend. I receive a small commission at no cost to you if you make a purchase using my link.
This Easy Caramilk Mousse is pure Cadbury Caramilk flavour in light, fluffy mousse form. Made with just two ingredients, it's the perfect dessert for Caramilk lovers!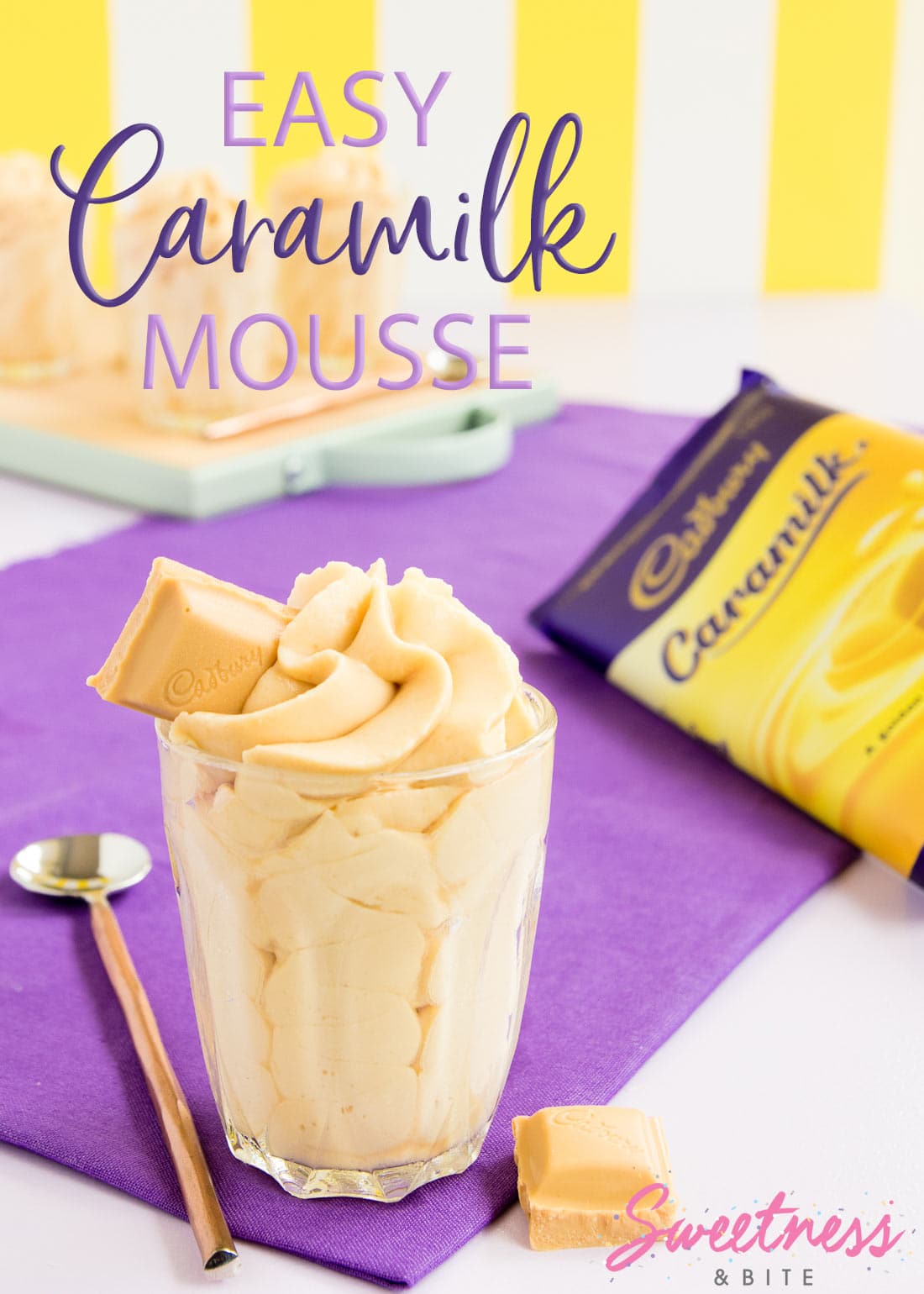 You know how sometimes you remember foods from your childhood and when you eat them again as an adult you wonder why you ever liked them? Well for me, Caramilk chocolate doesn't fall into that disappointing category of childhood nostalgia. It's still as good now as it ever was.
When Cadbury New Zealand resurrected their Caramilk chocolate in 2017, I was very excited, and since we all know I'm mousse-crazy, of course I had to create an easy Caramilk mousse recipe.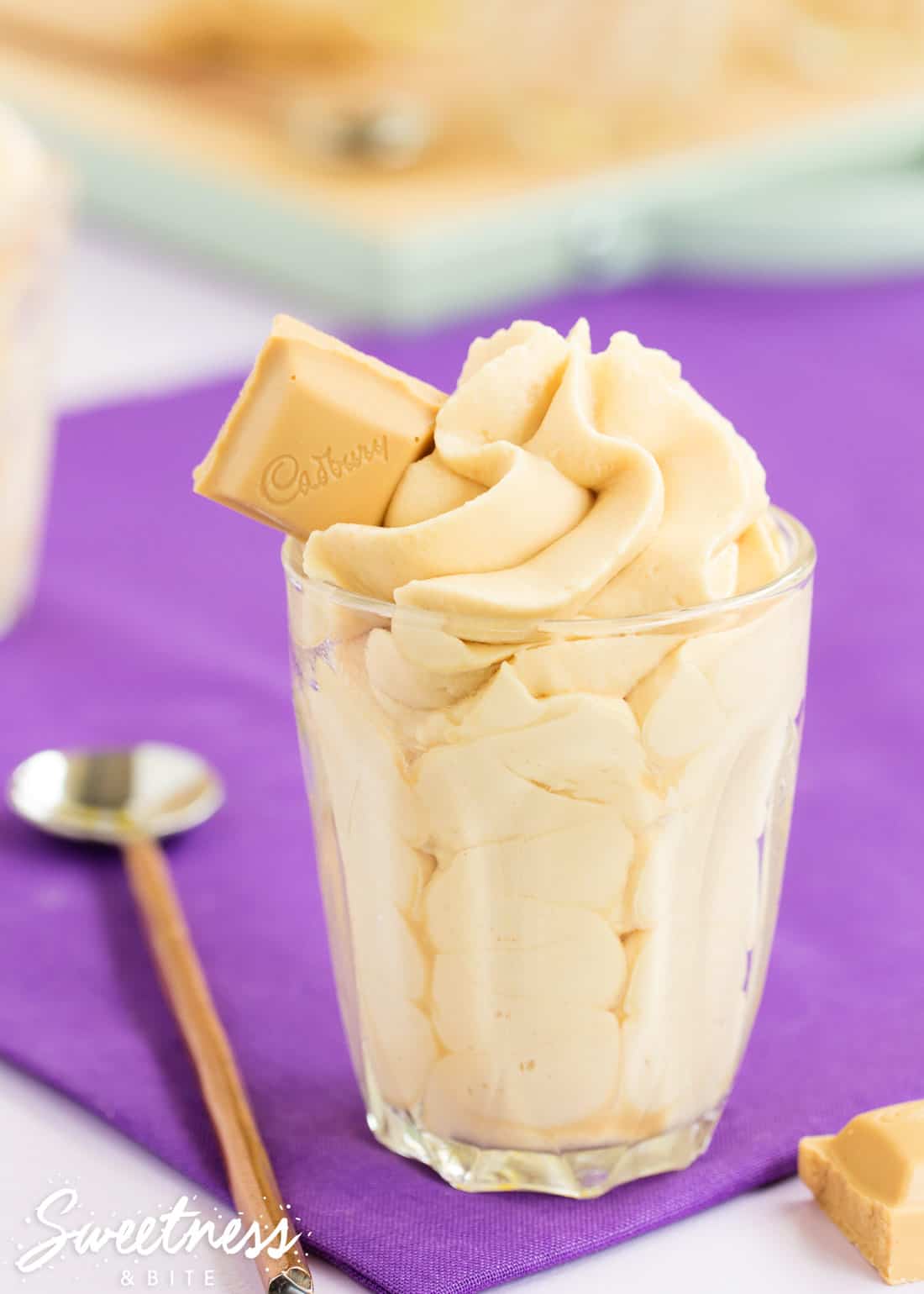 This recipe has one less ingredient than my original 3 ingredient chocolate mousse and 3 ingredient white chocolate mousse recipes – I skipped the vanilla extract because Caramilk already has plenty of flavour already, and adding vanilla, however complimentary it is to almost everything, just seems unnecessary.
As with the white chocolate mousse, I've added salt as an optional extra, in case you find the mixture too sweet. Although if you're a Caramilk fan, you're probably ok with sweet, right?
This indulgent mousse is true-to-flavour, which means if you're not a fan of Caramilk, you may or may not like this. My mother isn't a Caramilk fan, but she does enjoy this mousse (well, she told me she did, and she's usually brutally honest with me about my recipes).
If you're not fussed about Caramilk (and there seem to be some very passionately anti-Caramilk folk out there!) then you might want to skip this one and try one of my other mousses instead.
If, however, you're alllll about the Caramilk, I guarantee* you will love this.
*not an actual guarantee, I won't give you your money back. This isn't an as-seen-on-TV product.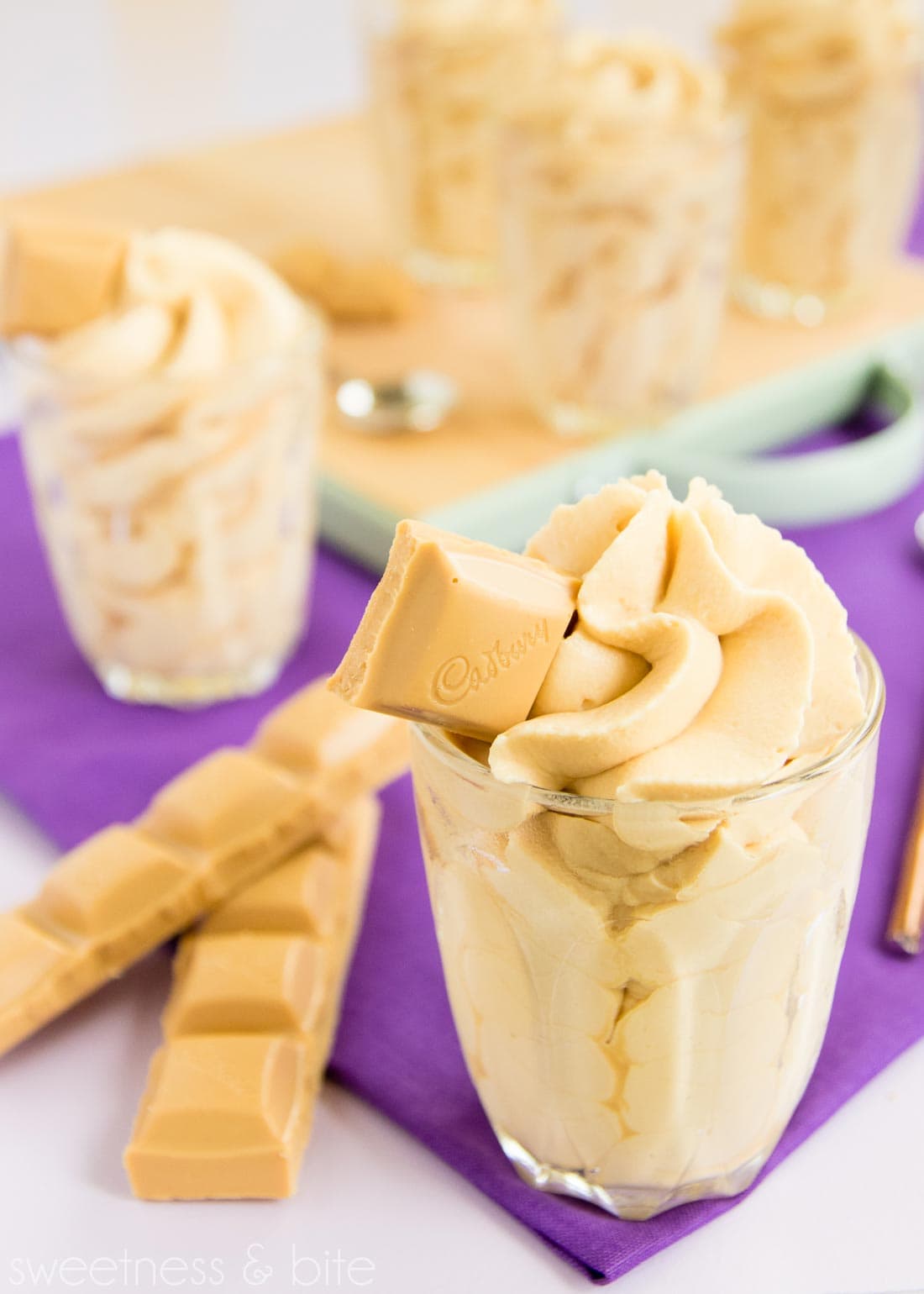 How to Make Caramilk Mousse
When I say this is easy to make, I really mean it. There are only a few simple steps.
Chop the Caramilk and pop it in a heatproof bowl.
Heat half of the cream until almost boiling.
Pour the hot cream over the chocolate to melt it, then stir in the remaining cream (which helps to cool the mixture faster).
Chill the mousse mixture.
Whip it!
Spoon or pipe the mixture into serving glasses, small cups or bowls, individual ramekins, wine glasses, or even one big bowl (from which you can serve it family style… or eat it all yourself.
I topped the mousses with squares of Caramilk, but you could also use grated chocolate (Caramilk, dark chocolate, milk chocolate, really whatever takes your fancy). Chopped Caramilk twirls would also make a great topping, as would some whipped cream or a drizzle of melted chocolate or Caramlik ganache.
If you're new to my easy mousse recipes, then yes, chocolate + cream is a lot like a ganache, but with more cream than chocolate, it makes a light and fluffy mousse when whipped and looks (and tastes!) far fancier than it really is. Trust me.
I scaled the recipe down slightly from my original mousse recipe, so that it can be made with just one block of chocolate, rather than needing a part block. But if you want to garnish your mousse with squares of Caramilk, as I did here, then you'll need to grab yourself an extra block.
If you're a crazy Caramilk fan and you've got a pantry full of this golden goodness, then by all means, double (or triple) the recipe so you can eat Caramilk mousse for breakfast, lunch and dinner.
Tips for Mousse Success
There are two keys to making this mousse successfully.
The first is to make sure the mixture is very well chilled before whipping it (see the recipe below for tips to speed that up if you need to). The mixture is more prone to splitting if it isn't completely cold, so making sure it's well chilled will have you on the right track to perfect mousse.
The second key is being careful not to overwhip the mixture. This stuff can go from nearly-whipped to over-whipped really quickly, so just keep an eye on it. You can whip it at high speed just until it starts forming soft peaks, then slow the mixer speed down, and continue whipping until the mousse is *just* starting to form stiff peaks.
Quick Caramilk Mousse Q&A
Can you make Caramilk mousse without eggs?
Yes, you sure can! Mousse can be made with whipped eggs, whipped cream or both. This recipe just uses just the cream and doesn't contain eggs, which makes it great for those with egg allergies, or anyone who doesn't like to eat uncooked eggs. You might think that a mousse made with only two ingredients seems too good to be true, but it's not. It's true, and it's delicious.
What can I use if I don't have Caramilk?
You can make this recipe with Whittaker's Blondie for a similar flavour, or use white chocolate. Or check out all of my other mousse flavours for more ideas.
Is the mousse fluffy or smooth?
If you serve the mousse soon after whipping, it will have a smoother, softer texture. If you chill the mousse for an hour or two, it will set, giving you a fluffier mousse.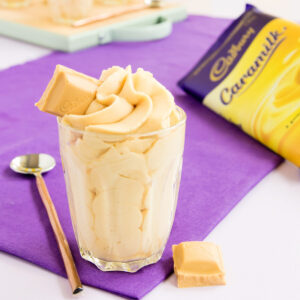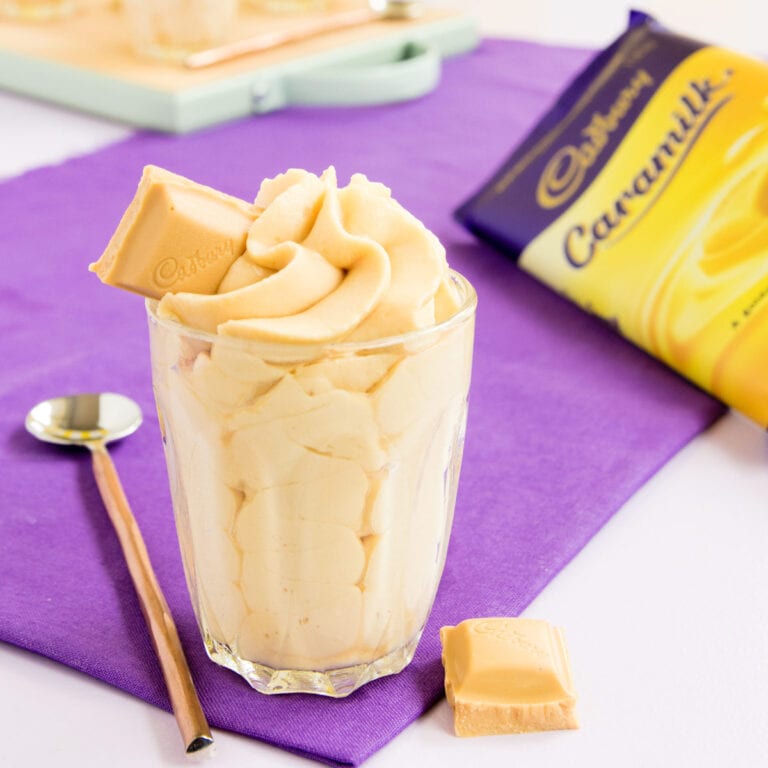 Easy Caramilk Mousse
Super, ridiculously easy Caramilk Mousse with only two ingredients. If you love Caramilk, you will love this!
Print Recipe
Pin Recipe
Save
Saved!
Makes:
6
half-cup servings
Ingredients
190

g

Cadbury Caramilk chocolate (one block)

300

g

cream

(see notes)

pinch

of salt

(optional)
Instructions
Chop the Caramilk chocolate into small pieces, and place in a medium-sized heatproof bowl.

Heat half the cream in a small saucepan, over medium-high heat until bubbles begin to form around the edges.

Pour the cream over the chopped Caramilk, and leave for a few minutes to melt. Whisk until all of the chocolate is melted and the mixture is smooth and well combined.

Stir in the remaining half of the cream (adding cold cream helps cool the mixture down faster).

Taste the mixture, and if the mixture is too sweet, whisk in a pinch of salt to counter the sweetness, if you wish.

Cover the bowl with plastic wrap and chill the mixture until it is very cold. This can be done either in the fridge or freezer.

Fridge – refrigerate for at least several hours or overnight.Freezer – place in the freezer for 1 hour, stirring every 10 minutes to make sure it doesn't freeze around the edges.Chilling overnight in the fridge is the best option, but I know sometimes we just want mousse in a hurry, so the other options are there if you need them.

Whip the mixture with an electric hand mixer just until stiff peaks start to form. It won't take very long, so keep a close eye on it and be careful not to over-whip, or it will become grainy.

Pipe or spoon the mousse into glasses or small bowls. If it's a little too soft to pipe, you can refrigerate the bowl of mousse again until it firms up some more, and then transfer it to a piping bag to pipe.

Serve the mousse immediately for a softer mousse, or pop them in the fridge for an hour or two to set, for a fluffier mousse. Serve topped with an extra square of Caramilk, if you like.

The mousse can be stored in the fridge for several days. Cover each glass with plastic wrap, or put all of the glasses into a lidded container.

The unwhipped mousse mixture will keep well, covered, in the fridge for 1-2 days before whipping.
Notes
Cream – The cream you need for this recipe is known by different names in different countries. Here in NZ, it's usually called standard cream or whipping cream, in other countries, it may be known as full cream, heavy cream or heavy whipping cream. Double cream is generally too thick for this recipe it contains a lot more fat (although the fat content can vary by country.) Long story short: for best results, choose a pourable cream that is around 35% fat. Make sure that it says on the bottle/carton that it is suitable for whipping.
Nutrition
Calories:
341
kcal
|
Carbohydrates:
20
g
|
Protein:
3
g
|
Fat:
28
g
|
Saturated Fat:
18
g
|
Polyunsaturated Fat:
1
g
|
Monounsaturated Fat:
7
g
|
Cholesterol:
63
mg
|
Sodium:
42
mg
|
Sugar:
20
g
Nutritional Disclaimer: Any nutritional info provided is a computer generated estimate and is intended as a guide only.
Enjoy!
~Natalie
You may also like…