Easy White Chocolate Mousse
This post may contain affiliate links to products I recommend. I receive a small commission at no cost to you if you make a purchase using my link.
Easy Three Ingredient White Chocolate Mousse ~ Simple ingredients, no eggs, just a bit of heating, some chilling and some whipping. Easiest homemade mousse ever!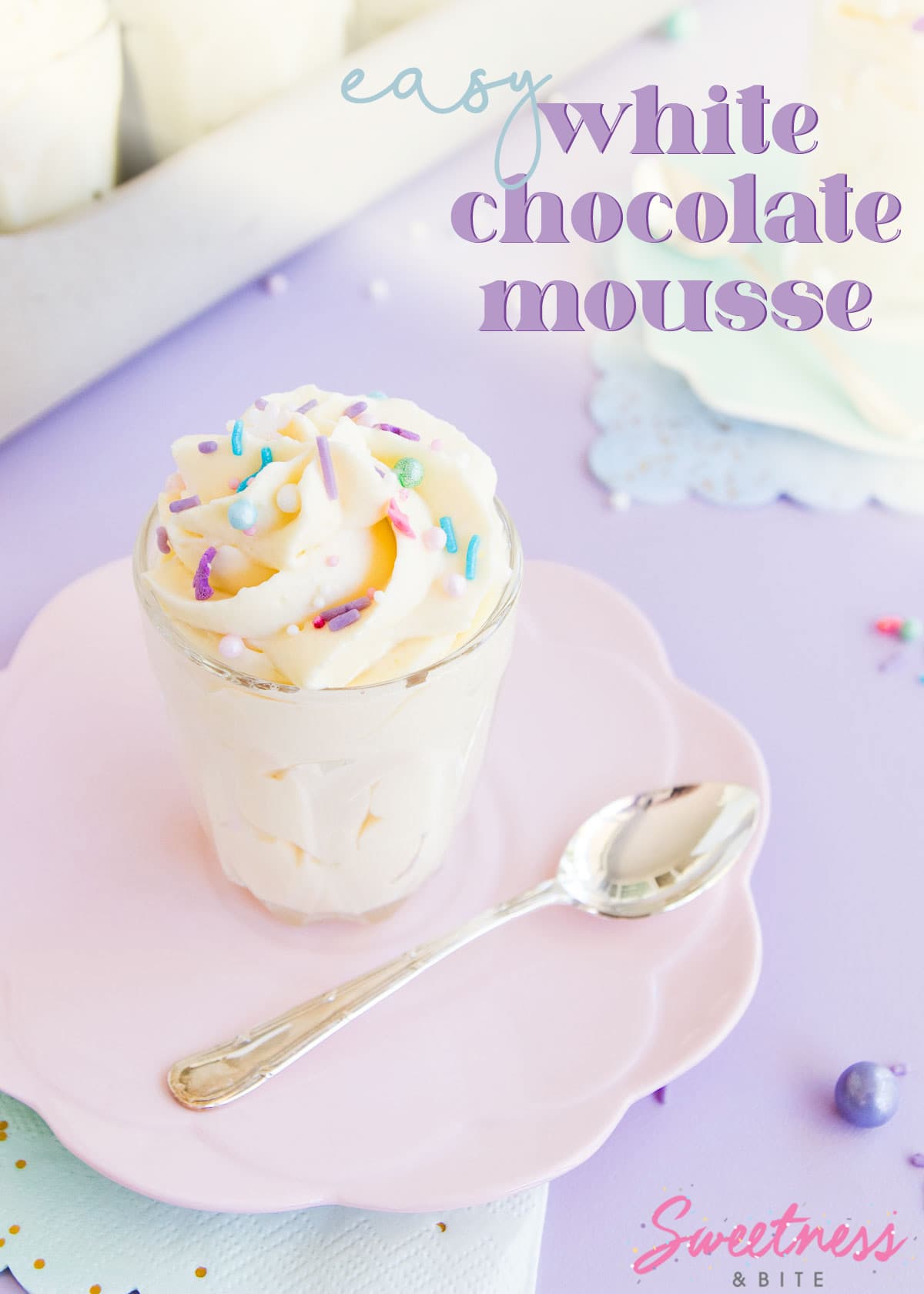 If writing a blog has taught me anything over the past few years, it's that I know nothing about writing a blog.
I've written posts that I thought would be really popular, that turned out not to be. And I've written quick little posts that I figured no one would read, that people went crazy about (especially the one that contained my least favourite word.)
So way back when I posted a recipe for super easy 3 ingredient chocolate mousse, I really had no idea if anyone would even make it, let alone like it.
I mean, I hoped they would. I hoped that people out there would get as excited as I did about the thought of having ridiculously chocolatey, fluffy mousse with very little effort. But people confuse me, so I really didn't know.
Turns out, y'all love chocolate mousse! In the three-ish years since I posted the recipe, it's been viewed over 180,000 times. There are a whole bunch of awesome comments on the post. People on Pinterest have posted pictures of their mousse and said how much they love it.
Ok, there were a couple that didn't love it because it's not a "traditional" mousse and it doesn't contain eggs (spoiler alert, mousse can be made without eggs) but the reaction has been overwhelmingly positive. I'm not gonna lie, it makes me feel a little warm and fuzzy inside. Or perhaps I should say "cool and fluffy" since that's what's this mousse is.
One of the questions I've been asked a bunch of times since that recipe was published is "can you make three ingredient mousse with white chocolate?" and the answer is a most definite yes! It does need a small tweak in the recipe to make sure it sets properly, so that's what this here post is all about.
This easy, three ingredient white chocolate mousse…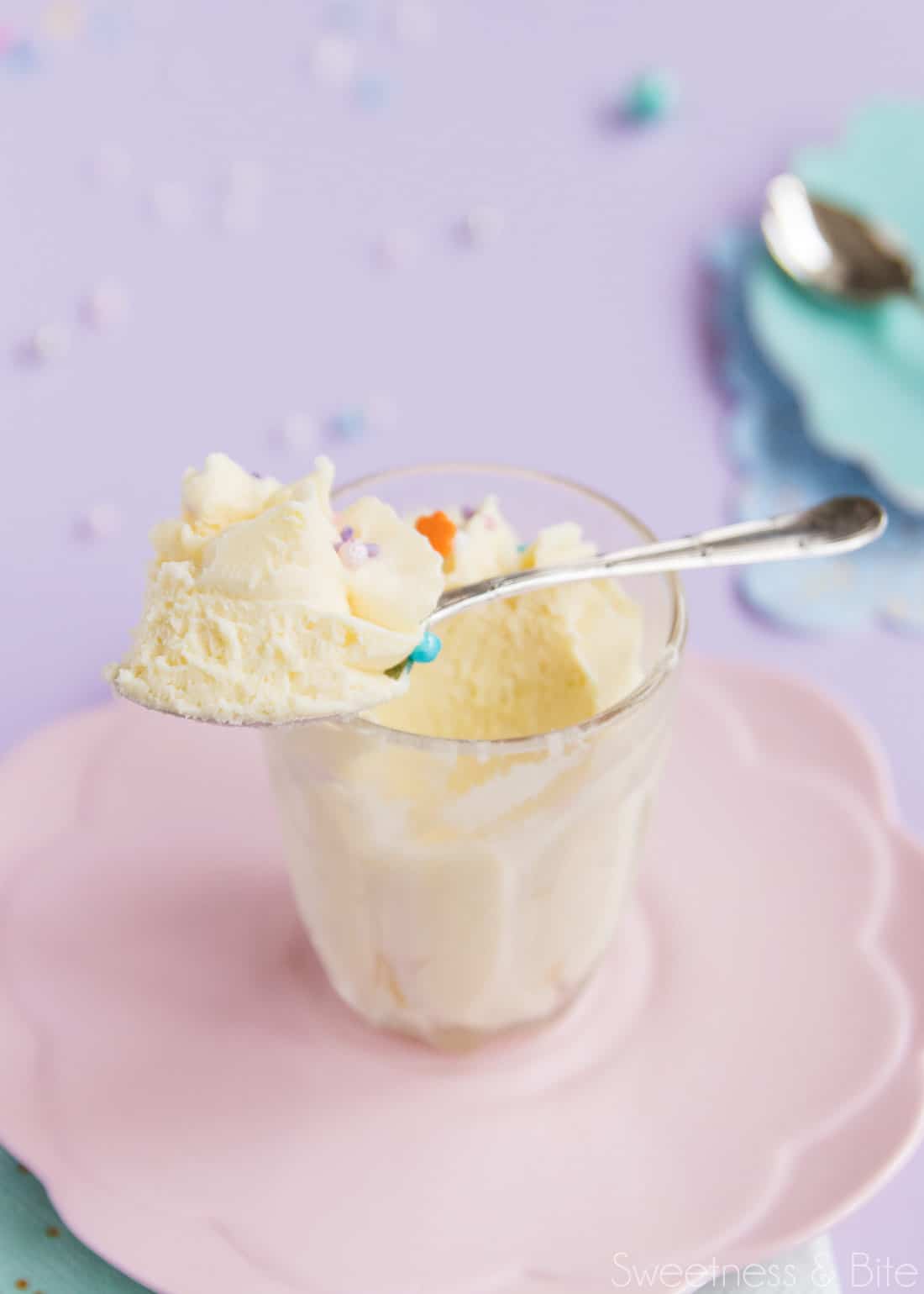 As with the dark chocolate version, it has three ingredients: cream, white chocolate and vanilla. You could even cut it down to two, the vanilla is more of an added bonus, but you can leave it out if you prefer.
(Personally, I never prefer to leave out vanilla. I sprinkle that stuff around like fairy dust. Or fairy liquid. That doesn't sound so appealing though.)
I have also included another optional ingredient, but it's one most of us have around the house anyway so it's not too much of a hardship. Salt.
White chocolate can be very sweet, and if you find your mousse mixture tastes a little too sweet, a small pinch of salt can help cut through the sweetness.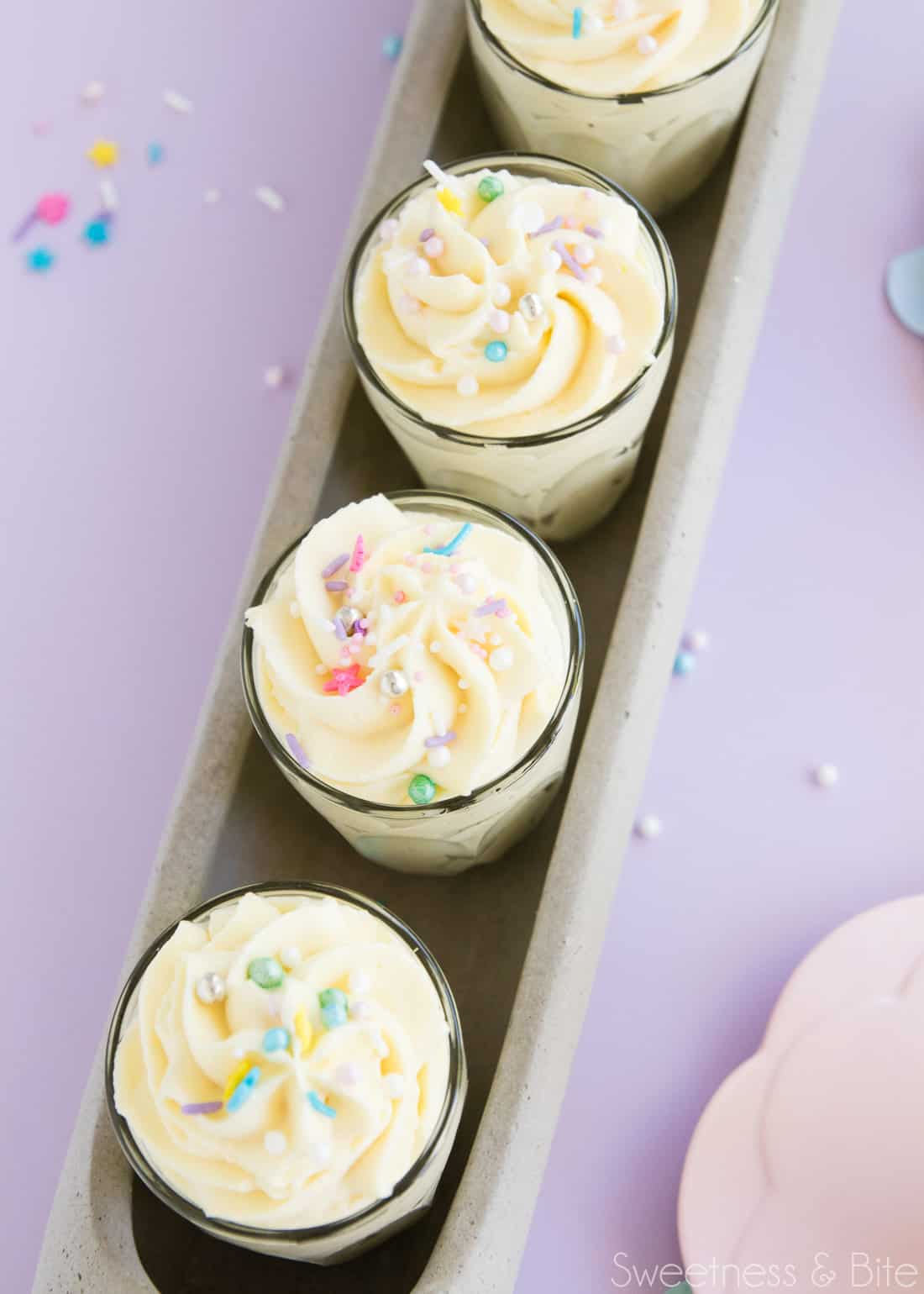 The key ingredient of white chocolate mousse…
You'll want to use a good quality white chocolate for this recipe since that is clearly the hero flavour of the dish, so use something that you enjoy eating – I used my favourite Whittaker's 28% cocoa white chocolate, but any brand of good quality white chocolate will do the trick.
The only other difference between this recipe and the dark chocolate version is that you need to add just a little bit more chocolate to make sure it sets – since white chocolate is naturally a bit softer.
How to make easy white chocolate mousse
Once you've chosen your chocolate, all that's left to do is mix up your mousse. Like the dark chocolate version, it's just a matter of melting the chocolate in the hot cream, adding the vanilla and letting it chill until completely cold, then whipping it until it's light and fluffy.
The chilling bit is really important, the mixture will get much fluffier and be less likely to split when the mixture is well chilled. You can see my notes in the recipe below for chilling it faster if you don't want to wait for it to chill overnight.
If you watch my video on how to make this and then read the recipe below you might notice something I've changed in the recipe – for all my easy mousses I now only bring half the cream to the boil to pour over the chocolate, and then once the chocolate has melted, I whisk in the remaining cold cream. This makes it take less time for the mixture to cool down enough to pop in the fridge. Very handy trick right there, and I wish I'd thought of it years ago!
I've got a couple more posts coming up that will show you just how versatile this recipe is. There are so many flavour combinations you can do with it, the list is endless. You can add all manner of different flavourings, add fruit to it, pipe it into tart cases instead of glasses…
Really, go crazy. You know you want to.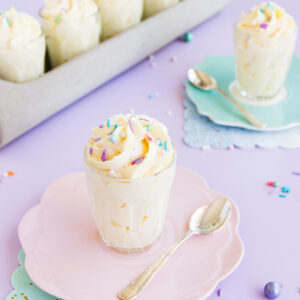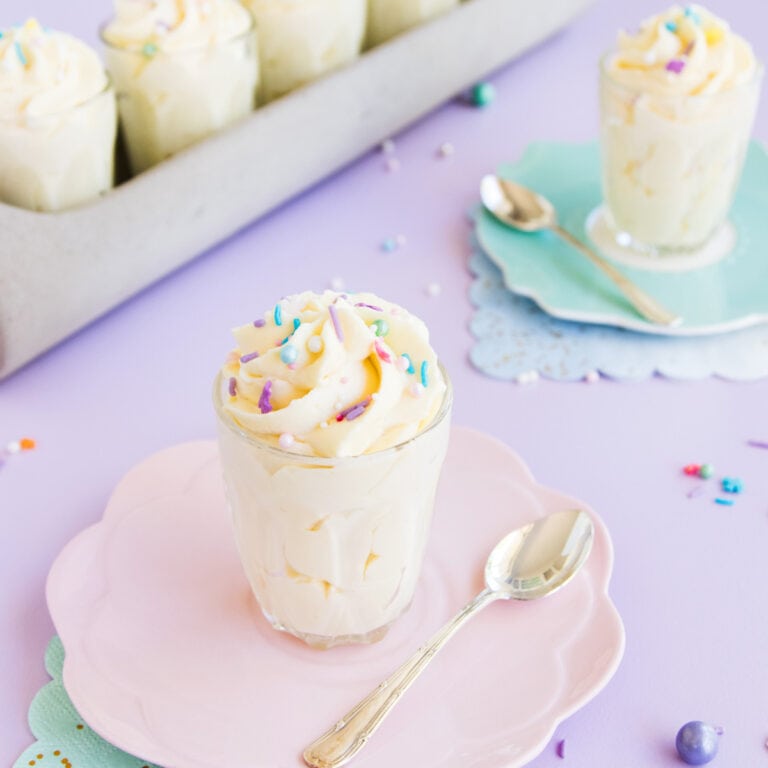 Easy White Chocolate Mousse
This three ingredient white chocolate mousse is made with simple ingredients, no eggs, and is so easy to make! Just a bit of heating, some chilling and some whipping. The easiest from-scratch mousse you'll ever make!
Print Recipe
Pin Recipe
Save
Saved!
Makes:
10
half-cup servings
Ingredients
500

g

whipping cream*

300

g

white chocolate

chopped

1

teaspoon

vanilla extract

pinch

of salt

optional
Instructions
Place the chocolate into a large heatproof bowl.

Heat half of the cream in a small saucepan over medium-high heat until bubbles begin to form around the edges.

Pour the cream over the white chocolate, and leave to sit and melt for a couple of minutes. Stir with a wire whisk until all of the chocolate is melted and the mixture is smooth and well combined.

Whisk in the remaining 250mls of cream and the vanilla.

Taste the mixture, and if the white chocolate is too sweet, whisk in a pinch of salt to counter the sweetness, if you wish.

Leave to cool to room temperature (you can speed this up by placing the bowl into a water bath – simply 1/4 fill the sink with cold water, add some ice and place the bowl of chocolate cream into the sink. Stir the mix regularly to speed cooling).

Refrigerate until very well chilled (at least several hours or overnight). If you're in a hurry you can pop the bowl in the freezer to speed the cooling process. Just make sure you check and stir it regularly to make sure it doesn't actually freeze.

Whip the chocolate cream with an electric hand mixer just until stiff peaks begin to form. It won't take very long, be careful not to overwhip it.

Pipe or spoon into glasses or small bowls. If it's a little too soft to pipe, you can refrigerate the bowl of mousse again until it firms up some more, and then transfer it to a piping bag to pipe.

Serve the mousse immediately or store in the fridge for several days. Cover individual glasses with plastic wrap, or pop all of the glasses into an airtight container.
Notes
*Cream - The cream you need for this is known by different names in different countries. In NZ it's called standard cream or whipping cream. In other countries, it may also be known as single cream or full cream. Heavy cream or double cream will also work in this recipe, but you will just need to be very careful not to over-whip it. Long story short: you need a pourable, un-whipped cream that is around 35% fat. It will usually say on the bottle that it is suitable for whipping. White chocolate - Use good quality white chocolate for the best flavour. Don't use white chocolate baking chips - these have a coating that stops them from melting properly.
Nutrition
Serving:
1
/2 cup
|
Calories:
333
kcal
|
Carbohydrates:
19
g
|
Protein:
3
g
|
Fat:
28
g
|
Saturated Fat:
17
g
|
Polyunsaturated Fat:
8
g
|
Trans Fat:
1
g
|
Cholesterol:
63
mg
|
Sodium:
54
mg
|
Sugar:
19
g
Nutritional Disclaimer: Any nutritional info provided is a computer generated estimate and is intended as a guide only.
I'll be back soon with a spin on this easy three ingredient white chocolate mousse recipe that makes it perfect for Valentine's Day ❤
Enjoy!
~Natalie
xx
You May Also Like…