Gluten Free Gingerbread Cookies
This post may contain affiliate links to products I recommend. I receive a small commission at no cost to you if you make a purchase using my link.
These gluten free gingerbread cookies are easy to make and have all the spice and bite of classic gingerbread cookies but without the gluten. They don't spread much and have lovely smooth tops, perfect for decorating!
There is just something about the rolling, cutting, baking and decorating of gingerbread cookies that is sure to get me in a festive mood.
But, there are few things more disappointing than making cookies that crumble and break when you try to decorate them.
If you've ever made and decorated gluten free gingerbread cookies before, only to be disappointed when the cookies fell apart, you may not be inclined to believe me when I tell you that these gluten free gingerbread cookies will not do that. But they won't. Really!
They're The Best gluten free gingerbread cookies to decorate. Yes, I said what I said and I stand by it.
I'm going to tell you a bit about these cookies and some tips for making them successfully, but as always, if you want to skip to the recipe card, hit the jump button above 👆🏻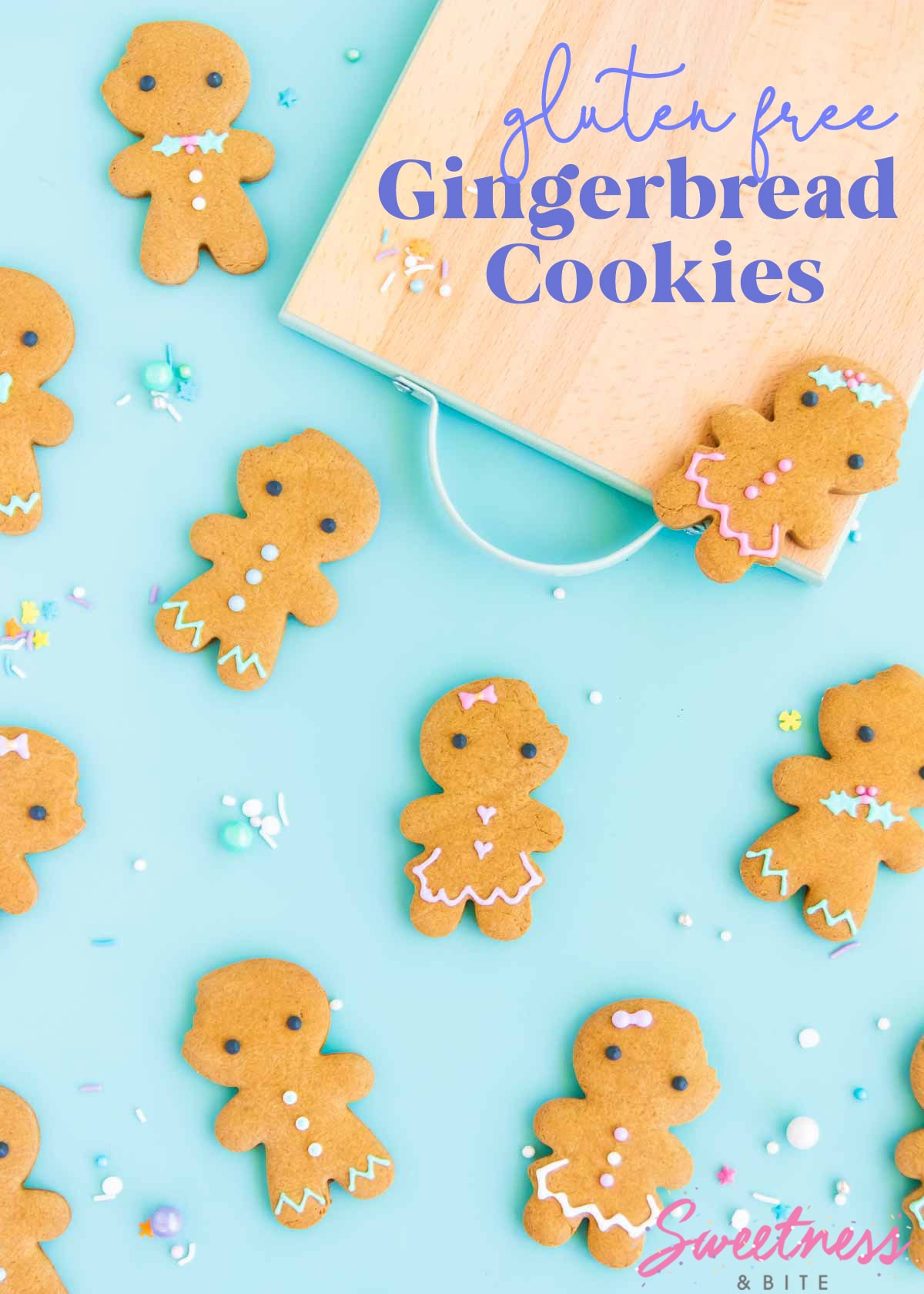 What makes these the best gingerbread cookies: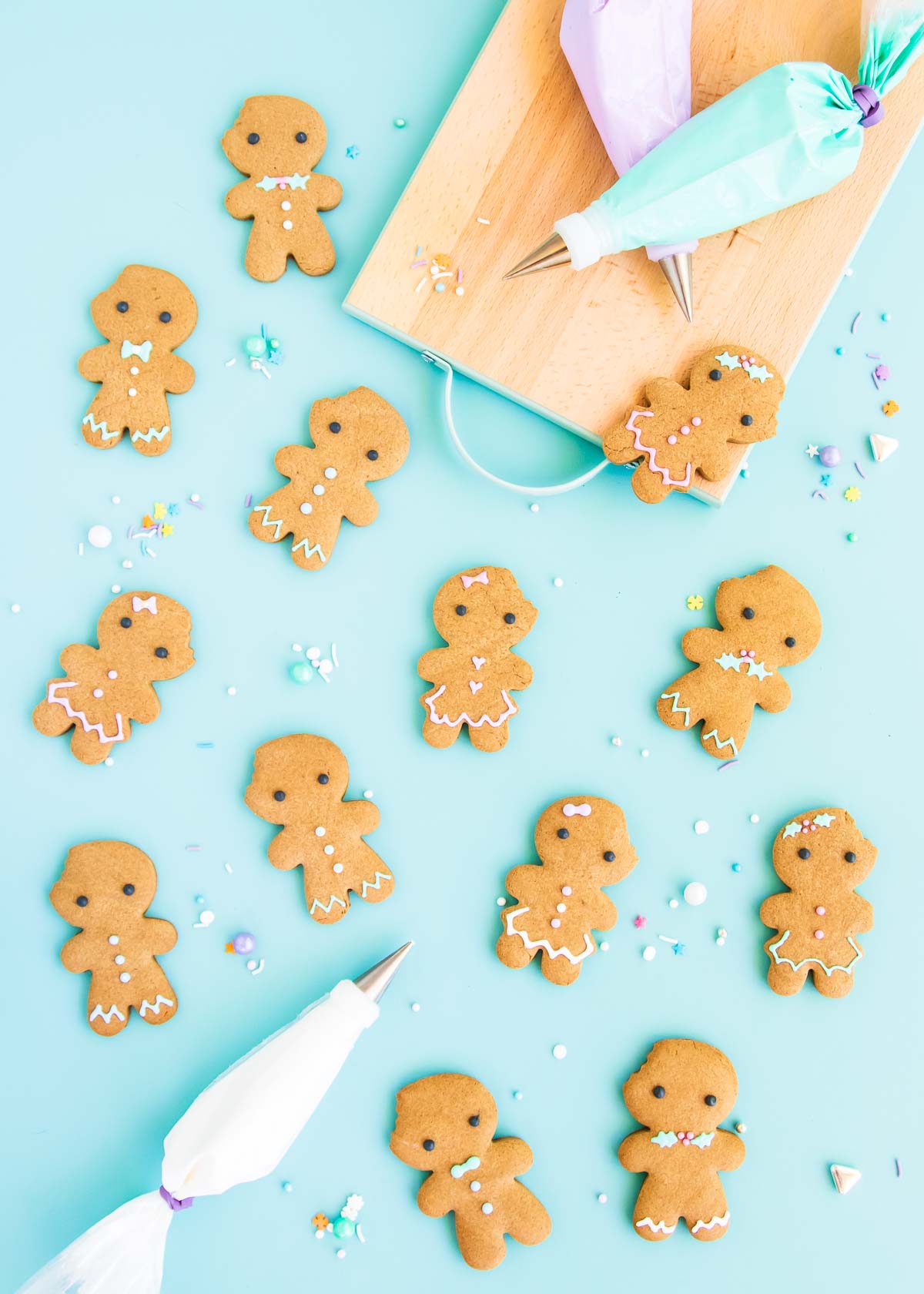 Ingredients:
Gluten Free Flour: Use a good quality gluten-free all-purpose or baking flour blend to make these cookies, whether it's a homemade mix or a store-bought gluten-free flour mix. I use my homemade gluten-free baking flour blend, which is made from tapioce starch, potato starch and brown rice flour. If you're using a store-bought blend, your cookies may differ slightly from mine, depending on what flours and starches are in the blend. If you have any issues with crumbling or grittiness in your cookies, then your flour is the first place to start troubleshooting.
Ground Ginger and Ground Cinnamon: Make sure you check the best-before date on your ground spices, if they're out of date then the flavour won't be as good. Having said that, you can also adjust the level of spiciness in these cookies to suit your own tastes. I happen to be a big fan of ginger (so I put plenty in, but if you like things a little mellower then you can always reduce the ginger.
Xanthan Gum: This is what binds the cookies together and stops them crumbling. If using a store-bought gluten-free flour blend, check the ingredients to see if it includea a gum ingredient (usually xanthan or guar gum, but sometimes just labelled "thickener"). If it includes one of these, leave out the xanthan gum from the recipe.
Baking Soda
Butter – You can use salted or unsalted butter in this recipe. If you're using unsalted, add a pinch of salt to the dough.
Brown Sugar – You can use dark brown sugar or light brown sugar.
Vanilla Extract
Molasses (or Golden Syrup): Molasses gives that classic rich gingerbread flavour with a slight hint of bitterness that counteracts the sweetness. Choose a light or dark molasses, but don't use blackstrap molasses, as it is too bitter. If you don't have molasses on hand, you can use golden syrup instead. It gives the cookies a slightly lighter colour and flavour but they'll taste just as good. And if you can't find either then leave it out. Your dough may just be slightly drier, and the cookies may be crunchy rather than soft.
Egg + Egg Yolk: The egg helps bind the dough together, but the extra egg yolk adds smoothness to the baked cookies.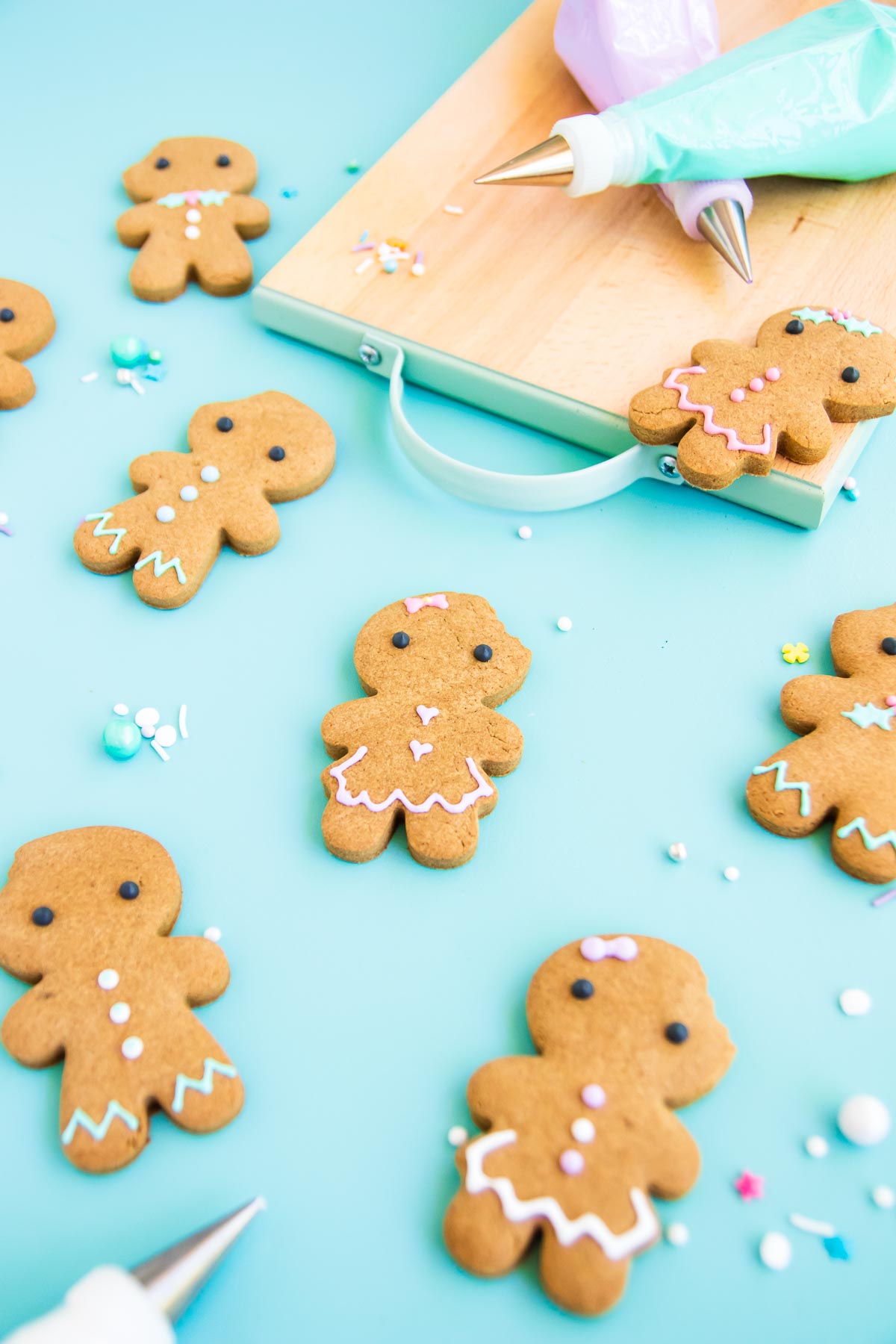 How to Make Gluten Free Gingerbread Cookies
Start by sifting together the dry ingredients and giving them a good whisk to combine them well.
Then you'll beat the butter, brown sugar, molasses (or golden syrup) until they're creamy.
Beat in the egg and the egg yolk until combined, then mix in the dry ingredients in 2-3 additions.
I like to do all this in my stand mixer, but you can use an electric handheld mixer. If doing that, it's best to stir in the flour by hand to avoid making a mess or making your mixer motor angry!
Rolling and Cutting the Cookies
You can roll the gingerbread cookie dough out straight after making it – it's easier to roll at room temperature. But if your kitchen is warm and your dough is too soft, you can chill it for a few minutes to firm it up before rolling, if needed.
Roll out the dough on a large piece of parchment paper (non-stick baking paper) that has been dusted with a little more gluten free flour, or some cornstarch (I keep cornstarch in a little shaker for this purpose). Dust the top of the dough as needed to stop it from sticking to the rolling pin, but try to be sparing so it doesn't dry out the cookies.
Some bakers suggest using a second sheet of parchment on top of the dough to roll it out, but I prefer not to do this, as it can trap little air bubbles on the top of the dough, which make little pock-marks in the tops of the cookies.
Then chill the rolled-out dough until it's nice and firm – which makes cutting out the shapes and transferring them to your waiting baking tray infinitely easier. No warped and creepy gingerbread people here, please-and-thank-you.
Arrange the cut out shapes on a prepared baking sheet, then pop the tray in the fridge until the shapes are nice and firm again. I know it's an extra step, but it really does help.
Once chilled, the cookies should be baked until they're slightly golden on the bottom. The exact amount of time will depend on the size and shape of your cookies. Keep an eye on the first tray as they bake, then make a note of that time for the following trays.
If you like crunchy gingerbread cookies, you can bake them for a little longer.
FREEZING THE COOKIE DOUGH
This dough is perfect to make in advance and freeze!
To freeze blocks of dough, shape the dough into flat rectangles around 1 inch thick, wrap well with plastic wrap, then pop them in an airtight container or resealable plastic bag and freeze. Bring the dough out of the freezer an hour or two before you're ready to roll it out.
To freeze the cut out shapes, place the shapes onto a baking paper lined cookie sheet, and freeze until they're firm. Layer the shapes between pieces of baking paper in an airtight container, and freeze. You can bake these from frozen, just place them onto your baking sheet, and bake for 2-5 minutes longer than the suggested baking time.
The dough will be fine in the freezer for up to three months.
Gluten free Gingerbread Cookie Making Tips:
Adjust the spices in these cookies to suit your own tastes. If you like extra spicy cookies, you can experiment with adding other spices. Cardamom, allspice or cloves would all be nice additions.
You can re-roll the dough scraps as many times as you need to, there is no worry of overworking the gluten, because there isn't any.
For perfectly flat cookies, when they come out of the oven use a fondant smoother or any other flat object to gently press down the tops of the cookies. I use this tip for my gluten free sugar cookies, too, and you can see it in action in that post.
If you don't want to decorate the tops of the cookies with icing, you can sprinkle the tops of the cut-out cookie dough with granulated sugar or sanding sugar, if you like.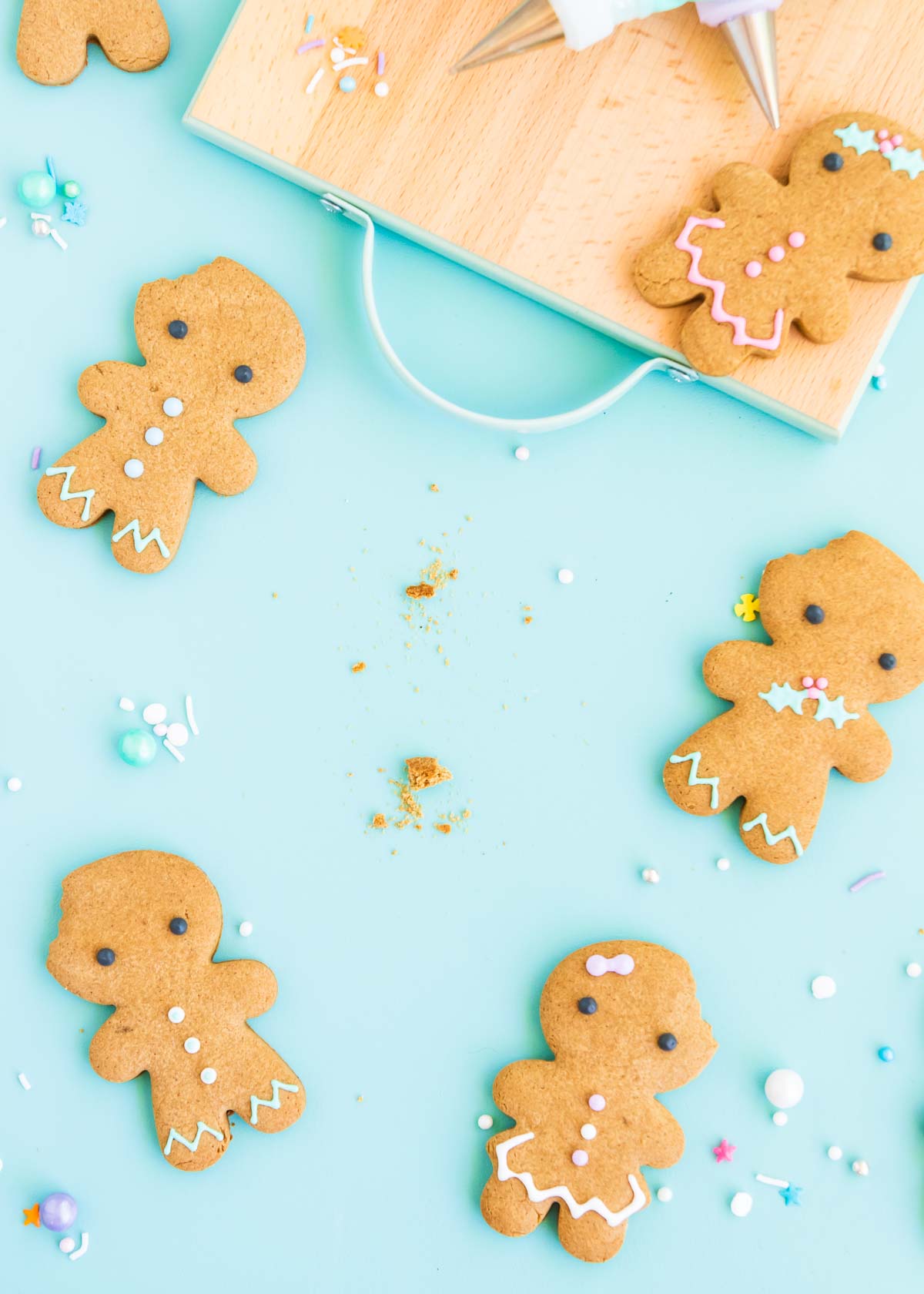 Decorating the cookies
You can decorate these gluten free gingerbread cookies however you like. The most popular icing for gingerbread cookies is royal icing, but you could use fondant if you prefer.
Make sure whatever icing you choose, you check the ingredients to make sure they're gluten free!
I used royal icing to decorate my little gingerbread people.
I just tinted the royal icing in a few pastel colours + dark grey for the eyes, popped the icing into piping bags fitted with small round nozzles (Wilton #1 and #2) and piped on the details. If you're new to piping, you can always practice your design on a piece of baking paper first.
I've had these 'bitten' gingerbread people cutters for goodness knows how many years now. I'm 99% sure they were Wilton brand but I can't seem to find them anywhere online now. Like they've completely vanished off the face of the earth.
If you want this look, but can't find the right cookies, you can simply use your favourite gingerbread person cutters, then use a scalloped cutter to cut out a 'bite' from the top. Easy!
You can, of course, use any of your favourite cookie cutters for this, it's not just a gluten-free gingerbread man recipe, it can be anything you like! This past year I made Christmas trees and little stars as well.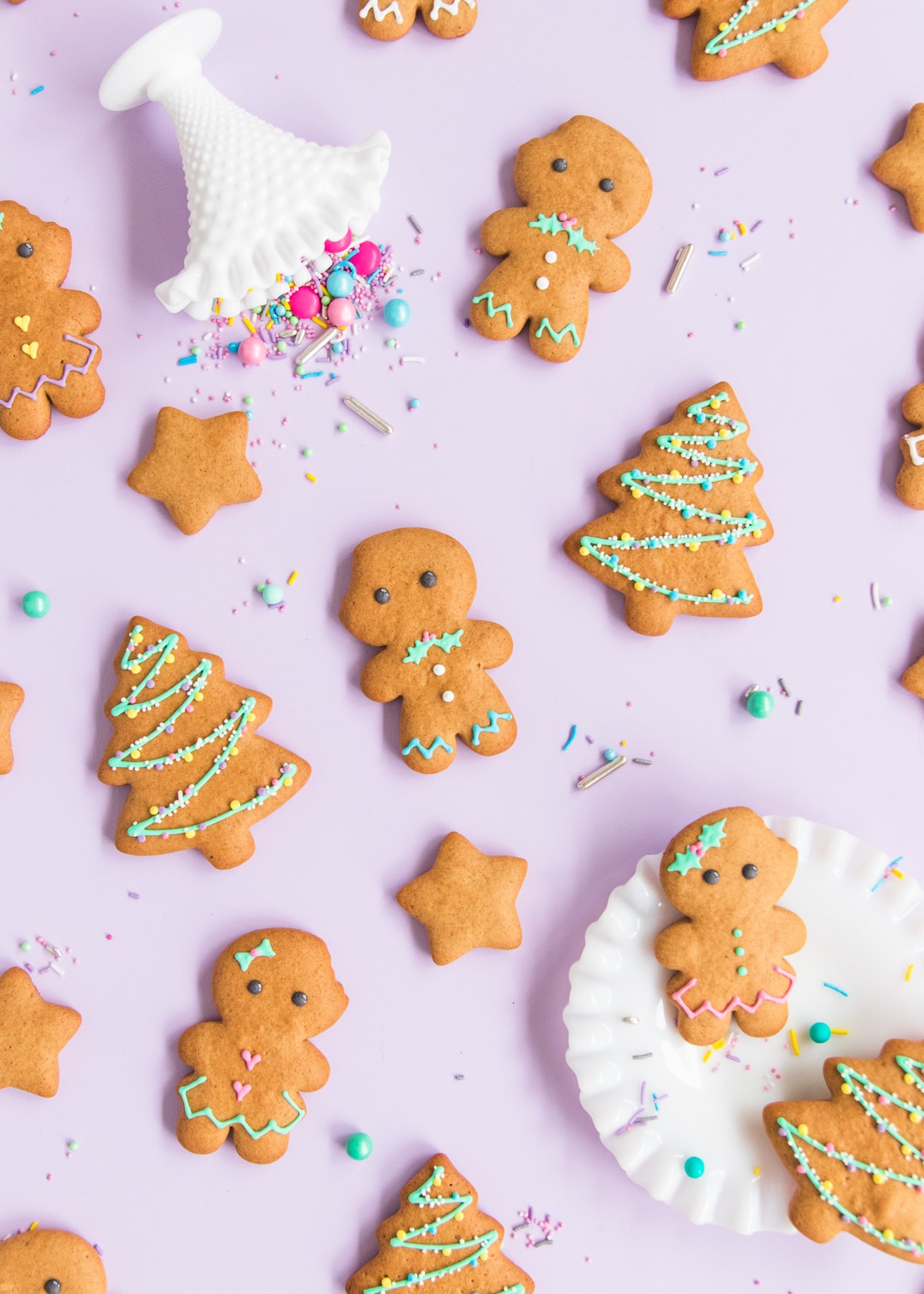 Shipping the Cookies
These cookies are so sturdy that a few years back, I sent a box full of little gluten free gingerbread people to my friend who is in the army and was stationed overseas at Christmas.
I was over the moon when they arrived and she sent me a picture of them looking just as perfect as when they left my kitchen. So not only are they perfect to decorate, they're perfect to post to friends and family and for a cookie exchange!
Tips For Shipping Gluten Free Gingerbread Cookies:
Bag the cookies, individually or in pairs, back to back. Seal the bags with a heat sealer if you have one, or use zip-lock bags.
Choose a very sturdy cardboard box to pack the cookies in.
Line the box with bubble wrap.
Place the cookies in layers, with layers of bubble wrap in between.
When you gently shake the box, you should hear as little movement as possible. if you can hear the cookies moving, add more bubble wrap.
For extra protection, place the box inside a slightly larger box, and pack the gaps with more packing materials (bubble wrap or scrunched up paper).
More Gluten Free Cookie Recipes:
Gluten Free Vanilla Sugar Cookies – the perfect gluten free vanilla cut-out cookies.
Gluten Free Chocolate Cookies – rich chocolate gluten-free cookies.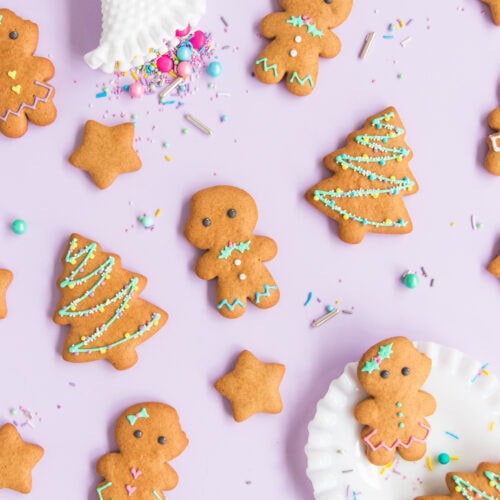 Gluten Free Gingerbread Cookies
These gluten free gingerbread cookies are easy to make and have all the spice and bite of traditional gingerbread cookies. A perfect festive holiday treat!
Print Recipe
Pin Recipe
Save
Saved!
Makes:
40
medium-sized cookies
Ingredients
625

g

gluten free flour

2 ½

teaspoons ground dried ginger

2

teaspoons

ground cinnamon

1 ½

teaspoons xanthan gum

¼

teaspoon

baking soda

200

g

butter

at room temperature

200

g

brown sugar

2

teaspoons

vanilla extract

100

g

molasses

OR 130g golden syrup

1

whole egg

at room temperature

1

egg yolk

at room temperature
Instructions
Sift the flour, ginger, cinnamon, xanthan gum and baking soda into a large bowl and whisk to combine well.

Place the butter, brown sugar, vanilla extract and molasses or golden syrup in the bowl of a stand mixer fitted with the paddle attachment (or a large bowl, if you're using an electric hand mixer) and beat on medium speed just until well combined and creamy.

Beat in the egg and egg yolk.

With the mixer on low speed, gradually add in the dry ingredients. You may need to stir in the last bit by hand. The dough should be soft but not sticky.

Turn the dough out onto a lightly floured bench and knead briefly until the dough holds together. Split the dough in half.

(If making the dough in advance, then pat each ball of dough into a disc, wrap in plastic wrap and store in an airtight container in the fridge until ready to use. Let the dough come to room temperature before rolling.)

Roll out each half between two sheets of non-stick baking paper, until about 5mm thick. (See post for tips). Chill until firm.

Heat oven to 170°C (about 340°F). Lower the temperature by 10° if using a fan-forced oven.

Cut out shapes using your favourite cookie cutters. Arrange them one inch-ish apart on baking paper lined baking trays.

If you have the time, put the trays in the fridge for 15-20 minutes for the dough to firm up again before baking. This helps reduce spreading.

Bake for 8 – 12 minutes or until very lightly golden on the bottom. The exact baking time will depend on the size and shape of your cookies, so keep an eye on them. Cool for 5 minutes on the trays, then place on a wire rack to cool completely.

Decorate as desired, and once the icing is dry, store in an airtight container. They will keep well for several weeks.


Notes
Gluten Free Flour – I recommend using my gluten free flour blend for these cookies. If you're using a different gluten free flour blend, check the ingredients and if it contains a gum ingredient (usually Xanthan or guar gum) then omit the xanthan gum from the recipe.
Decorating – If decorating with royal icing, make sure the icing/confectioner's sugar and meringue powder you use are gluten-free. Same deal if you're using a packaged royal icing mix. Time spent checking ingredients are safe is never wasted.
Freezing the dough – This dough freezes well, wrap well in plastic wrap and pop into an airtight container or resealable plastic bag before freezing. Thaw until the dough is a workable temperature, then roll and bake as usual.
Recommended Equipment & Ingredients
Nutrition
Serving:
2
cookies
|
Calories:
264
kcal
|
Carbohydrates:
42
g
|
Protein:
4
g
|
Fat:
9
g
|
Saturated Fat:
5
g
|
Polyunsaturated Fat:
3
g
|
Cholesterol:
40
mg
|
Sodium:
93
mg
|
Fiber:
1
g
|
Sugar:
16
g
Nutritional Disclaimer: Any nutritional info provided is a computer generated estimate and is intended as a guide only.
Gluten free Recipes You May Also Like…