Gluten Free Sugar Cookies – Perfect Cut-out cookies
This post may contain affiliate links to products I recommend. I receive a small commission at no cost to you if you make a purchase using my link.
These gluten free sugar cookies are crunchy, with a delightfully buttery vanilla flavour, hold their shape and have smooth flat tops that are super easy to decorate. The perfect no-spread gluten free cut-out cookie!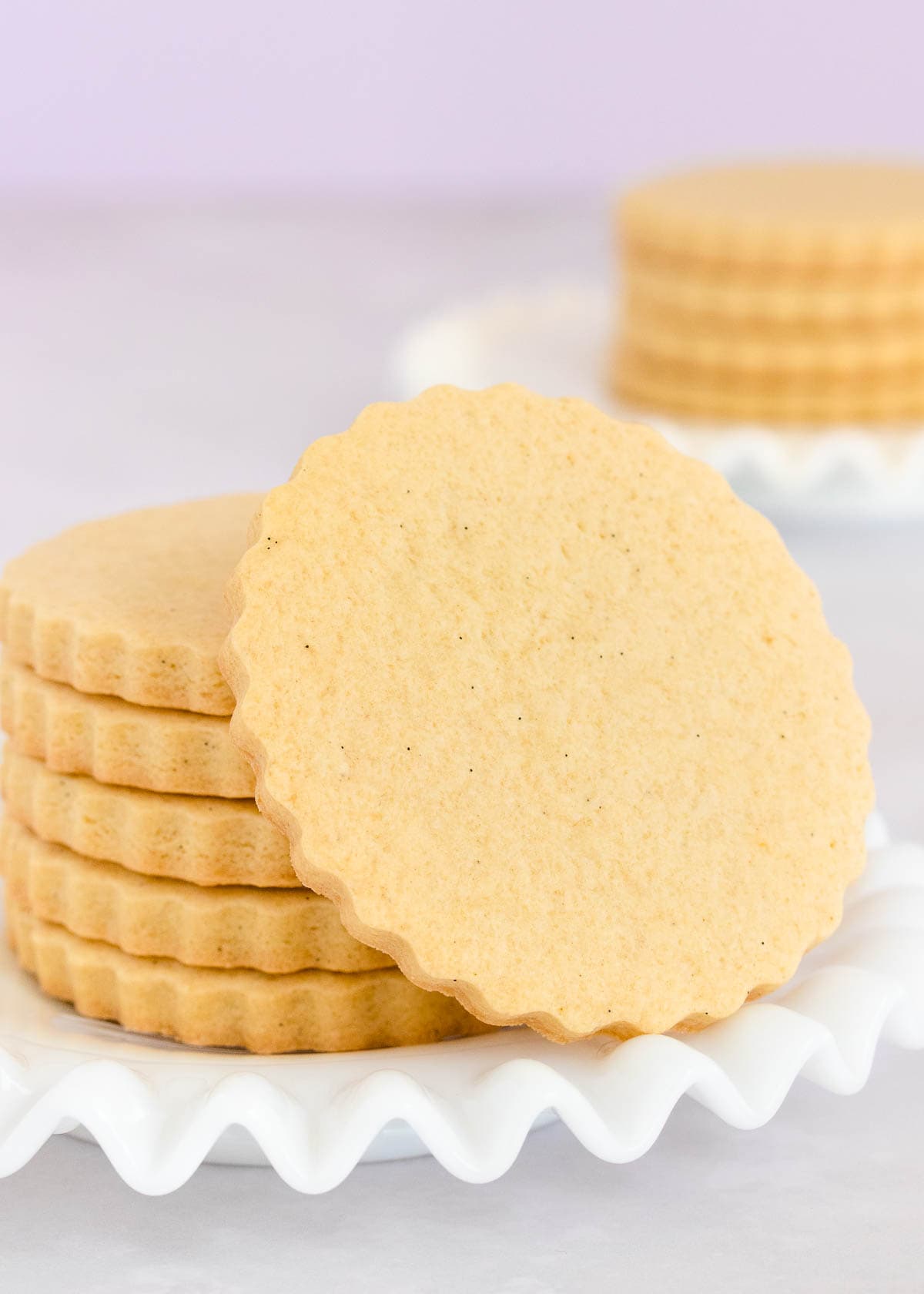 In my pursuit of The Best Gluten Free Sugar Cookies, I made at least 8 variations on this recipe, tweaking different things to get it perfect.
Now, perfect is a very subjective thing, but here is what I love most about this cookie recipe:
The cookies have:
Super buttery and vanilla-y flavour (is that a thing? I'm calling it a thing).
Crunchy edges, with slightly softer centres.
Smooth flat surface for easy decorating with royal icing or fondant.
And they:
Are sturdy enough to decorate – no crumbly broken cookies here!
Hold their shape, with almost no spreading (thanks to a surprising ingredient!)
Are the perfect gluten free vanilla cookie base for other treats like cheesecakes and chocolate truffles.
If those qualities are the one you look for in a gluten-free vanilla sugar cookie – then you've come to the right place!
While these cut-out cookies are pretty straightforward and easy to make, I'm going to include some extra info to help you troubleshoot any issues you may come across when making them and some tips to make cookie-life easier.
But if you're a confident cookie-maker and you just want to scoot on down to the recipe and get these cookies in your face ASAP, then please feel free to do that.
Ingredients
Gluten Free Flour – The flour you choose can (literally) make or break gluten free sugar cookies , so it's important to use a good quality gluten-free flour blend, either homemade or packaged. This recipe was created and tested using my homemade gluten-free flour blend for baking.
Baking Powder – While we don't want these to rise too much, I do still like a little lift from a small amount of baking powder in these cookies. Make sure you check that your baking powder is gluten free.
Xanthan Gum – Xanthan gum helps bind the cookies and stop them from being crumbly. If you're using a packaged gluten free flour blend and it contains a gum ingredient (usually xanthan or guar gum), then you should omit the xanthan gum from this recipe.
Butter – For this recipe, you can use either salted or unsalted butter. I tend to use salted butter. If you use unsalted, you may like to add a pinch of salt to the butter when you beat it.
Caster Sugar – I like to use caster/superfine sugar in these cookies because they give a smoother dough and therefore a smoother textured cookie. But if you don't have caster sugar then you can use regular granulated sugar.
Vanilla – There are really only two ingredients giving us flavour in these cookies, the butter and the vanilla. So, for the tastiest cookies, use a good quality vanilla extract or vanilla bean paste. I like to use a combination of both, because I'm extra like that and I like the little vanilla seeds in the cookies, but using just one or the other will do the trick. You could also add a splash of almond extract (or any other flavoured extract or oil, for that matter) for extra flavour.
Lemon Juice – The lemon juice in this recipe doesn't give them a lemon flavour, it's solely there to make the dough slightly more acidic, which helps stop the cookies from spreading too much. This is a tip I found in one of my favourite baking books – Bakewise by Shirley Corriher. Trust me, it's just science, y'all, and it works.
Egg – Use a large (size 7) egg for this recipe.
How to Make Gluten Free Sugar COOKIES
You'll get the best results if your butter and eggs are at room temperature. If you forget to take them out of the fridge in advance, you can soften the butter on low power in the microwave (keep an eye on it to make sure it doesn't melt), and place your eggs, in their shells, into a bowl of hot tap water and leave them to warm up in there while you prepare the rest of the ingredients.
I like to mix the dough using my Kitchen Aid mixer, but you can also make them with a handheld electric mixer. You'll just use that to cream the butter and sugar, add the eggs, and then mix in the flour by hand using a spoon or spatula. If you're using a stand mixer, you can do the whole shebang in there, using your specific mixer's speed recommendation for cookie dough.
Depending on your choice of gluten free flour and how soft your butter was, the dough may be firm enough to roll out immediately, or you may need to refrigerate it for a few minutes to firm it up. I just put the mixing bowl with the dough in it into the fridge and check it after about 10 minutes, and it's usually ready to go.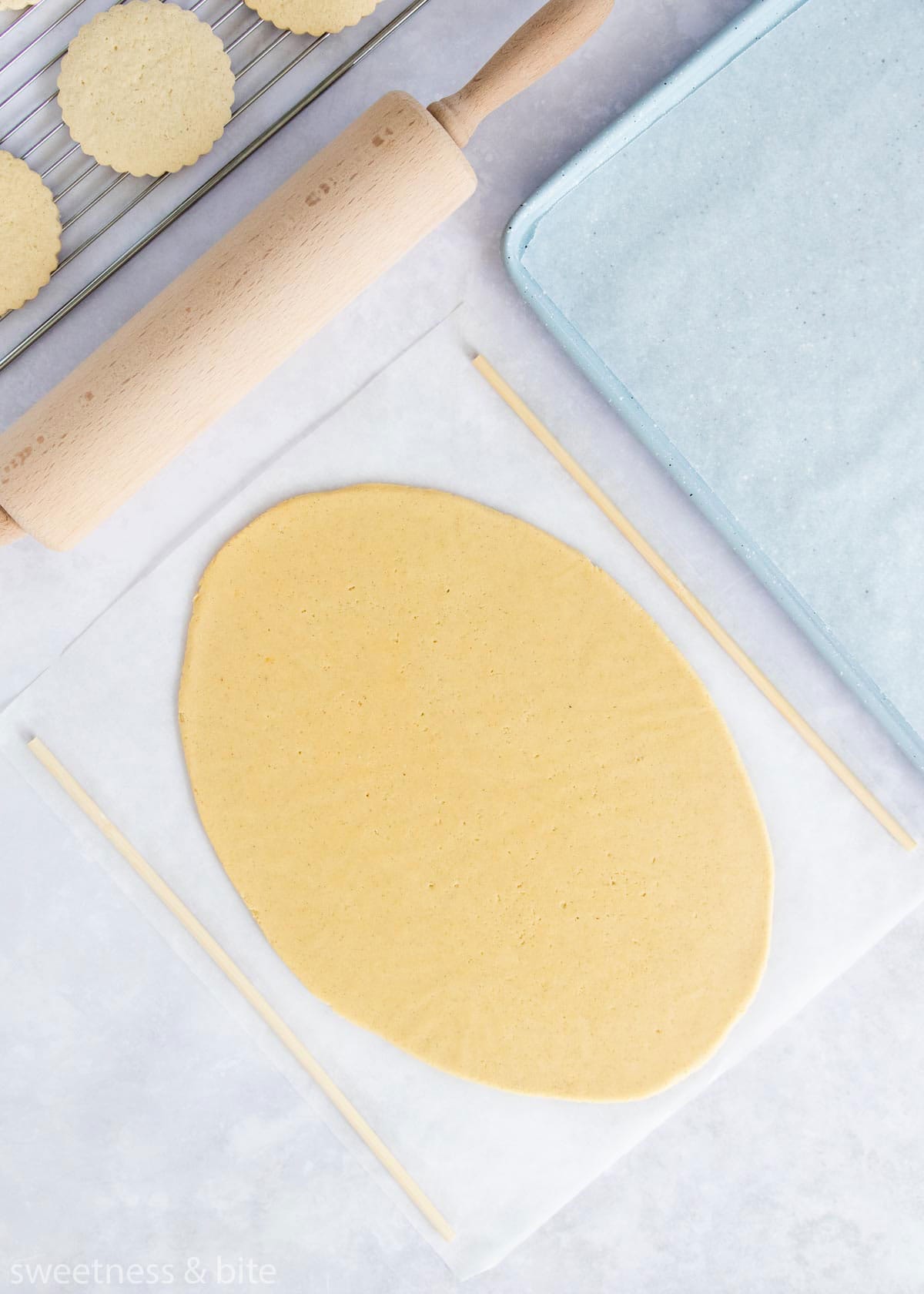 Then just roll out your dough on a sheet of non-stick baking paper. It's the easiest way to stop your dough from sticking to your work surface without having to add a ton of extra flour and dry your cookies out. You can sprinkle a little more gluten free flour on top of the dough if it is sticking to your rolling pin.
Using dowels on either side of your dough will help you roll it out to an even thickness. I like to use 5mm dowels for these cookies. You could also use a rolling pin with spacers. The yellow rings on a Wilton rolling pin are perfect for cookies.
Then place another sheet of baking paper on top of the rolled out dough, and pop it into the fridge to firm up. I also like to do this because it means I can roll out multiple balls of cookie dough and just stack them up in the fridge until I'm ready to cut them out.
You can also freeze the dough like this, just placed into large resealable bags, and then take it out, cut it while still partially frozen, and bake from there.
Once the rolled out dough has chilled, you can cut out your shapes. Because the dough is firm, it's easy to pick up the shapes to place them on the baking trays – this is one of the keys to perfectly shaped gluten free cut out cookies. Or any cut out cookies, for that matter.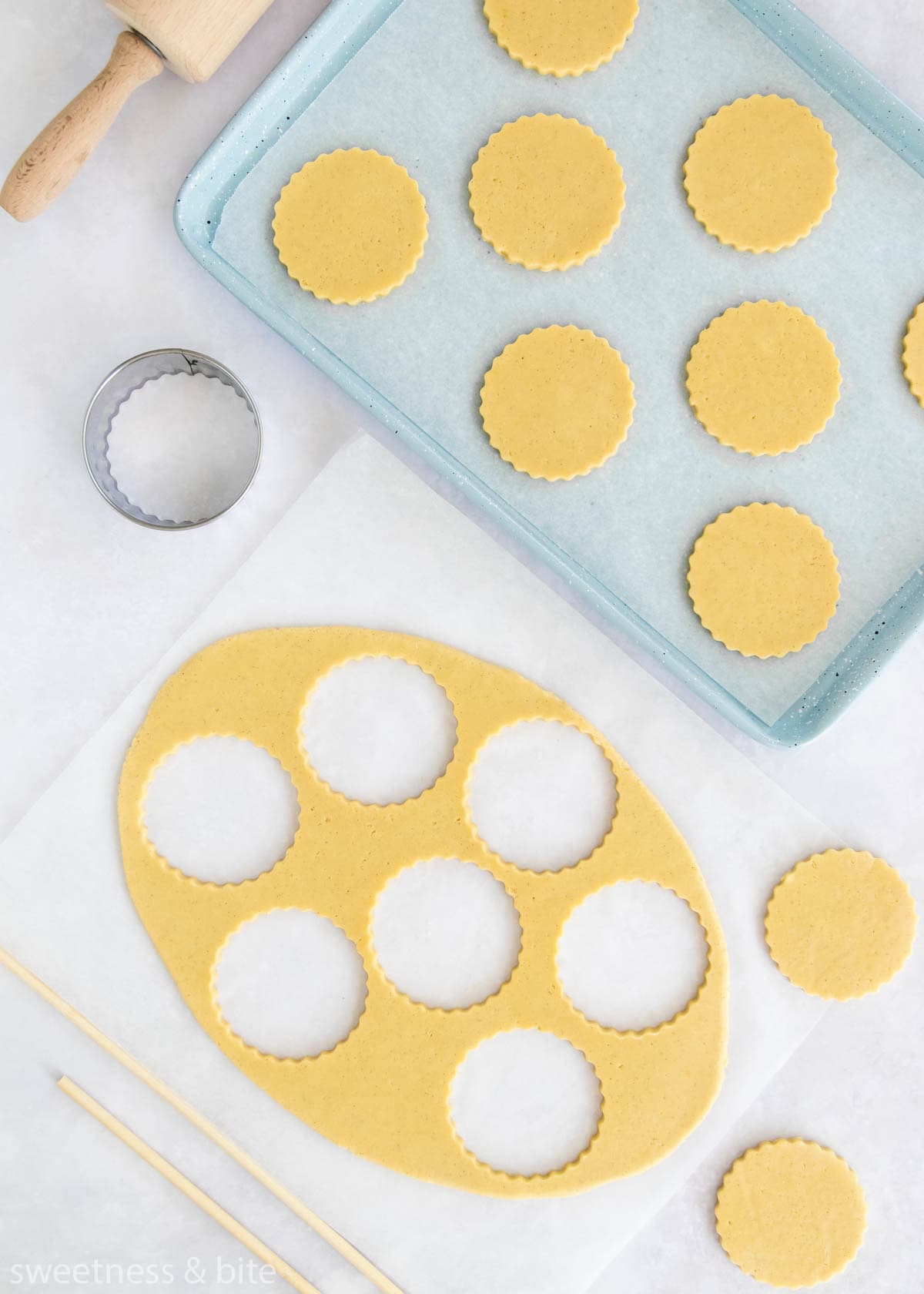 It is especially useful if you're planning to use the same cookie cutter to cut out fondant to decorate the top of the cookie. This way your cookies will still be the same perfect shape as the cutter.
And if the kids are helping you make the cookies, it will be a lot easier for them, too.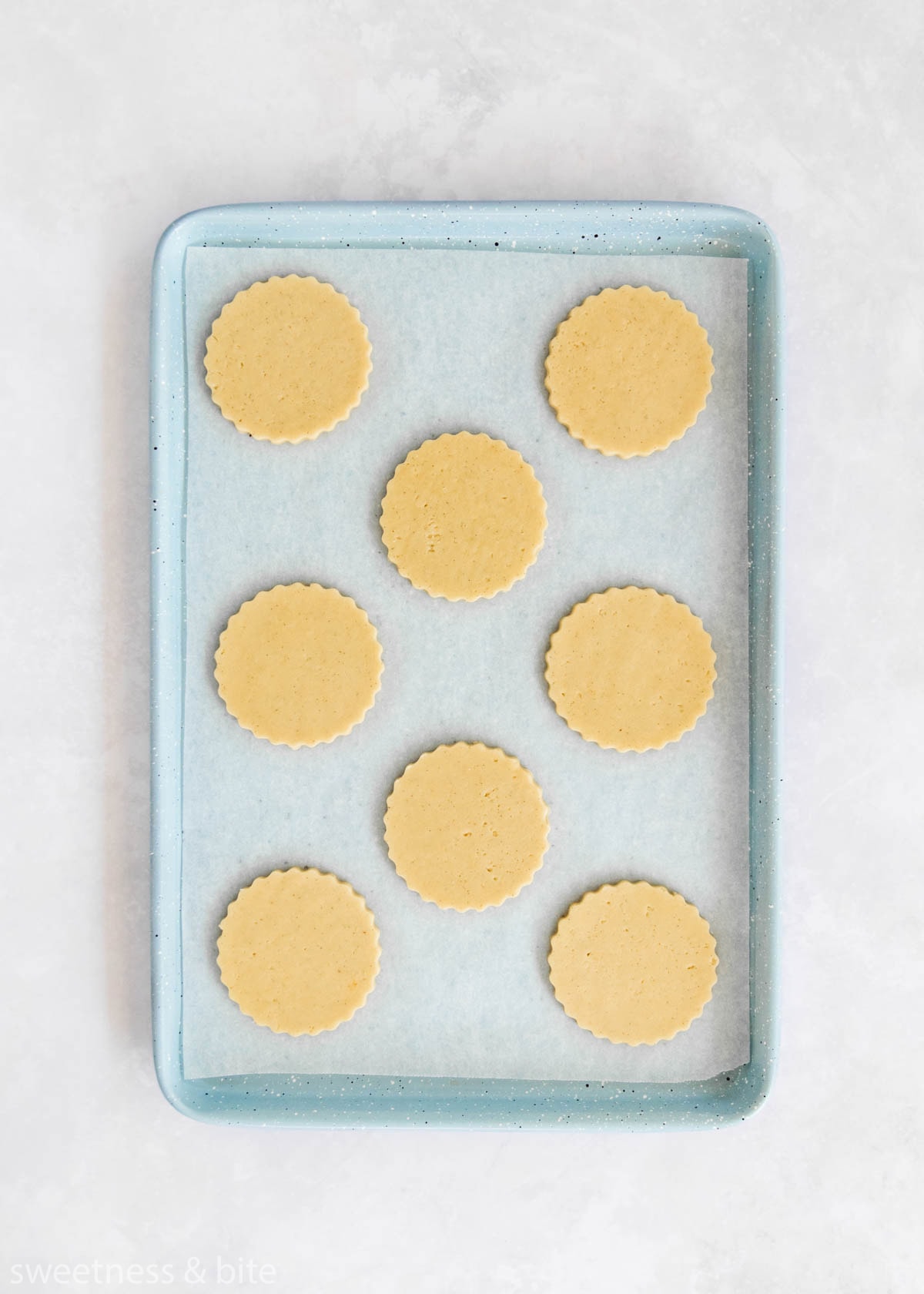 You can re-roll the scraps as many times as needed to use them up – we don't have to worry about tough cookies from over-worked gluten.
This recipe makes around 22 medium-sized cookies, but it can easily be doubled or tripled if you need cookies for a crowd.
Baking the Cookies
For the best texture, these cookies need to be baked until they are a light golden brown underneath and just starting to turn golden around the edges. This helps them hold together nicely when you're decorating them, and also makes for the best texture when you eat them. They're not designed to be a soft cookie, these are definitely meant to be crunchy cookies.
The exact amount of time that you'll need to bake your cookies for will vary based on a few different things –
The size of your cookies – Obviously larger cookies will need to bake for longer than smaller ones.
The shape of your cookies – If your cookie cutter has smaller, more detailed/finer areas, those will brown faster than the rest of the cookie. So you may need to keep a close eye on them during the last few minutes of baking to make sure those parts don't brown too much.
The thickness that you rolled the dough to – I like to roll the dough to about 5mm thick. If you roll yours thicker or thinner, you'll need to adjust your baking time.
Your oven – I bake the cookies on regular bake, which in our oven has heat coming from the top and bottom elements and no fan. If your oven heats differently or has a fan setting that you can't turn off, you may need to play around with the temperature setting and baking time to figure out what works best for you.
I always recommend testing the temperature and timing with your first tray of cookies, and adjust from there. I'll often do a small tray with just a few "sacrificial" cookies, so that I'm only risking a small amount of dough to check for temp/timing.
This next tip is optional, but is awesome for making sure your cookies are super flat on top for decorating. Jade from Ivy and Stone shared this on her Instagram stories and I've been using it for all my gluten-free sugar cookies ever since.
As soon your cookies come out of the oven, gently press down on the tops with a fondant smoother. I tend to do kind of a light circular movement with the smoother. This flattens out any little lumps or air bubbles. Boom! Super flat cookies.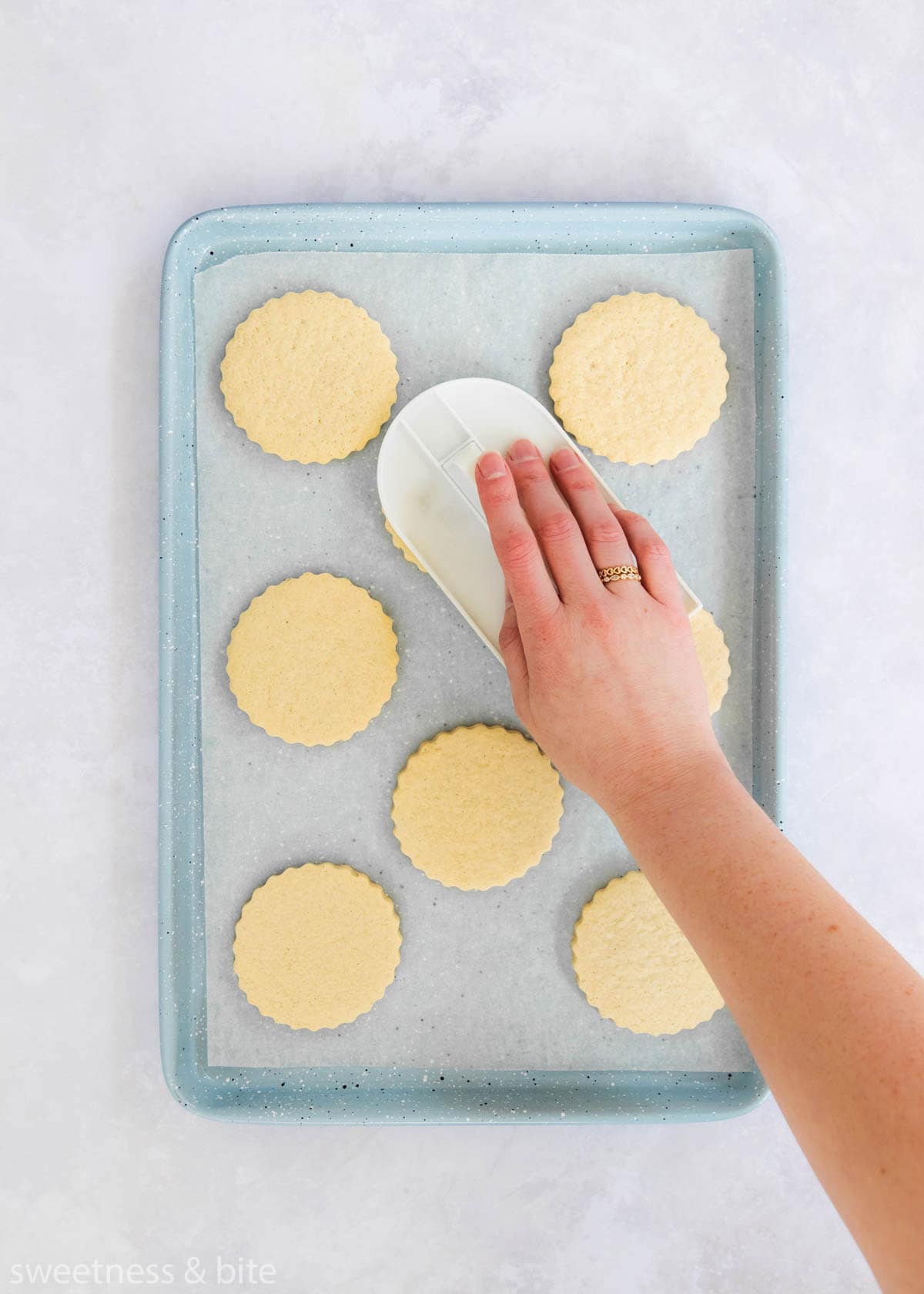 Finally, I like to let the cookies sit for a few minutes on the baking trays before moving them to a cooling rack to cool completely.
Decorating gluten free cut-out Cookies
The options are pretty endless for decorating these cookies – you can decorate them however you would any other cookie.
You could flood them with royal icing, or decorate them using fondant. An embossing stamp finishes the fondant-covered cookies off nicely. For these cute gluten-free Christmas cookies, I used acrylic embossing stamps from my friend Stacey at Design @ 409. She has stamps for pretty much any occasion you can imagine.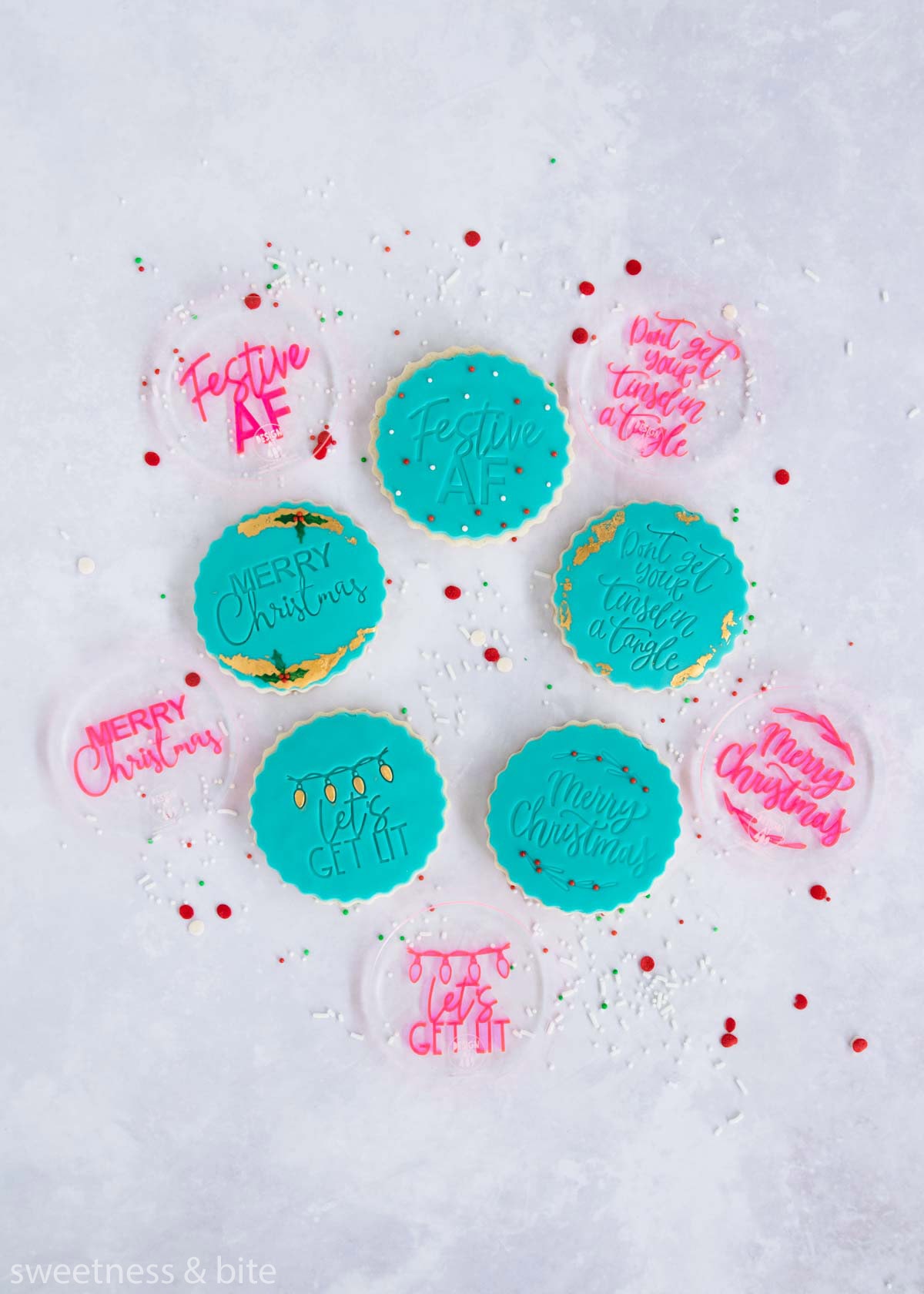 This recipe is also the perfect gluten free cookie dough to use with an embossing rolling pin. This gorgeous floral rolling pin that I used is by Valek Rolling Pins, but there are many different places that sell these pins in tons of cute patterns.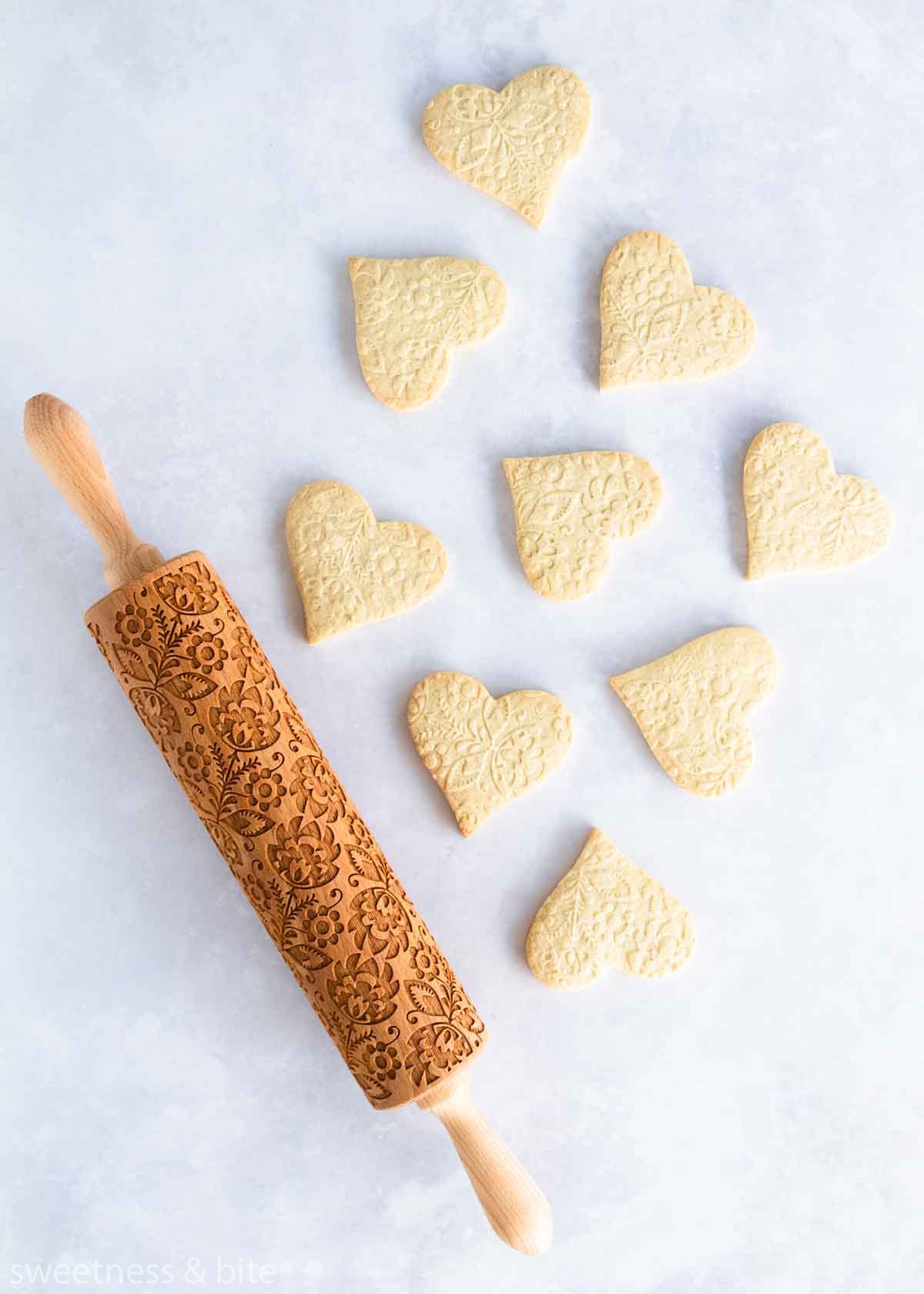 To use the embossing rolling pin, I just use a regular rolling pin to roll out the dough slightly thicker than I usually would, then roll over it with the patterned rolling pin. You may need to experiment with the amount of pressure you use, depending on how deep the pattern is on your rolling pin. Then cut out the shapes as usual. The cookies will hold the pattern much better when baked if you make sure the shapes are well chilled before you bake them.
Storing The Cookies
Storing the cookies will depend on how you've decorated them. Royal iced cookies can be sealed airtight, either in a container or individually bagged in cellophane bags and sealed. They will keep well for a week or two like this.
Fondant cookies shouldn't be stored completely airtight for any length of time as the fondant can "sweat" or get sticky. They're best decorated closer to serving.
And if you're making cookies for festive gifts, why not also check out my gluten free gingerbread cookies?
Happy baking!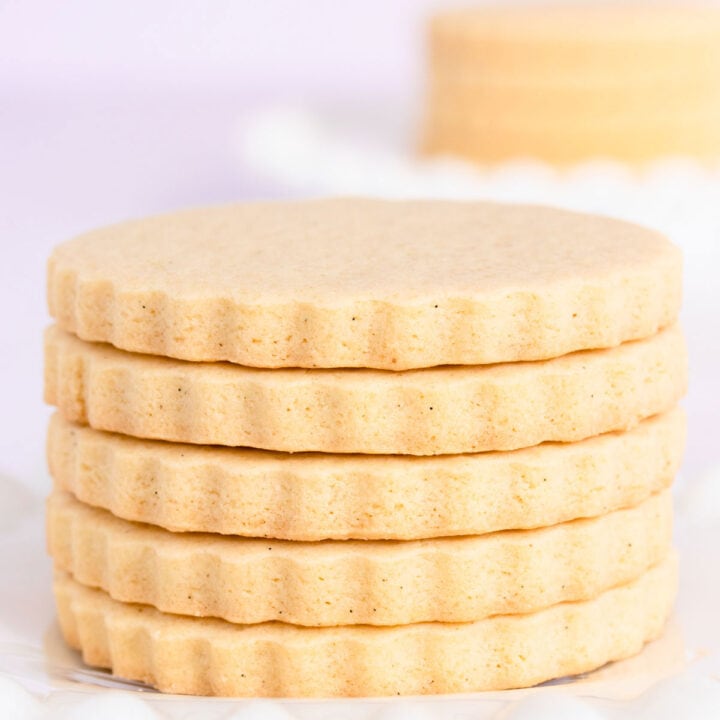 Gluten Free Vanilla Sugar Cookies
Yield:
22 medium-sized cookies
Chilling Time:
30 minutes
These gluten free vanilla sugar cookies tick all the boxes - they taste great, they're crunchy, and they don't crumble. Perfect for decorating and gifting!
Ingredients
325g gluten free flour*
1 teaspoon xanthan gum**
1/4 teaspoon baking powder (optional, leave out for even flatter cookies)
125g butter, at room temperature
150g caster sugar
2 teaspoons vanilla extract or vanilla bean paste
1 1/2 teaspoons lemon juice (optional, see notes)
1 large egg, at room temperature
Instructions
Sift together the gluten free flour, xanthan gum and baking powder, stir to combine and set aside.
Beat together the butter, sugar and vanilla extract or paste using a stand mixer or hand-held electric mixer until combined and creamy. Don't beat for too long, the more air you add in here, the more your cookies will spread.
Beat in the egg until combined.
With the mixer on low speed, gradually add the flour mixture, beating until combined. If using a hand-held mixer, it's safer (and less messy!) to do this by hand with a spoon or spatula. If using a stand mixer, make sure once you are finished mixing in the flour, you give the dough a last stir by hand to make sure all ingredients are incorporated from the bottom of the bowl.

Depending on a few different factors, (including the type of flour you use and the temperature of your butter and eggs) the dough may be firm enough to roll out now, or you may need to chill it until it firms up a little. I just place the whole bowl in the fridge for 10-15 minutes while I tidy up.
Roll out the dough onto a large piece of non-stick baking paper to approximately 5mm thick (see notes below). If the dough is sticking to the rolling pin, lightly dust it with flour, or chill the dough for a few minutes to firm it up. Once rolled, place another piece of baking paper on top, slide the dough onto a tray and refrigerate until firm.
When ready to bake, heat the oven to 160°C (320°F) and line baking sheets with non-stick baking paper.
Flip the piece of dough over, and gently peel the back piece of baking paper off the dough, then press it back down lightly (this makes it easier to pick up the shapes when you cut them as the dough is not stuck to the paper) then flip the dough back over and peel off the top piece of paper.
Cut out shapes, and place onto baking sheets about 1" apart. If the shapes are still firm and cold, you can bake them immediately, if they have softened then pop them back in the fridge for a few minutes to firm back up.
Bake the cookies for 12-16 minutes, depending on size. As a rough guide: 12 min for small cookies, 14 min for medium cookies and 16 min for large cookies. They should be beginning to brown slightly around the edges and be lightly golden underneath. Check the first tray after 12 minutes, and adjust the baking time from there.
Allow cookies to cool slightly on the trays, then carefully move them to a cooling rack to cool completely.
Store in an airtight container and/or decorate as desired. They will keep well for at least a week. If you don't eat them all in one go!

To freeze the dough:
Once you've mixed the dough, shape it into a flat square shape, wrap well in plastic wrap and seal in an airtight container or resealable plastic bag. Thaw before rolling.
You can also freeze the rolled out dough. After rolling, chill it in the fridge until firm, then place it, paper and all, into a large resealable plastic bag and freeze.
The dough can be kept frozen for up to three months.
Notes
* Use a good quality gluten-free flour blend. If you want to make your own blend, I highly recommend my Gluten Free Flour Blend for Baking (it's the blend this recipe was tested with).
** If you choose to use a packaged gluten-free flour blend, check the ingredients - if it contains a gum ingredient (xanthan gum or guar gum), then omit the xanthan gum from the recipe.
The lemon juice in this recipe is optional but it helps to reduce the cookie's spread, so I recommend using it.
I like to use two 5mm thick wooden dowels as spacers on either side of the dough to roll it out evenly. A rolling pin with plastic spacers is also great.
For extra flat cookies - gently press the tops down using a fondant smoother as soon as the cookies come out of the oven.
Nutrition Information:
Yield:

11
Serving Size:

2 cookies
Amount Per Serving:
Calories:

186
Total Fat:

10g
Saturated Fat:

6g
Trans Fat:

0g
Unsaturated Fat:

3g
Cholesterol:

41mg
Sodium:

91mg
Carbohydrates:

23g
Fiber:

0g
Sugar:

14g
Protein:

2g
The nutritional information above is computer-generated and is only an estimate. Please do your own research with the particular products you're using if you have specific health needs or are following a special diet.
You May Also Like…