Easy Chocolate Coconut Truffles
This post may contain affiliate links to products I recommend. I receive a small commission at no cost to you if you make a purchase using my link.
These chocolate coconut truffles are super easy to make with basic pantry and fridge ingredients. Kid-friendly, but with an adults-only rum-laced variation!
One of my favourite things to see on social media lately has been how many kids and parents have been taking the opportunity to get in the kitchen and try new recipes while they've been at home. So I figured it must be time I posted some more easy and child-friendly recipes… and what better way to start that with a chocolate coconut truffle recipe that I have been making since I was a kid?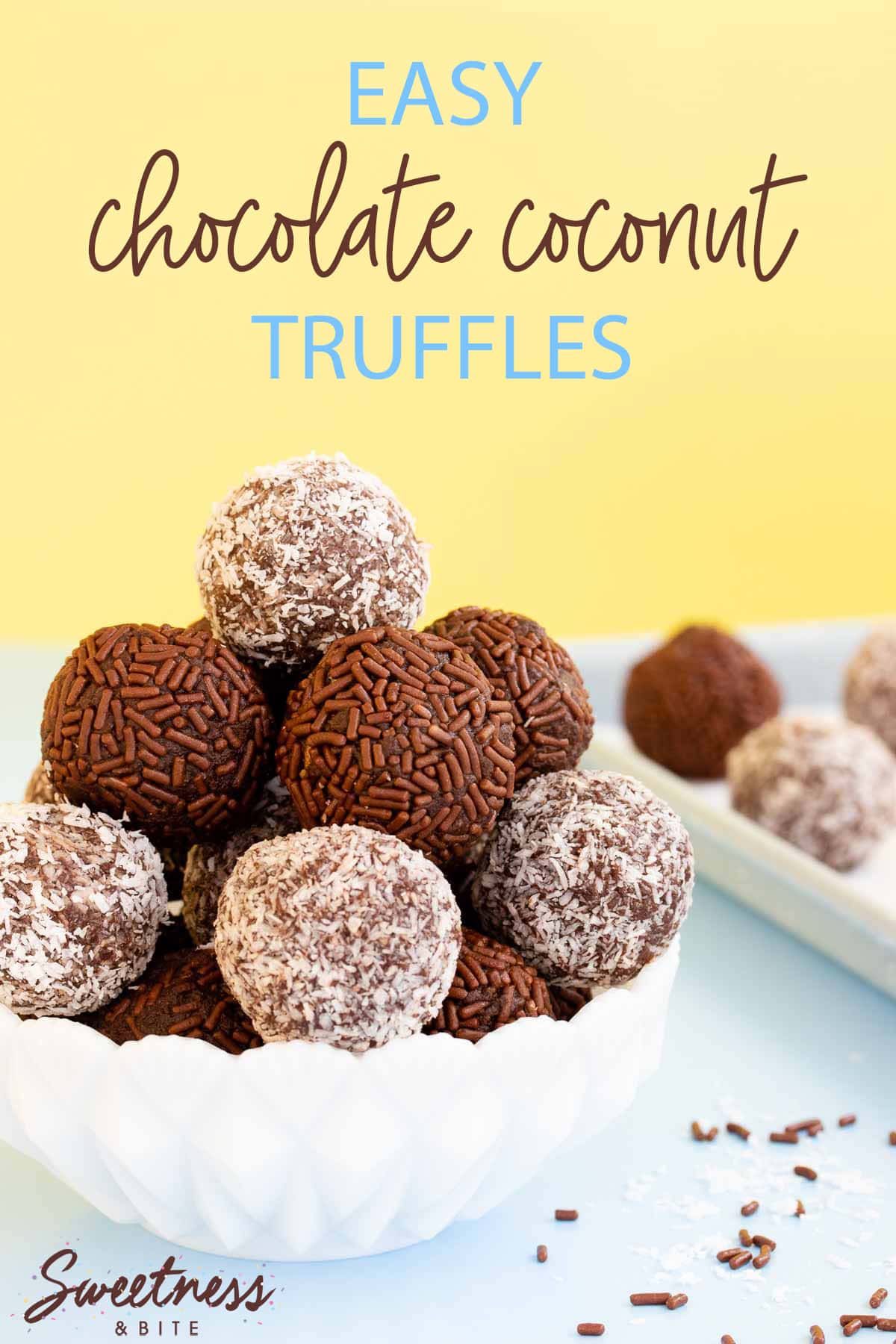 Also known as chocolate coconut balls, the original recipe for these was in a kids microwave cookbook that I was given when I was still at primary school. I made quite a few recipes from that book, which has sadly disappeared at some point over the years. But thankfully, this recipe was already immortalised on a well worn, chocolate-stained page in my recipe collection book.
I've tweaked the recipe quite a bit since then, including the grown-up variation with the addition of rum to make a classic rum ball or rum truffle. But they're still super quick and easy to make, and everyone seems to love them. My aunty loves the rum truffles so much that she asks for them as her present for every birthday and Christmas, and carefully rations them out so they last her for weeks.
I also made the non-alcoholic version to take to Christmas lunch at my best friend's house last year, and her almost-two-year-old kept climbing onto the dining table to steal more. Because he loved them so much, I based idea of his birthday cake around them, so that he could have a chocolate "box" cake full of truffles. He was farrrr more interested in the truffles than the cake and shoved one in his mouth as soon as the candles were blown out!
Both versions use the same base recipe, which has a texture that's kind of a cross between a cake-pop and a no-bake slice, with a bit of crunch from the crushed cookies.
Chocolate Truffle Ingredients
These are what I would call pantry-staple ingredients in our house, although if you're not as baking crazy as I am, that may not be the case. But hopefully, you'll be able to find them all easily enough.
The main ingredients here are crushed cookies, icing sugar, cocoa, desiccated coconut, butter and vanilla extract or rum.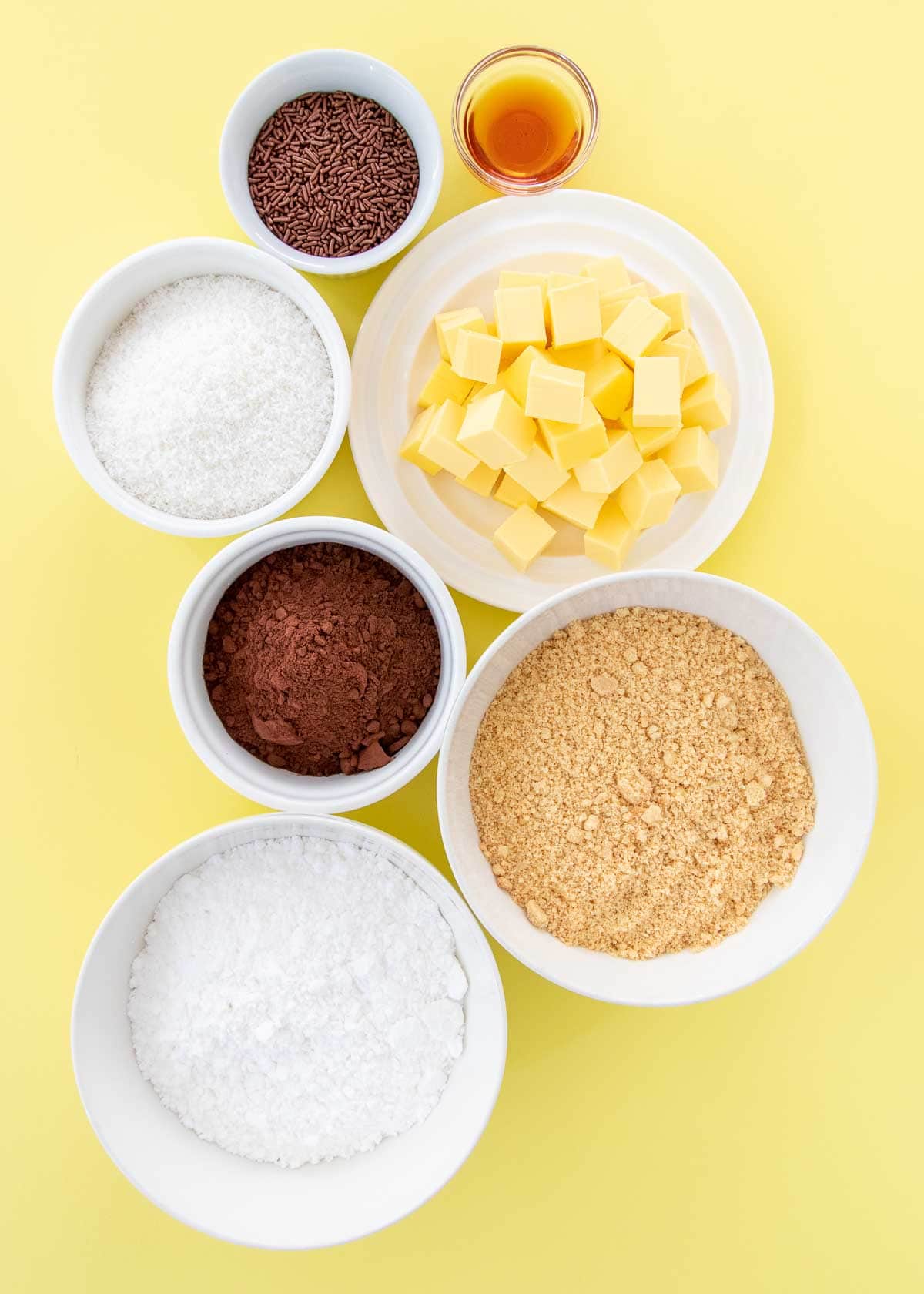 Crushed cookies/biscuits: You can pretty much use any cookies you like in this recipe. I used gluten-free cookies that have a slight coconut flavour, but any kind of cookie with a complementary flavour will work well.
Coconut: Desiccated coconut is finely shredded, unsweetened dried coconut. I'm not sure how much of a "thing" this is in other countries, but if you can't find it then use the finest shredded coconut you can find, or just pop some regular shredded coconut in a food processor or blender and blitz for a few seconds.
Cocoa: You can use either regular unsweetened cocoa powder or Dutch-processed cocoa powder.
Vanilla: I like to use my homemade vanilla extract in this, but you can use your favourite vanilla extract or you can also use some vanilla paste instead. You could also make infinite variations on this recipe using different extracts (peppermint truffles, anyone?)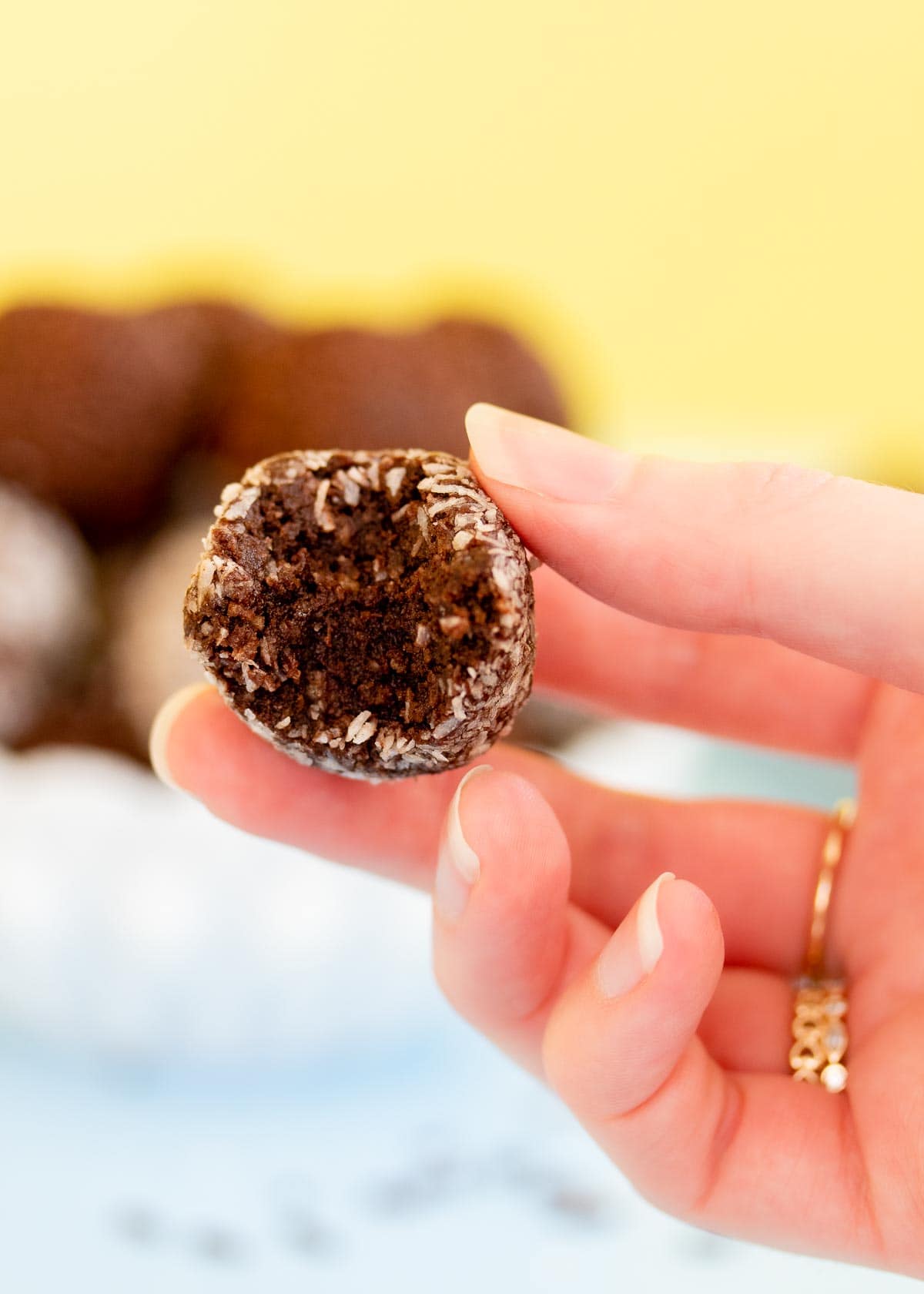 So how do we make the chocolate coconut truffles?
I mean they're really easy, so there isn't much to talk about, but I wanted to add some process pictures here so you can see how the mixture is supposed to look.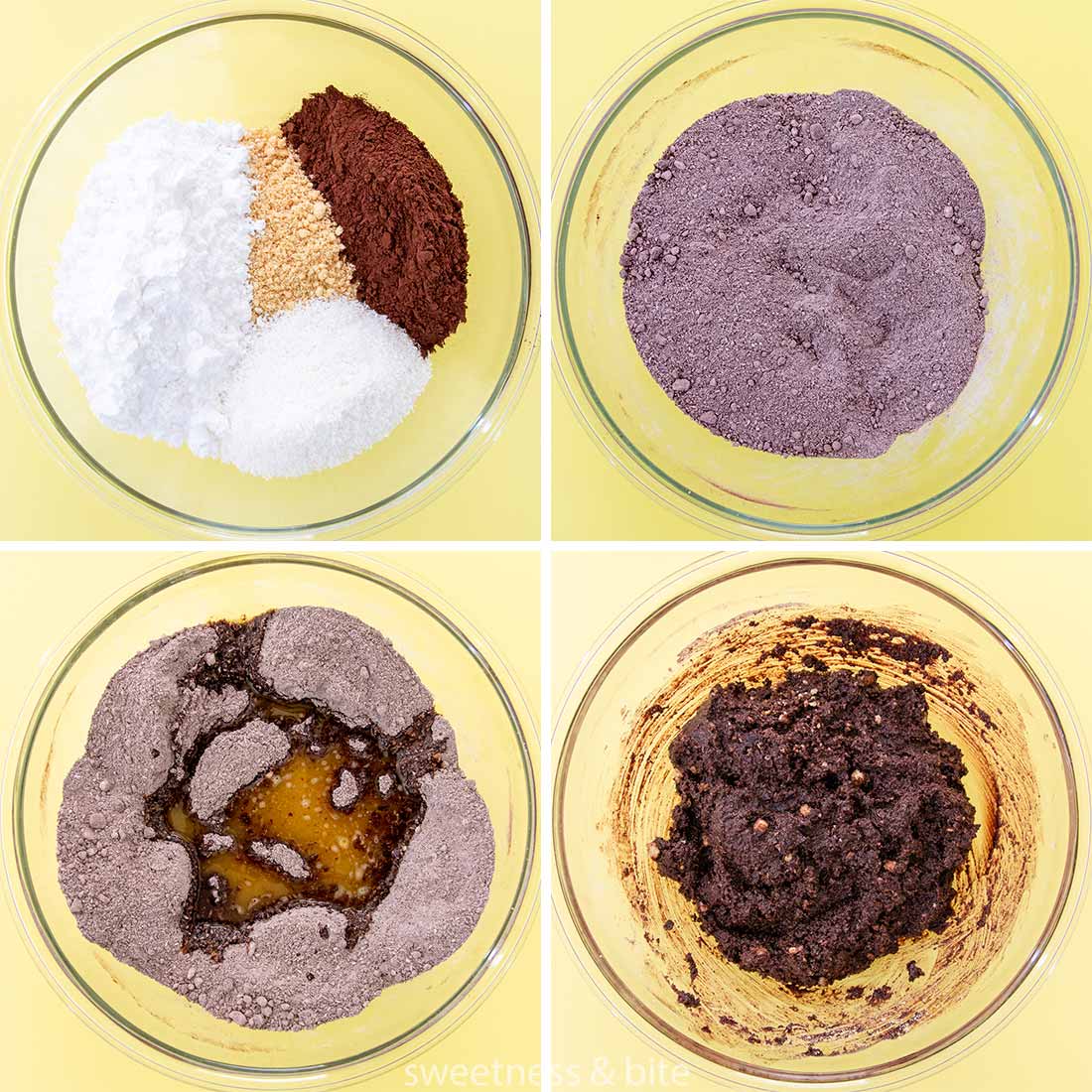 To start with, just crush the cookies and mix together all the dry ingredients. Then add the melted butter and vanilla (or rum) and mix well. I've added a couple of troubleshooting tips in the recipe card below in case the mixture is too soft or too dry, but really all you need to do is make sure you can easily roll it into balls.
If it's too dry, add a little more melted butter or a splash of water (or more rum, if you're making rum balls). If the mixture is too soft you can add more crushed cookies, or pop it in the fridge for a bit to firm up. I have to admit that I'm often overly heavy-handed when it comes to adding the rum, so I usually just add a few more crushed biscuits to firm up the mixture up.
Then all you need to do is roll the balls in more coconut, chocolate sprinkles, or both.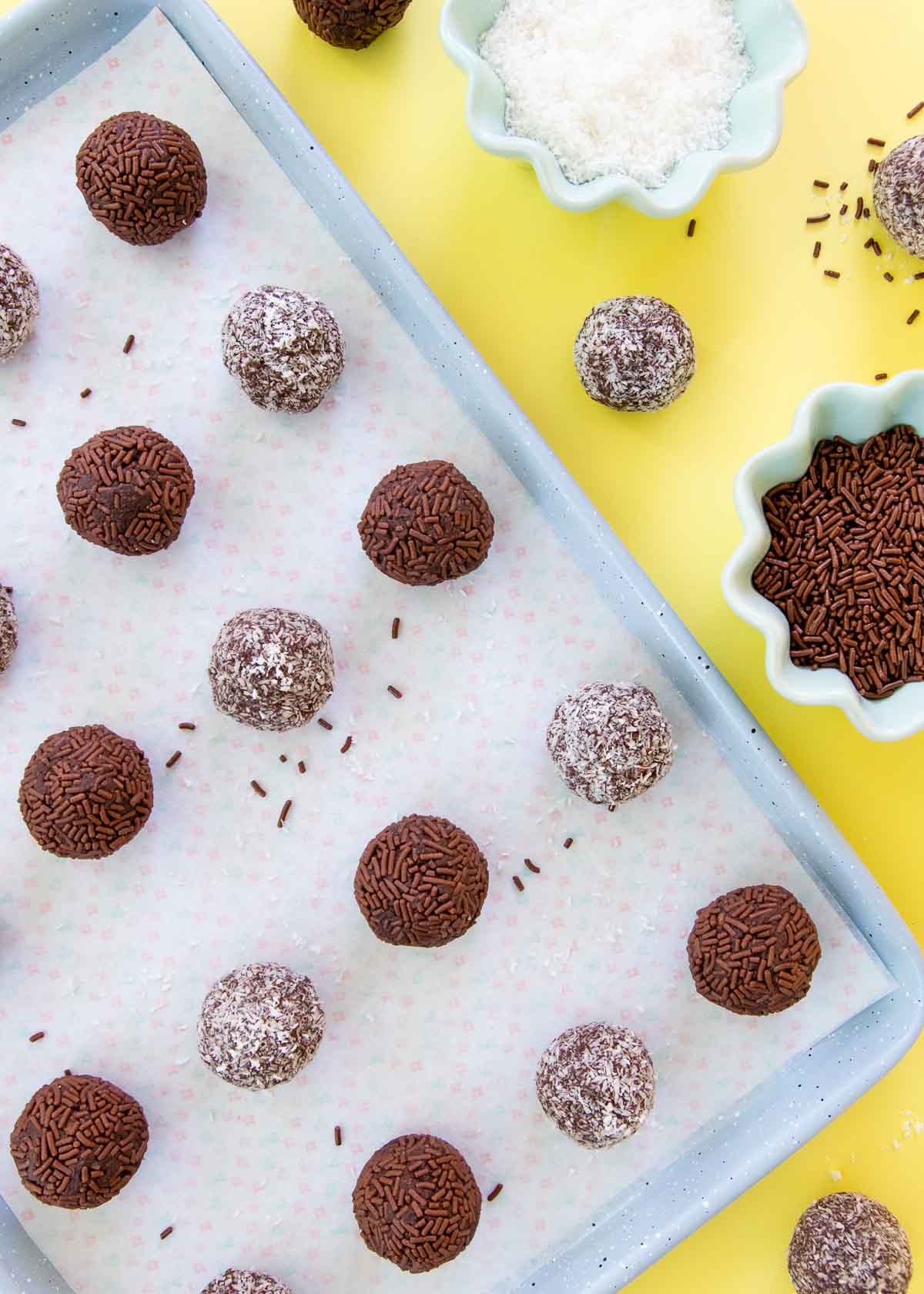 When it comes to the sprinkles, I have started buying these Dutch chocolate sprinkles (known as hagelslag or chocoladehagel) because I was going through the smaller containers rather quickly. But if you use those ones from the supermarket, you'll probably just need to buy a couple of packs. Alternatively, you can pretty much use any sprinkles you like!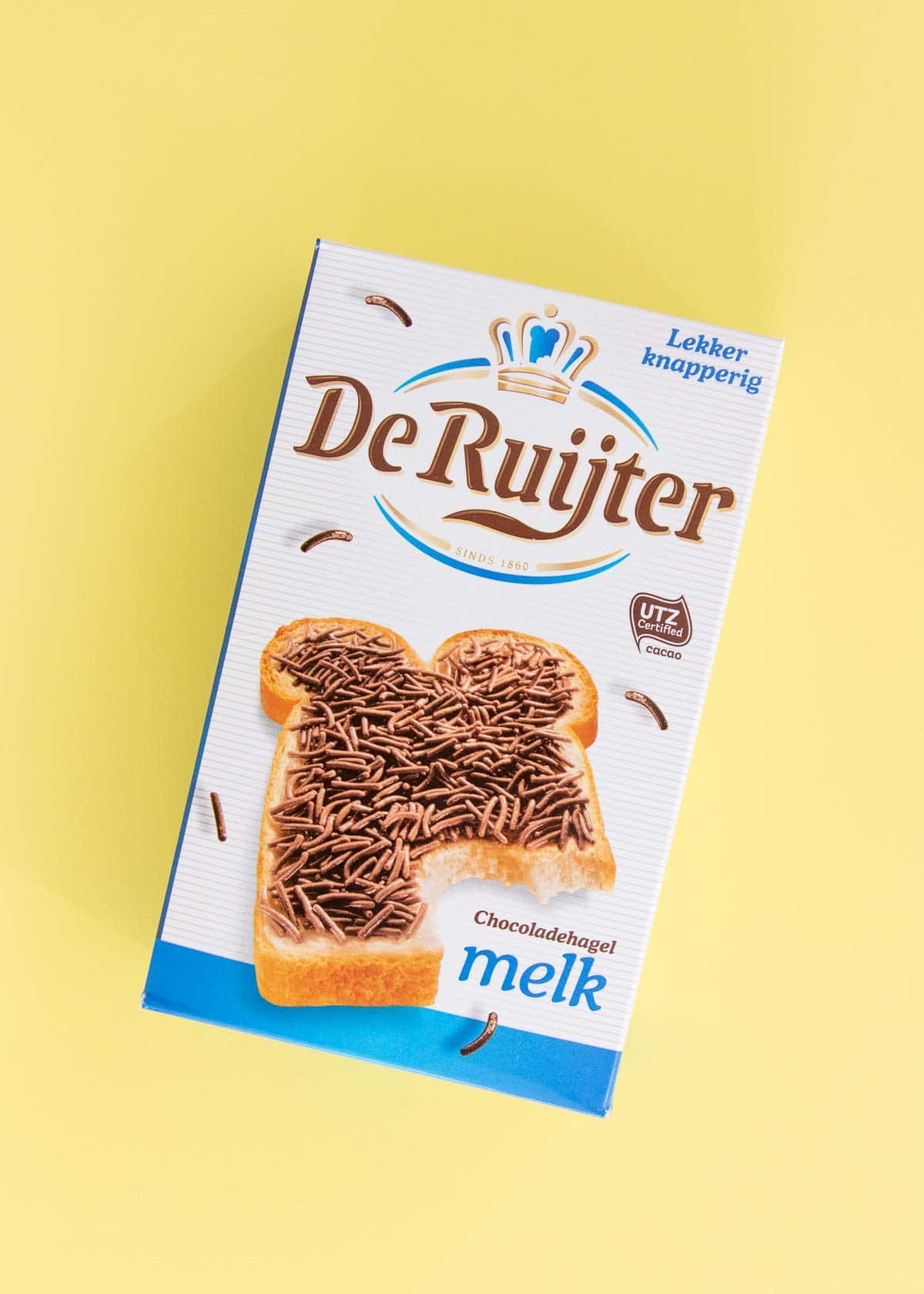 As far as the sizing of the truffles goes, you can make them as big or small as you like. I have this 1 tablespoon capacity cookie scoop which, to me, makes the perfect sized truffles. To get a similar size without a scoop, just use a level tablespoonful or a heaped teaspoonful.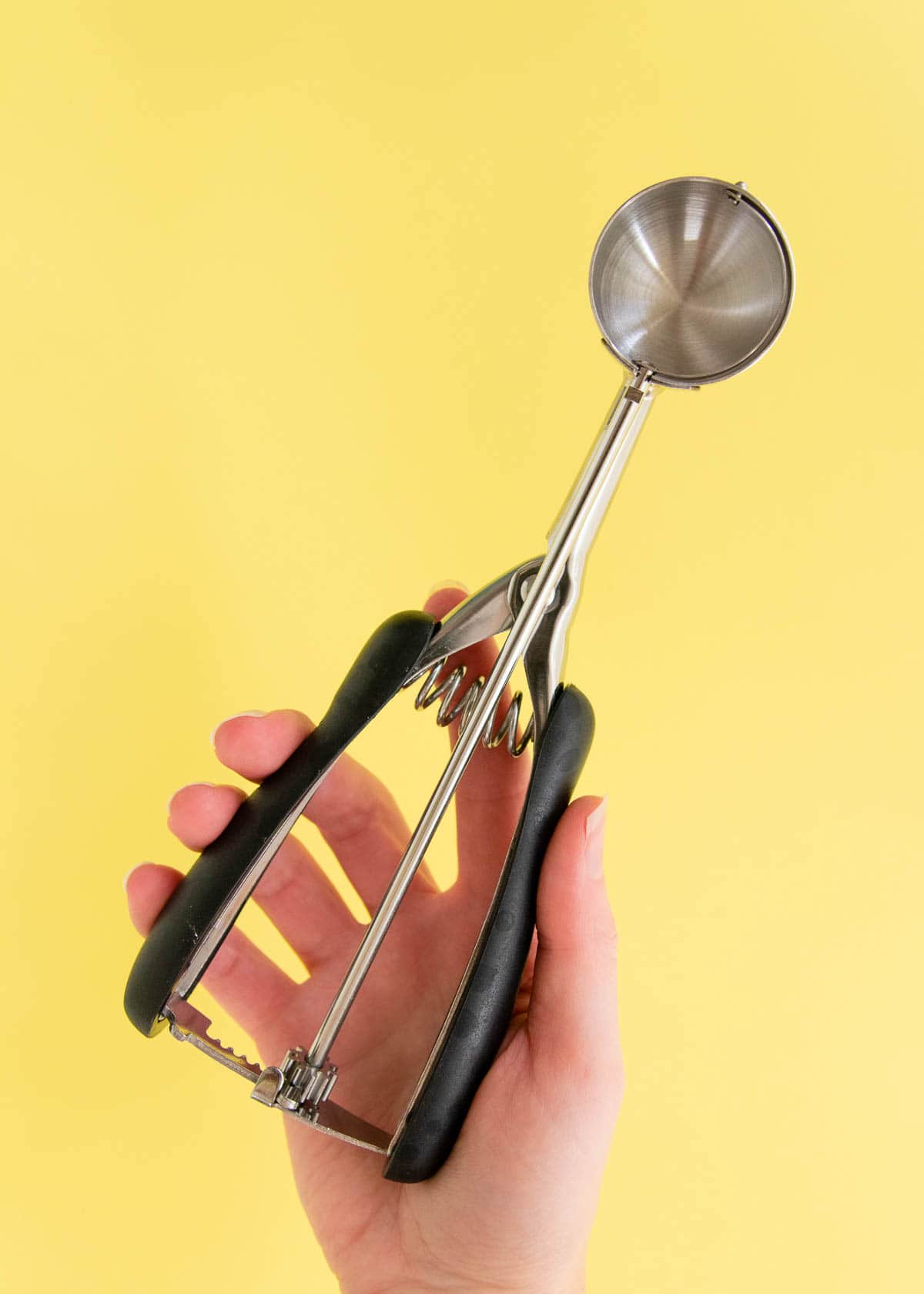 These truffles keep really well in the fridge… if, of course, you can manage not to eat them all in one go.
You can also freeze them in an airtight container if you want them to last even longer.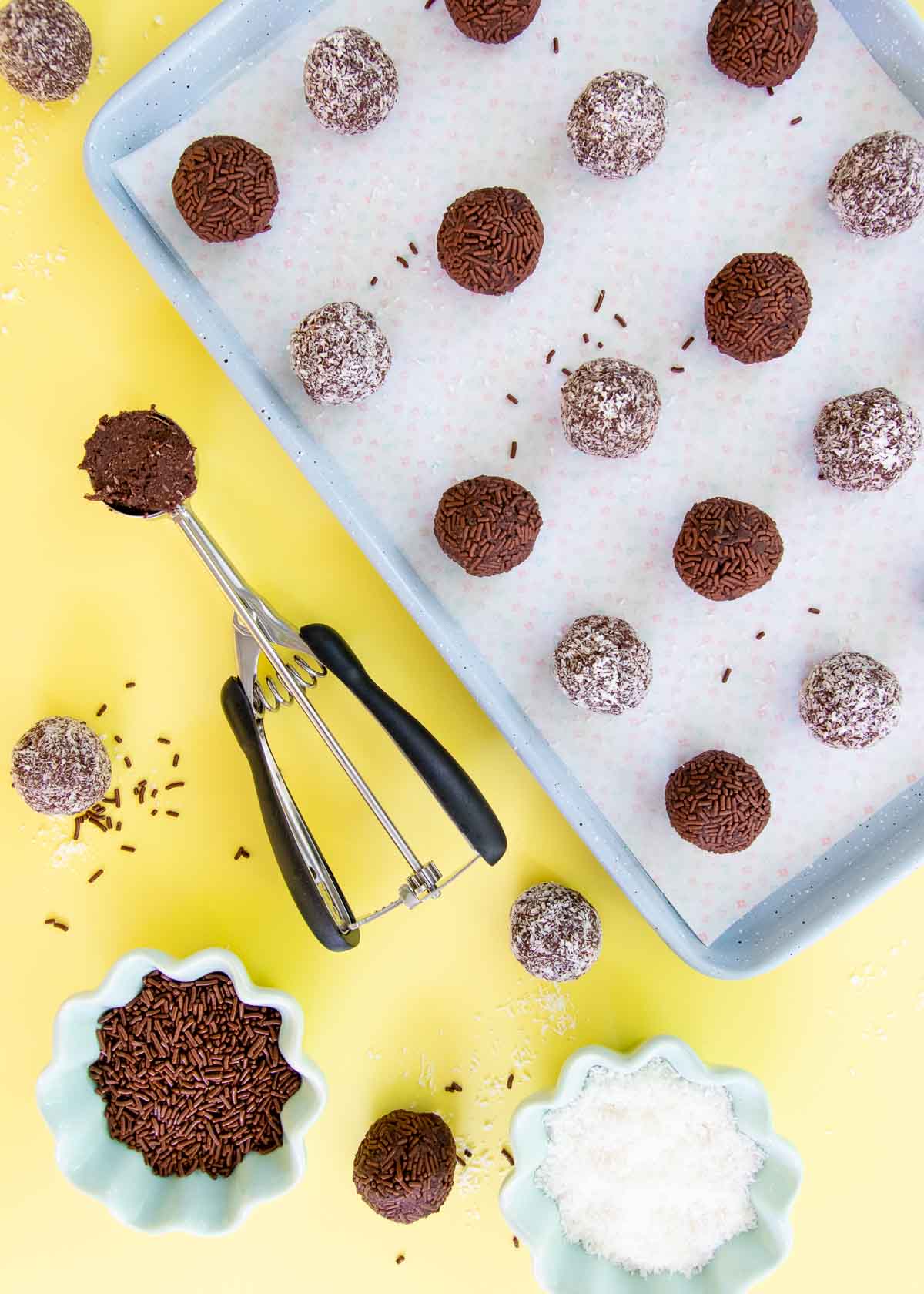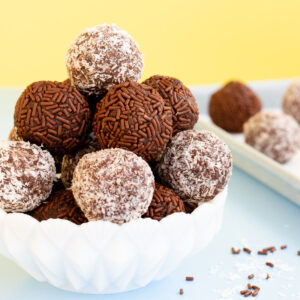 Chocolate Coconut Truffles
Easy chocolate and coconut truffles that can be made in under an hour. A simple and fun recipe for kids to make, with an adults-only rum truffle option too!
You can easily halve this recipe to make 22 truffles instead.
Print Recipe
Pin Recipe
Save
Saved!
Ingredients
250

g

salted butter

250

g

vanilla or chocolate cookies

100

g

desiccated or fine shredded coconut

(1 cup)

250

g

icing sugar

(2 cups)

60

g

cocoa powder

(½ cup)

1 1/2

teaspoons

vanilla extract

OR

2

or more! teaspoons rum, for adults only balls

Extra coconut and/or chocolate sprinkles

for rolling*
Instructions
Chop the butter into pieces, place in a microwave-safe jug and microwave in 30-second bursts until just melted. Set aside to cool.

Crush the cookies. You can do this by placing them in a resealable plastic bag and bashing with a rolling pin, or alternatively place them in a large bowl and crush with the end of a rolling pin. I like to have them mostly crushed, but leaving some larger pieces is quite nice for a bit of crunch.

In a large bowl, place the crushed cookies and the coconut, then sift in the icing sugar and cocoa. Stir to combine.

Add the cooled melted butter and vanilla or rum. Stir to combine well. If the mixture looks too dry to roll into balls, then add a little more melted butter (or you can also add a splash of water). If it's too wet/soft, you can either add a few more crushed cookies or a little more icing sugar, or alternatively place the bowl into the fridge for 10-15 minutes until it firms up. I usually put mine in the fridge and then use the time to tidy the bench and get ready for rolling the balls.

Line a baking tray with non-stick baking paper.

Place the extra coconut and/or chocolate sprinkles into small bowls. Roll heaped teaspoonsful of the truffle mixture into balls, then roll in the coconut or sprinkles and place on the tray.

Chill the balls until firm (around 20-30 minutes).

Transfer to an airtight container, and store in the fridge. The balls will keep well for a couple of weeks. They can also be frozen for longer storage.
Notes
If you prefer, you can make these balls using a food processor. Place all the dry ingredients into the processor, then add the melted butter and vanilla or rum, and process until the biscuits are crushed and the mixture comes together.
This recipe makes quite a lot of truffles, but can be easily halved to make 22 balls.
I often make super rum-my truffles at Christmas, by adding probably 2-3 Tablespoons of rum, and adding a few more crushed cookies to keep the mixture stiff enough to roll.
* I like to roll half of the balls in coconut and half in chocolate sprinkles. It takes about 25g of coconut and 100g of sprinkles.
Recommended Equipment & Ingredients
Nutrition
Serving:
2
truffles
|
Calories:
221
kcal
|
Carbohydrates:
20
g
|
Protein:
1
g
|
Fat:
12
g
|
Saturated Fat:
8
g
|
Polyunsaturated Fat:
3
g
|
Cholesterol:
26
mg
|
Sodium:
103
mg
|
Fiber:
1
g
|
Sugar:
16
g
Nutritional Disclaimer: Any nutritional info provided is a computer generated estimate and is intended as a guide only.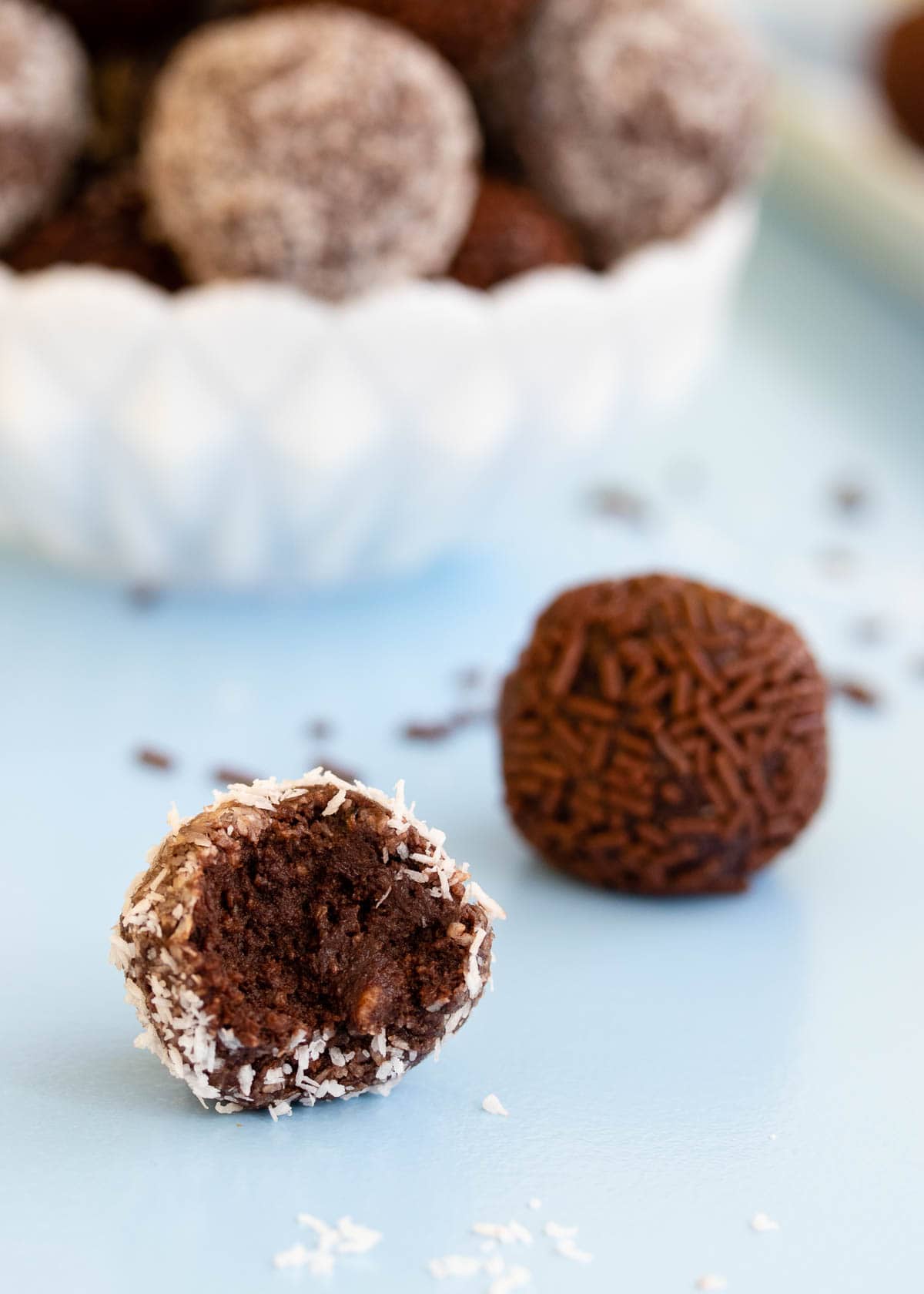 If you (or your kids!) make these chocolate coconut truffles, please show us! You can post on my Facebook page or tag me on Facebook @sweetnessandbite or tag me on Instagram @sweetness.and.bite 💜
Enjoy!
xx Natalie
You May Also Like…