This post may contain affiliate links to products I recommend. I receive a small commission at no cost to you if you make a purchase using my link.
With a smooth, creamy white chocolate and condensed milk fudge base, pastel mini eggs, crunchy cookie pieces, and a speckle of rainbow sprinkles, this Mini Egg Fudge slice is the perfect easy Easter fudge recipe!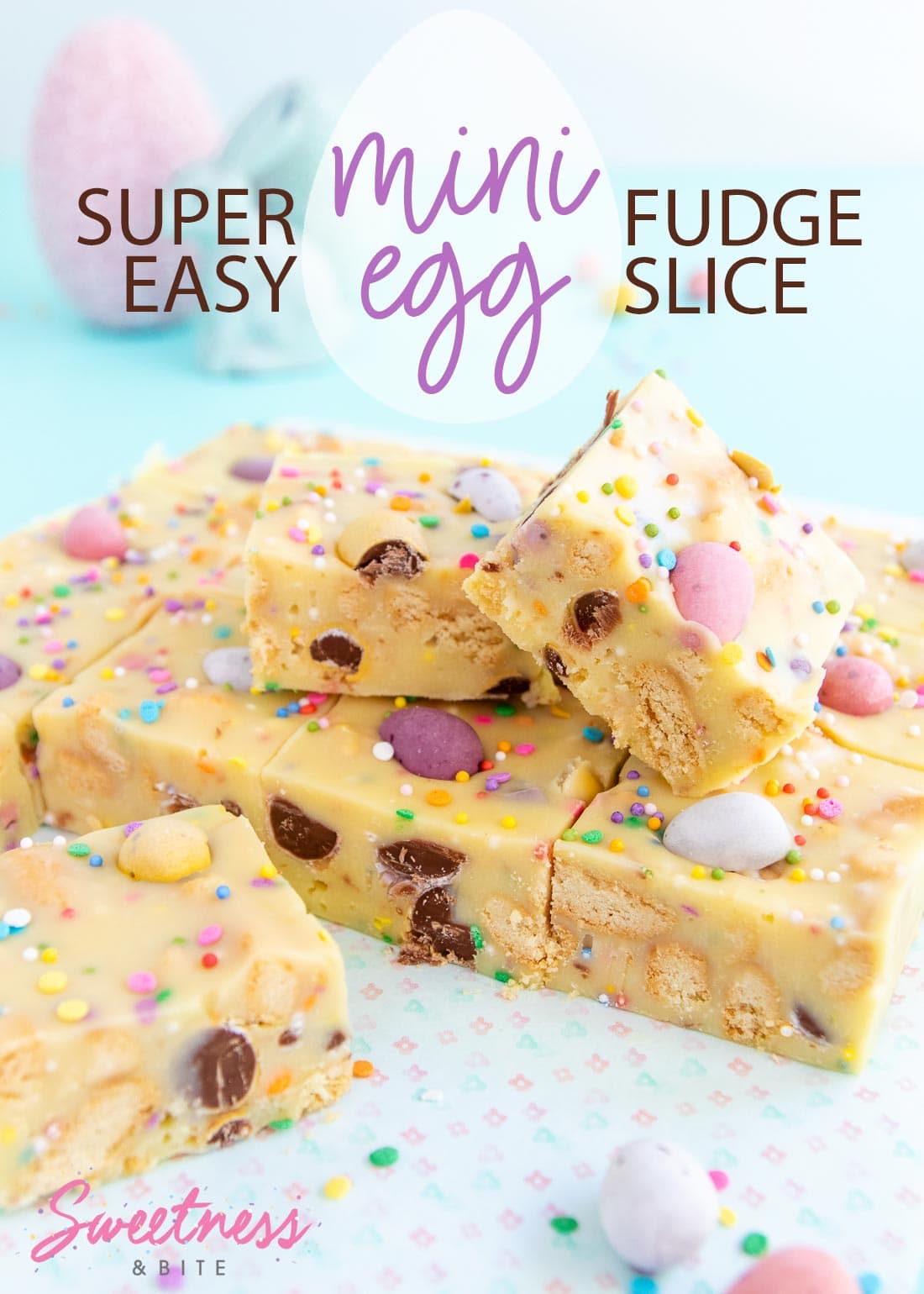 If you're on the hunt for a super easy-to-make but still fancy, cute and fun Easter treat, then this is the recipe for you!
It's a smooth, creamy white chocolate and condensed milk fudge base, studded with chopped pastel mini eggs and crunchy cookie pieces, and speckled with rainbow sprinkles for some extra festive flair.
This is definitely a recipe for those with a sweet tooth, but if you can't go overboard on the sweet chocolate treats at Easter, then when can you?!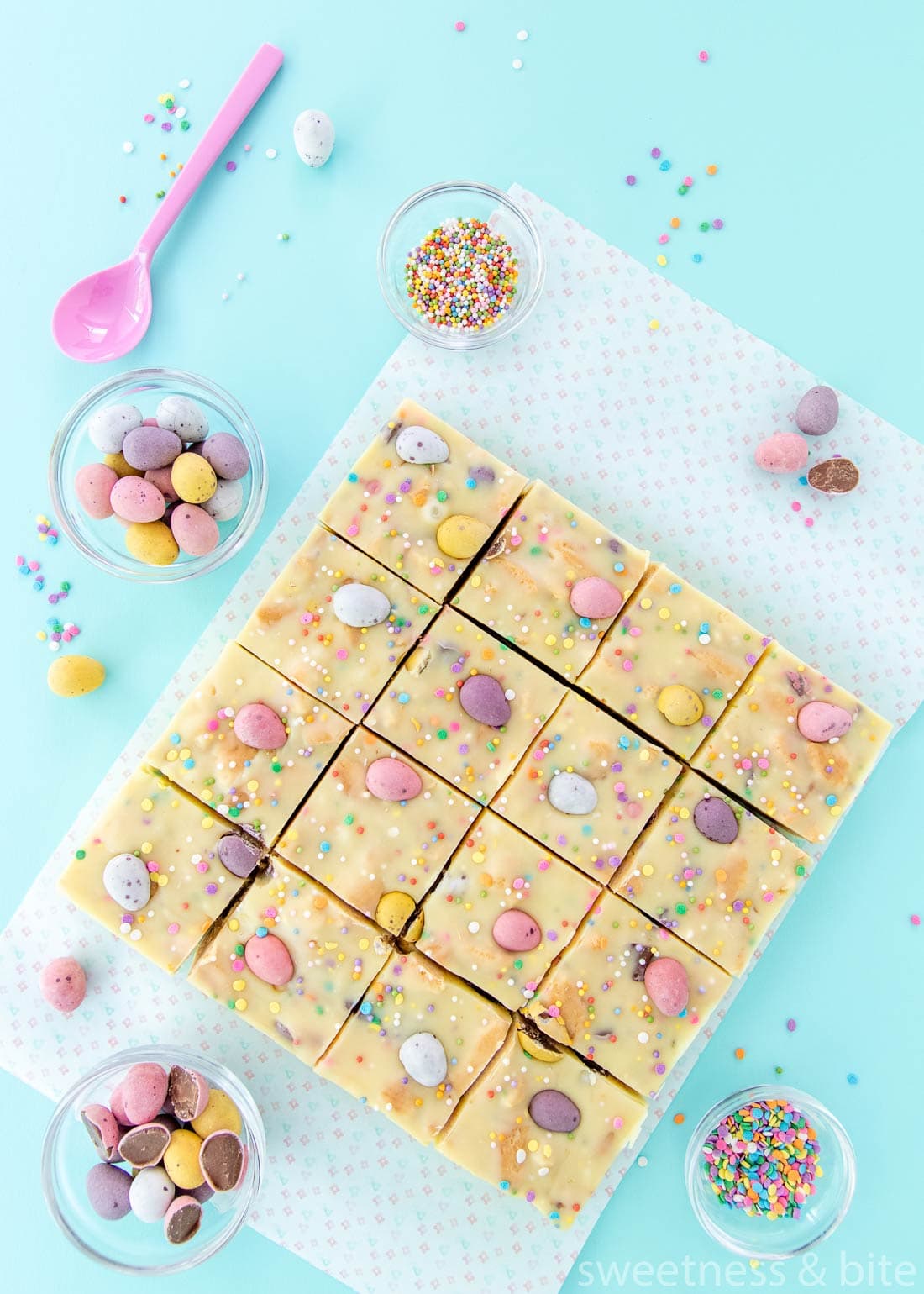 Here's a quick rundown of what makes this Easter fudge recipe one of my favourite Easter treats:
Because this is such an easy recipe to make, it's a fun one to make with kids. Depending on how old they are, they may need a little help to chop the mini eggs as they can roll around a little bit. Or you could also just pop the eggs in a plastic bag or in a tea towel, and whack them with a rolling pin if you prefer!
Because it's not a traditional fudge, it's a condensed milk fudge (aka quick fudge / microwave fudge / easy fudge), you don't need to worry about using a candy thermometer, and it can be made in the microwave.
And if you've ever had issues with making fudge in humid weather, you don't need to worry about that with this recipe! Because it's not a boiled fudge, the weather won't affect it.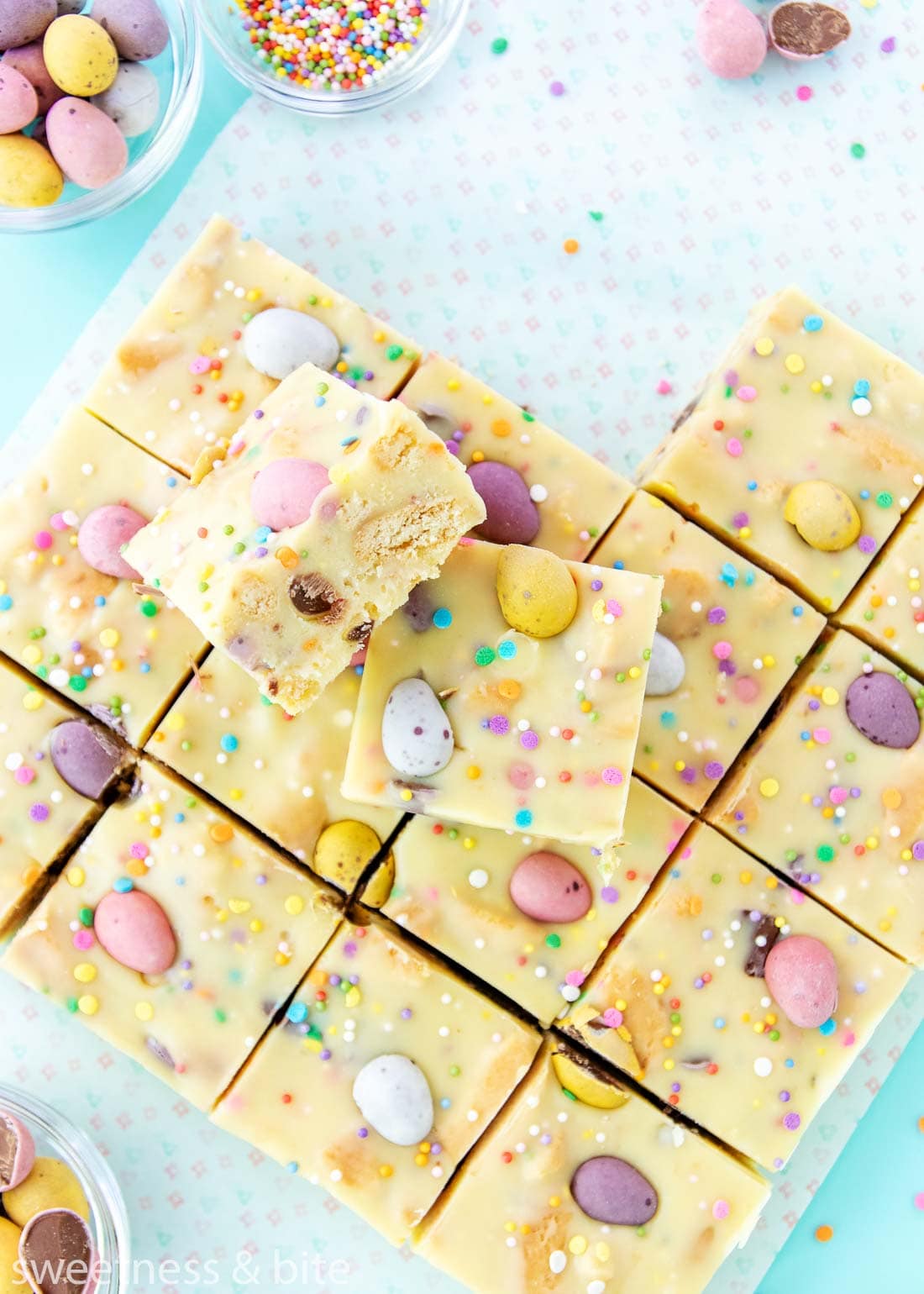 Here are the Easter fudge ingredients:
Ingredients
Sweetened condensed milk – You'll use one full tin for this recipe, but if you want to sneak a spoonful into your mouth, it won't affect the recipe (I tested this for you 😂).
Butter – You can use either salted or unsalted butter in this recipe.
Vanilla extract (or other extract).
White chocolate – Chopped white chocolate from a block is best in this recipe, as many chocolate chips have a coating that stops them from melting (which is great in cookies but not great in recipes like this where the chocolate needs to melt).
Vanilla or chocolate biscuits/cookies – Choose your own favourite cookies to use in this. I usually use plain/vanilla cookies, but a friend of mine made this with Oreos and that sounds amazing. If you need the slice to be gluten free, use gluten free cookies.
Cadbury Mini Eggs – The star of the show. These are sold in various-sized boxes and bags. I use 150g of mini eggs in this, plus some extras to decorate, however if the packages you can get are slightly more or less than this, it'll be just fine. If you don't have (or can't find) Cadbury mini eggs, you can use any other kind of small chocolate eggs that you like to create your own Easter egg fudge creation. Mini Creme Eggs or Caramello eggs would be a delight.
Sprinkles – I used good ol' fashioned rainbow "hundreds and thousands", and pastel confetti sequins in this slice. But you can use whatever sprinkles you like, or happen to have in the cupboard.
If you're making your slice gluten-free, make sure you check the Easter eggs and sprinkles you're using don't contain gluten!
How to Make Mini Egg Fudge
You'll need to start by lining an 8″ (20cm) square baking pan with baking paper or parchment paper. I find it easiest to use two long strips of baking paper the width of the tin, then overlap them in a cross shape and clip them in place. This way it's easy to lift the slice out once it's set.
The condensed milk and butter get melted together in the microwave (or in a large saucepan over a low-medium heat), then you'll add the vanilla extract and the white chocolate. Give it a minute to start melting, then give it a stir. If it's not fully melted, you can microwave it again in short bursts until it's melted. Then let it cool a bit while you prepare the cookies and the eggs.
The easiest way to crush the cookies is to pop them into a resealable plastic bag or freezer bag and whack them with a rolling pin. They don't need to be crushed finely, we want them in crunchy chunks.
I chop the mini eggs with a sharp knife, but this can be a little tricky and isn't safe for little ones in the kitchen – so you can reuse the plastic bag you used to crush the biscuits and crush the mini eggs the same way.
Add the cookies, mini eggs and sprinkles to the fudge mixture and mix well.
Then just spread it into the prepared square pan, and decorate with the extra mini eggs and some extra sprinkles.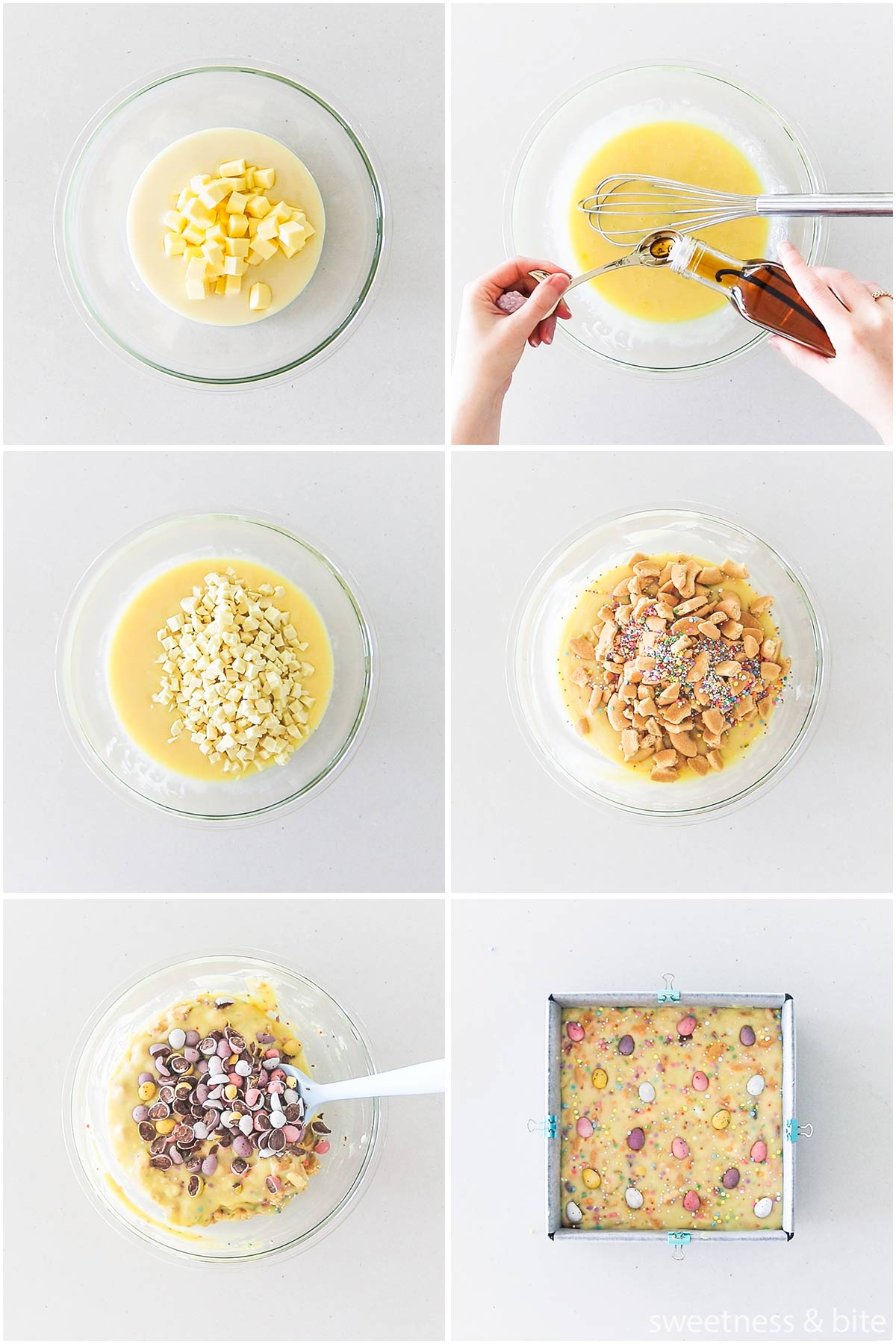 It needs to chill in the fridge for 2-3 hours, then once it's firm you can cut it into pieces, and enjoy!
The finished mini egg fudge is best stored in the fridge in an airtight container and it should last for 1-2 weeks – if you can manage to keep your hands off it, that is!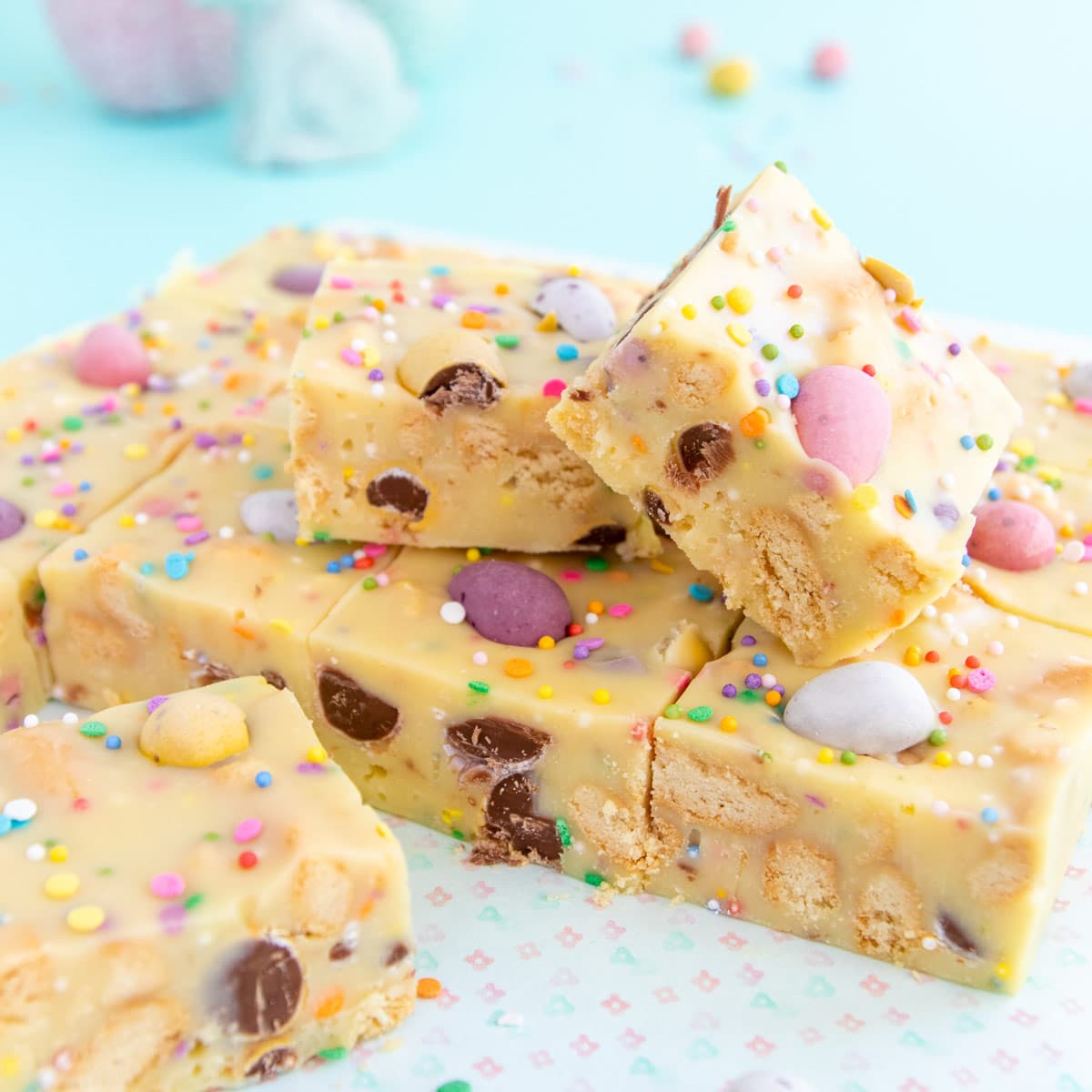 Other Easter Fudge Flavours
If you wanted to add a flavour other than vanilla to this, then you could absolutely do that too!
Make it peppermint if you're a mint fan, or a few drops of orange flavour if you're chocolate-orange kinda fruity folk. Some crushed freeze-dried berries would make a nice sharp contrast to the sweet fudge.
It's also a great way to use up any leftover Easter candy and eggs. Pretty much anything sweet can be chopped up and added to the fudge in place of the mini eggs.
Want to make this fudge with dark chocolate instead of white? I have a dark choc version on my other website, Gluten Free Kiwi Favourites – you can use that as the base and add the chopped mini eggs and sprinkles instead of the chocolate chips and almonds.
More Easter Treats
If you're in the market for more Easter recipes, why not try these?
Milk Chocolate Mousse Easter Eggs – Another easy recipe that's perfect for any Easter gathering 🐰
Chocolate Easter Nests – a fun, no-bake Easter treat, featuring crunchy rice Krispies and shredded coconut, with rich chocolate and topped off with cute mini chocolate eggs.
Bunny Cake Tutorial – If you want to go all out, why not give my bunny cake a go?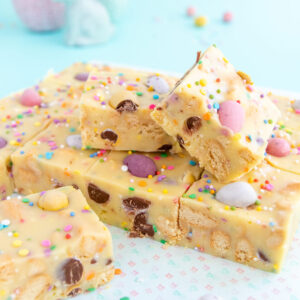 Mini Egg Fudge Slice
With a smooth, creamy white chocolate and condensed milk fudge base, pastel mini eggs, crunchy cookie pieces, and a speckle of rainbow sprinkles, this mini egg fudge slice is the perfect easy Easter treat!
Print Recipe
Pin Recipe
Save
Saved!
Ingredients
395

g

sweetened condensed milk

(1 can)

150

g

butter

cubed

375

g

white chocolate

chopped

2

teaspoons

vanilla extract

200

g

vanilla biscuits

cookies*

150

g

mini eggs

¼

cup

sprinkles

Extra halved mini eggs and sprinkles

to decorate
Instructions
Line the base and sides of an 8" (20cm) square cake tin with baking paper. I use two long strips (see the video in this post for more info) letting the paper overhang on the sides so the slice can be lifted out easily.

Roughly chop the mini eggs. You can leave them whole if you prefer but chopping them makes it easier to cut the finished slice neatly. Put the chopped eggs into a bowl and place them in the fridge (this helps stop them melting later).

Place condensed milk and butter in a large, microwave-safe bowl or jug. Microwave on high power for 1 minute, then stir. Continue microwaving in 30-second bursts, until butter is melted.

Stir in the chopped white chocolate. Microwave on medium power in 30-second bursts until the chocolate is melted. Set aside to cool slightly (we don't want to melt the mini eggs when we add them!)

To speed this up, and/or for a lighter fudge, you can use an electric hand-held mixer to beat the fudge mixture for 2-3 minutes.

Lightly crush the biscuits. I just do this with my hands as the ones I use crush easily, but you can put them in a plastic bag and bash them with a rolling pin if you prefer. Add the crushed biscuits and the sprinkles to the mixture and stir. Then add the chopped mini eggs, and stir to distribute them evenly.

Pour or spoon the fudge mixture into the prepared tin. Smooth the surface, and top with the extra halved mini eggs and more sprinkles.

Refrigerate for 2-3 hours or until firm. Use the overhanging edges of the baking paper to lift the fudge out of the pan, and cut it into pieces.

Store in an airtight container – between layers of baking paper – in the fridge for up to a week.
Notes
*Cookies/Biscuits: You can use any cookies you like in this. I used gluten-free cookies. Decorating: I like to decorate the top of this with halved mini eggs, as they are easier to cut through than whole eggs when you cut the fudge into pieces. The eggs can be hard to cut neatly into halves, so when I'm chopping the eggs I pick out some of the nicest halves and save them for the top, and use the rest in the slice. If you prefer a more rustic look, then roughly chopped eggs look great, too.
Nutrition
Serving:
1
piece
|
Calories:
324
kcal
|
Carbohydrates:
27
g
|
Protein:
2
g
|
Fat:
21
g
|
Saturated Fat:
12
g
|
Polyunsaturated Fat:
7
g
|
Cholesterol:
26
mg
|
Sodium:
109
mg
|
Fiber:
1
g
|
Sugar:
24
g
Nutritional Disclaimer: Any nutritional info provided is a computer generated estimate and is intended as a guide only.
Happy Easter!
Natalie
xx
You may also like these recipes…
Comments