Floral and Watercolour Bunny Cake Tutorial
This post may contain affiliate links to products I recommend. I receive a small commission at no cost to you if you make a purchase using my link.
This post contains affiliate links.
You know when you're going away, and a few days before you go, you have an idea for an Easter bunny cake tutorial, so you decide to "squeeze in" making it and writing the tutorial before you leave, instead of relaxing and saving your energy for the driving, and the people-ing, and all those things you don't have energy for? And then you have to try and put the tutorial together and edit photos and videos and whatnot while trying not to be a rude guest at your friends' houses?
No? You don't do things like that? Then you, my friend, are wiser than me.
Coz that is exactly what I just did, with this cute floral and watercolour bunny cake tutorial.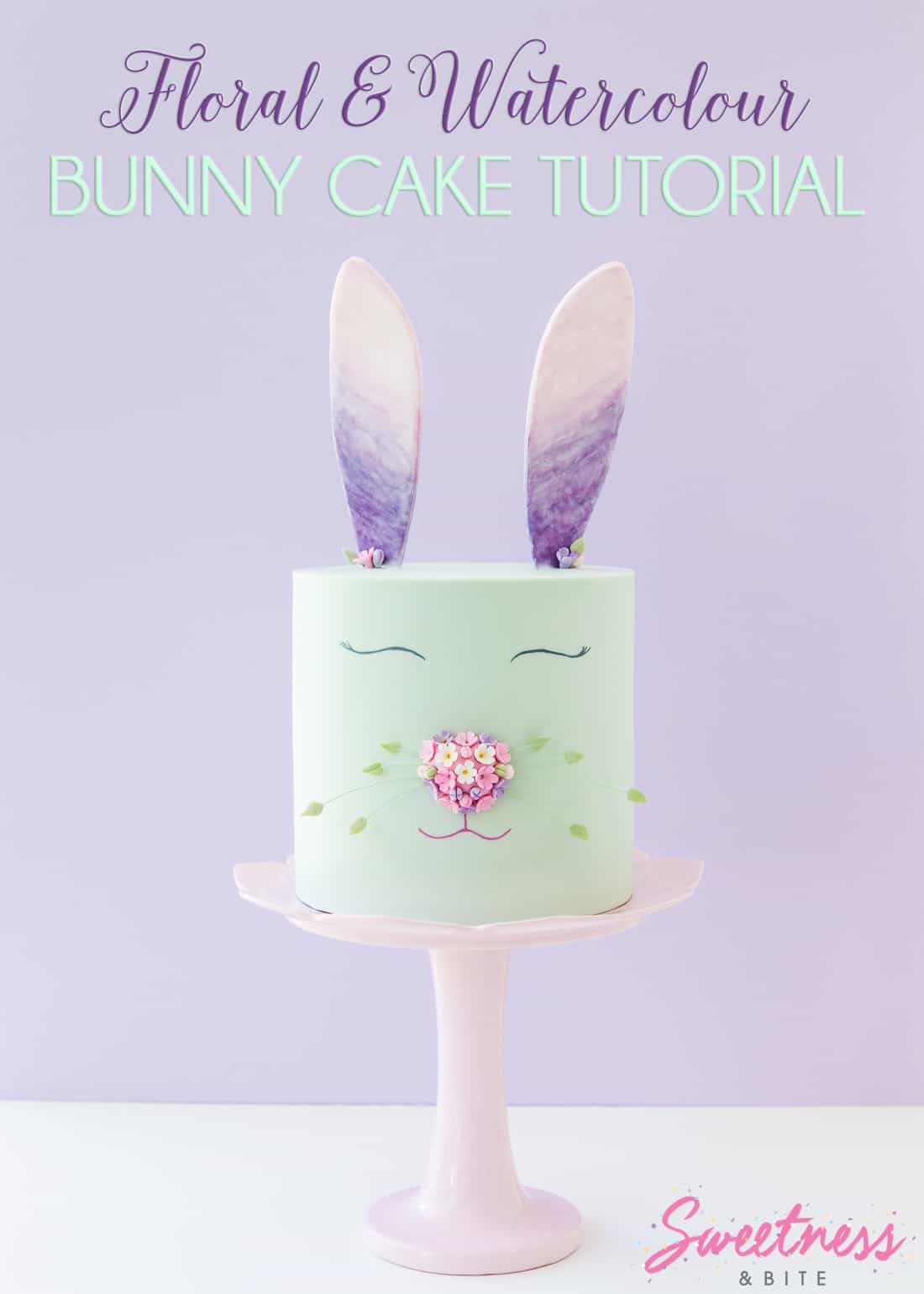 The inspiration for this cake came from three places. Obviously, there's the bunny-version-of-a-unicorn-cake factor, but the idea for the nose popped into my head when my copy of Jacqueline Butler's "Modern Sugar Flowers" book arrived in the post. I was drooling over the fact that even her little filler flowers are gorgeous, and I wanted to find a way to use them for something ASAP.
I had also been playing around with my Sweet Sticks Edible Art Paints and I wanted to do a cake with a watercolour effect. It felt like too much to do it on this whole cake, but just on the ears was the perfect complement to the flowery nose.
And so, this cute Floral and Watercolour Bunny Cake was born.
I shot a few bits of video for some parts of the tutorial that seemed a bit easier to show on video rather than in pictures. You'll find the video at the bottom of the post, and I'll pop a list of where you can find each part in the video so you can skip through to the part you'd like to see.
To Make The Bunny Ears
We'll start by talking about the bunny ears since they require the most drying time. I can't overemphasise that the longer you can give these ears to dry, the better. The longer they dry, the less likely they are to break. Also, if you need one set of ears, always make two. Trust me. No one wants to be trying to make new bunny ears at the last minute after the only set you've made has broken.
I'll also mention now that the following template method is what I use anytime I need to cut out a gumpaste shape without a cutter. You can make pretty much any shape you like using this method, and I will probably link to this again in the future. You may recognise it from my gumpaste name cake topper tutorial.
We're reinforcing these ears with wire, so hopefully, it goes without saying that these are not edible. You can skip the wire, but it does help prevent breakage.
I used ready-made gum paste for these, but you can use fondant mixed with Tylose or CMC if you prefer. Straight fondant will not work for these, as it won't set properly.
Start off by printing out the ear template onto regular printer paper. My cake was 6″ round and 6″ high, but these ears would probably suit a cake from 5″ up to maybe 8″, anything bigger or smaller than that and you may need to scale the template up or down.
Place a piece of thin plastic over the top, I use a thin plastic document folder (like the ones I use to make DIY fondant smoothers) and use a sharpie to trace the ear shape. Cut the ears out with scissors or a craft knife, whichever you find easiest (and least likely to remove your fingers.)
Use a paper towel dipped in alcohol to wipe off the sharpie lines. Now, if you're smart, you'll label your ears "left" and "right". I did not do this smart thing, so had to keep checking which is which. Just write an L and R on the ears on the top side. Let's also just ignore the fact I could have been even smarter and used coloured plastic rather than clear, to make it easier for you guys to see.
Cut a piece of waxed paper big enough to fit both ears on. Tape it to the cutting board and rub the paper with a little bit of shortening.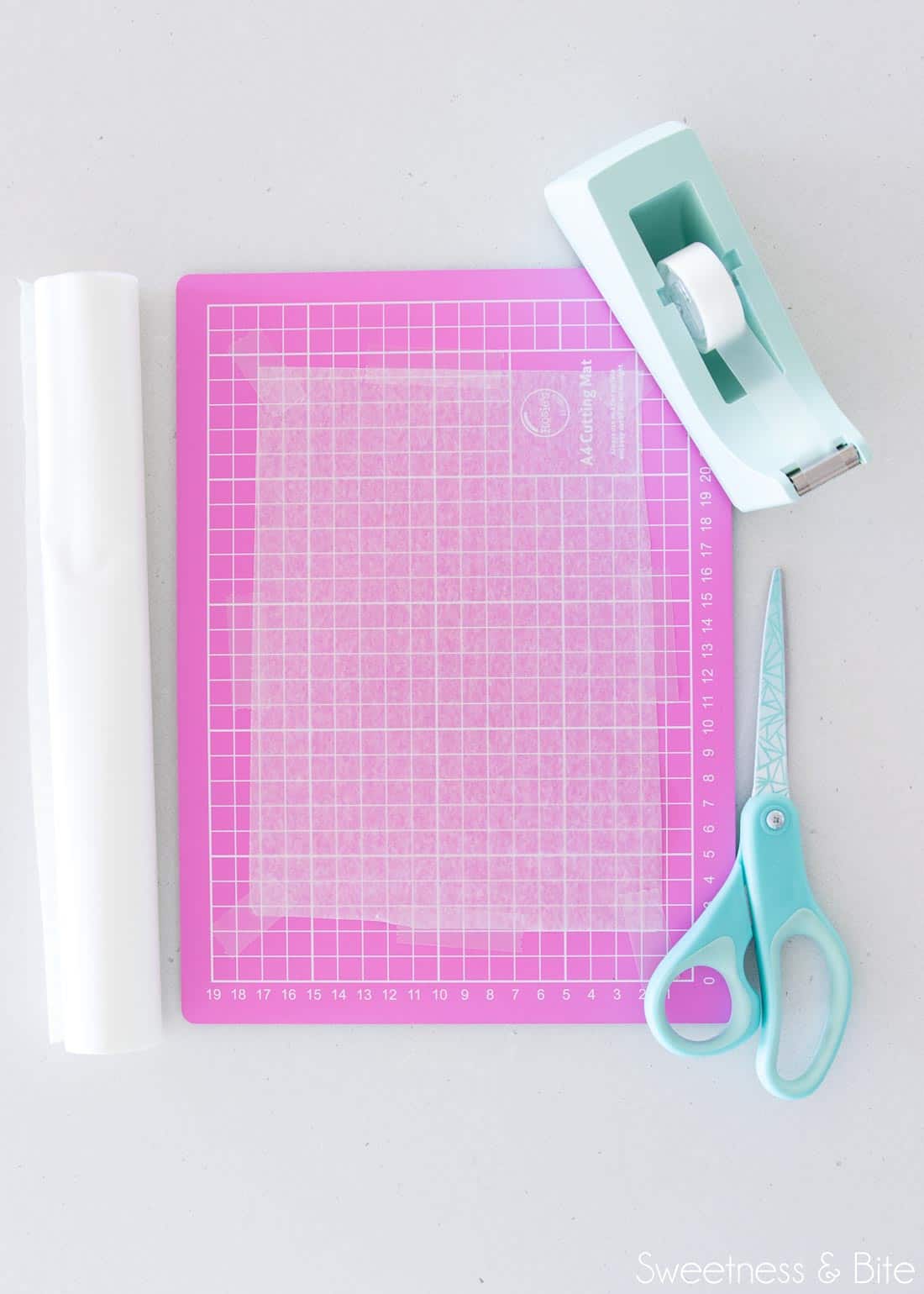 Rub the backs of the templates with a very thin layer of Crisco/shortening. You really don't need much, just a very thin smear.
Roll out your gum paste to about 2mm thick. I used my pasta machine set to number 2. You can use a bit of cornstarch to dust the gum paste with to stop it sticking, but try not to use too much as it will stop the template sticking (and in this case, we want it to stick!)
Place the ear templates onto the gum paste, and use a sharp craft knife or scalpel to cut around them. Try not to cut through the paper if you can help it. Again, I know I should have used coloured plastic for the template, but hopefully you can see it… just.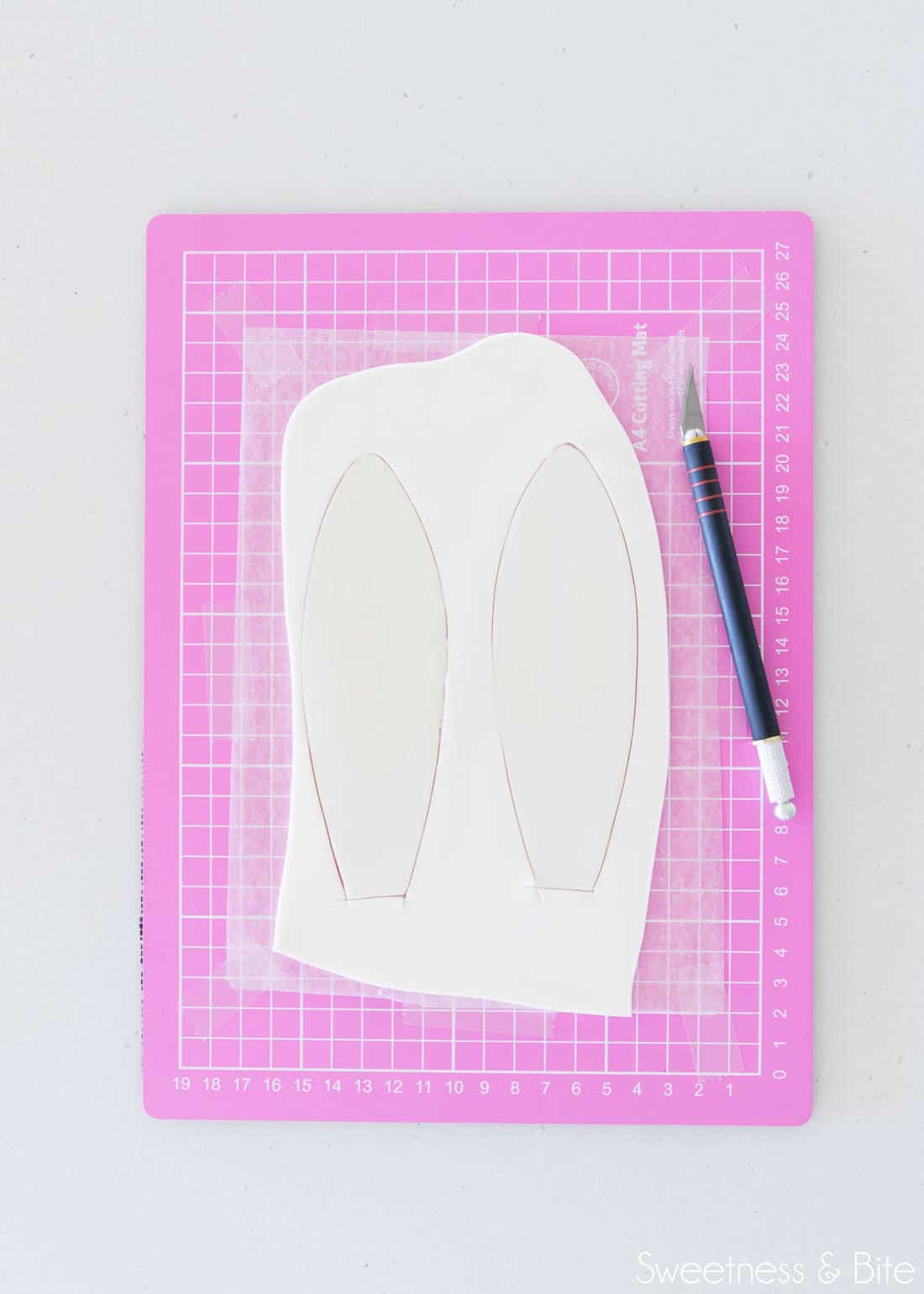 Remove the excess paste from around the ears, and gently peel off the templates.
Use a silicone-tipped paint shaper or sugar shaper (or even your fingers) to rub around the edges to tidy them up (if the paste has warped at all while you cut, doing this while the template is still in place will return the paste to that shape).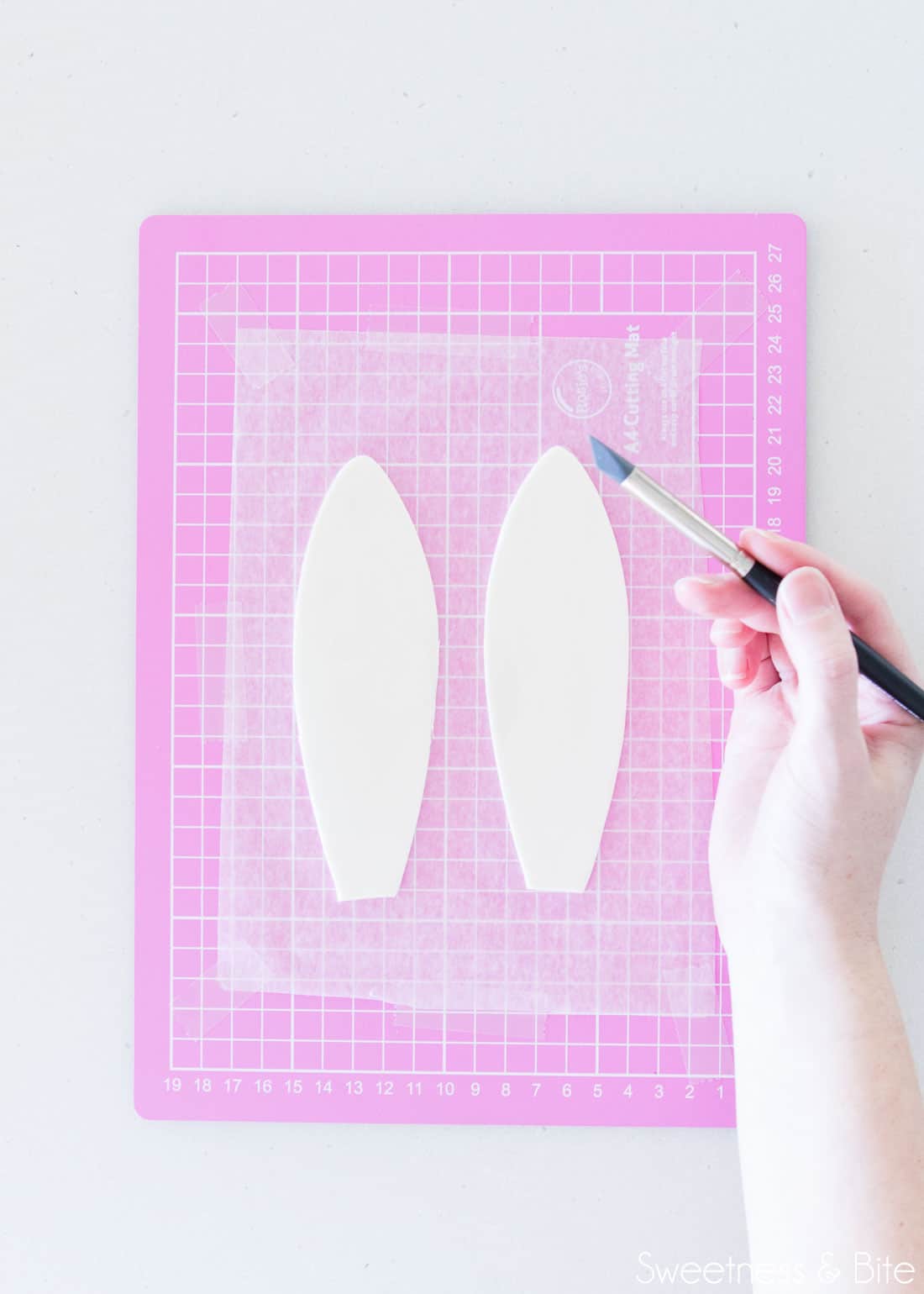 Use a little sugar glue to stick the wires in place on the ears. I used two gauges of wire for this: 20 and 26. The 20 gauge wire should come about halfway up the ear, and stick straight down from the base of the ear. Bend the 26 gauge wire to the shape of the ear, and have it go up about 3/4 of the length of the ear on either side, ending roughly where you want your ears to bend over a little.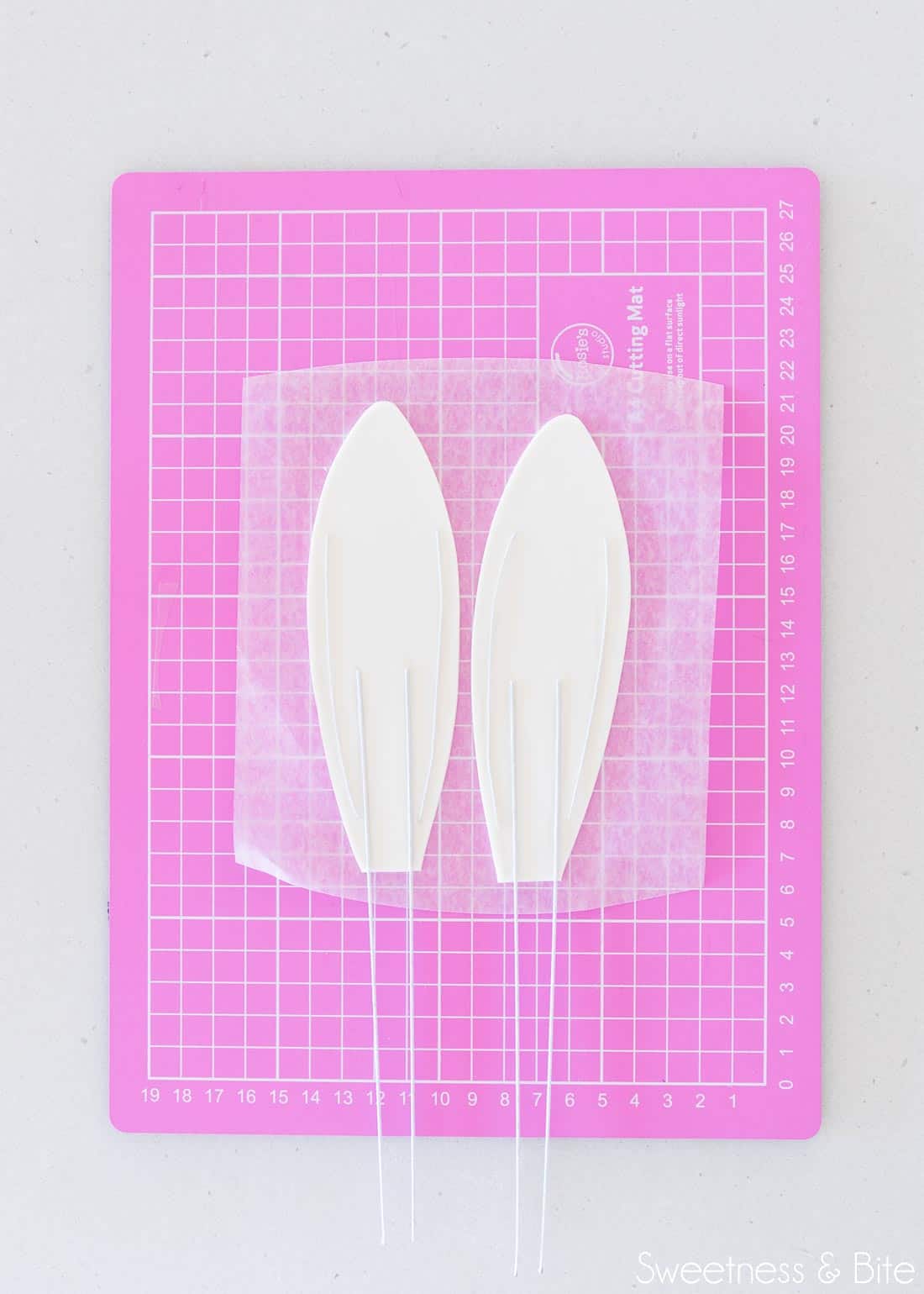 Use a fondant smoother (or any other small flat object) to gently press the wire down into the gumpaste. You're kind of aiming for it to be about 3/4 embedded in the paste (this will stop it sticking out the front of the ear too much).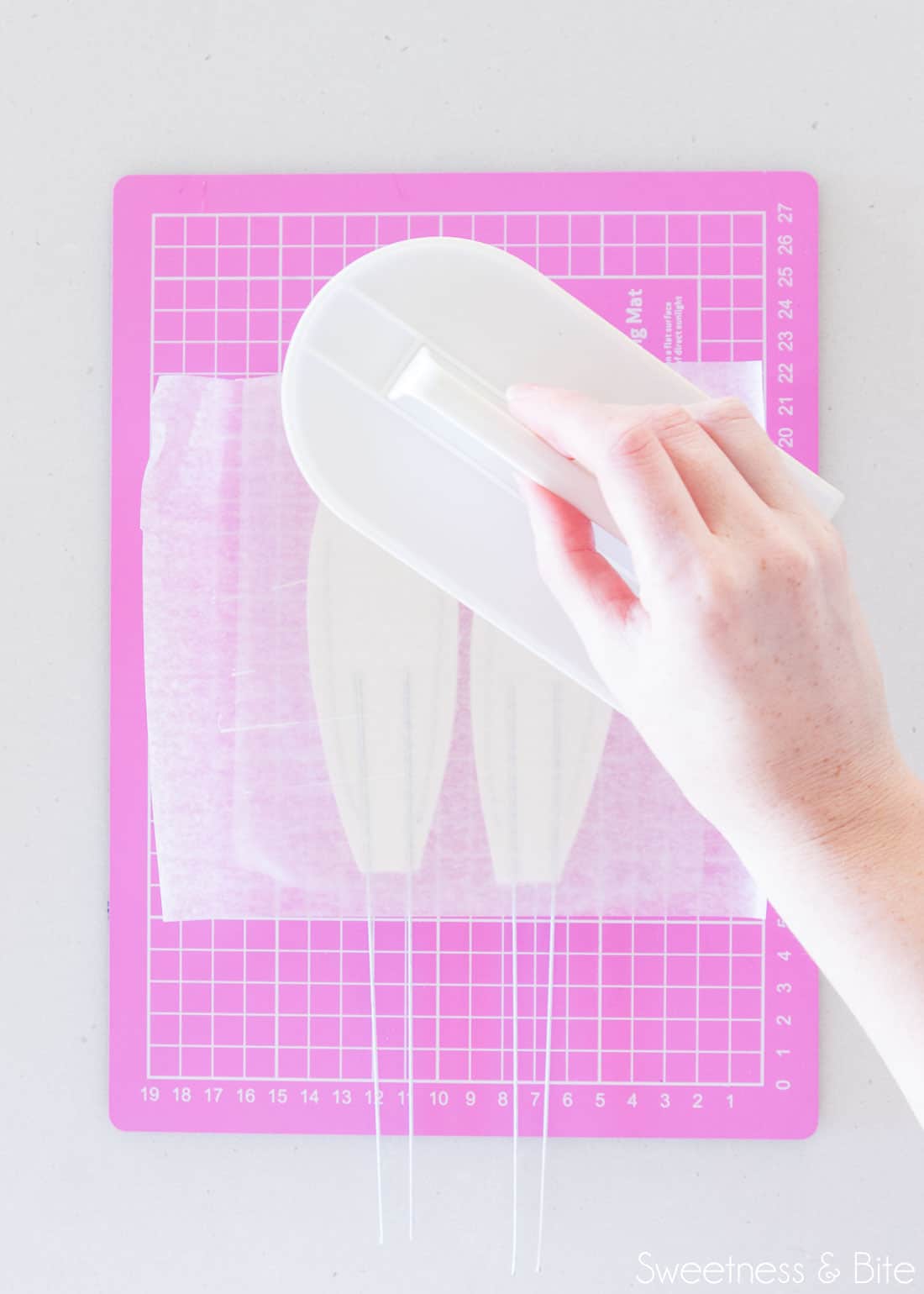 Peel off the tape from the paper and slide the paper, ears and all, into a large resealable plastic bag. This will stop them from drying out while we cut the second set of ears.
Follow the steps to cut out a second set of ear shapes. Peel off the templates and use your fingers to gently press and rub around the edges of the ears. You're kind of aiming to smooth and round off the edge.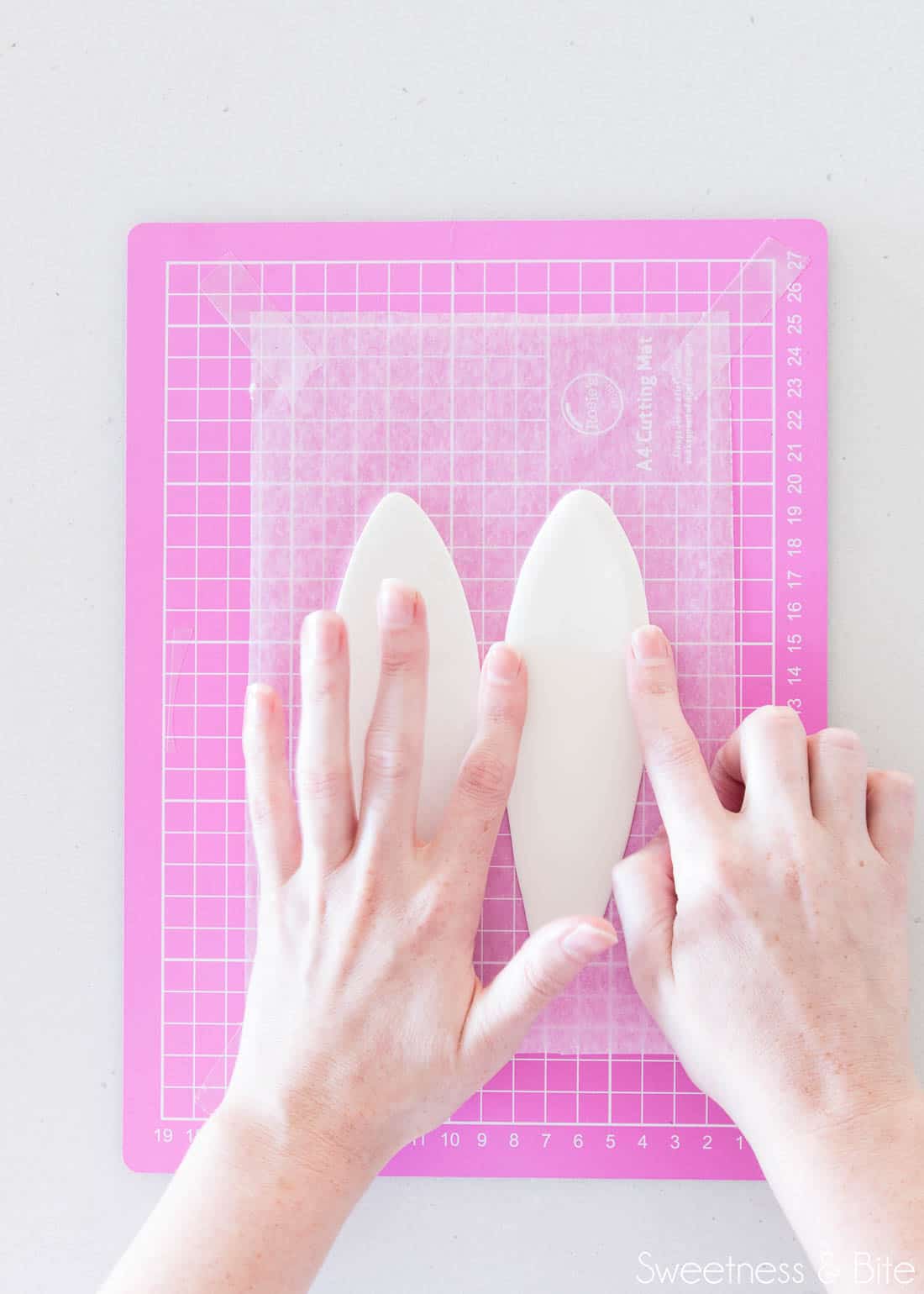 Take the first set of ears out of the bag, and brush the paste with a little vodka. Water will do, but vodka dries faster and is less likely to leave marks on the gumpaste if it leaks out. Brush a little sugar glue onto the tops of the wires for extra stickiness.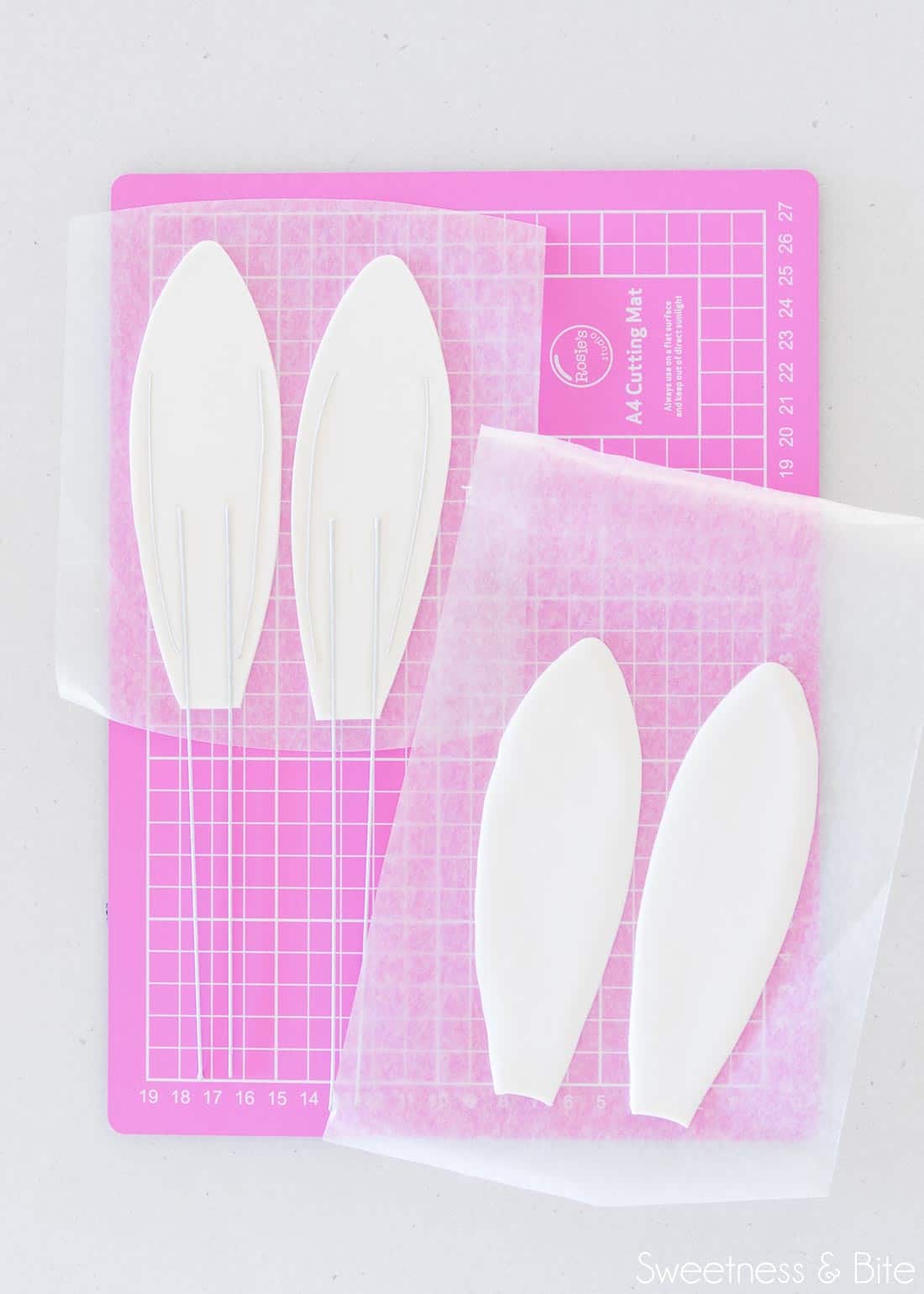 Place the second set of ears on top, lining all the edges up carefully and use the sugar shaper again to tidy up the edges.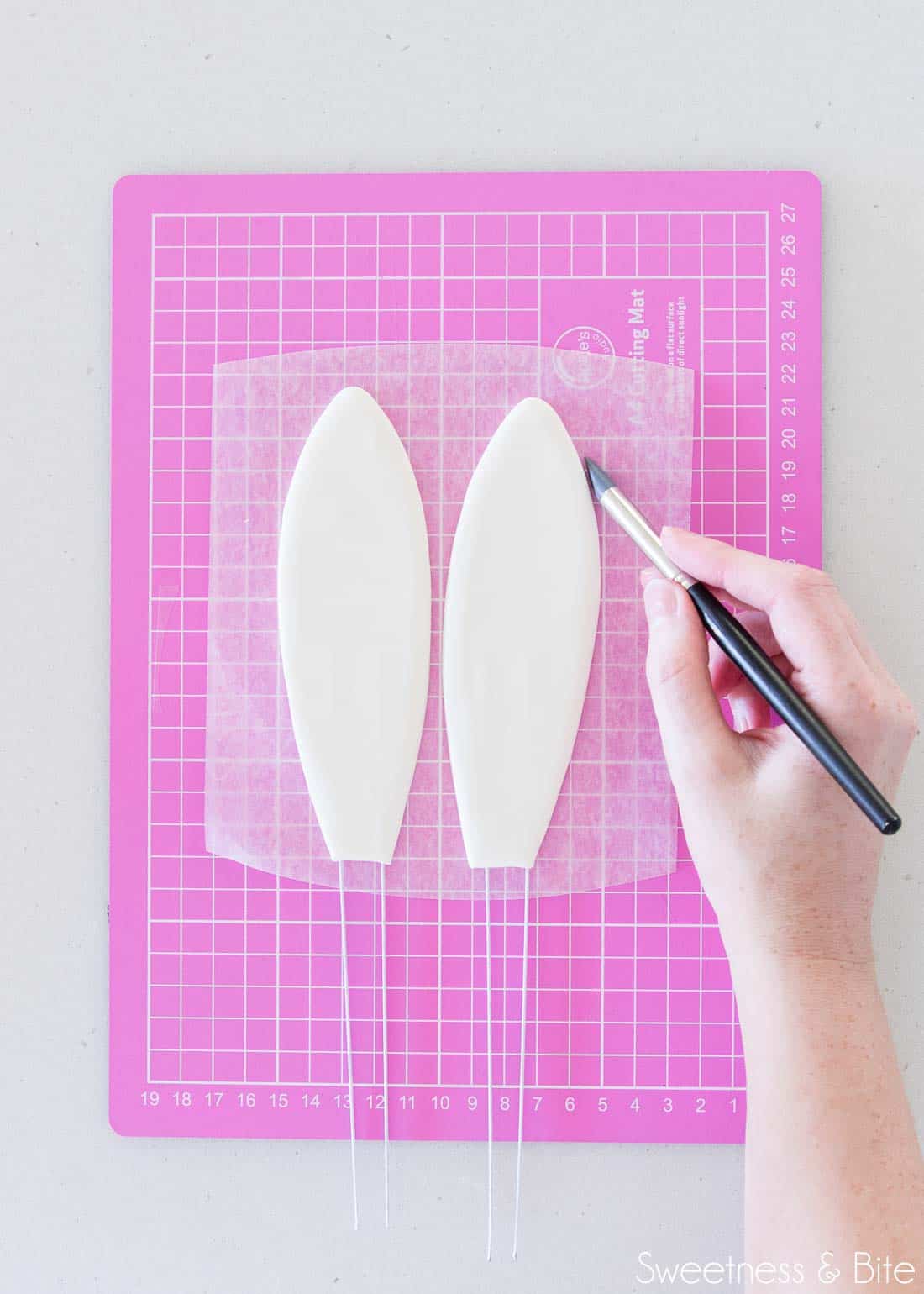 Now you can either leave your ears to dry flat or place them on a plate to gently curl the top. I let the ears sit for about 10 minutes on the board, and then lifted the paper off and put the tops of the ears on the edge of a plate with curved edges. You could also just roll up some paper towel and place that under the tips of the ears to curve them. Once the ears were firm and set in the curved shape, I placed them on a piece of foam to finish drying.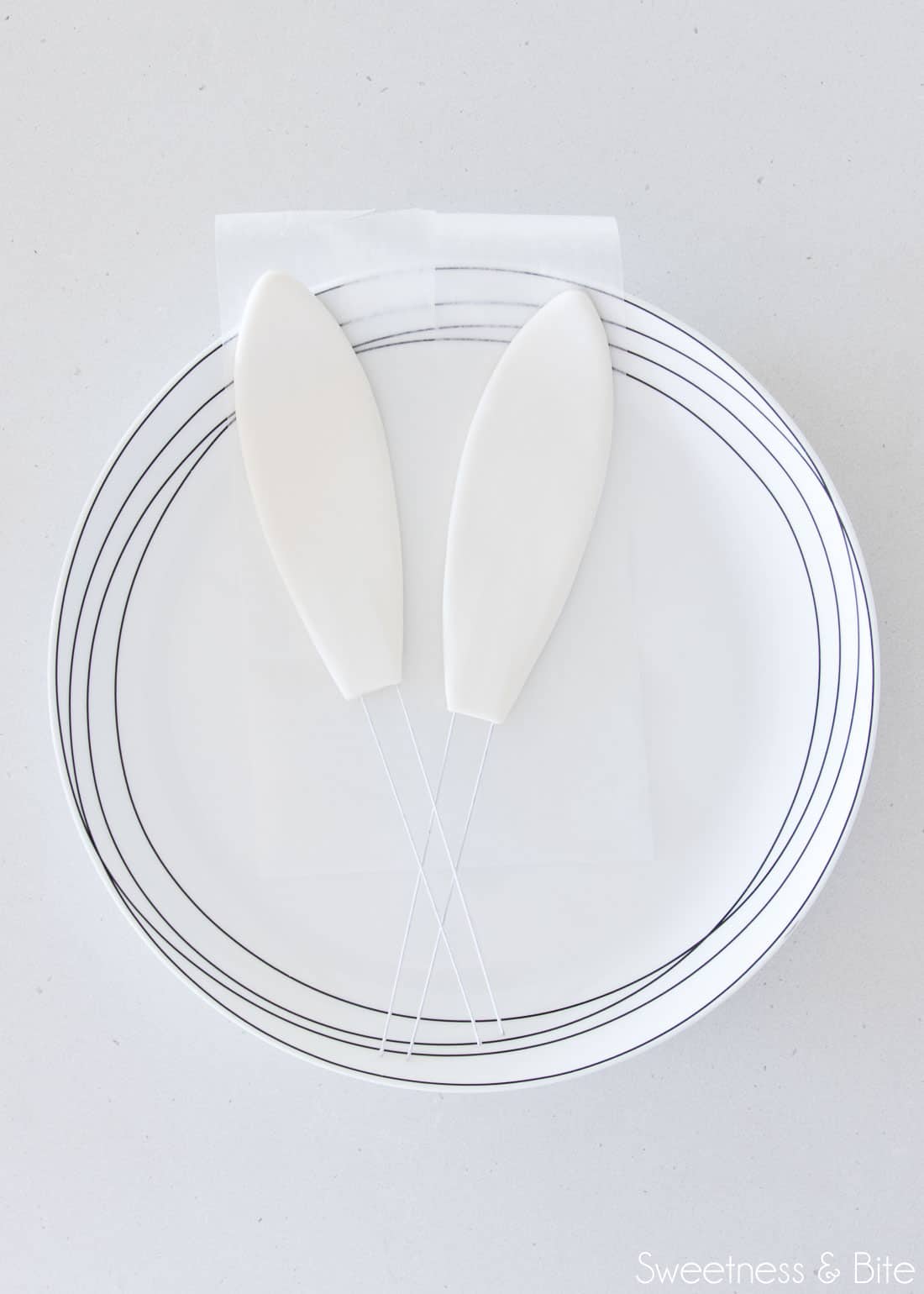 Leave the ears to dry for at least a couple of days. You can speed up the process by placing them in an oven with the fan on but no heat or use a food dehydrator if you have one. In humid weather, they will take longer to dry.
Flowers and Leaves
Right now let's talk about the flowers. Before we start, let me say that if you want to learn how to make these properly, you should definitely buy Jacqueline's book so you can learn properly from someone who actually knows what they're doing. Her flowers are amazing. Here's a link to the book on Amazon (affiliate link) and also on Book Depository.
She has step-by-step photos that show you much better than I possibly could. Alternatively, you could purchase her filler flower Bluprint class, if you prefer video tutorials. I'll show you in the video at the bottom of this post how I made them, but if you want to learn properly, the book and the class are well worth checking out.
If you don't want to do wired flowers, you could probably do this with little blossoms instead, just use the smallest blossom cutters that you can find, cup and shape them a little, then leave them to dry and dust them the same way I do with the wired ones. Then use sugar glue to attach them to the nose.
I used the same ready-made gumpaste as I used for the ears to make these blossoms, I'm sure they would have worked a little better and been more delicate if I had made up some proper flower paste, but I have to spend my spoons wisely, so I just used the gumpaste I had in the cupboard.
For my flowers I used the following colours:
Purple: Americolor Violet + Neon Brite Purple
Pink: Chefmaster Tropical Fuchsia (sadly they don't seem to make this shade anymore, but it's my favourite pink so I'm still using my old pot)
Green: Americolour Avocado
You'll also need some 28 gauge paper-covered florist wire into roughly 1.5" – 2" lengths. Use pliers or tweezers to bend one end of the wire over into a hook shape.
Pop down to the video to see how I made the flowers and leaves.
Once you've made your flowers, leave them to dry. Mine were pretty dry by the next day, in low humidity.
Lightly dust the flowers with petal dust in your desired colours. These are the colours I used for my flowers and leaves: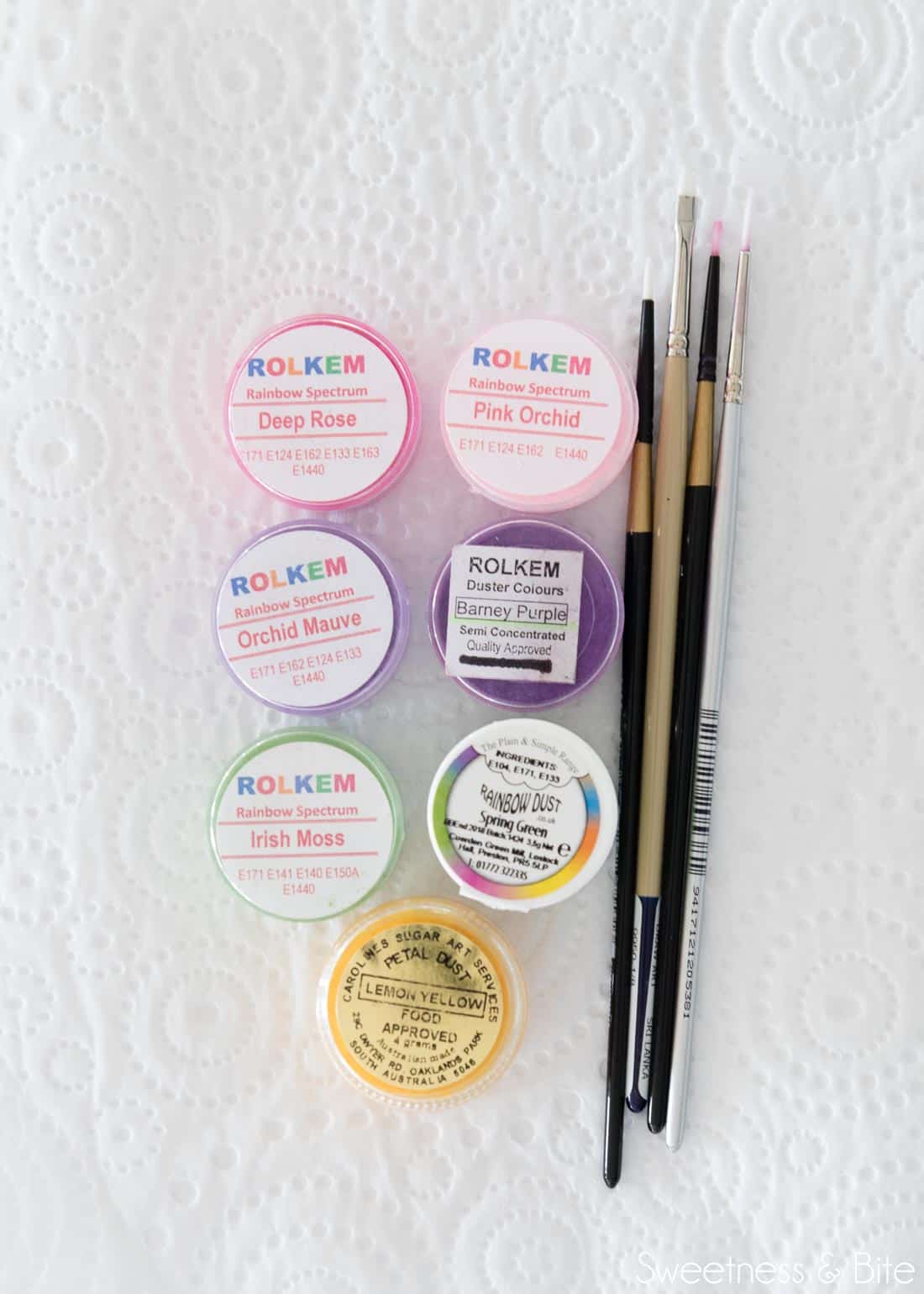 I also steamed the flowers to seal the dust. I was lazy and just tilted the polystyrene on its side and steamed all the flowers in one go with my BakeBoss steamer.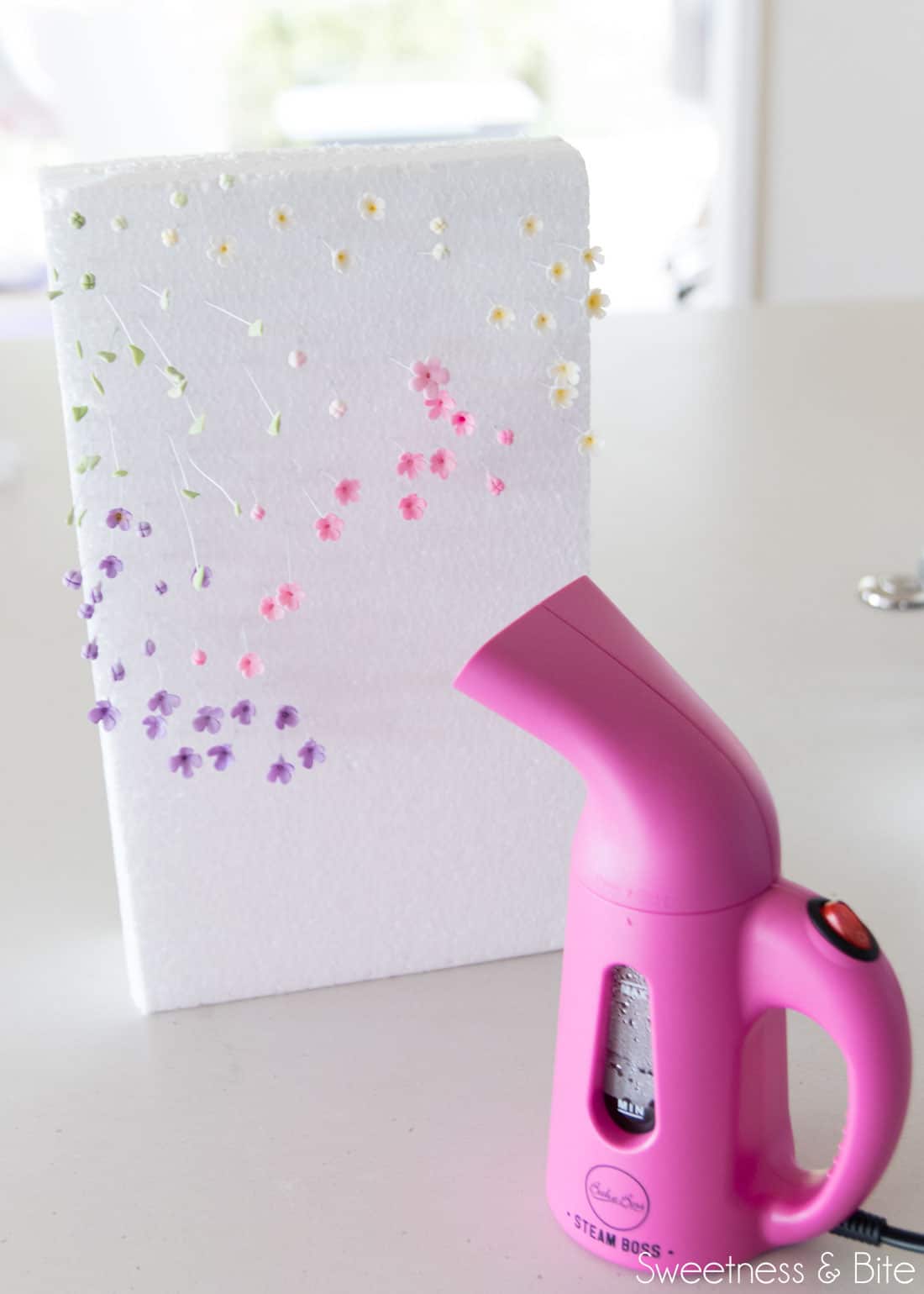 If I was making this cake again, I would add something to the middle of the flowers to cover up the ends of the wires. I thought they wouldn't be noticeable so since I was in a hurry I didn't bother, but it turns out that you can see them. Even just a single sprinkle glued into the middle, or a dot of royal icing would finish them off nicely.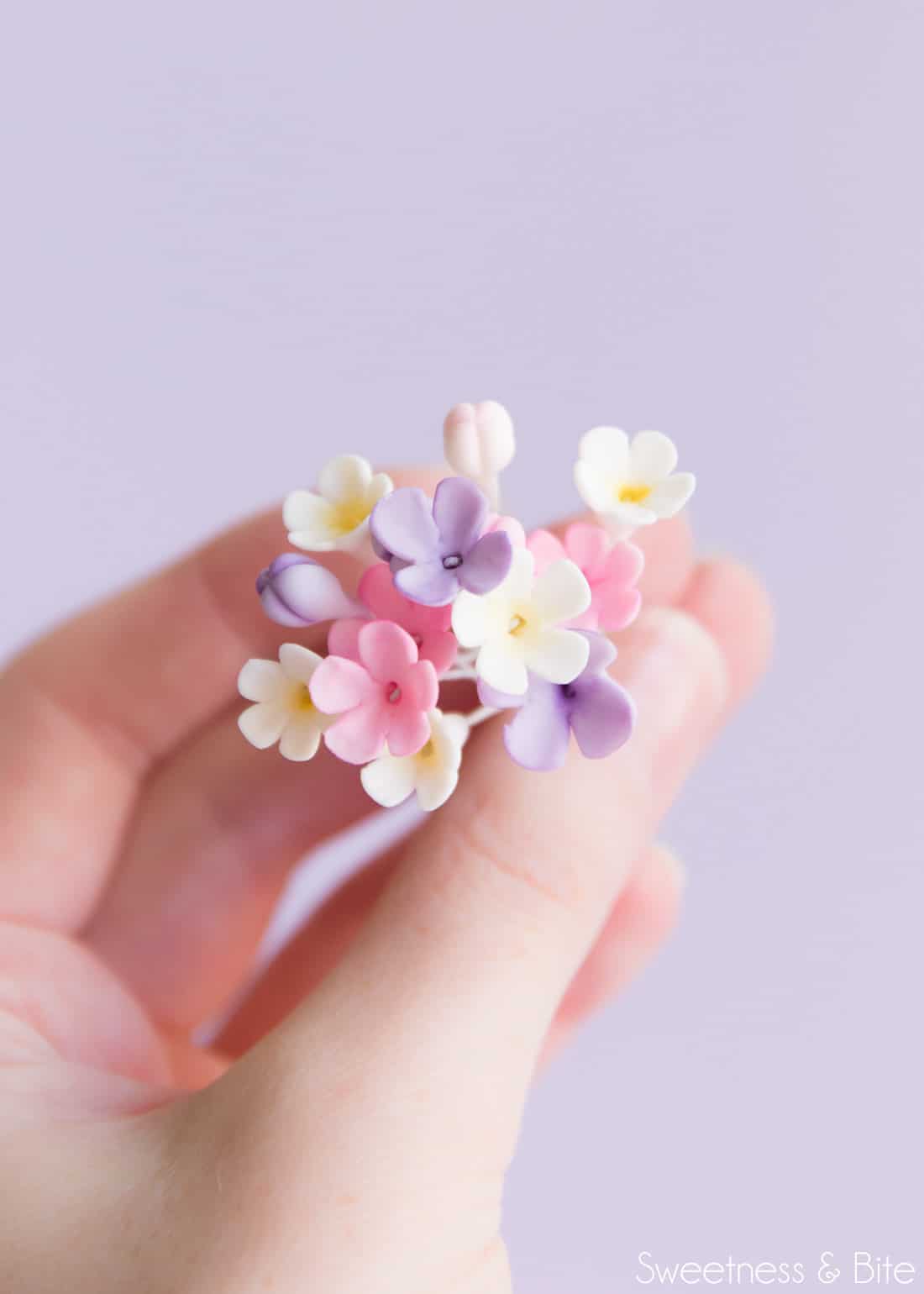 To paint the ears.
I used Sweet Sticks Edible Art Paint to paint my ears (the bunny ears, I mean. To get this kind of watercolour effect, you really need an alcohol-based paint. If you want to make your own, I have a recipe for a glaze-based paint, which you can make with petal dust + edible glaze, but I no longer bother making my own as the Edible Art paint is so much easier to use, just shake and go. You could also use petal dust mixed with alcohol, but just keep in mind that the dust can come off on your fingers when you're inserting the ears. That's why I prefer the glaze-based paints, as they seal to the gum paste and don't come off. You won't be able to do this technique with gel food colouring paint, as that paint is too sticky and will not blend nicely.
To paint the ears you will need: your paint (I used purple, pastel pink and a bit of white), paintbrushes, a pipette or dropper, a palette, strong alcohol such as rose spirit/cake decorator's alcohol (I'm told that Everclear is a good equivalent in the US). Check out my Painted Cake Tutorial for more info on this.
I wish I could tell you I have some sort of fancy watercolour technique for this that I trained in at art school, but I did not go to art school and I have no idea what I'm doing, so I just kind of made this up as I went along. If you're not confident, then it's a good idea to try this out on a scrap piece of fondant or gum paste first, so you can get the hang of what you want to do before you start on your ears.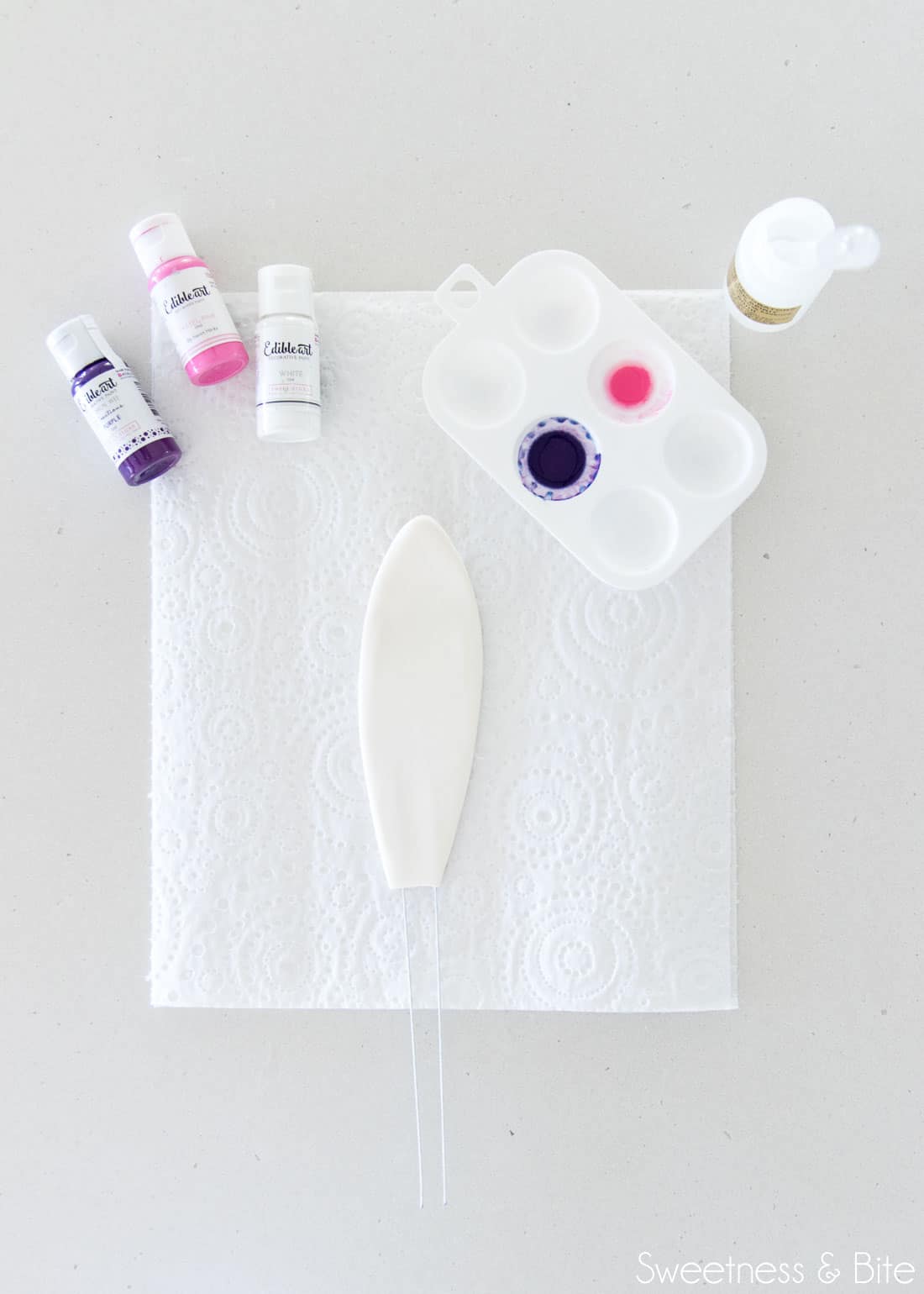 I thinned down the paint with the alcohol, two drops of paint to around 4-5 drops of alcohol, and I added more alcohol as I went along.
I started at the bottom of the ear and went kind of at an angle up the ear. Starting with the purple, and gradually adding more alcohol to the purple as I went up the ear.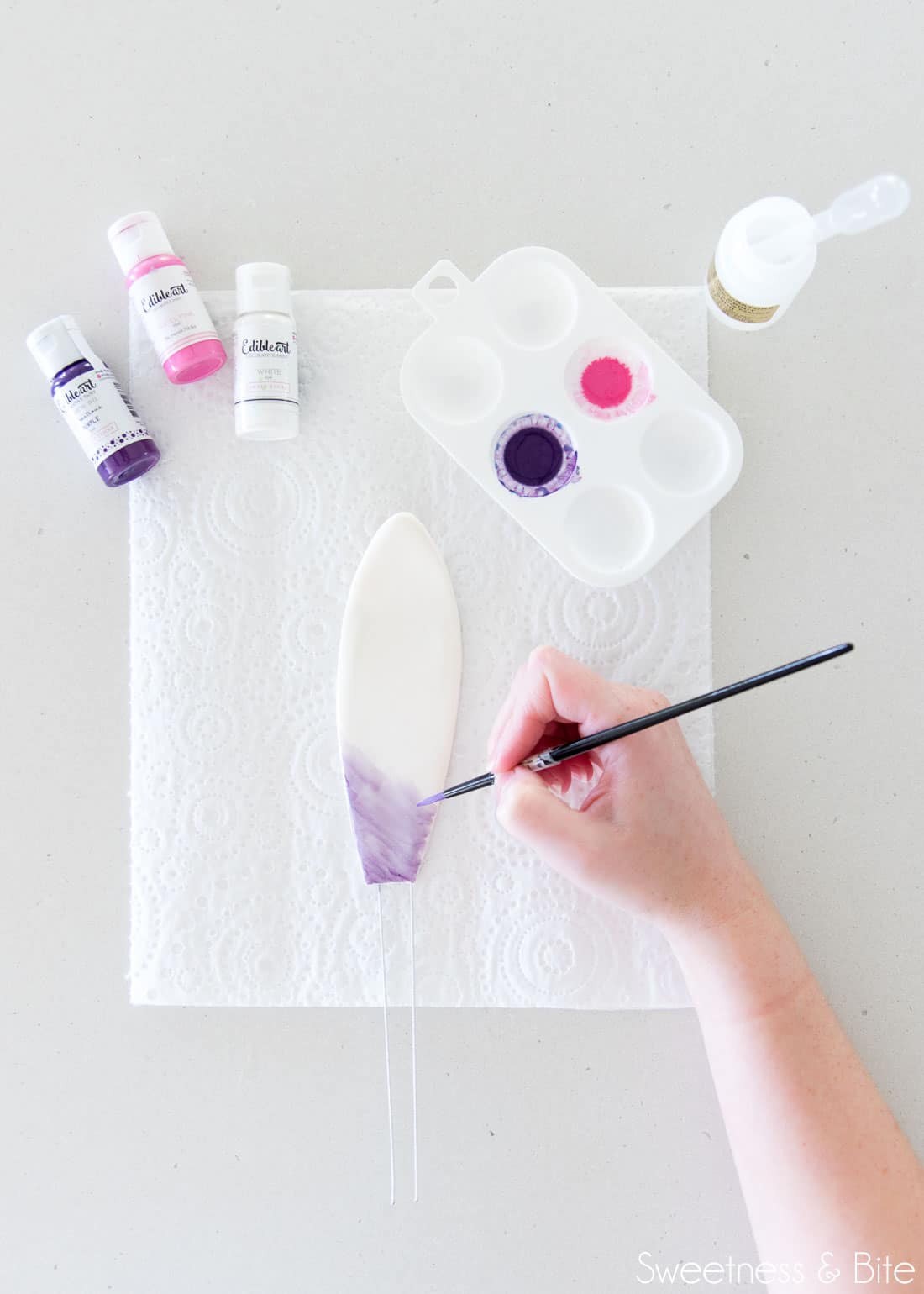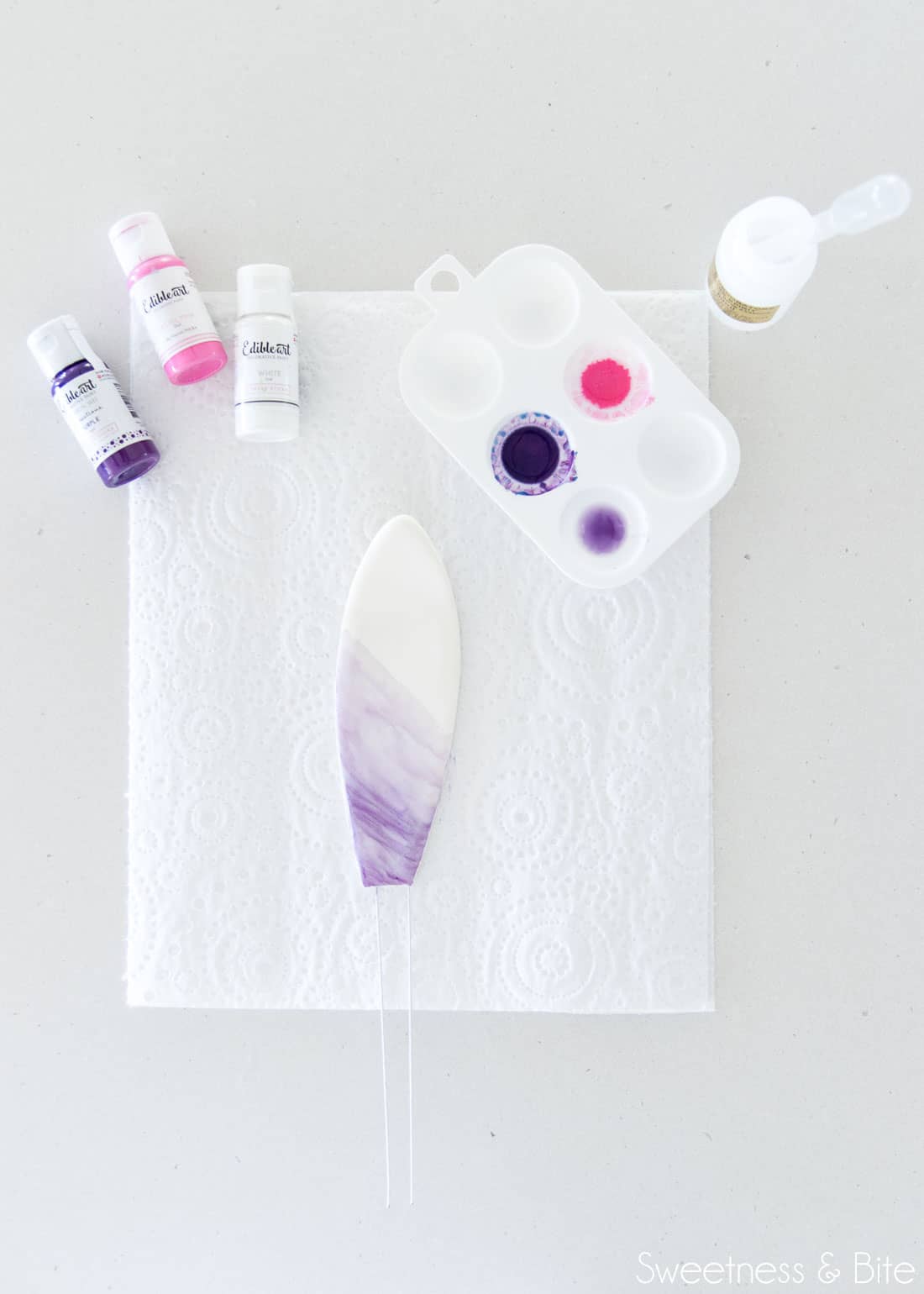 Then I switched to the pink and took that the rest of the way up the ear, blending it down into the purple.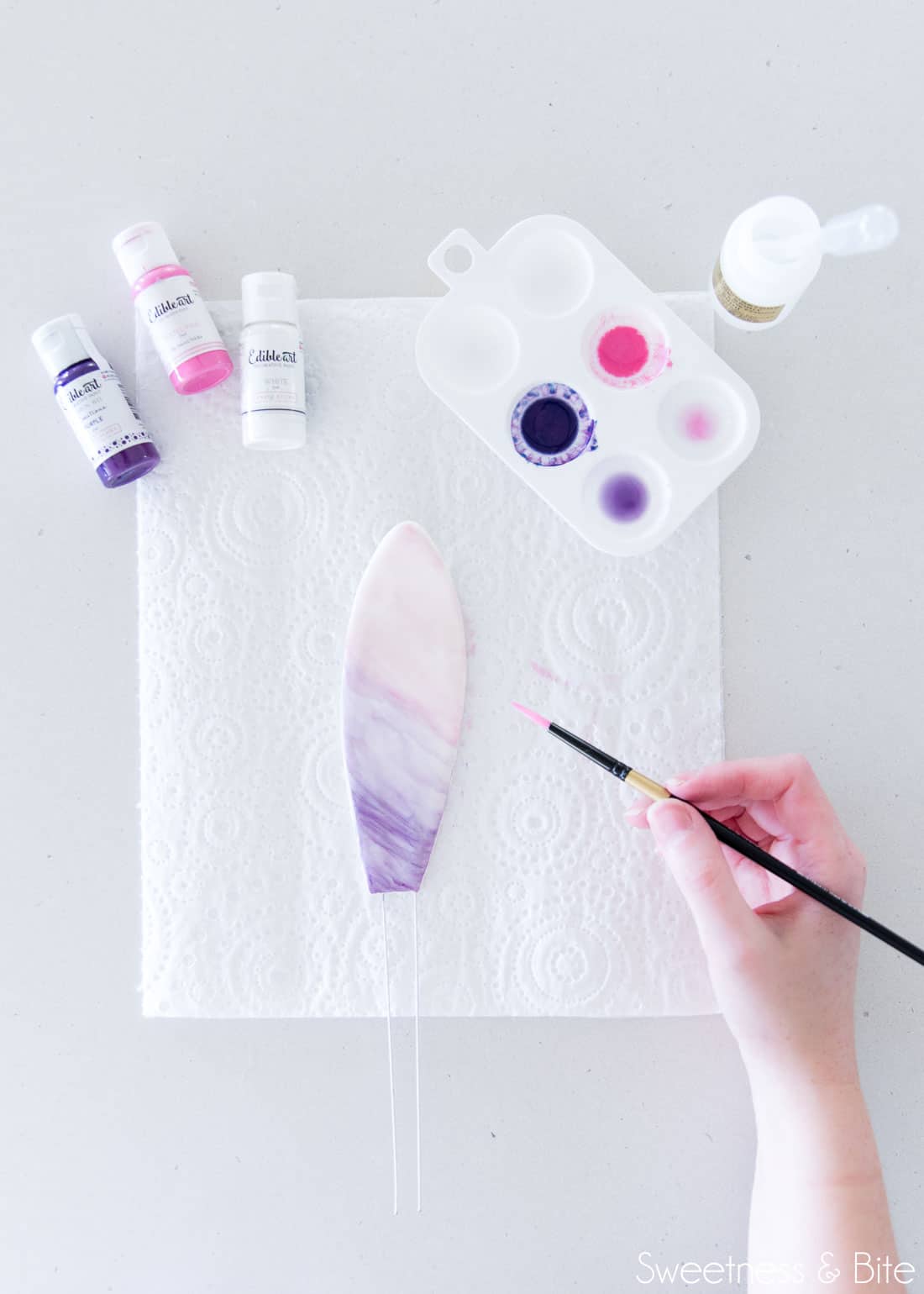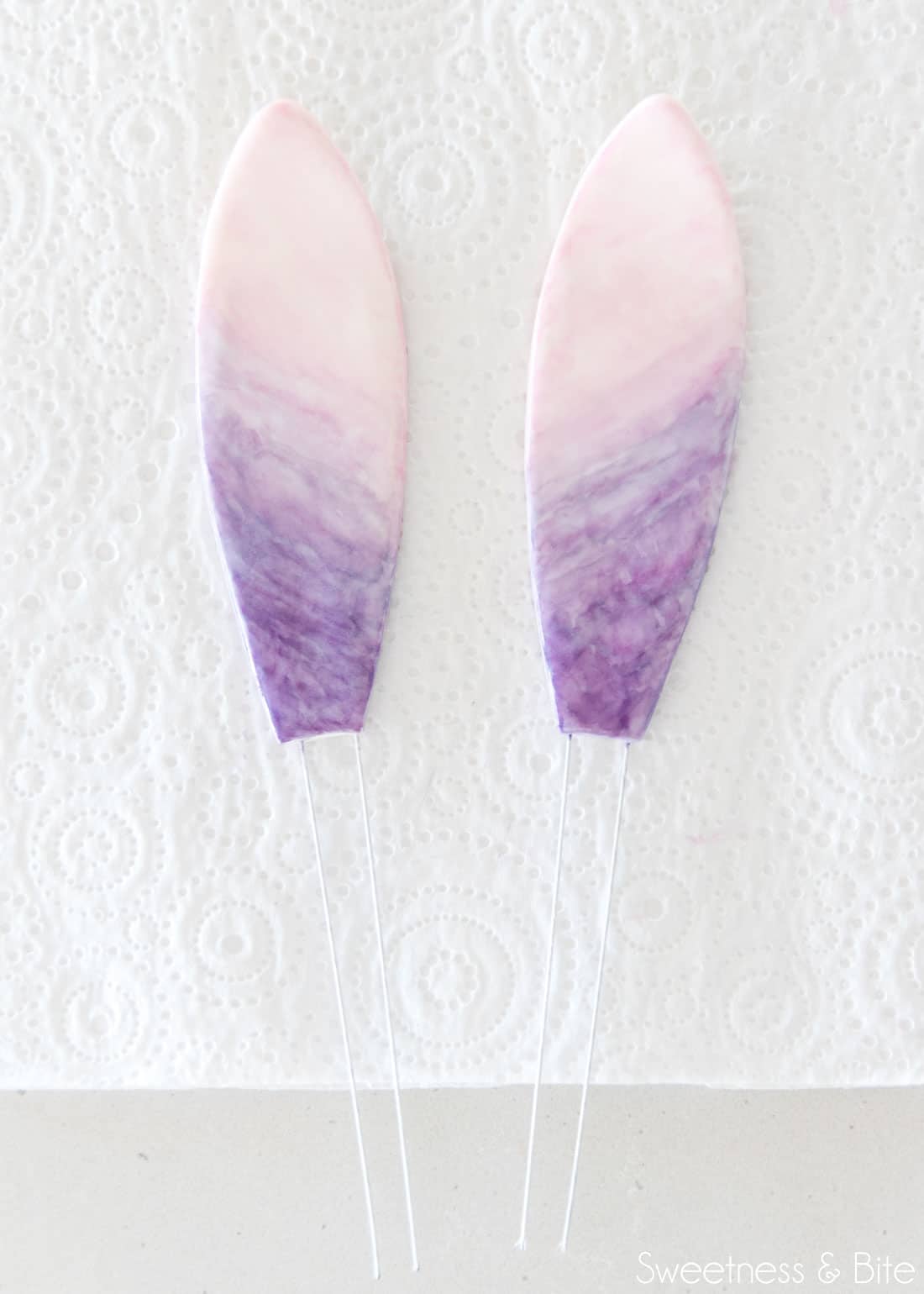 The thing that's great about this is it's very forgiving. Added too much colour? Just rinse off your brush in some alcohol, and use it to wipe off the extra colour, or just blend it back down into the darker areas. In a pinch, you can even dampen a paper towel with alcohol and wipe the paint off. You'll never get it perfectly clean, but it will be enough to paint back over the top in your desired depth of colour.
Once you've painted the front and let it dry (mine only took 10 minutes or so, but I left it a bit longer to be sure, maybe about 20 minutes. Then you can paint the sides and backs of the ears too, if you like. Before painting the backs, I rolled up some paper towel to support the curved part of the ear, but as long as you don't put too much pressure on the ear it shouldn't break. Turns out I did not take a photo of the backs after I painted them *facepalm*.
Right, now let's put it all together! You'll need your fondant covered cake, I wrapped mine with pale mint green fondant (Americolor Avocado + a tiny bit of Leaf Green) and let it dry overnight.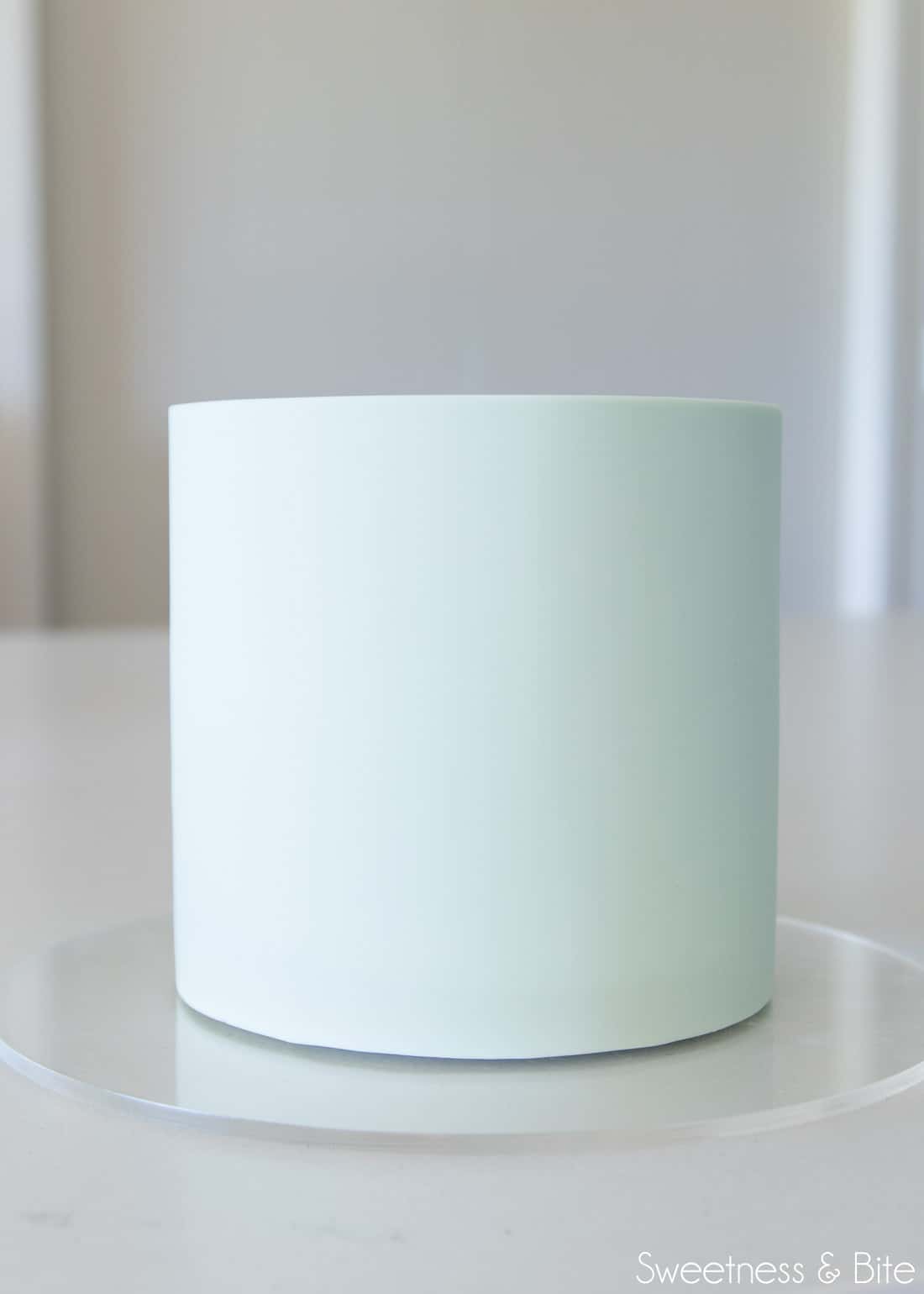 Trace the face details onto the cake with a pencil. For more detailed instructions on how to trace onto your cake, check out my painted cake tutorial. If you're blessed with steady hands and a good eye, you could free-hand paint them on.
I took the vertical line for the nose/mouth area (what do you even call that bit?) up a bit higher than it needed to be, where the little mark is will be about where to put the nose.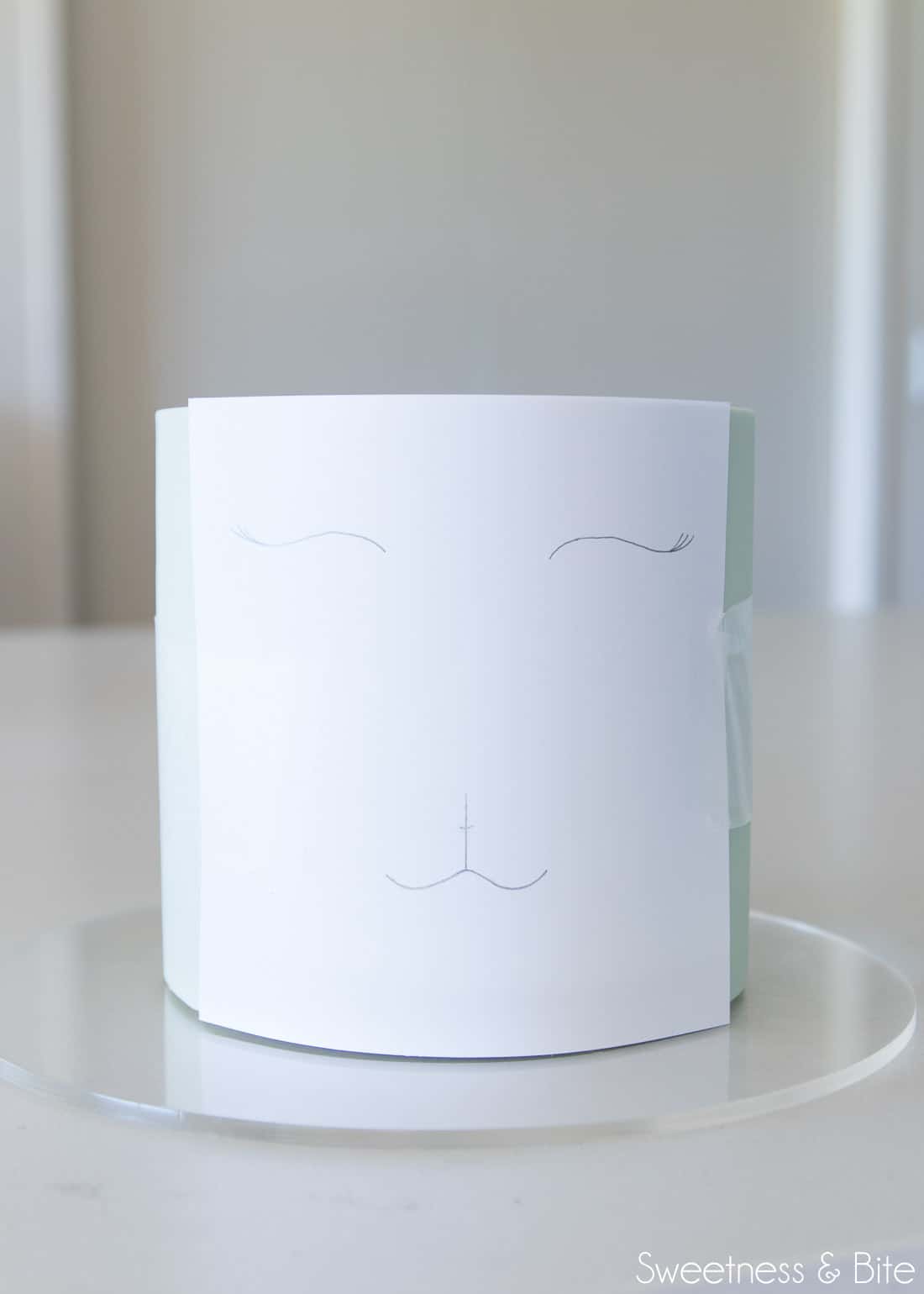 Then paint in the details using the traced lines as your guide. My traced lines were very faint and didn't show up in the picture I took, so I won't bother showing you that. For the eyes I used the black and white edible art painted mixed together to make a charcoal-y grey, and I used pastel pink for the mouth.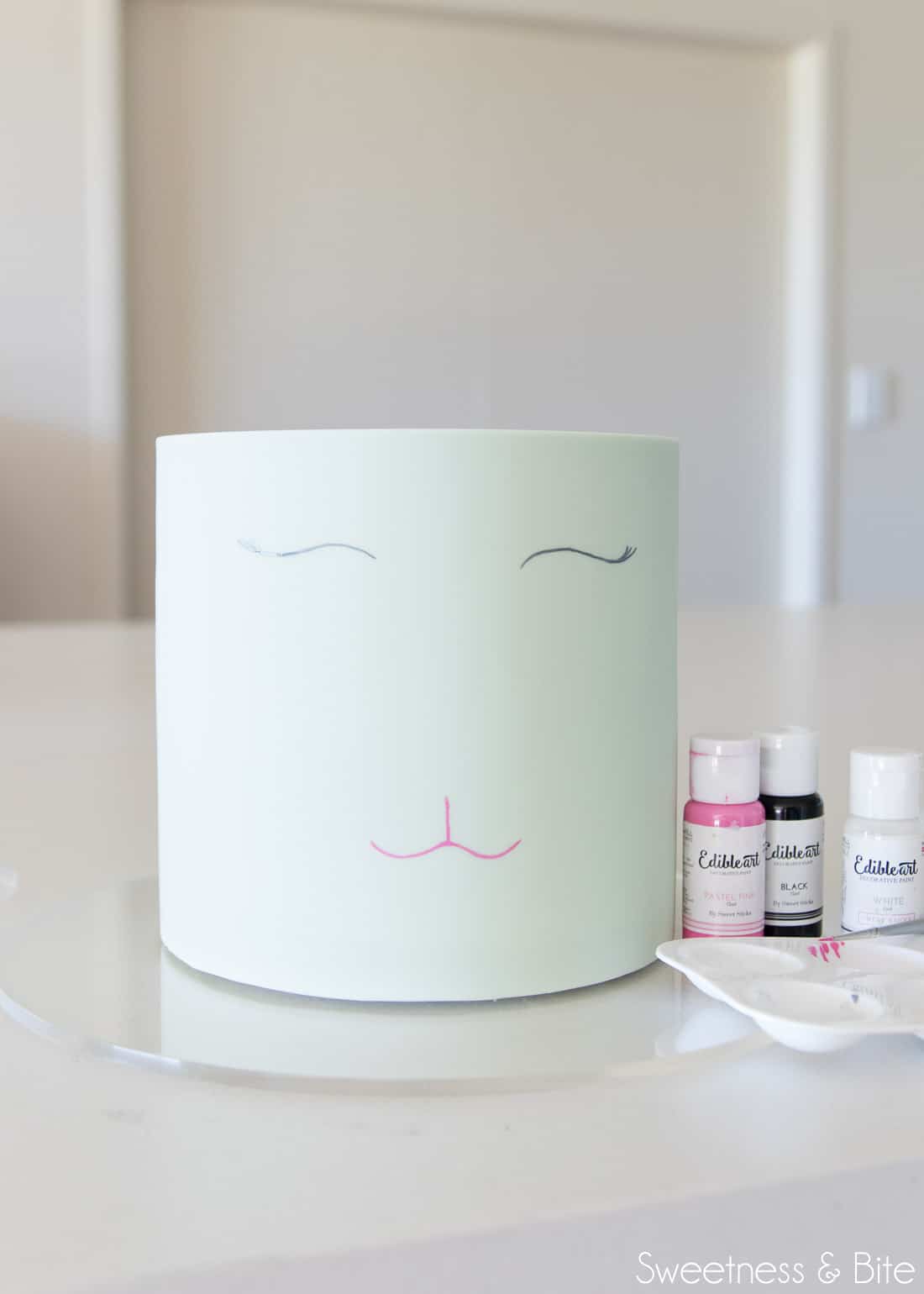 To make the nose, take a small ball (about 7g) of pink gumpaste and shape it into a kind of rounded heart shape on a piece of waxed paper. Leave it for ten minutes or so to set a bit, so it will keep its shape, then peel it off the waxed paper, pop a bit of sugar glue on the back, and press the nose into place on the cake.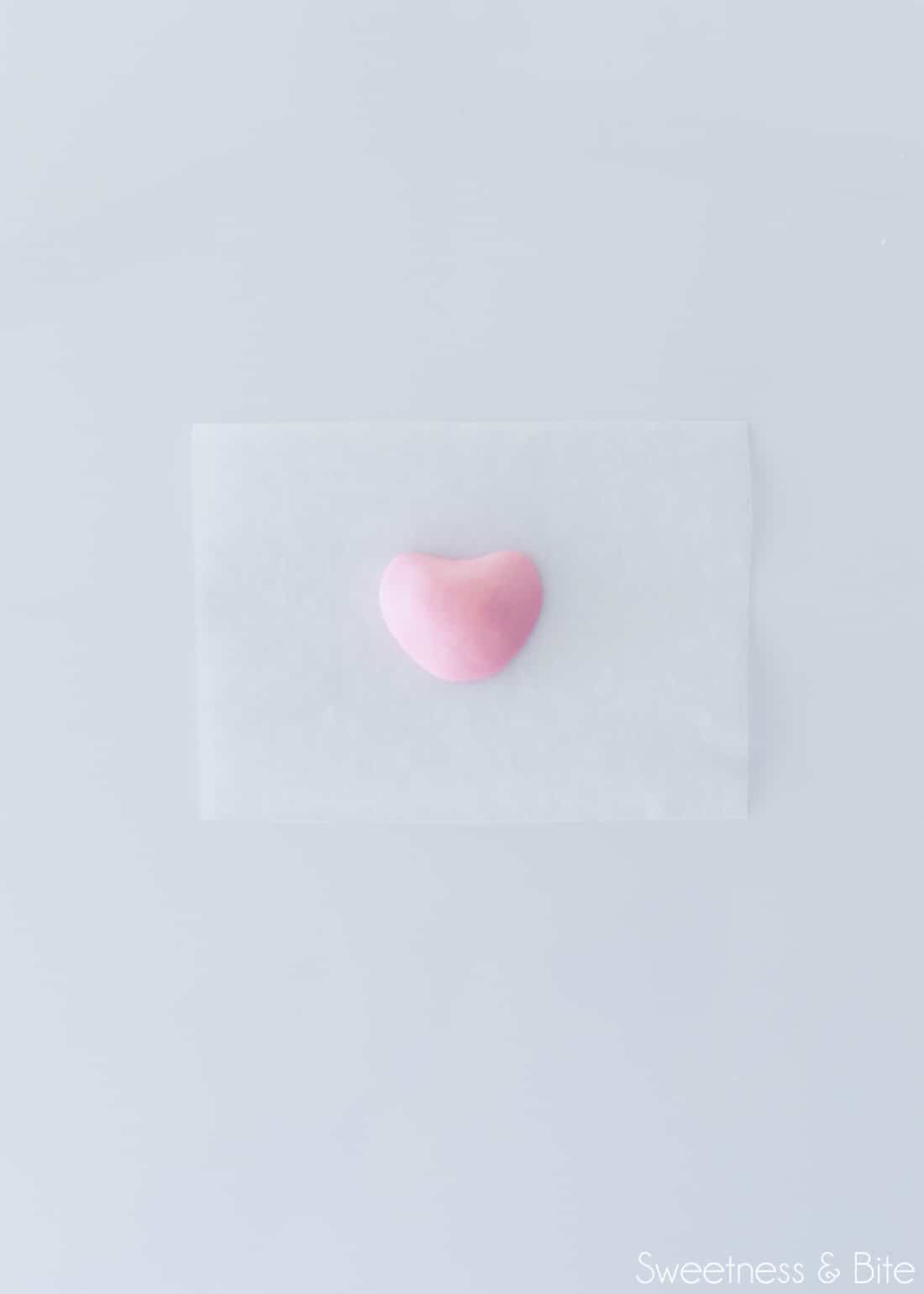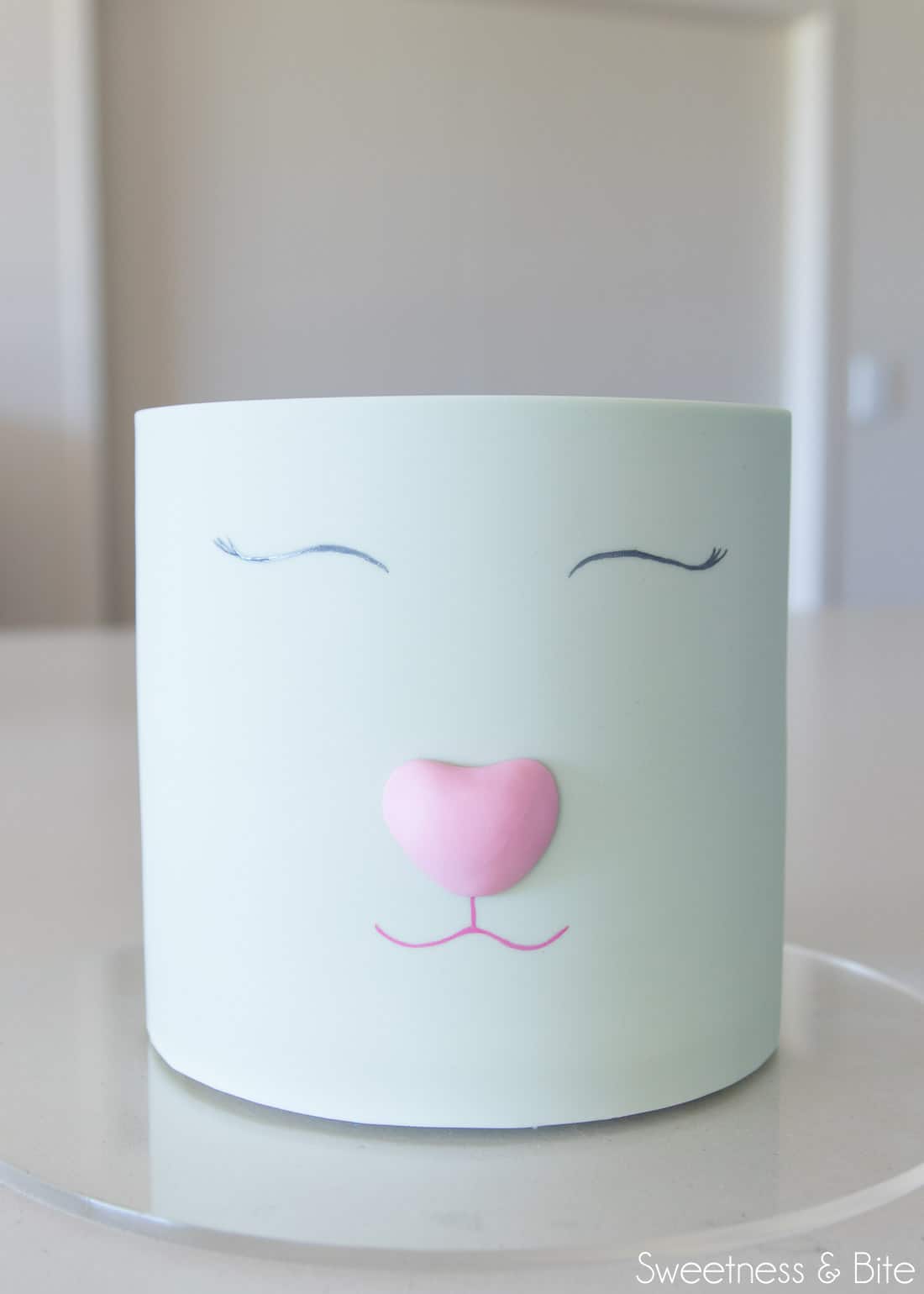 Now comes the fun bit, adding the flowers to the nose. I made a "stunt nose" and tested out the placement of my flowers, but as you'll see in the video I ended up moving some bits around, and I added a couple more flowers after I turned off the video.
Snip the flower wires so they only stick out 1-2mm from the backs of the flowers (so they won't poke into the cake). Then start inserting the flowers into the nose. I started on the outside and worked my way in and down. I also added a couple of leaves on the side where I planned for the 'whiskers' to extend from.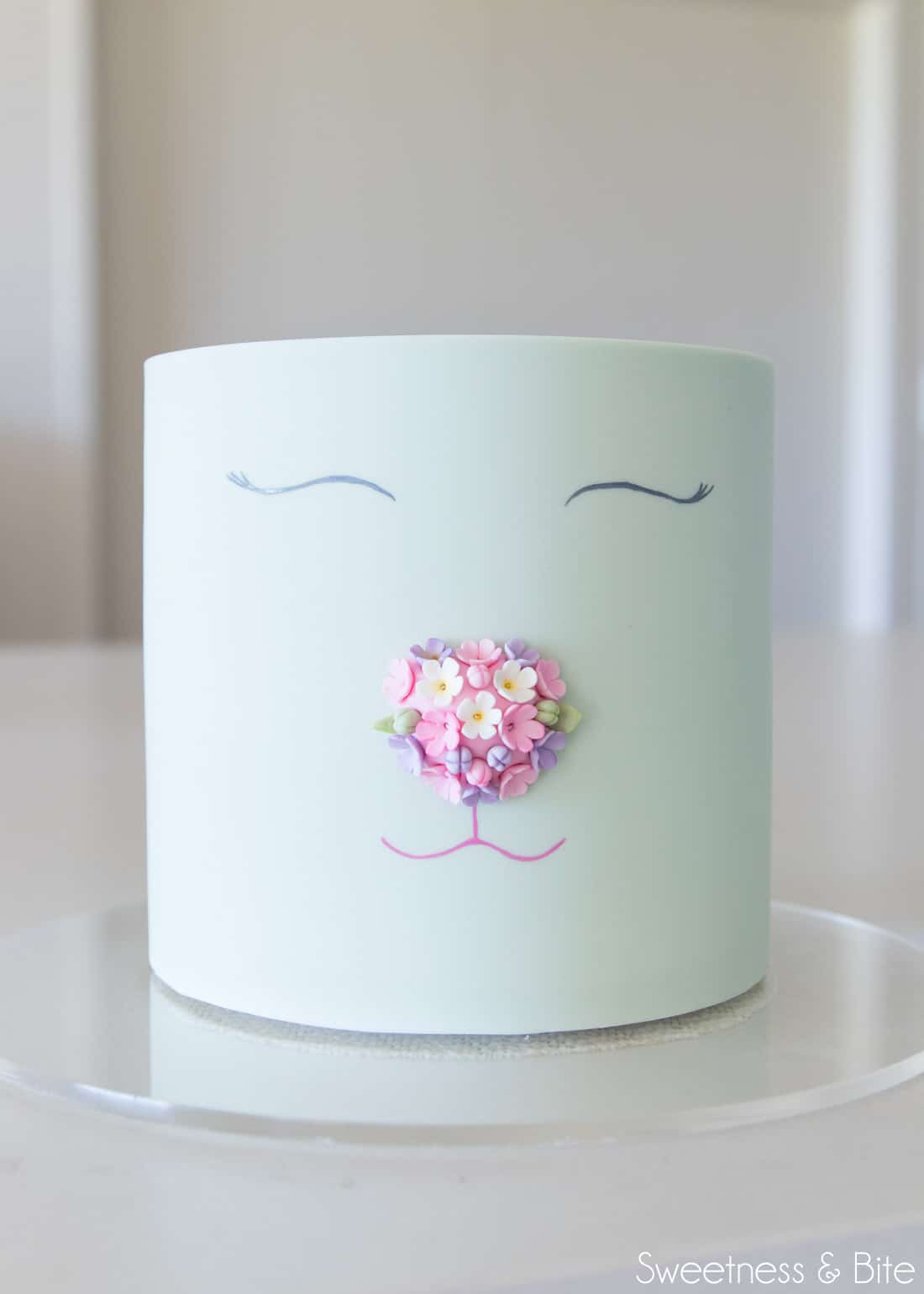 Bend the wires for your leaf whiskers so they curve down, and insert them into the back of the nose, making sure they don't poke into the cake. You're kind of aiming to slide them between the cake and the nose.
Then all that's left to do is add your ears! Well not your ears, the bunny's ears.
You'll need something to insert the wires into so they're not going directly into your cake. I like to use these thin plastic lollipop sticks with hollow centres, as the wires fit nicely into them. Alternatively, you could use thin straws, or dip the wires into some Safety Seal to make it food safe.
I actually used a dummy cake for this tutorial so my bunny can live in my studio for a while, which meant I could just insert the wires directly into the polystyrene, but if you're using real cake then you'll definitely need to use one of those methods of keeping the wires away from your cake.
Use the ends of the wires to mark where you want the ears to go, then insert your lollipop sticks or straws, and insert the ears into those. If you've dipped the wires in Safety Seal, then it's a good idea to poke the holes with a skewer before inserting the ears, so the wires go in more easily. This makes the ears less likely to break.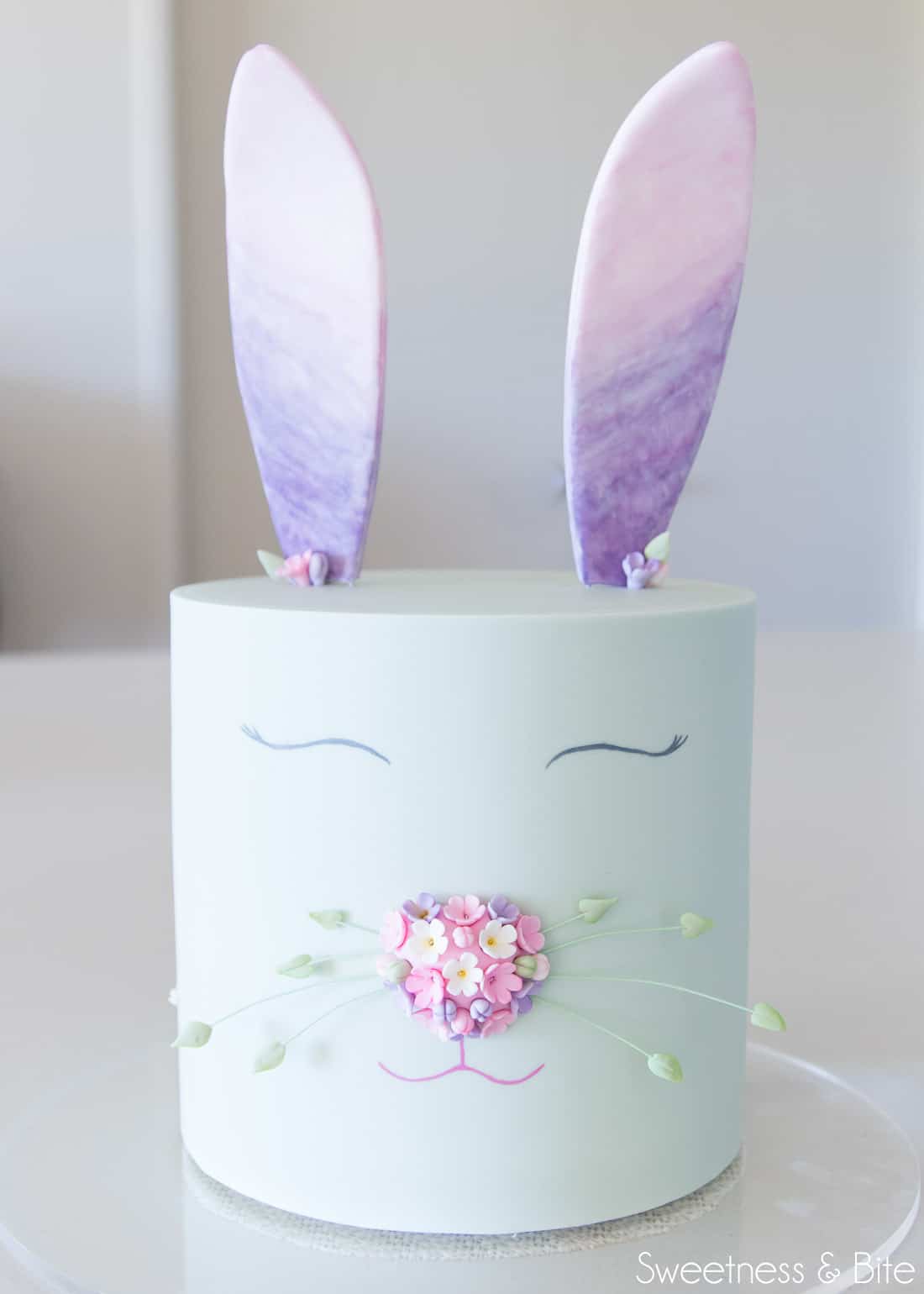 I added a few flowers to the ears, because why not? And also, why not make a little matching bunny tail?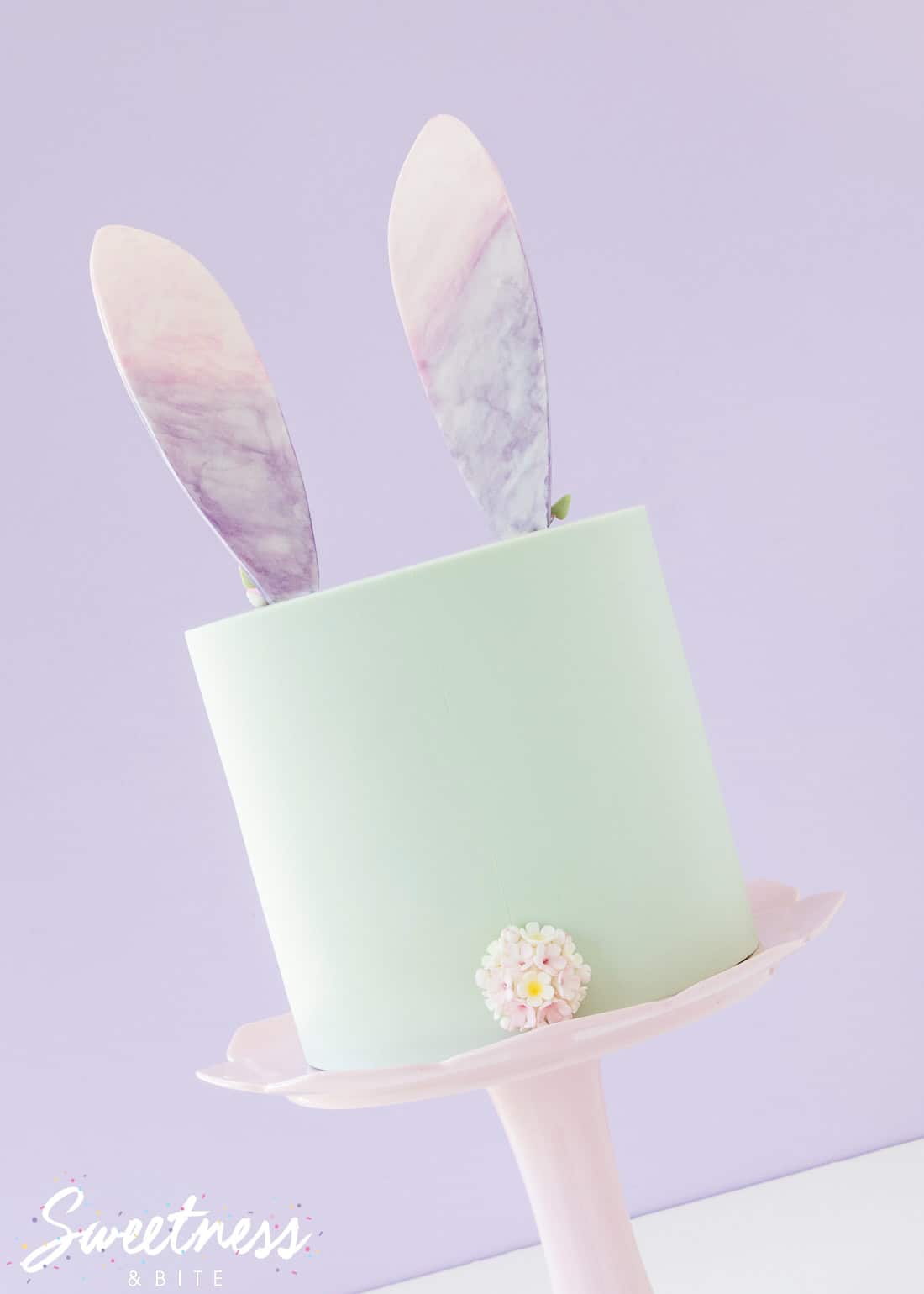 Here's the bunny cake tutorial video, and you can skip through to find the bits you want to see.
0.03 – Four petal flowers
1.21 – Five petal flowers
1.59 – Flower buds
2.45 – Leaves
3.01 – Painting the ears
3.49 – The nose
Happy Easter!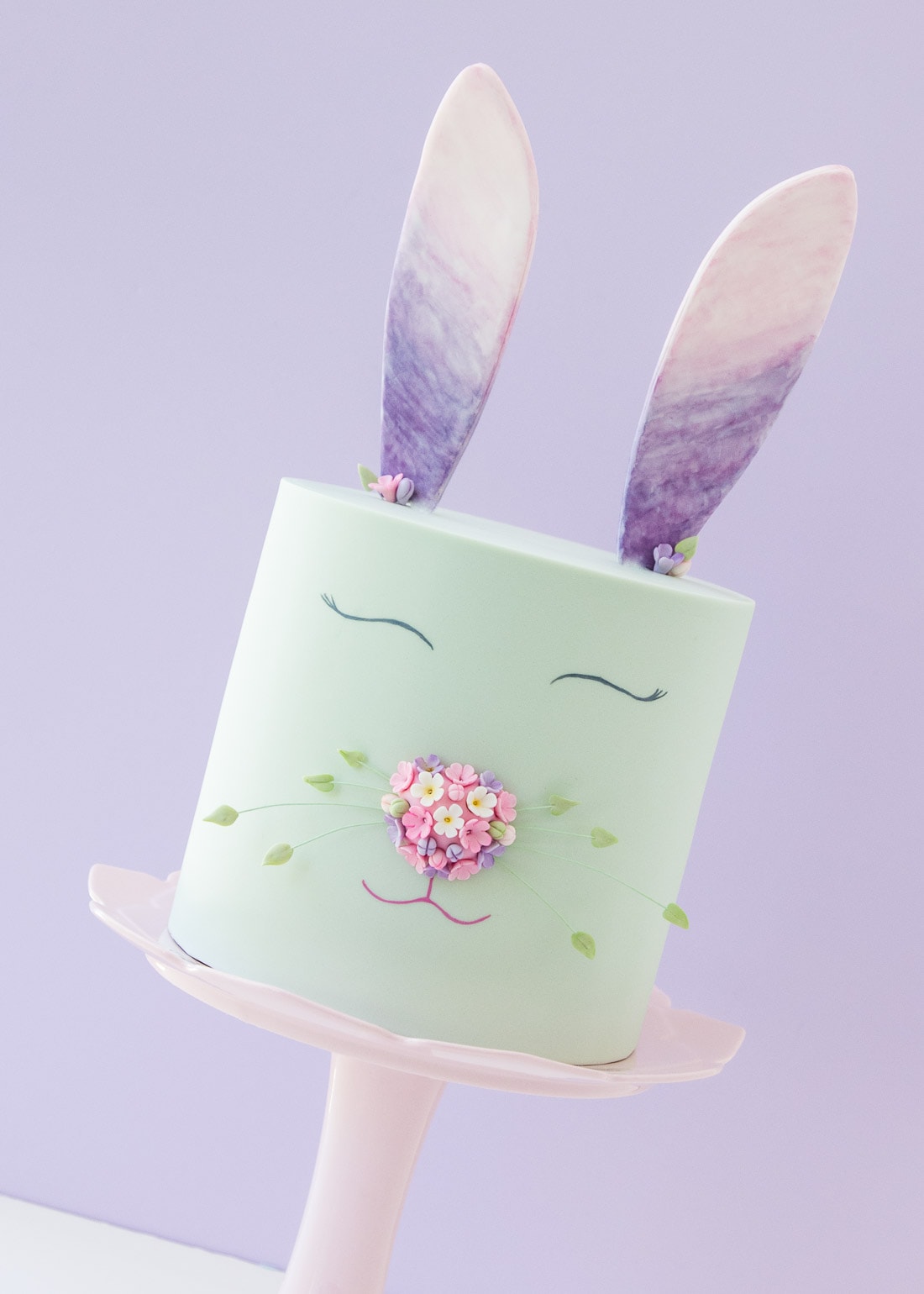 I hope you enjoyed this watercolour bunny cake tutorial!
Natalie
xx
Other Tutorials You May Like…