Caramilk Slice – Easy Fudge Slice
This post may contain affiliate links to products I recommend. I receive a small commission at no cost to you if you make a purchase using my link.
Calling all Cadbury Caramilk fans – boy do I have the recipe for you! With three different kinds of Caramilk, this easy to make, fudgy, no-bake Caramilk Slice might just be your new favourite recipe.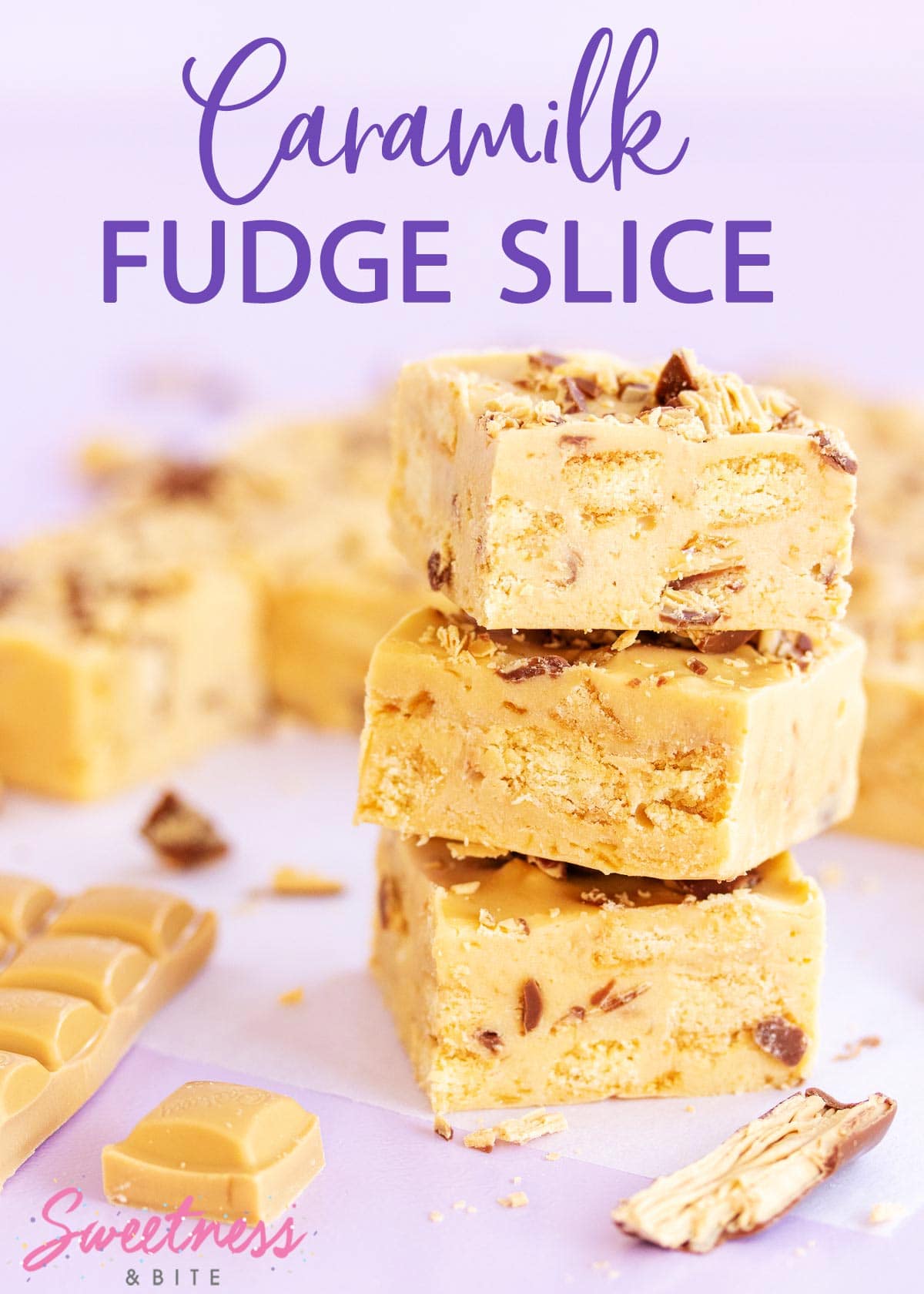 I'm a big fan of easy fudge slices or no-bake slices, and this Caramilk fudge slice is no exception. More importantly, it got the tick of approval from my best friend and her husband, the biggest Caramilk fans that I know.
I wanted to treat them to something when I headed down to visit them last month, and so this Caramilk slice was born.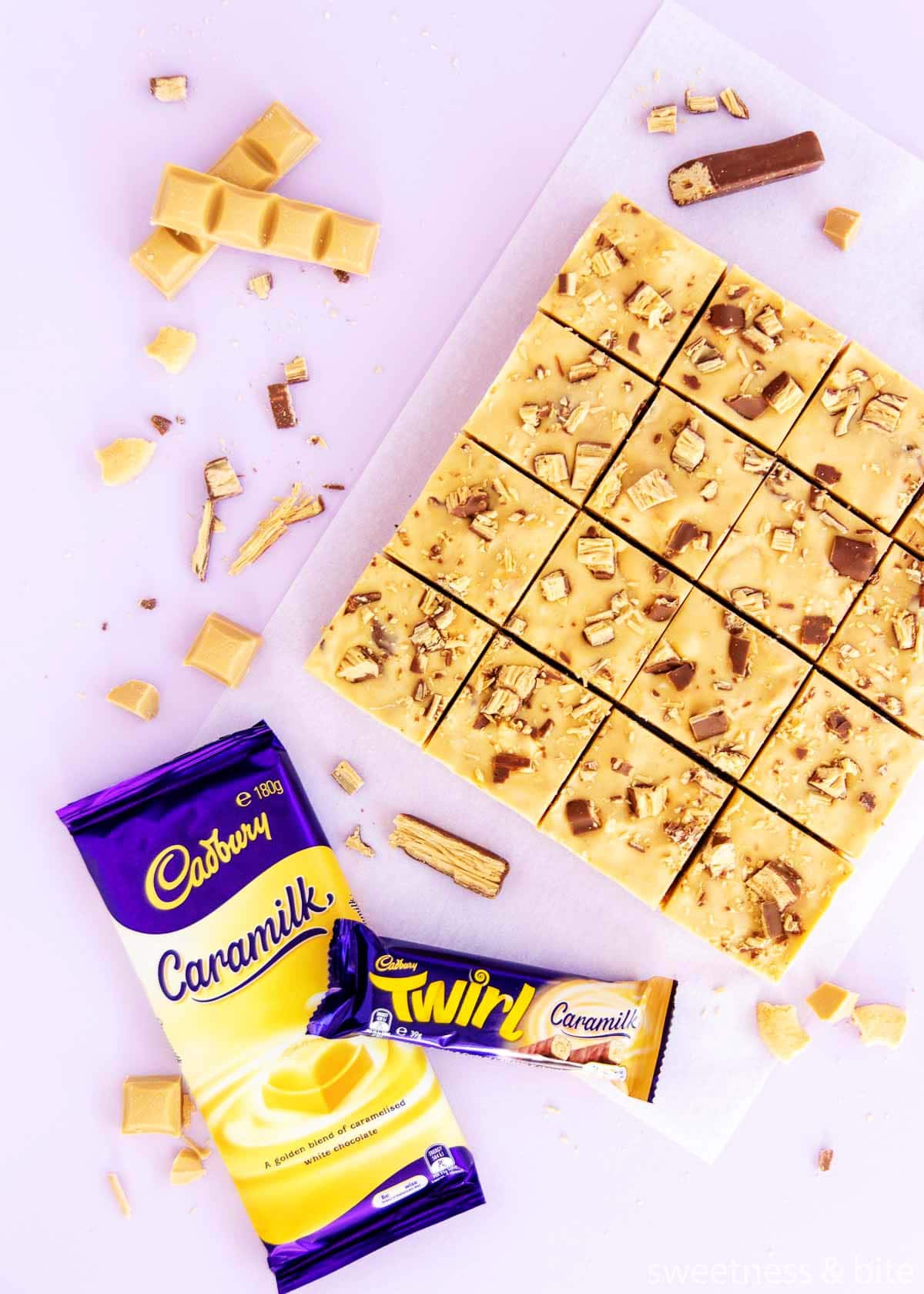 Ingredients + Alternatives
A variation on my white chocolate and raspberry fudge slice and Easter Mini Egg Fudge Slice recipes I went all out in this one, using the regular Caramilk, plus some Hokey Pokey Caramilk and some chopped up Caramilk Twirls. Because "go big or go home", am I right?
The hokey pokey Caramilk adds a nice bit of extra crunch to this fudge slice, but if you can't find any or you're not a fan, you can swap it for another block of regular Caramilk.
The same goes for the Twirls, if you can't find them you could swap them for regular Twirls, Flakes, or any other chopped up chocolate (or chocolate chips!) that you like.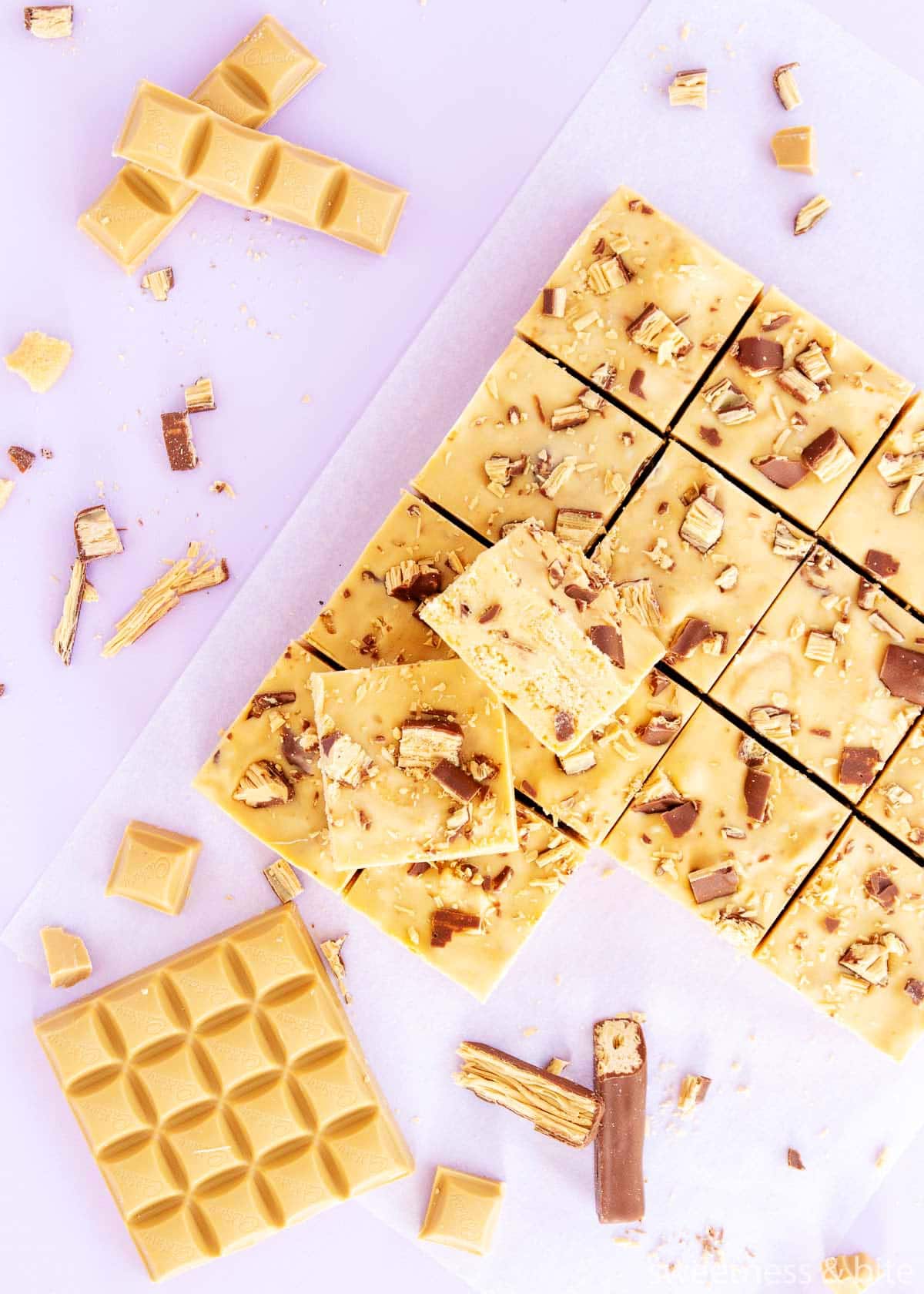 And while we're talking about alternatives, you can also use any kind of biscuits or cookies that you like in this slice.
I use gluten-free biscuits, but you can use your own favourites, in any complementary flavour that you like.
So many different flavoured biscuits would work in this. Vanilla, chocolate, chocolate chip, coconut, even gingernuts would be nice.
How to Make the Caramilk Slice
Like my other fudge slice recipes, this one is super easy to make.
Just melt together some sweetened condensed milk, butter and the Caramilk chocolate in a microwave safe bowl.
Let the mixture cool a bit, then stir in the crushed biscuits and chopped Twirls. Then spread it into a baking paper lined 8″ square cake tin, sprinkle with a few more bits of chopped chocolate and/or twirls, and leave it in the fridge to set.
Told you it was easy!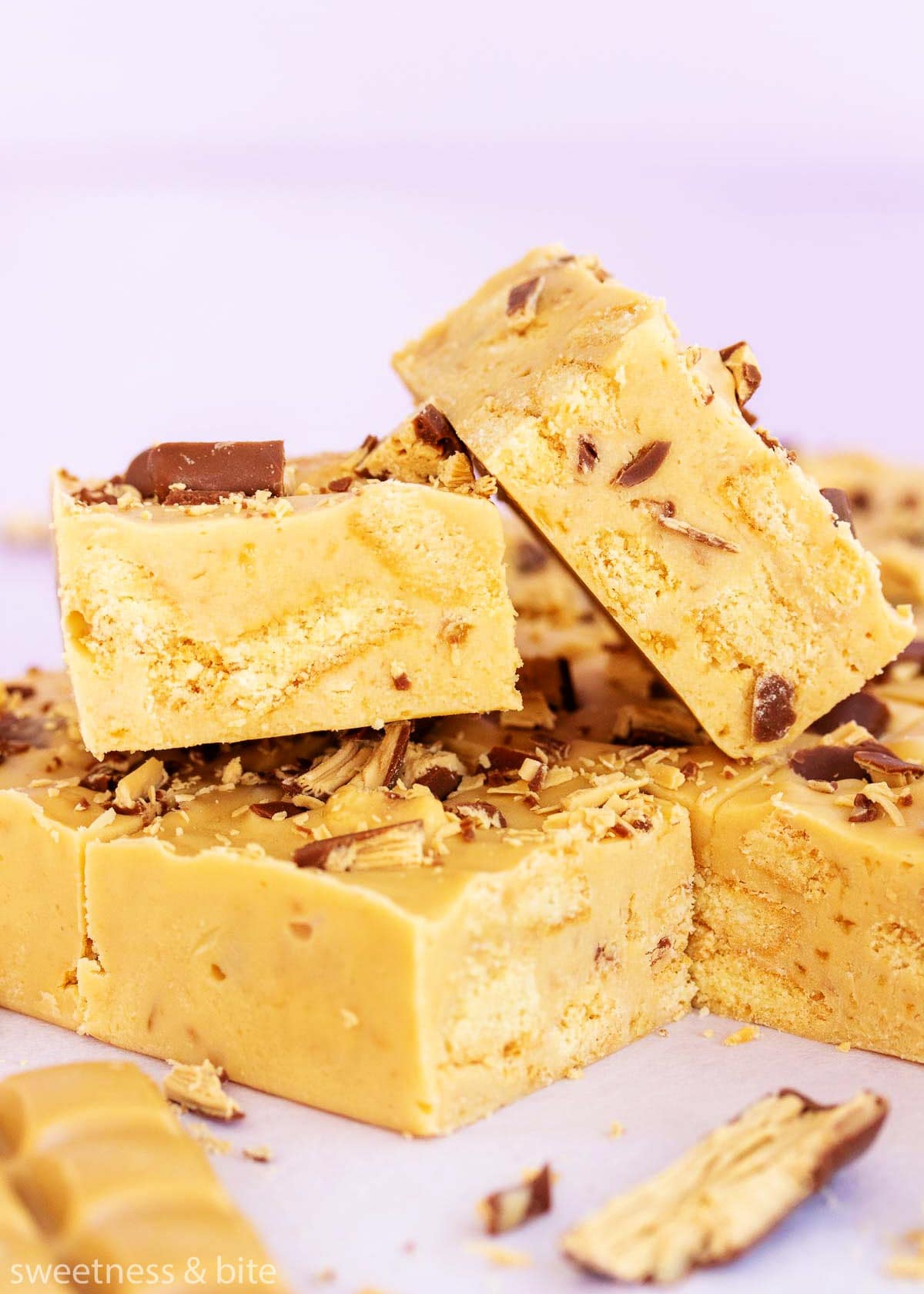 Recently I have also started giving the fudge mixture a quick beat with an electric mixer before adding in the crunchy bits. This serves two purposes – it helps cool the mix down a bit to prevent the Twirls from melting, and it also gives the fudge a bit of a lighter, smoother texture.
This step is entirely optional, but I'm definitely a fan of it. Team Beat It, all the way.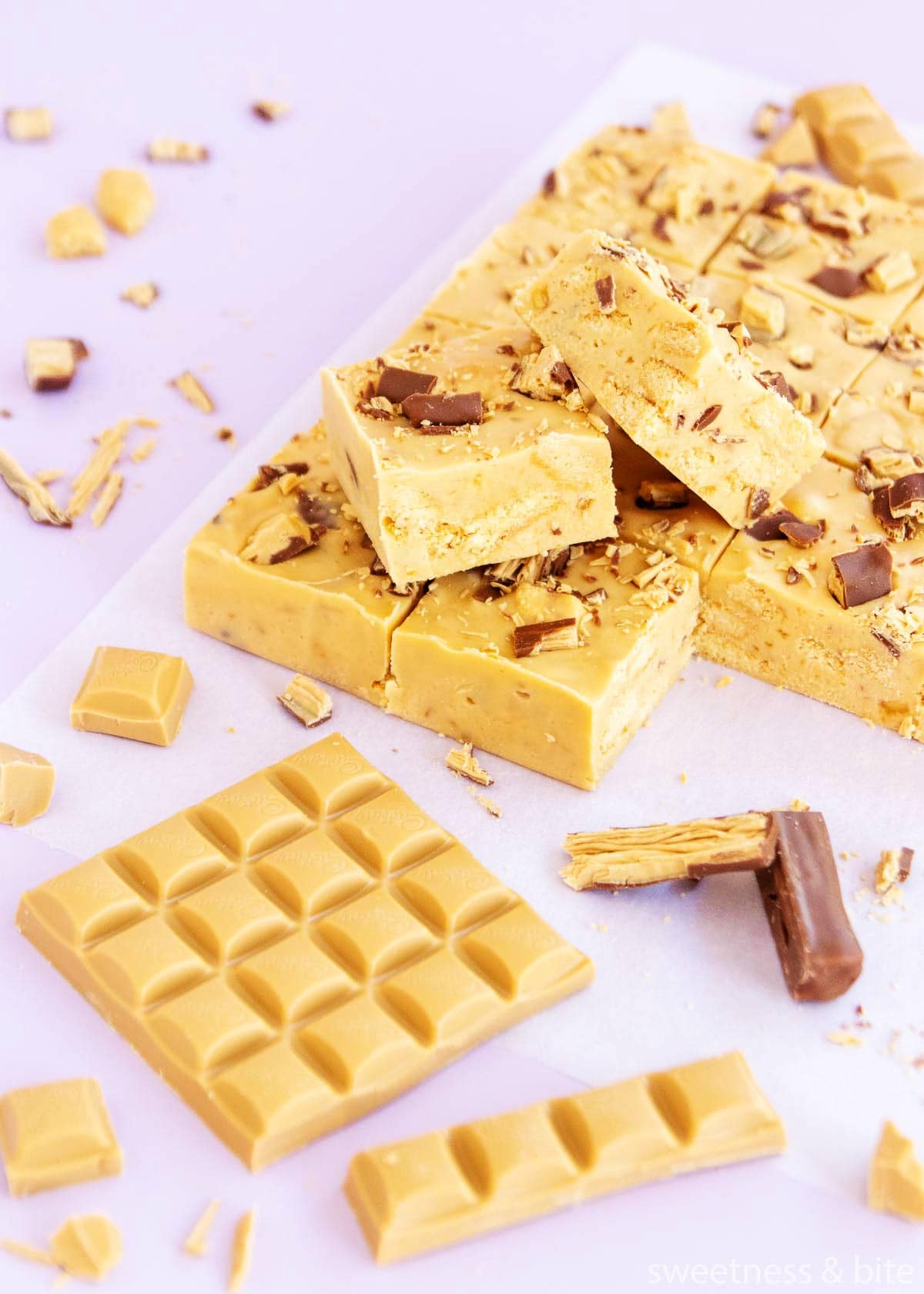 If the kids want to make this by themselves and they're not able to use a sharp knife to chop the chocolate, try popping the still-wrapped blocks of chocolate on a firm surface, and the kids can whack the blocks with a rolling pin. This will break the chocolate up into smaller pieces, that can then get melted into the condensed milk + butter mixture.
They can do the same trick (with much less force needed!) to break up the Twirls, and the biscuits.
It's like a piñata, but the prize at the end is a piece (or two, or three…) of Caramilk slice.
Don't mind if I do…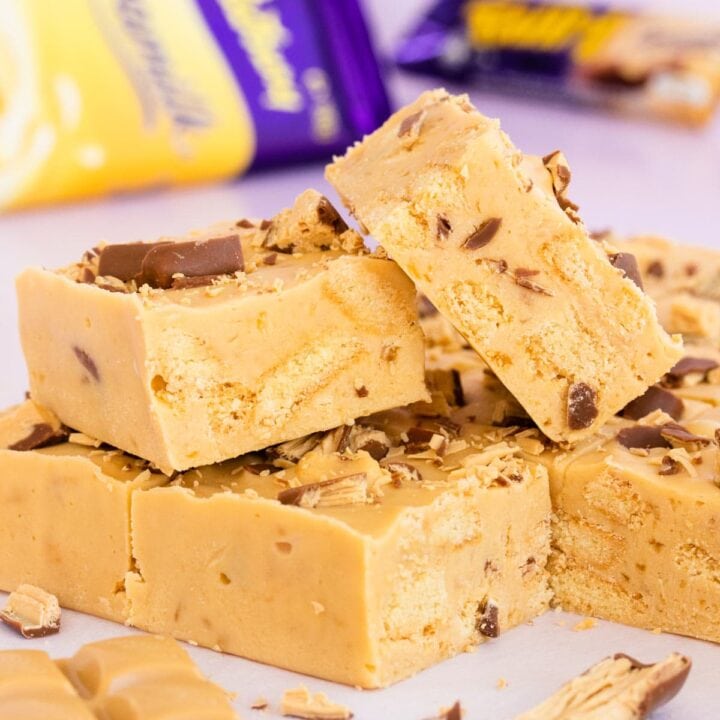 Caramilk Fudge Slice
Total Time:
3 hours
13 minutes
This Caramilk Slice is the ultimate sweet treat for any Caramilk lover! Smooth Caramilk fudge with crunchy biscuit pieces and flakes of Caramilk Twirl, you'll have trouble stopping at just one piece!
Ingredients
4 (or more!) Caramilk Twirls
395g (1 can) sweetened condensed milk
150g salted butter, cubed
180g (1 block) Caramilk, chopped
180g (1 block) Caramilk Hokey Pokey, chopped (or another block of plain Caramilk, if you prefer)
200g biscuits (see notes)
Instructions
Line the base and sides of an 8" (20cm) square cake tin with baking paper. I use two long strips, crisscrossed, letting the paper overhang on the sides so the slice can be lifted out easily.
Roughly chop the Caramilk twirls, place them in a bowl and pop them in the freezer. This helps stop them melting later when we add them to the slice mixture.
Place condensed milk and butter in a large, microwave-safe bowl or jug. Microwave on high power for 1 minute, then stir. Continue microwaving in 30-second bursts, until butter is melted. You could do this in a saucepan over low heat on the stove, if you prefer.
Stir in the chopped Caramilk and Hokey Pokey chocolate. Microwave on medium power in 30-second bursts until the chocolate is melted. Set aside to cool slightly until no longer hot to the touch.
Optional: Use an electric handheld mixer to beat the mixture for a couple of minutes. This helps to cool it, and also makes the fudge a bit lighter in texture.
While the mixture cools, lightly crush the biscuits. I just do this with my hands as the ones I use crush easily, but you can put them in a plastic bag and bash them with a rolling pin if you prefer.
Add the crushed biscuits to the mixture and stir until well mixed. Then add the chopped Twirls, leaving out a small handful to decorate the top, and stir gently to distribute them evenly.
Pour or spoon the mixture into the prepared tin. Smooth the surface, and top with the reserved Twirl pieces. I like to crumble them up a bit more with my fingers.
Refrigerate for 2-3 hours or until firm. Cut into pieces. Store in an airtight container - between layers of baking paper - in the fridge for up to a week.
Notes
You can use any of your favourite plain or flavoured biscuits for this recipe.
I like to use one block of regular Cadbury Caramilk and one block of Caramilk Hokey Pokey in this recipe, but you can use two blocks of either of these if you prefer.
If you can't find Caramilk Twirls, then regular milk choc Twirls, Flakes, or even some chocolate chips would also be great alternative additions.
I prefer to use salted butter in this recipe as the salt helps cut through the sweetness of the chocolate and condensed milk. If you only have unsalted butter then I recommend adding a pinch of salt to the butter + condensed milk mix before you microwave it.
You May Also Like…