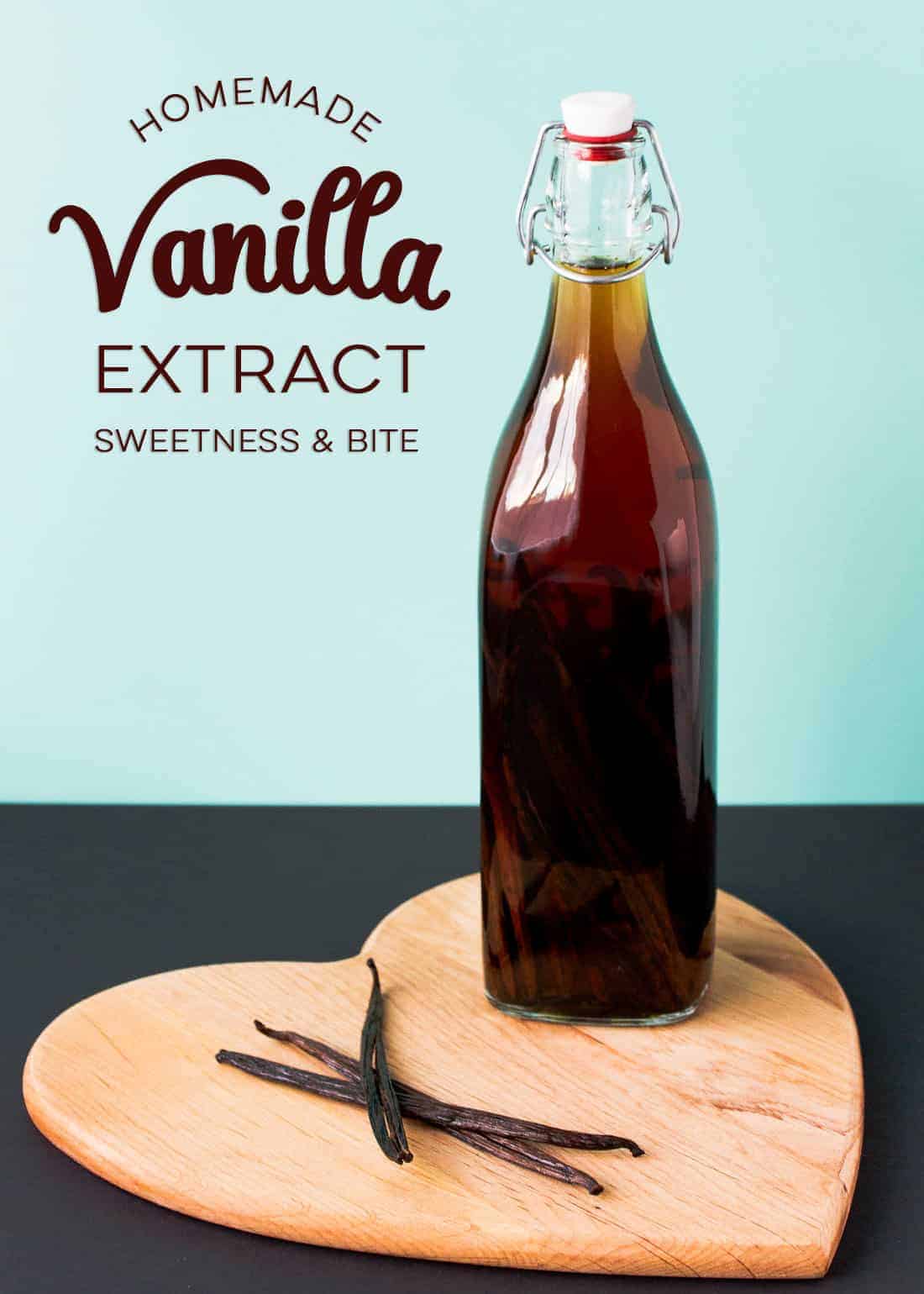 There is something about the taste of vanilla that brings together all kinds of other flavours. Like a super smooth blank canvas, it provides the perfect backdrop to any flavour masterpiece you choose to create on top.
Good quality vanilla extract can be pretty pricey, and while making your own isn't always a complete bargain, depending on where you live and the availability of the few ingredients you will need, it's one of the best ways to know that you're getting a high-quality product that will make your baking sing like Beyoncé in the shower.
(Had to specify a good singer, coz my singing in the shower is more "imitation vanilla essence" than "vanilla beans hand-picked-by-virgins under a rainbow and delivered by unicorns to a factory where leprechauns and fairies make them into extract".)
I've been making vanilla extract for several years now, after complaining to a friend that I was going through little bottles of vanilla extract like it was tap water, and she suggested I try making my own. The premise was simple, shove some vanilla beans into a bottle of vodka, shake it regularly and wait a few months for that clear vodka to get all deliciously dark and fragrant.
Once I'd started making this stuff, I couldn't stop. I experimented with other alcohols including rum, which I loved the smell of and it worked so well with the vanilla.
Dark rum has this smooth, sweet scent, owing to the fact it is made with byproducts of the sugar making industry such as molasses, which are fermented and distilled. The sweet and almost caramel like flavours are what give rum its distinctive taste. But it was a little too distinctive when used to make vanilla extract.
Anything I used this rum-based extract in, well, tasted like it had vanilla flavoured rum in it. The flavours of the rum that I love so much were overwhelming the vanilla.
So I simply started mixing the rum-vanilla extract in with my vodka-vanilla extract. The vodka of course has very little flavour of its own making it a perfect base to carry other flavours, but adding some rum to it takes this plain vanilla extract to another level, with the sweet notes of the rum rounding out the vanilla.
Look at me, sounding like some kind of wine taster. Which, coincidentally my father would like me to grow up to be one day. His party trick is to hand me a glass of wine and get me to pick out the different flavours, with my (sometimes irritatingly) sensitive palate. But unfortunately for those plans, I don't like to spit in public. And I'm an incredibly cheap drunk. The blushing, giggles and inappropriate jokes begin before I've even finished a glass.
Just trust me, flavour-wise, using a bit of rum in your vanilla extract is a very, very good thing to do.
But speaking of cheap drunks, to make this extract more cost effective, buy vodka when it is on special, or in my case I ask for a bottle of vodka any time someone I know (or one of my Dad's workmates) is coming back from overseas and offers to bring back some duty-free.
For a continuous supply of homemade vanilla extract, I would suggest making a new bottle every six months or so, so that by the time you finish one bottle you have another that is dark, delicious and ready to use.
And considering how easy it is to make, making it regularly isn't too much of a hardship.
All you need is:
A bottle that holds roughly 1 litre (you don't have to get a pretty one, you can recycle an old vodka bottle, that's what I usually do, I used this slightly more attractive bottle purely for aesthetic reasons.)
Vodka
Rum
Vanilla Beans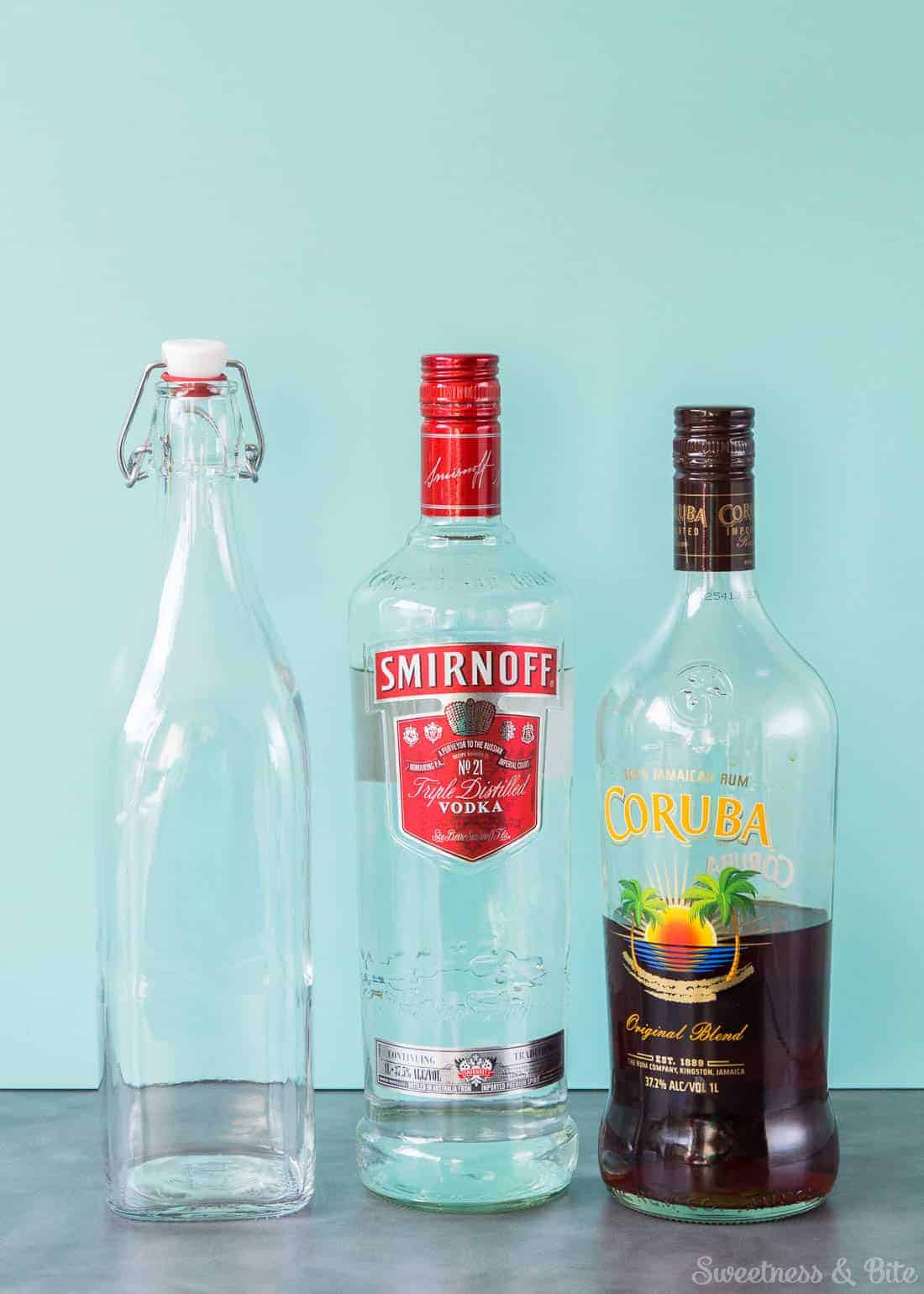 Use the best quality vanilla beans that you can find and afford. Some of the ones I used here were recycled beans – I had used them for a previous bottle of extract. I find I can reuse the beans at least once as long as I use fresh beans as well. Don't forget that once your beans have done their dash as extract beans, you can dry them out and pop them in some sugar to make vanilla sugar.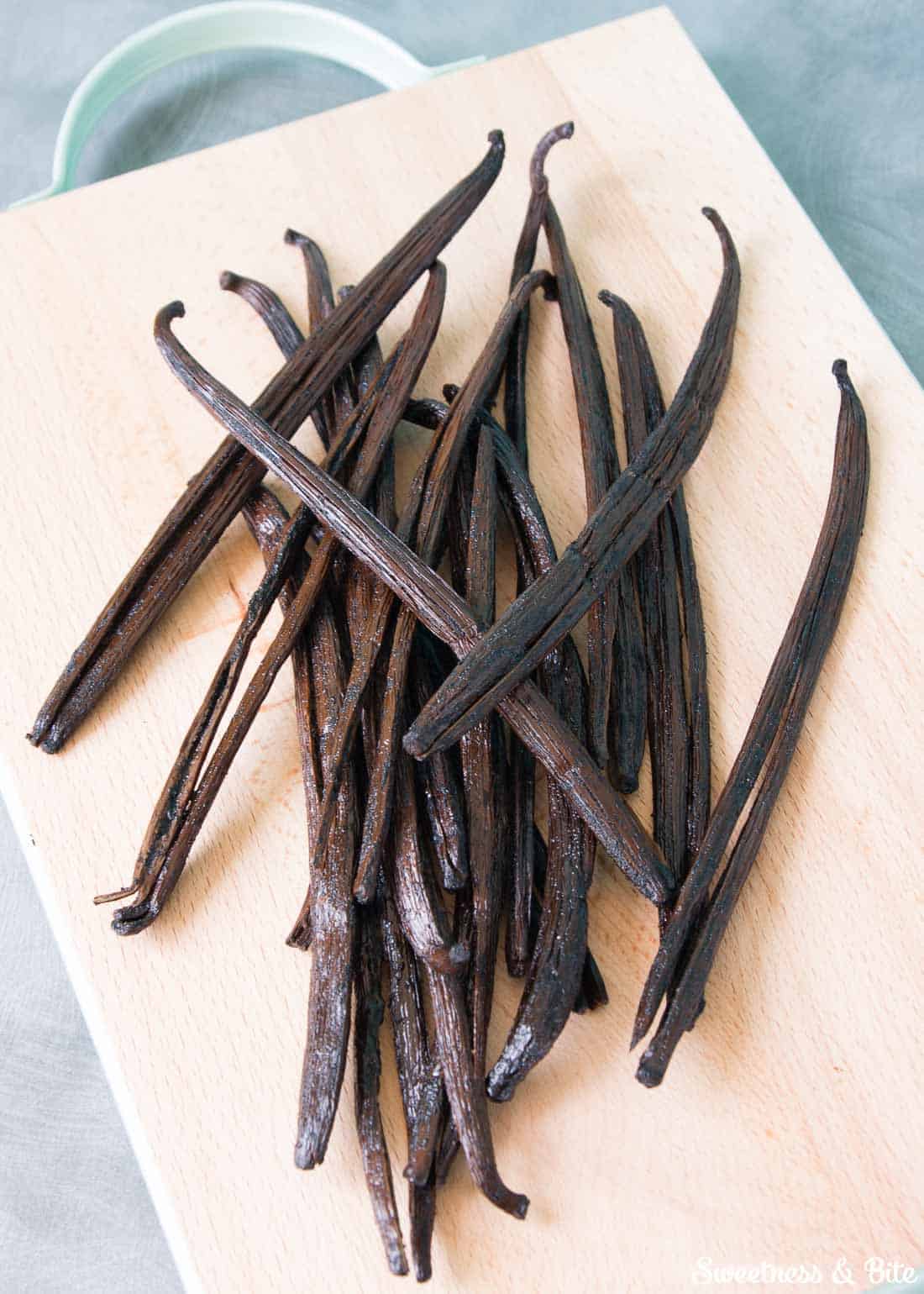 Split the beans down the middle, leaving one end attached. Now's the time when you have a big decision to make. How seedy do you want your extract? If you love to have vanilla seed flecks in your baking, then scrape the seeds from the bean with the back of a knife and pop the seeds into the bottle. If, like me, you prefer to choose when you want seeds (and achieve that by adding prepared vanilla paste) then don't worry about scraping the beans, just split them. Some seeds will, of course, escape their pods, but this is goooood. Seeds are flavour. But they will settle to the bottom of the bottle and you can decant your extract into smaller bottles, leaving most of the seeds behind. You could make extract without splitting the beans and therefore not have seeds, but it will take much longer for the flavours to develop. If you really, really don't want any seeds, you're much better off having the seeds in it, and then straining the extract to remove the seeds.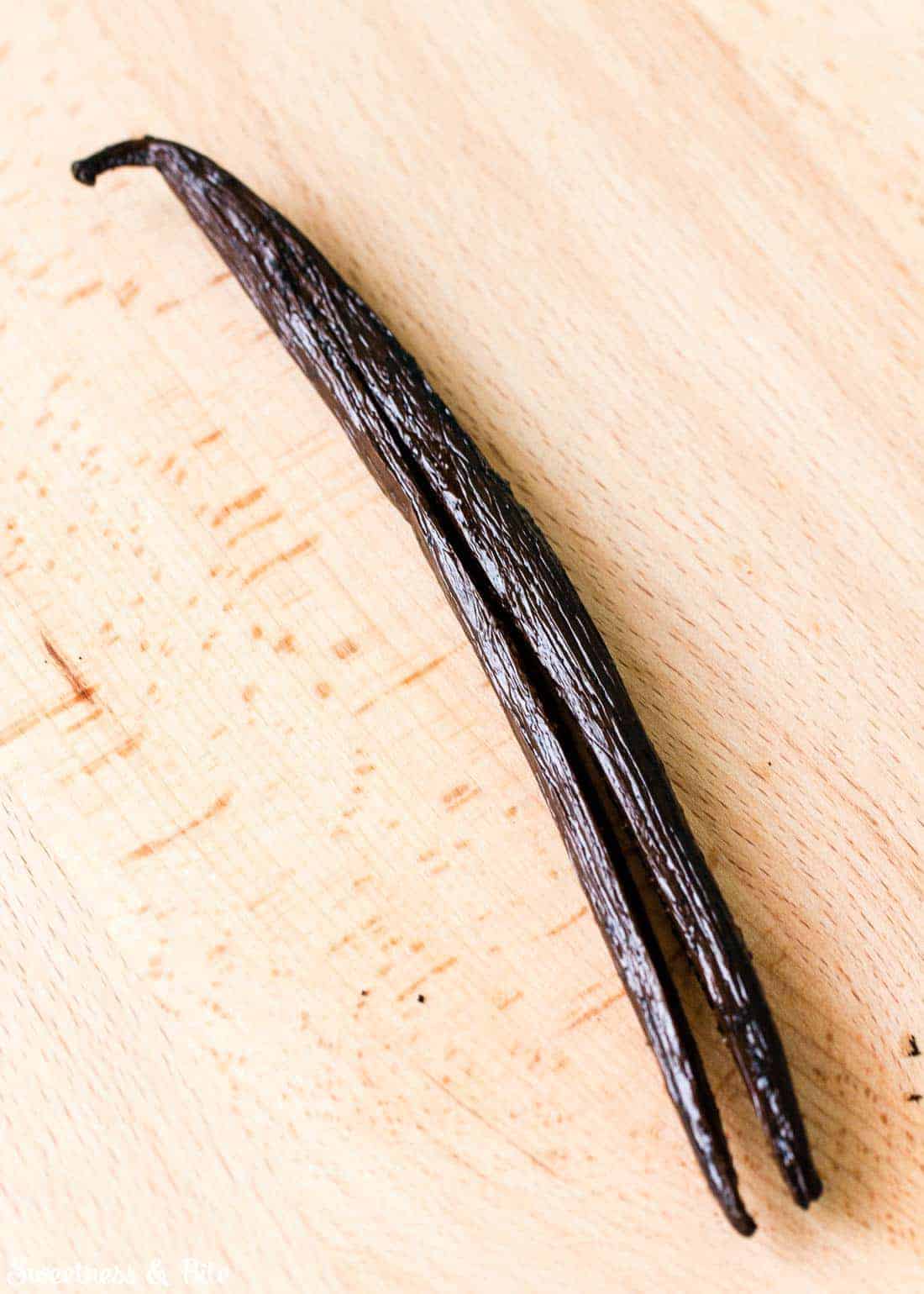 Look at that lovely plump bean. Plump is good.
Fill your bottle up about 1/4 of the way with rum. Rough measurement is fine, you don't really need to fuss about with cups and whatnot.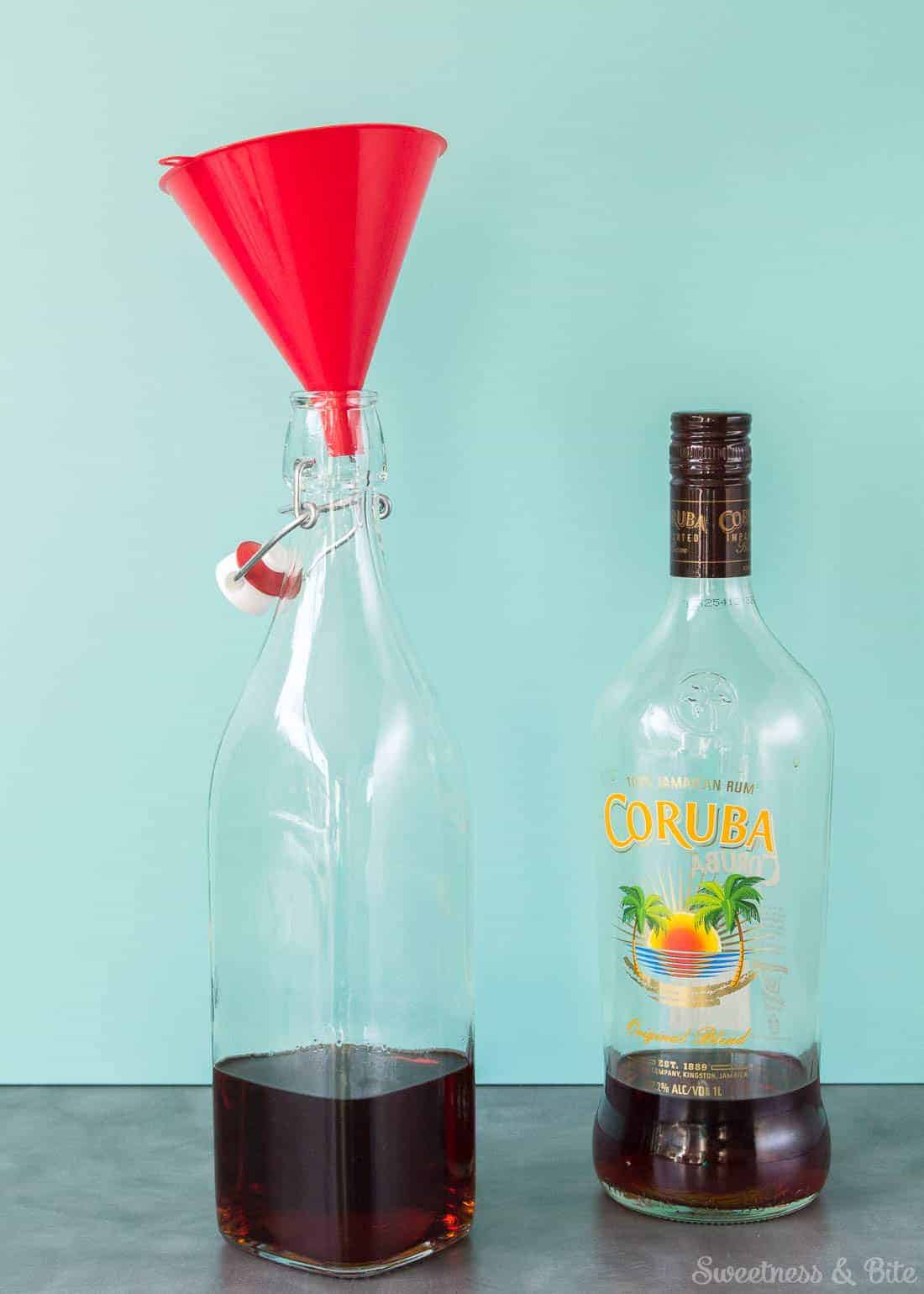 Pop your vanilla beans into the bottle, split end down. This will make it easier to remove the beans from the bottle when you're done with them.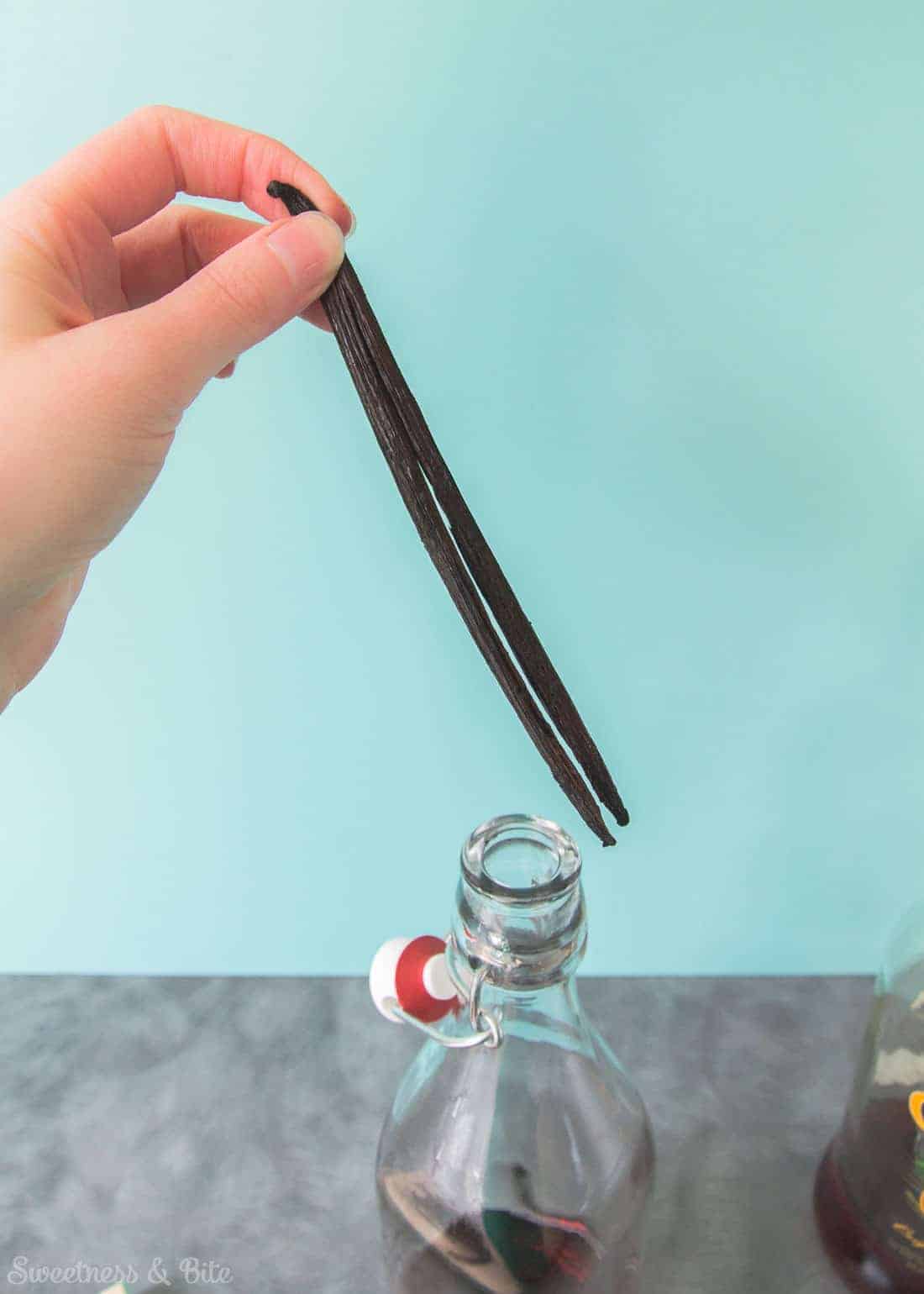 Shove 'em alll in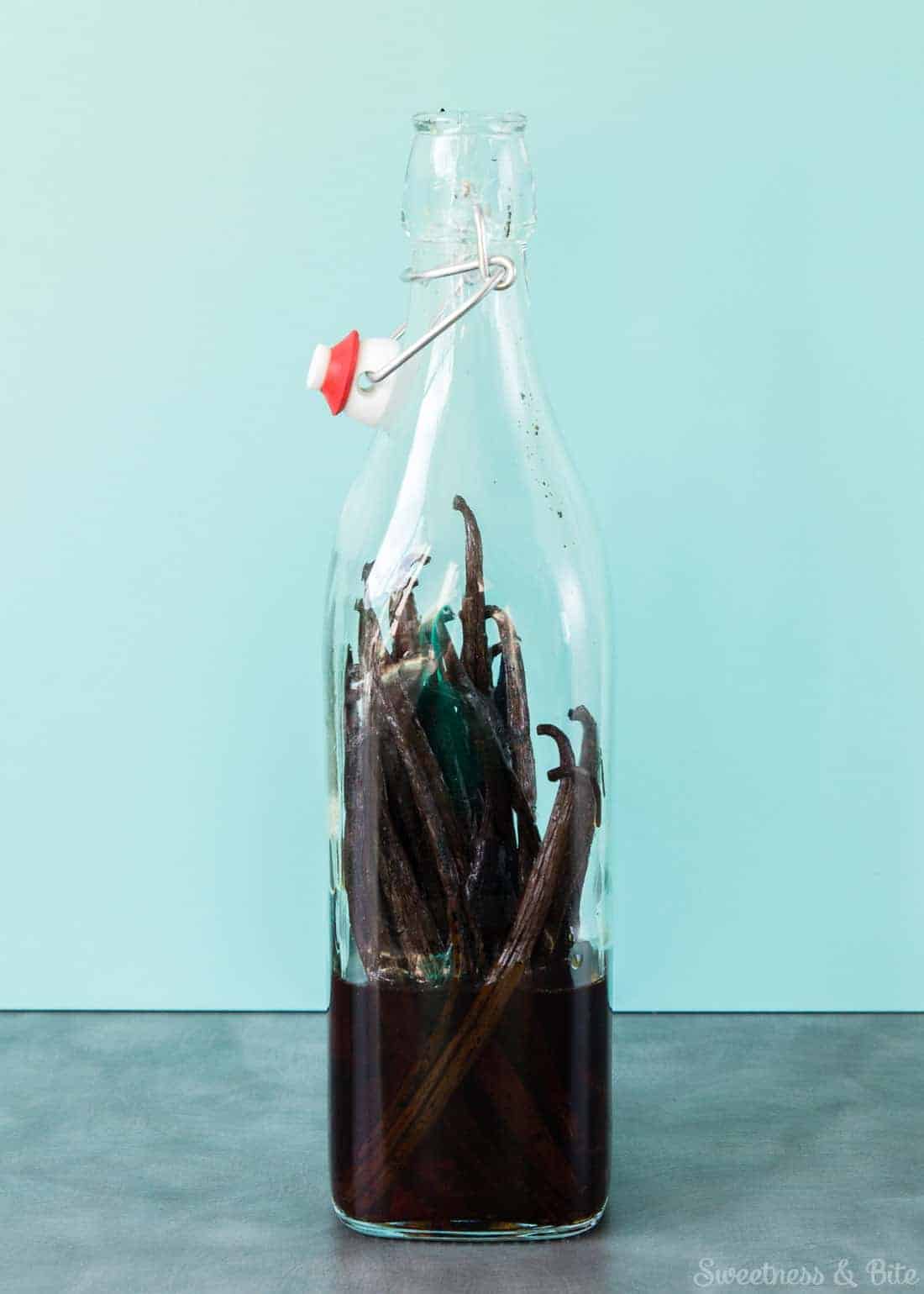 Then top up the bottle with vodka.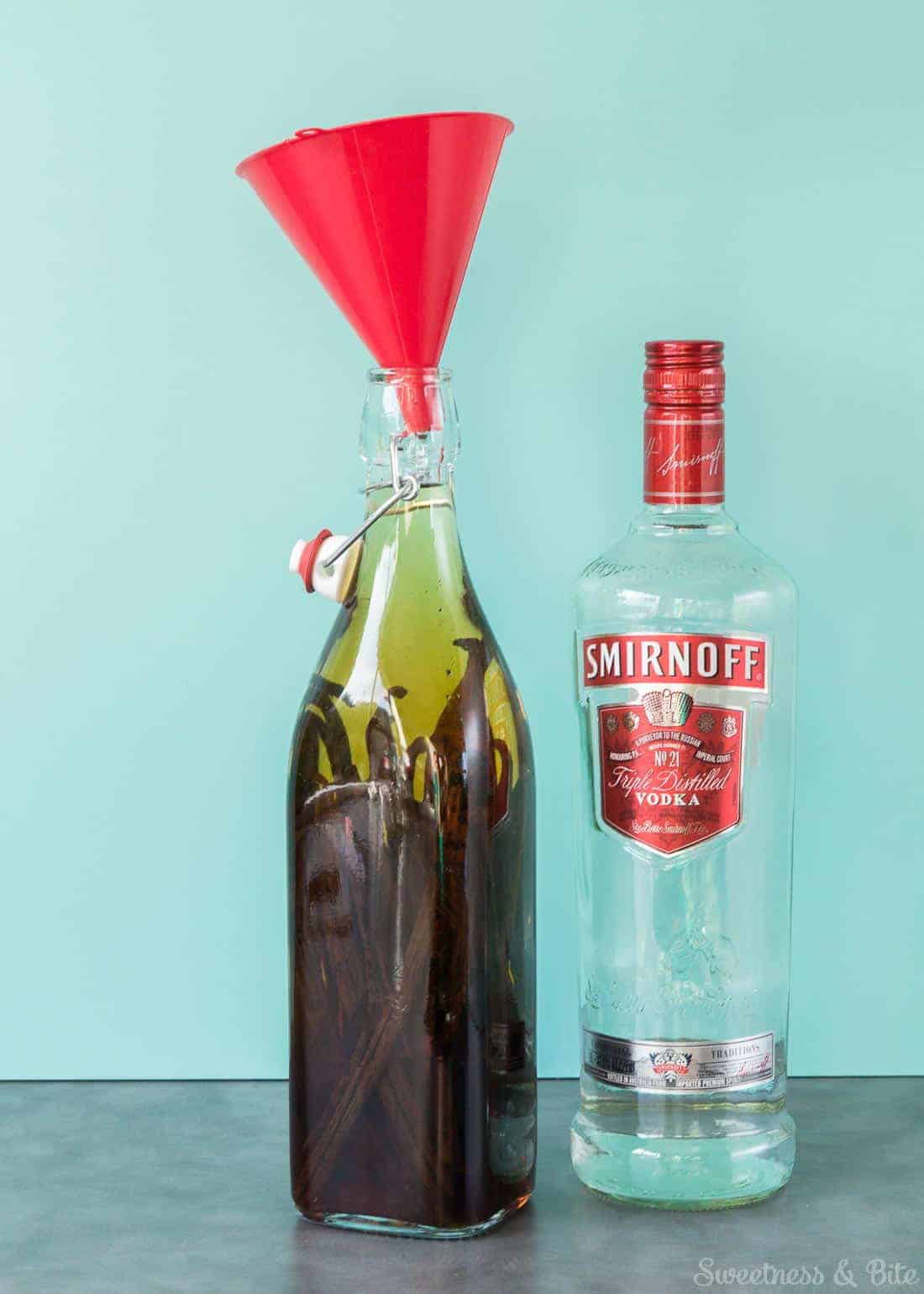 Then all that's left to do is clean off any seeds from around the top, and put the top on the bottle.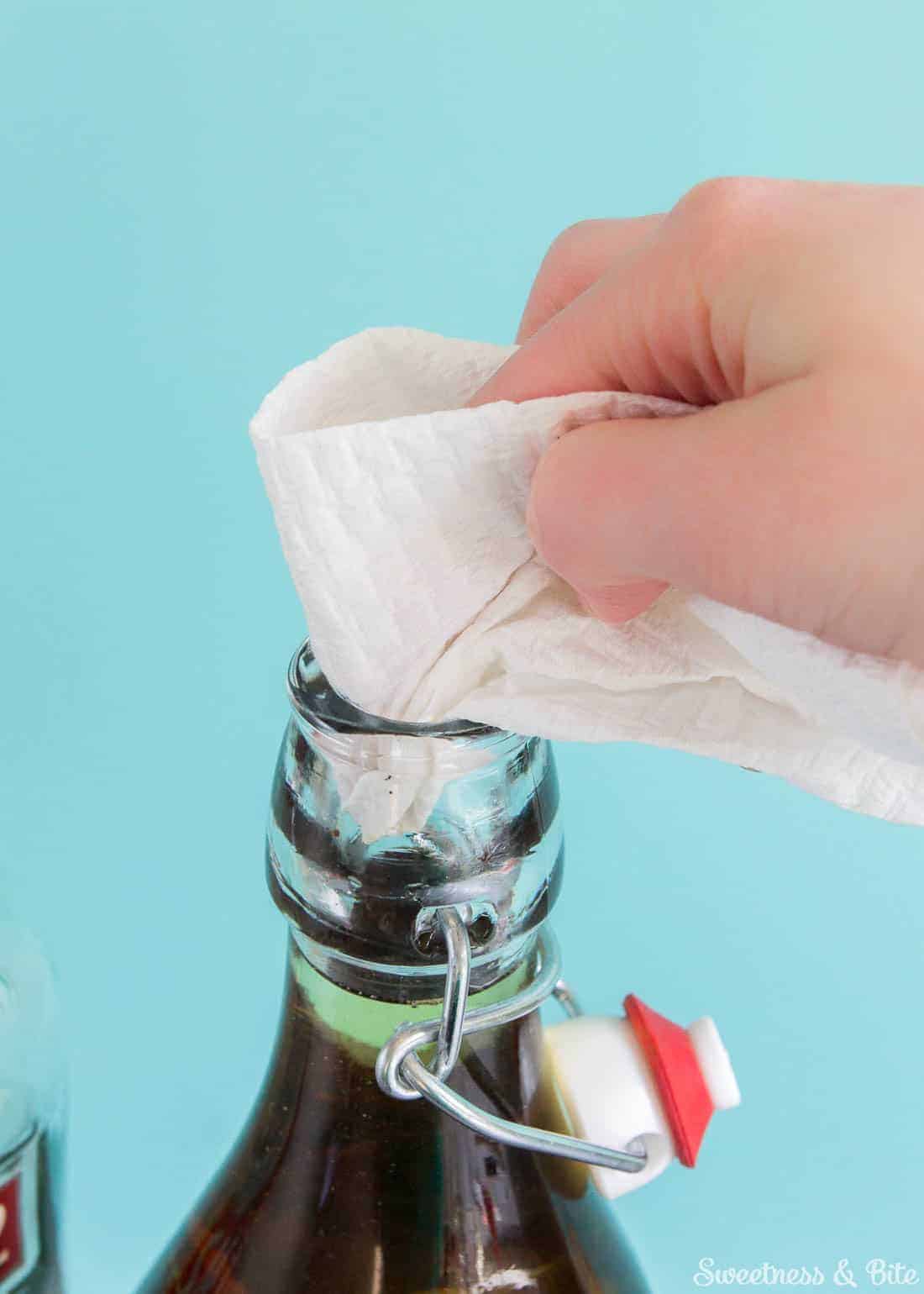 Give it a good shake, then pop it in a cool dark place. Shake it as often as you remember to. Once a week is ideal, but if you forget don't worry, it will be fine.
Now is the hard part, waiting for it to be ready. Some extract recipes say you can use it in as little as 6 weeks. I personally find that the flavour is nowhere near developed enough at this stage, the alcohol smell is still pretty overwhelming, with the vanilla smell trailing way behind. I would say it needs to sit for a couple of months, minimum. Give it a sniff after this time and if the vanilla scent is the one that hits you first then it's ready to use. If not, wait a bit longer.
If you want to give it as a gift before it has had sufficient sitting time (hello last-minute gifts), then simply pop a note on the label to say when it will be ready.
If you're interested to see the colour changes that a vodka-only extract goes through, then check out this (somewhat badly captured) photo. The first bottle is clearly (bad pun) a bottle of plain vodka. The second is just after adding the beans, and the third is the extract after six-ish months.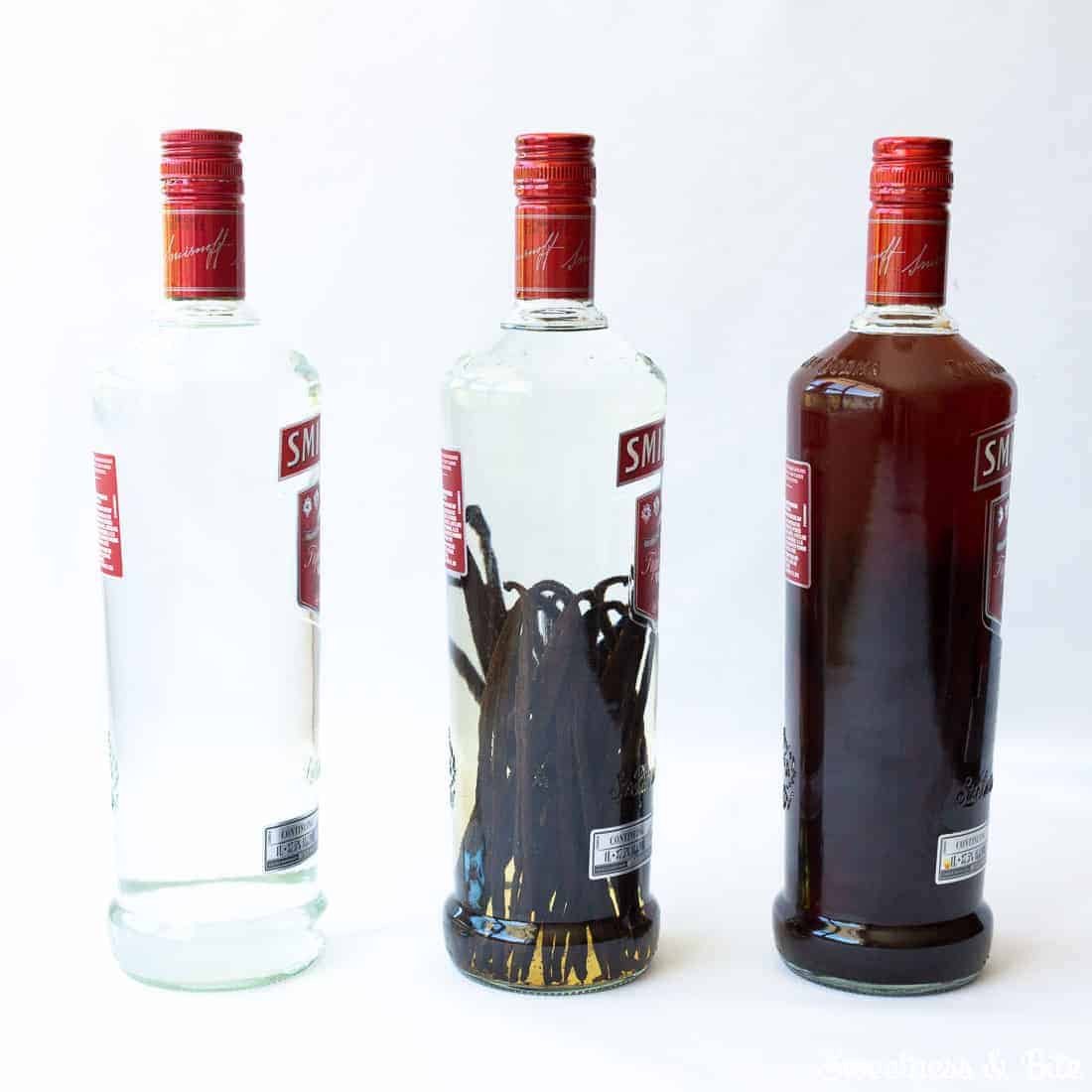 This probably goes without saying, but if you enjoy making cocktails, you will find just as many uses for this vanilla vodka as you would when baking with it. It's also pretty good just splashed into a glass of Coke with a handful of ice, as a grown-up vanilla Coke.
Don't ask me how I know this. I won't tell you.
Happy baking. Or 'baking'.
~Natalie
xx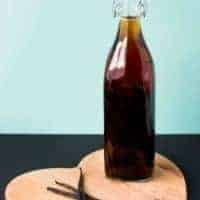 Homemade Vanilla Extract
Easy to make, this homemade vanilla extract has an extra twist for a full, rounded and rich vanilla flavour.
Ingredients
250ml dark rum
750ml vodka (approx. you may not quite need all of it.)
20 vanilla beans (or more, if you like)
Instructions
Pour the rum into a 1 litre bottle.
Split the vanilla beans down the middle lengthwise, leaving one end attached. You can scrape out the seeds and add them to the bottle if you like. Poke the beans split end down into the bottle.
Fill the bottle to the top with vodka. Wipe away any vanilla seeds from the top of the bottle, and put on the lid or stopper. Shake well.
Store in a cool dark place for at least 3 months (6 is better, if you can wait.) Shake the bottle as often as you remember to. It's a good idea to label your bottle with the date you made it, so you know when to start checking it. If you're experimenting with different alcohols, different vanilla beans and different numbers of beans, then make a note of that too. Once the extract is ready, I like to decant it into a smaller bottle to keep in the kitchen, and leave the bigger bottle, with the beans still inside to continue maturing in flavour. When putting the extract into a smaller bottle, you can strain out the seeds if you want to.
Notes
This recipe makes 1 litre of vanilla extract. You can scale this up or down to whatever yield you'd like, just use 1 part rum to 3 parts vodka, and use at least 5 vanilla beans for every 250ml of the combined alcohols.
If you want pure, unadulterated vanilla extract, just replace the rum with more vodka. Although in this case, I definitely suggest being an adulterer.
You May Also Like:
Vanilla Bean Kahlua Cupcakes
3 Ingredient White Chocolate Mousse