Almond, Coconut and Raspberry Muesli
This post may contain affiliate links to products I recommend. I receive a small commission at no cost to you if you make a purchase using my link.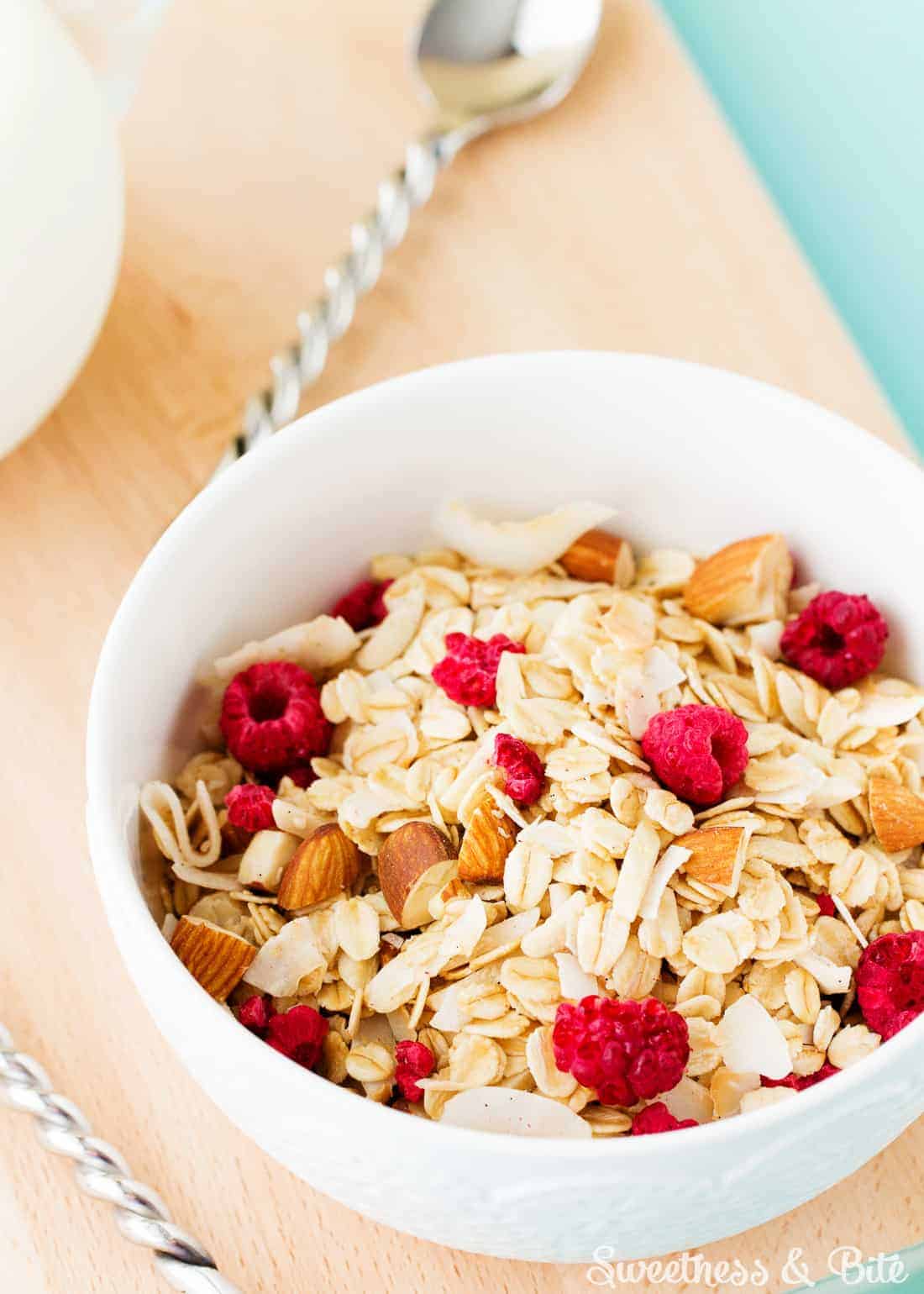 This isn't the usual kind of recipe that I share on this blog, but I've been making this cereal for my breakfast lately, and it's just SO GOOD that I have to share it with you. Besides it's my blog and I can post what I want to.
(If you didn't sing that in your head to the tune of "It's My Party And I'll Cry If I Want To", then I don't even know who you are right now.)
Anyway, about this cereal. I guess you would either call it 'muesli' if you live in New Zealand (maybe Australia too, perhaps?) and possibly 'granola' if you live in the USA, or anywhere that says whatever they say in America. But whatever you call it, it is just plain good. Chunky oats, with almonds, coconut flakes and freeze-dried raspberries, it's happiness in a bowl.
Well, as close to happiness as I can get in the morning. I'm a don't-even-talk-to-me-til-I've-had-a-cup-of-tea-and-even-then-don't-expect-perky kind of morning person.
My reason for making this cereal is that I've been trying to cut down on the amount of sugar I consume every day. Because, you may have noticed this about me from my blog – I quite like sugar.
Actually if you've spent any time at all reading my rambles, you definitely would have noticed. I have a sweet tooth to a rather extreme level. Pretty sure if you squeezed me hard enough, pure sugar syrup would drip out.
Somedays, everything I eat up until dinner time is sweet. Dinner is often the only savoury thing I eat all day. I go through breakfast phases, sometime cereal, sometimes toast (with jam, or nutella. And not a little bit of nutella – half a jar on one piece of toast). And a cup of tea. With sugar. I've managed to cut down to half a teaspoon of sugar in my tea, but still.
Then I'm terrible when it comes to lunch. Since I don't usually get up until 10-ish, I have breakfast late and then I'm not usually in the mood to eat anything else until 2-3pm. And when I do, it tends to be various snack-y things that involve sugar. Something like a nut bar (why yes I am one, but I'm talking about the bars that are made form nuts stuck together with sugary deliciousness) or *cough* a biscuit *cough* or even just chocolate. Because chocolate is a great lunch food, not.
The problem is, I know it's not good for me. I know that I shouldn't eat so much sugar. So I'm trying to make a conscious decision to eat less. I can't cut it out, because pain and misery, but I CAN cut it down. Really, I can. (It's me that I'm trying to convince here, not you).
Breakfast seemed like a good place to start. I don't eat things like eggs (I'm convinced eggs are only for baking with) which meant it was still going to need to be a sweet based food. But of course most cereals are full of refined sugar, so I decided to make my own.
I started with things I love on their own, oats, almond and coconut. I chose maple syrup to very lightly sweeten it all (I am talking about PURE maple syrup here, not "maple flavoured" sugar syrup) and combined with a bit of vanilla paste, it smells ridiculously amazing as it all toasts in the oven.
Now, if you're the sugar police, then please, don't even start – I know maple syrup is still a sugar. But it is far less processed than regular sugar, and doesn't have any added nasties. You could also use honey if you prefer, and while the amount of maple syrup I used is just enough to make the meusli lightly sweet, you can cut it down further if you'd like. Or add more if you like. This is a judgement free zone.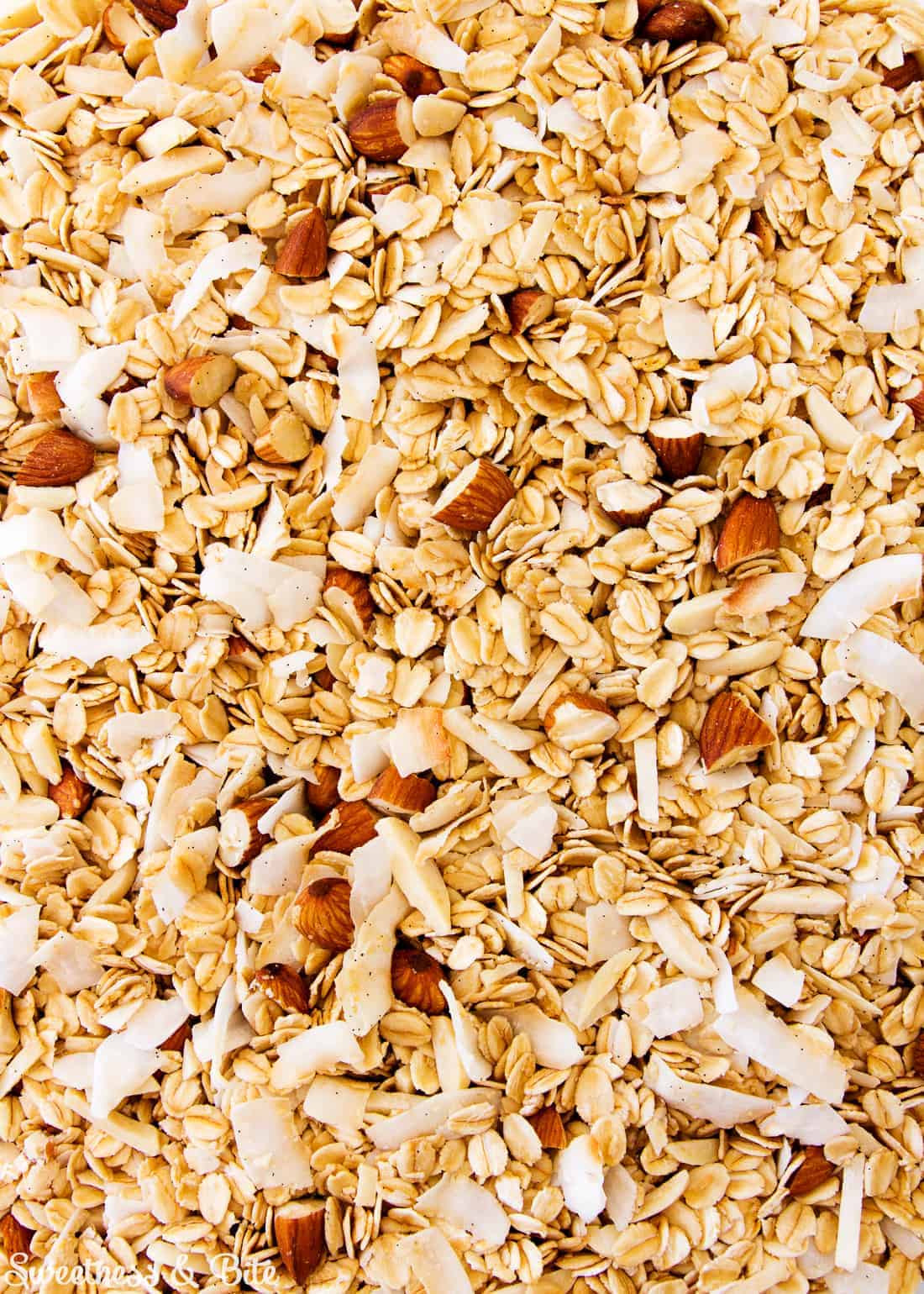 Once the oat/almond/coconut mixture is toasted and cooled (did I mention how good this stuff smells when it's toasting? I think I did. But I shall say it again, this is the smell of happiness) I threw in some freeze dried raspberries for a little tartness and, well, prettiness.
Because while most people want to look pretty in the morning, most days I'll settle for having pretty cereal.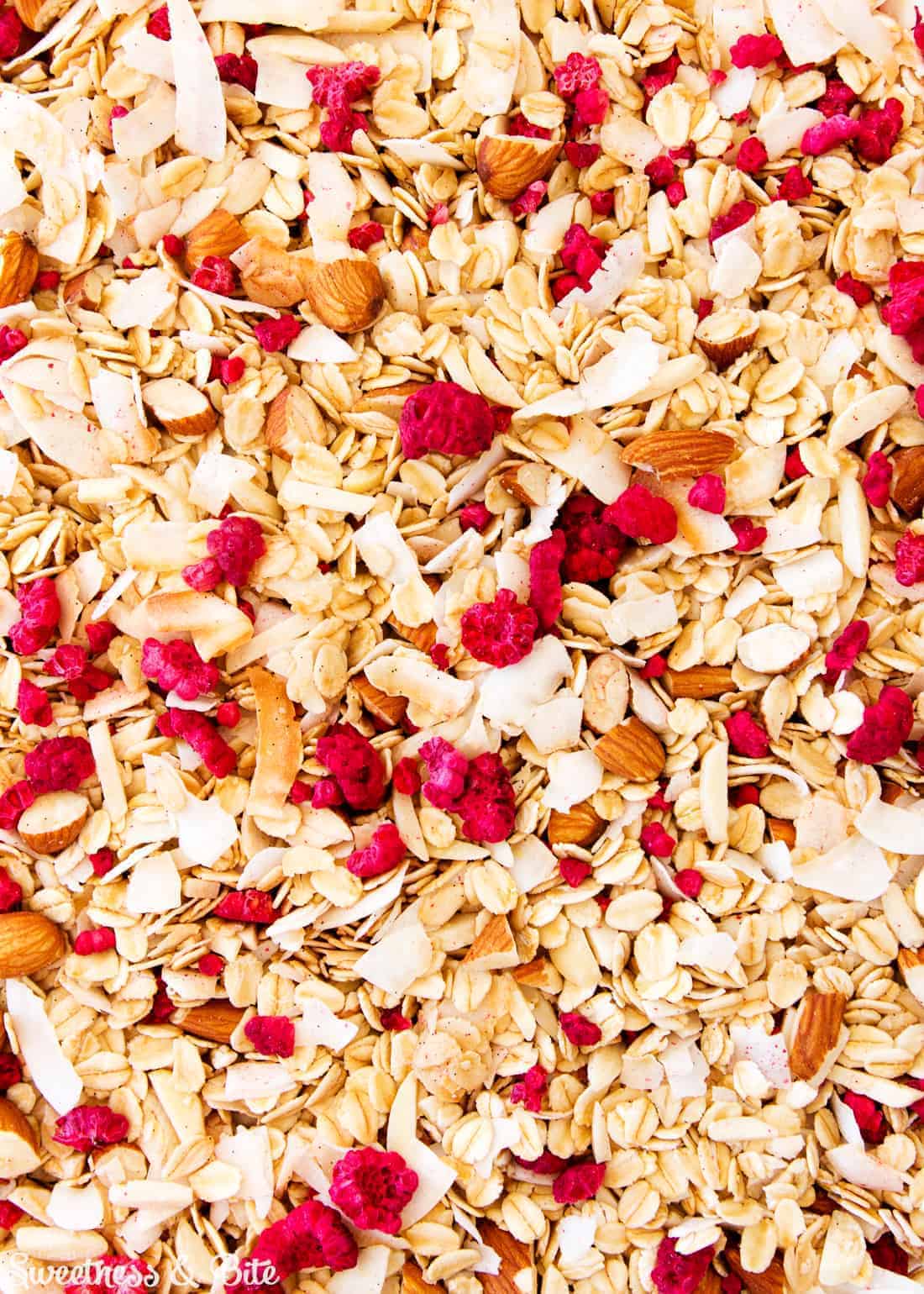 This recipe is also incredibly easily adaptable. Don't have both whole almonds and slivered almonds? Just use what you've got. Want more nuts? Add more! Want more coconut? Coconut it to your heart's content! Have a thing for *insert nut or seed name here*? Chuck some in! Prefer honey to maple syrup? Prefer raisins or dates or currants or cranberries or – well, you get the picture. I like to serve it with coconut milk, but of course you could use any milk, or have it with yoghurt instead.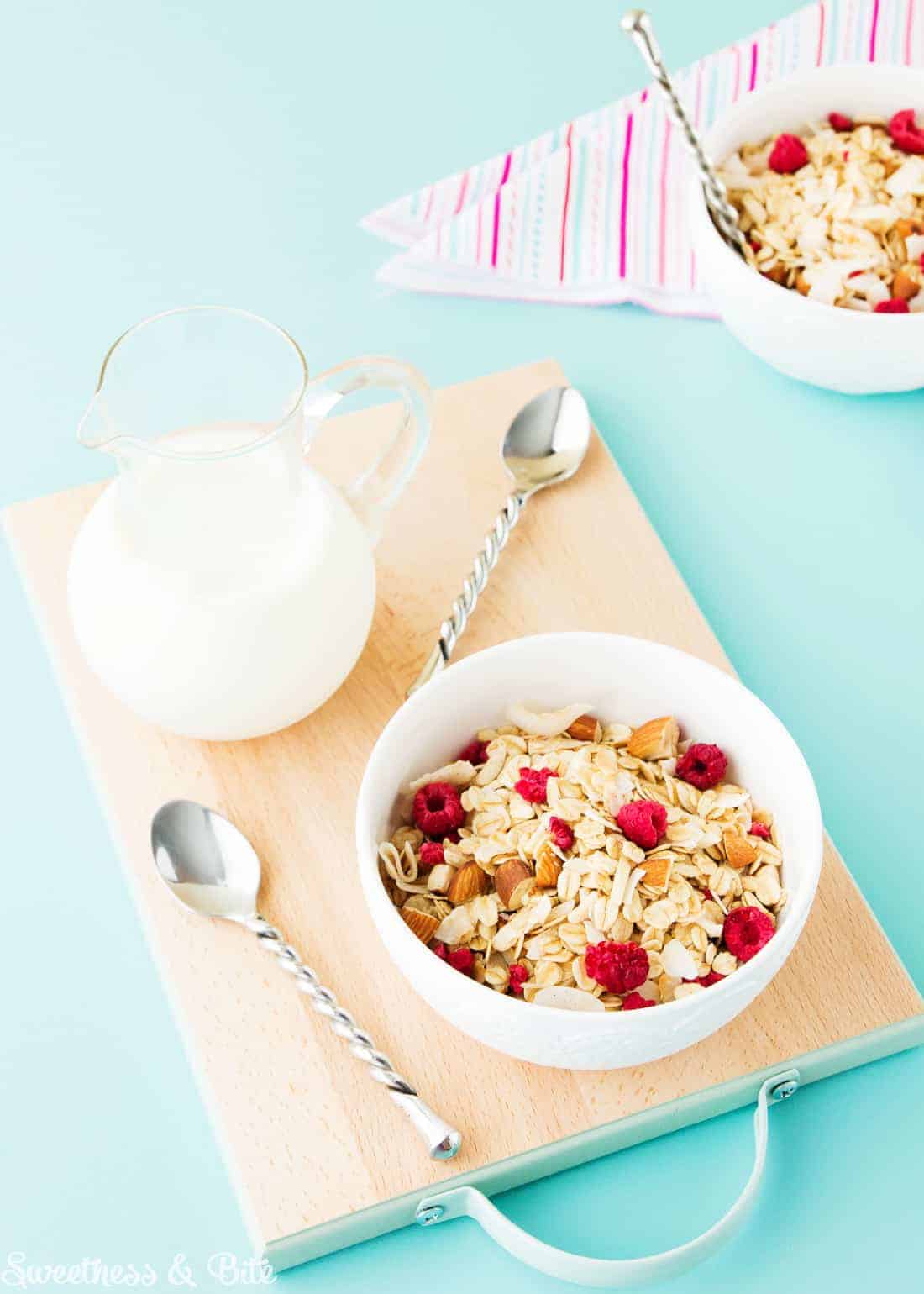 You're about to see something you don't see very often on this blog. Cup measurements. I've mentioned it many times before that in baking I'm pretty strict about using weight measurements for accuracy, but here I'm more than happy to use cup measurements, because a few extra nuts ain't gonna stop your cereal from rising. Because it doesn't need to rise. It's cereal.
Really, really, really good cereal.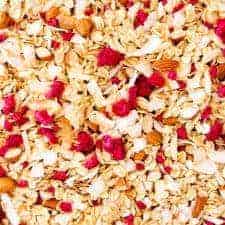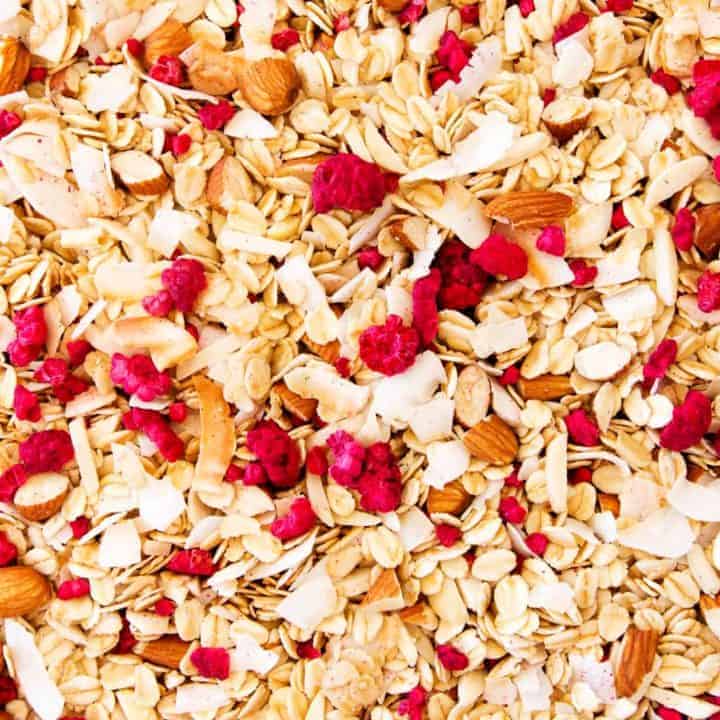 Almond, Coconut and Raspberry Muesli
Almond, coconut and raspberry muesli, with wholegrain oats, almonds and coconut - lightly sweetened with maple syrup and bursts of freeze-dried raspberries.
Print Recipe
Pin Recipe
Save
Saved!
Makes:
20
half cup servings
Ingredients
5

cups

old fashioned rolled oats

1

cup

whole almonds

1

cup

slivered almonds

2 ½

cups

coconut flakes

unsweetened

⅓

cup

coconut oil

melted

⅓

cup

pure maple syrup

1

teaspoon

vanilla paste

or seeds scraped from 1 vanilla bean

¼

teaspoon

salt

¾

cup

freeze dried whole raspberries
Instructions
Heat oven to 160°C. Line two rimmed baking trays with baking paper.

Roughly chop whole almonds. Add to a large bowl with oats, slivered almonds and coconut chips.

In a small jug, whisk together the coconut oil and maple syrup (warm the maple syrup first if it has been in the fridge). Stir in the vanilla paste and salt. Stir into the oat mixture and mix well.

Spread onto the baking trays in an even(ish) layer. Bake for 10-15 minutes, stirring at least twice and keeping a close eye on it. The actual baking time will vary by the size of your baking trays and how thickly the muesli layer is on the tray, but basically you're aiming to dry it out as much as possible, and have the oats, nuts and coconut just lightly browned and crunchy.

Leave to cool completely on the trays, then roughly crumble over the freeze-dried raspberries, and transfer the muesli to an airtight container.

Will keep well for weeks.
Notes
The oats you need for this recipe are 'old fashioned' rolled oats - not quick-cook or instant oats. Old fashioned oats are sold in NZ by Harraways as "wholegrain oats." Just look for oats that don't look like they've been chopped up.
Nutritional Disclaimer: Any nutritional info provided is a computer generated estimate and is intended as a guide only.