This is, without a doubt, the easiest recipe I have ever posted on this blog.
I promised you an awesome, easy, chocolate mousse recipe for making it through yesterday's post, and here it is…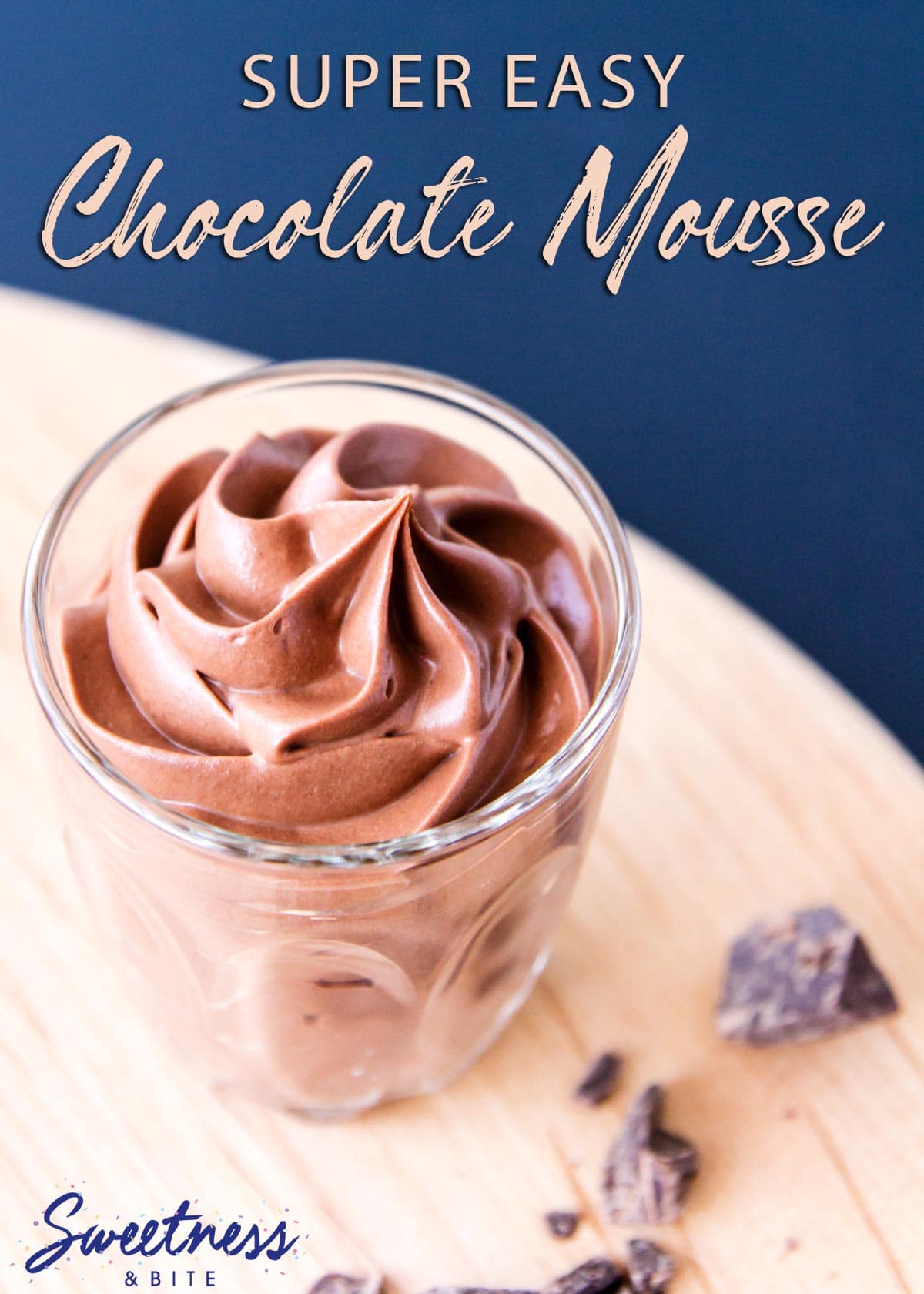 This recipe actually wasn't even supposed to be a recipe on its own. A while back I was working on another recipe when I realised this mousse was so ridiculously good on its own that I should share it like this too.
Of course, we all know that making traditional chocolate mousse usually involves eggs, beating egg yolks with sugar, adding melted chocolate, whipping the egg whites separately and then very gently, gently, gently folding them in so you don't ruin all those perfect little air bubbles lest you end up with thick chocolate soup. Although chocolate soup may not be that bad. I'd be happy to list chocolate soup as my second favourite soup after chicken. But I digress.
This chocolate mousse, on the other hand, is easy. If you can heat cream, and then whip it, you can make this with your eyes closed and a coffee in your other hand. Decaf, in my case, since caffeine makes my heart go bat-sh*t crazy. So, whatever beverage you're into.
It's almost not even a recipe, it's a ratio and some instructions. You can easily scale the ingredients up or down depending on how much you want to make. You can even leave out the vanilla and make it two ingredient mousse. I don't know why you would, because chocolate + vanilla = happiness. But if you were stuck on a desert island with only chocolate, cream and a whisk… then, er, how on earth did that happen? (As an aside, I just noticed that my autocorrect had changed "desert" to "dessert" when I wrote this post, gawd knows how many of you read it with the typo. Do you think autocorrect has noticed that I talk more about desserts than deserts…? 🙄 ) Anyway, where were we?
Oh yes. The process is almost exactly the same as making a ganache, the only difference here is we're reversing the ratio of ingredients: 2 parts cream to 1 part chocolate.
All you have to do is heat the cream until just below boiling point. Add in the roughly chopped chocolate and a splash of vanilla. As I said, the vanilla could be considered optional, although to me chocolate without vanilla is like fries without salt, so I'll be leaving that in, thankyouverymuch. Whisk it up until the chocolate is melted. Then pop it in the fridge and put your feet up for a bit. 
Once the mixture is thoroughly chilled, all you need to do is whip it until peaks form.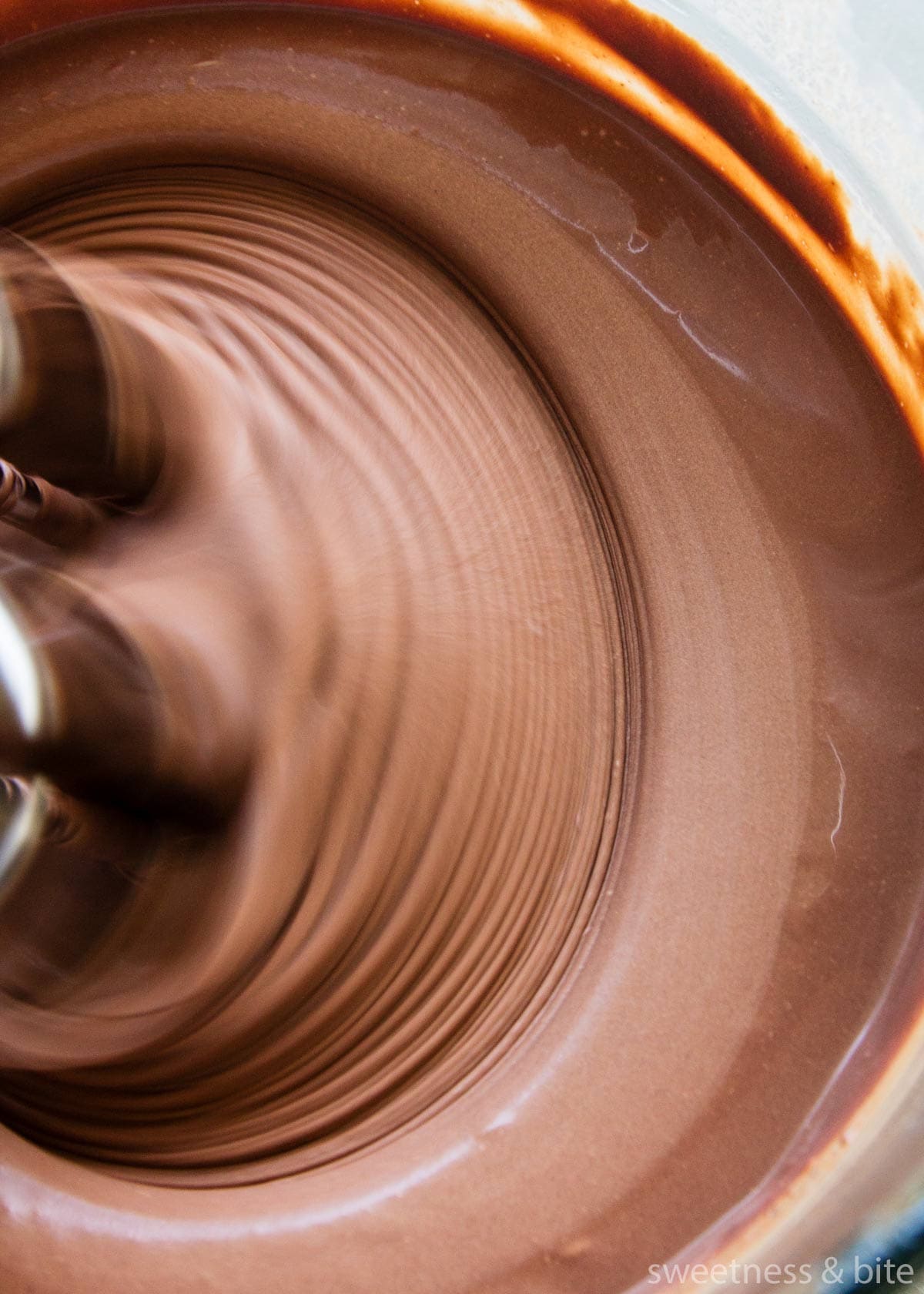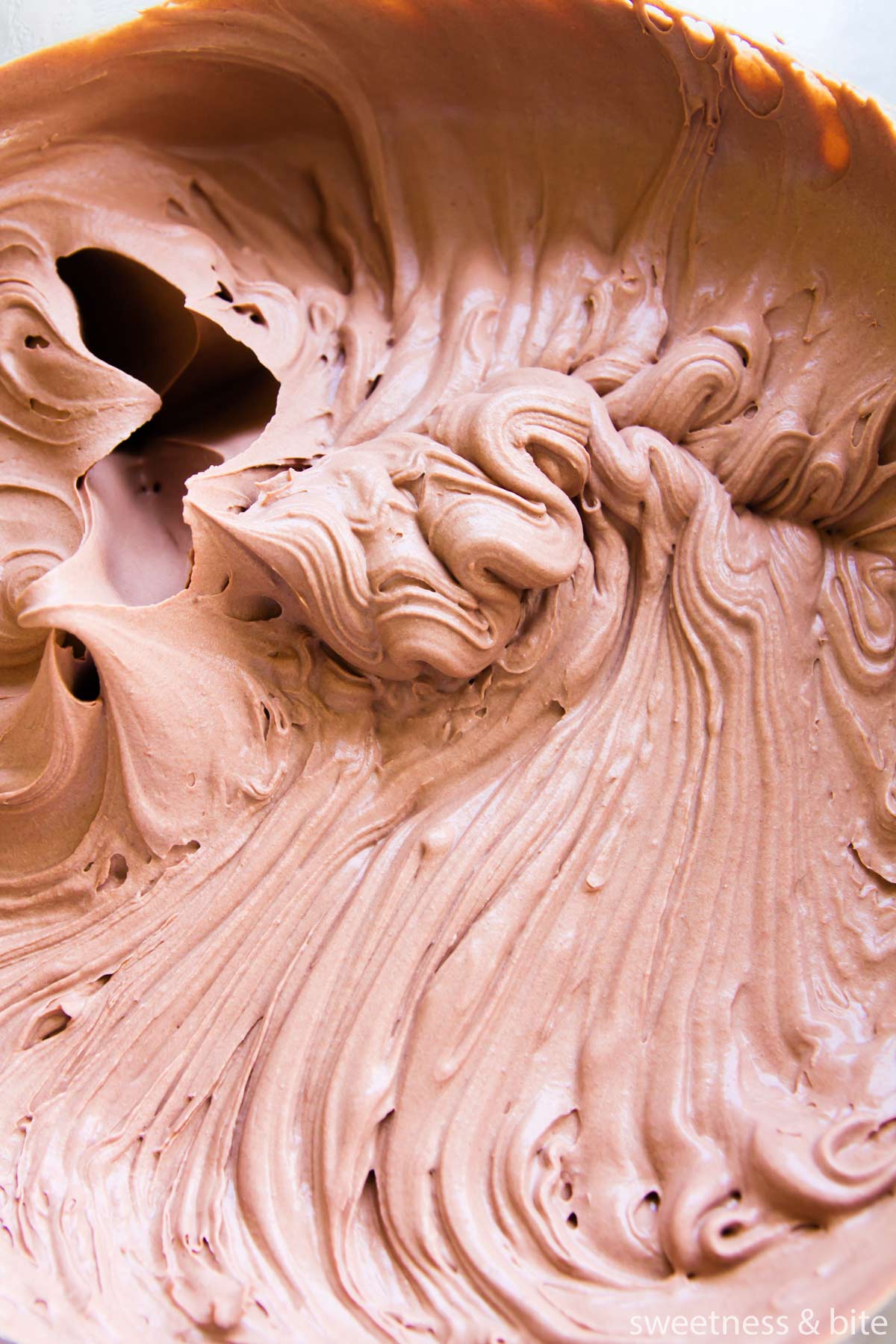 That's it.
Seriously.
What sounds like "just chocolate whipped cream", tastes like fancy, smooth-but-fluffy chocolate mousse.
Just spoon or pipe it into your mouth serving glasses or bowls.
You can serve it straight away, or chill it again to firm it up a little more.
As always the flavour of the mousse is directly dependant on the quality of chocolate you use, so use something good. For the best level of flavour, a good quality dark chocolate with between 50 – 60% cocoa solids is ideal. Anything less than 50% and you won't get much chocolate flavour, and anything more than 60% may be a bit too bitter. I used my favourite Whittaker's 50% dark chocolate.
If you find the mousse isn't sweet enough with the chocolate you have used, you can simply add a bit of sugar to the mixture before you whip it. I know, I know, that makes it four ingredients, but I feel like at this point we can probably stretch that far.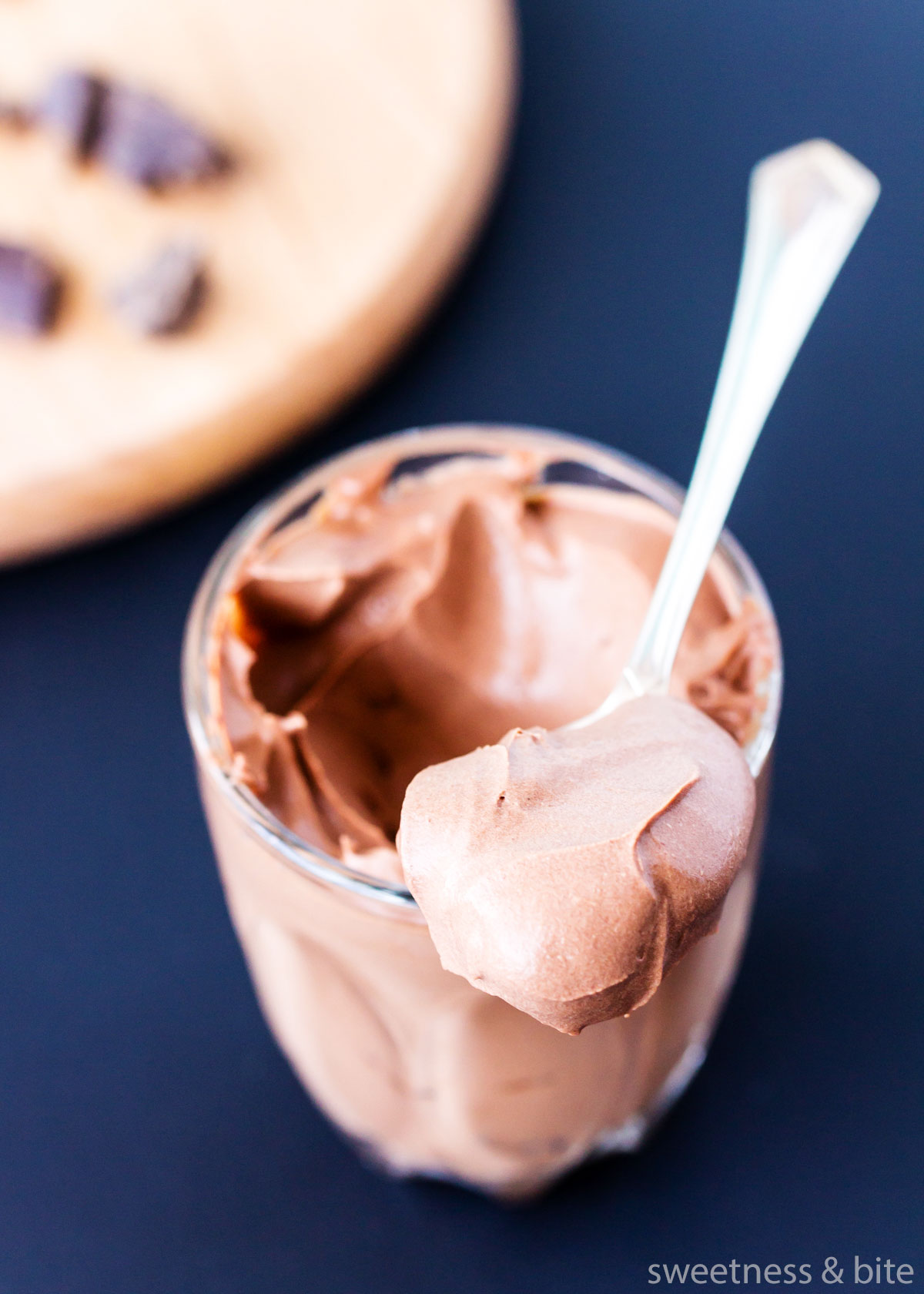 Print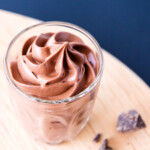 Super Easy 3 Ingredient Chocolate Mousse
---
Prep Time:

10 minutes (plus cooling time)

Cook Time:

3 minutes

Total Time:

13 minutes

Yield:

Makes 8 half-cup servings

Category:

dessert
Description
For best results, use a good quality chocolate with 50% – 60% cocoa solids.
---
Ingredients
500ml whipping cream
250g good quality dark chocolate, roughly chopped
1 teaspoon vanilla extract
---
Instructions
Heat the cream in a medium saucepan, over medium-high heat until bubbles begin to form around the edges. Add in the chocolate, and stir with a wire whisk until all of the chocolate is melted and the mixture is smooth and well combined. Stir in the vanilla.
Taste the mixture, and if the chocolate is a little too bitter you can add some caster or icing (confectioner's) sugar until it's as sweet as you want it.
Pour into a large heatproof bowl or jug, and leave to cool to room temperature (you can speed this up by placing the bowl into a water bath – simply 1/4 fill the sink with cold water, add some ice and place the bowl of chocolate cream into the sink. Stir the mix regularly to speed cooling). Refrigerate until very well chilled (at least several hours or overnight). I'm not gonna lie, if you're in a hurry you can chill it quicker in the freezer. Go on, I won't judge you. Just don't let it actually freeze.
Whip the chocolate cream with an electric hand mixer until stiff peaks form. It won't take very long. Pipe or spoon into glasses or small bowls. You can serve it immediately or store in the fridge for several days.
Keywords: chocolate, mousse, three ingredient, easy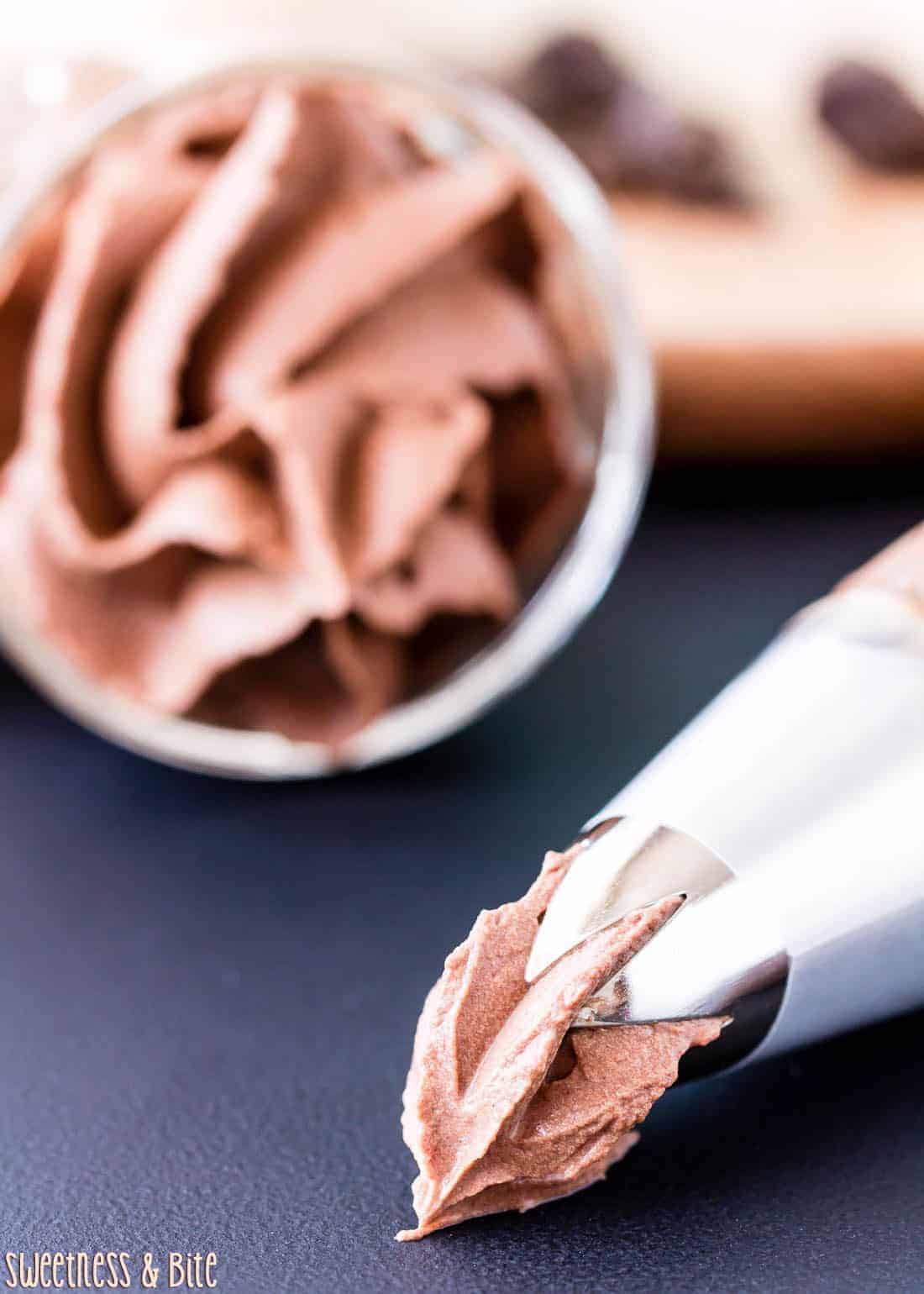 Told you it was easy, didn't I?
Natalie
xx
If you're wondering whether you can make this with white chocolate, you sure can! My recipe for Three Ingredient White Chocolate Mousse is up now!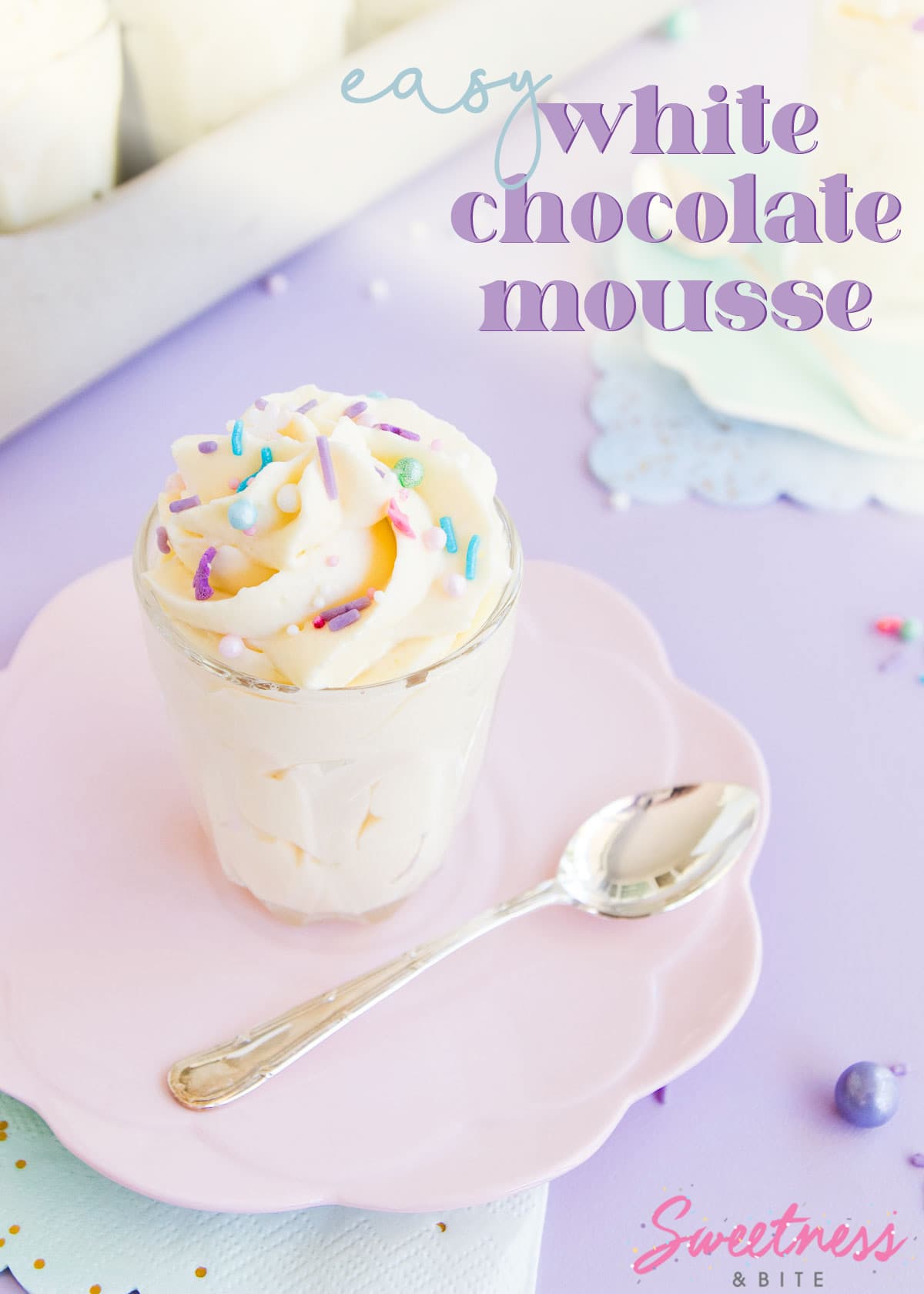 You May Also Like…