Lemon Cheat'scakes – Super Simple Lemon Cheesecakes
This post may contain affiliate links to products I recommend. I receive a small commission at no cost to you if you make a purchase using my link.
Ok, I have something to confess. It's something I'm quite ashamed of, and I hope you don't think any less of me.
Here it is:
I used to think cheesecake was gross.
*and… breathe*
I should add a disclaimer here, when I thought that, I had never actually tried cheesecake. The name was what made me think it must be terrible. Who would put cheese in a cake? Cheese!
Then I tried it.
Ohmagawd that was the end of my cheesecake hate. Now I'm all about that cheesecake ('bout that cheesecake, no treble).
The only downside of cheesecake is that it can be a pain to prepare. Baked cheesecakes can crack (and make you cry) or get overcooked and scramble the eggs; and most chilled cheesecakes require faffing about with gelatine, hoping to the goddess of cheese that the gelatine doesn't go all clumpy and gross. Also, both of them require plenty of chilling time. All that chilling time is time in which you are not yet eating cheesecake.
And when you are desperate for cheesecake right, freakin' now, that is time wasted.
But, what if I told you you don't need to wait? What if I told you that these simple lemon cheesecakes could be yours in under an hour?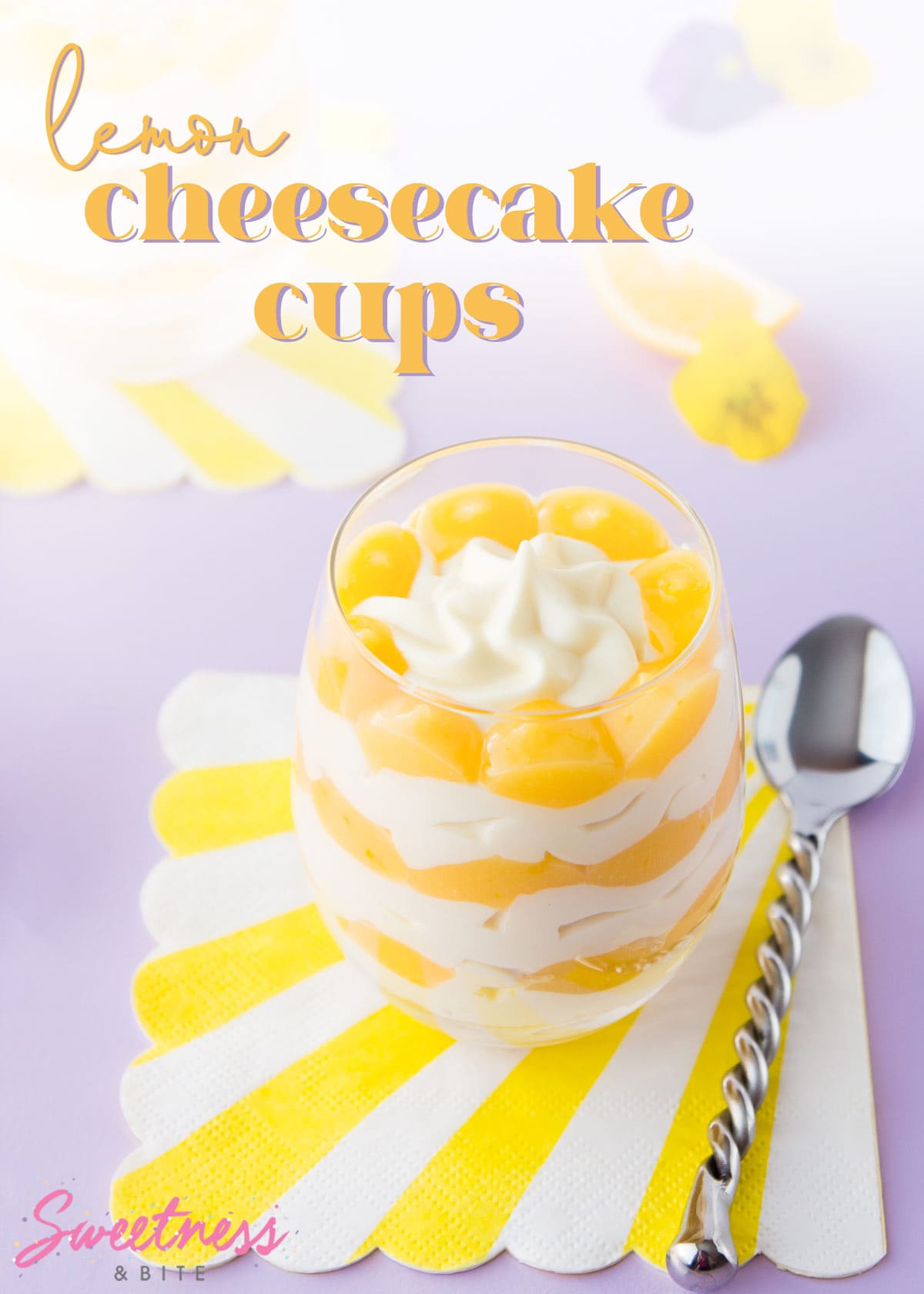 These cheesecakes are fast because they don't need baking, gelatine, or even a huge amount of chilling time. What's the secret, you ask?
Chocolate. Chocolate is the secret. The secret to life, if I'm going to get philosophical, but in this case I mean the secret to setting the cheesecake. In this case, we're using white chocolate. You don't actually even taste it, it's purely there to make the cheesecake set. A small amount of melted chocolate is enough to make the cheesecake set lightly, and it only takes half an hour or so in the fridge so work its magic.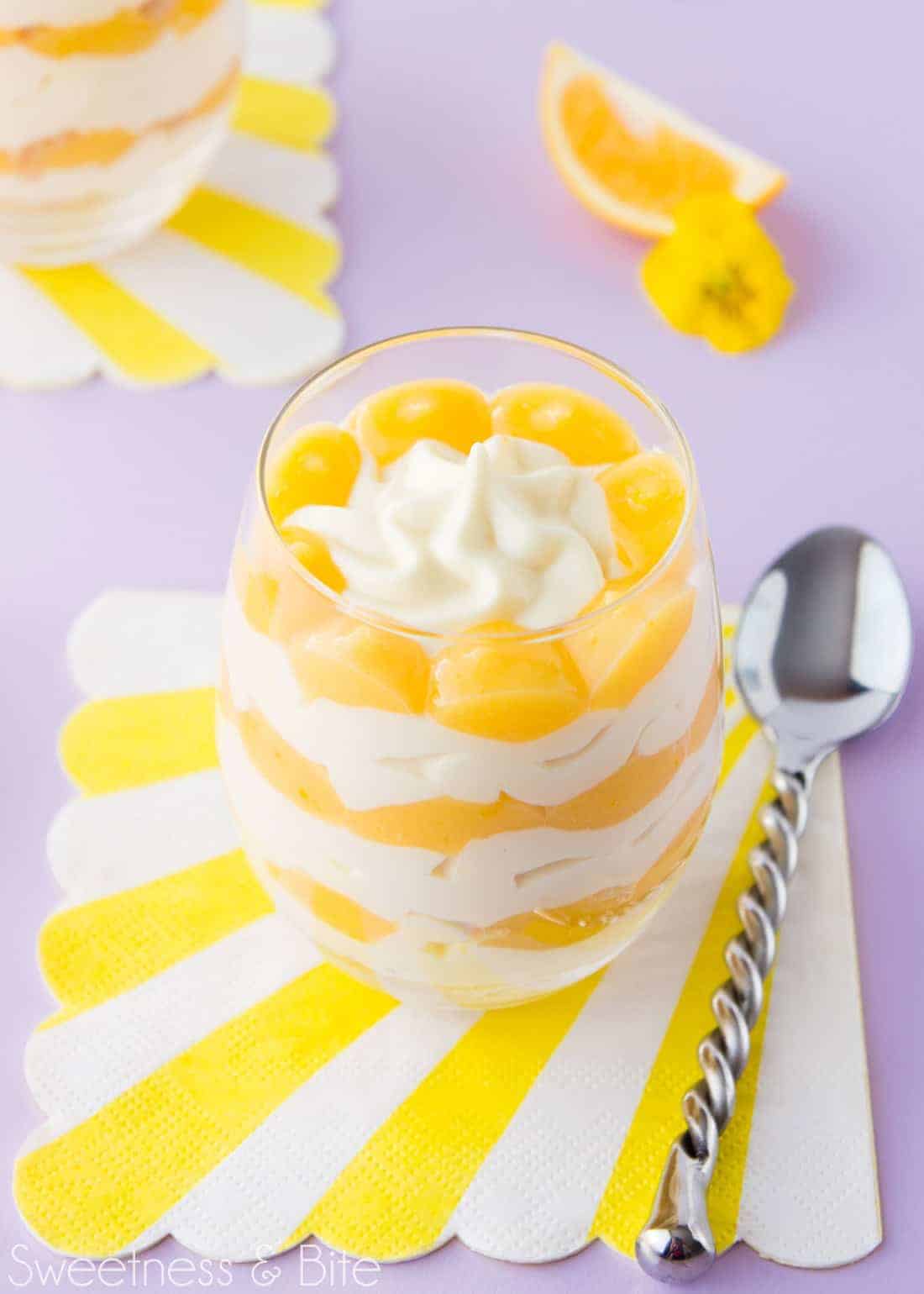 There are many flavours of cheesecake that have a place in my heart (this crunchy almond Toblerone cheesecake being right there in my left atrium, even if it does involve gelatine) but if I had to choose a favourite, lemon would be it. Lemon and cream cheese go together like… you know, stuff that goes perfectly together.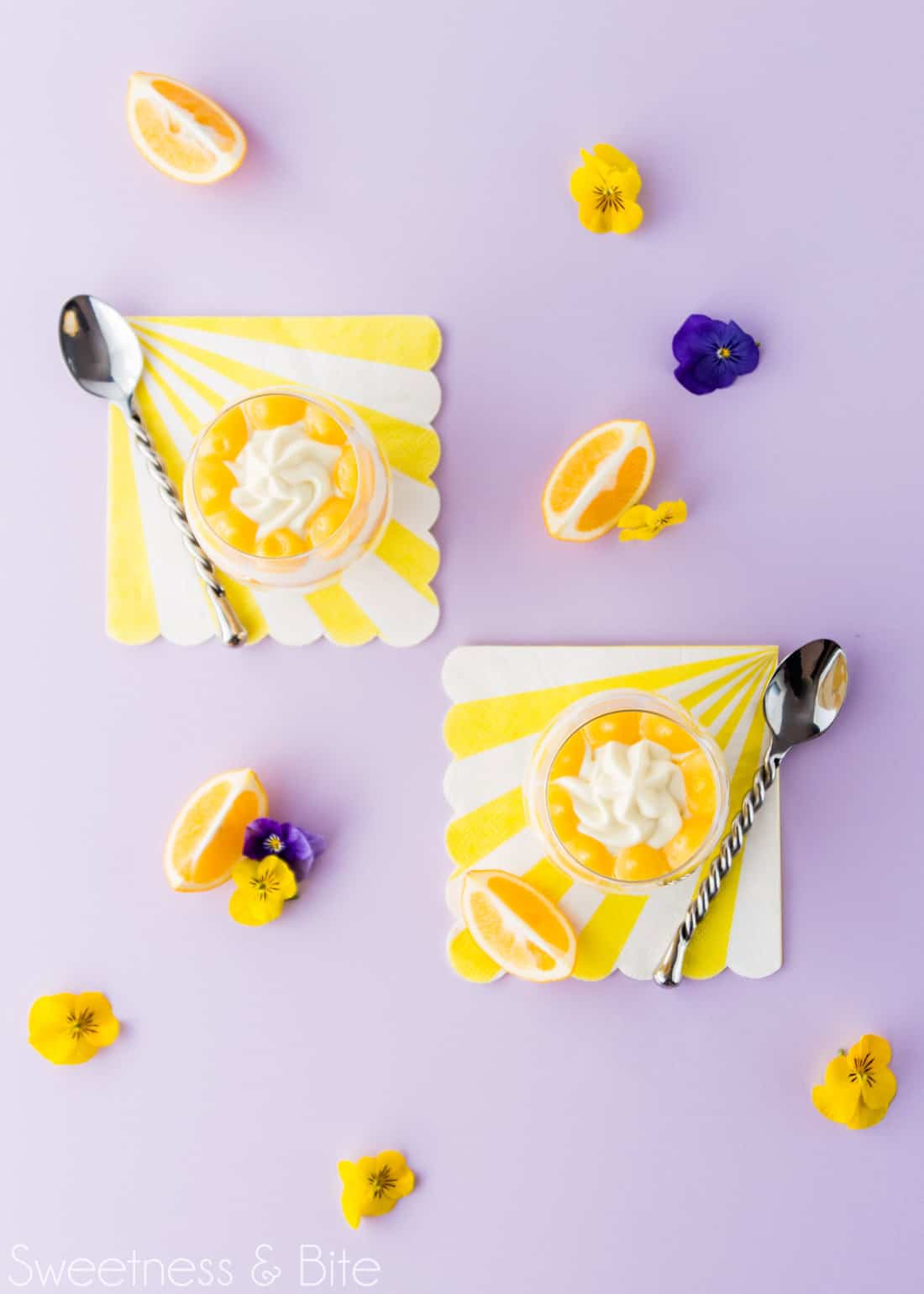 Ok, if you want to make your own lemon curd, you'll need to make it in advance, but if you are desperately needing cheesecake in your face ASAP, you can absolutely use a jar of ready-made lemon curd. Or caramel sauce. Or chocolate sauce. Or raspberry sauce/puree. Or pretty much any kind of berry fruit you may desire. Seriously, in a pinch, you could top this with raspberry jam, and still be pretty darn pleased with yourself.
Another great thing about this recipe is that it is perfect for dessert tables. You can scale the recipe up or down, and pipe the mixture into shot glasses, jars or even ready-made pastry tart cases, pop them all in an airtight container in the fridge, and just take them out when you're ready to set up.
Because I love the biscuit crumb base of a cheesecake almost as much as the filling, I like to layer up the 'filling' with a sprinkle of the crumbs and more lemon curd so I can have some of each in each mouthful.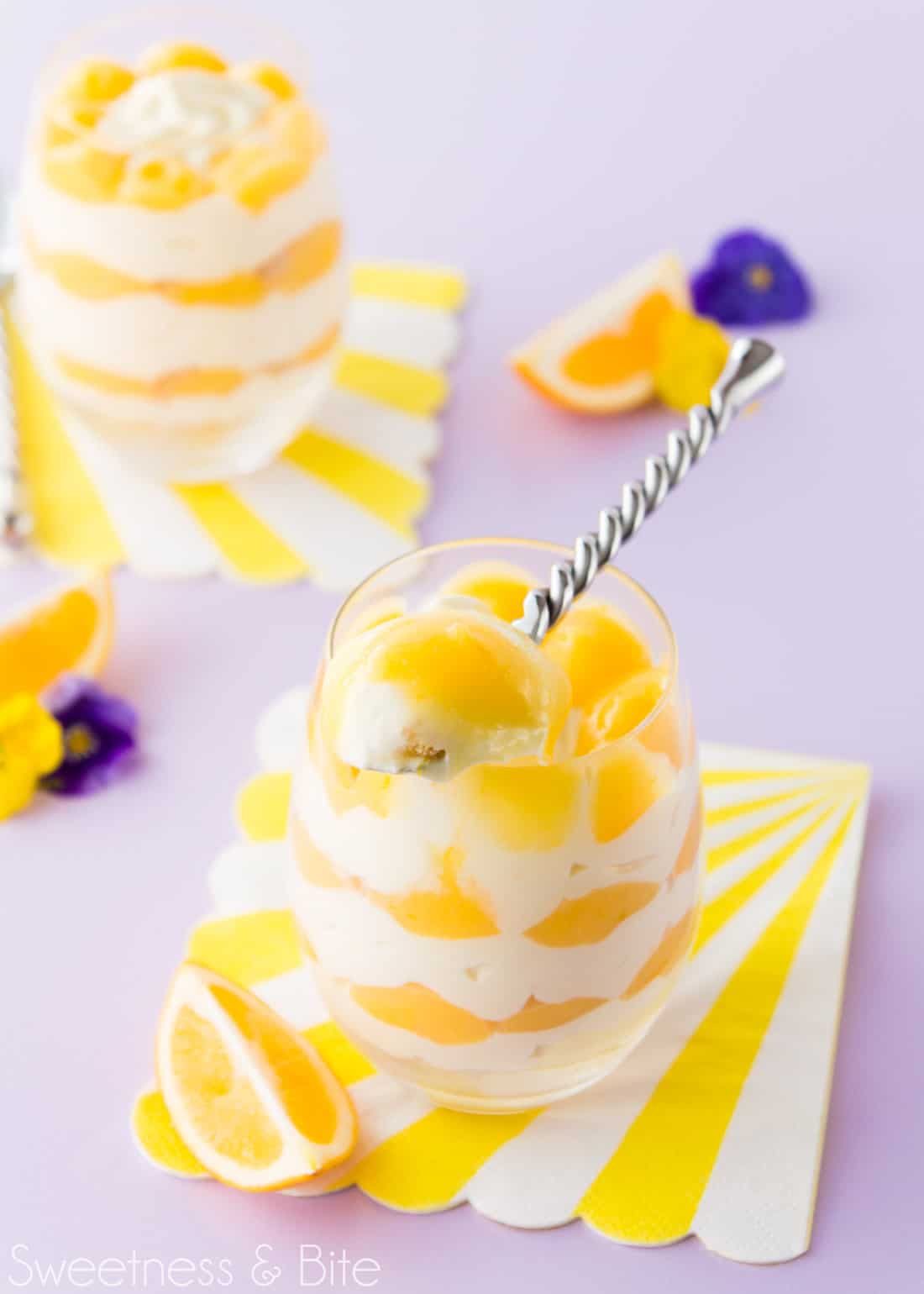 If you're not drooling right now, then I'm not sure if we can keep being friends.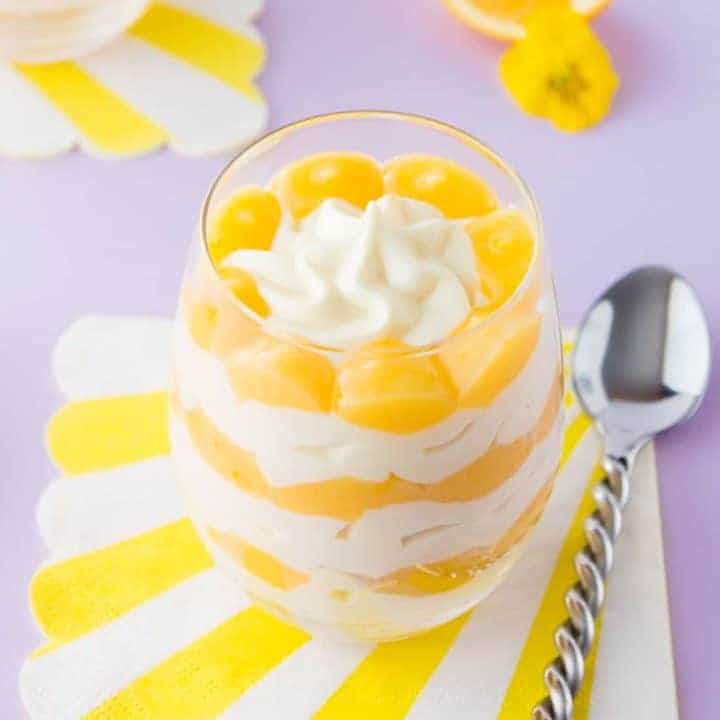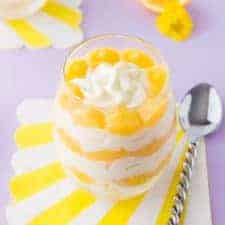 Super Simple Lemon Cheesecakes
No bake, no gelatine, simple ingredients and ready to eat in under an hour. The easiest, quickest lemon cheesecakes you'll ever make!
Print Recipe
Pin Recipe
Save
Saved!
Makes:
6
260ml (9oz) glasses
Ingredients
250

g

plain

or flavoured biscuits/cookies

35

g

butter

melted

100

g

white chocolate

chopped

500

g

full-fat cream cheese

softened at room temp for 30 mins

300

ml

whipping cream
Instructions
Crush the biscuits into crumbs using a food processor (or place them in a resealable plastic bag and crush them with a rolling pin) Combine them in a bowl with the melted butter, and stir well. Spoon some of the crumb mixture into the bottom of each of your serving glasses/jars. The amount will depend on how thick you like your cheesecake base, but 1-2 tablespoons is a good starting point. We will sprinkle more crumbs in as we layer the cheesecake. Press the crumbs down using the back of a spoon, or if you have one, the tamper from a coffee machine works really well for this. Place the glasses in the fridge while you prepare the 'filling', set the remaining crumbs aside.

Place the white chocolate in a heatproof bowl and microwave on medium power in 30 second bursts until melted, stirring between each burst. Set aside to cool slightly.

Beat the cream cheese in a large bowl with an electric mixer until smooth. Beat in the melted white chocolate and 1/4 cup of the lemon curd.

In a small bowl, whip the cream until stiff peaks are just beginning to form. You can use the same mixer blades you used for the cream cheese, no need to wash. Be careful not to over whip the cream.

Stir 1/3 of the whipped cream into the cream cheese mixture to lighten it, then gently fold in the remaining whipped cream.

At this point you can spoon the mixture into your serving glasses (or straight into your mouth, I won't judge), or if you want to pipe it, then you can put the whole bowl of cheesecake filling into the fridge for 10-20 minutes to firm it up slightly and make it easier to pipe.

Spoon or pipe a layer of filling into each glass. Spoon or pipe some more of the lemon curd around the edges (I put mine in a small squeezy bottle with a round nozzle), and add a spoonful of the remaining biscuit crumbs into the middle. Spoon or pipe over someone cheesecake filling, add more lemon curd and crumbs, and repeat again if your serving glasses allow. Top with more lemon curd.

Chill for 20-30 minutes to firm up (or eat immediately if you just can't wait.)

Cheesecakes will keep for several days in the refrigerator. Cover individual glasses with plastic wrap, or place them all in a plastic container with an airtight lid. The cheesecakes can also be frozen, ideally in individual lidded plastic containers. Just thaw them for an hour or so before eating.
Notes
Serving Glasses - I used six 260ml stemless wine glasses to serve my cheesecakes, but you can use any size and shape glasses/jars etc. that you like, just scale the recipe up or down if necessary. Cookies - You can use plain vanilla biscuits/cookies for the crumbs, or use another flavour that compliments the lemon. I use gluten free biscuits, to make the cheesecakes gluten free. Cream - The cream you need for this recipe is regular pourable cream that can be whipped. In NZ it's just known as cream or whipping cream, in other countries it could be labelled as heavy cream, heavy whipping cream or single cream (double cream could also be used, just be careful not to over-whip it.)
Oh cheesecake, how I love thee.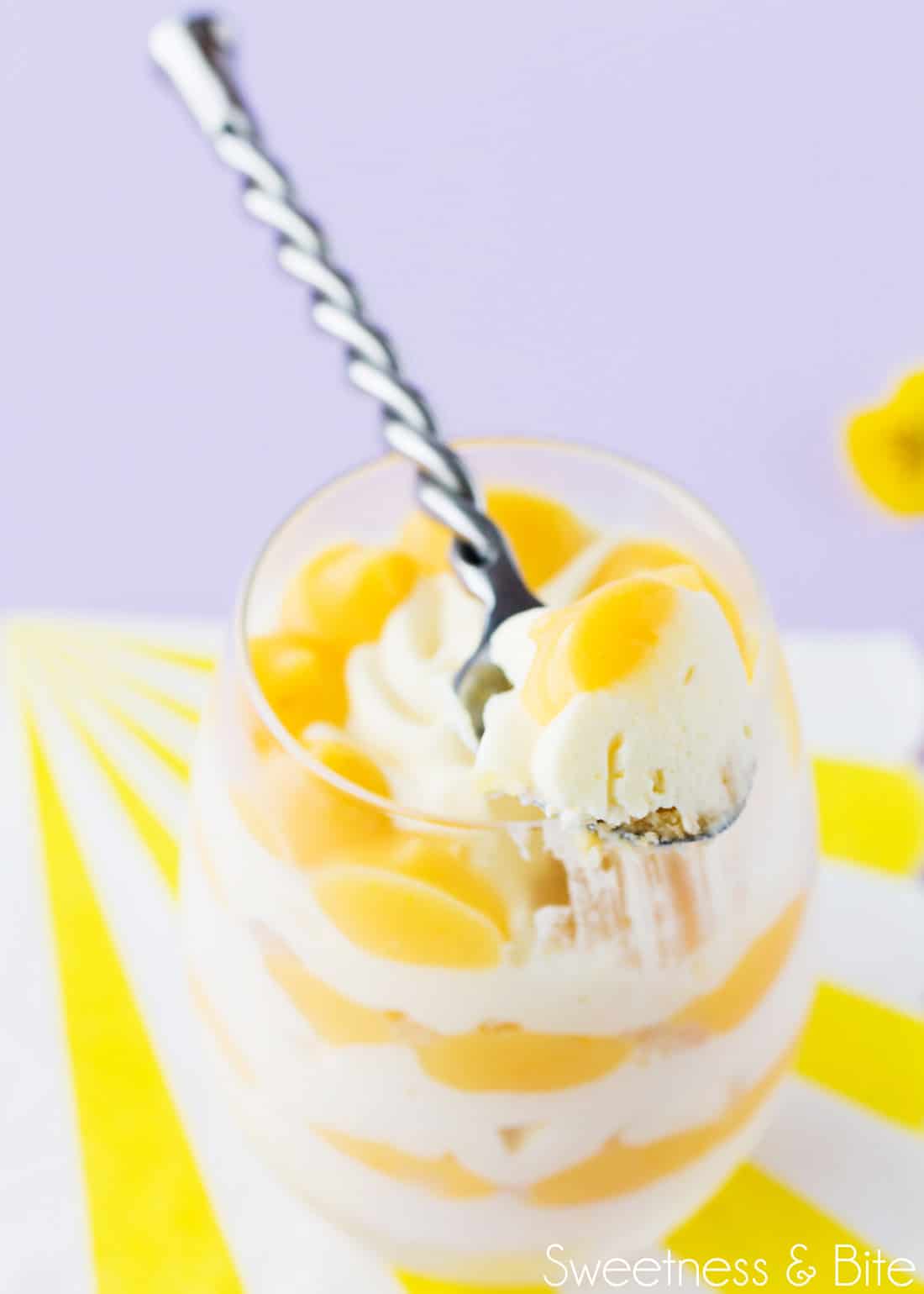 Happy cheesecaking.
~Natalie
xx