Gluten Free Almond Chocolate Cake
This post may contain affiliate links to products I recommend. I receive a small commission at no cost to you if you make a purchase using my link.
For those who find plain old chocolate cake boring (is that even possible? 🙄) try this Toasted Almond Chocolate Cake. It can be easily made gluten free, and toasting the ground almonds gives this cake The Most amazing flavour 😍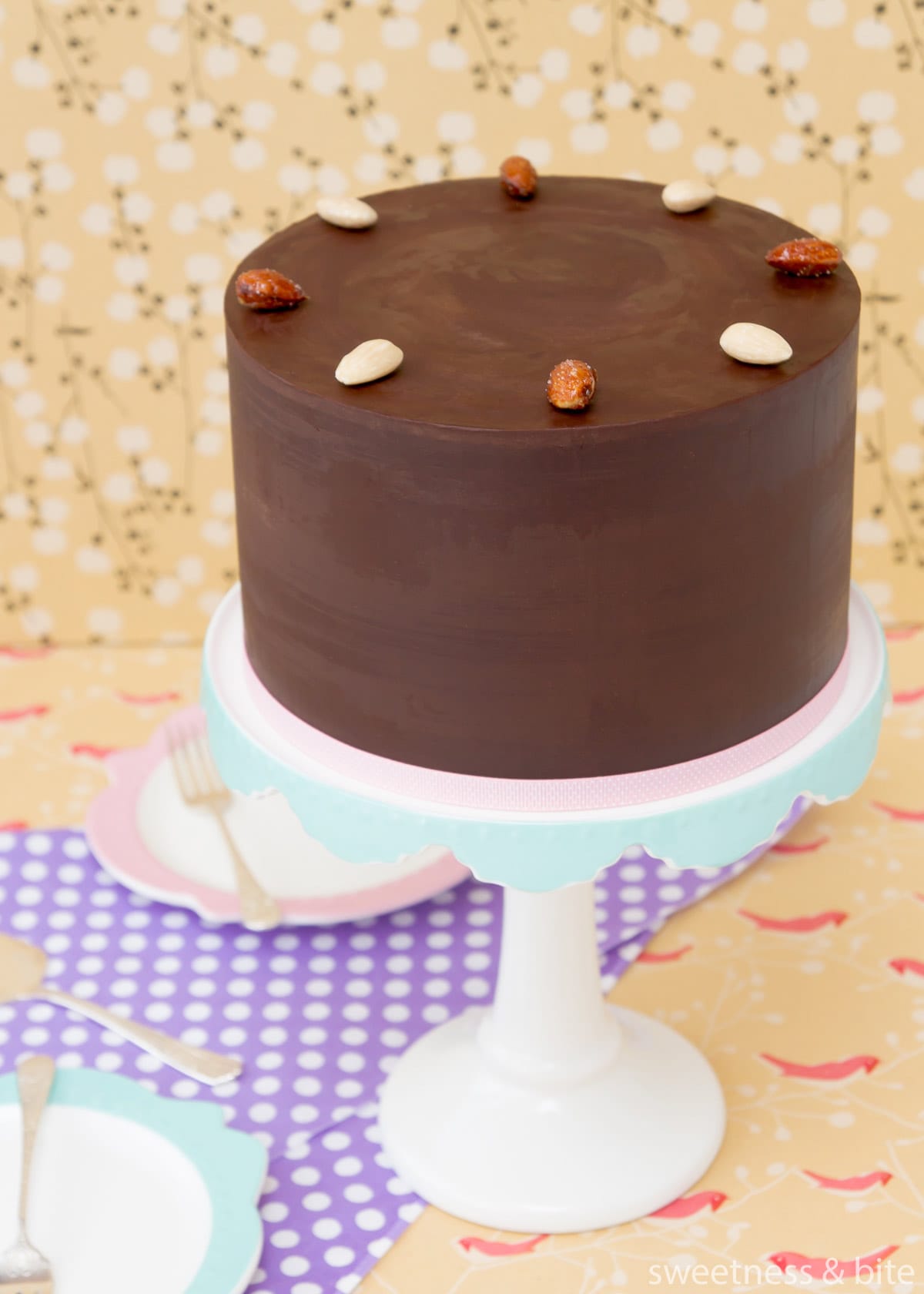 I, um, have another gluten free chocolate cake recipe for you.
If you've been following my gluten free cakes for decorating series, you might be thinking, geez, can she not bake any gluten free cakes that aren't chocolate?!
I can! And I will share some! It was fully my intention to post something really different this time. But then, I had this thing where… ok basically I really felt like chocolate cake. And my whims tend to translate into blog posts.
And this cake is so much more than just a chocolate cake. It's a gluten free toasted almond chocolate cake.
A simple but effective twist on my devil's food cake recipe, this gorgeous cake has lightly toasted ground almonds and a splash of Amaretto liqueur, and is filled with almond-studded dark chocolate ganache.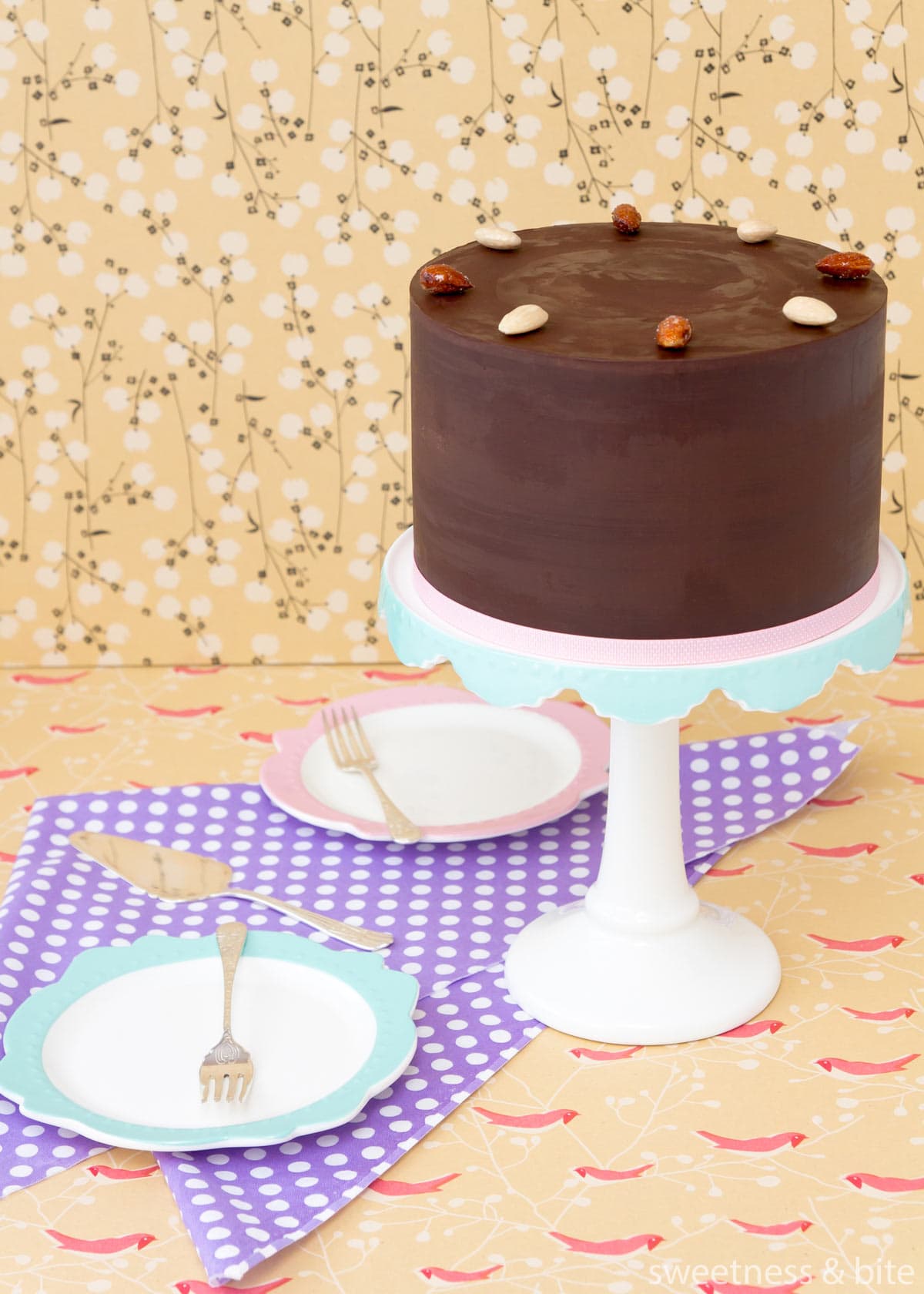 See why I just NEEDED it?!
Plus, according to Wikipedia:
The almond is a nutritionally dense food and is a rich source of vitamin E, containing 26 mg per 100 g. They are also rich in dietary fiber, B vitamins, essential minerals such as magnesium, copper, manganese, calcium, and potassium, as well as monounsaturated fats and polyunsaturated fats, which potentially may lower LDL cholesterol.
So, I basically just turned this chocolate cake into a health food.
You're welcome!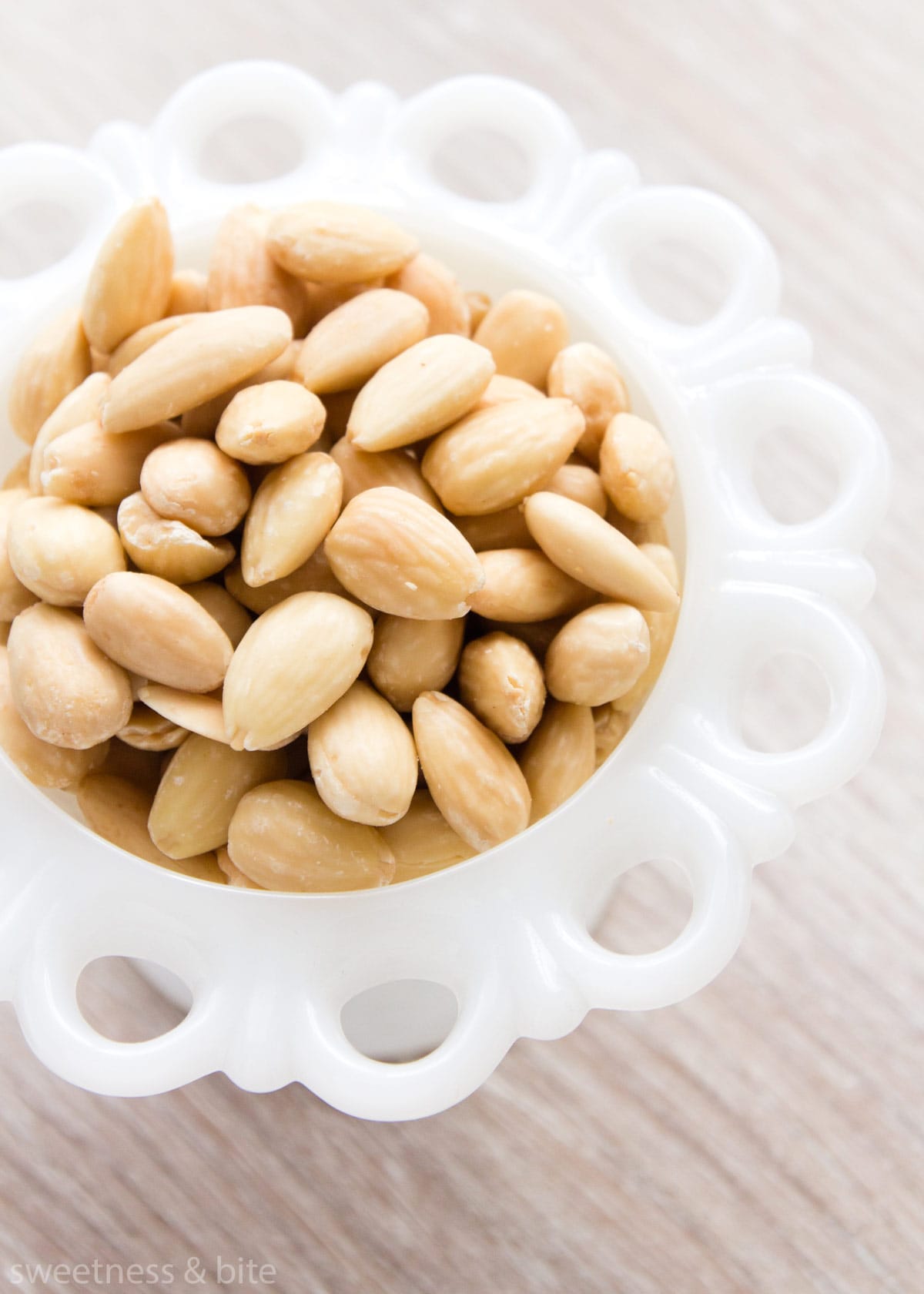 I used almonds in two forms in this cake, blanched whole almonds are chopped and used in the filling, and ground almonds take the place of a little of the flour in the cake itself, making the cake even lighter and adding more moisture. And for extra flavour, they all get toasted.
Toasting the ground almonds gives the most amazing deep, rich toasty/nutty flavour to the cake layers. It's another added step, of course, but it really is worth the extra couple of minutes for the depth of flavour that it gives the finished cake. You can definitely leave the almonds untoasted, the texture of the cake won't be affected, but if you have the time to spare, then I promise you the time is worth it.
See that slight golden colour they get? Colour is flavour, people!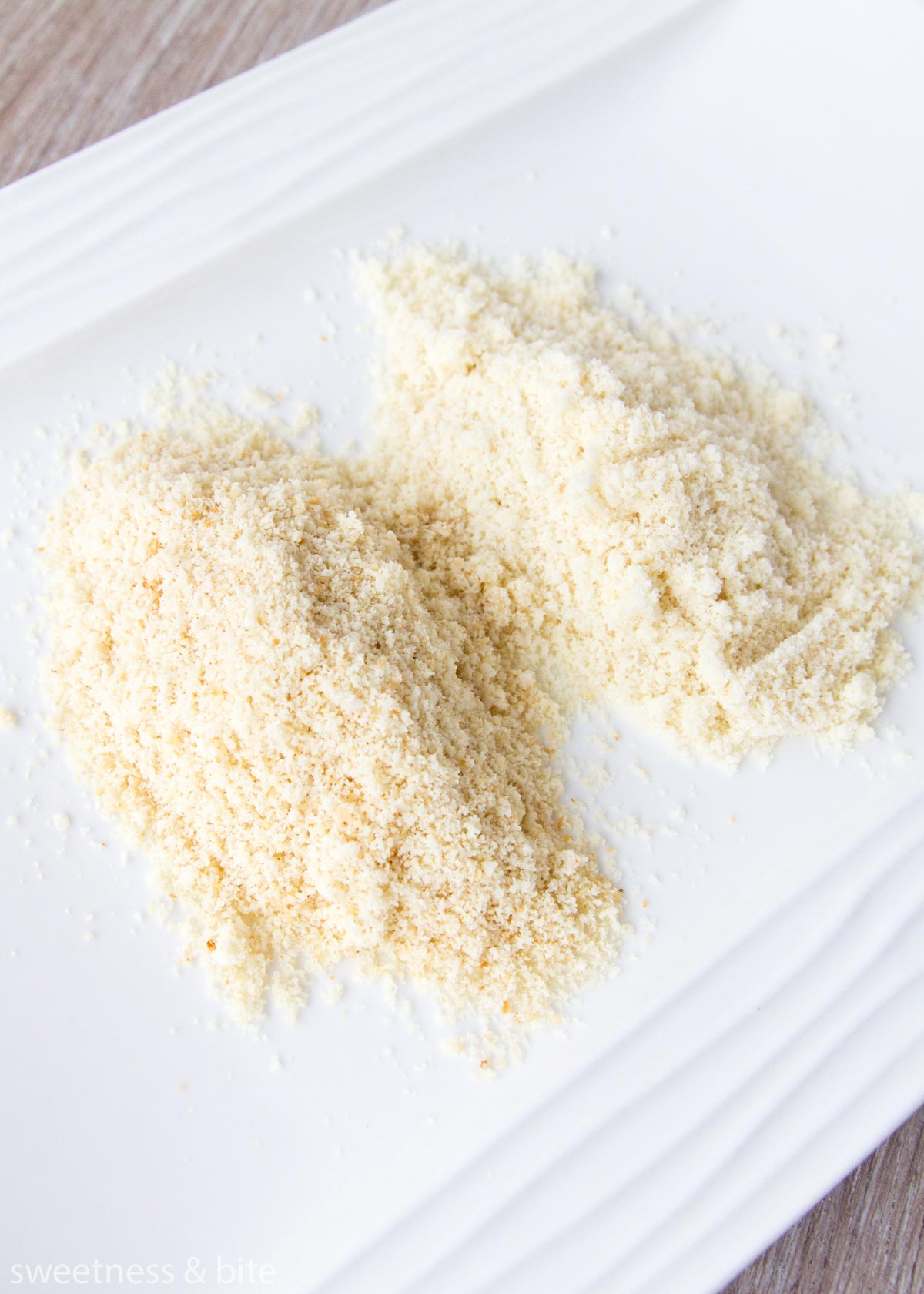 This is part of my Gluten Free Cakes For Decorating series, so let's talk a little about what decorating creations it's suited for. This cake is slightly more delicate than my regular gluten free devil's food cake, which basically means you wouldn't want to try carving it, unless you want to end up with more crumbs than cake. But it will work perfectly as a regular single or multi-tiered cake, when filled with ganache or buttercream, and covered in fondant.
And it gets better after a couple of days, so the three or four-day decorating timeline (bake/ganache/fondant/decorate) works really well.
The recipe makes a lovely tall cake, around 3.5″ – 4″, depending on how much you need to cut off to level it (Tip: if you use a foil lid on your cake tin, like I always do, the cake will rise without doming, and you won't have to trim too much.)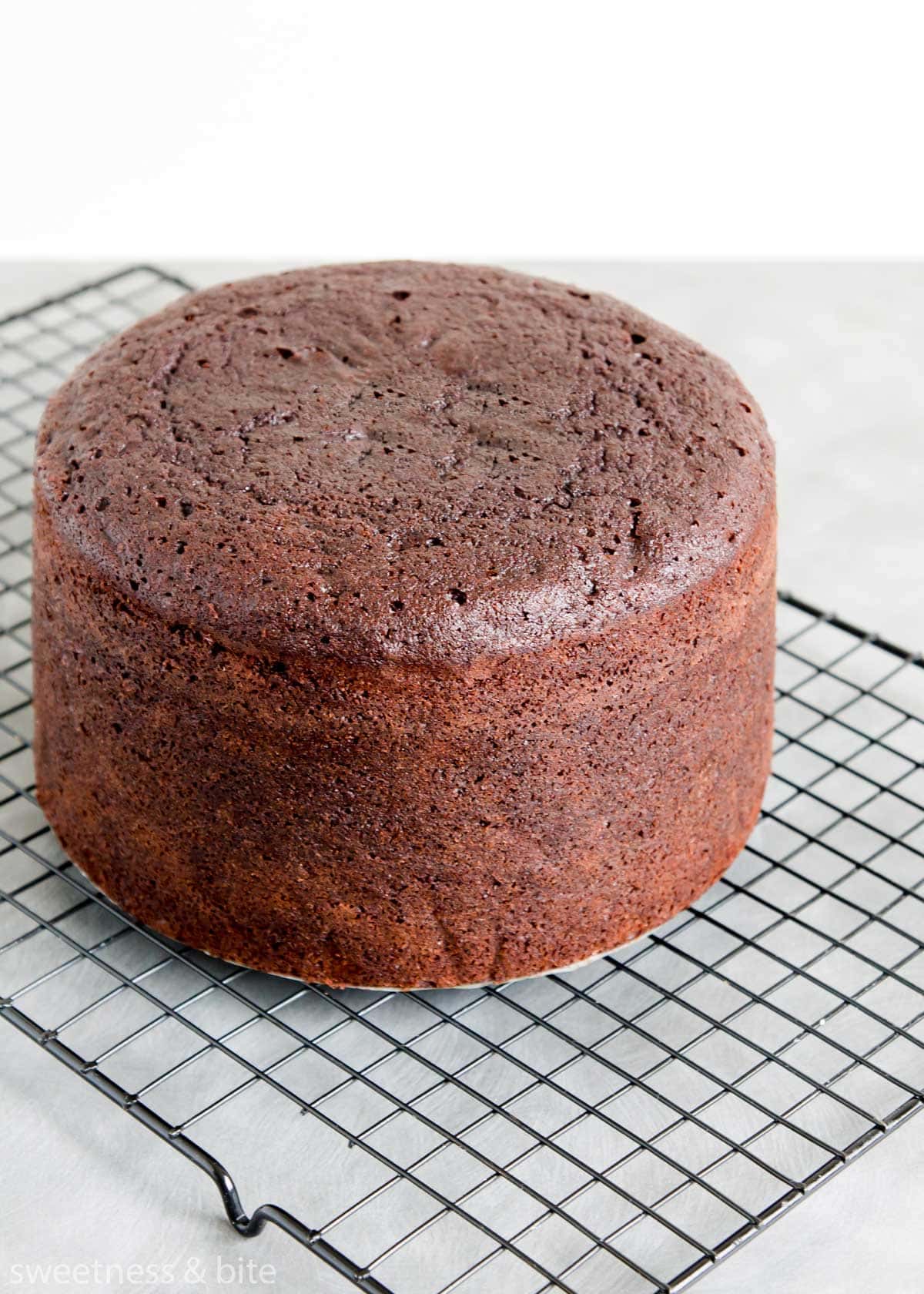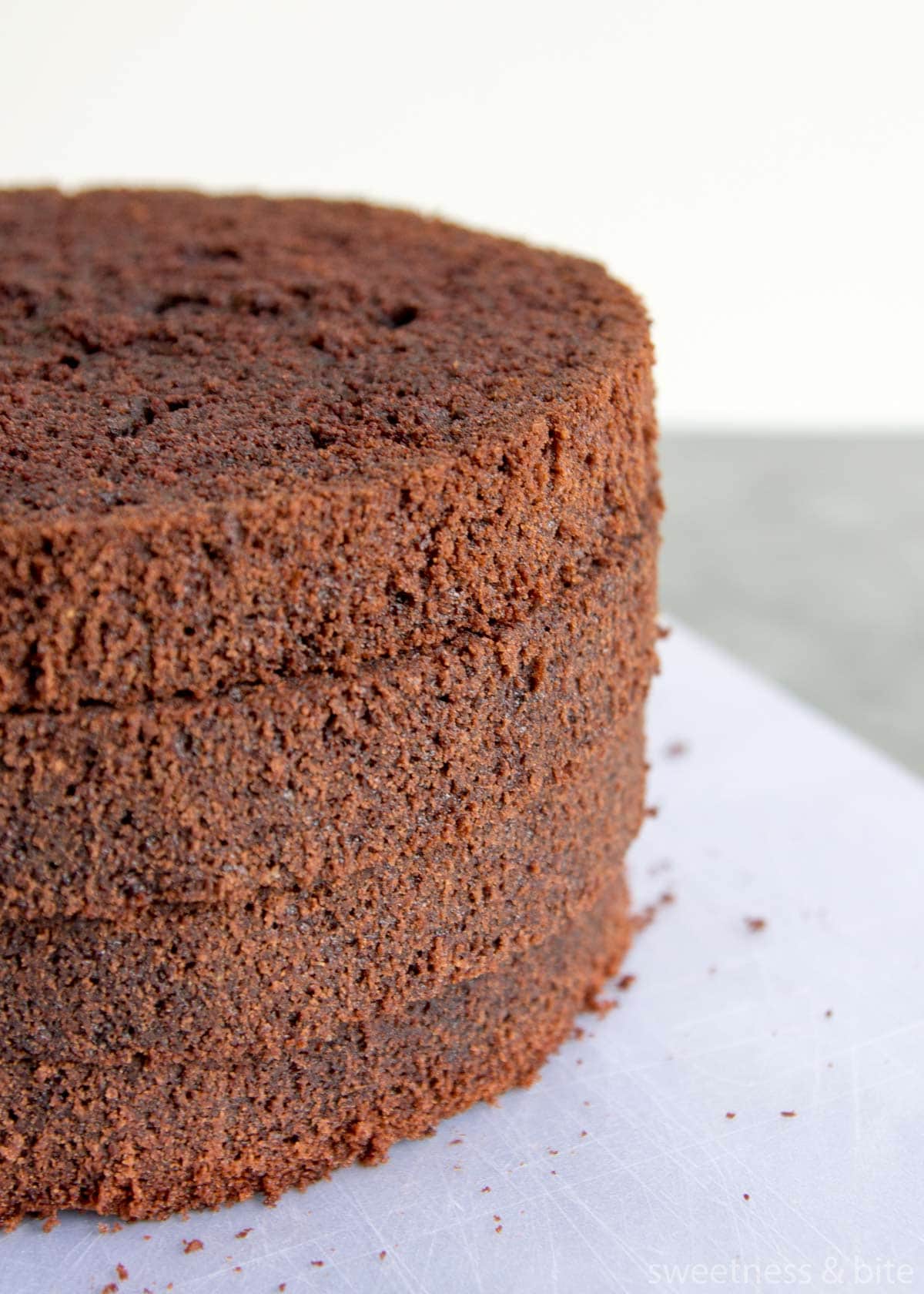 I chose to fill (and cover) these gorgeous layers with dark chocolate ganache, but it would be just as delicious with a light, fluffy meringue buttercream.
But seriously, look at this deep, dark stuff…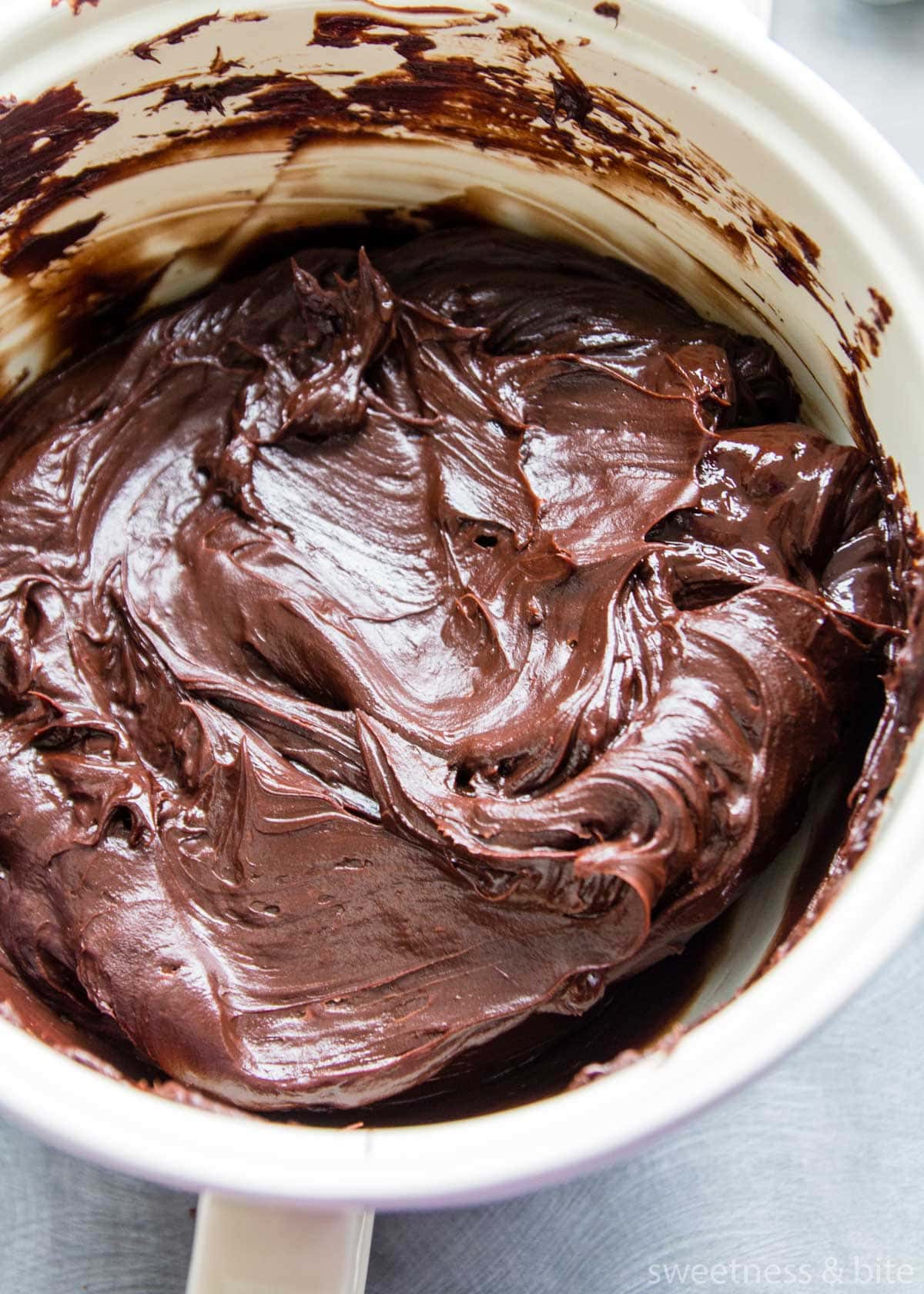 And then as you put it on the cake you can sprinkle on some chopped toasted almonds…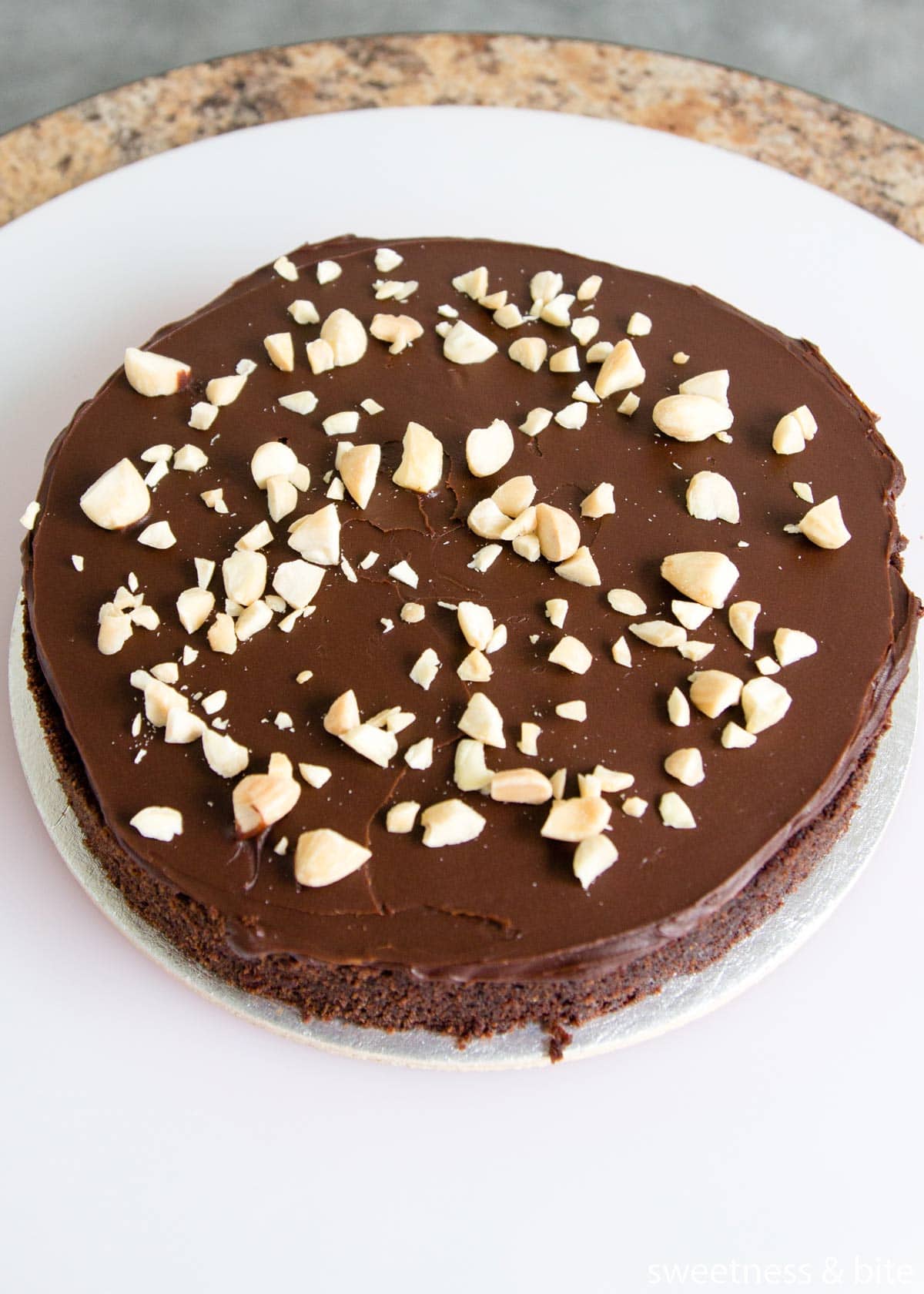 If you're not covering the cake in fondant, then a few whole plain roasted and/or honey roasted almonds make a perfect and simple decoration.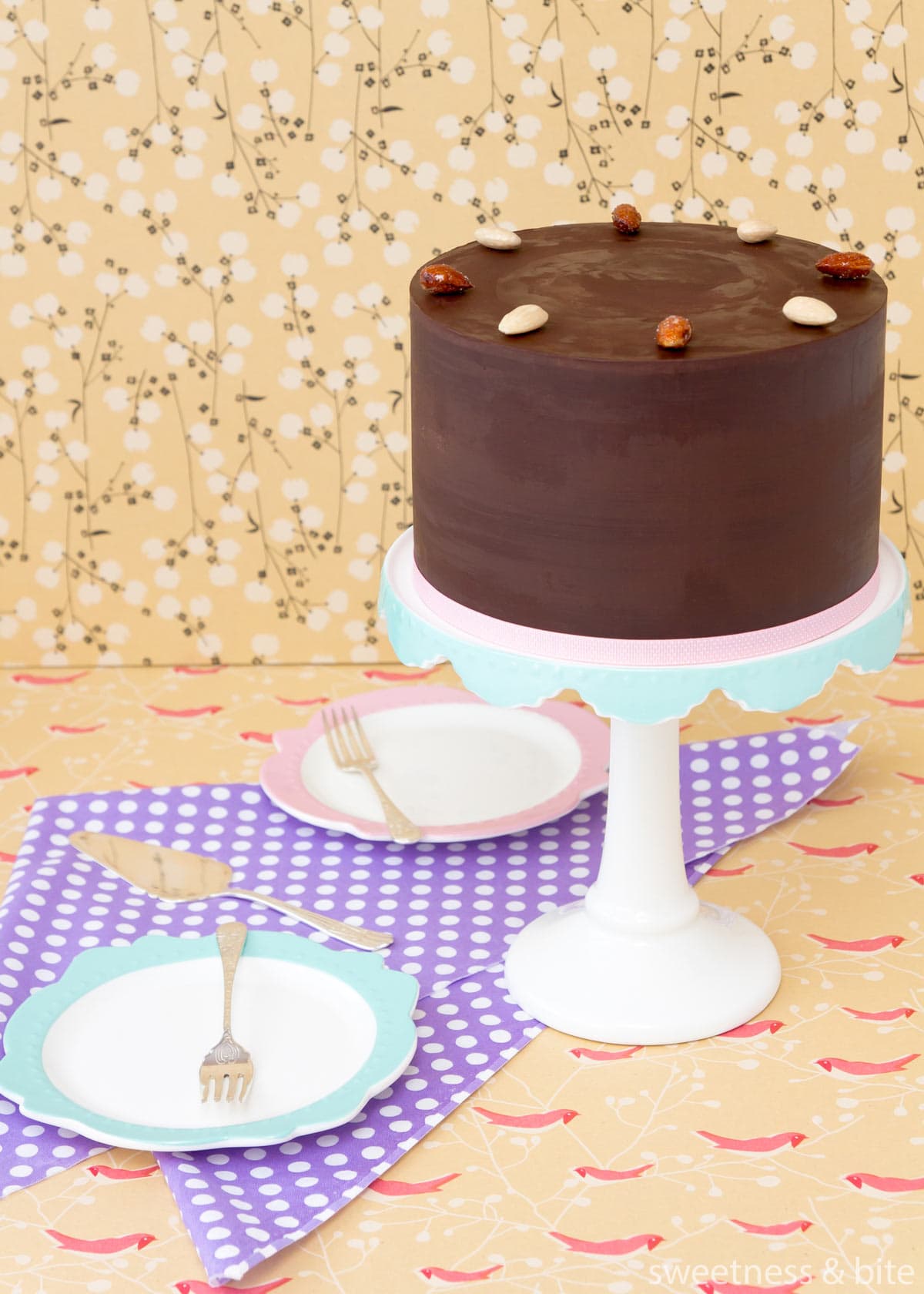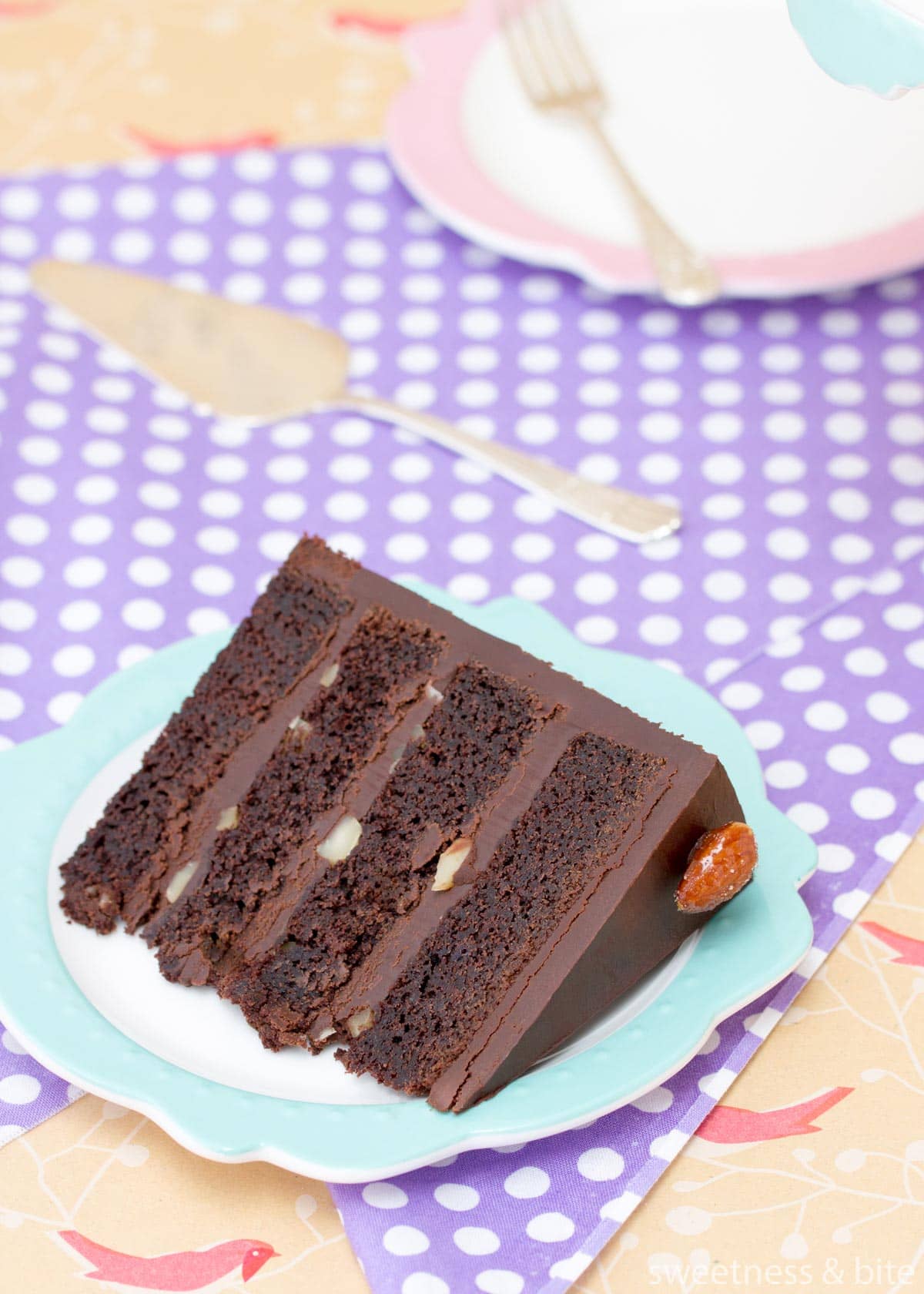 I don't know how many times I have said (to myself, and to other actual people in real conversations) that gluten free devil's food cake is my favourite ever cake. But y'know, gluten free almond chocolate cake may well be even better *gasps*.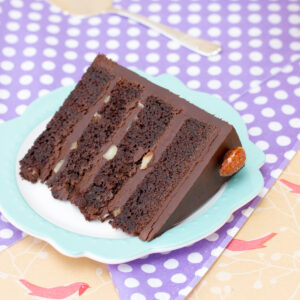 Gluten Free Almond Chocolate Cake
A gorgeous, rich chocolate cake with lightly toasted ground almonds and a splash of Amaretto liqueur, filled with almond-studded dark chocolate ganache.
Print Recipe
Pin Recipe
Save
Saved!
Ingredients
75

g

ground almonds

almond meal

2

Tablespoons

Amaretto liqueur

optional

100

g

dark chocolate

215

ml

just-boiled water

330

g

gluten free flour*

50

g

cocoa

2

teaspoons

baking soda

1

teaspoon

Xanthan Gum

225

g

butter

at room temperature

150

g

caster

or granulated sugar

200

g

brown sugar

2

teaspoons

vanilla extract

4

large eggs

at room temperature

215

g

sour cream
For the ganache:
500

ml

cream

1

kg

good quality dark chocolate

chopped

3

Tablespoons

Amaretto

optional

200

g

whole blanched almonds
Instructions
Heat oven to 160°C (320°F).

Toast the ground almonds in a small pan over medium heat, just until they are very lightly golden and smell gorgeous. Tip it out into a small bowl and leave to cool.

Chop the chocolate and place it in a medium-sized heatproof jug with the Amaretto. Pour over the just-boiled water and leave for a few minutes for the chocolate to melt. Whisk until smooth. and leave to cool.

Sift the flour, cocoa, baking soda and xanthan gum into a medium bowl. Add the cooled toasted ground almonds and whisk to combine well.

Beat together the butter, caster sugar, brown sugar and vanilla on medium-high speed until very light and fluffy. Use a stand mixer if you have one, or a hand-held mixer and a large bowl will do. Whisk the eggs together in a small jug or bowl, and add them gradually to the butter and sugar, beating well between additions.

Turn the mixer down to low speed and add the flour mixture and the chocolate mixture alternately, beating briefly between additions. Scrape down the sides of the bowl and add the sour cream, and beat on low speed until combined.

Pour into the prepared tin, cover with the foil lid and bake for 1 hour 15 minutes to 1 hour 30 minutes, or until a skewer inserted into the middle of the cake comes out clean.

Allow the cake to cool for an hour, then cover the tin with foil and leave the cake to cool completely in the tin overnight.
To make the ganache:
Heat the cream in a medium saucepan over medium-high heat, just until the cream begins to boil. Remove from the heat, stir in the Amaretto. Add the chopped chocolate, gently shimmy the pan until the chocolate is covered by the cream, then leave it for several minutes to melt.

Slowly and gently stir until the chocolate and cream combine. If there are still unmelted pieces of chocolate, return the pan to a very low heat, and stir constantly until the chocolate is fully melted and the ganache is smooth. Pour the ganache into a large bowl and leave to cool. Once cool, cover with plastic wrap and leave the ganache to set overnight.
To fill the cake:
Heat the oven to 180°C. Spread the almonds out on a baking tray and toast in the oven for 5 minutes, or until lightly golden. Keep an eye on them, you don't want them to get too dark. Leave to cool, then roughly chop. (Set aside a few whole almonds for decoration, if desired)

Split the cake into four even layers. Gently heat the ganache in the microwave until it softens to the consistency of peanut butter. Spread some ganache onto the first layer of cake, sprinkle with 1/3 of the almonds. Place the next layer of cake on top, press down gently, then continue stacking the cake layers with ganache and almonds.

Ganache the outside of the cake. If covering with fondant, leave the ganache overnight to set. Or, decorate the cake with some whole, roasted almonds (I also used some honey roasted almonds).
Notes
*I use my favourite homemade gluten free baking flour blend, but a store-bought flour blend should do the trick too.
Love the sound of this cake but don't need it to be gluten free? Simply substitute the gluten free flours for regular all-purpose wheat flour and leave out the xanthan gum.
If you prefer not to use alcohol in your cakes, or can't find Amaretto liqueur, simply omit it from the recipe.
Nutritional Disclaimer: Any nutritional info provided is a computer generated estimate and is intended as a guide only.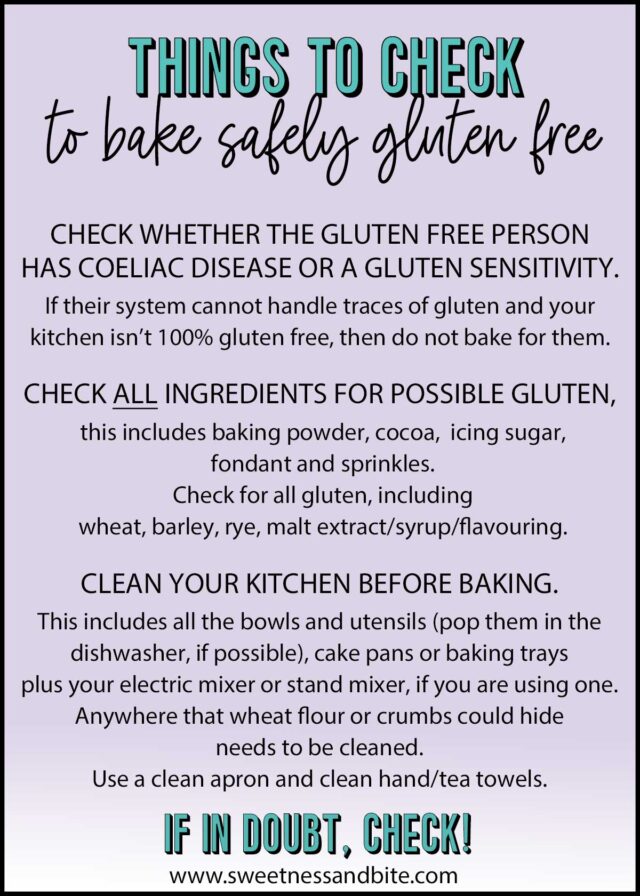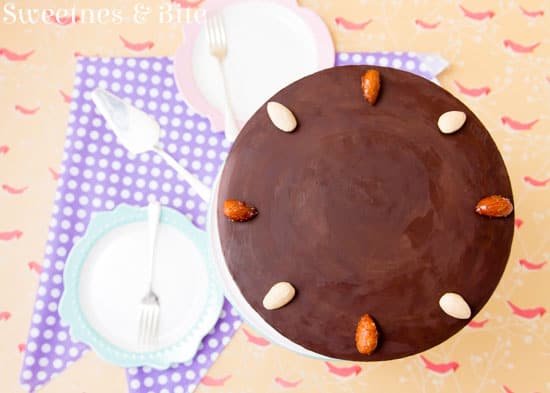 ~Natalie
xx