This post may contain affiliate links to products I recommend. I receive a small commission at no cost to you if you make a purchase using my link.
This crunchy almond Toblerone cheesecake recipe is everything you love about classic Toblerone chocolate but in cheesecake form, with the delightful bonus of sweet-and-salty honey roasted almonds.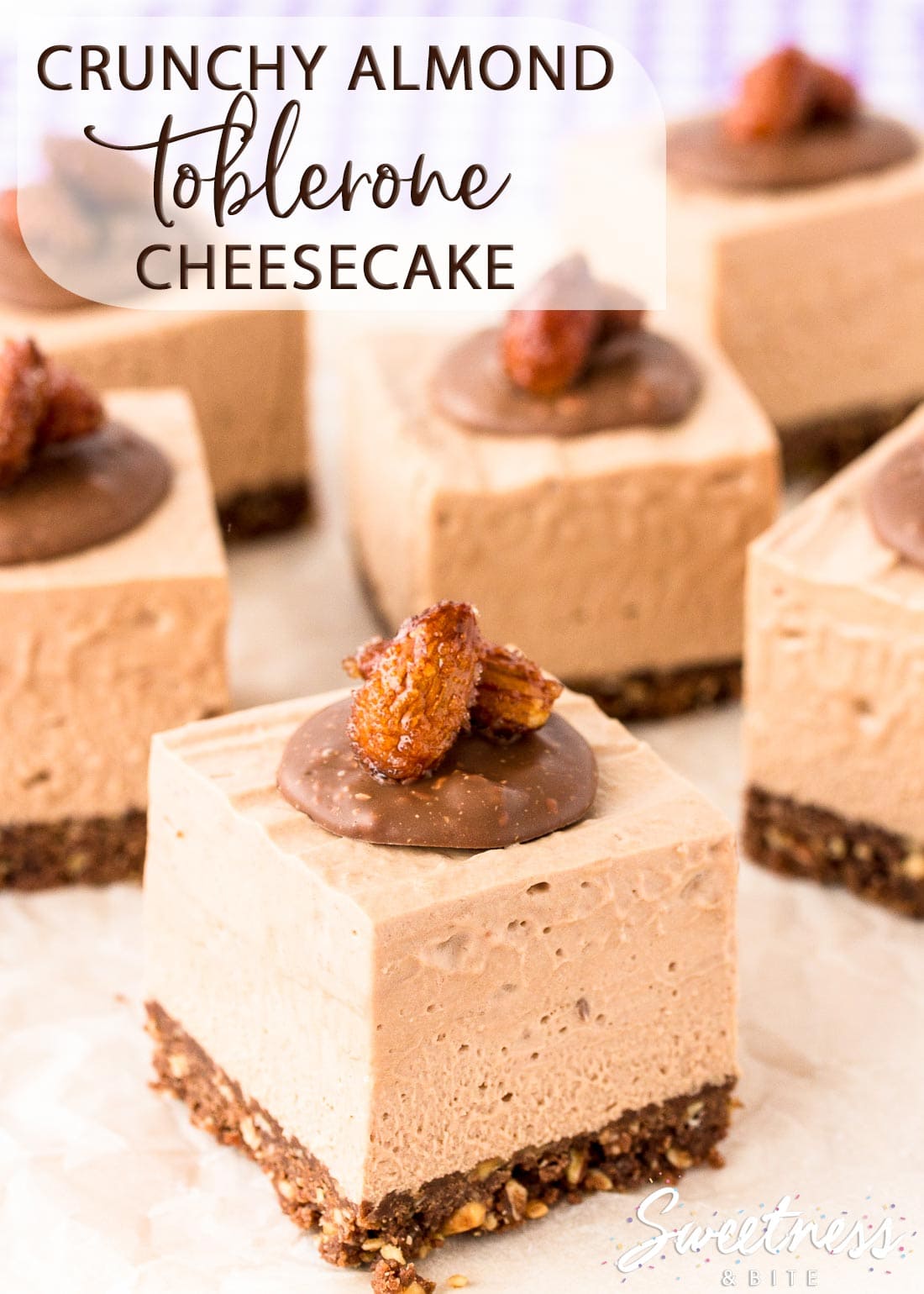 You can call me basic if you like, but one of my favourite by-products of travelling overseas, or having people visit from overseas, has always been duty-free Toblerone.
I don't know whether it's the joy of travelling or having someone visit that makes it taste good, or if it does just taste good, but I love it.
And what makes me love it even more is turning it into a cheesecake.
This cheesecake is inspired by the Crunchy Almond Toblerone flavour but made with the regular kind, which is usually easier to buy in shops.
It's a super creamy no bake cheesecake filling, on a crunchy biscuit and nut base, topped with melted Toblerone and sweet/salty honey roasted almonds. Adding chopped honey roasted almonds to the base mixture really takes this whole cheesecake to the next level.
If you have a sweet tooth and love Toblerone as much as I do, you're going to love this.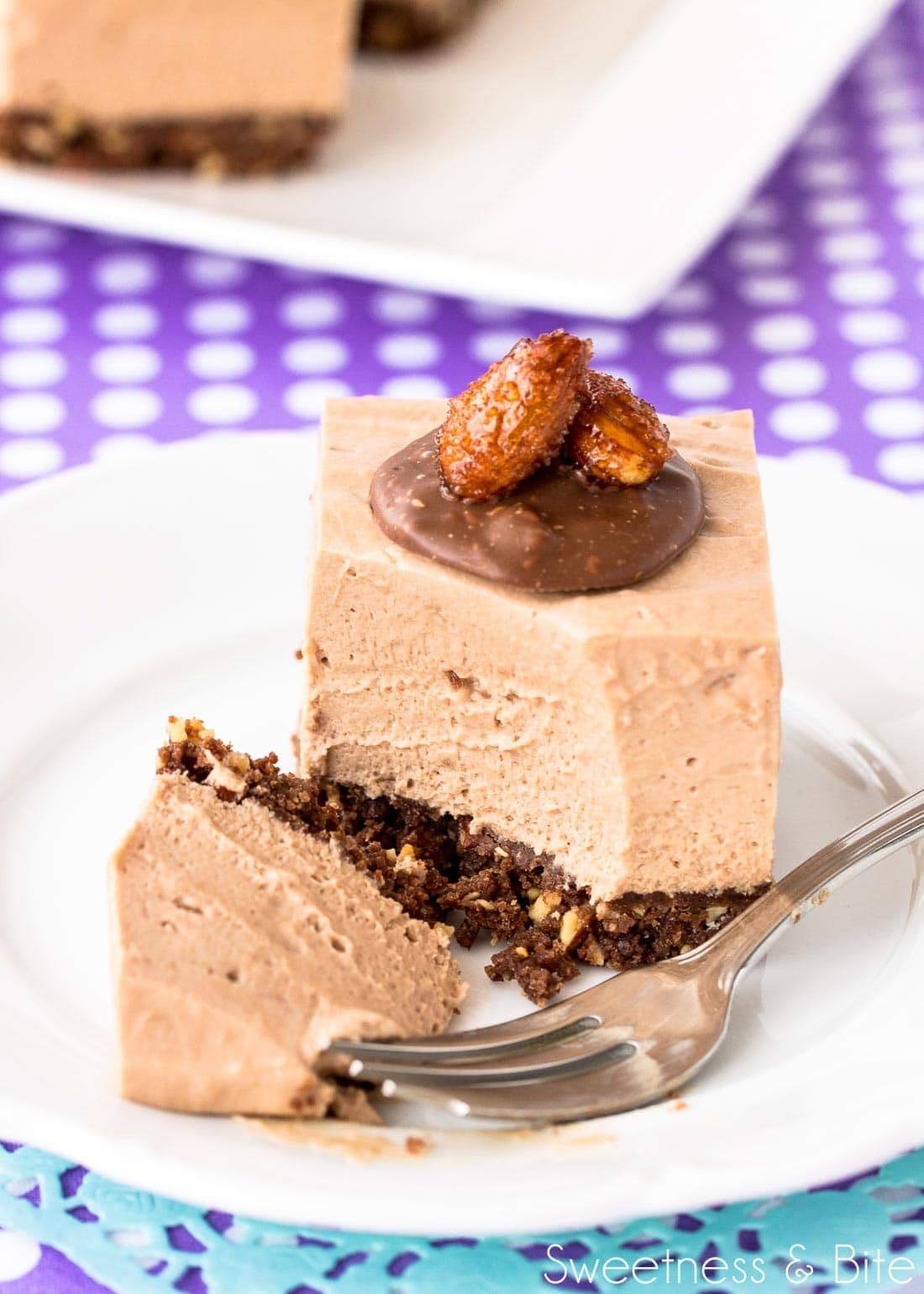 Toblerone Cheesecake Ingredients
Here's what you'll need to make the Toblerone cheesecake:
Cream cheese – Make sure you choose full-fat cream cheese for this recipe. Low fat cream cheese becomes runny when beaten, and won't work in this recipe. I use Philadelphia cream cheese blocks.
Sugar – I like to use regular granulated sugar in the honey roasted almonds, and then caster/ superfine sugar in the cheesecake because it dissolves more easily, but if regular sugar is all you have then by all means just use that in the cheesecake too.
Powdered gelatin – This is what makes the cheesecake set.
Honey – I use liquid honey in a squeezy bottle for this recipe, because it's easier to measure, but any light-flavoured squeezy or spreadable honey will work. If you don't have honey, you should be able to swap the honey for maple syrup or corn syrup in the honey roasted almond recipe and replace the honey in the cheesecake filling for maple syrup, or replace it with the same weight of sugar.
Whipping cream – The cream you need for this recipe is known by different names in different countries. In NZ it's called standard cream or whipping cream, in other countries, it may also be known as heavy whipping cream, single cream or full cream. Long story short: you need a pourable, un-whipped cream that is around 35% fat. It will usually say on the bottle/carton that it is suitable for whipping.
Toblerone – You'll need one 360g (12.6 oz) block of Toblerone for this recipe, it's used both in the cheesecake filling and for the decorations. You could use any of the Toblerone flavours, I just used the milk chocolate one.
Chocolate biscuits/cookies – Any un-filled chocolate cookies or biscuits can be used for the base. I used homemade gluten free chocolate cookies so I could make it gluten free. You could also use digestive biscuits or graham crackers.
Butter – Salted or unsalted butter will work in this recipe.
Almonds – To make the honey roasted almonds, you'll need skin-on whole raw almonds. You could probably also use blanched almonds (these have had the skin removed). You could also buy premade honey roasted almonds if you can find them.
Sea salt flakes – This gives the saltiness to the sweet/salty almonds.
Oil – Choose a neutral-flavoured vegetable oil like rice bran.
How to Make the Toblerone Cheesecake
The recipe process may seem a little long, but the steps themselves are quite easy, and trust me, it's all worth it.
We'll start by making the honey roasted almonds. This just involved roasting the almonds for 10-12 minutes until they're toasty, then mixing them with honey, oil and a little bit of water in a pan. You'll let them sizzle for a bit until the honey is all sticky and coats the almonds all over.
Then you'll tip them into a bowl with sugar and salt, and toss it all together. Spread it out on a baking paper lined baking sheet to cool.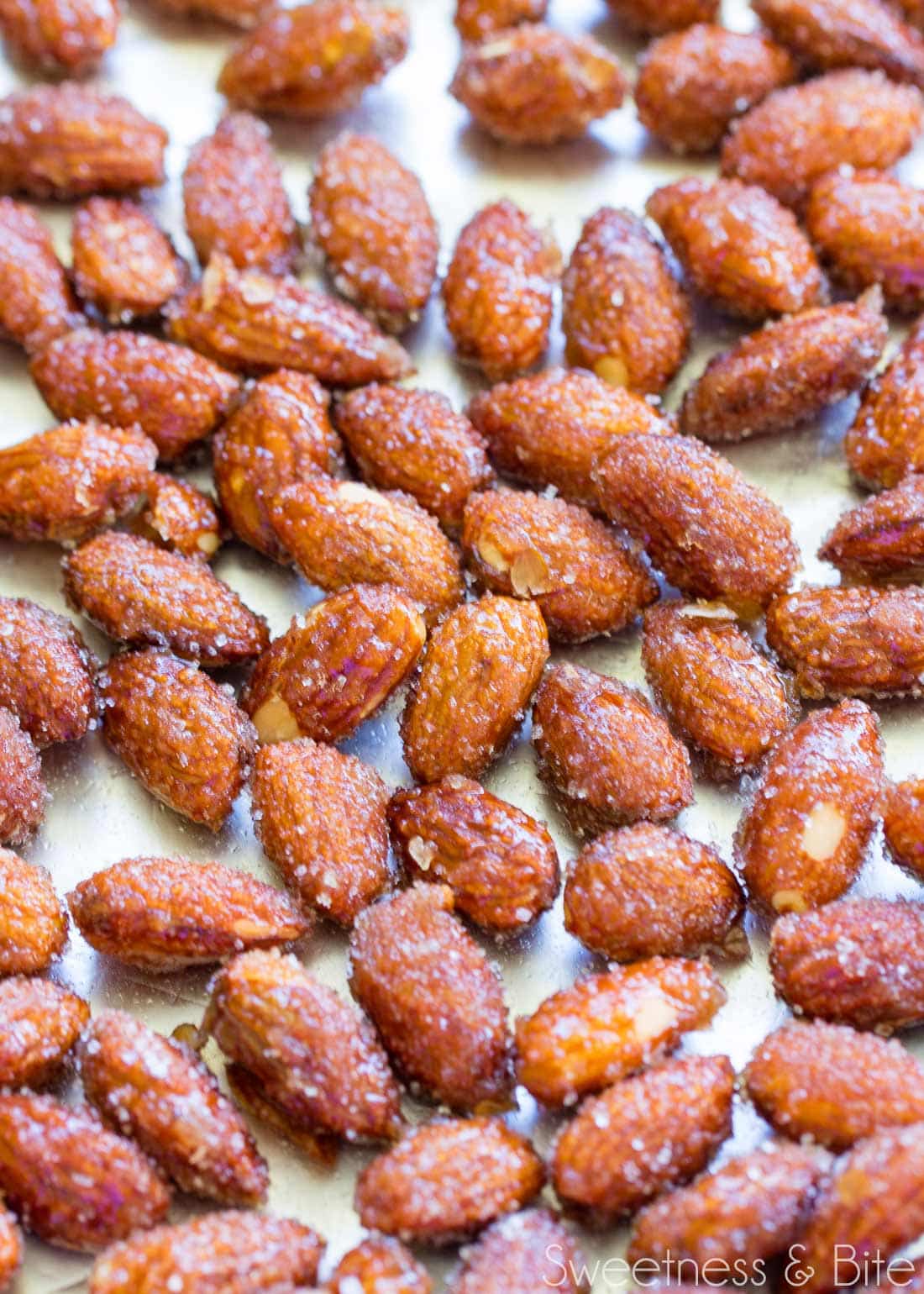 Some of the almonds get crushed up in a food processor (or you can chop them into small pieces with a knife) and they get mixed with the crushed chocolate cookies and melted butter to make the crunchy cheesecake base.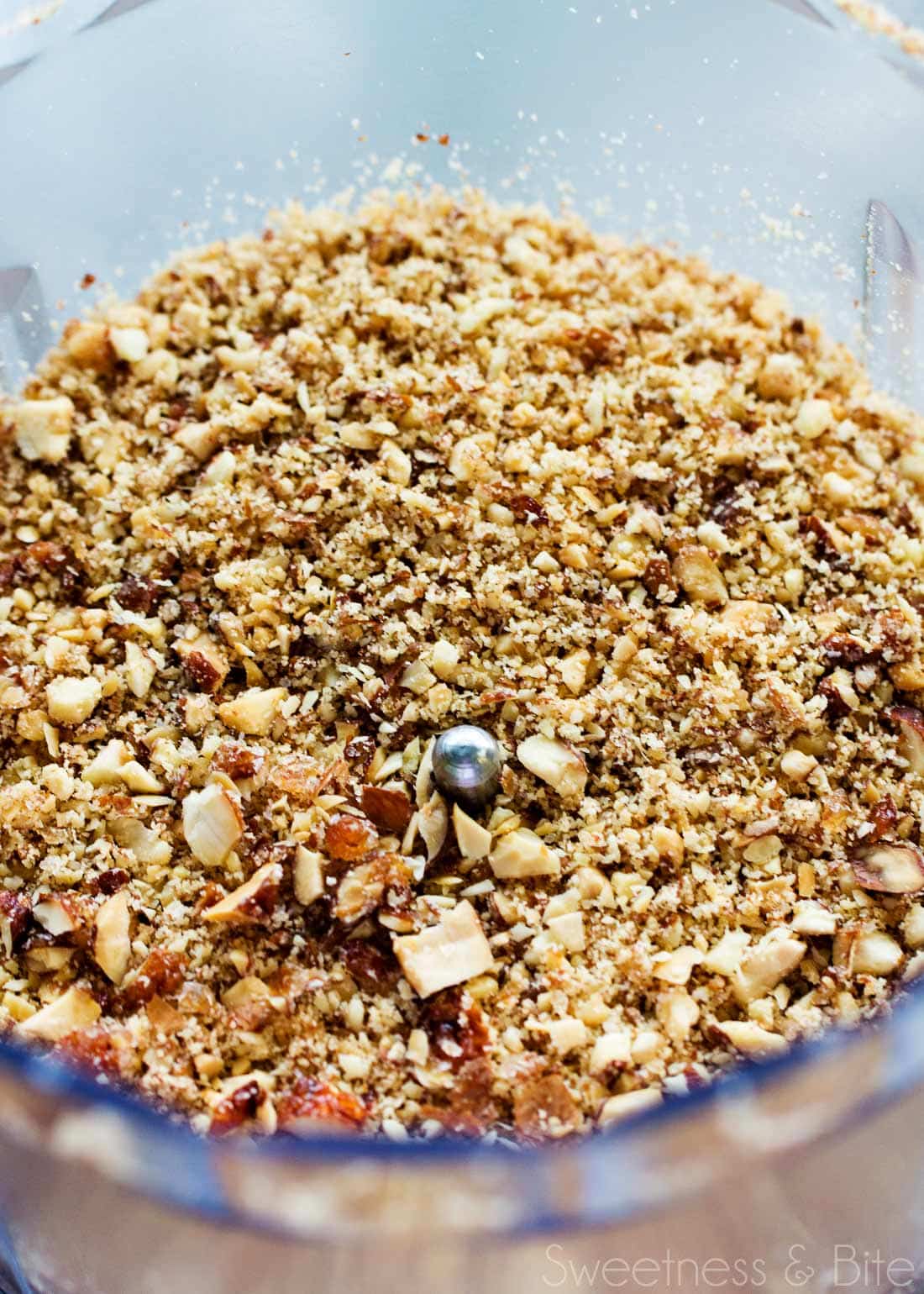 The creamy cheesecake filling is pretty straightforward to make. You'll start by dissolving the gelatine in water, and setting it aside to cool. Then beat the room temperature cream cheese, sugar and honey and melted Toblerone until they're lovely and smooth, you can do this either in a large bowl with handheld electric mixer, or in the bowl of a stand mixer.
The cream gets whipped and folded into the cream cheese mixture, followed by the gelatine mixture. Then it's poured onto the base, and refrigerated overnight.
The next day, you can lift the cheesecake out of the tin, and slice it into squares.
Decorating the Cheesecake
I wanted to buy some of those itty bitty Toblerone bars so I could put a little triangle on each cheesecake square, but I couldn't find any anywhere, so I improvised with these little dollops of melted Toblerone topped with a couple of the honey roasted almonds. It turned out to be a very good idea.
Just melt some Toblerone in the microwave in a small bowl on low heat, drop spoonfuls onto a baking paper lined tray, then top with the almonds and leave to set.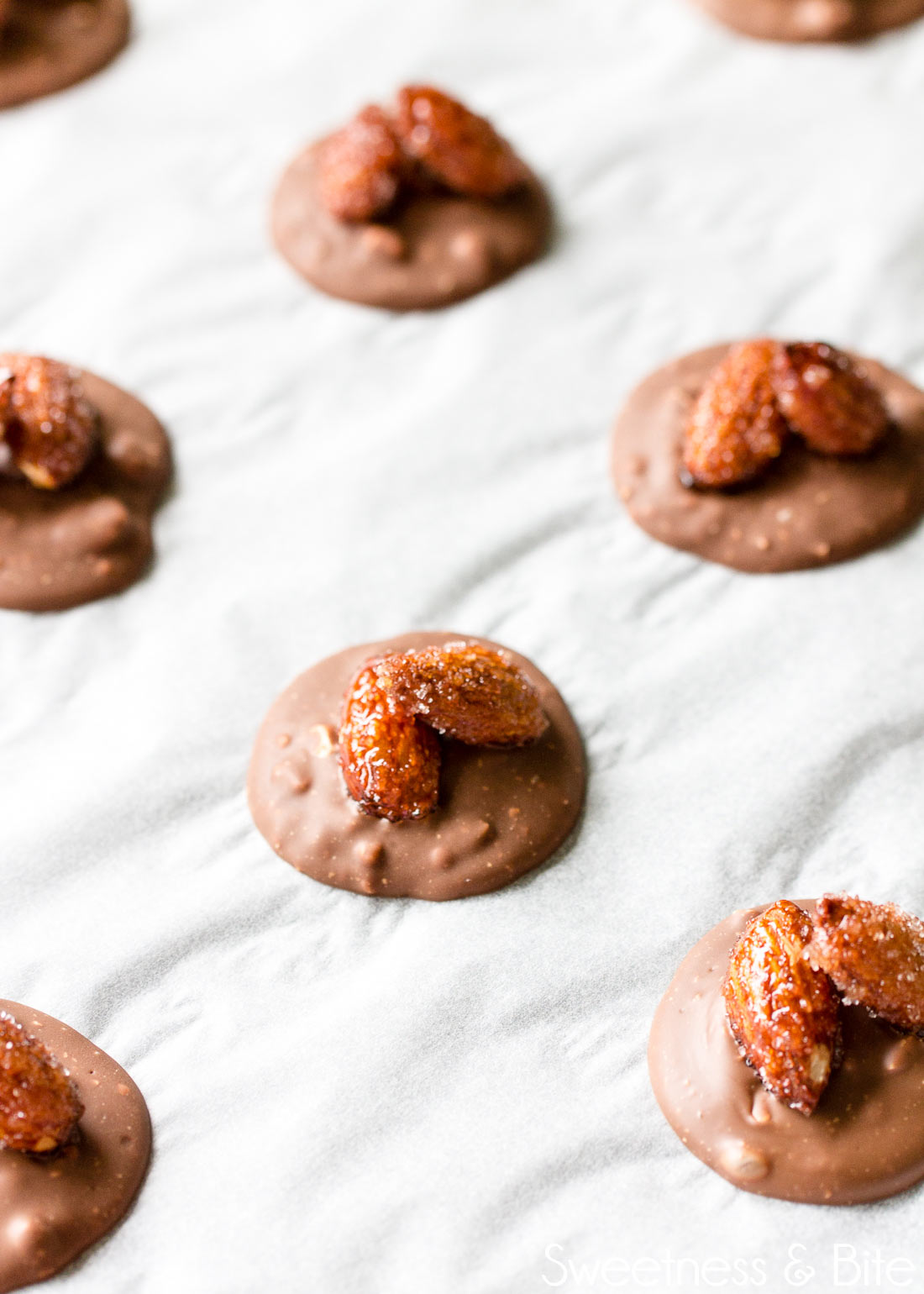 When you're ready to serve this delicious dessert, you can pop the little decorations on top of the cheesecake squares.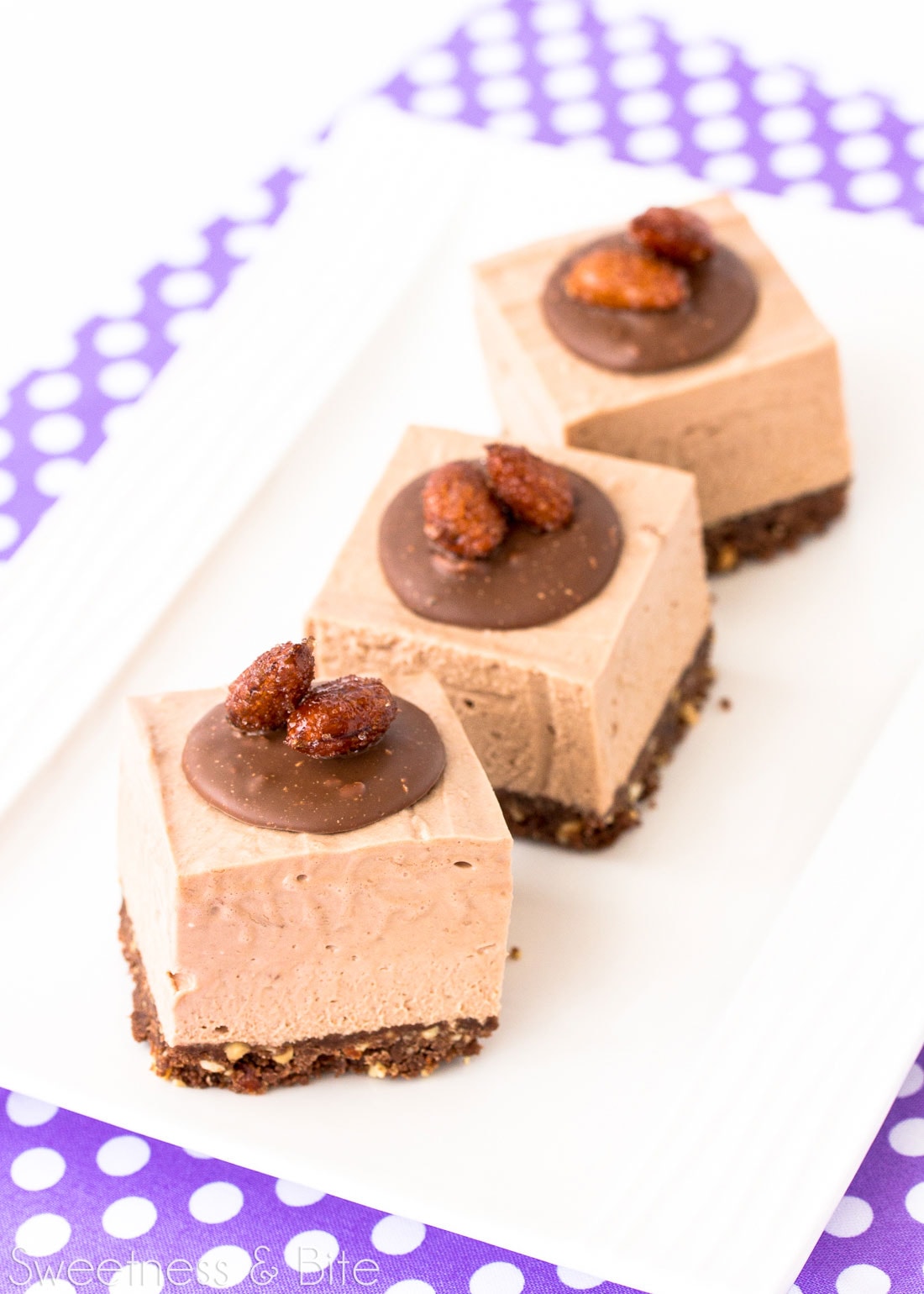 Storing the Cheesecake
The cheesecake will keep in the fridge for several days. Just keep in mind that over time, the almond nougat pieces in the Toblerone cheesecake filling will start to dissolve.
The little chocolate/almond toppers can be made a day or two in advance, just make sure you store them in an airtight container at room temperature – any moisture in the air will cause the sugar on the almonds to dissolve.
Toblerone Cheesecake Recipe Q&A
What is Toblerone?
Toblerone is a classic Swiss chocolate, made in a distinctive triangular shape, containing almonds and pieces of nougat, which is a chewy candy made from egg whites and honey. The original Toblerone (and the one I used here) is made with milk chocolate, but there are now many different varieties available, including white and dark chocolate, and the "crunchy almond" Toblerone which inspired this recipe.
Can this be made gluten free?
Yes, just use gluten free biscuits/cookies to make the cheesecake base.
Is Toblerone gluten free?
Yes, at the time of writing this, none of the Toblerone flavours contains gluten so it is safe for Coeliacs. But always check the ingredients to make sure.
Can this be made without gelatine?
This recipe uses gelatine to make it set. If you want a simple cheesecake recipe that doesn't contain gelatine, I would suggest using my No-Bake Chocolate Cheesecake recipe, replacing the chocolate with Toblerone and mixing the chopped honey roasted almonds into the crumb mixture.
Can you eat Toblerone cheesecake frozen?
Absolutely! Slice the cheesecake and freeze it in an airtight container. Then you can easily take out as many pieces as you like, and eat it straight from the freezer, or let it soften slightly first for a creamier cheesecake.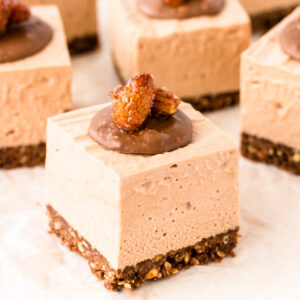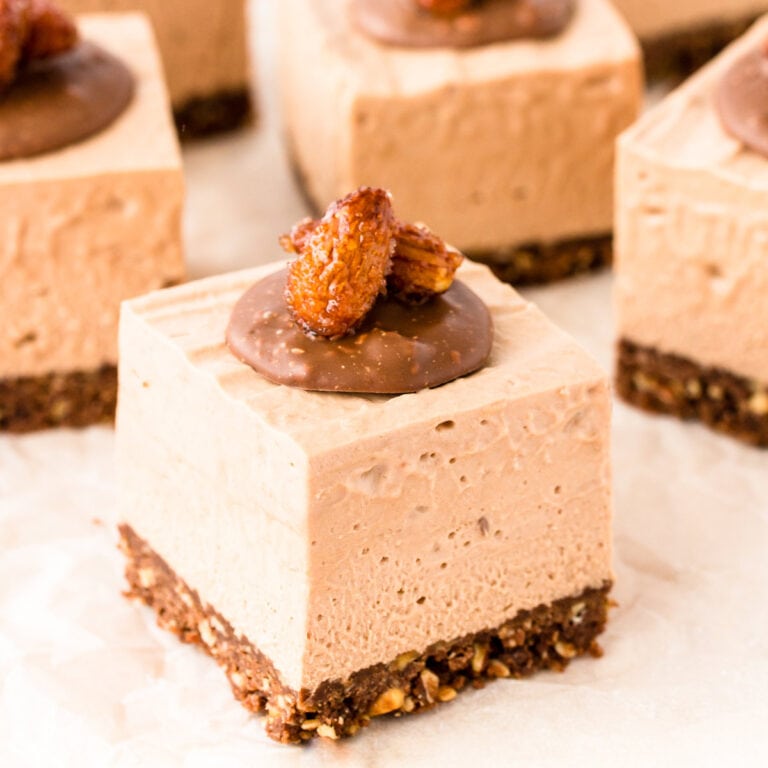 Ingredients
For the honey roasted almonds
340

g

skin-on whole raw almonds (2 cups)

50

g

sugar

¾

teaspoon

sea salt flakes

1

tablespoon

neutral flavoured oil

3

tablespoons

honey

I used liquid honey

2

tablespoons

water
For the base
200

g

chocolate biscuits/cookies

100

g

of the honey roasted almonds

100

g

butter

melted and cooled
For the filling
2

teaspoons

powdered gelatin

2

tablespoons

cold water

500

g

cream cheese

softened

50

g

caster sugar

25

g

honey

300

ml

whipping cream

275

g

toblerone

melted and cooled
For the toppers
85

g

Toblerone chopped roughly

32

of the honey roasted almonds
Instructions
For the honey roasted almonds:
Preheat the oven to 180°C.

Line a rimmed baking tray with non-stick foil or baking paper. Spread the almonds into a single layer onto the tray and bake, shaking the tray a couple of times, for 10-12 minutes or until lightly browned and toasty smelling.

While the nuts roast, mix together the sugar and salt in a small bowl. If the salt grains are quite large, crush them with the back of a spoon. Sprinkle half of the sugar and salt into a medium sized heatproof bowl.

Measure the tablespoon of oil into a medium saucepan or frying pan, and then use the same spoon to measure the honey and add it to the oil (doing the oil first means the honey releases from the spoon easily). Add the water and mix together.

When you remove the almonds from the oven, start heating the saucepan over medium-high heat. When it starts to bubble add the nuts and cook, stirring, until most of the liquid has evaporated and the almonds are sticky and shiny.

Tip the almonds into the bowl and sprinkle the rest of the sugar over the top. Working quickly, stir the nuts to coat in the sugar, then pour the nuts back into the baking tray. Spread them out into a single layer and separate them as much as possible.

Leave them to cool to room temperature. Break up any nuts that have stuck together, and store them in an airtight container.
For the cookie crumb base:
Line the base and sides of an 8"/20cm square cake tin with two long strips of non-stick baking paper criss-crossed across the bottom. Make sure there is some overhanging, which will allow you to lift the cheesecake out later. Alternatively, use a 8 or 9" round springform pan, lined with baking paper.

Crush the cookies into fine pieces, either in a food processor or place them in a resealable plastic bag and bash with a rolling pin. Roughly chop the honey roasted almonds, either in a food processor or by hand with a large knife. You want it reasonably fine but a few bigger pieces are nice for extra crunch. If you're using a food processor then you can mix the biscuits, nuts and butter together in that, otherwise mix them by hand in a bowl.

Add ¾ of the melted butter to the cookies and nuts and mix to combine. If the mixture looks too dry, add more butter and if it's too wet, add a couple more crushed cookies. For the correct consistency, pick up a handful of the mixture and squeeze it, it should hold its shape, but crumble when pressed with your finger. Press the mixture into the prepared tin, and refrigerate while you prepare the filling.
To make the cheesecake:
Sprinkle the gelatine over the water in a small heatproof jug and leave to soften for a few minutes.

Heat 1/2 an inch or so of water in a small saucepan until gently simmering. Place the jug with the gelatine into the saucepan, and stir until the gelatine is melted and clear. Set aside to cool.

Beat the softened cream cheese, sugar and honey in the bowl of a stand mixer fitted with the paddle attachment (or in a large bowl with an electric hand mixer) until smooth and creamy. Add the melted Toblerone and beat to combine.

In a medium bowl, beat the cream until soft peaks form (I used a hand mixer for this). Gently fold the whipped cream into the cream cheese mixture, then quickly but gently fold in the gelatine mixture. Spread the filling onto the cheesecake base, and smooth the top. Bang the tin on the bench a few times to remove any air bubbles.

Refrigerate for several hours or overnight until set.

Gently lift the cheesecake out of the tin. Use a large knife to cut it into 16 squares. Rinse the knife in warm water and dry it before each cut.
For the toppers:
Place roughly ¾ of the chopped Toblerone into a heatproof bowl or jug, and microwave on 50% power in short bursts, stirring between each burst until melted. Add the remaining Toblerone and keep stirring until it has all melted. Dollop teaspoons full of the chocolate onto a baking paper lined tray. Leave to partially set, then arrange two honey roasted almonds on each round of chocolate. Leave at room temperature to set. Peel off and place on the cheesecake squares just before serving.

Storage: This cheesecake will last 2-3 days in the fridge, just be aware that the nougat pieces in the Toblerone will start to dissolve after a day or so and you may get little pockets of dissolved sugar in the filling. Place the chocolate toppers on each square just before serving, if you add them in advance the moisture from the cheesecake will dissolve the sugar on the almonds.
Notes
For the cheesecake and the little toppers, you will need one 360g block of Toblerone.
I used my simple gluten free chocolate cookies for the base, but you can use any chocolate cookie that you like.
Use a removable bottom tin if you have one, but I used a regular cake tin and it came out just fine.
The honey-roasted almond recipe makes more than you will need for this cheesecake. You can halve the recipe if you don't want too many leftover almonds.
Nutritional Disclaimer: Any nutritional info provided is a computer generated estimate and is intended as a guide only.
~Natalie
x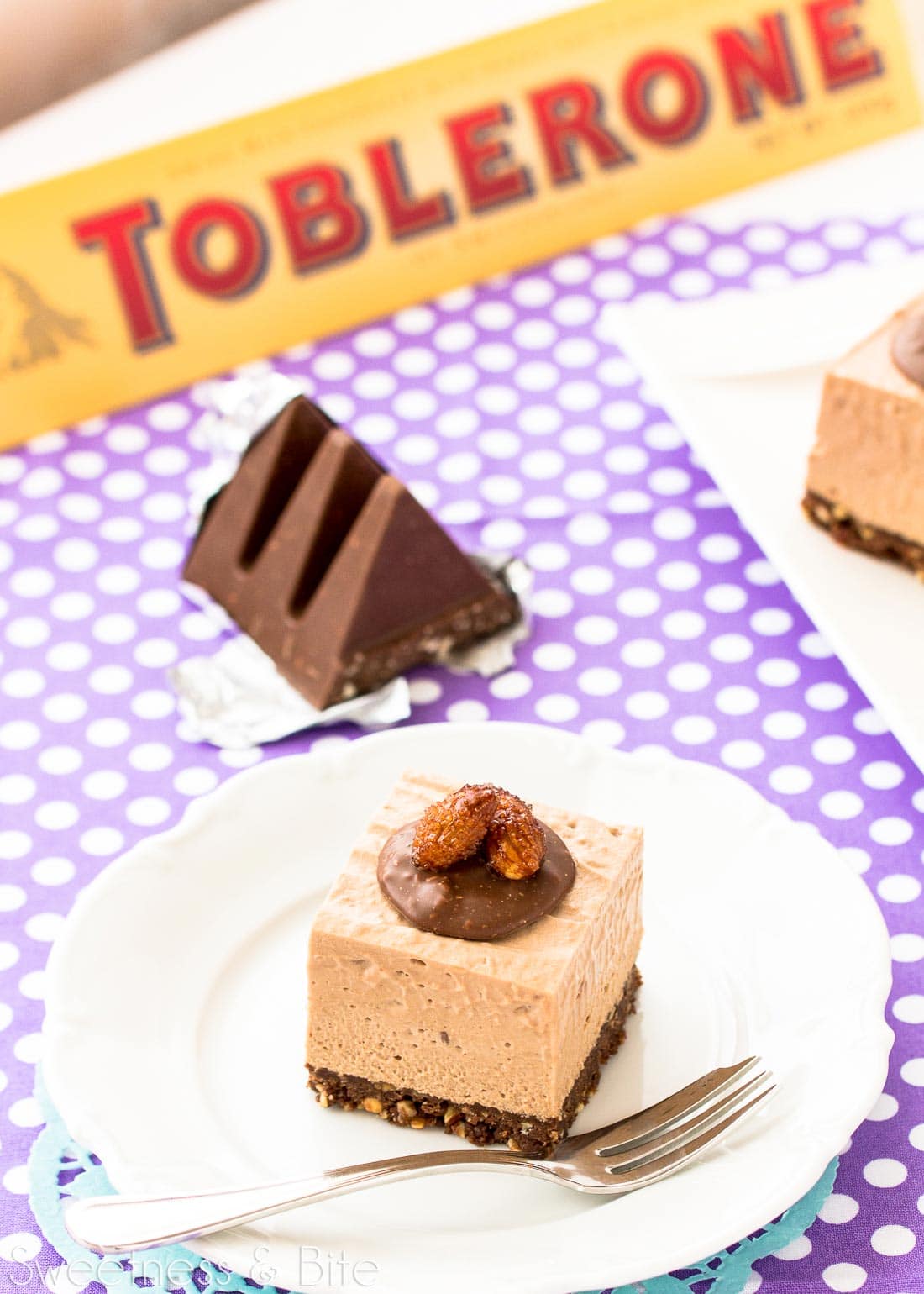 More Cheesecake Recipes You Might Like…
More Dessert Recipes