Simple Gluten Free Chocolate Biscuits
This post may contain affiliate links to products I recommend. I receive a small commission at no cost to you if you make a purchase using my link.
A short and sweet post today, to share these here cookies in preparation for another recipe coming soon.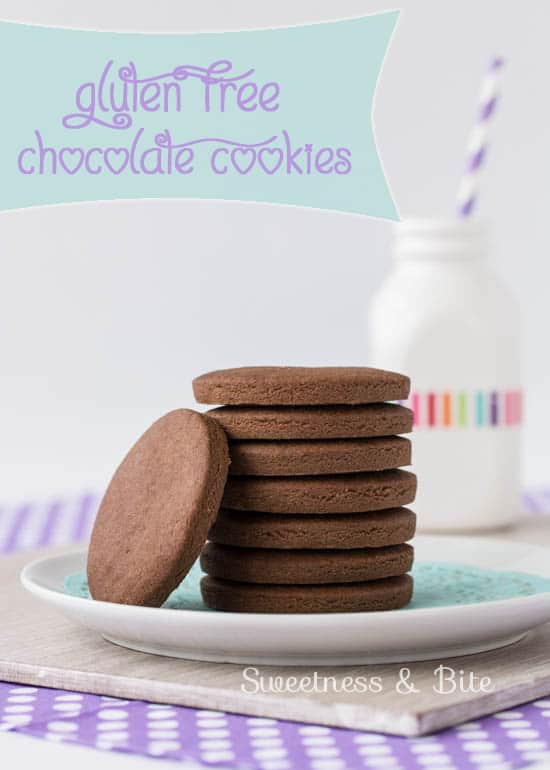 I'm not going to waffle on and on about the chocolateyness or crispness or whatnot of these gluten free chocolate biscuits, all I'm going to tell you about are two of the things that these are perfect for – cut out cookies and chocolate cookie-crumb bases for cheesecakes and pies.
I based the recipe on the one I used for my fruity frosted flower cookies, which means that the dough is incredibly easy to work with and the baked cookies are sturdy enough that they won't fall apart if you ice them, whether it's with fondant or royal icing. The cookies also don't spread much, which makes it easy to use the same cutter to cut the cookies and fondant for decorating the top.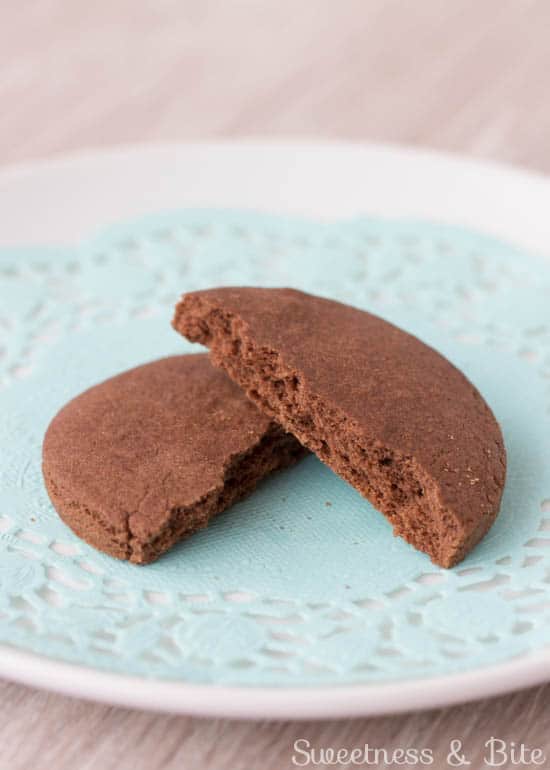 But what I really wanted these cookies for is the crumbs… I created them purely for their parts, mwahaha (*insert evil doctor laugh here*). I cut them out with a medium-sized round cookie cutter, but in fact, if you're making them purely to crush into crumbs you can chill the dough in a log shape and simply slice off 5mm or so thick rounds. No need for pretties when you intend to bash the bee-gees out of them.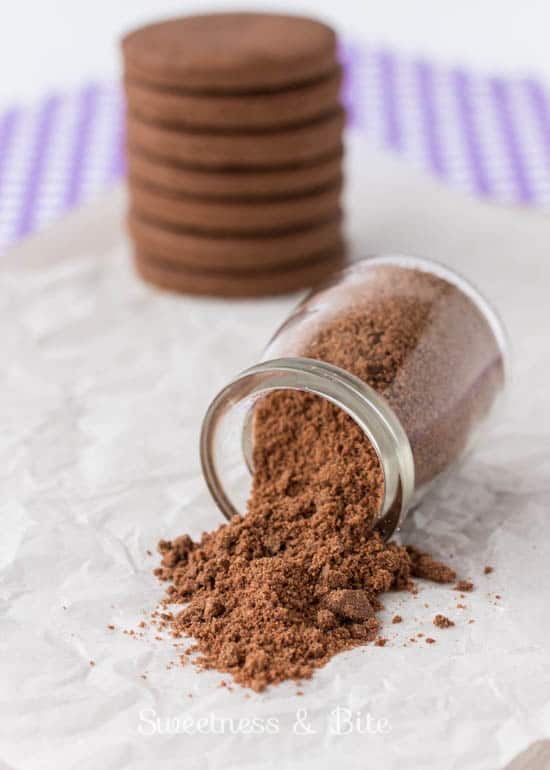 Even better, I was being a bit lazy when I whipped these up and only felt like one trip from the flour shelf in the pantry to the bench, so I only used two gluten free flours. I used brown rice and tapioca, and the cookies came out perfectly. And the best thing about gluten free cookies is that you can keep re-rolling the dough until you can't possibly cut another cookie from it, you don't need to worry about overworking the gluten.
So here we go, for cookies and crumbs….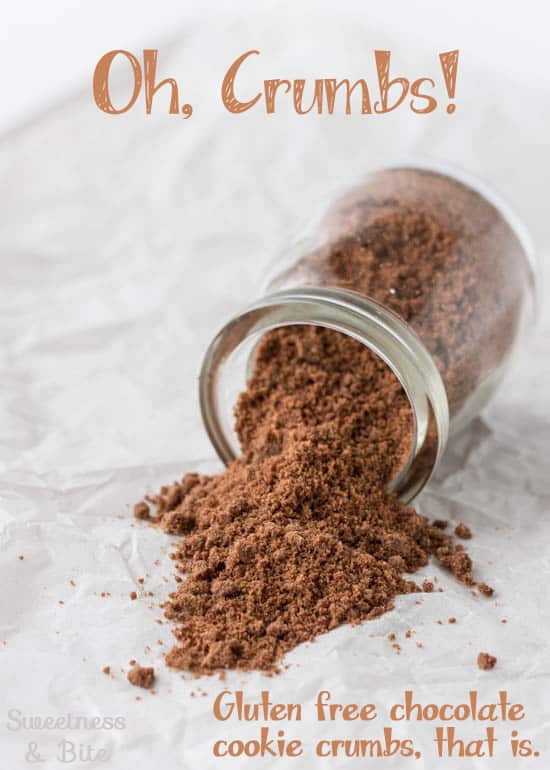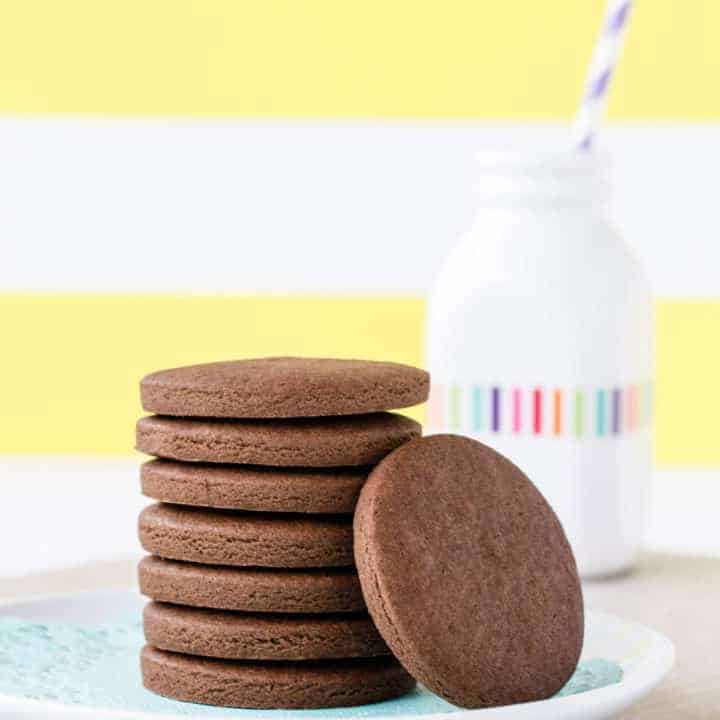 Ingredients
280

g

gluten free flour

I used 170g brown rice flour & 110g tapioca flour/starch

40

g

cocoa

1

teaspoon

xanthan gum

1/4

teaspoon

baking powder

pinch

of salt

125

g

unsalted butter

at room temperature

175

g

sugar

2

teaspoons

vanilla extract

1

egg

at room temperature
Instructions
Sift together the flour, cocoa, xanthan gum, baking powder and salt. Whisk to combine thoroughly.

In the bowl of a stand mixer fitted with the paddle attachment (or in a large bowl if using a hand beater) beat together the butter, sugar and vanilla extract until fluffy. Beat in the egg until combined. Stir in the dry ingredients.

Turn out onto a clean benchtop and knead just until the dough comes together and is smooth. Flatten into a disc, wrap in plastic wrap and chill for half an hour or so until firm. Roll the dough out between two pieces of baking paper until approximately 5mm thick. I used two wooden dowels, placed on either side of the dough as I rolled it out to keep the thickness even. Slide the rolled dough (on the baking paper) onto a baking sheet and refrigerate until firm.

Remove the top sheet of baking paper, and use a cookie cutter to cut out shapes from the dough. Place them onto baking paper lined baking sheets, re-rolling the dough as necessary. Chill the dough on the baking sheets for 20 minutes before baking. (Alternately, after kneading the dough roll it into a log shape and wrap in plastic wrap. Chill until firm, and then cut into 5mm thick rounds. Place the rounds on a baking sheet and chill as above.) While the dough is chilling, preheat the oven to 180° Celsius.

Bake the biscuits for 12-17 minutes, depending on the size of the biscuit. Medium sized biscuits take around 14 minutes. The y should be just darkening very slightly at the edges. Cool for a few minutes on the baking sheets before removing them to a wire rack to cool completely. Store in an airtight container for up to one week.
Notes
Use a good quality cocoa for the tastiest biscuits. I used a natural cocoa, but you could also use Dutched cocoa. Chilling the dough before baking helps to stop the biscuits from spreading.
If you find that your biscuits are a little gritty, please don't give up! You may need to try swapping one of your flours (often rice flours) for another brand that is ground finer, or try a different flour altogether. If you're using a store-bought gluten free flour blend, sometimes these can be a bit on the gritty side, so you could try another brand. It's definitely worth persevering to perfect great basic recipes that you can use as a base for so many things.
Nutritional Disclaimer: Any nutritional info provided is a computer generated estimate and is intended as a guide only.
And here's what I used my chocolate cookie crumbs for… This amazing Crunchy Almond Toblerone Cheesecake!
~Natalie
x