How to Make a Mini Drip Cake
This post may contain affiliate links to products I recommend. I receive a small commission at no cost to you if you make a purchase using my link.
Discover how to make a mini drip cake with this tutorial and video!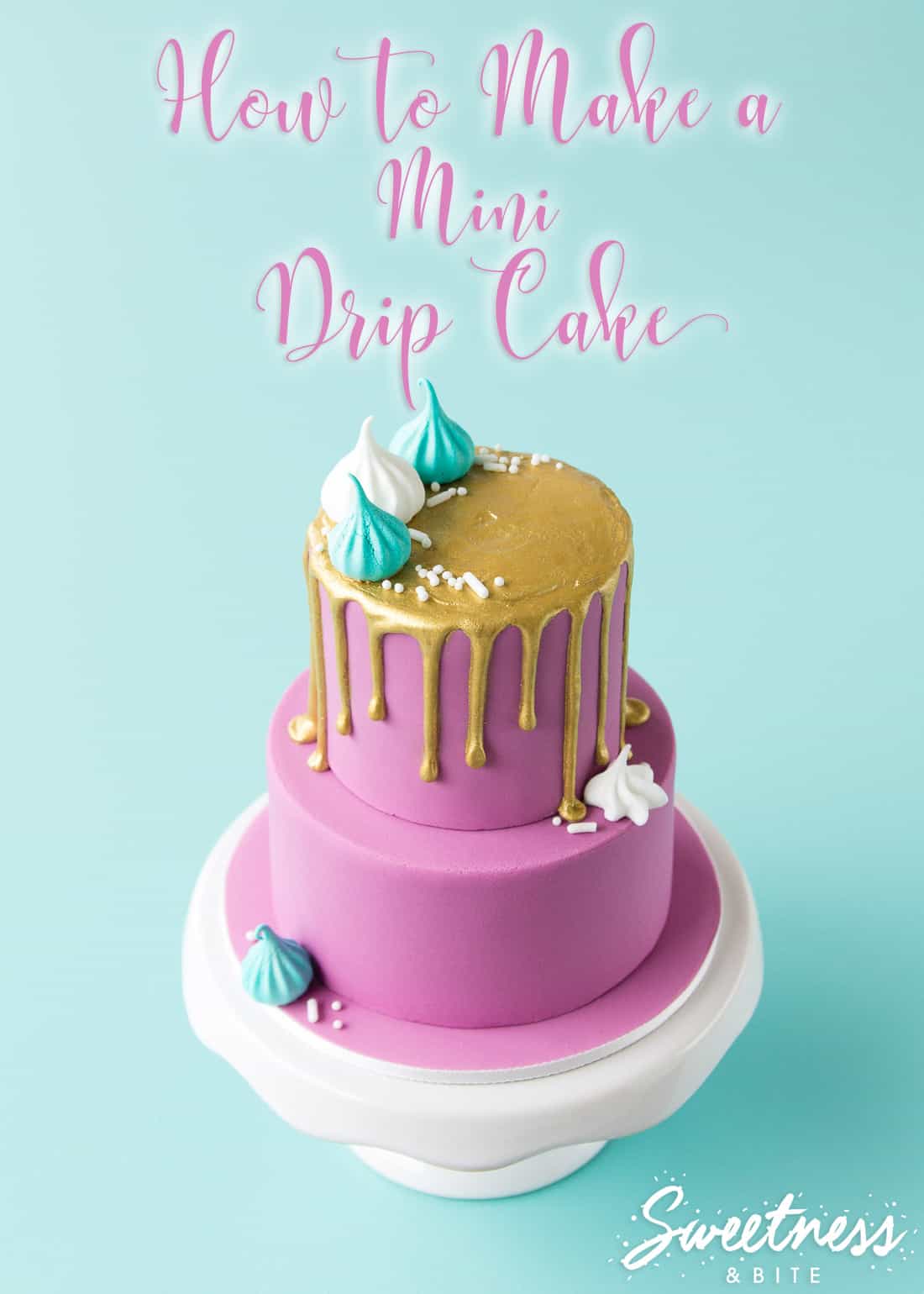 You know the saying "bigger is better"? Well, as a rather short and generally small person, I prefer this one: "good things come in small packages". Because small is cute and fun and, you know, bite-sized.
A couple of years ago, one of my best cake friends tricked me and a few others into thinking a tiny cake she had made from play dough with her kids was a regular full-sized cake. In the picture, it really looked as though it was. I felt like a twit for being tricked, but it was of course, hilarious.
That gave her the idea to create a Mini Cake Challenge competition on the Facebook page that we used to run, New Zealand cake decorators, challenging people to make a miniature cake creation that looked as though it was a full-sized cake.
Seriously, is there anything cuter than a tiny cake?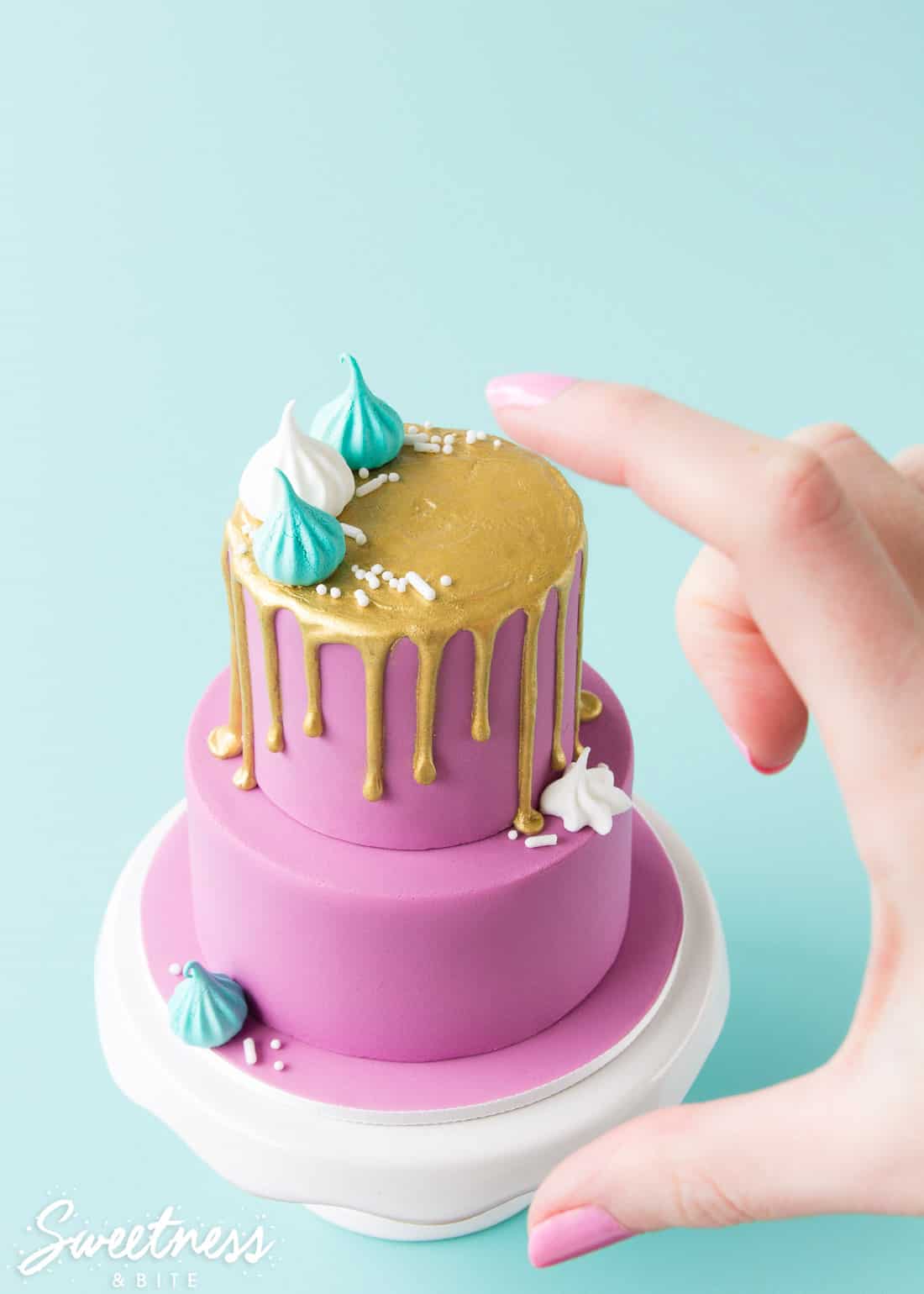 To give people a bit of inspiration for their mini cake entries I created this itty bitty drip cake, and figured I'd do a little video + picture tutorial.
Since I didn't want you to have to spend hours watching me, I sped up the video (gawd, I would kill to be able to work that fast in real life!) and since I don't give instructions in the video, I thought I'd put together a little picture tutorial as well.
You'll need to watch the video and read through the instructions to get the full effect.
In case you're wondering, the main rules of the competition were that no part of the cake, including the base board, could be larger than 4" and that the decorations should be 100% edible.
So here is the video…
And here's a bit more detail…
Before you start you'll need to make yourself some mini fondant smoothers, which you can find a template and instructions for right here.
How to Make a Mini Drip Cake
Start by cutting out your circles of cake. This cake was actually a bad gluten free banana cake (yep, even I bake duds when I'm messin' with recipes) and I decided to put it to good use since I didn't intend to eat my mini cake. I used round cutters that were just a little smaller than 3" and 2".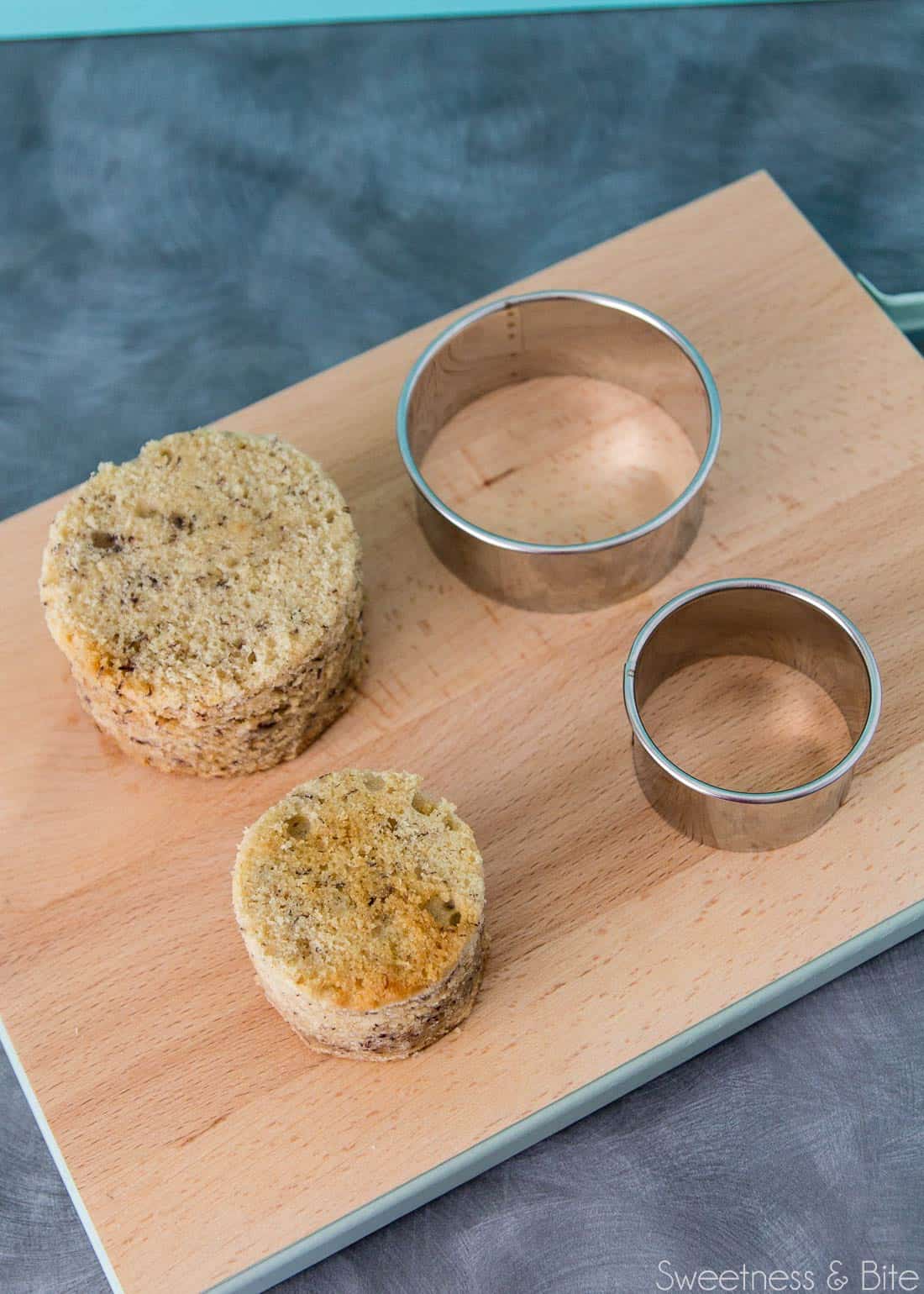 For these, I knew that my trusty grippy mat wasn't gonna cut it for holding the tiny cakes while I ganached them, so I melted a couple of white choc buttons and used that to stick the cake boards to my setup boards. Just put a small dollop, press the cake board on a chuck it in the fridge for a couple of minutes to set.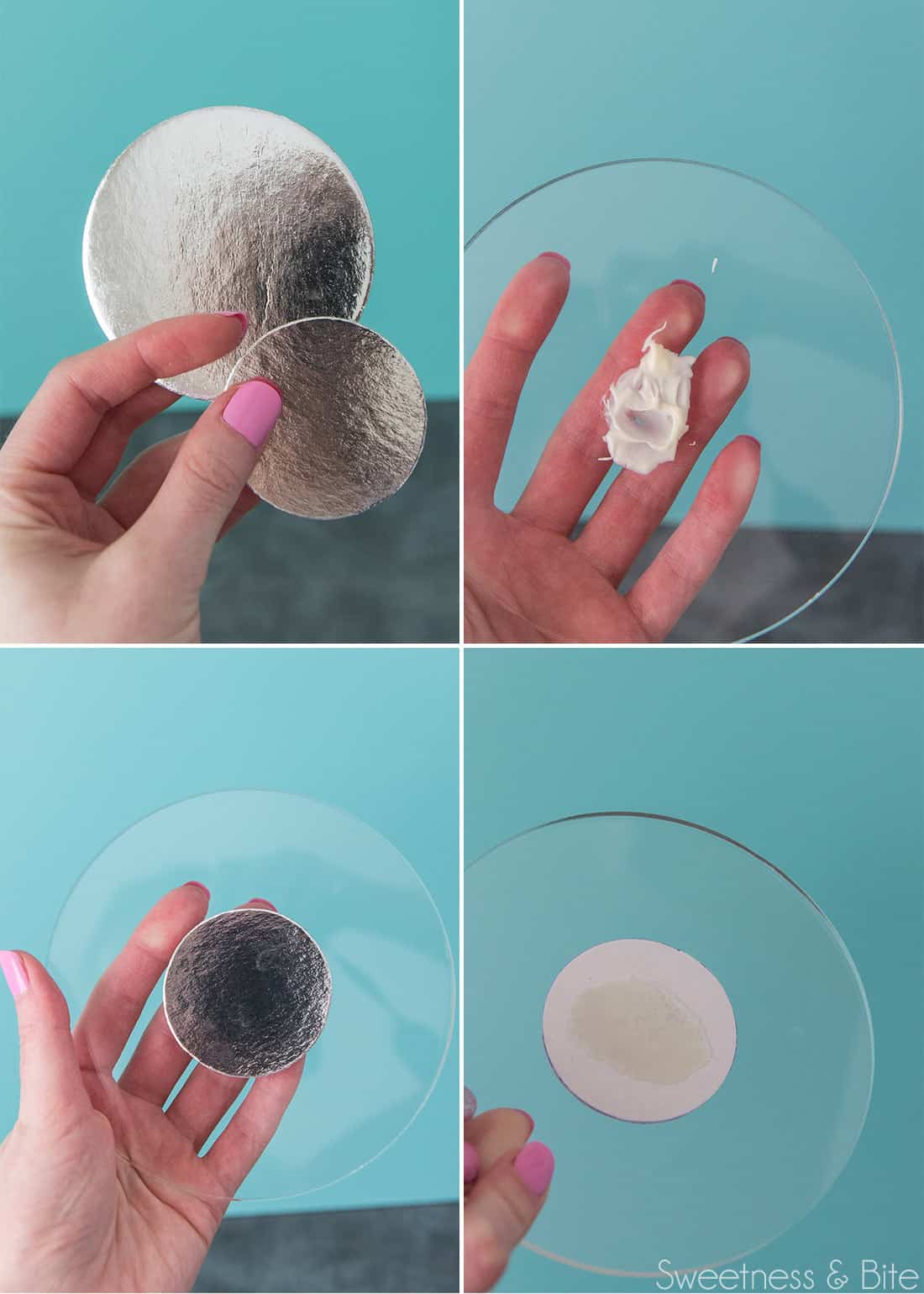 This next bit is done almost exactly the way I ganache a regular-sized cake, so check out that tutorial for full instructions.
The only difference is that I didn't bother with a cake board on top of these cakes since they were so small. I just ganached the sides and then used the straight angled scraper to scrape around it. Leave them to set completely before covering in fondant. Overnight is good, but since they're so small, an hour or two will do.
Then you'll need to cover a setup board with waxed paper, taping tightly in place (check out my fondant wrapping tutorial for more info on why I do this). While you're getting prepped, smear a bit of shortening onto a sharp knife (this will keep the fondant from sticking to your knife as you trim the fondant).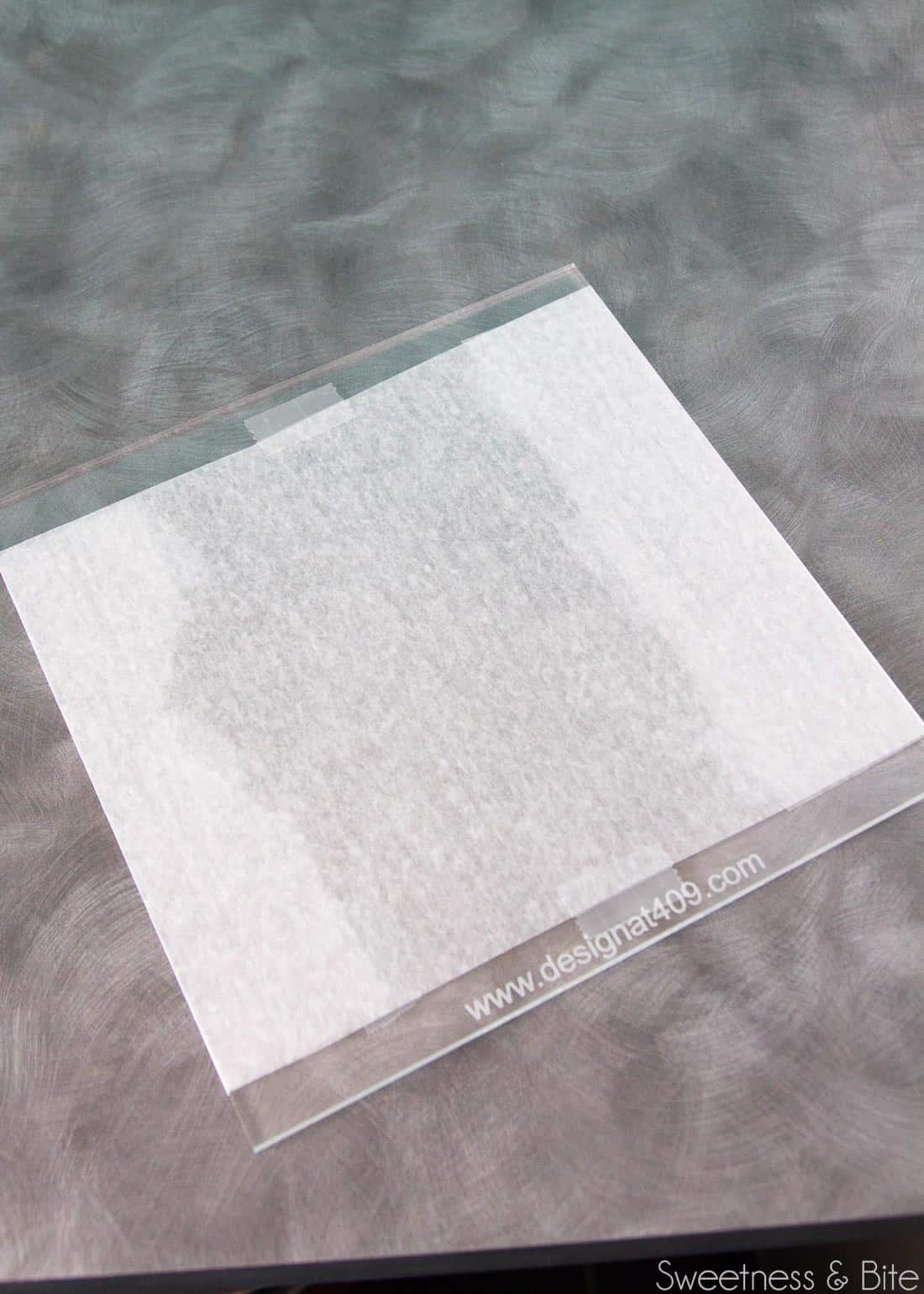 And while you're all covered in shortening, smear some all over the cake.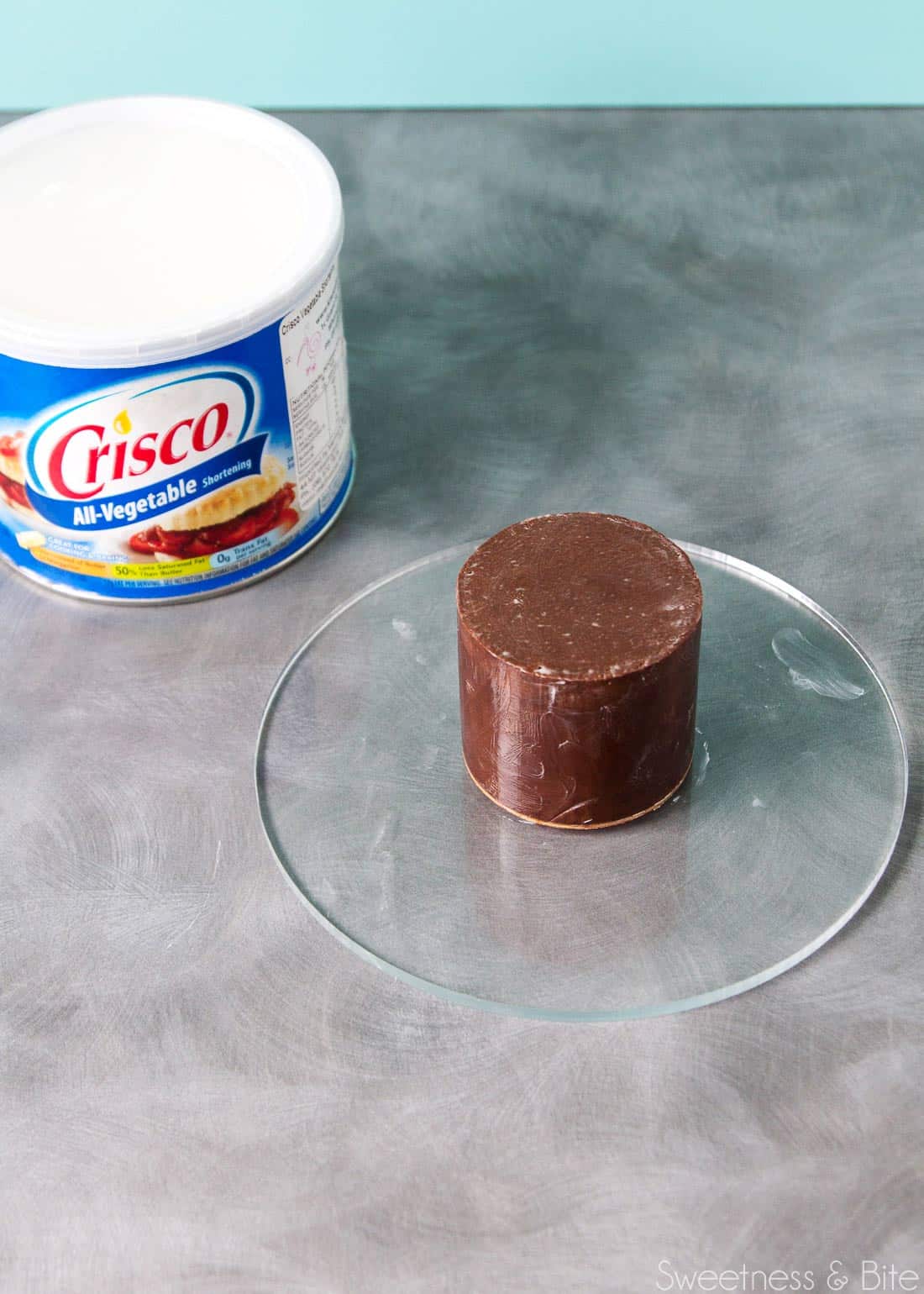 Give your fondant a good knead, then roll it out to a thickness of 2-3mm. Since it was only a small amount of fondant, I rolled mine out on the non-grooved side of my non-stick flower board, so I only needed to use a tiny bit of cornstarch as I rolled.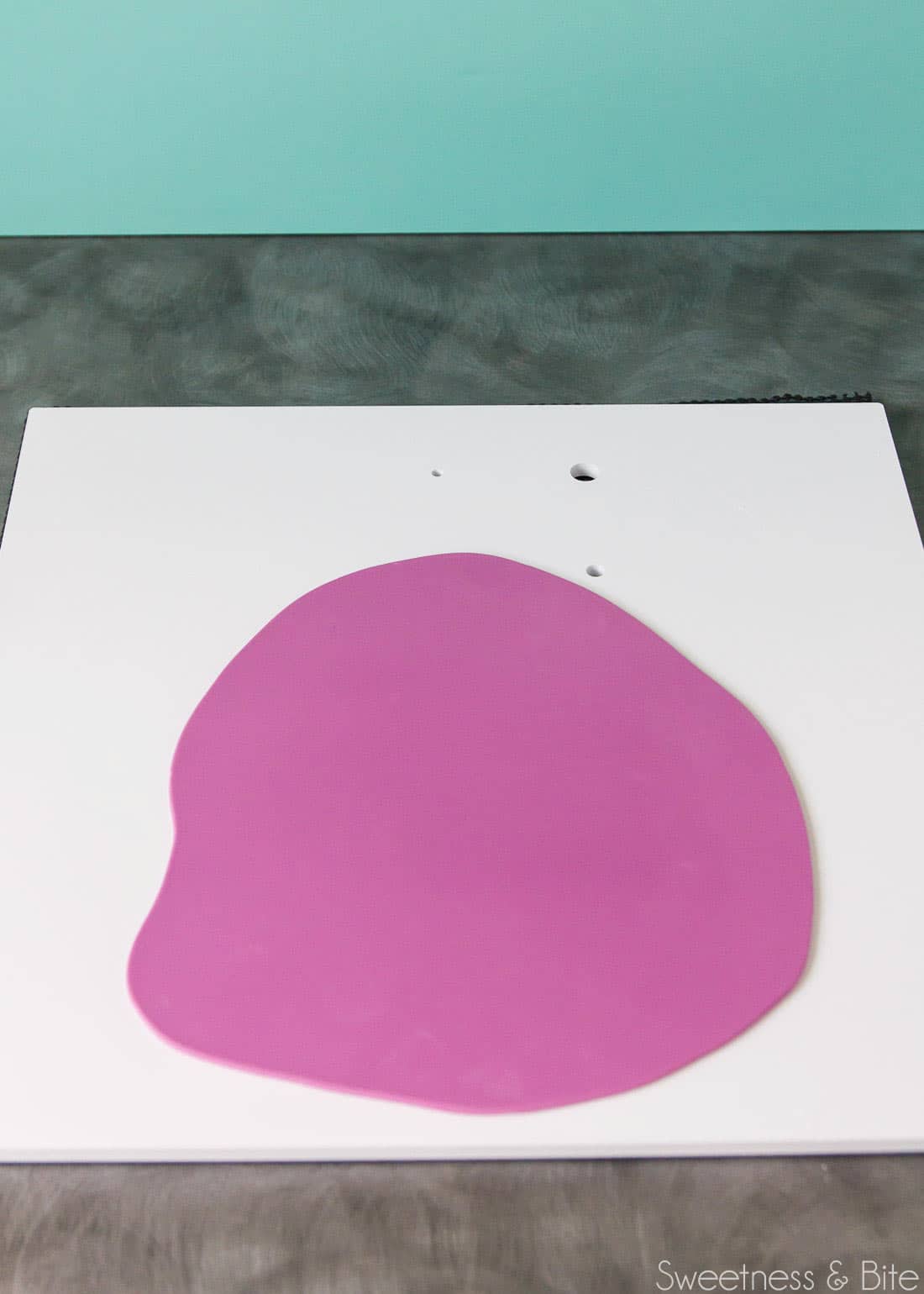 Drape the fondant over the cake, and smooth gently over the top of the cake, pushing out any air bubbles. Attach the fondant around the top edge, then slowly work your way down the cake, gently pulling out the pleats and smoothing the fondant against the cake.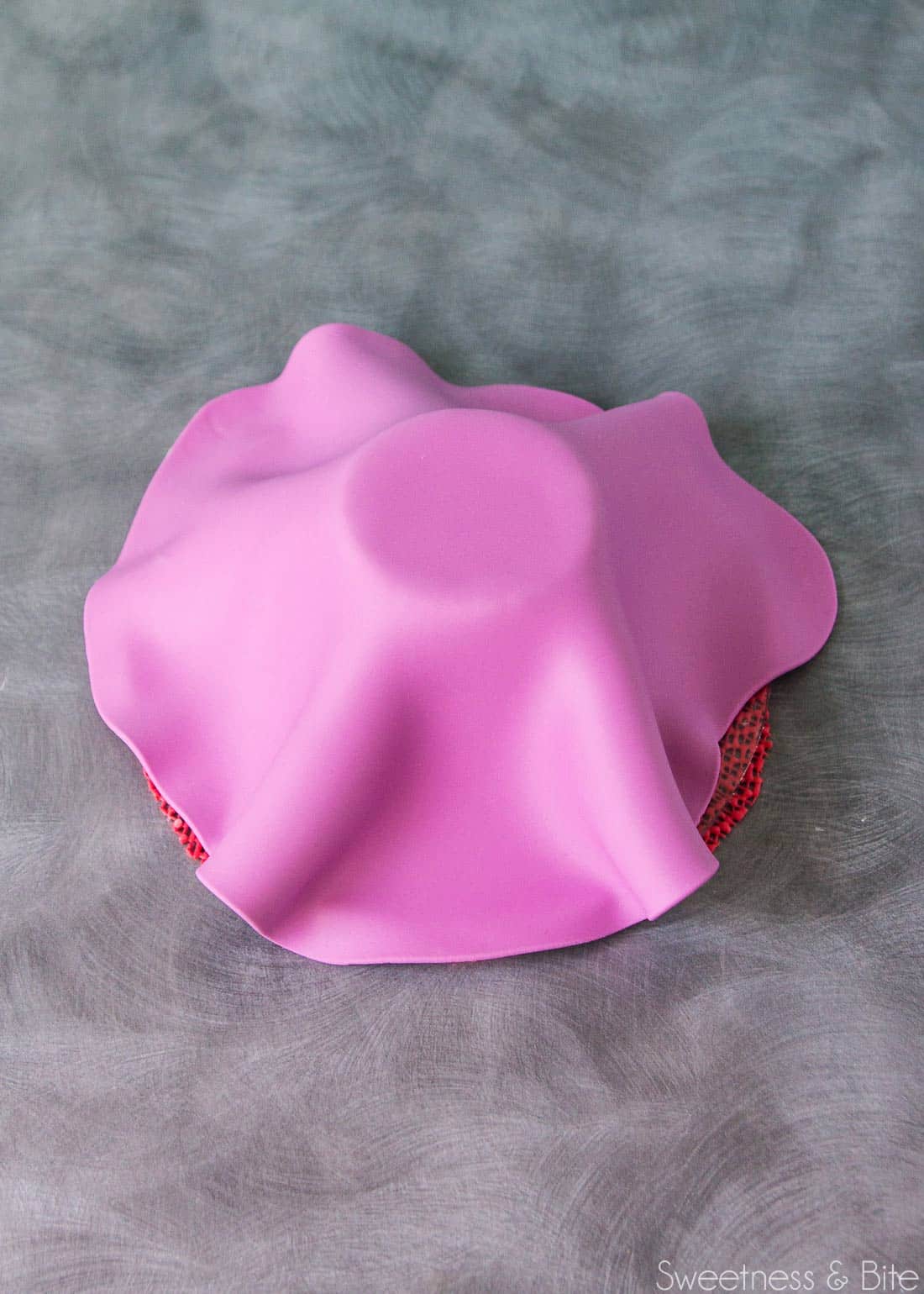 Once you get to the bottom, trim the fondant roughly 1/2" away from the cake. (Roughly as in don't measure it, not roughly as in use a chainsaw while blindfolded.)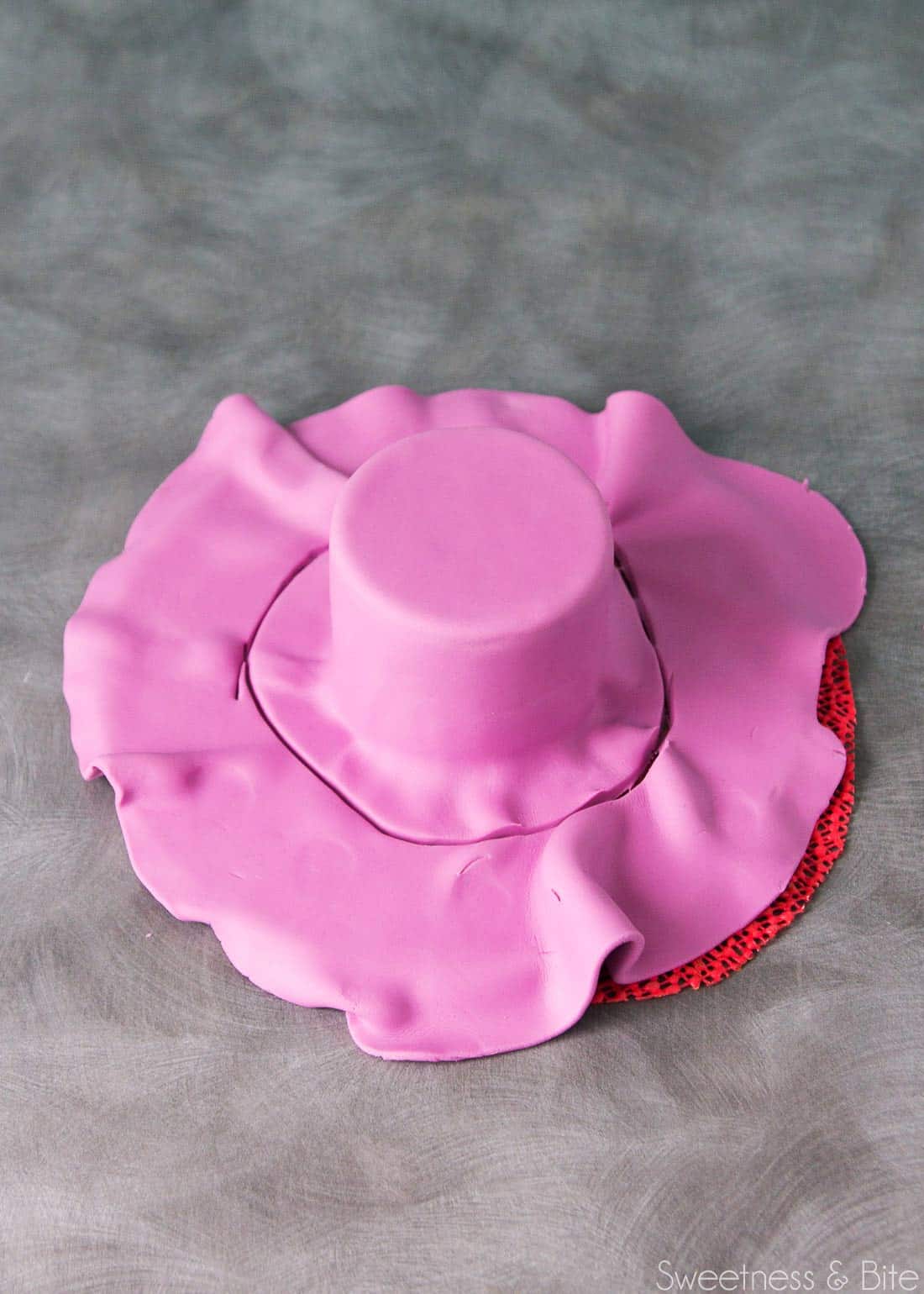 I didn't get a picture of this (sorry, busy worrying about the video) but pop your waxed paper covered board on top of the cake, and flip it over.
Smooth the excess fondant up and over the cake board. Give the cake a quick rub around with a fondant smoother, then trim the fondant, keeping the knife flush against the cake board for a straight cut.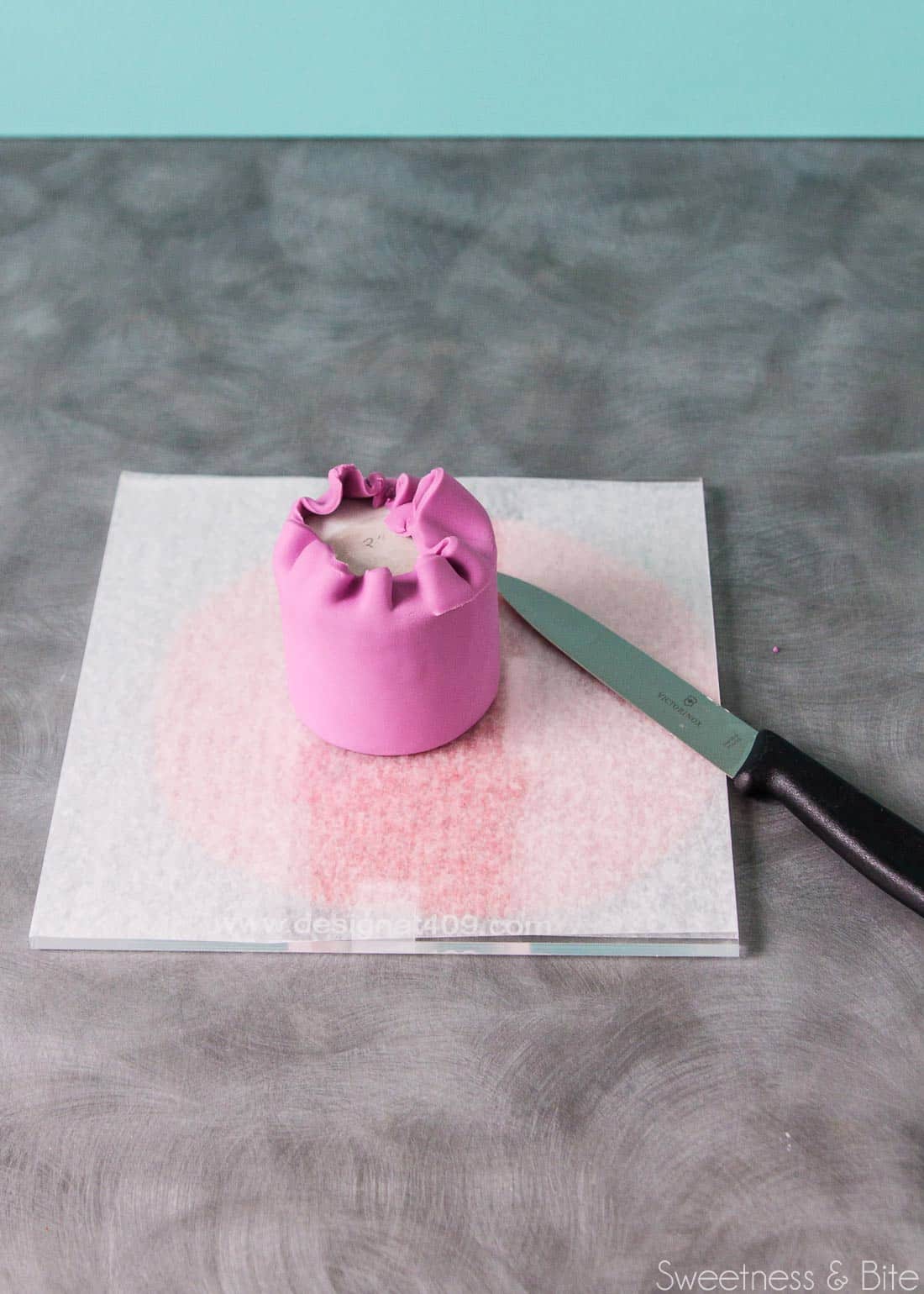 Continue smoothing the fondant. Because of the nice sharp edge of the ganache, a very small amount of effort put into rubbing the edge (which is on the bottom here) with the smoother will give the fondant a sharp top edge. If sharp edges don't do it for you, then don't worry about this step.
Pop a small piece of grippy mat onto the top of the cake, then put the original setup board on top, and flip the cake right-side-up again. You can see I worked a bit quick on this cake and ended up making the top edge look a little less than round, so I went back with my smoother to even it up.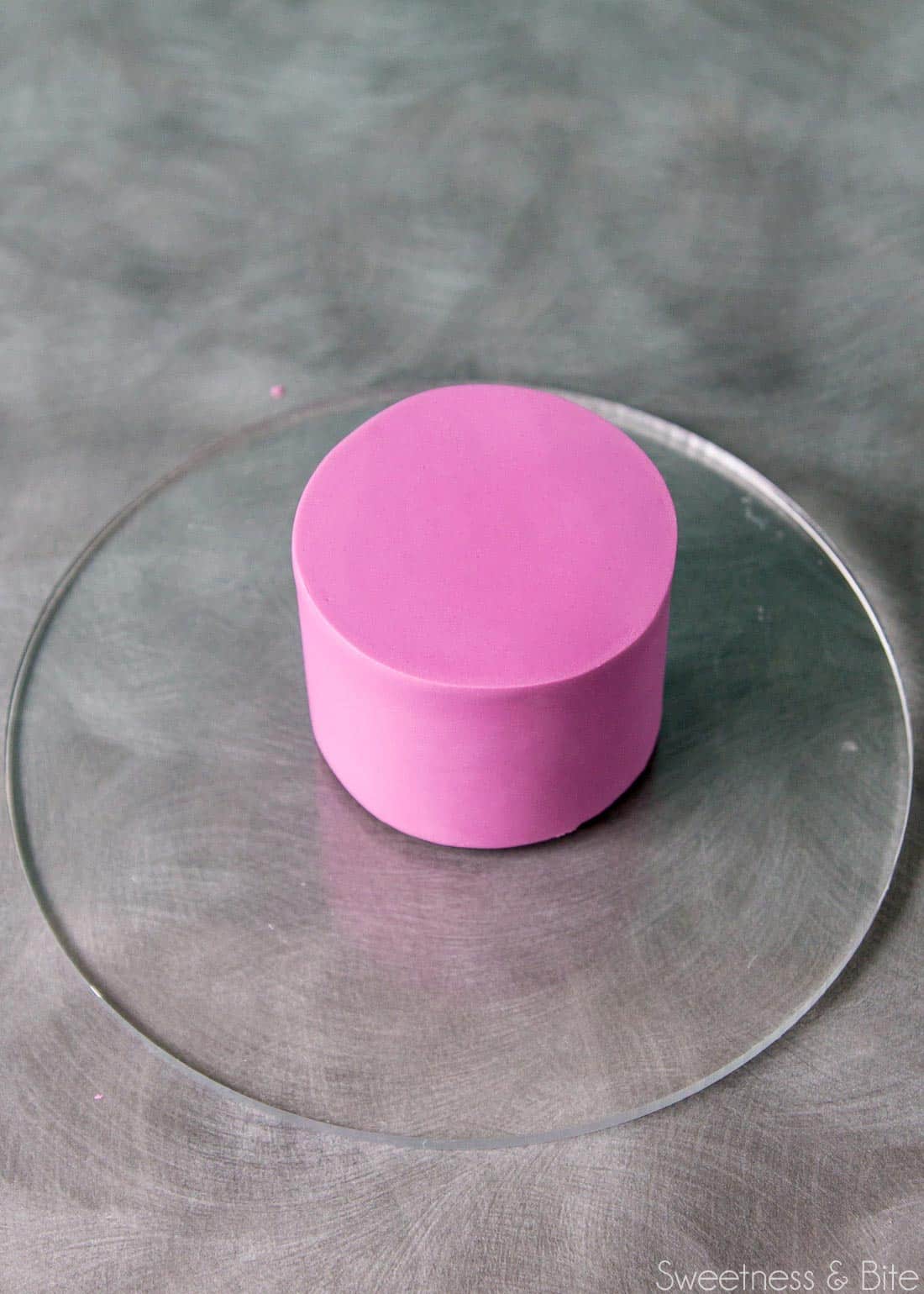 Then do it all again for the second tier.
To cover the display board, I just rubbed a little shortening on a 4" cake card, rolled out my fondant, and smoothed it on.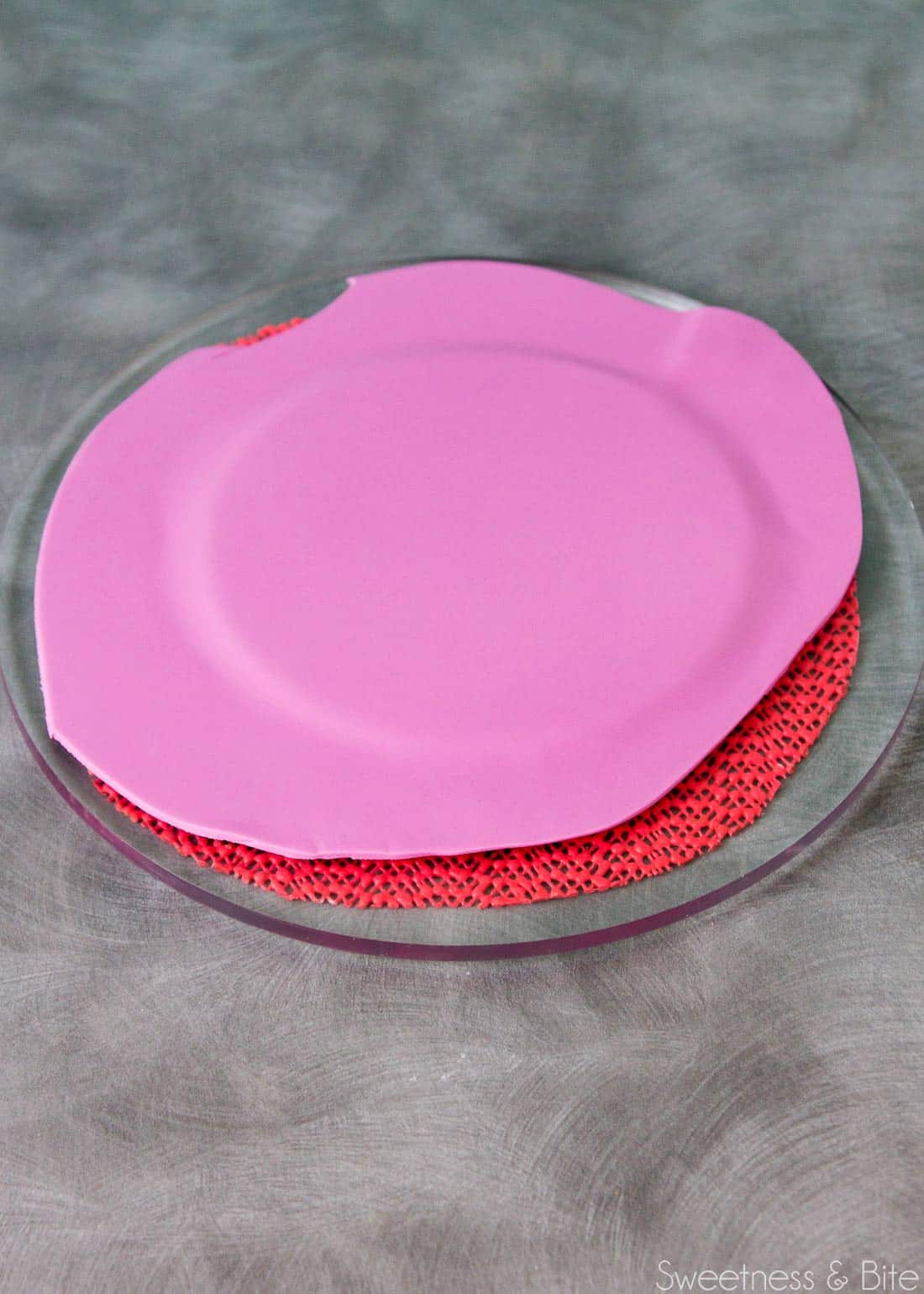 I flipped it upside down onto one of the waxed paper covered boards that just happened to be lying nearby, and trimmed around the board. Flip it back over and leave it to dry. If you're clever you'll do this first, so it has extra time to dry.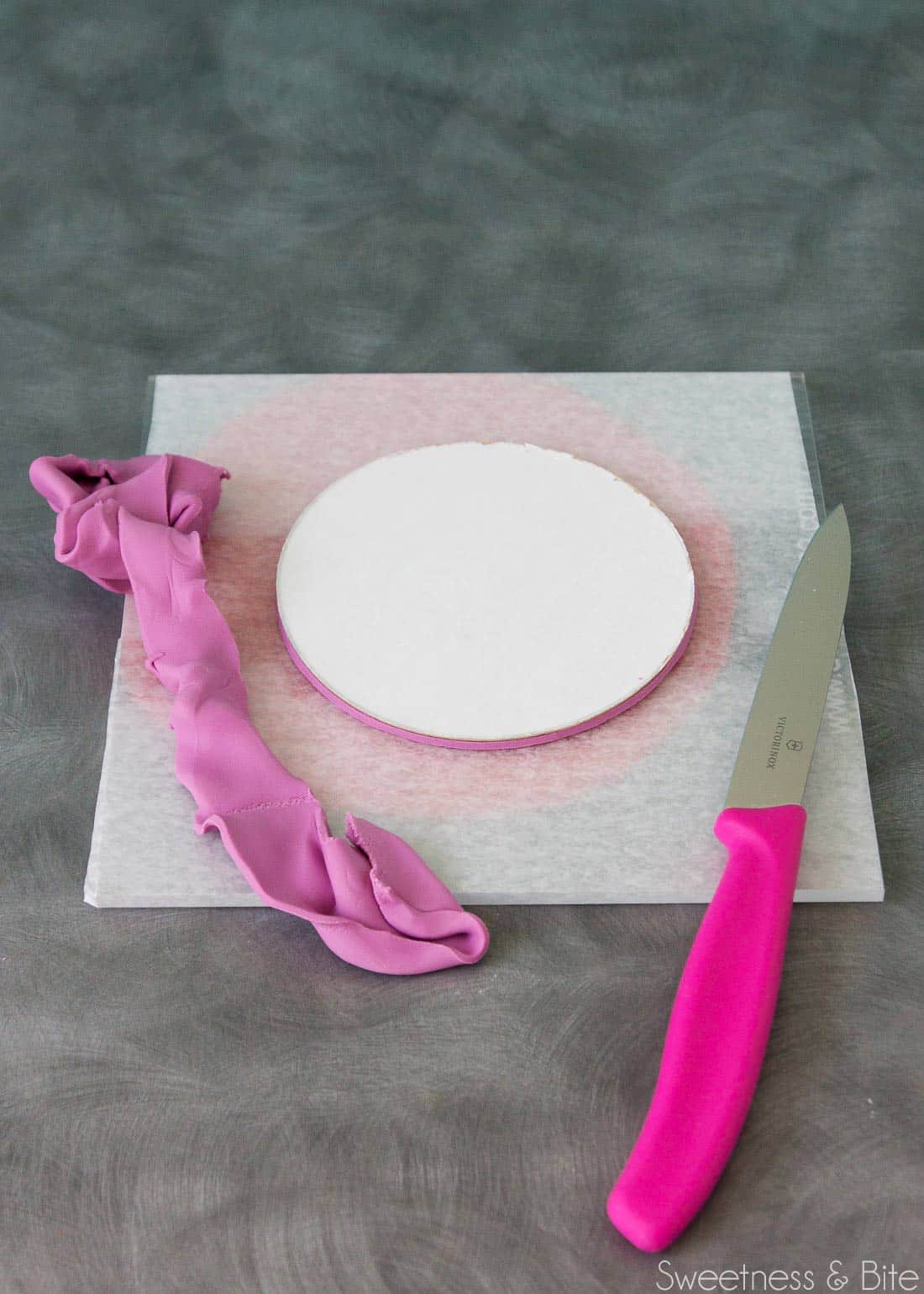 To stack the cakes, I used a little more melted white chocolate (again I literally just melted one candy melt in the microwave, that's all I needed) to stick the bottom tier to the board, and then the top tier to the bottom.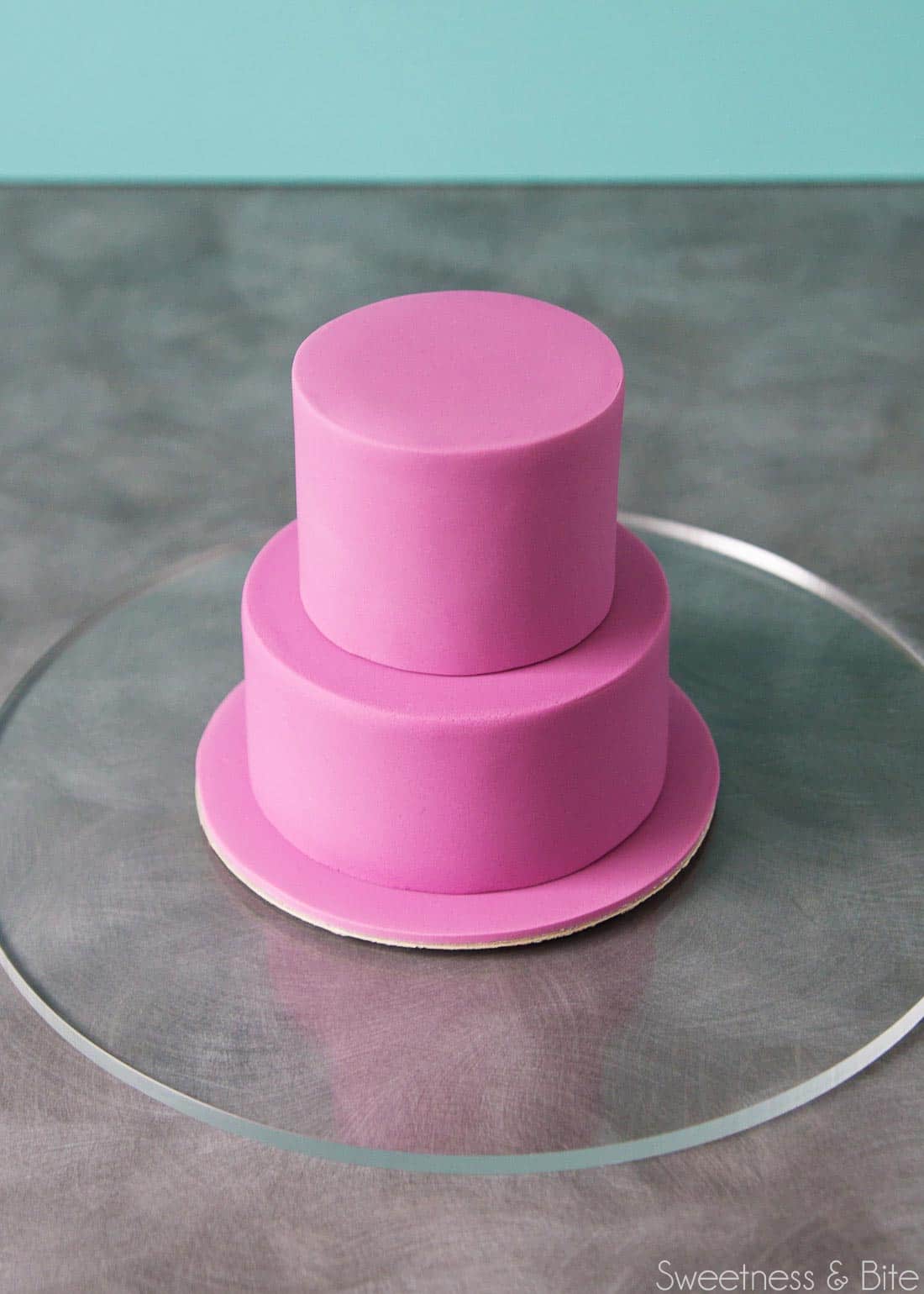 For the ganache drizzle, I used a 2:1 ratio of white candy melts to cream. I like candy melts rather than proper white chocolate for coloured ganache drizzles as the melts are less likely to split, and they also set a bit more firmly, which is extra important when you want to paint your drizzle gold. Which I wanted to do (clearly, since that's what I did.)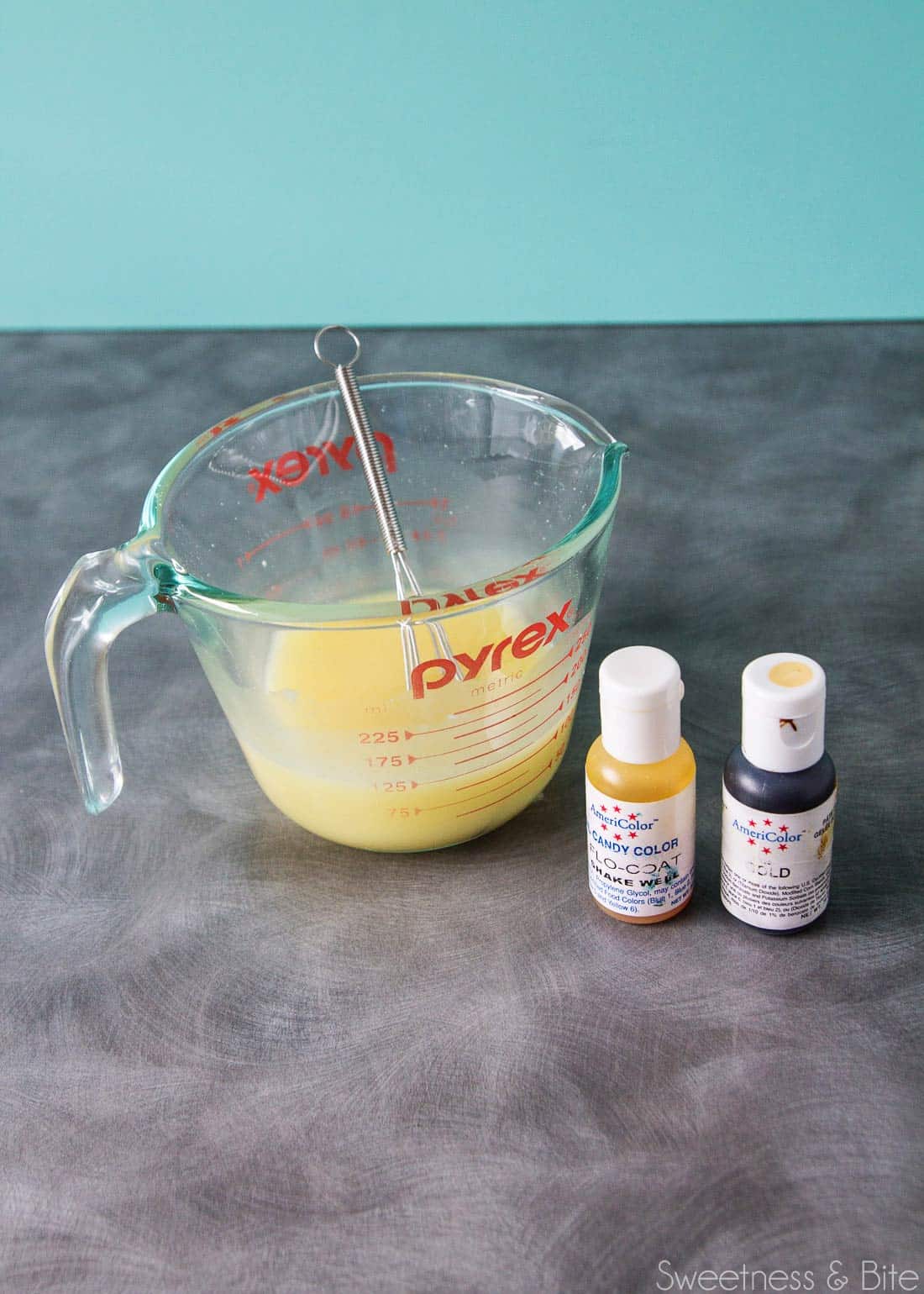 Heat the cream in the microwave until it begins to boil (watch it, seriously, don't walk away, cream boils over fast). Add the candy melts, leave it to sit for a couple of minutes, and then stir until melted and combined.
To colour your drizzle you can use oil-based candy/chocolate colours, or use Americolor Flo-Coat with your regular gel colours. I like the Americolor Gold gel colour as a base for gold metallic paint, so I used the gel+Flo-Coat option. Add a squirt of Flo-Coat and a squirt of gel colour to the ganache and mix until combined. Set the ganache aside until it thickens slightly.
You'll need to test the ganache to see when it's ready to drizzle. I tend to just use a cake setup board, hold it upright and spoon a little of the ganache onto it. Watch how it runs down, if it's running too fast and spreading too thin, then it needs to cool a bit more. If it doesn't run nicely, then you've let it thicken too much and you'll need to very gently reheat it.
Once it's ready, pour it into a squeeze bottle. The one I used had a coupler for a piping tip, and I used a #4 round tip.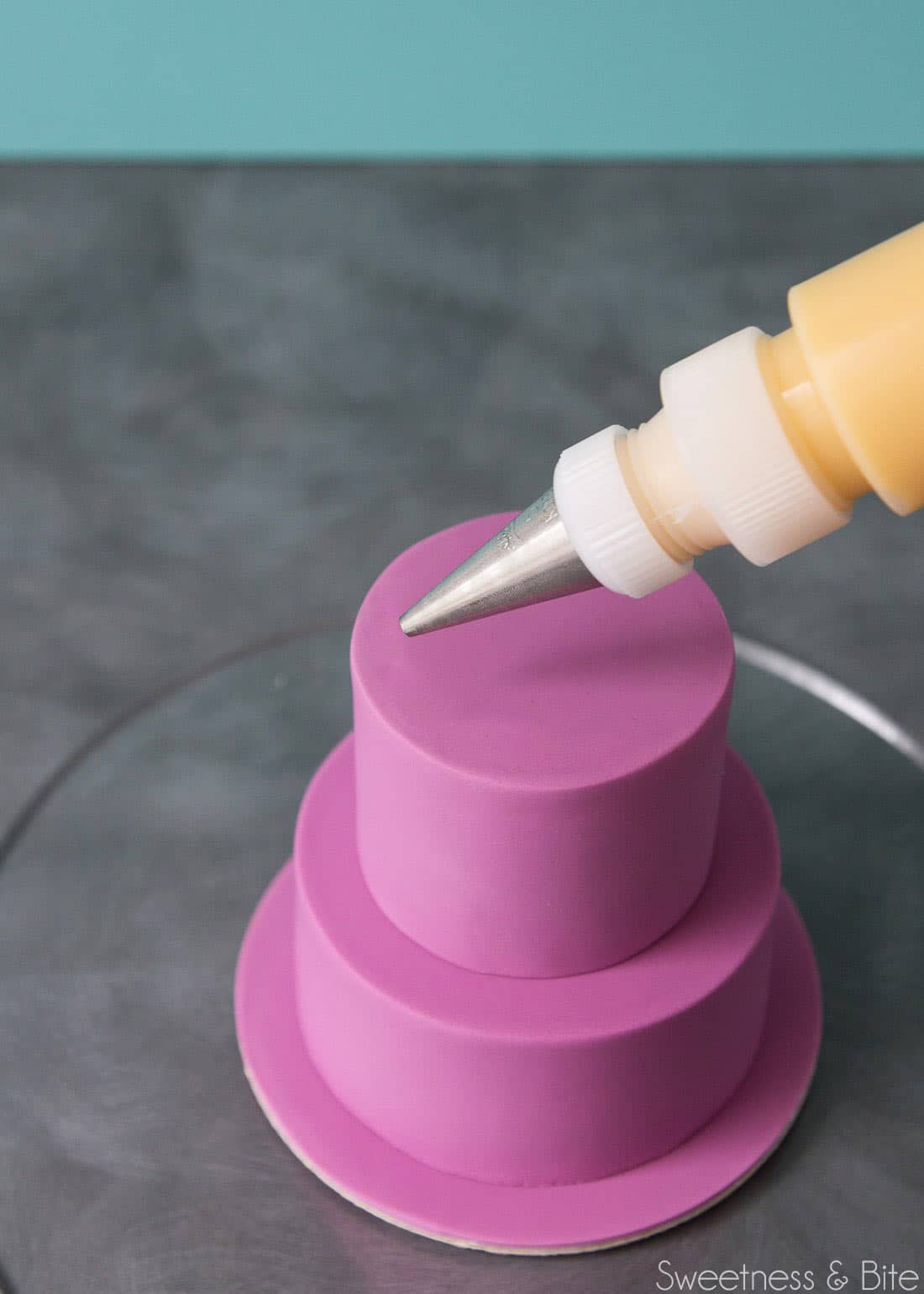 Gently squeeze the ganache on the top edge of the cake, letting it drip down the side. Go all the way around the cake, making sure you do some loooong drizzles and some short ones. Then squeeze more ganache to fill in the top. Spread and smooth it with a small spatula dipped in hot water and dried on a paper towel. Let the ganache set.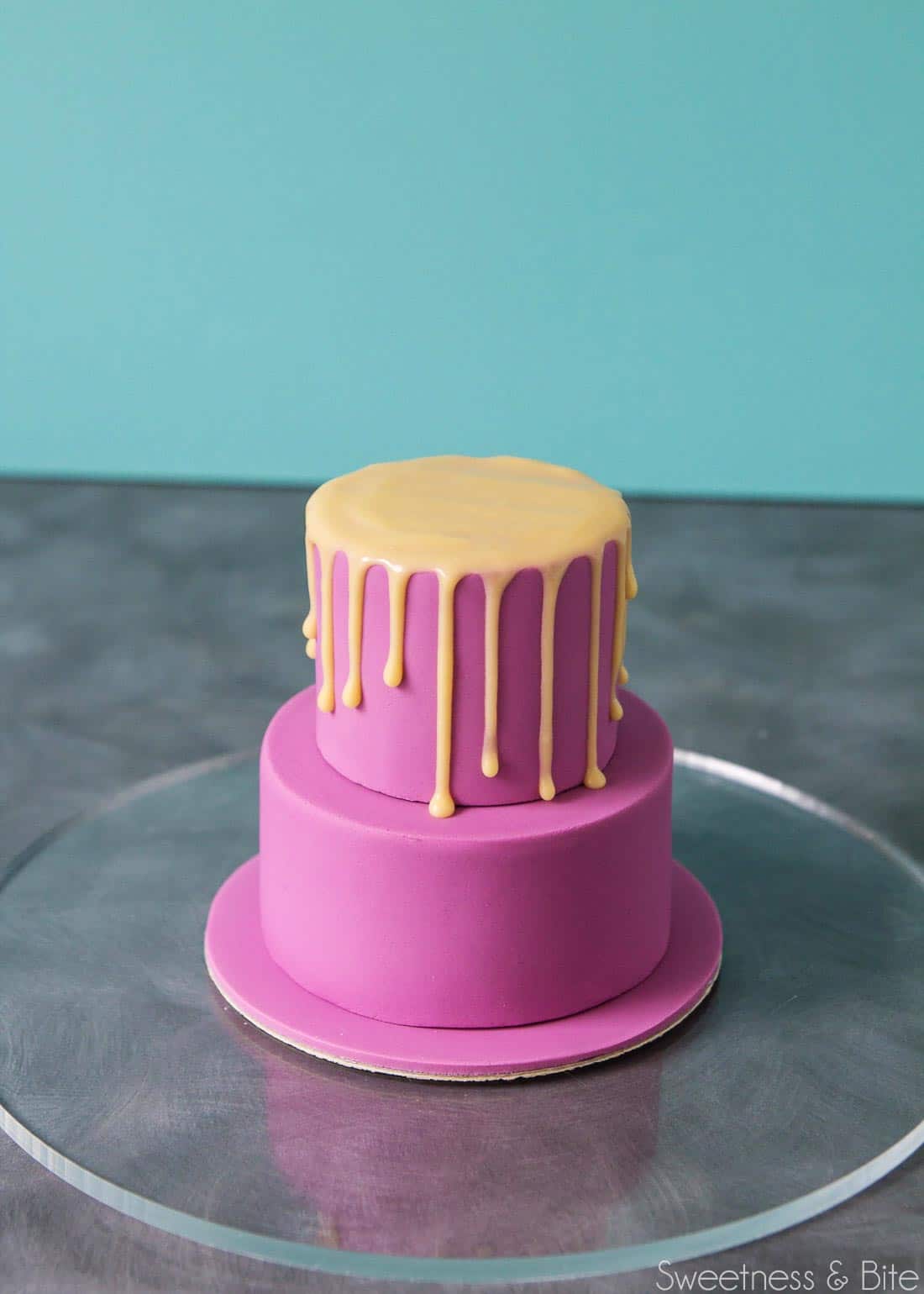 Paint the drips with gold lustre mixed with confectioner's glaze and a few drops of rose spirit or other strong alcohol. See my tutorial on how to make the shiniest edible metallic paint for more info on that. Depending on the powder you use you may need a couple of coats.
The gold I used for this cake was the Rolkem Super Gold lustre. If you can't get the confectioner's glaze, then the powder mixed with rose spirit alone will also work, just be careful not to touch it after you've painted it, as the gold can transfer onto your fingers.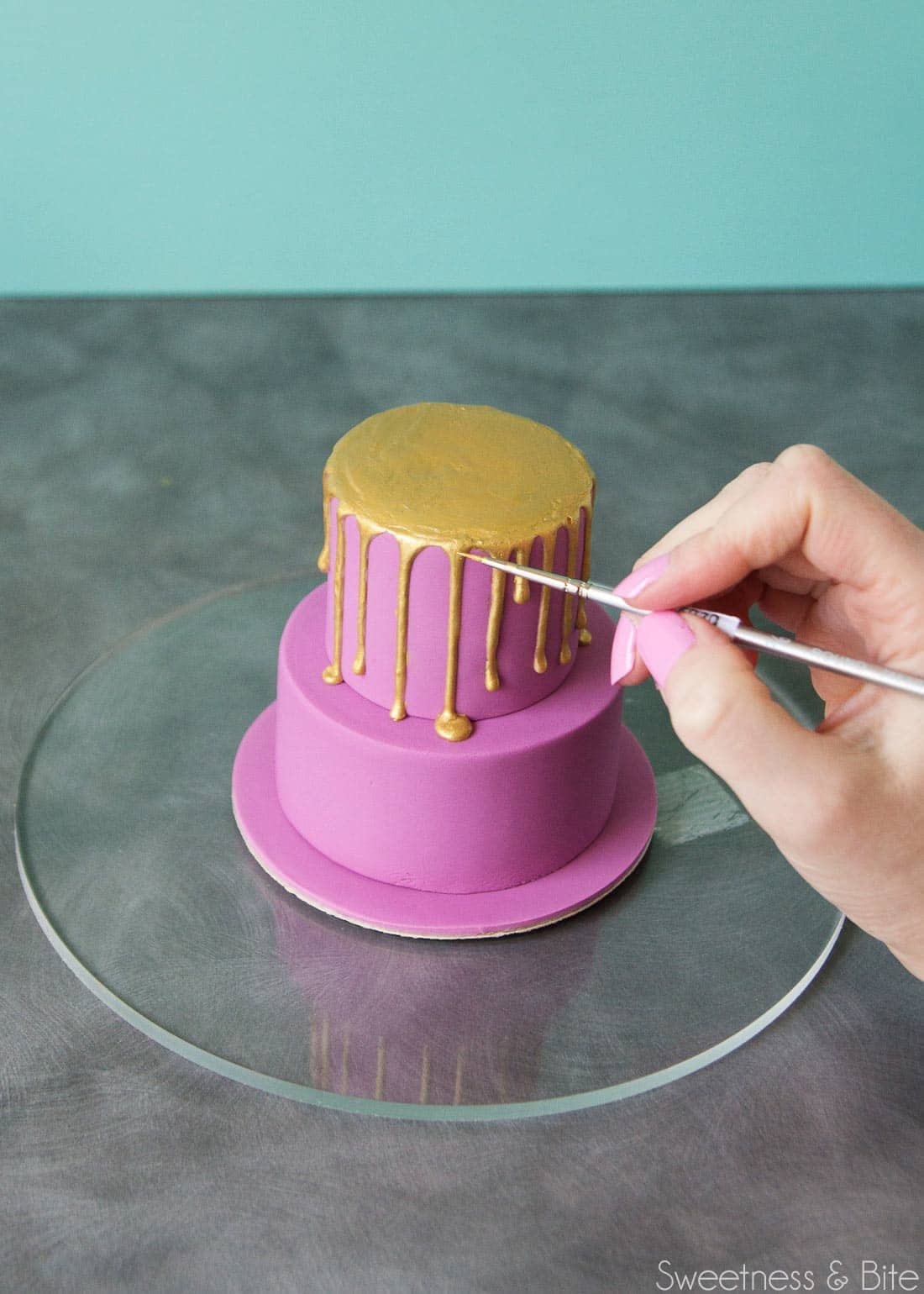 Decorate with mini meringues or sprinkles or whatever takes your fancy.
I just used a dab of the ganache to stick the meringues on, and painted on a little more of the gold paint to stick the sprinkles. If you want to stick sprinkles on to the fondant, then a bit of confectioner's glaze will do the trick and will be mostly invisible (just a bit shiny).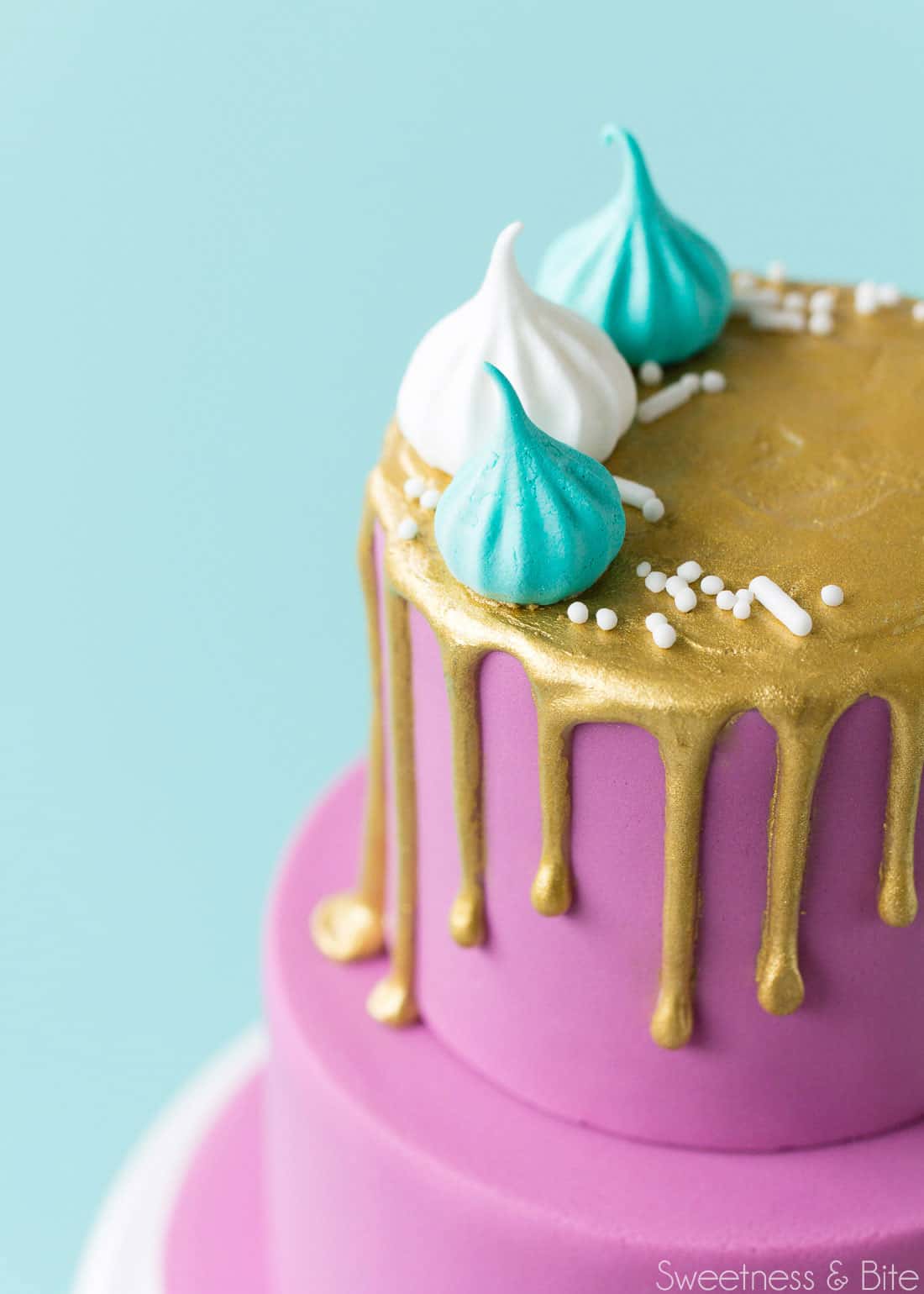 Good things really do come in small packages, don't they?
Happy caking,
~Natalie