Caramel Mud Cake (Gluten free option)
This post may contain affiliate links to products I recommend. I receive a small commission at no cost to you if you make a purchase using my link.
Rich, dark caramel mud cake made using real caramel sauce made from scratch. This is every caramel lover's dream cake! Includes gluten free caramel mud cake option, too!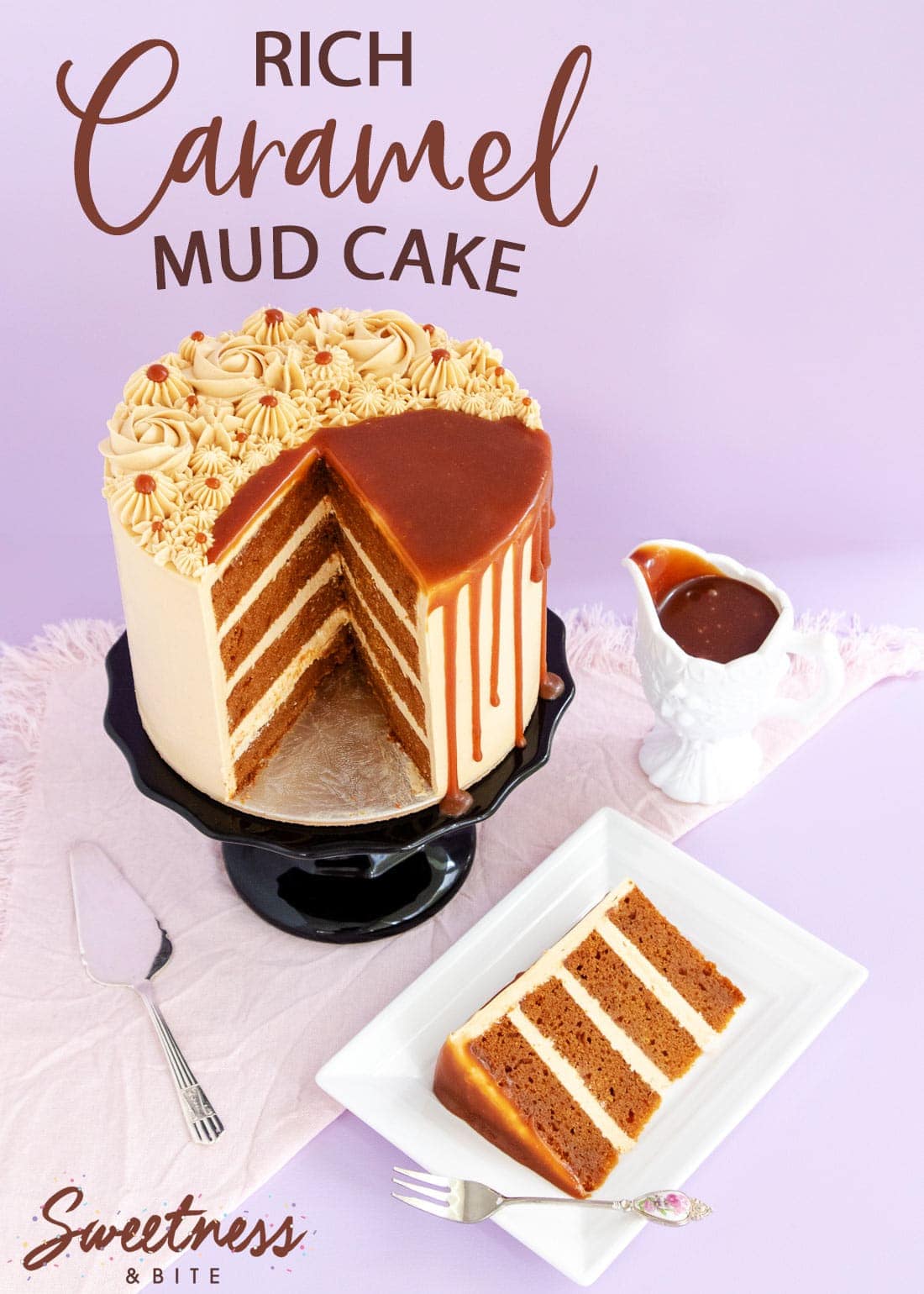 This cake is one of the most tested and tweaked cake recipes I've ever created.
A throwaway comment I made to my friend Loralee, about how it would be great to make a caramel mud cake with real caramel, turned into a baking day together, testing some theories, and then a bunch more testing once I got home.
What we've ended up with is a rich, moist cake with an intense caramel flavour.
Many "caramel" mud cakes are simply white chocolate mud cakes with brown sugar and/or golden syrup added. They'll give you a caramel-y colour, but the flavour would more accurately be called butterscotch, rather than caramel.
This caramel cake recipe starts by making a real caramel sauce, which becomes the base for the whole cake, and gives you the richest caramel mud cake that you could ever imagine.
You can decorate this cake however you like, but I have included instructions below for how I decorated this cake with caramel buttercream and a caramel drip. It really is the perfect cake for caramel lovers.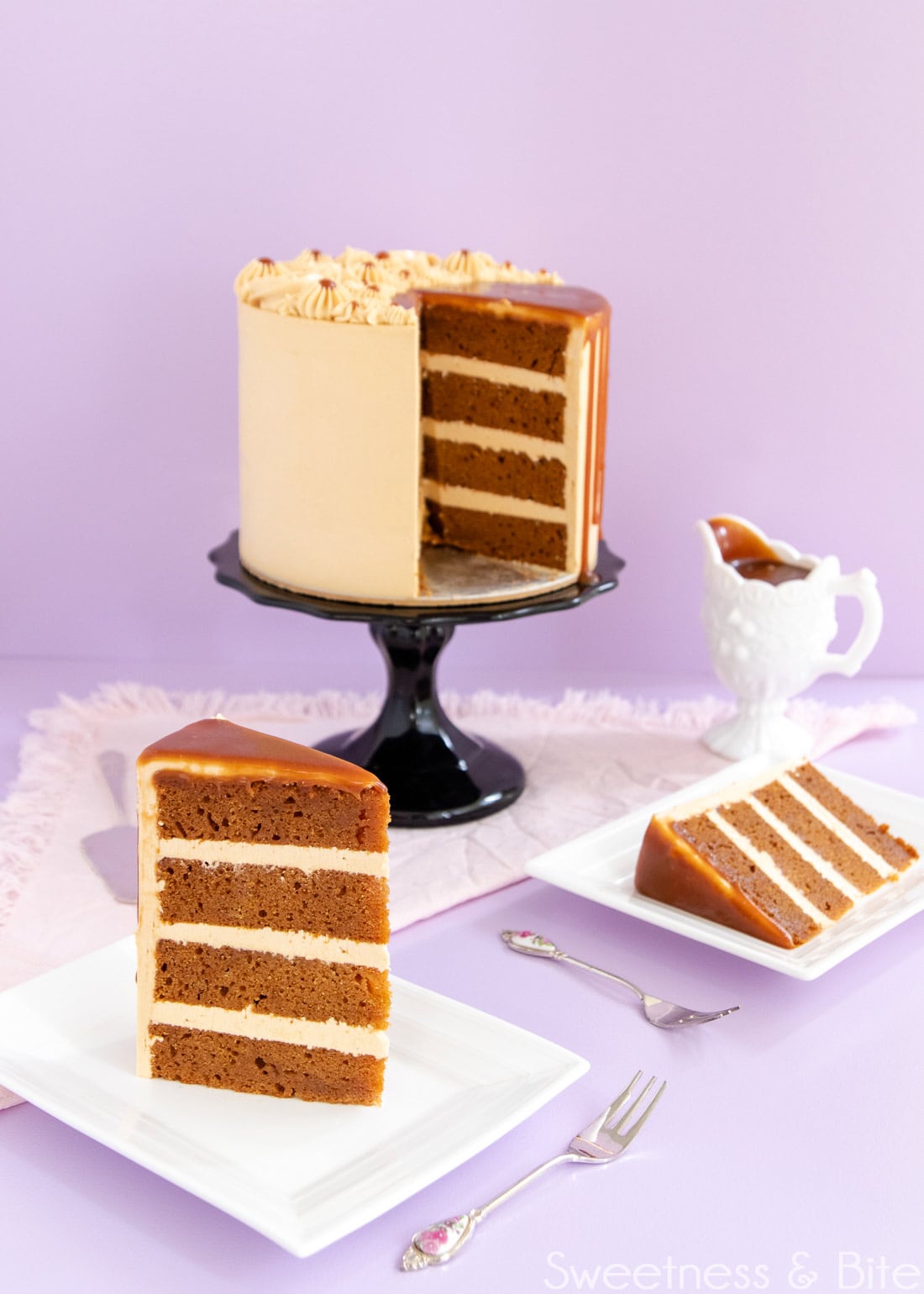 Ingredients
Here's what you'll need to make this recipe:
Cream – The cream you need for this recipe is known by different names in different countries. Here in NZ it's usually called standard cream or whipping cream, elsewhere it may also be known as single cream or full cream. Heavy cream will also work.
Sugar – Caster sugar (also known as superfine sugar) works best in this recipe as it dissolves more quickly than regular sugar, but if regular sugar is what you have, then that will work too.
Corn syrup or liquid glucose – Helps to stop the sugar in the caramel from re-crystallising. If you don't have either, then you can leave it out.
Salt – Salt helps to balance the sweetness from the caramel to stop it from being too sickly. I use flaky sea salt. If using table salt, you will likely need slightly less.
Vanilla extract – Use a good quality vanilla extract. Vanilla paste will also work.
Milk – Full fat milk (also known as whole milk, and in NZ it's blue-top milk) works best in this recipe.
Unsalted butter – If you only have salted butter on hand, then reduce the amount of salt added, or leave it out altogether.
White chocolate – It's not mud cake without chocolate. In this it's more for texture than flavour – the cake doesn't have a strong white choc flavour.
All-purpose flour OR gluten-free flour blend – To make a gluten free caramel mud cake, I use my homemade gluten free flour blend, but you can also use a good quality store-bought gf flour blend. Check out my gluten-free cakes for decorating post for more information on baking gluten-free cakes, including some safety tips if you're baking for someone with Coeliac disease.
Xanthan gum (if making gluten free) – This helps stop gluten free cakes from crumbling. If you're using a store-bought GF flour blend that contains a gum ingredient (check the ingredient panel) then you can omit the xanthan gum from this recipe.
Baking powder – If making this cake gluten free, make sure you check that your baking powder is gluten free, as some are not.
Eggs – Use large eggs for this recipe.
To make ice and decorate the cake with caramel Swiss meringue buttercream as I have here, you'll also need egg whites + more caster sugar, vanilla, unsalted butter and some homemade caramel sauce, or for a grown-up treat, why not try rum caramel sauce instead?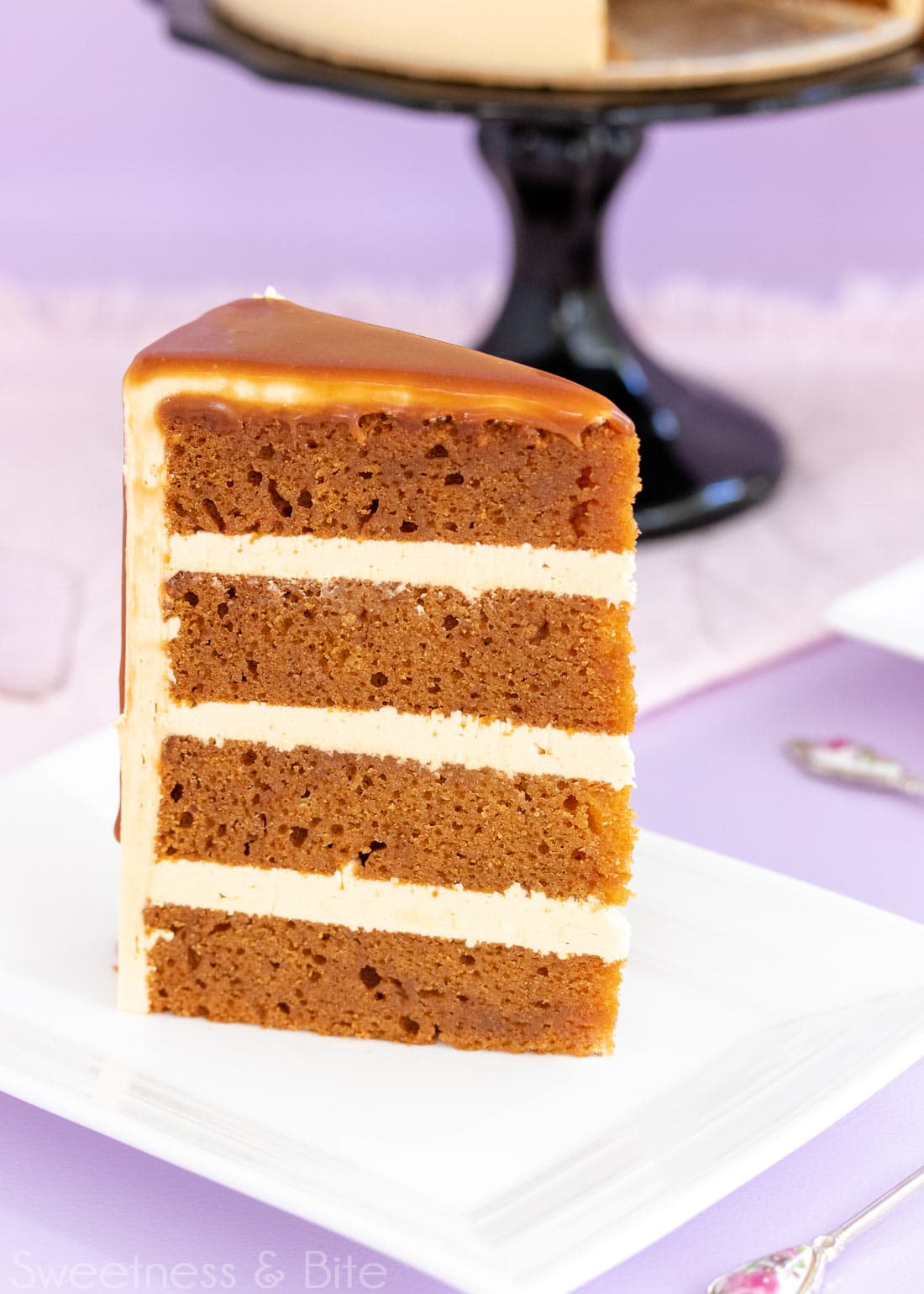 How to Make Caramel Mud Cake
So we start with making what is essentially a caramel sauce. You'll boil together the sugar and corn syrup or liquid glucose with some water until it becomes a lovely deep caramel colour. If you have a sugar thermometer, it should be about 160°C (320°F).
Then you'll add the cream – being careful as it is HOT – then return it to the heat and cook again until it's all smooth, and reaches it reaches 115°C (240°F). If not using the thermometer, just boil the caramel until it darkens a little more and smells even more delightful.
This is the colour we're aiming for…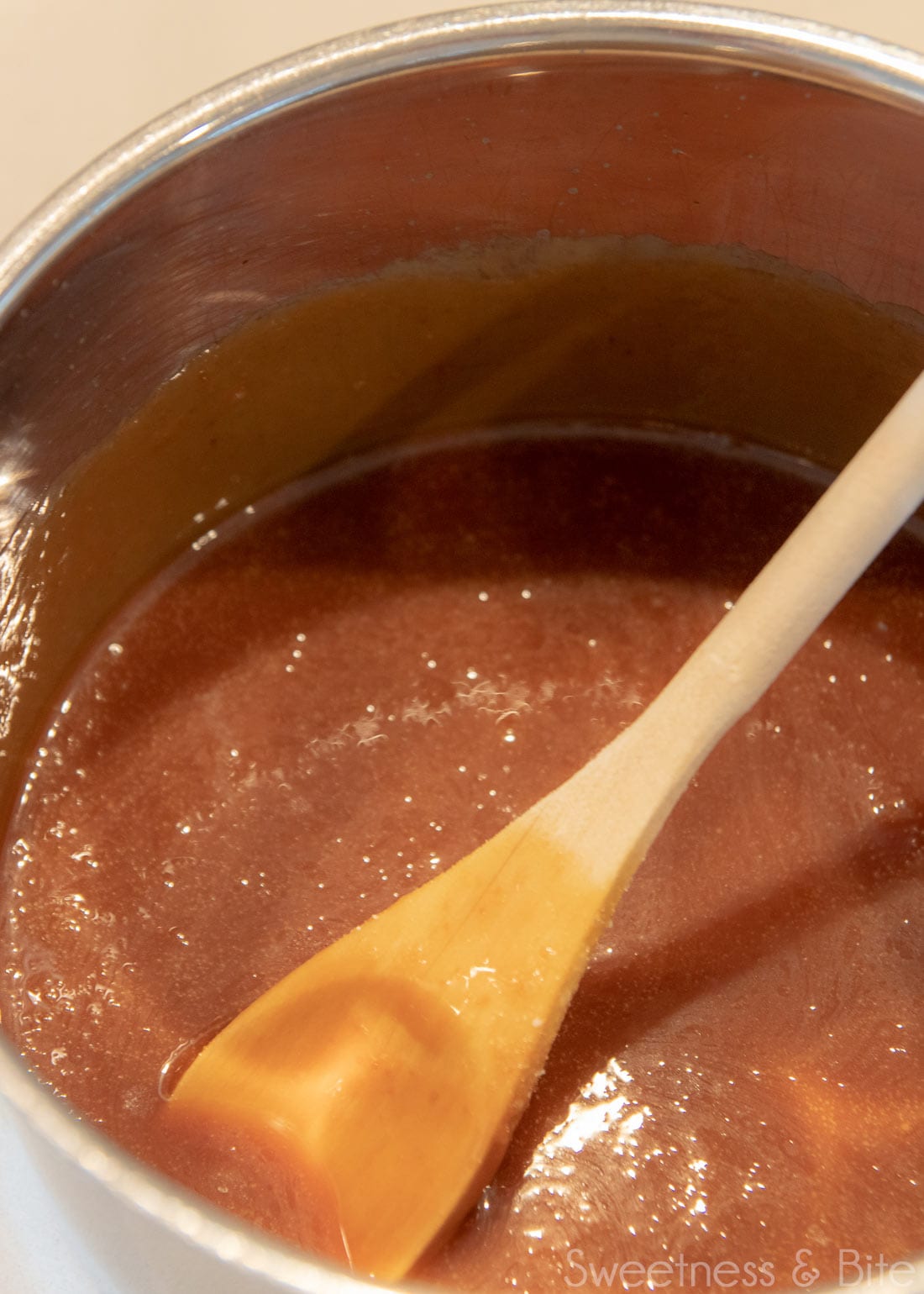 Then you'll warm the milk and melt the butter into it, and mix that together with the caramel. I know some people will ask why you can't just add the milk and butter straight into the caramel and melt it that way, and I can tell you from experience that it's because caramel is fickle, and it will split.
Adding cold ingredients to caramel is pretty much a handwritten invitation for it to turn into an irreparable chunky mess. But by melting the butter into the milk and warming it all up, we skip over that little trap, feeling pretty good about ourselves.
Then you'll add in the chopped white chocolate, and stir until the chocolate melts.
The mixture needs a little time to cool down and then you can add in the dry ingredients and the eggs, pour the batter into your prepared cake pans, and pop 'em in the oven.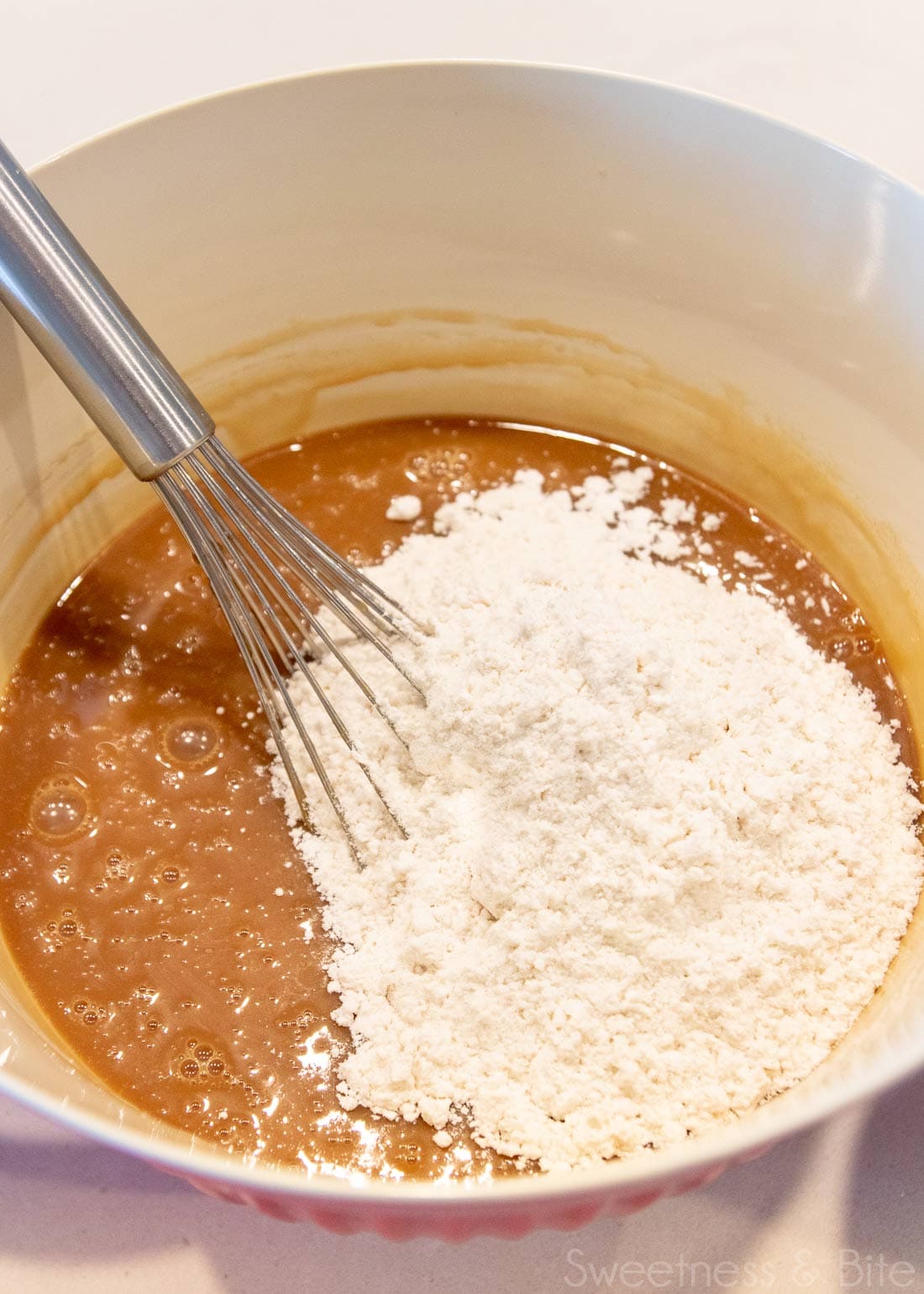 The cakes do crack just a little on the top, but I found that the very small amount of top crust that I needed to remove to level the cake was just enough to cut off those cracks too. Perfect.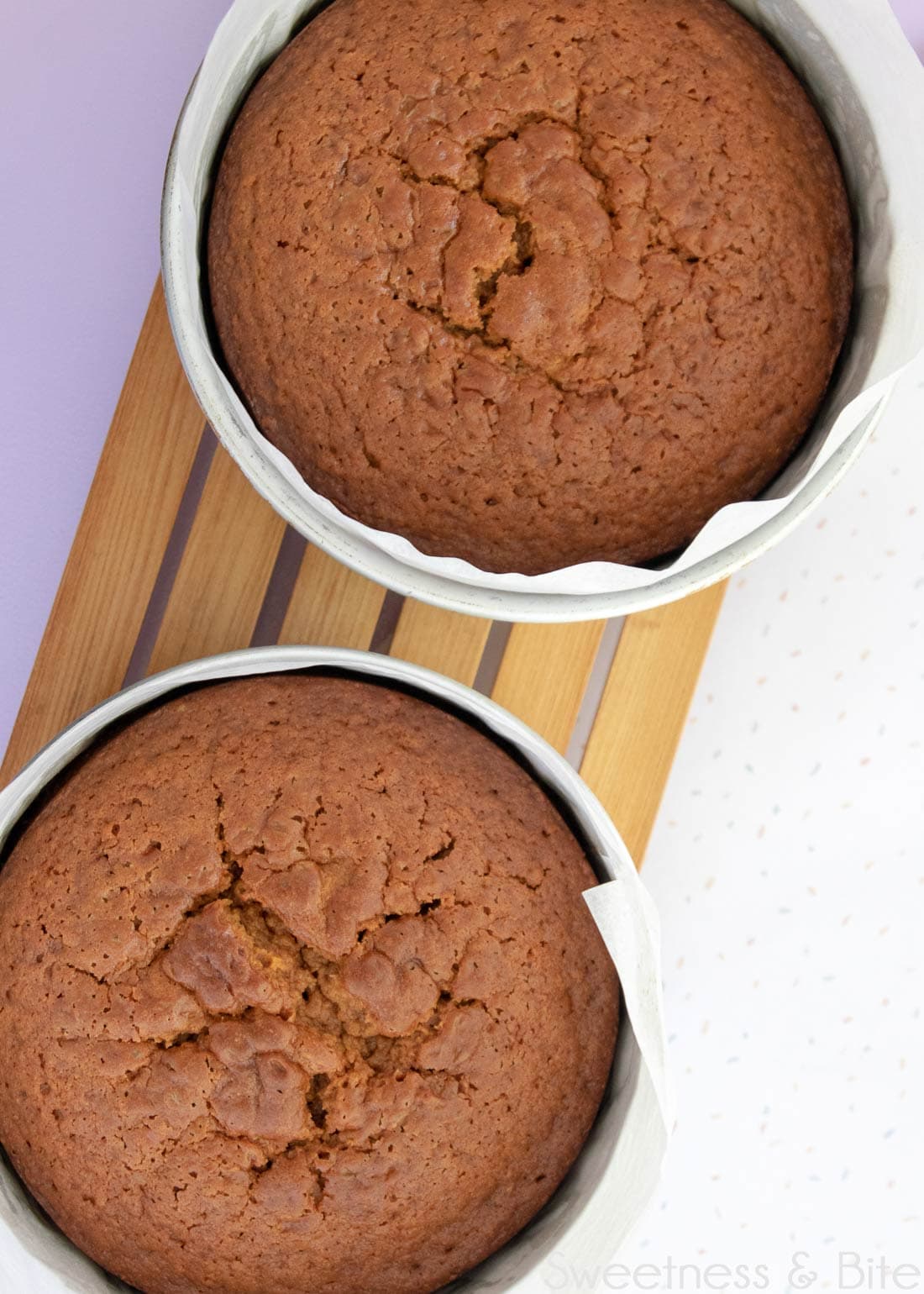 Caramel Mud Cake Tips
Making the Caramel
As I mentioned earlier, the whole reason this cake tastes so amazing is that we're using real caramel sauce as a base. I know the idea of making caramel sauce can be daunting if you haven't tried it, what with the boiling sugar and the fear of burning either yourself or the caramel.
The best tip I can give you to get over your trepidation is perhaps a little blunt, but also the only way you're going to get this caramel mud cake in your life (and in your mouth) – just try it.
The only way to get over a fear of making caramel is to make the caramel. Read through the recipe below and see what you should be looking for, get all your ingredients for the caramel measured and ready to go, and just do it. If you happen to have a candy thermometer, it does make the process a bit easier – it's not essential, but it does help.
Baking Strips/Foil Lid
During the recipe tweaking process, I discovered that unlike my white chocolate and dark chocolate mud cakes, the caramel mud cake is actually much better when baked without baking strips and a foil lid.
Having a foil lid on kind of steams the cake, and makes the cake texture more like a steamed pudding. Which is cool if you're after a steamed pudding cake. But I was not. Without the lid and strips, the cake ends up nicely cakey, dense and fudgy.
It does develop slightly more of a crust than when I use baking strips, but as I trim the edges of all my cakes before decorating them, I'm ok with that. If you don't like to trim your cakes much, then a quick brush with some freshly boiled water over the cake when it comes out of the oven will soften the edges up nicely.
Carving
This caramel mud cake is perfect for cake decorating, and you can carve both the gluten-y and non-gluten-y versions. I used this recipe a while back to carve a couple of little mandarin cakes to fool my Dad's workmate and it's a surprisingly easy cake to work with.
If you use different gluten free flours to mine and find your cake is a bit soft or isn't carving easily, then I suggest chilling it for a bit in the fridge to firm it up, and as with all carved cakes, I recommend using chocolate ganache to fill and cover the cake, as it is much firmer and more stable than buttercream.
Storing the Cake
As with most mud cakes, this one keeps really well. When stored in an airtight container or once sealed with frosting and/or fondant, it will keep well for at least a week at cool room temperature. Or you can wrap it well and freeze it.
When decorating the cake, you can use a 3 or 4 day decorating timeline.
How to Decorate the Cake
Ok so let's talk quickly about how I decorated this cake. You can decorate your caramel mud cake however you like, but if you want to do what I did here, read on.
I made a batch of my favourite lightly salted caramel sauce, which I used both to flavour my Swiss meringue buttercream and to drizzle a caramel drip down the side of the cake. Because what's better than caramel? More caramel. You can make the sauce a week or so before you need to use it, if you want to get a head start.
I split my cakes into two layers each, filled them and smooth iced it all with the buttercream (check out my buttercream tutorial if you don't already have a favourite method of doing this). Once the cake is iced and the buttercream has firmed up, you can transfer it to a cake stand or serving plate.
Then pop the leftover buttercream into a couple of piping bags, and pipe swirls and stars on the top of the cake. You can use pretty much any star/swirl tips that you like, but I'll list the ones I used below in case you want to be my cake twin.
Wilton 1M (large star tip), Wilton 6B (extra large open star tip), 4B (same as the 6B but slightly smaller) – these three all fit a large coupler. Wilton 32 (same/same but even smaller) Ateco 34 (small star tip) – both used with a small coupler. I used two piping bags, and just switched the tips on and off with the couplers.
I piped a few rose swirls with the 1M tip, then filled in the rest of the crescent shape with the rest of the tips, starting with the bigger ones and working my way down, filling in the gaps with the smaller star tips.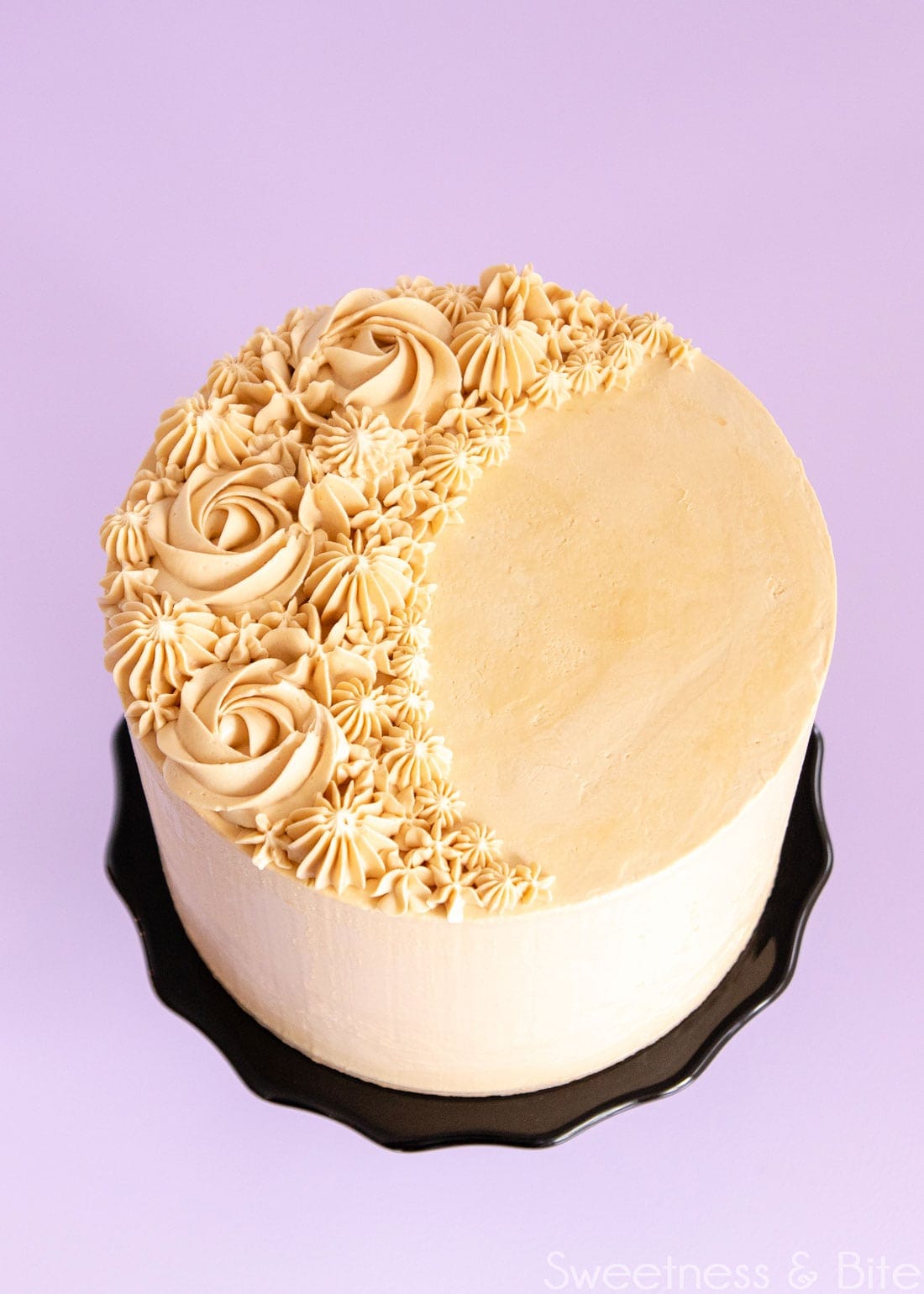 This is a great technique if you're not confident in your piping skills because there is so much going on that no one will notice if something isn't perfect.
Caramel Drip Tips
Then I spooned some caramel sauce over the rest of the top of the cake and added a drip down the side. I prefer to use a squeeze bottle to do the drips, but you can use a spoon if you like. I also used the bottle to add a few little dots of caramel sauce onto the piped stars.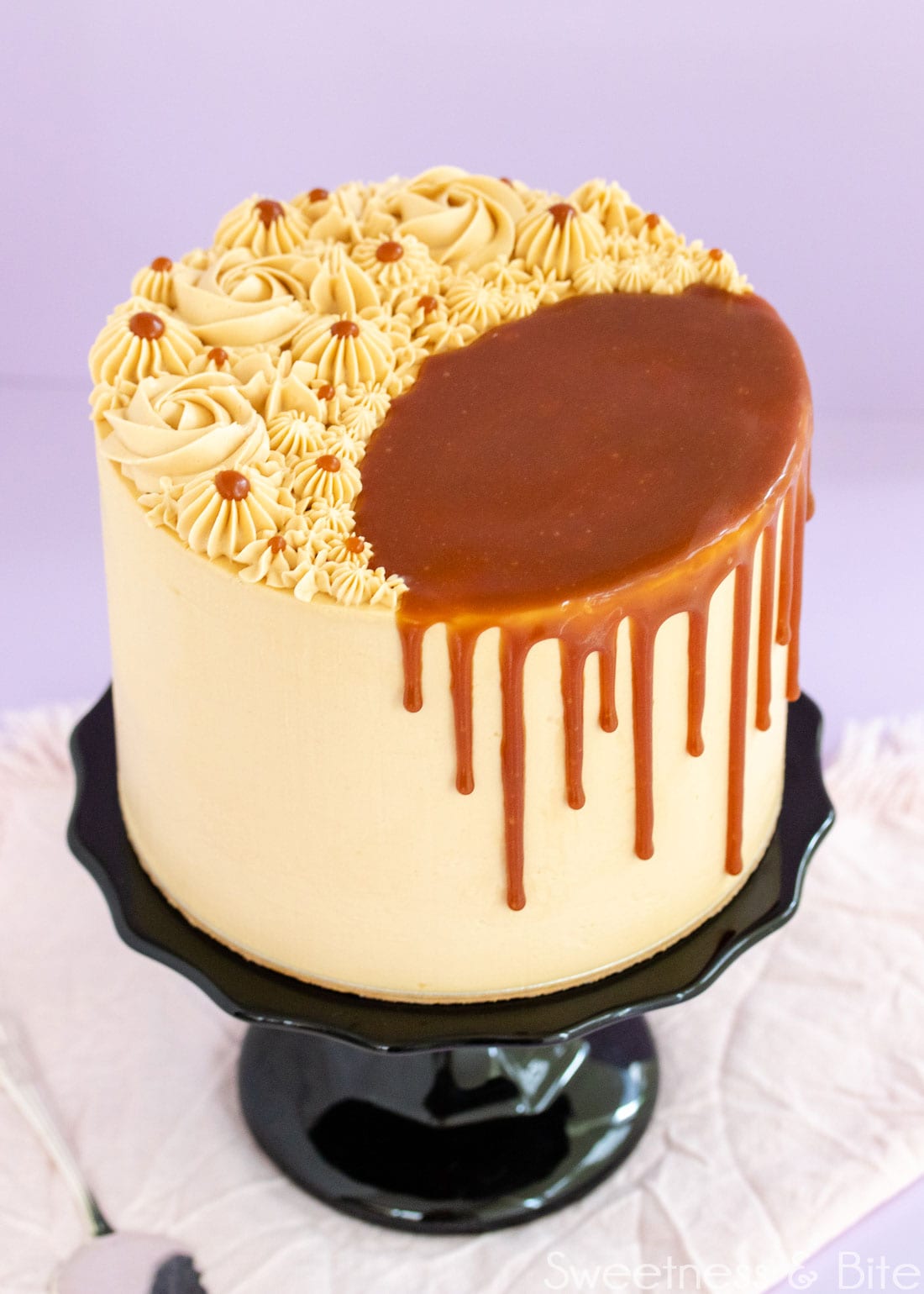 One important thing to note about using caramel for a drip is that it will continue to drip down the cake for a lot longer than a ganache drip does. Make sure your cake is chilled, and warm up the caramel just until it is pourable – don't make it too runny. Try dripping some down the side of a glass to check if it is the right consistency before you add it to the cake.
It's also best to do the drip on the day that you plan to serve the cake. Trust me on this one – because this cake I'm showing you is not the first cake I made for this post. Nope, I made one before this. I decorated it and started taking photos, only to lose the last of the natural light for the day (boo, Kiwi winter) and I left the cake 'til the next day to finish taking photos, hoping against hope that the cake would still be presentable the next morning.
"Haha!" laughed the cake gods, "we shall not grant her this wish!", and so it was, that I walked into my studio the next morning to find a puddle of caramel under the cake stand. So much caramel.
Don't be like me. Pop your caramel drip on within an hour or so of when you plan to serve your cake.
(And then pour some more on the slices of cake, if you're feeling extra. When it comes to caramel, extra is always better).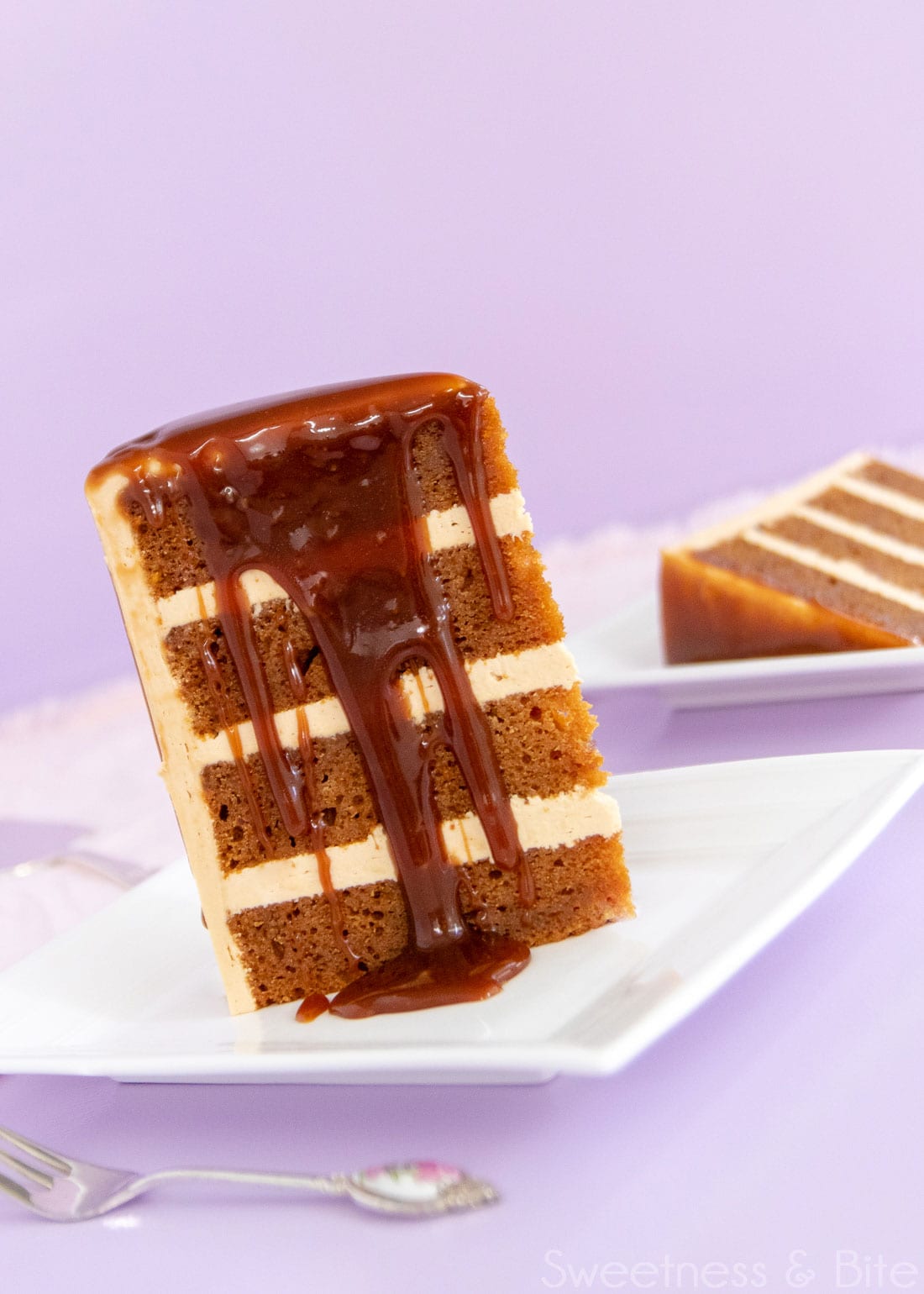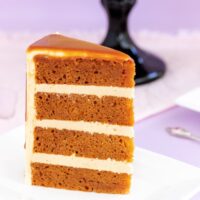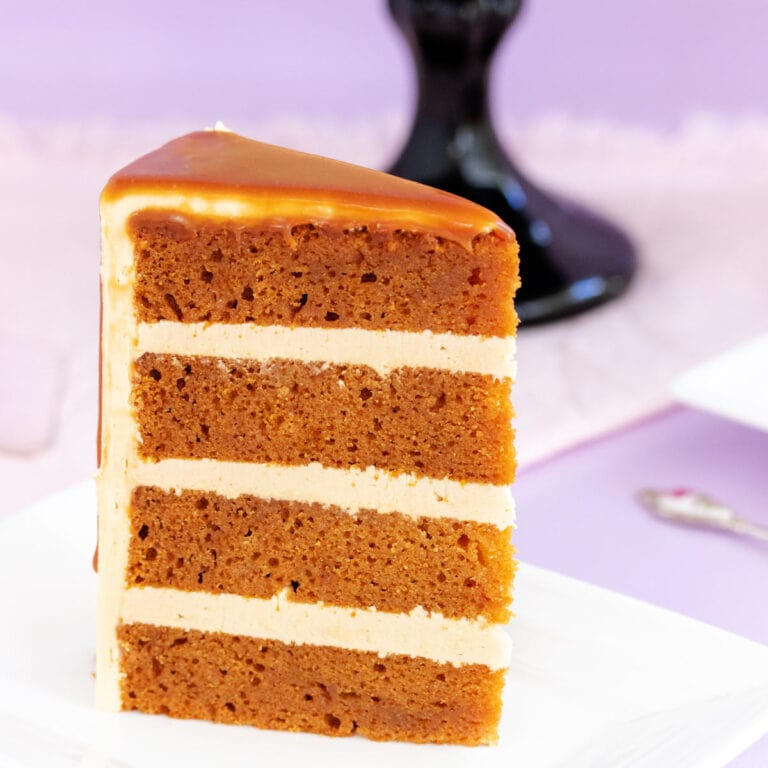 Rich Caramel Mud Cake
Rich, dark caramel mud cake made using real caramel sauce. This is every caramel lover's dream cake! This cake works equally well when made with gluten-free flour or regular wheat flour. See notes below if making it gluten-free.
Print Recipe
Pin Recipe
Save
Saved!
Ingredients
125

ml

whipping cream

or heavy cream

400

g

sugar

caster sugar works best

3

tbsp

corn syrup/

or liquid glucose

125

ml

water

1 ½

tsp

salt

1

teaspoon

vanilla extract

375

ml

milk

full fat milk works best

350

g

unsalted butter

180

g

white chocolate

375

g

all purpose flour OR gluten free flour blend*

2

teaspoons

baking powder

½

teaspoon

Xanthan Gum*

if making gluten free

3

large eggs
Instructions
Line the base and sides of two 7" round (at least 3" high) cake pans.

Measure the cream into a microwave safe jug, and microwave until warm (around 30 sec, depending on your microwave power). The temperature isn't too important, but warming the cream will help it splatter less when you add it to the caramel. Set aside.

Place the sugar, water and corn syrup in a medium saucepan and stir until all the sugar is moistened. Place over medium high heat. As it comes to a boil, use a pastry brush dipped in water to wash down any sugar crystals on the side of the pan.

Increase the heat to high and boil until the syrup turns a light amber colour. Keep an eye on it, you don't want it so dark that it burns, but it needs a decent amount of colour to have a deep caramel flavour. It should be about 160°C (320°F) on a sugar thermometer if you have one.

Remove from the heat and carefully pour in the cream while stirring with a long-handled spoon or spatula. Be careful – it will splutter and there will be a lot of steam!

Clean the thermometer (if using) and clip it back on the pan. Return the caramel to medium heat and bring it back to a boil, stir gently until smooth and it reaches 115°C (240°F). If not using the thermometer, just boil the caramel until it darkens a little more. If at any point you get even a hint of a burning smell, remove it from the heat immediately. Remove from the heat, stir in the salt and vanilla and set aside.

In a large saucepan, heat the milk and butter together, whisking occasionally over medium heat until the butter is melted.

(Note: once you are comfortable making the caramel, you can have the milk/butter/chocolate mixture heating while you make the caramel. If you're not comfortable making the caramel then it is better to keep your attention focussed on it without distraction.)

Slowly whisk the caramel into the milk mixture, then add the white chocolate and whisk until melted and combined. Leave to cool until you can comfortably hold your hand against the pan, or your finger in the mixture without it feeling hot. To cool it faster, transfer the mixture to a large heatproof bowl. To speed things up even more, place the bowl in a sink full of cold water and add a few handfuls of ice to the water.

While you wait, heat the oven to 150°C (300°F).

Sift together the flour and baking powder (and Xanthan gum, if making gluten-free).

When the liquid ingredients have cooled, add the dry ingredients in 2-3 additions. Mix with the whisk, but use a folding rather than whipping motion to avoid air bubbles. Don't worry if there are still little lumps of flour.

Whisk the eggs together with a fork and add them to the batter, mixing again with the whisk.

Pour the batter into the prepared pans and bang them gently on the bench to remove any large air bubbles.

Bake for 75 – 90 minutes, or until a skewer inserted into the middle of the cake comes out clean. When the skewer comes out clean, insert a thin-bladed knife into the middle of the cake. When that comes out clean or with only a few crumbs attached, the cake is done. If you have an instant-read probe thermometer, the centre of the cake should be at least 99°C. Mud cakes can be tricky to gauge for done-ness, so these are the best ways to tell for sure.

Allow the cakes to cool for half an hour, then cover the top with foil, securing around the edge of the pan. Leave the cakes in the pan overnight to cool completely and firm up before removing from the pans and decorating as desired.
Notes
Gluten Free – To make a gluten free caramel mud cake, you will need to use an all purpose gluten free flour blend. You can find my gluten free baking flour blend here, this is what I use for all my cakes.
*If you choose to use a purchased gluten free flour blend, check to see if it contains a gum ingredient (usually xanthan gum, guar gum or vegetable gum) – if it contains one of these then omit the Xanthan gum from the cake recipe.
Baking the cakes – If you find the cakes are browning too much on the top before they are cooked in the middle, cover the tops with foil for the remaining baking time.
When stored in an airtight container, or once sealed with frosting and/or fondant, it will keep well for at least a week at cool room temperature. For longer storage, before decorating you can wrap it well with plastic wrap, pop it in an airtight container and freeze it.
Nutritional Disclaimer: Any nutritional info provided is a computer generated estimate and is intended as a guide only.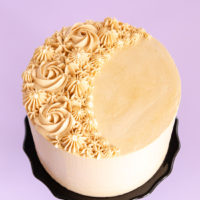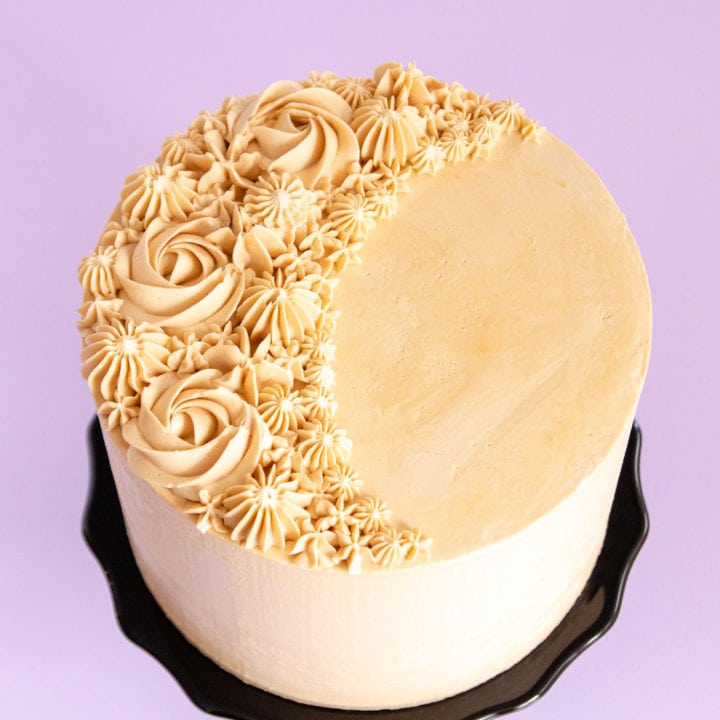 Ingredients
210

g

egg whites

about 7 egg whites, or use pasteurised egg whites

325

g

sugar

caster or granulated

pinch

of salt

450

g

unsalted butter

1

Tablespoon

vanilla extract
Instructions
Thoroughly clean the whisk attachment and heatproof bowl of a stand mixer, and wipe with a paper towel dipped in lemon juice or vinegar to remove any traces of grease.

Combine the egg whites and sugar in the mixer bowl. Place the bowl over a pot of just-simmering water, making sure the water doesn't touch the bottom of the bowl. Stir constantly until the sugar has dissolved and the mixture reaches 71°C/160°F.

Place the bowl on the mixer and whip on medium speed for one minute, then increase speed to medium-high and beat until the meringue is stiff and glossy. The mixer bowl should be cool to the touch.

Switch to the paddle attachment, and with the mixer on low speed add the butter a piece at a time until fully incorporated. If the mixture seems to curdle or separate, don't panic! Just keep the mixer going on low speed until the buttercream becomes silky and smooth.

Warm the caramel sauce gently in the microwave until just slightly warm and pourable (don't make it hot, or you'll melt your buttercream). Add to the buttercream along with the vanilla extract and beat again to combine.

Give it a taste, if it could do with more caramel then add a bit more.

Split your cakes into layers (I split each cake into two layers, so my finished cake had four layers), fill, layer and cover your cake with the buttercream.

See post for how I used the buttercream to decorate my cake.
Notes
If your buttercream does split and is taking a long time to come back together, you can speed the process up. Touch the side of the bowl – if it still feels very warm, then pop the bowl into the fridge for 5-10 minutes, then beat again. Alternatively, if it feels like the mixture is too cold, then place the bowl back over the pan of simmering water for a couple of minutes, just until it begins to melt around the edges of the buttercream, then remove from the heat and beat again.
Nutritional Disclaimer: Any nutritional info provided is a computer generated estimate and is intended as a guide only.
Happy Baking!
Natalie
xx
More Recipes You May Like…