This post may contain affiliate links to products I recommend. I receive a small commission at no cost to you if you make a purchase using my link.
With a smooth, creamy white chocolate and condensed milk fudge base, pastel mini eggs, crunchy cookie pieces, and a speckle of rainbow sprinkles, this mini egg fudge slice is the perfect easy Easter recipe!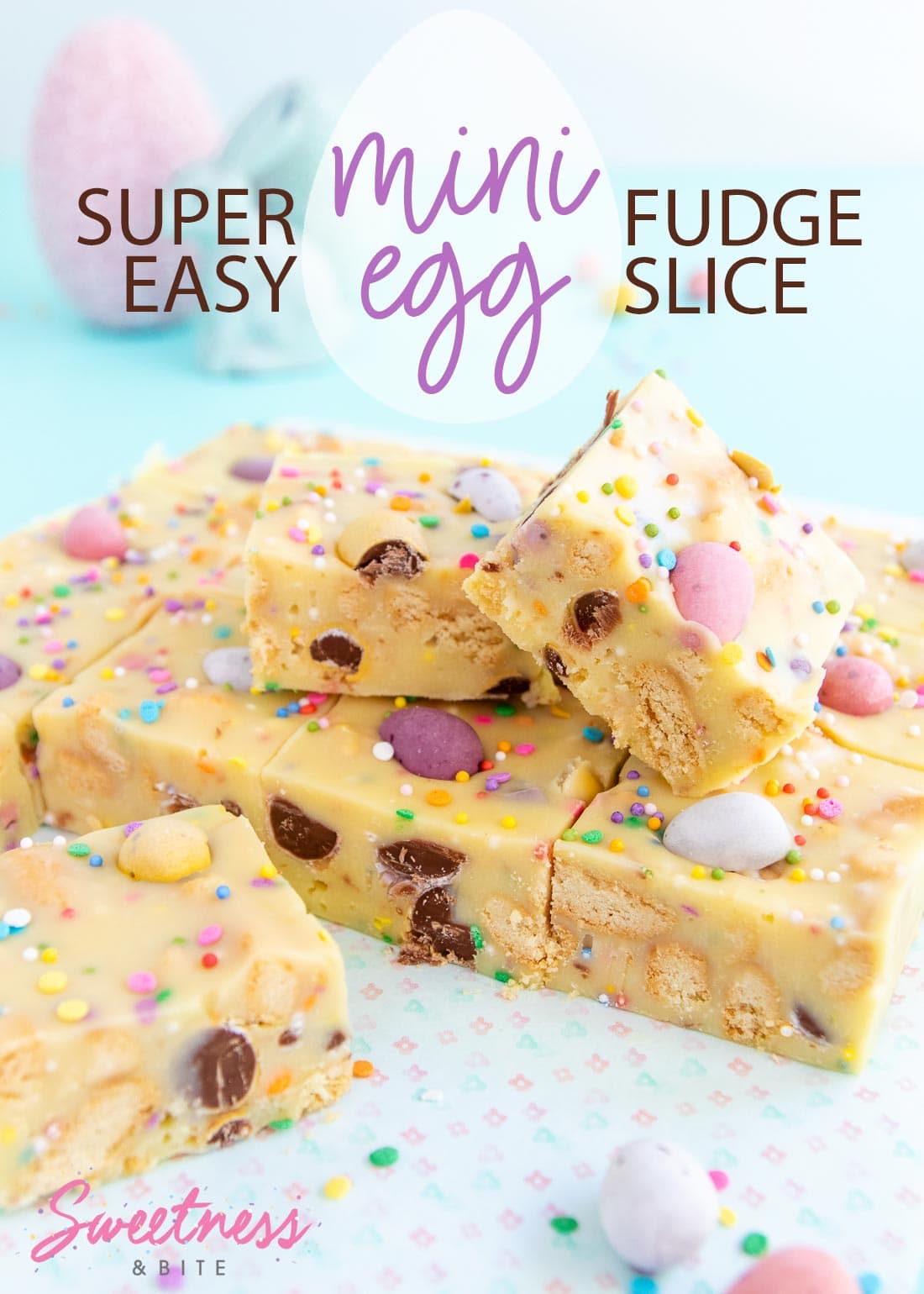 If you're on the hunt for a super easy to make but still fancy, cute and fun Easter treat, then this is the recipe for you!
After posting a simple recipe for milk chocolate mousse Easter eggs, and I knew I wanted to make another cute, fun and easy treat for Easter. I also didn't want to spend weeks reinventing the wheel.
So I fell back on an old favourite recipe, my white chocolate and raspberry fudge slice and I threw an Easter egg spin on it with some Cadbury mini eggs. Boy am I glad I did because this mini egg fudge slice is so delightful that I might have to fill the pantry with mini eggs so I can make it year-round!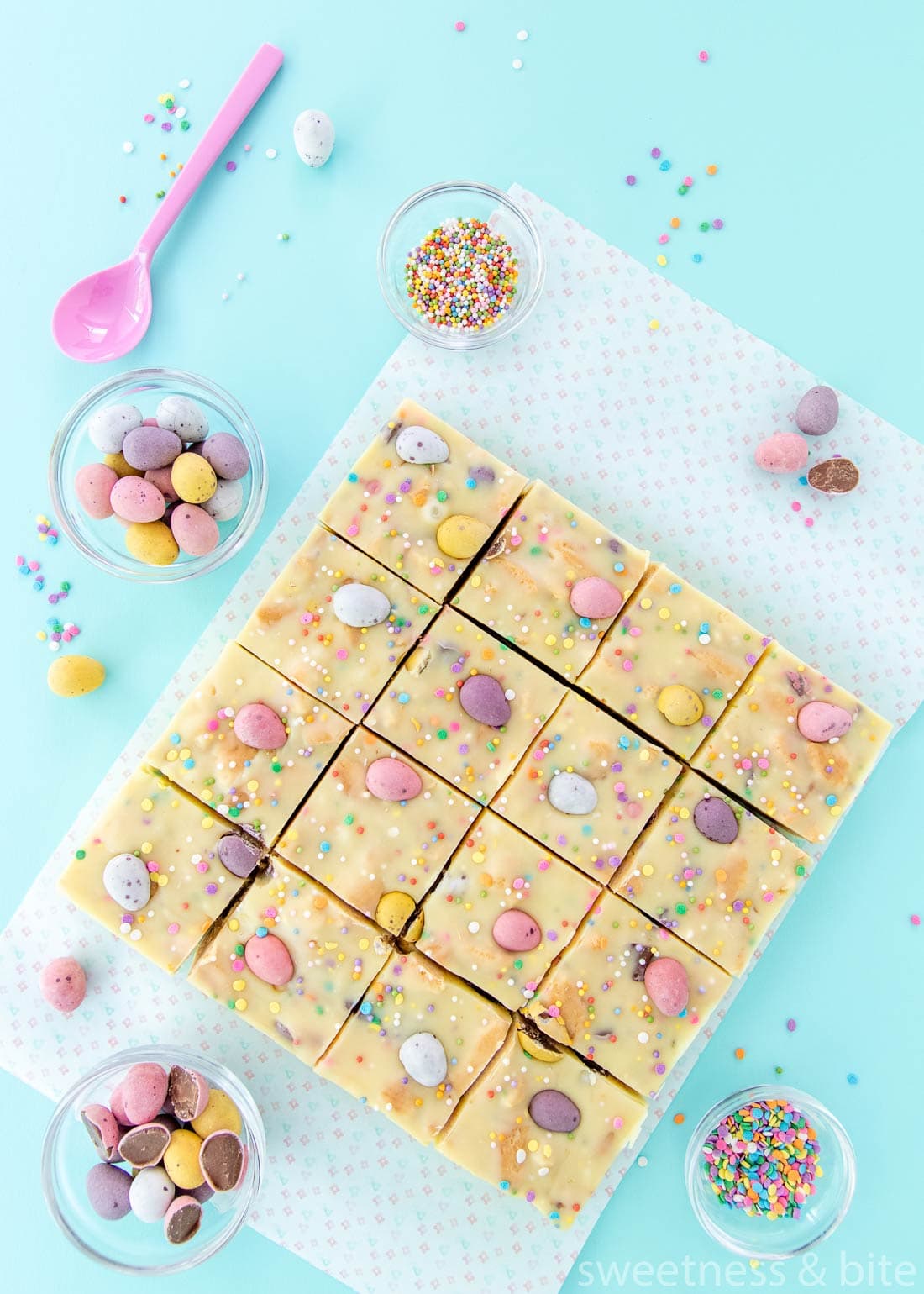 It's a smooth, creamy white chocolate and condensed milk fudge base, studded with chopped pastel mini eggs and crunchy cookie pieces, and speckled with rainbow sprinkles for some extra festive flair.
This is definitely a recipe for those with a sweet tooth, but if you can't go overboard on the sweet chocolate treats at Easter, then when can you?!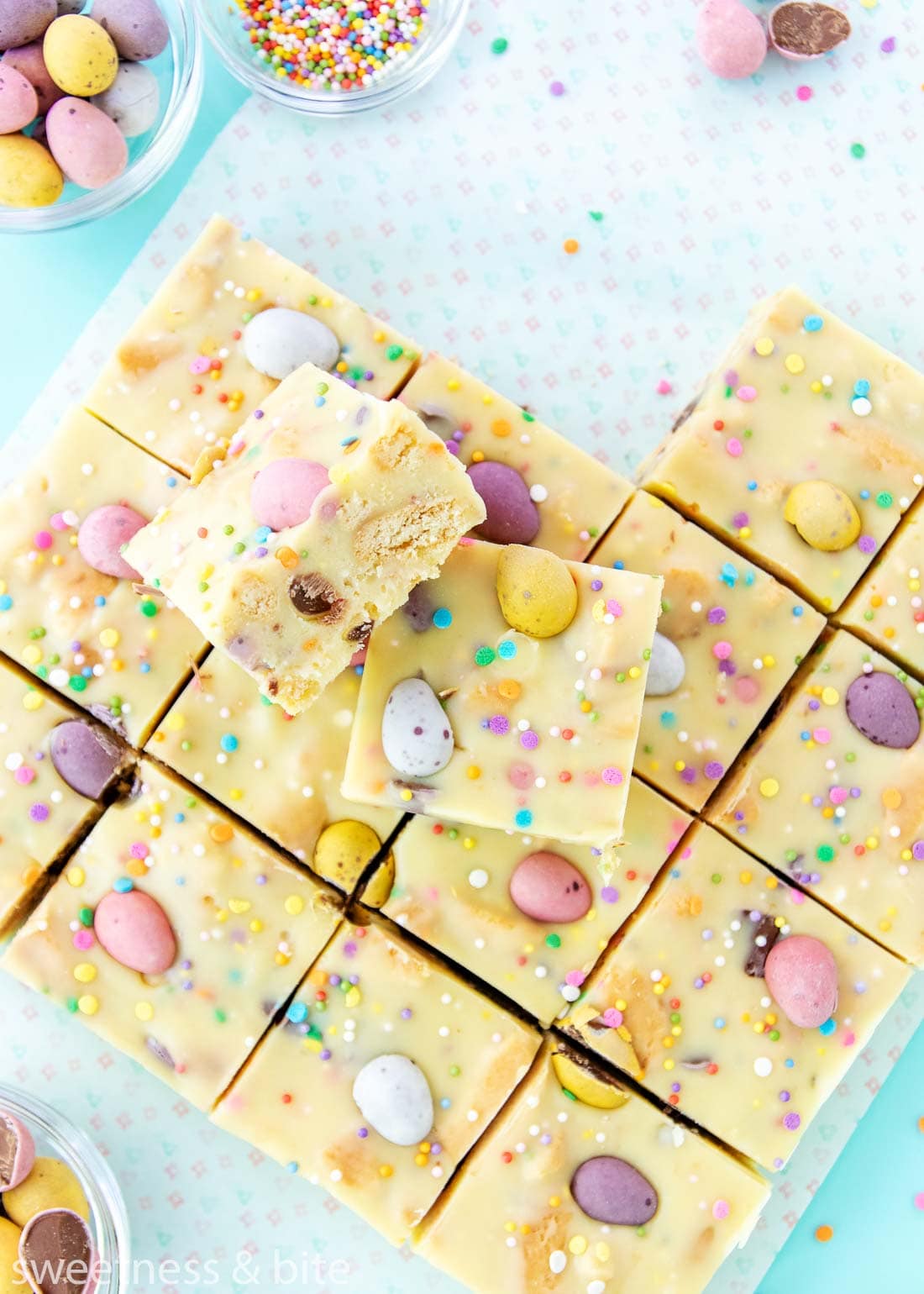 Here's a quick rundown of what I love most about this Easter fudge recipe:
It's easy to make
It looks super cute and fun
Has sweet white chocolate + vanilla flavour (or you can add your own favourite flavours!)
Can be made with any mini easter eggs or sprinkles that you like
Keeps for ages in the fridge (if you don't eat it all in one go!)
And here are the ingredients you'll need to make it:
Sweetened condensed milk
Butter
Vanilla extract (or other extract)
White chocolate (not chocolate chips)
Vanilla or chocolate biscuits/cookies
Sprinkles
Cadbury Mini Eggs
How to Make Mini Egg Fudge
This is actually super easy to make and would be a fun one to make with kids. Depending on how old they are, they may need a little help to chop the mini eggs as they can roll around a little bit. Or you could also just pop the eggs in a plastic bag or in a tea towel, and whack them with a rolling pin if you prefer!
Other than that it's a pretty simple and safe method for small people. The condensed milk and butter get melted together in the microwave, then you'll add the vanilla extract, melt in the white chocolate and stir in the crushed biscuits, sprinkles and chopped mini eggs.
Then just spread it into your prepared square cake pan, and decorate with the remaining mini eggs and some extra sprinkles.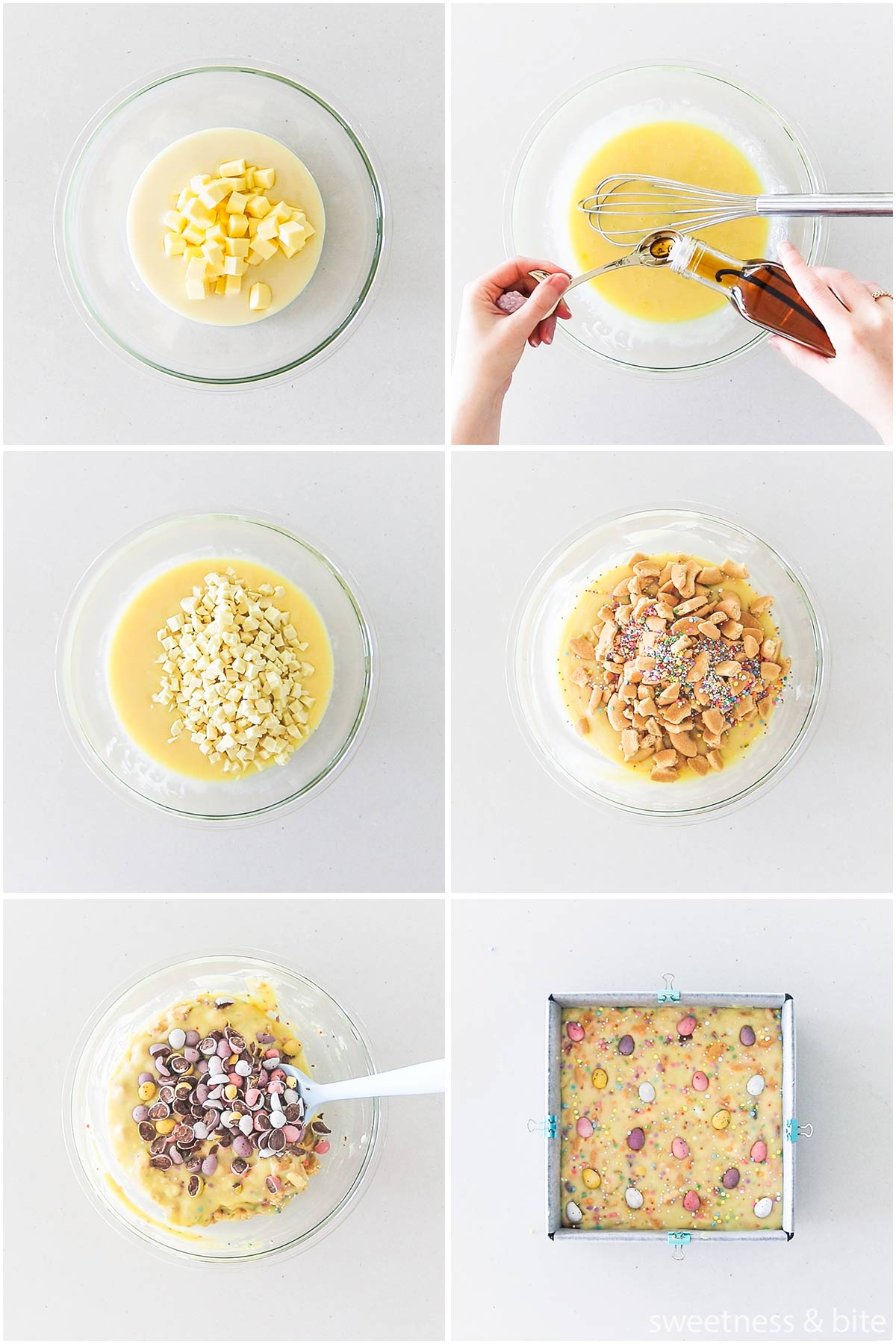 As with a lot of my favourite recipes, this one can be easily tweaked to suit your own tastes and what you have on hand. If you don't have (or can't find) Cadbury mini eggs, you can use any other kind of small chocolate eggs that you like to create your own Easter egg fudge creation. Mini Creme Eggs or Caramello eggs would be a delight.
Again, when it comes to the biscuits (or cookies, if you prefer) you can really use any kind you like. I used gluten free biscuits because we're a mostly gluten free household, but any other plain sweet biscuit would work, as would a chocolate cookie if you wanted to get extra chocolatey. And of course, you can make it gluten-free (as I did) or not, if you have no need for that.
If you're making your slice gluten-free, make sure you check the Easter eggs and sprinkles you're using don't contain gluten!
When it came to picking sprinkles for this, I went with a couple of favourites. Some good ol' fashioned rainbow "hundreds and thousands", and pastel confetti sequins. But you can use whatever sprinkles you like, or happen to have in the cupboard.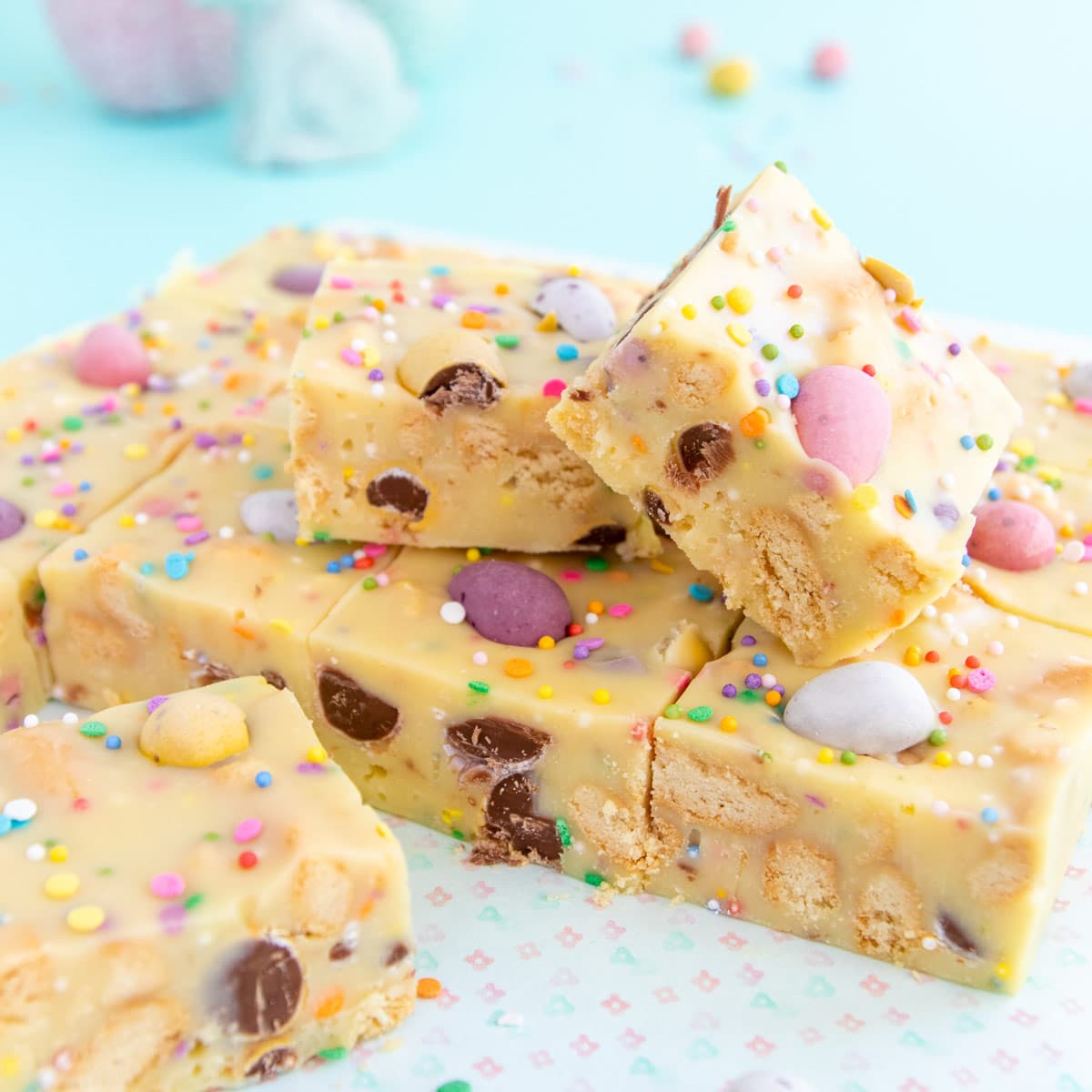 And while we're on the subject of doing whatever you like, if you wanted to add a flavour other than vanilla to this, then you could absolutely do that too!
Make it peppermint if you're a mint fan, or a few drops of orange flavour if you're chocolate-orange kinda fruity folk. Some crushed freeze-dried berries would make a nice sharp contrast to the sweet fudge.
One last note – if you've ever had issues with making fudge in humid weather, you don't need to worry about that with this recipe! It's not a traditional boiled sugar fudge (more of a "cheat's" fudge, if you like) so the weather won't affect it.
The fudge is best stored in the fridge in an airtight container and it should last for 1-2 weeks – if you can manage to keep your hands off it, that is!
Easter 2021 Giveaway!
Edit: Entries are now closed, congratulations to Kylee, who correctly guessed 21 bunnies, and is our winner! 🎉
We tried this last year and NZ's Covid lockdown put an end to it, so we're doing it again this year!
I've put together this little collection of Easter themed goodies, and you could win them. There are 6 Easter cookie stamps and 6 limited edition "Happy Easter" cake/cupcake toppers from Design @ 409, Sweet Sticks edible art paints in Pastel Blue, Pink Gelato and Mint Sorbet plus some of my Sweetness & Bite sprinkle medley from Kiwicakes and some little Easter eggs (not these exact ones, I ate 'em after I took the picture. I'll send ya some fresh ones.)
The fine print: Entries close Thursday 4th of March at 8pm (NZ time). Please make sure your email address is correct when you leave your comment – if the winner does not respond by Saturday 6th of March, a new winner will be selected. Open worldwide. The prize will be sent with tracking if the winner is in NZ or Australia, any other destinations will be sent untracked. Due to postal delays in most countries, I cannot guarantee the prize will arrive before Easter. But if the Easter bunny pops in and offers to deliver it on time, I'll definitely take him up on that.
Entering is easy! Simply watch this video on how to make the mini egg fudge slice, count all of the little bunnies that pop up during the video, then leave me a comment below telling me how many bunnies you spotted. All correct entries go in the draw.

Entries are now closed, but please feel free to count the bunnies anyway 💜
Mini Egg Fudge Slice
Total Time:
3 hours
18 minutes
With a smooth, creamy white chocolate and condensed milk fudge base, pastel mini eggs, crunchy cookie pieces, and a speckle of rainbow sprinkles, this mini egg fudge slice is the perfect easy Easter treat!
Ingredients
395g (1 can) sweetened condensed milk
150g butter, cubed
375g white chocolate, chopped
2 teaspoons vanilla extract
200g vanilla biscuits (cookies)*
150g mini eggs
1/4 cup sprinkles
Extra halved mini eggs and sprinkles, to decorate
Instructions
Line the base and sides of an 8" (20cm) square cake tin with baking paper. I use two long strips (see the video in this post for more info) letting the paper overhang on the sides so the slice can be lifted out easily.
Roughly chop the mini eggs. You can leave them whole if you prefer but chopping them makes it easier to cut the finished slice neatly. Put the chopped eggs into a bowl and place them in the fridge (this helps stop them melting later).
Place condensed milk and butter in a large, microwave-safe bowl or jug. Microwave on high power for 1 minute, then stir. Continue microwaving in 30-second bursts, until butter is melted.
Stir in the chopped white chocolate. Microwave on medium power in 30-second bursts until the chocolate is melted. Set aside to cool slightly (we don't want to melt the mini eggs when we add them!)
Lightly crush the biscuits. I just do this with my hands as the ones I use crush easily, but you can put them in a plastic bag and bash them with a rolling pin if you prefer. Add the crushed biscuits and the sprinkles to the mixture and stir. Then add the chopped mini eggs, and stir to distribute them evenly.
Pour or spoon the mixture into the prepared tin. Smooth the surface, and top with the extra halved mini eggs and more sprinkles.
Refrigerate for 2-3 hours or until firm. Cut into pieces.

Store in an airtight container - between layers of baking paper - in the fridge for up to a week.
Notes
*You can use any cookies you like in this. I used gluten-free cookies.
I like to decorate the top of this with halved mini eggs, as they are easier to cut through than whole eggs when you cut the fudge into pieces. The eggs can be hard to cut neatly into halves, so when I'm chopping the eggs I pick out some of the nicest halves and save them for the top, and use the rest in the slice. If you prefer a more rustic look, then roughly chopped eggs look great, too.
Nutrition Information:
Yield:

16
Serving Size:

1 piece
Amount Per Serving:
Calories:

324
Total Fat:

21g
Saturated Fat:

12g
Trans Fat:

0g
Unsaturated Fat:

7g
Cholesterol:

26mg
Sodium:

109mg
Carbohydrates:

27g
Fiber:

1g
Sugar:

24g
Protein:

2g
The nutritional information above is computer-generated and is only an estimate. Please do your own research with the particular products you're using if you have specific health needs or are following a special diet.
Happy Easter!
Natalie
xx
You may also like these recipes…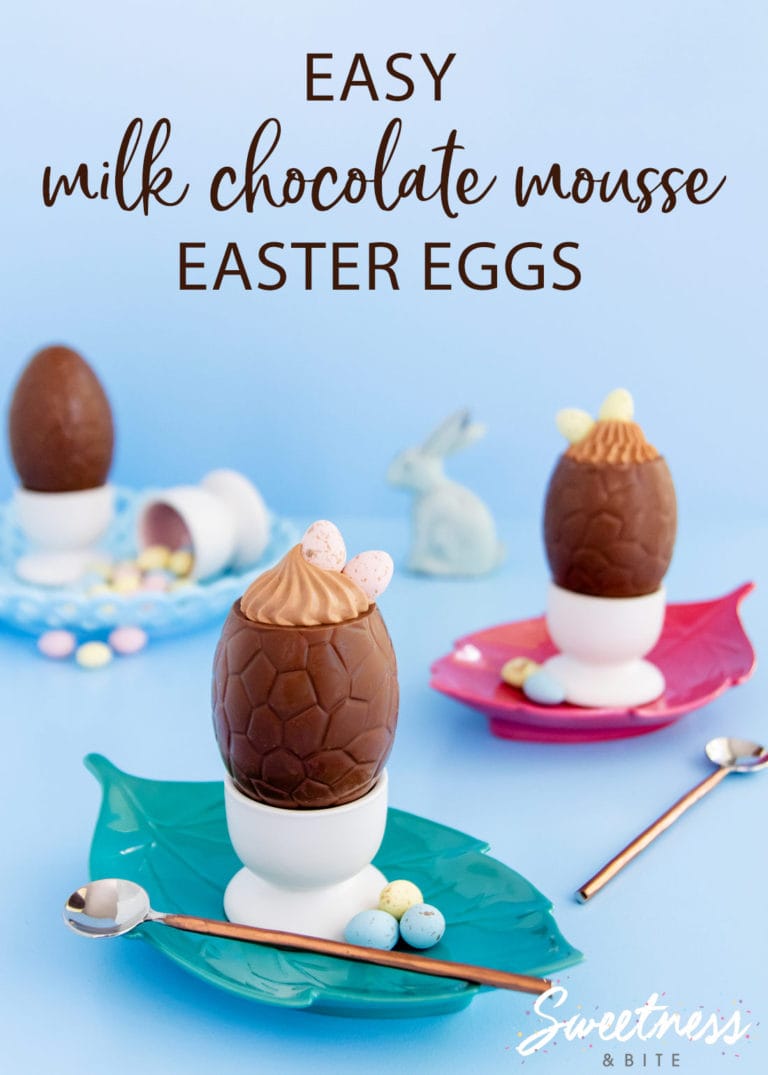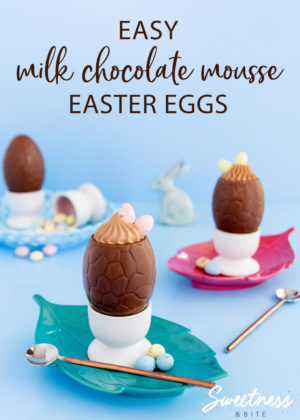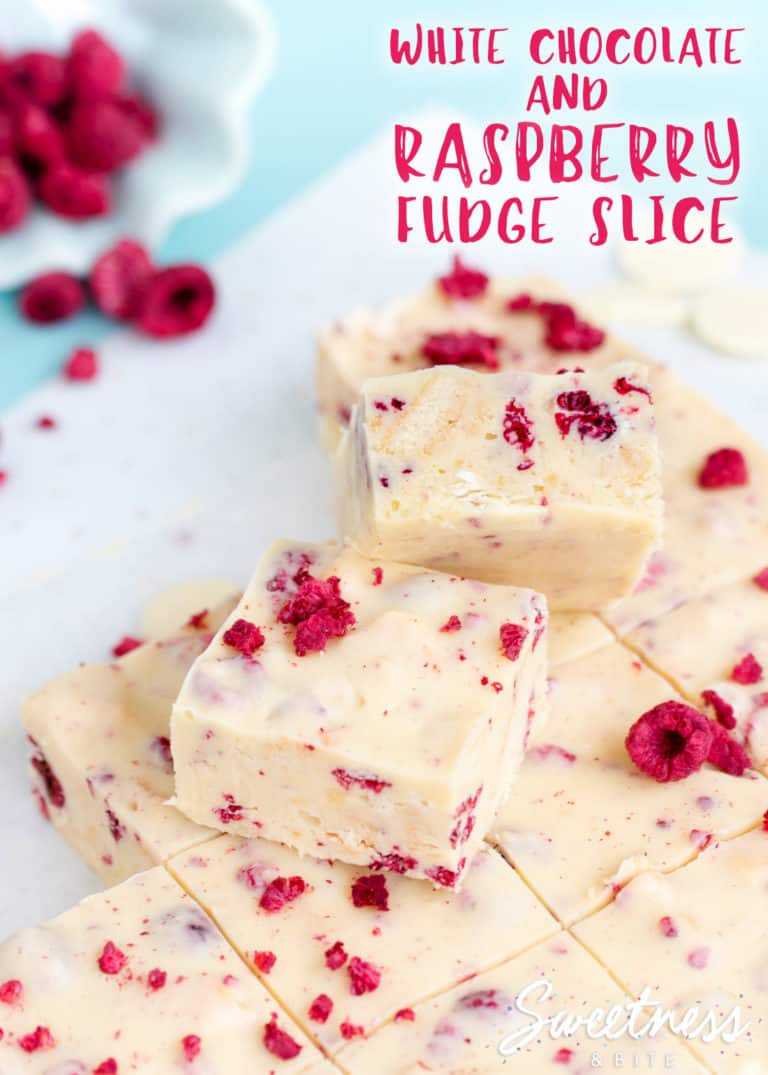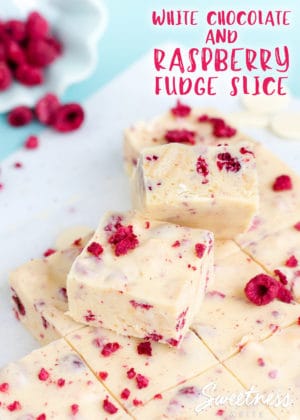 Comments