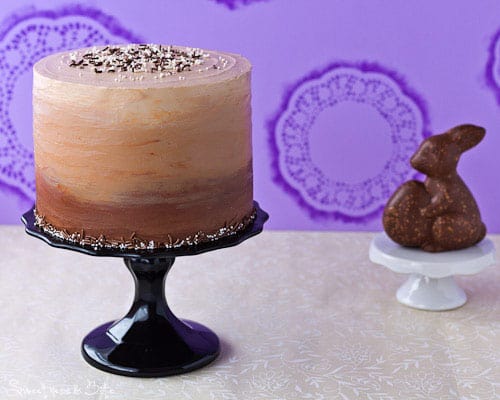 I hope one day I can grow up to be one of those super organised bloggers who can show you something a week or two before a holiday and say "here's something you should make for (insert holiday/special occasion here) It's colour coded and decorated perfectly to suit said occasion!"
But so far I'm not a grown up… and I am not organised.
So instead of posting this a week ago and saying "you should totally make this chocolate and vanilla honey cheesecake layer cake for Easter, my friend! Your family will love you for it and throw you in the air in delight!" … Yeah I'm just gonna say "this is what I made my family for Easter, and if at some stage you have an occasion where you can't possibly choose between cheesecake and chocolate cake, I'll just leave this recipe right here for when you need it."
I'm nice like that. Nice, but just not organised. I hope you can forgive me.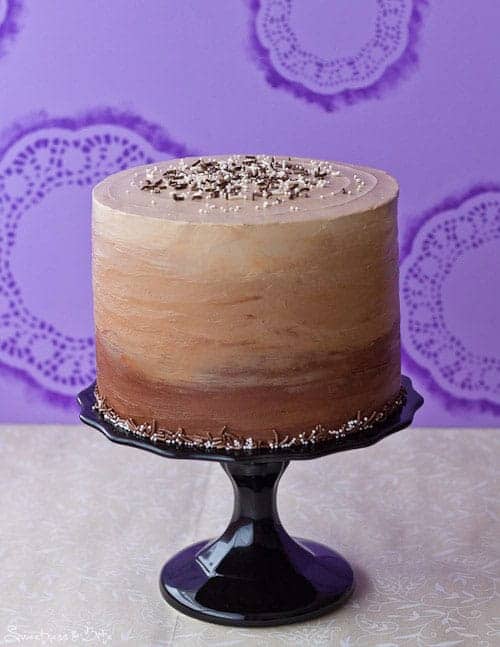 Cakes with a layer of cheesecake have been floating around all over Pinterest for a while now, but most of them only have one layer of cheesecake. I have no idea why. If there is room for more cheesecake, why would you only have one layer? Why?! It's cheesecake. So I shoved another layer in there. Plus a couple of layers of buttercream. I really like Italian meringue buttercream. Can you tell?
I made a similar version to this cake last year for my Dad's birthday, five layers of lemon cake, a couple of layers of coconut cheesecake and a couple of layers of buttercream. Yum.
Since we're not a particularly religious family (Roman Catholic Nonna excluded) to us Easter is mostly about the chocolate. And hanging out as a family. And eating chocolate. As a family. Chocolate.
Chocolate & vanilla honey cheesecake layer cake it is.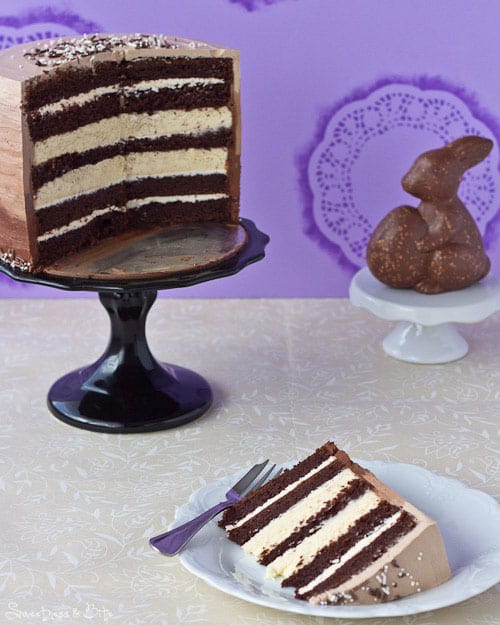 To keep things interesting and make the cake extra pretty when it's sliced, I decided to make a baked vanilla cheesecake filling. Based on a recipe from Tea With Bea, I tripled the recipe for two layers, added mascarpone for extra creaminess and replaced a bit of the sugar with some honey. It doesn't end up honey flavoured as such, but the honey adds an extra depth of flavour to an otherwise very vanilla cheesecake. I used a light flavoured squeezy honey, but you can use any kind of honey you want. I can't wait to try this as a regular cheesecake on a biscuit crumb base, maybe with a slightly stronger flavoured honey. I could do it midwinter and use manuka honey, y'know, for it's medicinal properties. Yes, that's why.
The good thing about this cake is that while there are a few different components, you can knock the various parts out over a few days. No last-minute rushing (unless you're like me and screw something up and end up baking another cake layer the day you want to put it together. Don't be like me if you can possibly help it.)
The cake can be baked up to three days in advance, the buttercream can be made a week or two before (you can store it at room temperature for a few days, unless you live in the desert, but any longer than that just pop it in the fridge. Then bring it back to room temperature and give it a quick mix before using). The cheesecakes can be made the day before and kept in the fridge. Leave them uncovered in the fridge until they're chilled, then put them (tin and all) in an airtight container(s).
I baked the cheesecakes in a bigger tin than my cakes because the last time I did this the edges of cheesecake got a little brown and I had to cut them off. This time I baked them in a water bath, and didn't have brown edges. So it's up to you if you want to bake them in bigger tins and cut the edges off (and eat them) or if you have 7" springform tins then you could just bake the cheesecakes in them and thicker layers. Nothing wrong with that. Or bake everything in 8" tins and have a slightly shorter but wider cake. Don't tell me I never give you options.
Or you can ignore all the options and do exactly as I did. And then you get to wear your "quality control" hat and eat the off-cuts.
When lining the base of your springform pans with baking paper, place a square of paper over the base, then press the ring down over the top and close it. Then line the sides of the tin. I forgot to do this. Turns out the non stick actually works, but just in case, don't be like me – line the sides. Once your tin is all lined, if you're going to bake your cheesecakes in a water bath, tear off two long pieces of foil and place them in a cross shape. Put the tin in the middle, and pull the foil up around the tins. You want to make the tin as watertight as possible to stop any water seeping into your cheesecake.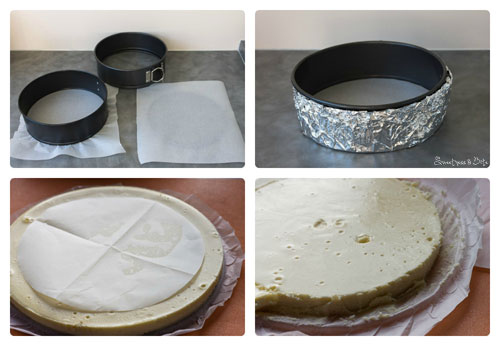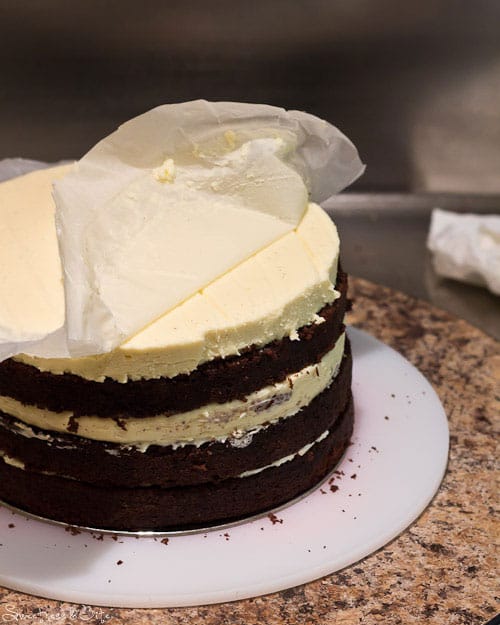 The graduating chocolate buttercream is inspired totally by Sweetapolita's Pastel Swirl Cake, check out the video on how to do this technique. Mine didn't come out quite as gorgeous as hers, the darker chocolate buttercream started to set a bit fast due to all the chocolate, which made it harder to swirl. The great thing about this technique though is you don't have to be tooooo fussy about smoothing it out, it looks perfect with a bit of swirly texture. But if you ask my mother (who wanted to use her kitchen), she'll tell you I spent ages trying to get that "effortlessly smooth-but-textured" finish. And she'd be telling the truth.
Maybe when I'm grown up enough to be organised, I'll be grown up enough not to be such a fussy pants. I kinda hope I never grow up.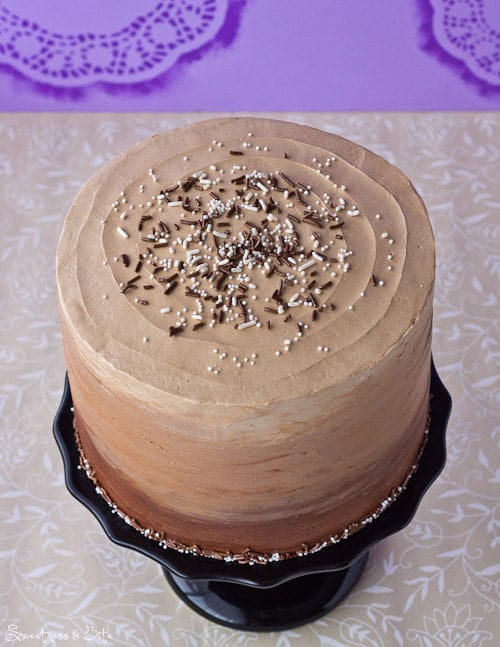 Print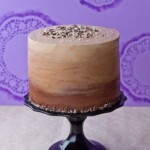 Chocolate & Vanilla Honey Cheesecake Layer Cake
---
Yield:

One 7" round cake, approximately 5" high.
---
---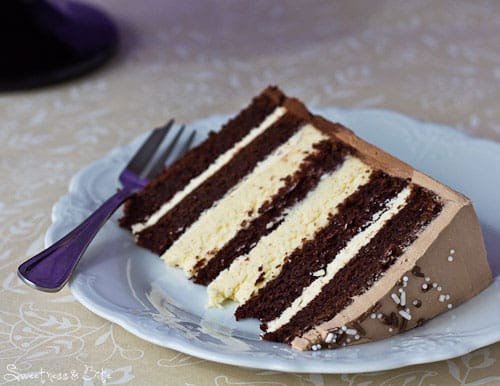 I hope you and your family had a very happy Easter.

~Natalie
xx
PS: I'd like to thank my ever-patient family for letting me bugger off and take some pictures of the cake halfway though cutting and serving it. But I didn't want to test their patience for long enough to clean up the cake board and get too fussy with the pictures. That's what a real-life, half-murdered, fully appreciated cake looks like, folks :p