Simple Watercolour Cake Tutorial
This post may contain affiliate links to products I recommend. I receive a small commission at no cost to you if you make a purchase using my link.
A step by step tutorial for creating a fool-proof, easy watercolour effect on a fondant covered cake. If you've ever been too nervous to paint on a cake, then this simple watercolour-without-water technique is for you!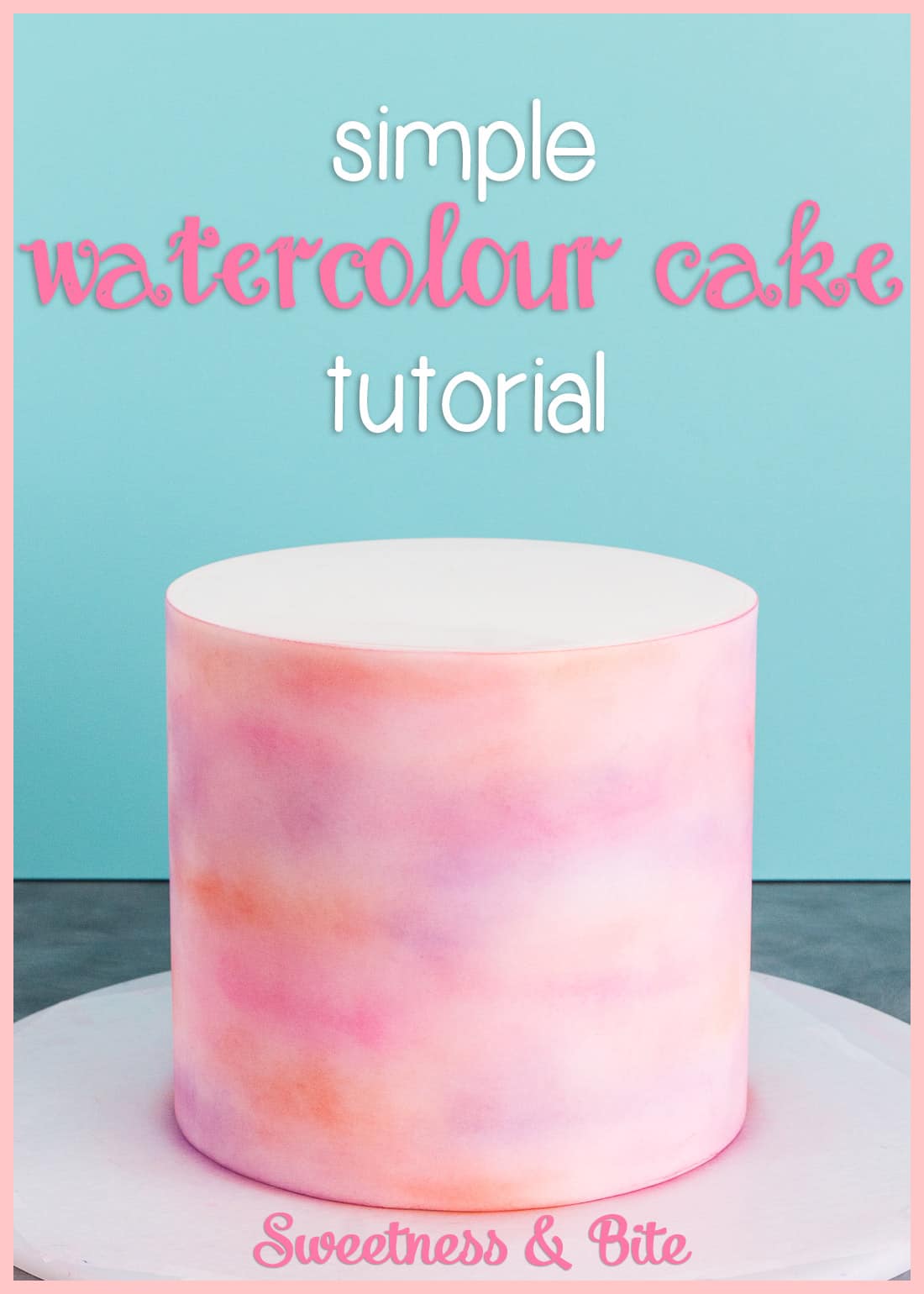 I'd like you to pretend that this is a witty and clever first paragraph to this post. Here's why I need you to pretend: just as I was falling asleep last night, the perfect post opening popped into my head. I felt quite pleased with myself, but then realised I literally did not have the energy to roll over, grab my phone and write it down. My body had basically given up for the night, and there was no moving it.
I knew, as I lay there, that I wasn't going to remember. I replayed that clever intro to myself over and over as I fell asleep, in the hopes that I would remember. But this morning I woke up and knew. I just knew that I didn't know. Ugh.
I do vaguely remember that it somehow tied in my last post, the tutorial on the gumpaste name cake topper that I made for my niece's birthday cake. Because this tutorial is another one I photographed while making that cake, detailing how I did the watercolour effect on the top tier.
So now that you're done imagining my super clever, super witty intro to the post, we'll just get into it, shall we?
When I decided that I wanted a watercolour effect on the top tier of this cake, I kinda figured I'd have to actually paint it on like watercolour paint. Makes sense, right? Do what you'd do with watercolour, only do it with food colouring.
Turns out my attempts just didn't at look at all how I wanted, which was a very light wash of colour in several shades that could be blended together. Whether I used gel colours or petal dusts mixed with vodka or cake decorator's alcohol, every combination I tried just kind of smeared together and basically looked awful. The fondant got too wet, and the colours wouldn't blend nicely.
Then, in one of those moments when you realise the answer is simple, I tried just dusting the petal dusts straight onto the fondant. They blended together beautifully! And it allowed me to build up the colour gradually, so it was very hard to make mistakes.
Plus, it was so ridiculously easy.
Even though it is very easy, I do suggest trying out the technique on a rolled out piece of spare fondant, just to check that your colours are blending nicely together. If the colours look as though they might be too dark and intense for the look you want, you can mix in a little cornstarch to lighten the colour.
Right, let's do this!
How to Decorate a Watercolour Fondant Cake
First things first, you'll need a fondant covered cake. I find that colour takes better on a freshly covered cake, so I waited an hour or so after covering the cake, until the surface of the fondant had dried and set just a little bit. You can do this on a dry cake, it will just take longer to build up the colour.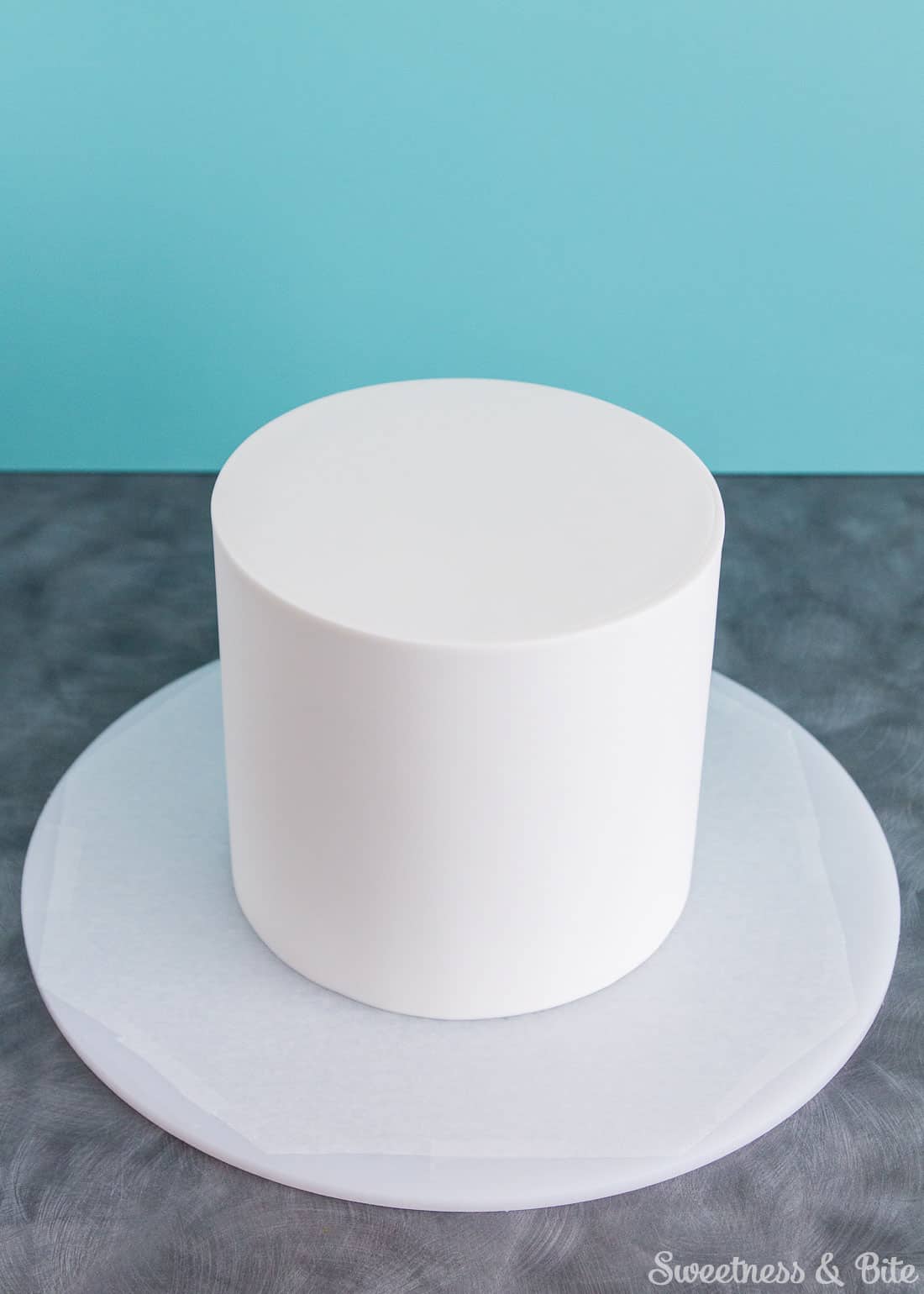 Bear in mind that the colour will settle in any dents or cracks in your fondant, emphasising any flaws, so you'll need to be very careful around any dodgy bits.
I chose to wrap this cake in fondant rather than cover it all in one, as I always get patches of elephant skin when I use fondant. No matter what I do, kneading lots, rolling fast, smoothing quickly, it just happens. Fondant hates me. But when wrapping it like this I get a much smoother result.
You'll be able to see at the back of this cake what I mean about the colour settling in cracks, as it makes the back seam of the cake very visible.
Now for the colours – petal dusts, to be precise. Try to choose colours that will look good layered over one another, and blend nicely together.
Another important thing to check is that the colours you are using are food grade and are safe to be consumed. Some petal dusts and powder colours are intended for elements that can be removed before the cake is eaten.
I used two Rolkem rainbow powders, Deep Rose and Orchid Mauve, a Caroline's Sugar Art pink, and a kind of peachy colour I made using a Rolkem Watermelon powder with a bit of yellow added.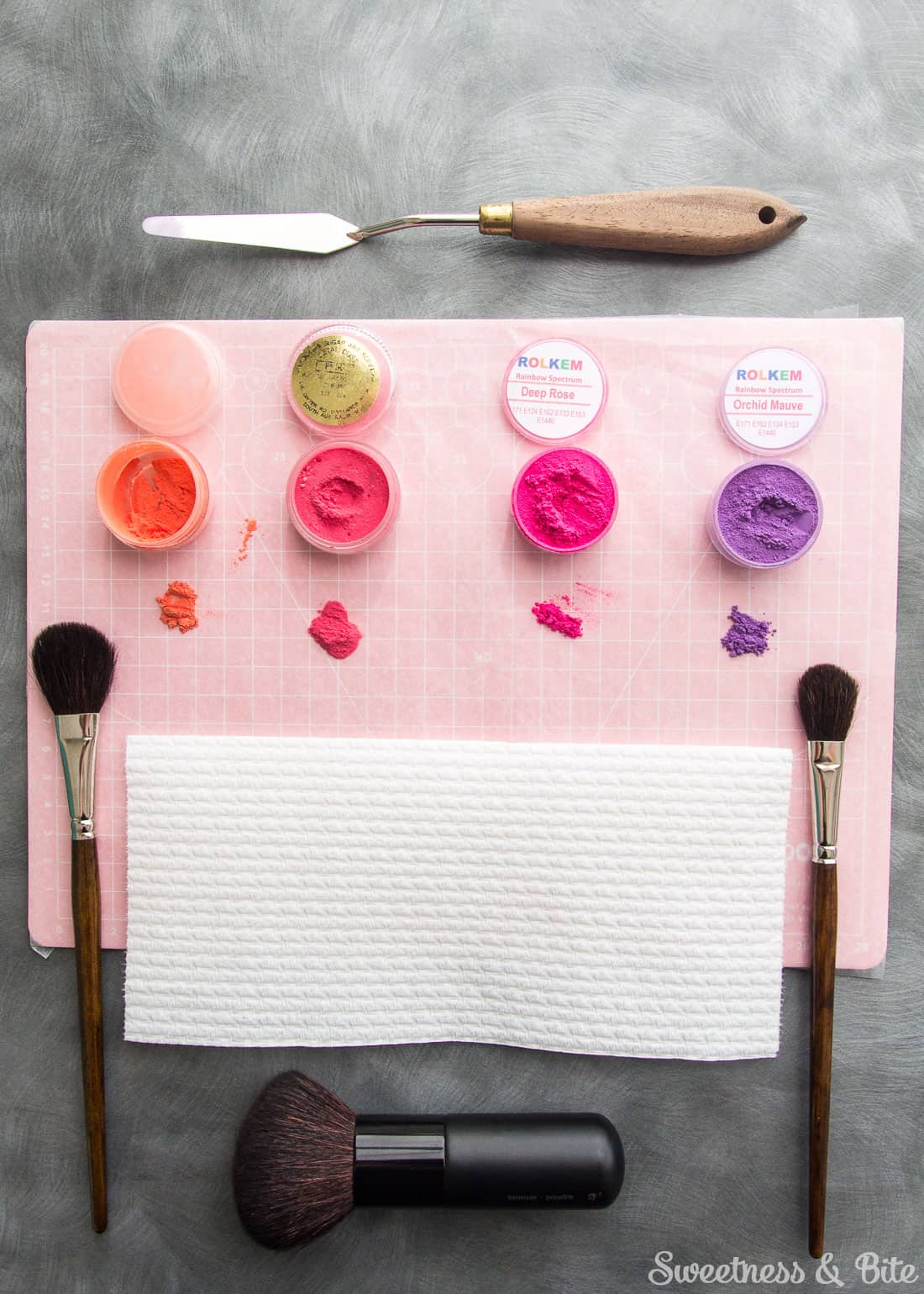 This is how I like to lay out the colours, so I know what is what and can easily get more out of the container, but working in small quantities so there is less chance for "omyfreakin'gosh I did not want that much colour on there!" moments.
I taped a piece of waxed paper to a cutting mat to make clean up easy, as I, ahem, learned from experience that colour dusts will eventually go through a paper towel and end up on the bench.
It is handy though to have a piece of folded paper towel to dab excess powder off the brush before applying it to the cake.
I played with a range of paintbrushes on my test piece of fondant, and worked out that I liked these slightly fluffy artists brushes pictured above, and also a rounded-tip flat foundation makeup brush. A giant fat fluffy brush (mine is a bronzer brush) is good for buffing over the colours to blend them at the end.
Hopefully, it goes without saying that the brushes should have only ever been used for cakes, don't go all Picasso on a canvas and then use those brushes for this. Or apply a full face of Kardashian makeup and then use your bronzer brush on a cake.
But having said that if you're capable of Picasso-like art then you probably don't need some random little tutorial on the internets, written by a make-it-up-as-she-goes-along blogger/cake decorator to tell you how to pretty up a cake with colours and brushes. And if you're a Kardashian, well I'm sure you'd probably just pay someone to make you a cake, right?
Start applying the colour at the back of the cake, so you can get comfortable before you get to the front. Make sure after tapping your brush into the colour powder, you dab it on the paper towel to remove the excess.
It is always, always better to start off light and add more colour – you can't take it away once it's there (well, you can try with a bit of vodka, but it'll be messy). So start slowly and build up the colour.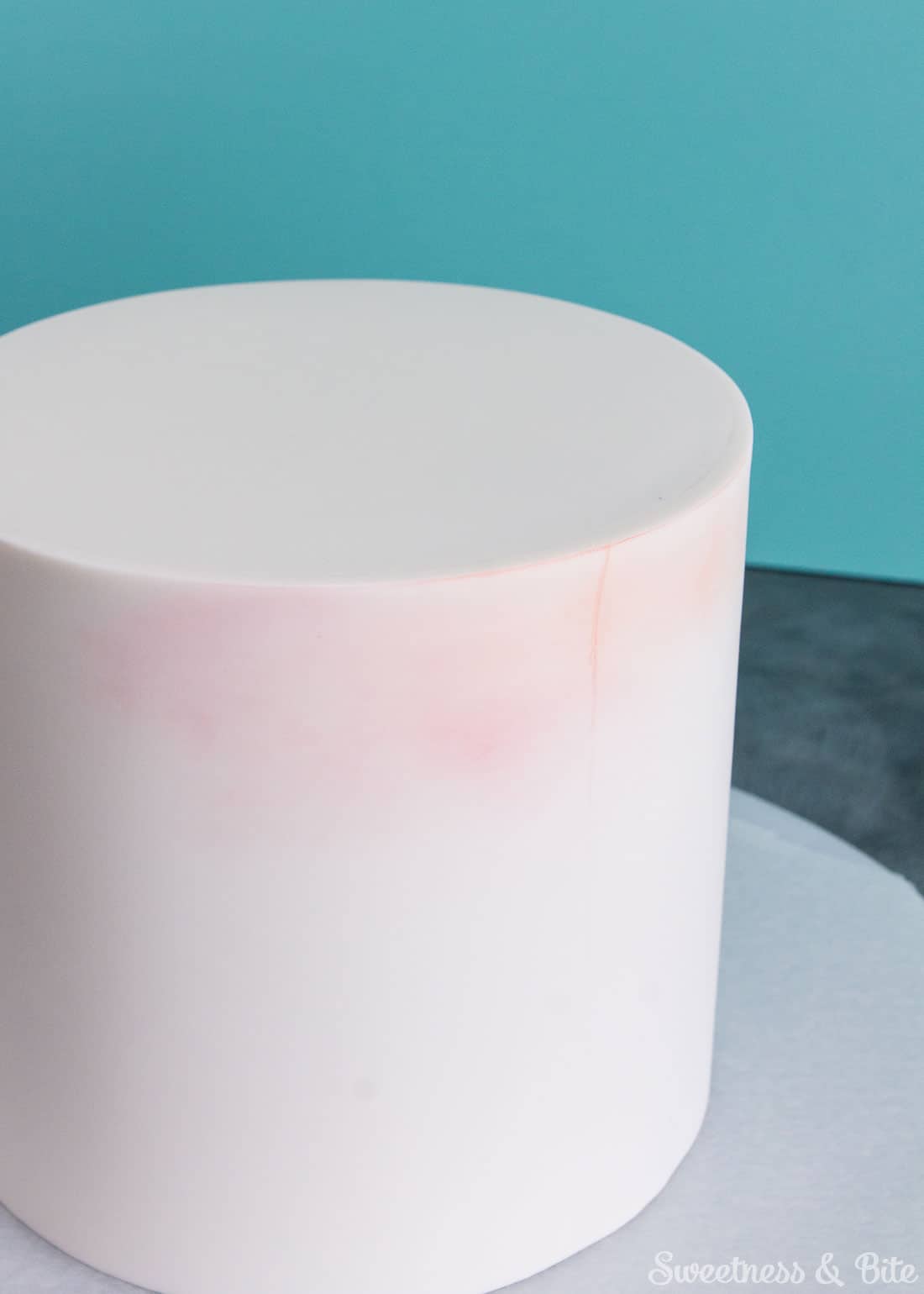 You'll be able to see now what I mean about the colour emphasising any flaws in the fondant, as the back seam from my wrapped fondant is becoming extra visible now. As the back of the cake wasn't going to be seen, this didn't bother me in the slightest, but keep it in mind.
To make an ombre watercolour cake, you can start with your darker or lighter colour and work towards the other at the bottom, or if you're after a random effect like I was, then, well, make it random.
I found I had to keep making sure I didn't just end up doing stripes around the cake, so I had to remember to take the colour up and down as well as side to side. Does that make sense? This would be so much easier if you were in my head right now. Actually, you'd probably hate it. It's messy in there. But at least you'd know for sure what I was on about with this cake.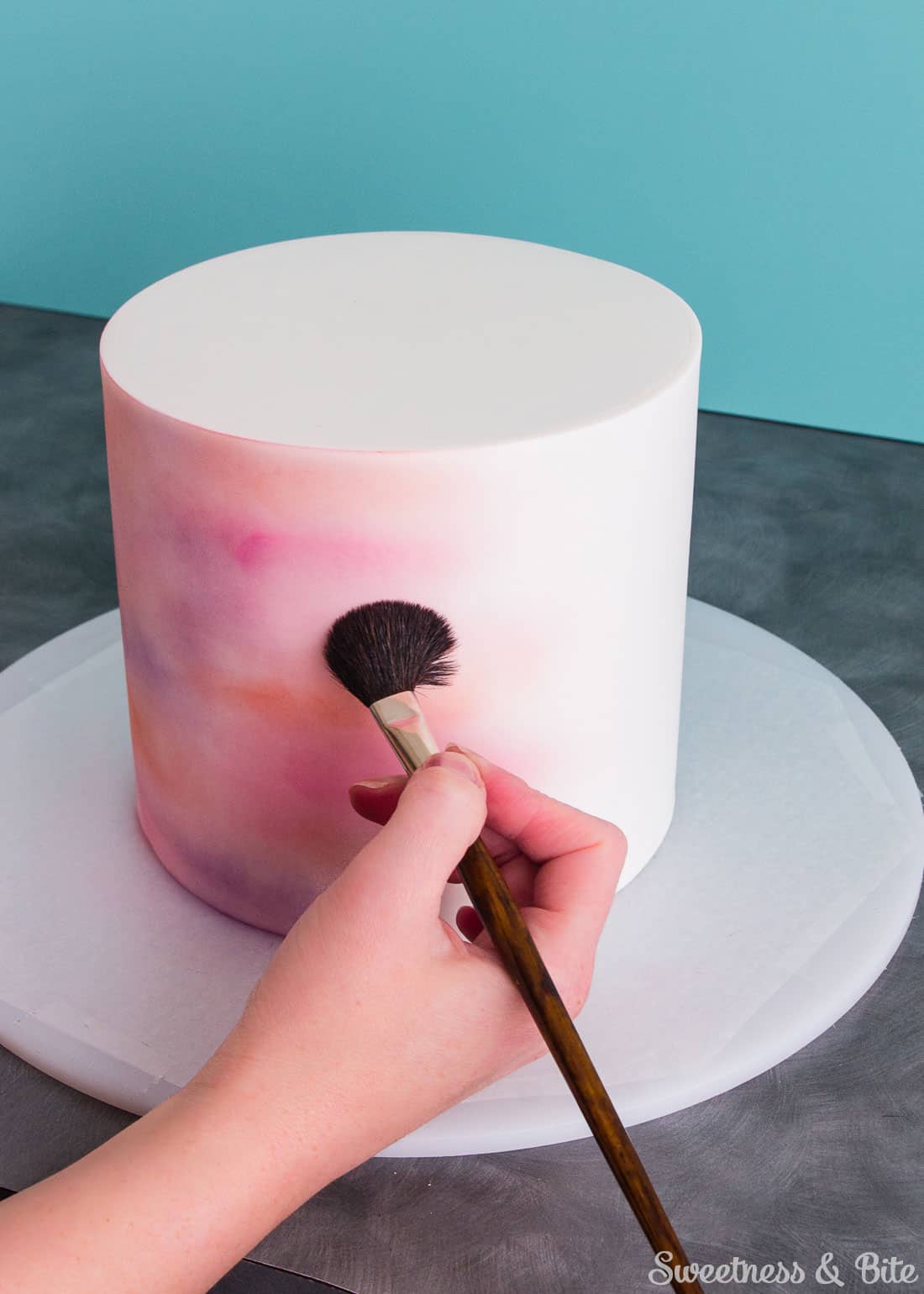 Basically now you just need to keep working around the cake with your colours. I used the fluffier brush, pictured above, to give a light wash, and went back with the foundation brush, pictured below, to darken things up.
If there are any spots you want to be darker than your brush will give you, you can dab a bit of colour on your (clean!) finger and rub it on that way.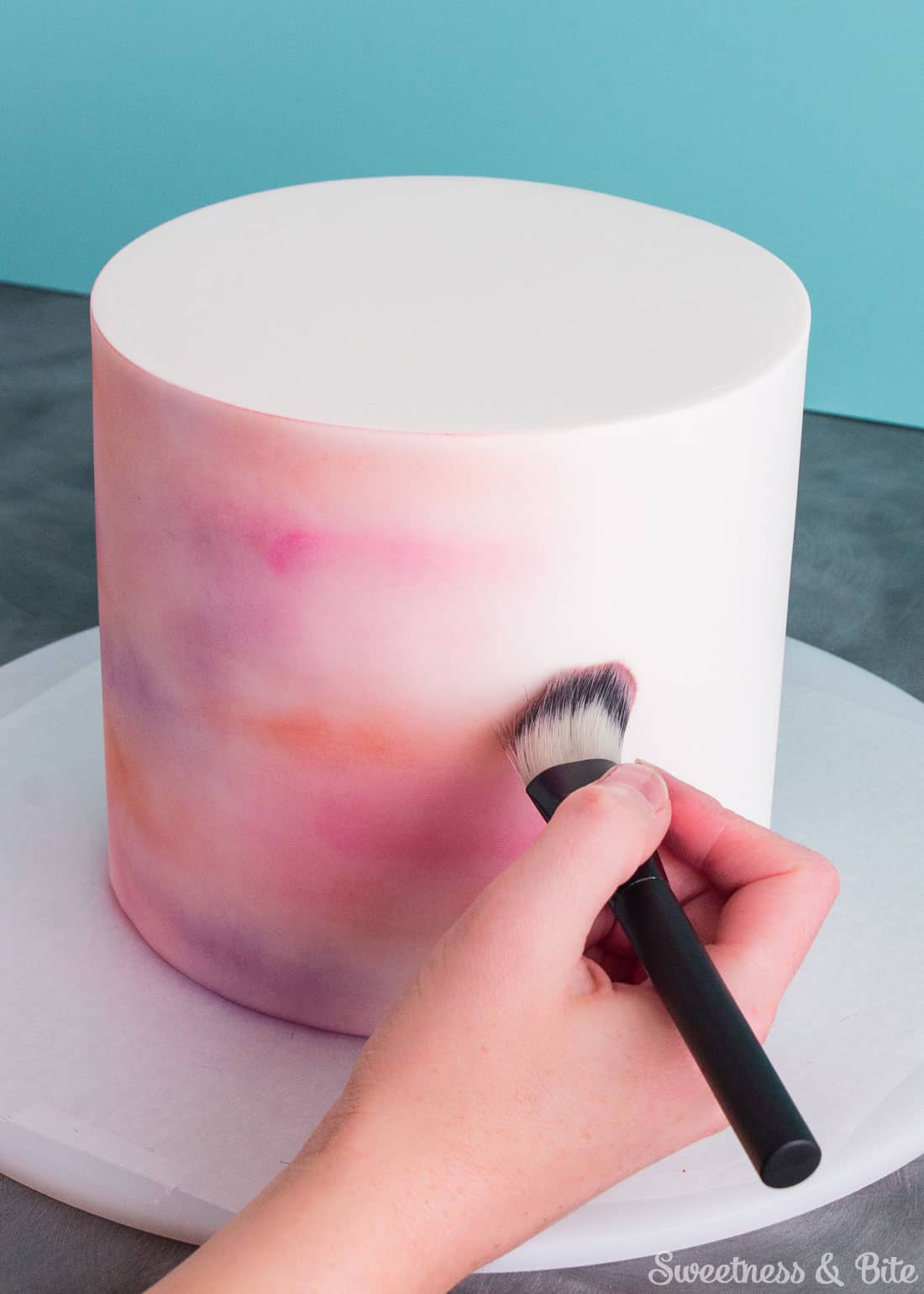 I didn't bother to colour the top of this cake as it was going to be covered with a chocolate drizzle, but if you want the colour on top too, then just continue it up onto the top, working round in a circle to the centre. Or from the centre out, whatever floats your boat. Or fluffs your brush.
Once you've got the colour the way you want it, take the big fluffy brush and use it to buff over the cake. This will blend the colours together a bit more, and remove any excess colour powder.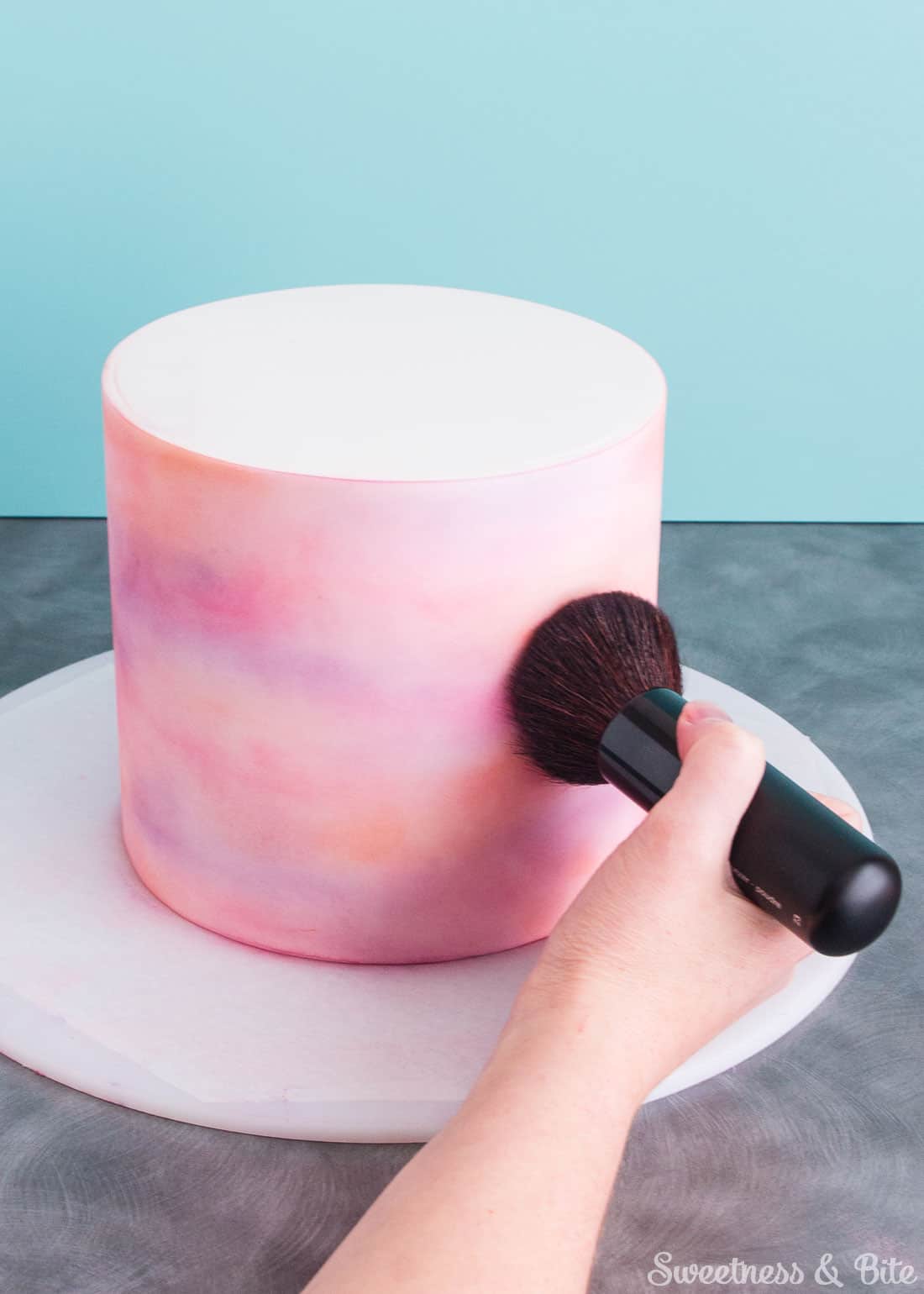 If you wanted a shimmery finish, now would be the time to brush on a pearl lustre dust. If you wanted it to be a bit blotchy like some watercolour paintings are, then you could use a brush dipped in vodka or cake decorator's alcohol to smudge the colour around. If you're leaving it au naturel, then voilà…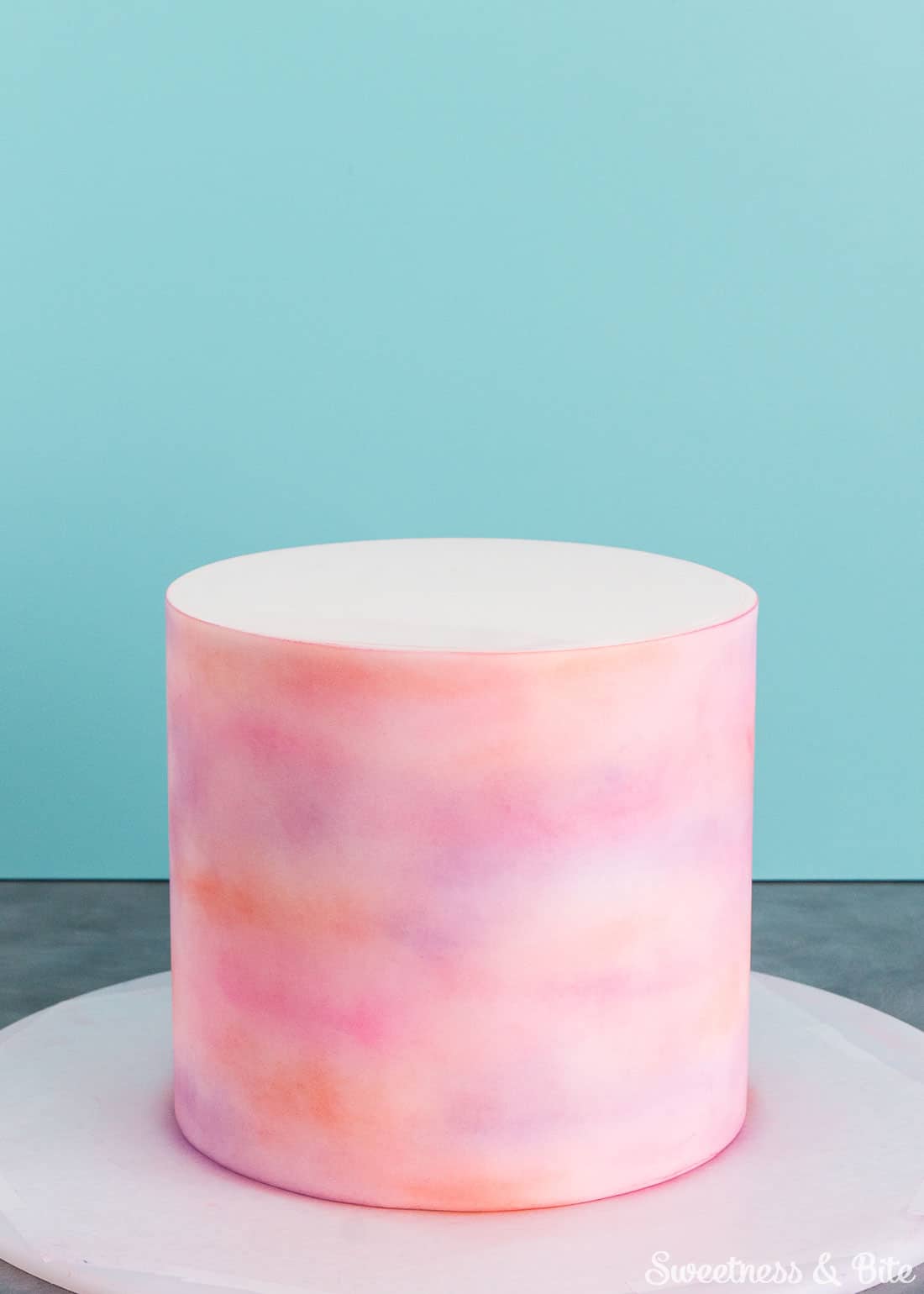 Told you it was easy.
A watercolour fondant cake looks very pretty on its own, but of course, in this case, I popped it onto a sprinkled-covered cake tier and drizzled the top with chocolate, and topped the whole thing off with a custom name cake topper.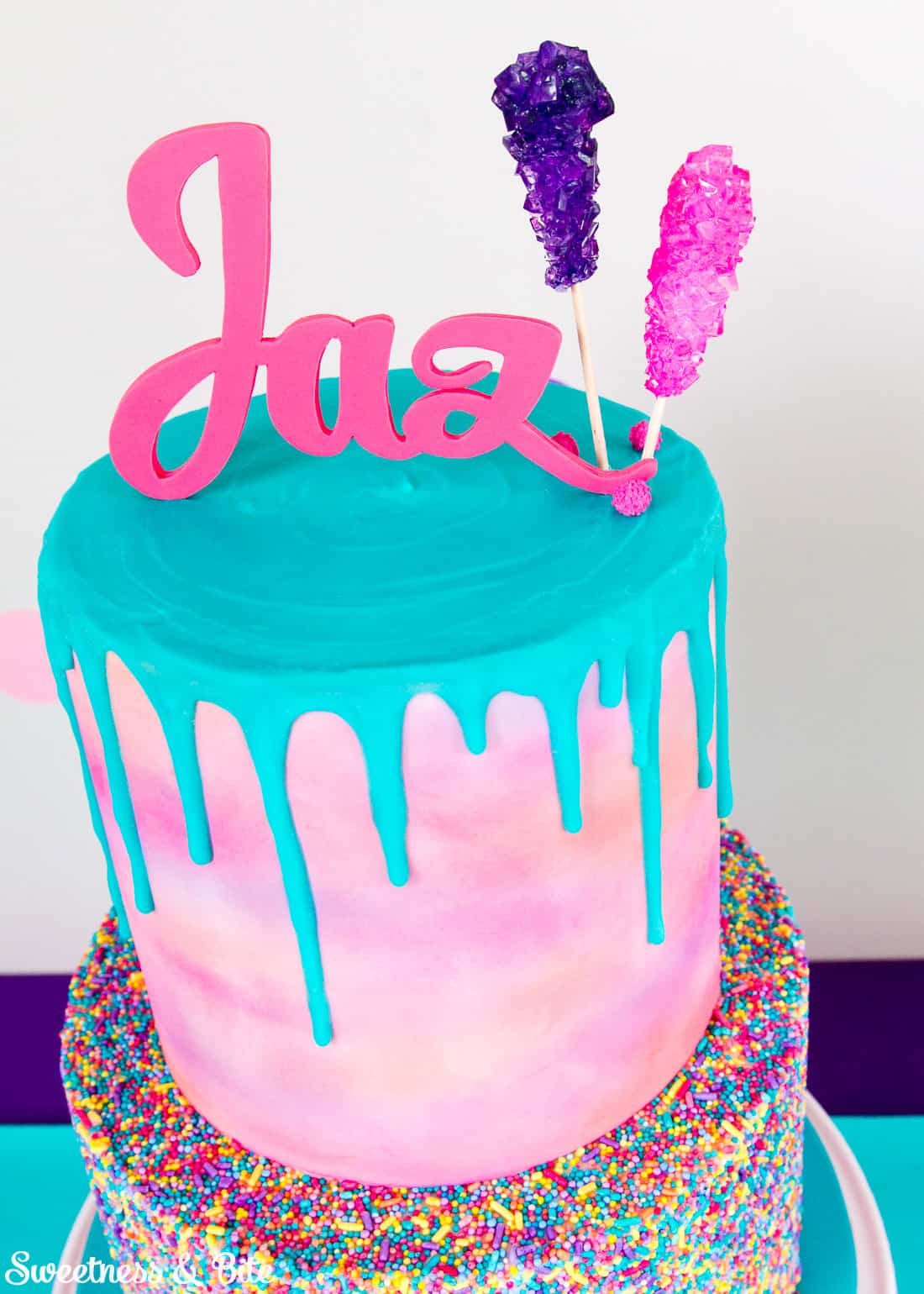 If you have any questions, let me know in the comments below 💜
Happy watercolouring!
~Natalie
xx
You Might Also Like…