White Chocolate and Strawberry Mousse
This post may contain affiliate links to products I recommend. I receive a small commission at no cost to you if you make a purchase using my link.
Apparently, it's Valentine's Day coming up, or so the entire internet is telling me.
Whether you have a special someone to spend Valentine's Day with or you'll be spending the day with your friends (or with your cat… like me ?) and you want to make a special dessert but also don't want to use up a lot of energy, then boy oh boy (or girl oh girl) do I have the recipe for you!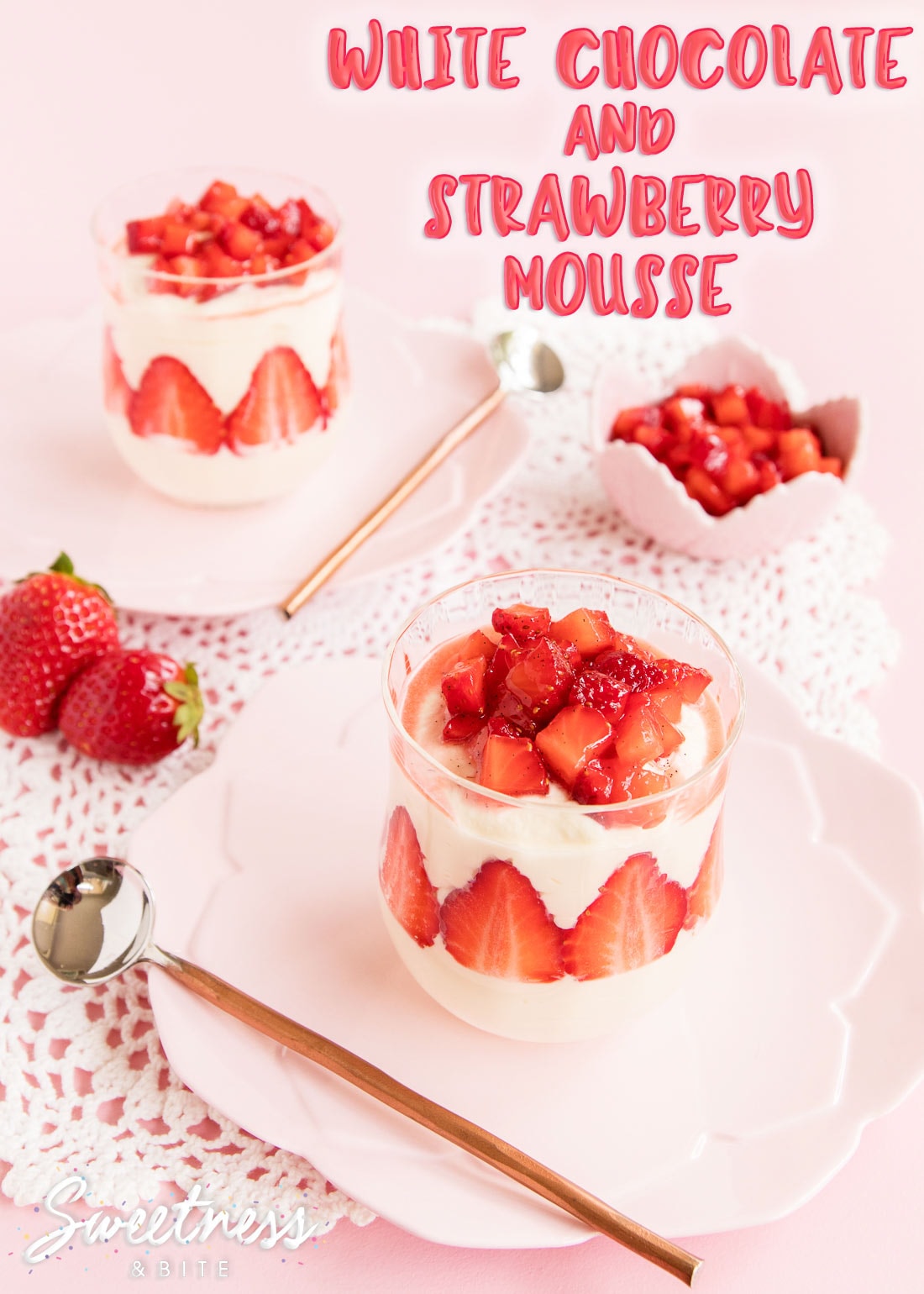 I was thinking of calling this "White Chocolate Mousse with Vanilla Macerated Strawberries", but frankly that fancy name belies the simplicity of the recipe. All we're doing is making some ridiculously easy mousse, chopping up some strawberries, mixing them with a little sugar, lemon juice and vanilla and letting them relax in the fridge until the strawberries surrender some of their juices, so you end up with a sticky strawberry-vanilla syrup for the strawberry pieces to swim in.
So I'm calling it "White Chocolate and Strawberry Mousse" instead. Not fancy at all.
It's the perfect lazy lovers' dessert. There are only a few steps, and some of those steps involve having to leave the components to sit/chill, which means that you can also sit and chill. Or Netflix and chill. Whatever floats your boat. 
And your Valentine will never guess that it was so easy to make, so you'll totally score some Valentine's points.
Having said that, because I can't help myself, I obviously added a bit of fancy-pants-ness to the glasses I served this in. I don't think it's too far off the easy trail, but you can totally skip it if it's too much faffing around for you.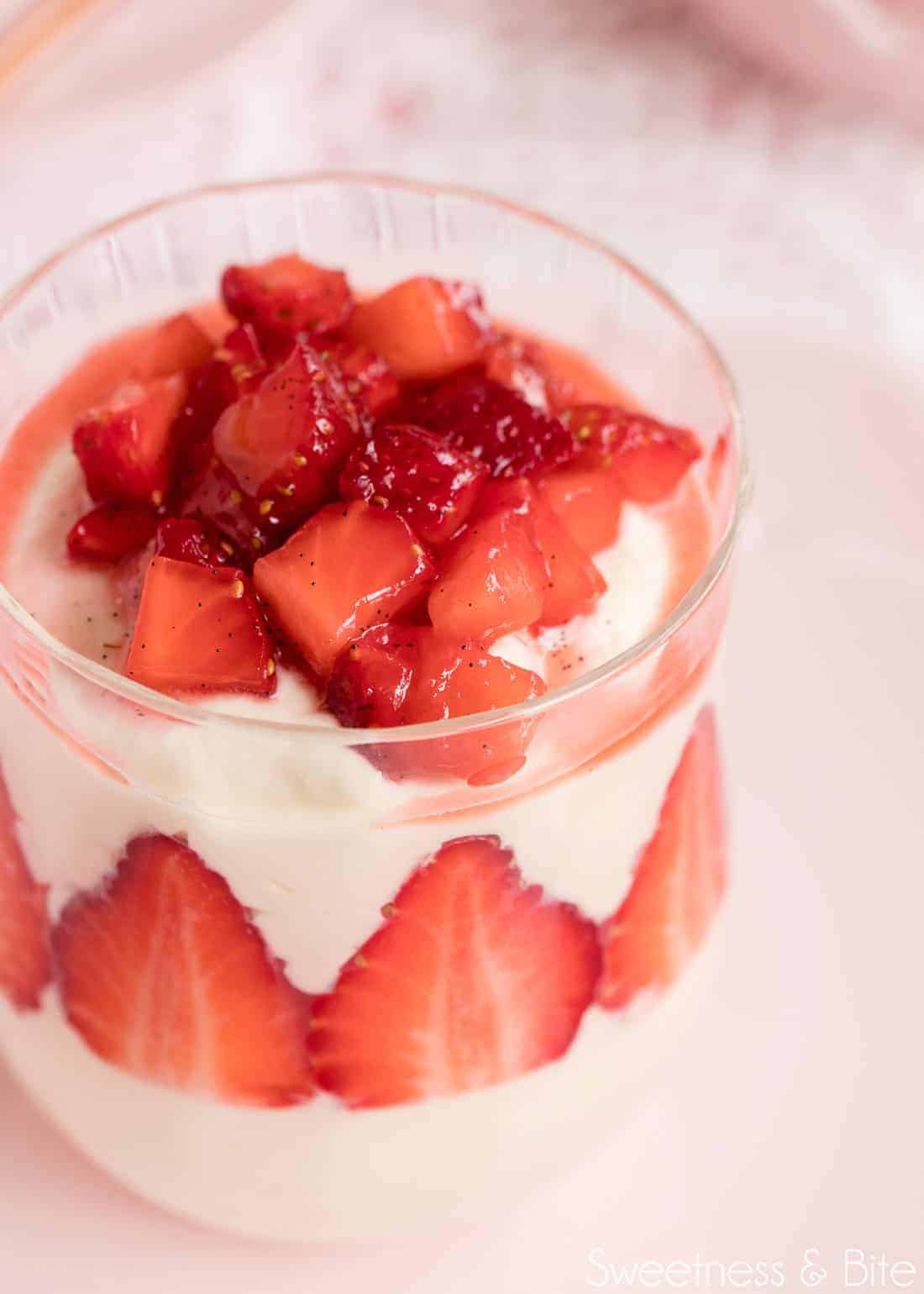 All I did was slice up a couple of particularly attractive strawberries (aka "stunt strawberries") into thin slices, using a super sharp knife. (I didn't even cut myself with it. I must be growing up). The slices were about 1-2mm thick. The thinner you can slice them, the better they will attach to the glass.
I piped a layer of mousse into the bottom of the glass, then arranged the strawberry slices around the inside. The juice from the berries makes them stick nicely (I was actually impressed at how well they did stick, #winning). Then I just piped in more mousse to the top of the glass and spooned over the macerated strawberries. 
Instead of that, you could simply layer the mousse and the macerated strawberries into the glasses, parfait-style.
The recipe for the strawberries will make enough to layer the dessert, however, if you only want to top your mousse with it, as I did, then you can halve the recipe. Or make the whole lot and serve those delicious ruby red, vanilla-speckled chunks on anything and everything.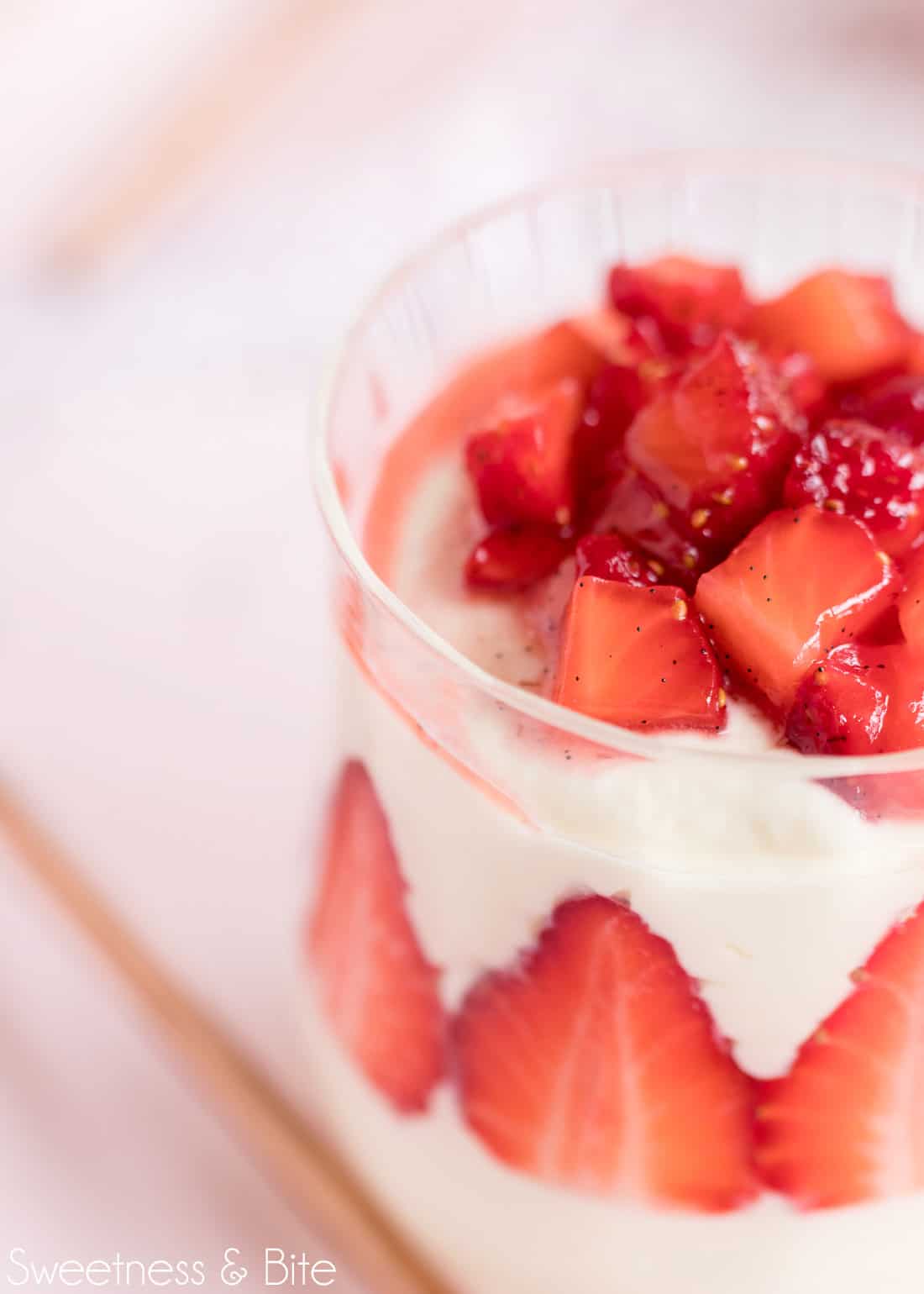 The whole recipe makes four servings, so if you're making it for two you could either halve it or do what I do and totally eat this the next day for breakfast. Fruit (strawberries) + protein (cream) = healthy, and once you add in the happiness from the white chocolate, it makes a perfectly balanced meal*
*This opinion is the author's own and she has no formal training in nutrition or health. Basically, she makes this sh*t up as she goes along.
If you prefer dark chocolate to white, you could also make this dessert using my three ingredient chocolate mousse instead
White Chocolate and Strawberry Mousse
Yield:
Makes 4 x 3/4 cup servings
Chilling Time:
30 minutes
Easy three ingredient white chocolate mousse, topped with vanilla macerated strawberries.
Ingredients
For the mousse:
For the strawberries:
250g fresh strawberries
1 teaspoon vanilla paste (or seeds scraped from 1 vanilla bean)
1/2 teaspoon lemon juice
2 teaspoons icing/confectioner's sugar
Instructions
Make the mousse according to the recipe.
Up to two hours before serving, chop the strawberries into small (1cm-ish) chunks. Place in a bowl with the vanilla paste, lemon juice and icing sugar and mix well. Refrigerate until ready to serve the mousse.
Slice the extra strawberries lengthwise into 1-2mm thick slices.
Place the whipped mousse mixture into a piping bag fitted with a plain tip (or simply use a spoon to fill the glasses, if you prefer). Pipe or spoon some mousse into the bottom of each glass. Arrange the strawberry slices around the side of the glasses, pressing them against the glass with your finger. Fill the glasses with the remaining mousse. Chill until ready to serve.
Serve topped with a generous spoonful of the macerated strawberries.
Notes
Leftover mousse will keep for several days in the refrigerator. The strawberry mixture will keep for a couple of days, but the strawberries will continue to soften so they won't look quite so pretty.
.
Whichever you choose, and whatever time of year you choose to make this, I hope you enjoy it as much as I did.
So tell me, what is your favourite Valentine's dessert?
~Natalie
xx